Homes
This Bangalore villa by Adhwa- architecture.interiors is an arcadian getaway into a rustic minimal world
OCT 17, 2023
| By Hitakshi Nagda
There is always a sense of repose and contemplation that comes attached with dawdling into your comfort zone. Exemplifying this is a riveting habitat in the heart of Bangalore, which encompasses rustic elements, brewed along with a palette of muted tones. Spanning over 5,000 square feet, this pool villa designed by Ankita Jain and Dhwanil Patel of Adhwa- architecture.interiors draws you into a space with an unshakeable sense of bewilderment and glee.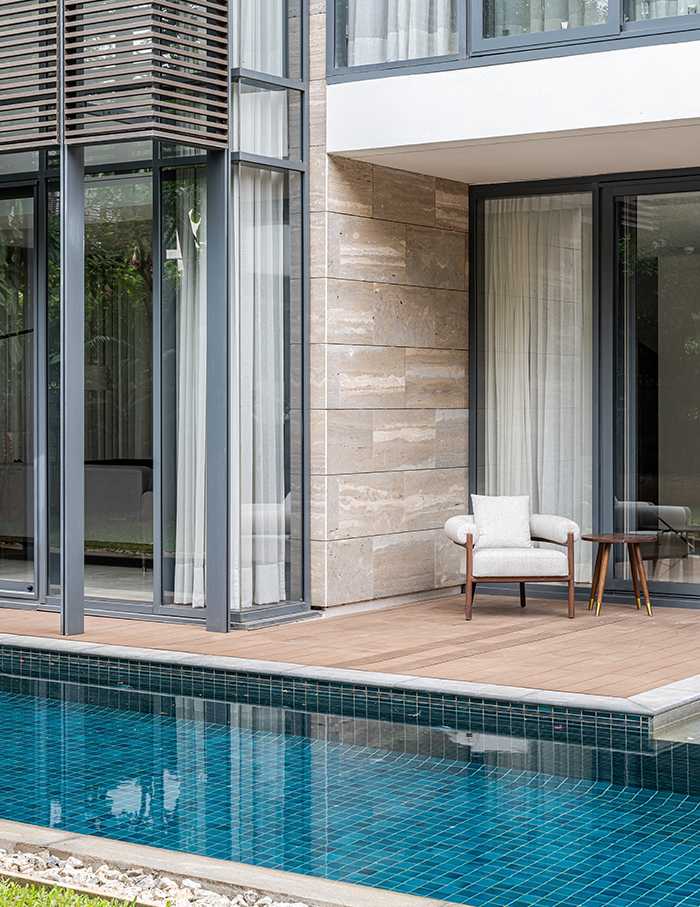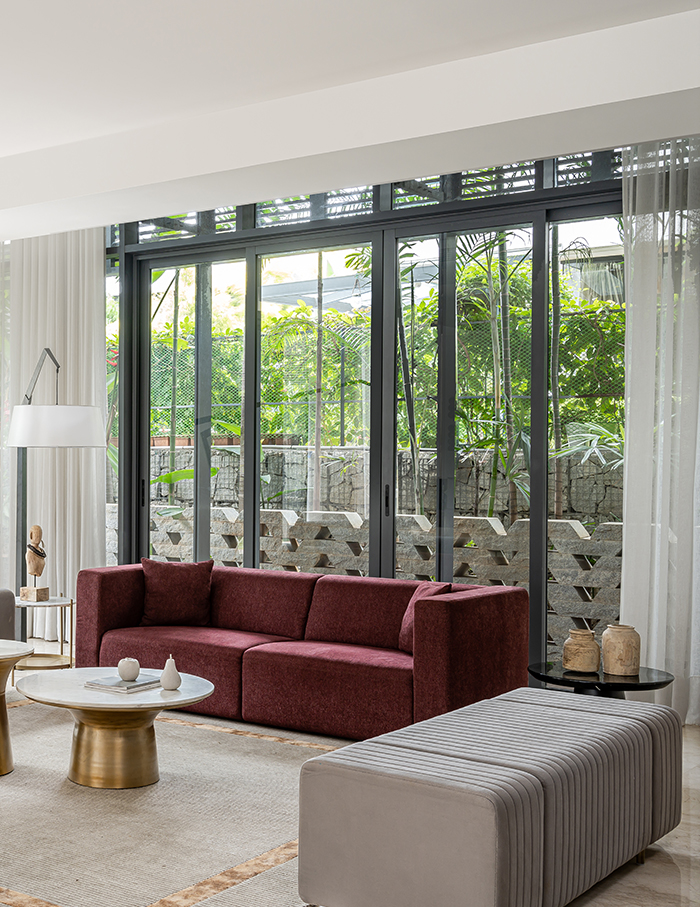 A touch of nostalgia
Adhwa- architecture.interiors combines a sense of pristineness with a hint of nostalgia, producing a space arranged to embody a minimalist spirit, creating an authentic clutter-free living experience.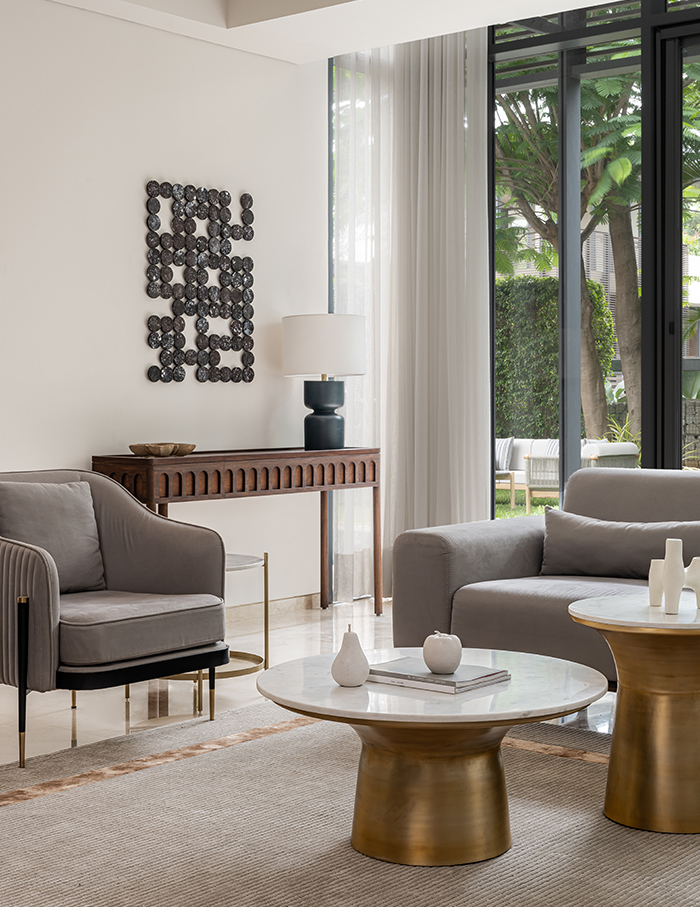 The contrast hues soaked in the soft glow
As you enter the home, a living area welcomes you on the ground floor, a canvas of softly muted tones, balanced with a contrasting couch, seamlessly combined with the brass turned coffee tables, with the lampshades occupying the corners of the abode. The dark wood polishes onto the console tables and credenzas, restfully finding its place beside the couch. The French windows offer an easy going zone into the outdoors and as you further explore, you come across a pool skirted with an extended portico accompanying you to unwind, savoring the engulfing views.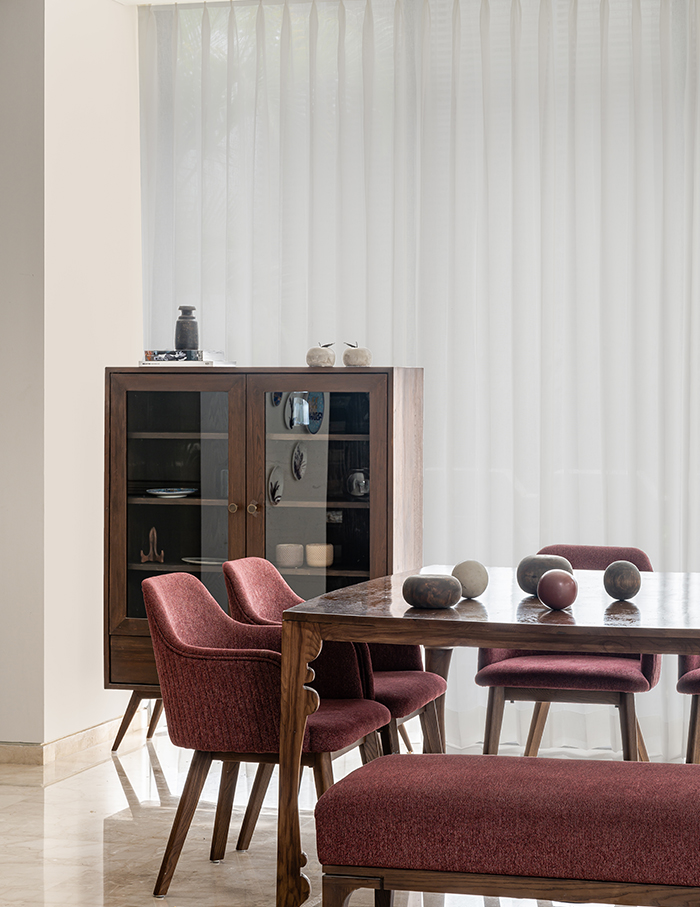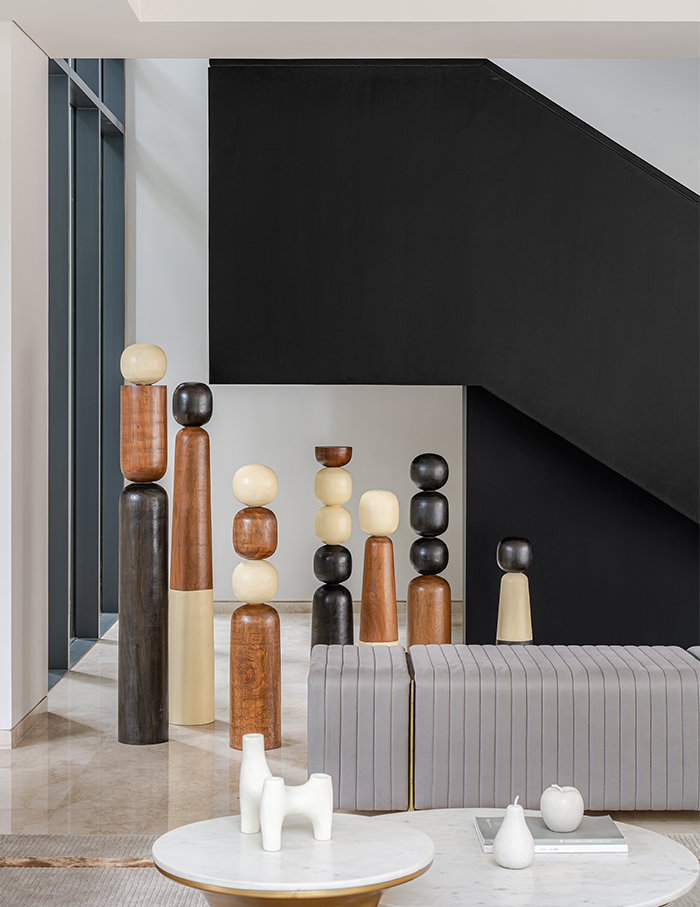 The lush greens encompassing the home, welcomes you inside the diffusing lighting, portraying a soft glow onto the black paneled floating treads staircase, allowing the aesthetical accents to blend in, cohering into a backdrop. The homeowners scrupulously handpicked the art pieces and wall accents, culminating into a blend of solace, putting the home together.
Upon entering the master bedroom on the first floor, a soothing fusion of sophistication along with a sense of unvarying minimalism. As we glance around, furnishings glistened with plush blue, mingle with the light waltzing in the room through the sheer curtains, bathing it with a soft glow while the corner is anchored by the mesh leaves, seamlessly equating everything together. Across the room is an encounter of rustic and modern, constructed into a sleek study table for a placid evening, with a bookshelf encompassing tokens of the homeowner's personal journey.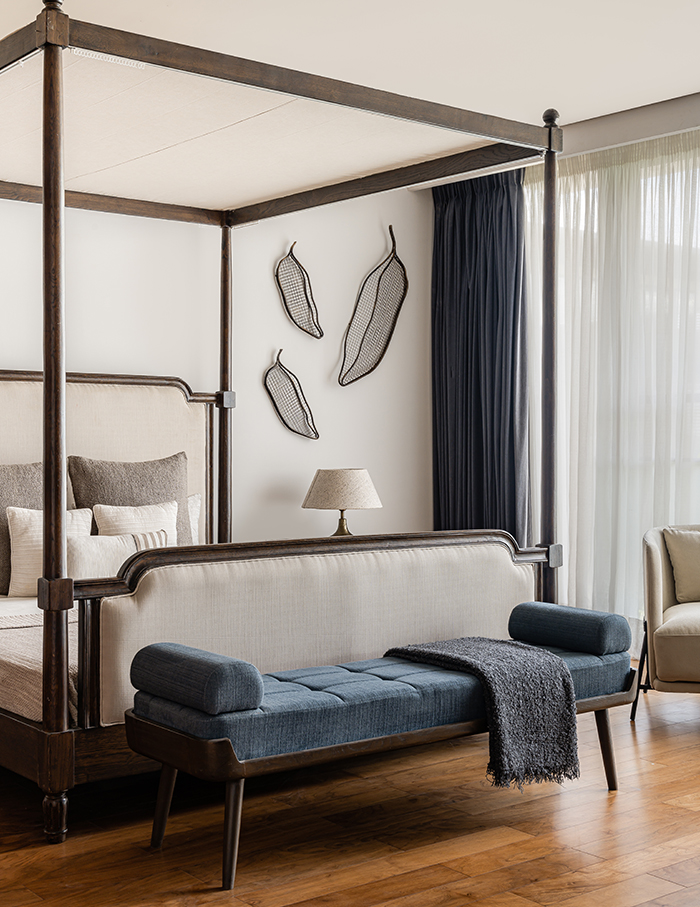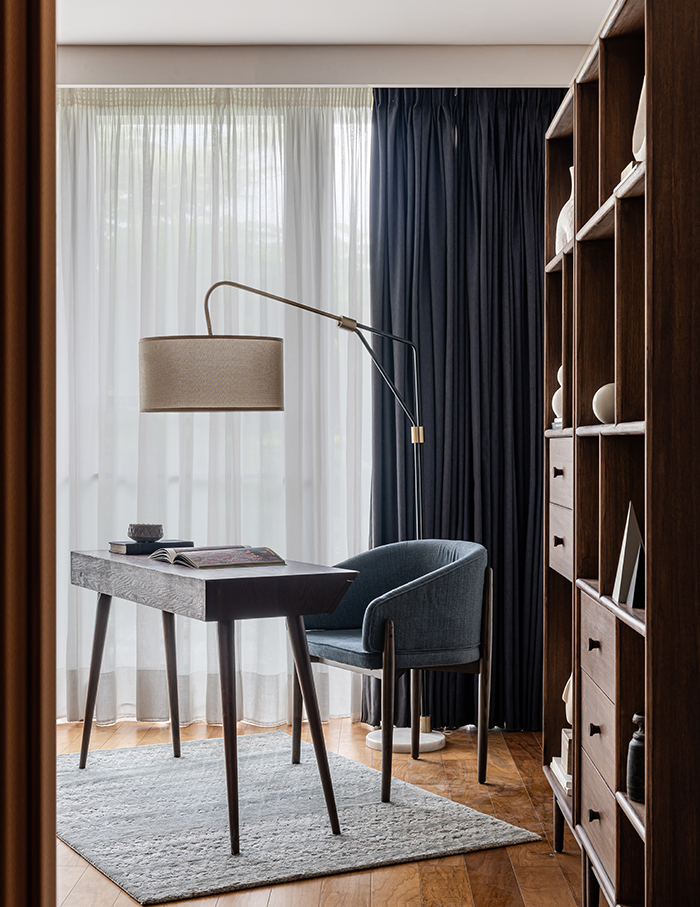 When soft whites decorate the wooden groves
The guest bedrooms, a linkage to the same essence of quietude, meld into a settling palette of muted tones and texturing wood. One, possessing hues of wood, enveloped with the light gushing in through the windows, harmonising the space with a sense of comfort. While the other, reveals the soft whites exhibited in every corner, weaving in with hints of wooden tones. This equilibrium invokes a sense of comfort in the atmosphere.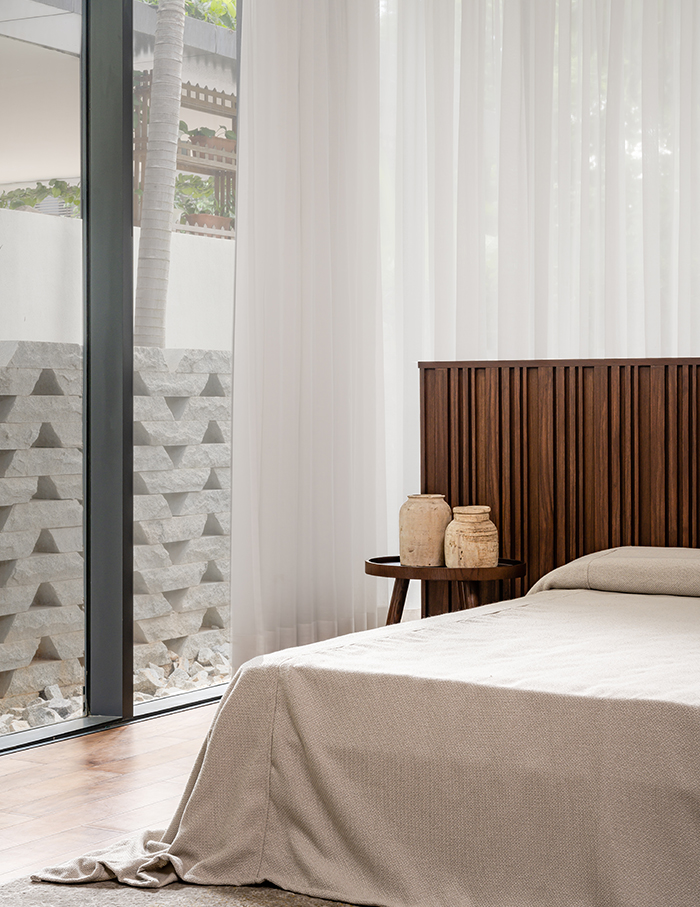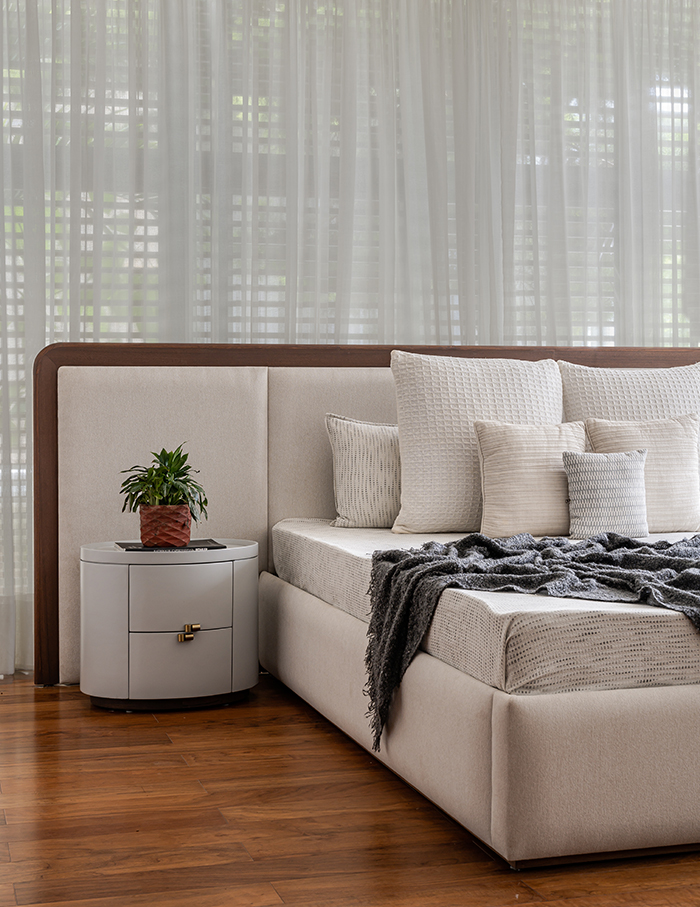 Every corner is nothing less than an experience, grounding you to nature amidst the suburban chaos, birthing a living experience — so stimulating yet homely.
You may also like: Studio Ipsa sculpts a haven in Bangalore with nature-inspired aesthetics