Homes
Studio Ipsa sculpts a haven in Bangalore with nature-inspired aesthetics
SEP 14, 2023
| By Krupakshi Mehta
Within the vibrant heart of Bangalore, a city often characterised by its concrete landscape, emerges a haven of tranquillity — The Tropical Melody. In a world where the relentless pace of modern life has distanced us from the joys of nature , this home stands as a testament to the power of design in rekindling our connection to nature. Crafted meticulously by Aniketh Bafna and Sonal Mutha of Studio Ipsa, this two bedroom apartment seamlessly harmonises nature-inspired aesthetics with contemporary design.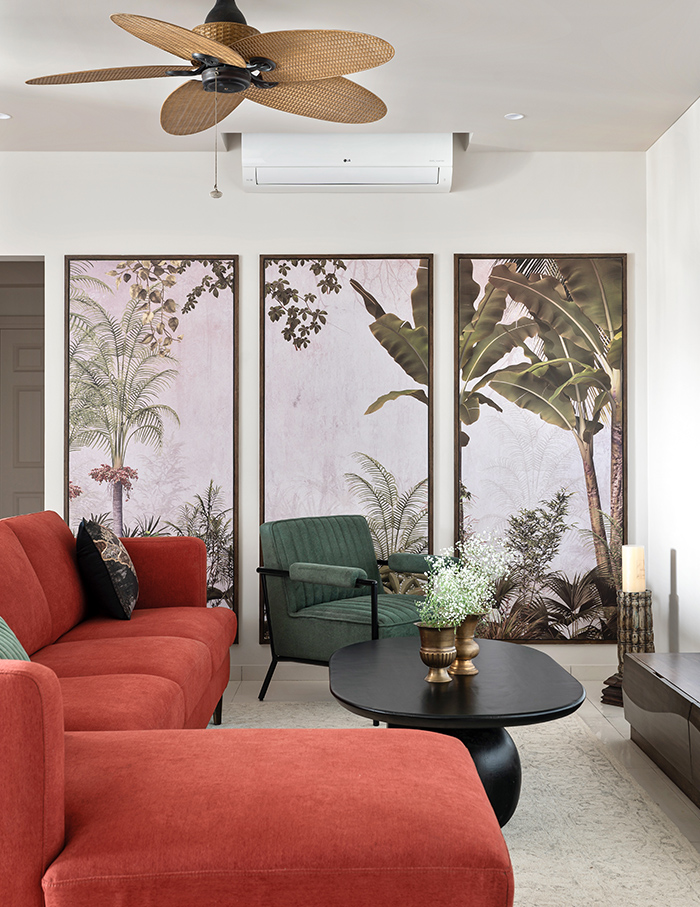 A journey through the tropics
As the home materialises, it embarks on an intimate journey, fueled by the homeowners' yearning for a serene sanctuary. "The client expressed their vision of a contemporary tropical home that would reflect the vibrant colours and elements of nature. They sought a colour palette that brought the real tropics to life within the confines of their apartment" says Aniketh.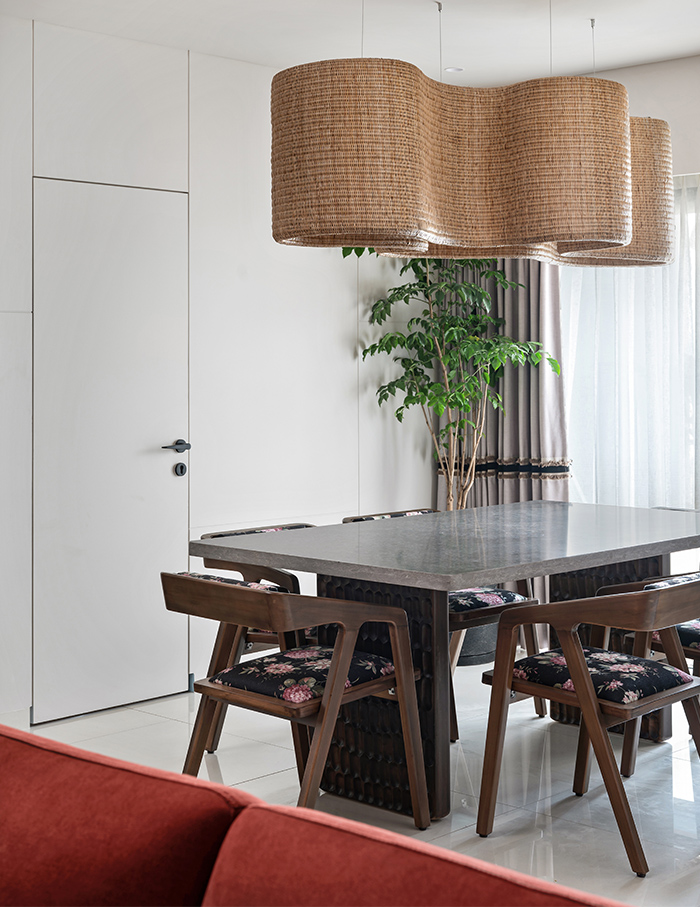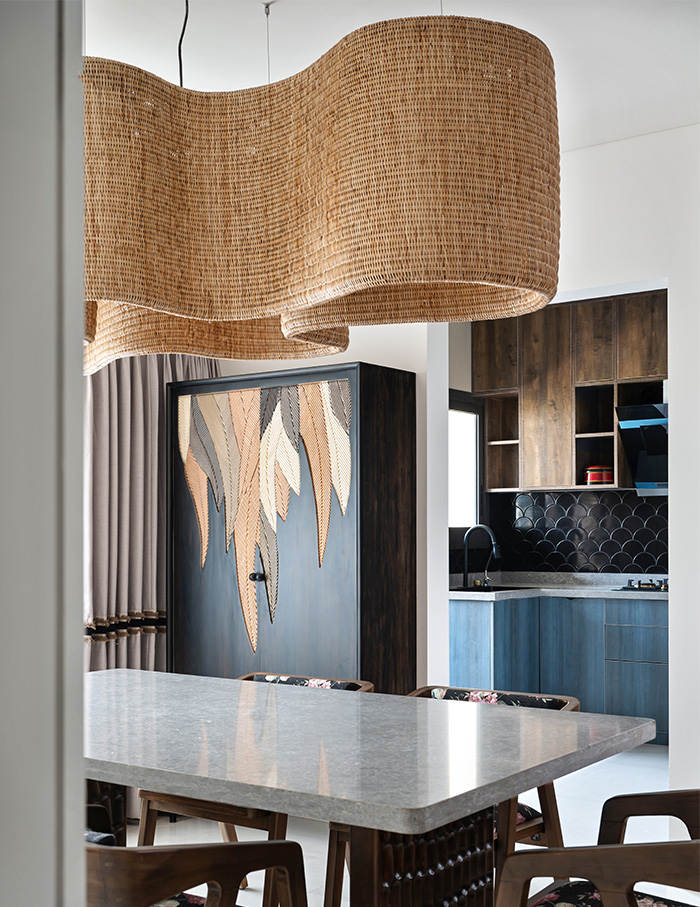 From the instance you cross the threshold, the home's narrative begins to weave itself around you. A minimalist aesthetic entices you, but look closer, you will unravel a tapestry of intricate patterns and intriguing subtleties. A console adorned with vegan bone inlays, boasting bold patterns in stark black and high-contrast white, beckons for your attention in the petite foyer. Gazing upward, the ceiling, adorned in the warmth of banana fibre cloth framed by timber trims, introduces a touch of the outdoors.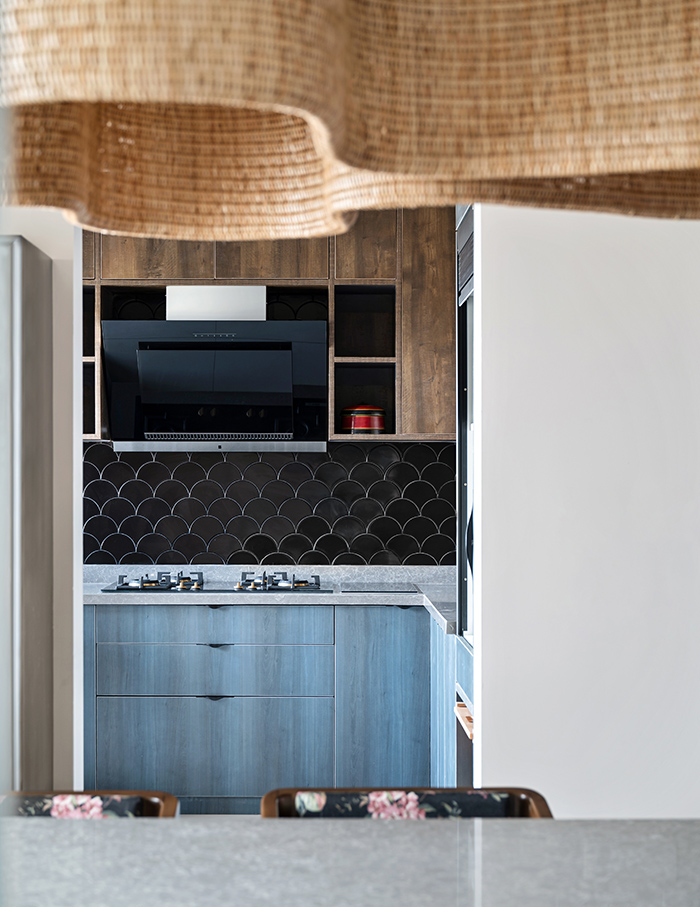 After bold textures, it's time for colours to take the front seat. Offering a mood shift, the living room embraces a bright shade of red adding vibrancy and cheerfulness. The first sight that greets you is a mirror framed with live-edge wood. As you move deeper, a striking burnt orange section commands attention, making a bold statement against a backdrop of solid-coloured upholstery and botanical prints.
The dining zone is designed to counterbalance the living area's vivid tones. The challenge lay in integrating two doors without disrupting the visual flow. The solution was ingenious – camouflaging doors to create a seamless wall. The dining table stands as a centrepiece, its muted stone top and wooden legs showcasing simplicity. But hidden in this unassuming setup is a magnificent wicker chandelier that claims its spotlight.
With blue-stained wood grained finish and the stark black scalloped backsplash, unconventional choices reign supreme in the kitchen. Every inch of space here is utilised wisely, from the ceiling-high storage to the foldable ladder tucked into the cabinetry for vertical accessibility.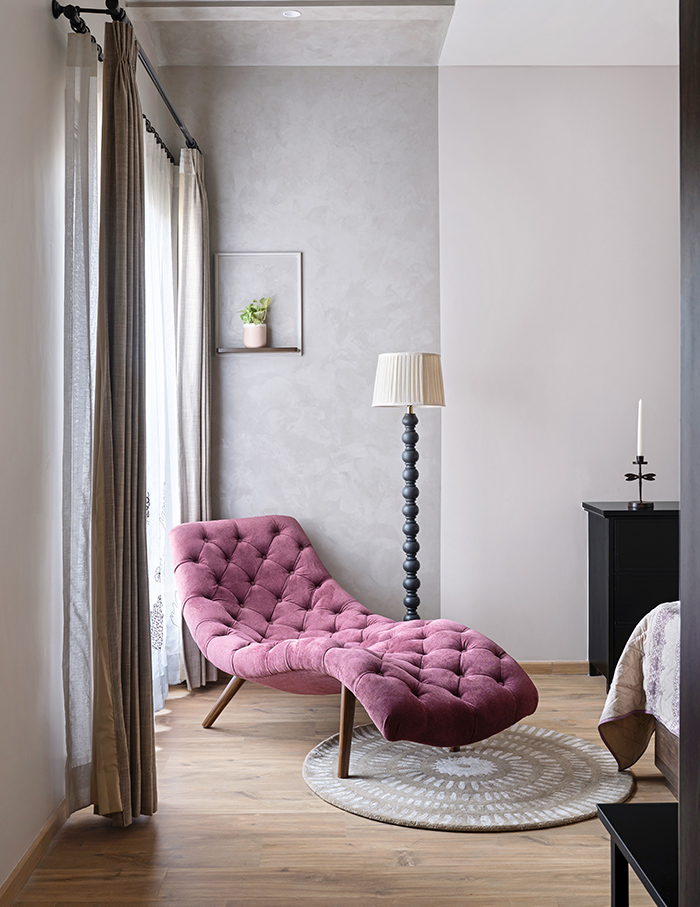 As you wander into the master bedroom, the passage through the closet area intrigues. Banana fibre-clad wardrobe shutters, detailed with wooden beading, welcomes you. The room unfolds into a cosy corner adorned with a tufted chaise in opera mauve, complemented by a handcrafted spindle base floor lamp. Painted by an artist, the wall behind the bed tells a subtle tropical story through muted shades and hints of green.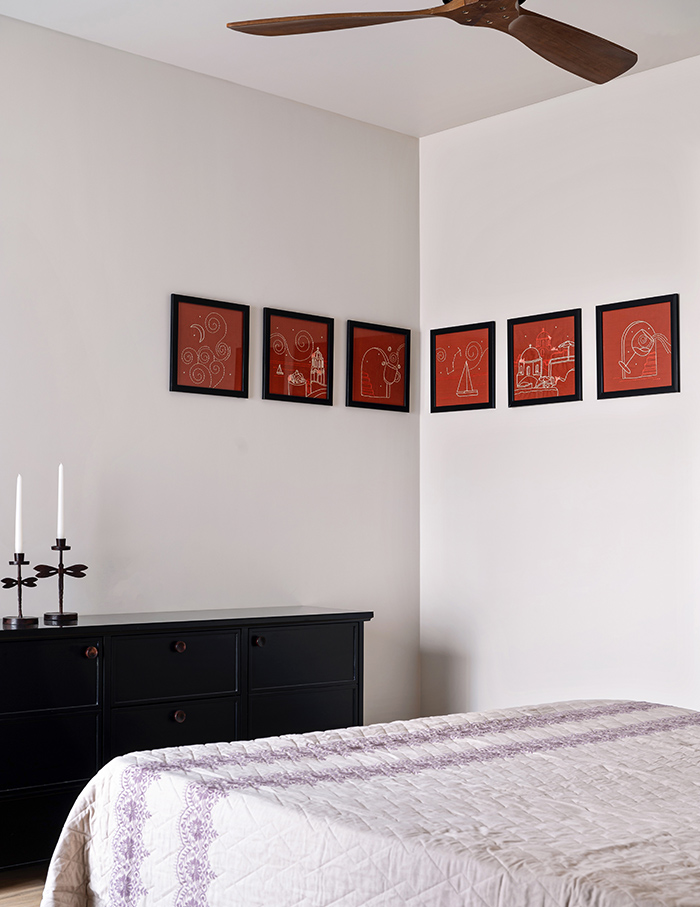 The multipurpose room with wood and glass arched doors encapsulates an entertainment unit, a reading nook, a sofa cum bed and a study desk.
The balcony is where the flooring, a mix of heavy patterns and simple borders with floret inlays and beachy bamboo accents asks you to pause and soak in the view.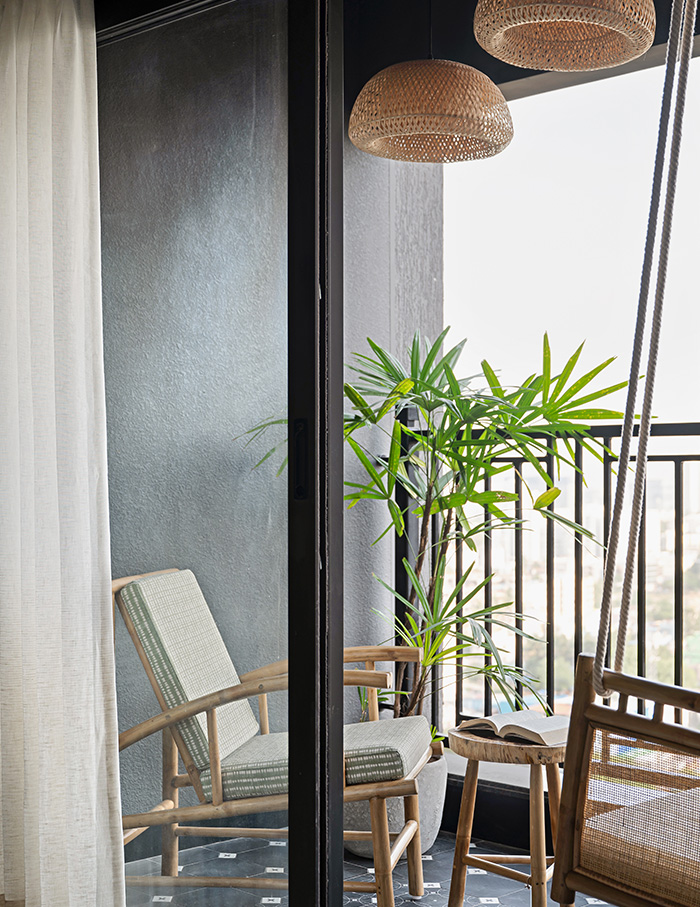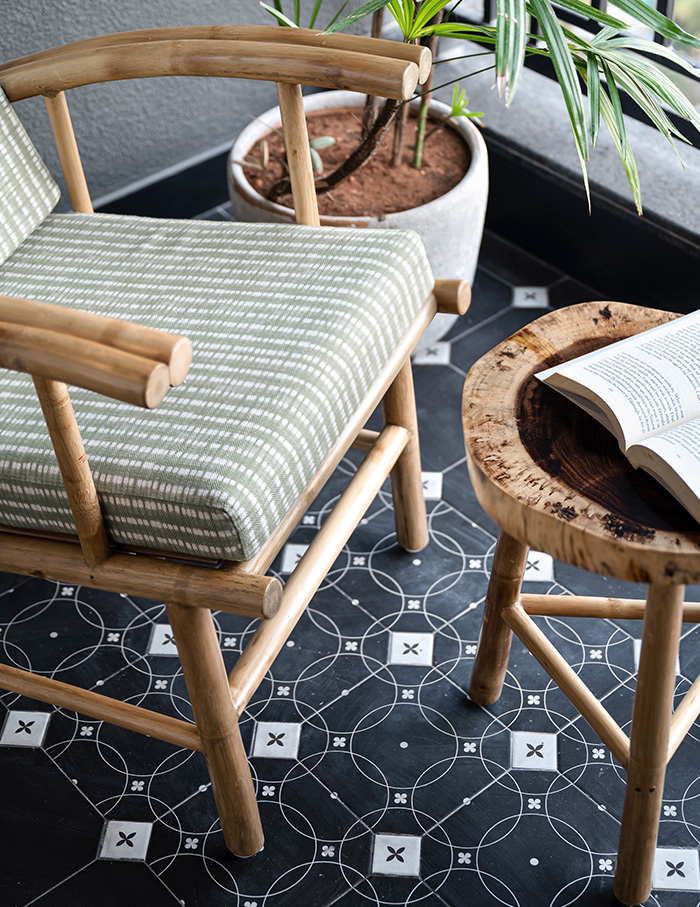 A distinct personality
The journey through this abode is a celebration of contrasts — vibrant and serene, bold and muted, lively and tranquil. As you leave each space, you carry with you a melody of tropical essence. Recyclable materials, reclaimed decor, non-toxic fabrics and low VOC paint in this home showcase the commitment to eco-friendly choices.
You may also like: A play of contrasts and serenity takes focus in a South Mumbai home crafted by Studio Design Inc.