Homes
This apartment by Priyankit Mahajan of Sybaritic Spaces celebrates simple interiors with a modern appeal
JAN 25, 2021
| By Sanjukta Ghosh
Nestled in a luxury property of DLF Capital Greens, this 4,500 sq ft apartment by Priyankit Mahajan of Sybaritic Spaces serves as a haven of simple yet modern elements.
"My design philosophy is inspired by French designer Philippe Starck's," says Mahajan, adding, "I always choose democratic design—which means that the design should be an amalgamation of our thoughts, the client's preferences and budget as well as superior quality."
Upon entering the abode, one encounters expanses of the open-plan living area with a sociable setting. Muted, warm earthy tones are gingerly chosen to accentuate the design language and soft splashes of colours highlight particular elements and spaces. 
The veneer-clad walls boast grains angled at 45 degrees. Along with the Burberry grey marble underlying the space, these elements evoke a subtle elegance. The dining area is only slightly segregated from the living section. It is cosy owing to a wood-finished table with a lacquered glass tabletop, sleek and comfy seaters, pendant lamps and chic tabletop accessories.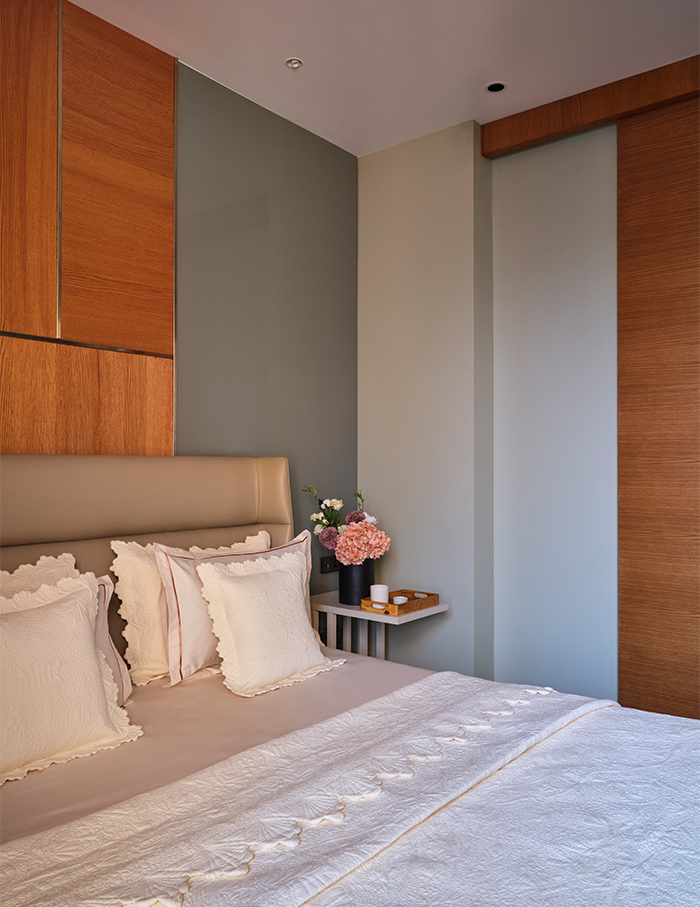 The master bedroom is crafted in similar neutral tones in keeping with the rest of the apartment. This space showcases a leather bed with houndstooth fabric, light veneer with black grooves on one wall behind the bed, dark stained veneer on the adjacent wall and a louvred ceiling, which perfectly align with the theme of this home.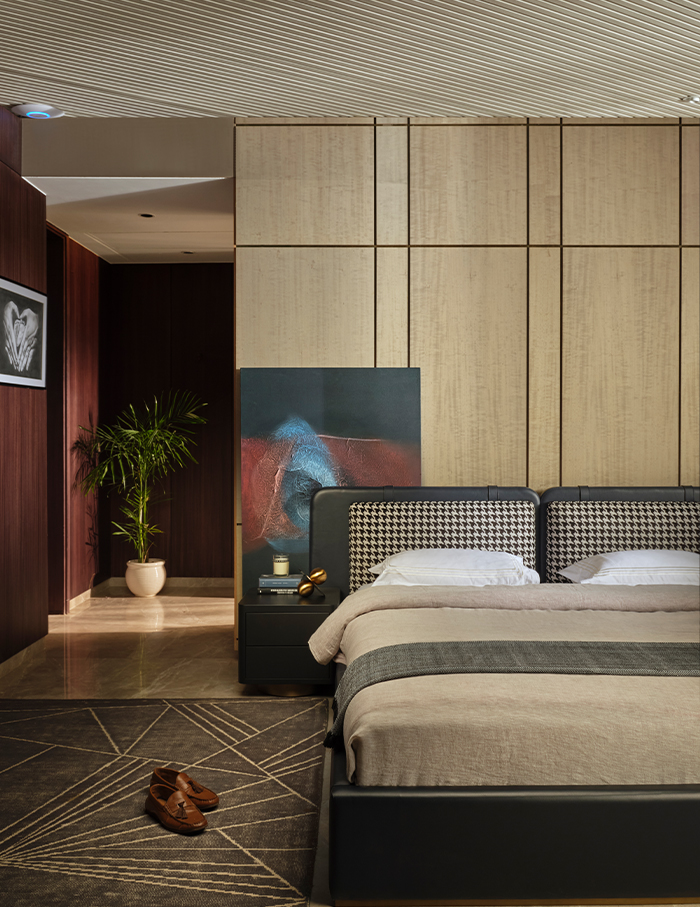 "The space that we loved designing the most was definitely the master bedroom because it was very minimalistic yet a bold palette and materials were used," shares Mahajan.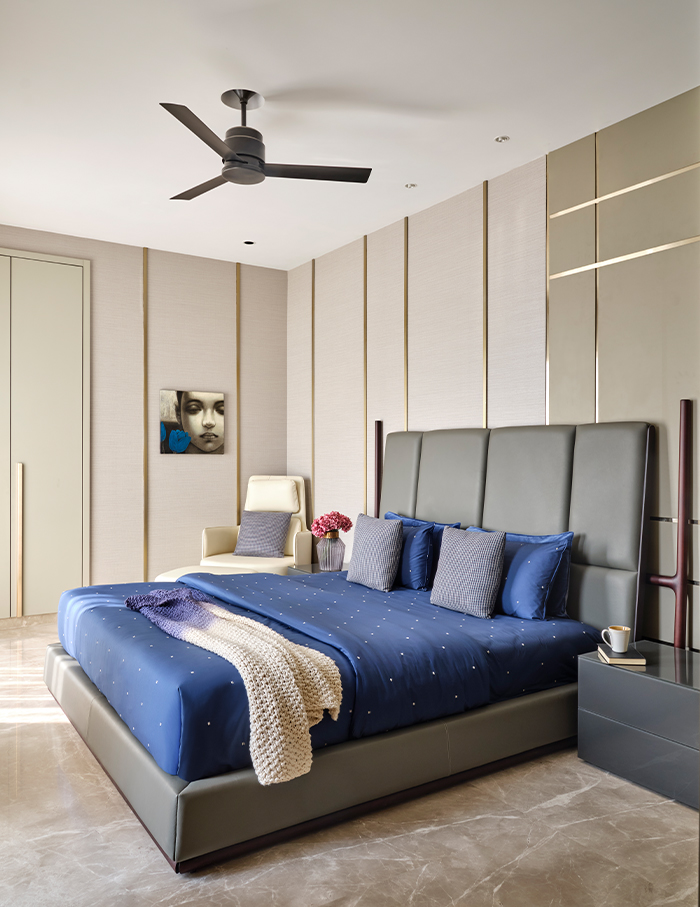 The elegance of modern, minimal contours breathes life into the apartment. Veneer-clad walls with lacquered glass and metal stripes and engineered wooden flooring are what defines the guest bedroom.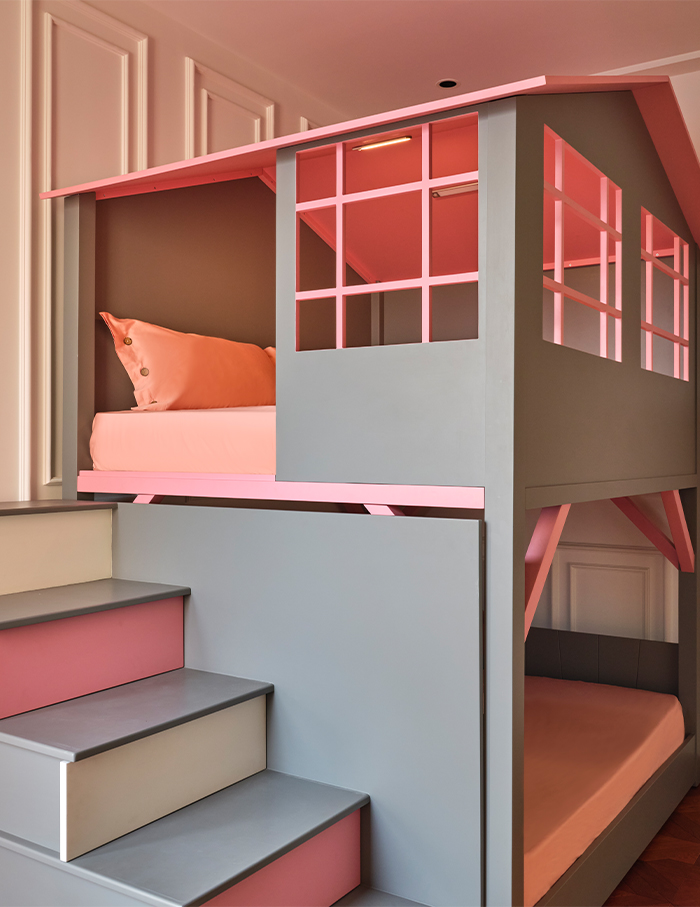 While the parent's room is dressed in muted tones of beige and grey, the walls are clad with wallpaper and leather panelling with embedded gold strips. Adding a chirpy vibe to the room is a splash of azure through soft furnishings and wall finishes. This bedroom, as with the other parts of the house, oozes a warm and welcoming quality that makes the space a 'home'.