Homes
This Ankleshwar home by P&D Associates is crafted in an interpretation of zen layered with drama
MAR 23, 2023
| By Shriya Goyal
Mind, body and soul—the layers of life. An exploration into the many different levels on which we experience our daily existence. And just like us, our homes are no stranger to this term. Crafted on similar layers, the Layered House by P&D Associates unravels nuances of functionality, aesthetics and personality.
Designed by Devang Patel and Pratik Siddhpura, Principal Designers of P&D Associates along with their design team—Krina modi, Siddharth Patel and Nishi Kansara, this 5380 sq ft home is located in Ankleshwar, Gujarat.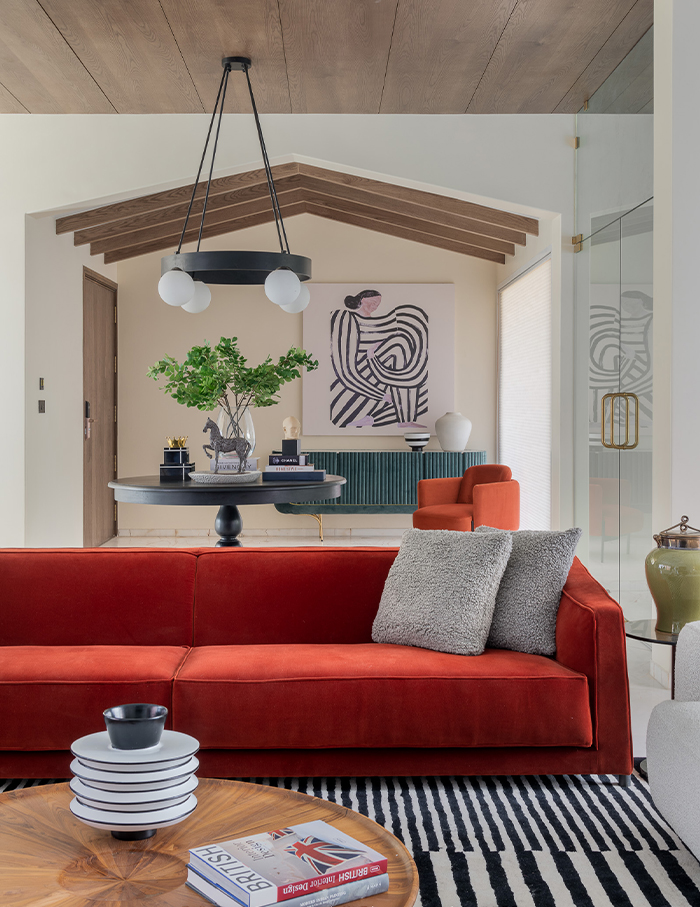 The curious brief
On a site of 6675 sq ft, the three bedroom home is designed for a nuclear family with a blend of traditional and modern elements, resulting in a timeless design incorporating a small house office. Planning of the house is kept simple and symmetrical—an interpretation of zen interiors with a few dramatic elements.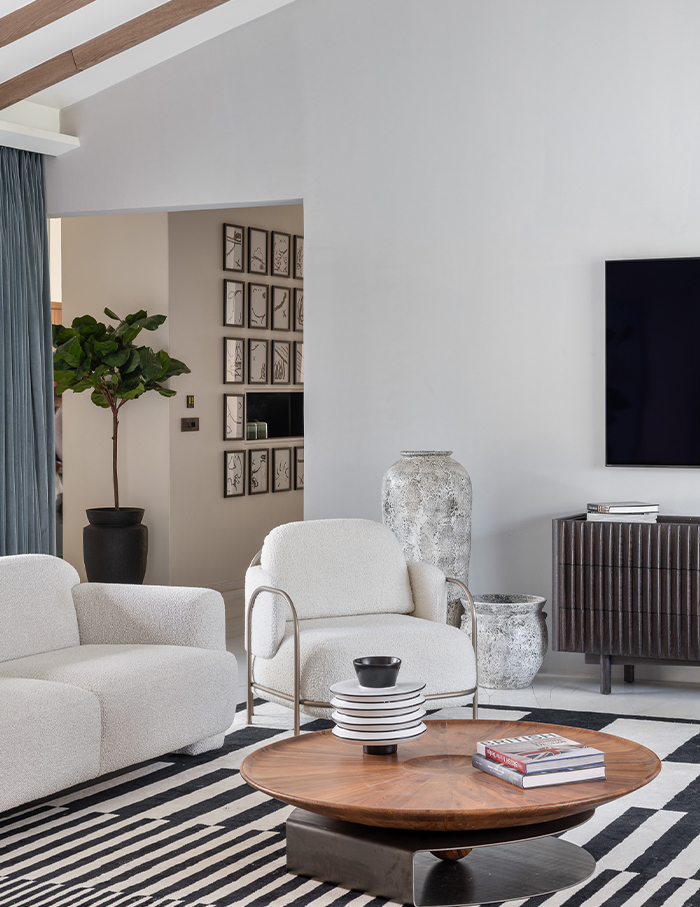 When asked about their design philosophy, Devang and Pratik say, "Philosophy is subjective, it progresses with every project we take over. It's important to be flexible as a designer to mend ourselves as per time and age. Basic notion is to provide an awe to the space through our style."
Tour every turn of this home
The volume of the bungalow escalates in an ascending order from north towards south. Front elevation is a landscape of a blank wall in grey and white with customised wooden powder coating aluminium fins. Contrasting the clean modern appeal of the home, the sun deck takes the design language of traditional decks—intriguing wood work, sloping clay roof tiles on the outside, designer terracotta tiles on the inside and wooden pillars paired with balusters.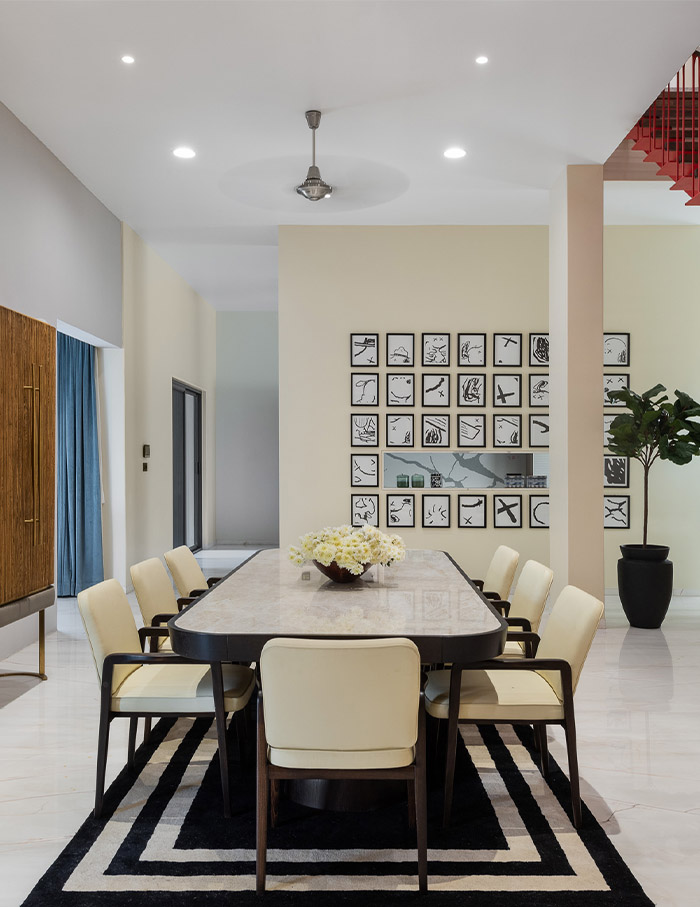 Black marble blocks complement the wooden finish fins and clay roof tile at the entrance. The custom made door is detailed with veneer sheet and fluted Italian marble. Under a sloping roof with wooden rafter detail, the foyer is highlighted by a teal blue velvet finish console and a monochrome artwork. 
Coming forth is a single pedestal black circular wooden table that divides the space vertically with a small office on the right and puja room on the left with a pond as its backdrop. The double height living space under a similar sloping roof is ideal for a gathering of 15 people. Red velvet sofa paired with a boucle sofa is definitely an eye grabber.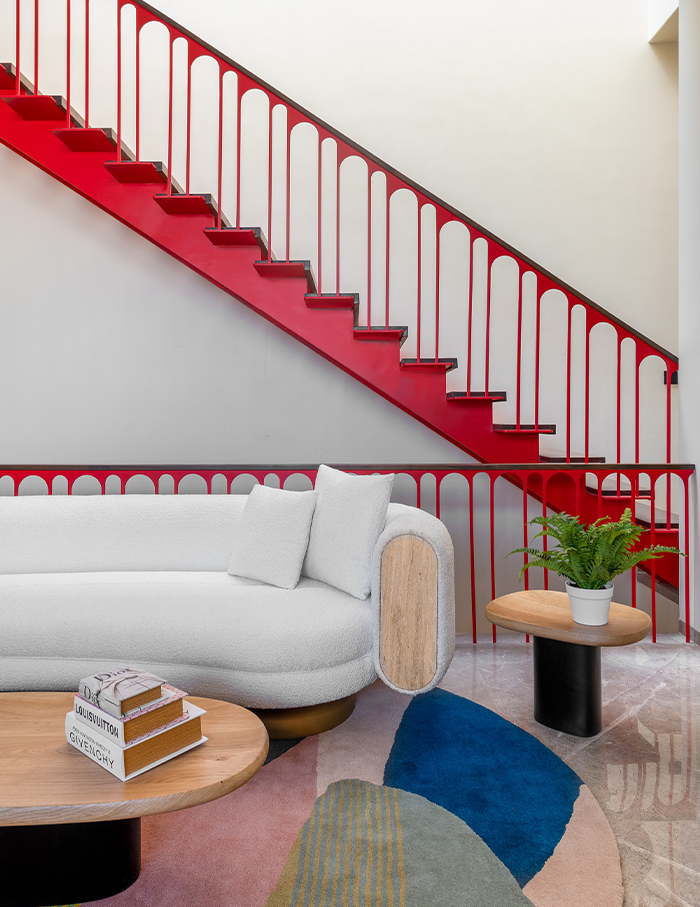 Next in the dining room, an extensive dining table with subtle details of marble and black finishes rest on a monochrome Scandinavian carpet. It faces the kitchen partition wall decked with multiple black and white artworks, making it a picturesque delight to look at.
The strategic position, wooden trade detail and bold red colour of the staircase commands attention. Overall planning is kept neat with the staircase leading to an informal sitting on the first floor along with 2 bedrooms.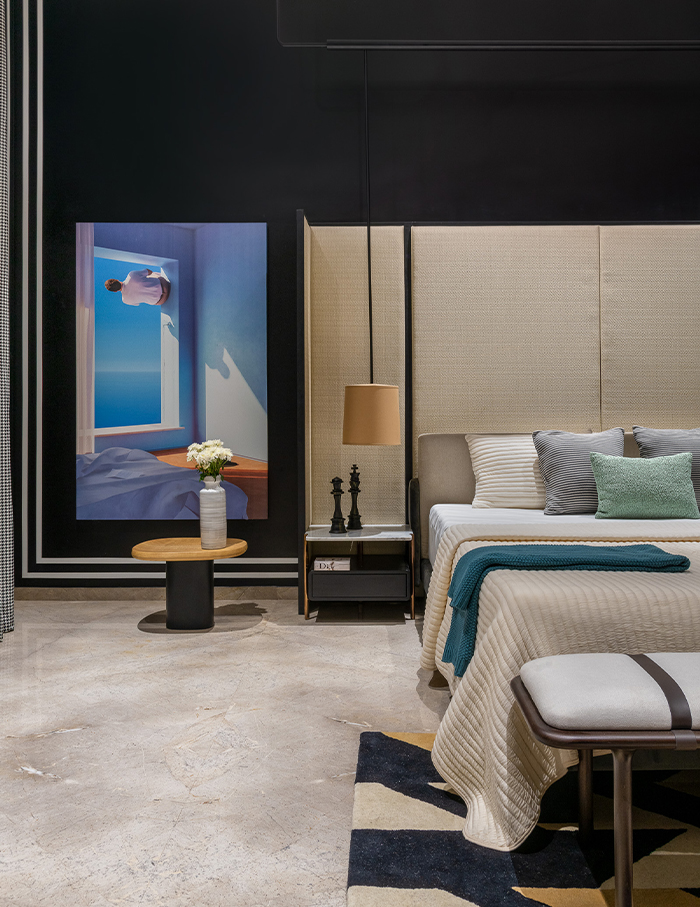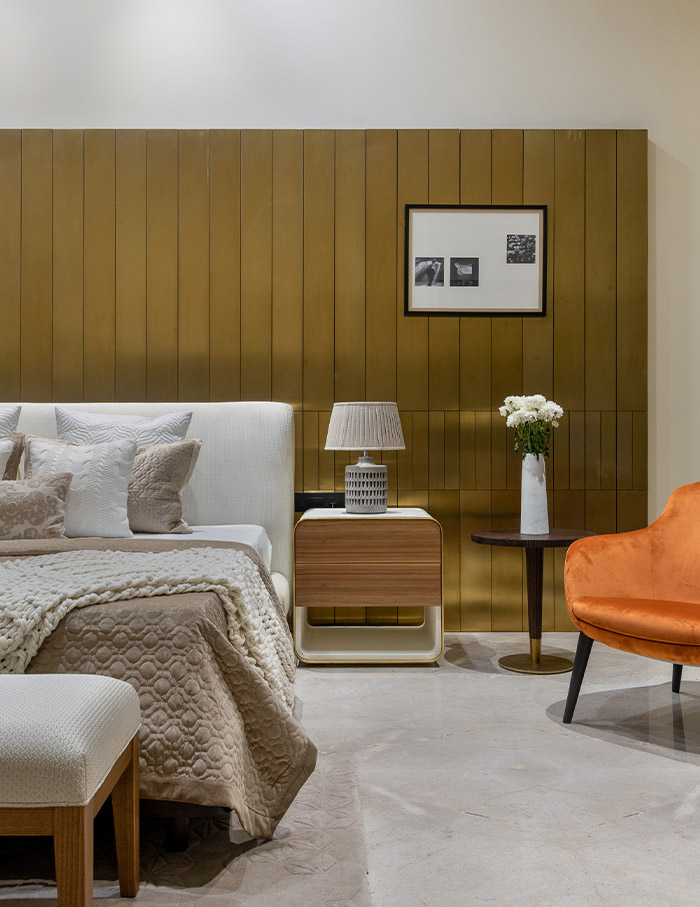 Parents' bedroom renders subtle aesthetics with a backdrop of wooden louvres and beige bed. While the son's bedroom showcases a more matured Goth look with black accent wall and raised bed back detail. In the master bedroom, the contemporary upholstered bed has been given a modern touch with the brass panelling and a monochrome painting. Lastly, a gazebo takes over the terrace, ideal for cosy evenings with coffee and conversations. 
Ideas to bookmark—colours and materials
"For this project we studied Le Corbusier´s Colour system, emphasising on 'pure colours' i.e.  Purist palette of 1931 which includes 43 shades in 14 series combined with natural wood to obtain a cool, cheeky & zen environment. The whole palette looks natural and restful even after using too many colours in our soft furnishings," says the designer duo. 
This house showcases wooden and natural materials, corroborating the theory that neutral elements can coexist with bold colours. Minimalistic approach to the design was the main driving notion, followed by understanding how different materials support and blend with each other in an organic way. On the whole the main focus was to have a contrast of natural materials with bold aesthetics.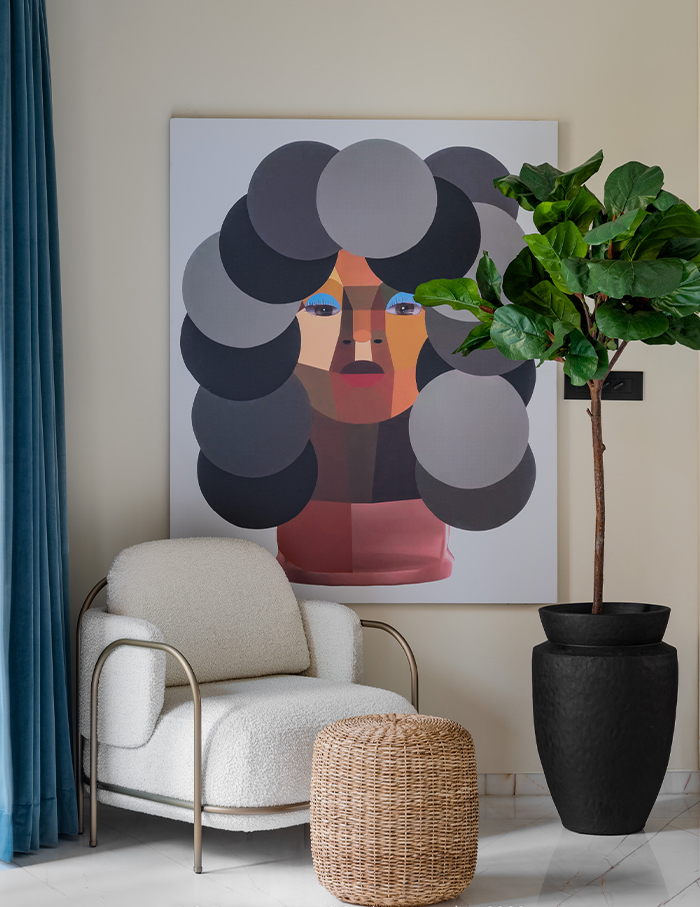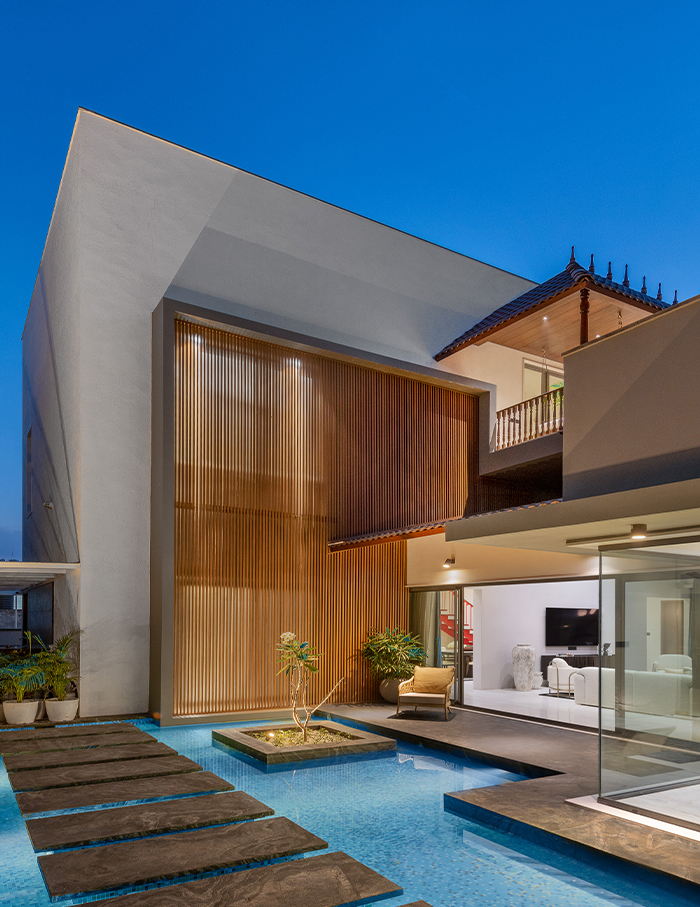 What the designer fell in love with…
"We loved curating these beautiful artefacts and art pieces for every corner of this house. It definitely brought our vision and understanding for a timeless design. All the furniture is sourced from Italy for this project," expresses the designers. 
Devang says, "There is something incredibly restful and calming about each corner of the house. For me it's the exterior elevation of the house which makes it iconic." Pratik voices, "We love to use strong bold colours but in this project we have swung the pendulum back the other way and it turned out into creating our own version of a Zen interior design."
You may like: Atulyam villa in Gujarat by P&D Associates embraces a gleeful colour palette elevated with neoclassical charm