Design
Studio Lotus reshuffles The Upstage Club into a sumptuous coworking paradise fit for a millennial!
DEC 29, 2020
| By Raashi Dev
The Upstage Club is a 4,500 sq ft space that goes from a coworking space in the day to a bar and leisure zone by dusk. Creatives Ankur Choksi, Malika Grover, Pankhuri Goel and Parija Chandra of Studio Lotus ensured it is fitted with a series of flexible components that help the day-to-dusk transition as well as unite all of Roseate House's amenity zones through a semi-formal plug-and-play setting.
The Delhi Aerocity club is meticulously crafted to offer a complete repertoire of services for business travellers, startups as well as individuals looking to rent an informal workspace setting.
Inspired by the Roseate's timeless aesthetic, the design embodies an undercurrent of playfulness with new inserts and decor elements. It features versatile workspace configurations and conference rooms in combination with private pockets, allowing members to tailor the space to suit their needs.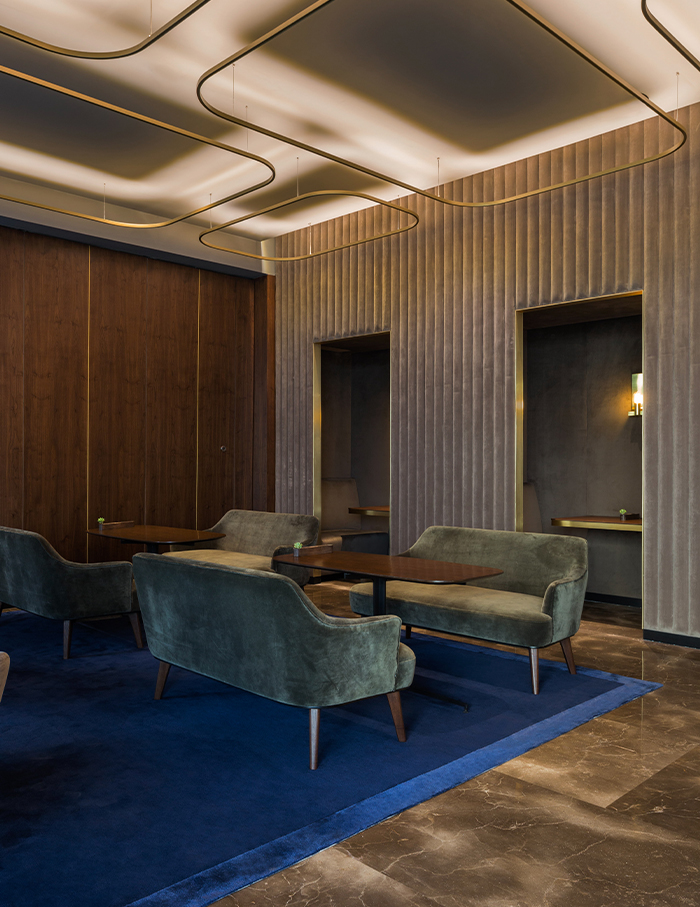 At the entrance, visitors are welcomed by a brass reception-cum-bar counter accented with horizontal bands. Above it is a news ticker with details of movie screenings taking place. On one side of the reception is a wing that comprises an informal lounge and dining space, while the other features hotdesks, an independent cabin and a meeting room. Focus on multifunctional zones necessitates the use of movable partitions and lightweight furniture.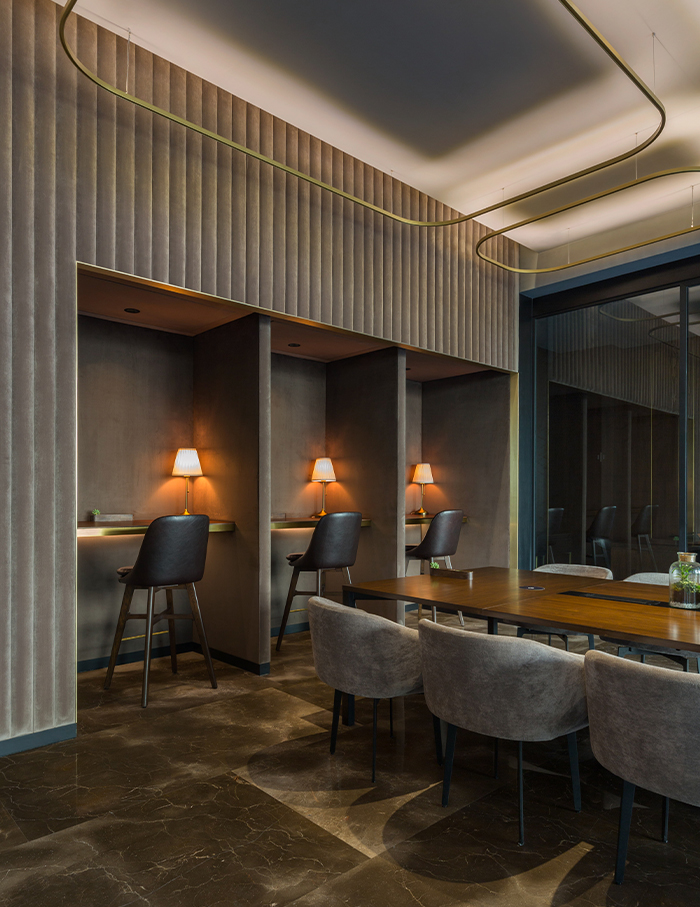 The back wall is the focal point of the entire space. Articulated in vertical ribs of fabric cladding, "it serves as a continuous backdrop to the entire experience and has niches carved out to create two-seater booths and private pods. It has a full-height library in timber, which frames the bar bringing in a layer of warmth," adds Goel, principal at Studio Lotus. Rings of suspended lights extrapolating the form of the bar counter create a geometric installation that extends across the length of the ceiling, animating the space with its sculptural presence.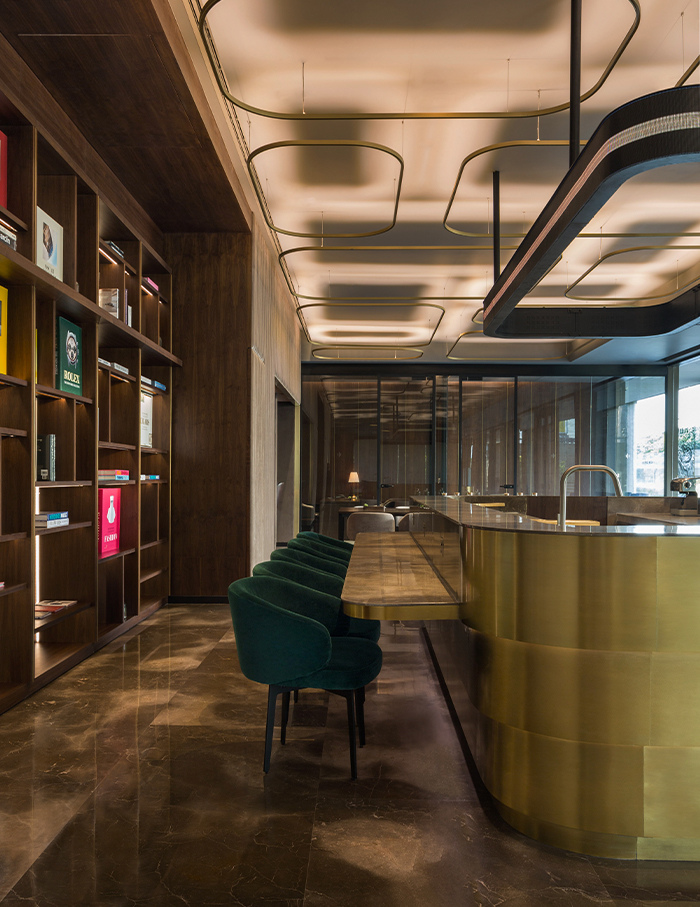 "The only challenge, for us, perhaps was to plan a space consistent with Roseate's brand identity, while going forward with our proposal to create a playful and inviting space. We had to carefully traverse this duality by layering subtle inserts to create a unique experience. Designing the lighting installation proved to be a rigorous process but fun and enriching nevertheless," shares Goel.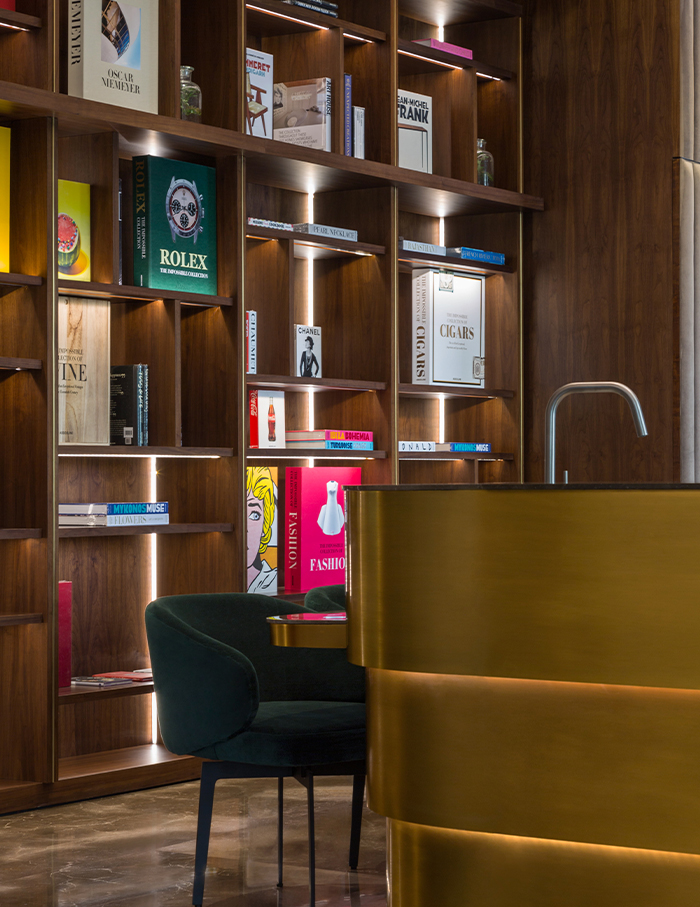 As paradigms of luxury continue to evolve, hotel chains are seeking to diversify and accommodate changing user needs and expectations of what a hospitality project constitutes. The Upstage Club, through its functional programme, reexamines the role of clubs as shared work and leisure destinations that can serve as catalysts for conversations and create new opportunities for business and growth.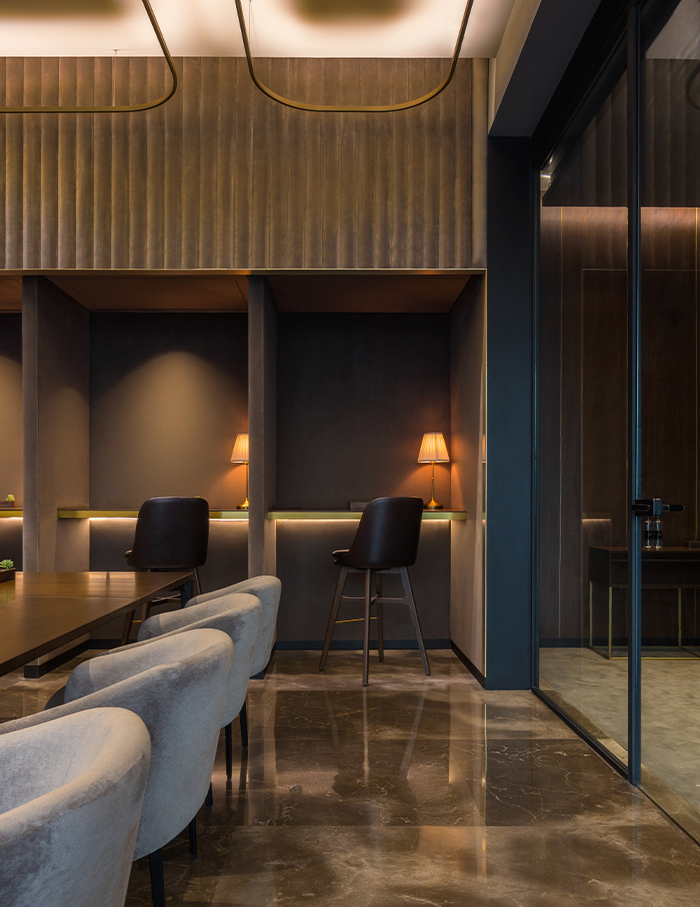 "At Studio Lotus, we employ a collaborative and iterative style of design that includes all stakeholders—our own team, the artisans onsite and even the clients. We believe in conscious design, an approach that celebrates local resources, cultural influences, an inclusive process and keen attention to detail," concludes Goel.