Homes
The perfect blend—Cappuccino home by The Little Details in Mumbai is an amalgamation of western design sensibilities and traditional vastu systems
JAN 26, 2023
| By Tamanna Doctor
For a perfect cappuccino, each ingredient needs to be of quality. Much like the same, the Cappuccino home by The Little Details follows the same ordeal. Neither too extravagant nor simplistic. Ornate but at the same time utilitarian. Luxurious and yet warm and cosy. Basically, the perfect cup. 
Designed by Jjesal Lodha of The Little Details and styled by Priyanka Aggarwal, this 1540 sq ft home in the heart of South Mumbai is a fusion of classic western design sensibilities with a touch of Feng Shui and Vastu.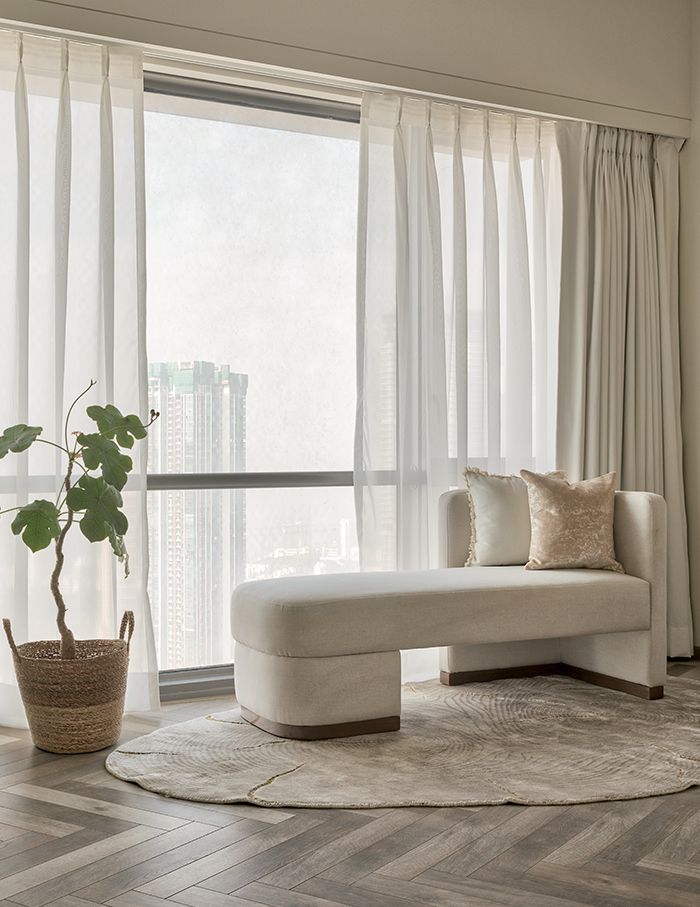 The curious brief
The premise provided by the homeowner was as straightforward as it gets. Residing out of India, the homeowner wanted a home that replicates the look, feel and aesthetic of their home situated Internationally. The home is doused in neutrals with a focal point present in every room to set it apart.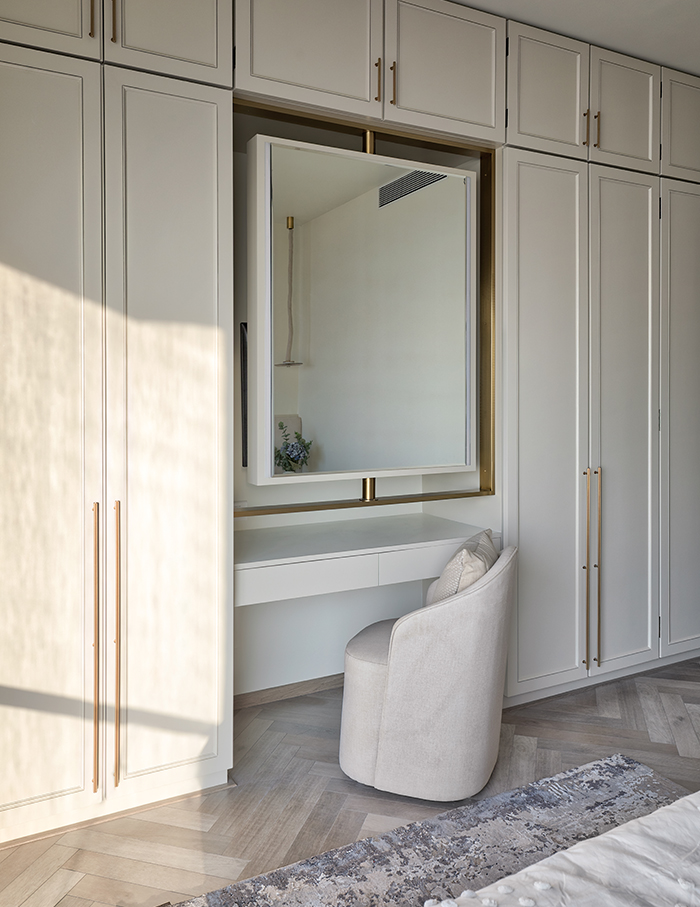 Tour every turn of the home  
Keeping true to its name, entering into the Cappuccino home feels like the blissful first sip of coffee in the morning. A lit corridor made up of contemporary arches and striped beige and white floor tiles leads the way to the living room.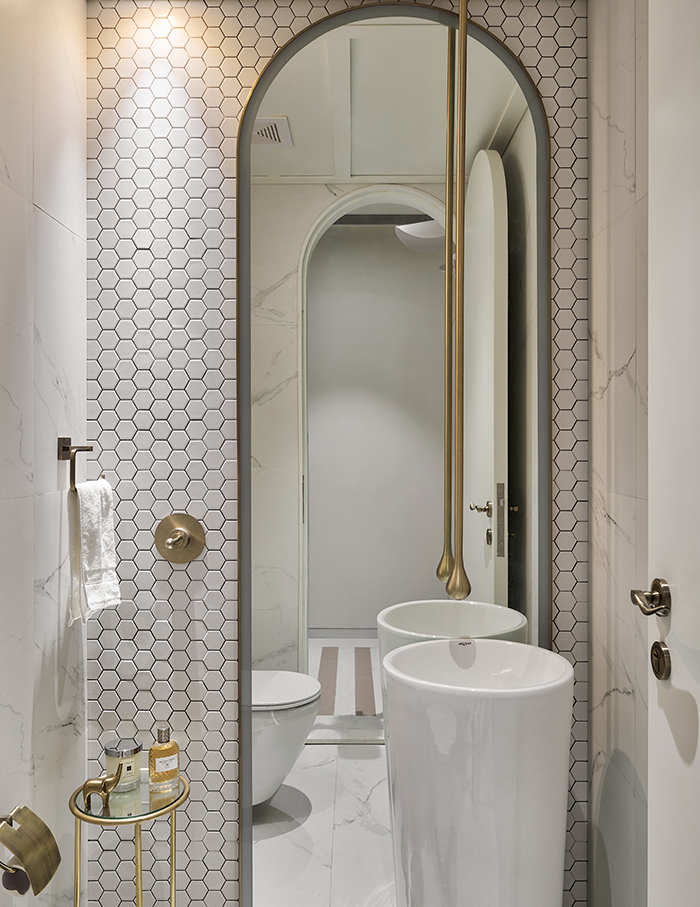 Following the curve in the living room wall, the furniture compliments the blueprint of the space and moves along the same lines making the space feel flowy and undisrupted by harsh lines. The plants placed are symbolic in nature with Feng Shui being an integral part in developing the space and concealing power sockets and wifi routers. The TV wall doubles up as a storage unit for all miscellaneous items.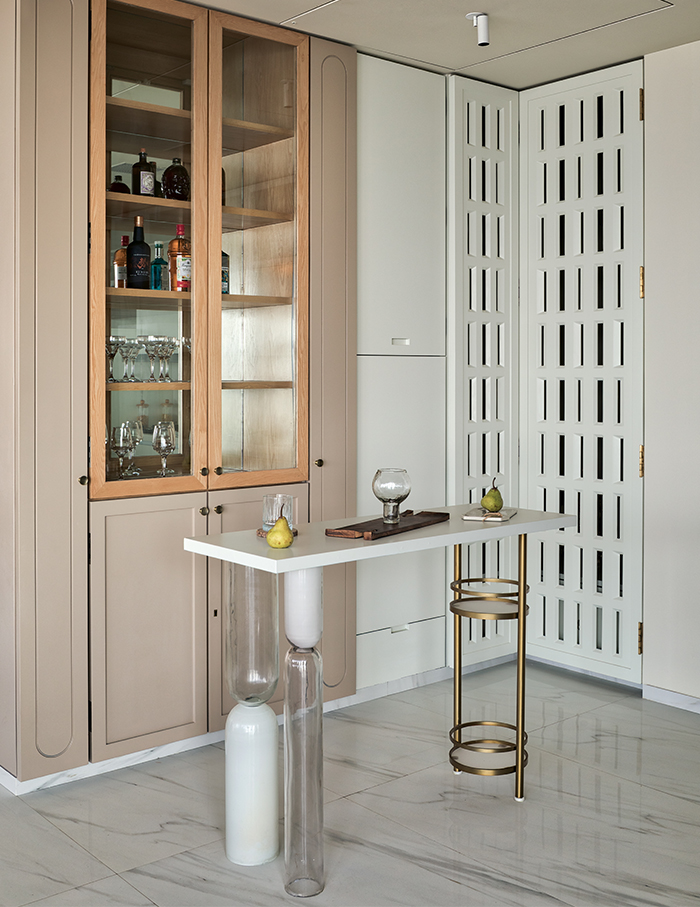 Previous spaces lead to the open kitchen with a bar and mandir. The kitchen is a sight in white with composite stones. The bar makes for a great conversation space. A concealed mandir is present behind a foldable door with laser cut straight patterns all over. 
Moving to the master bedroom, the room is tucked away in a corner. With a dazzling view to accompany one at any given moment, the furniture in the room provides a softness to the space.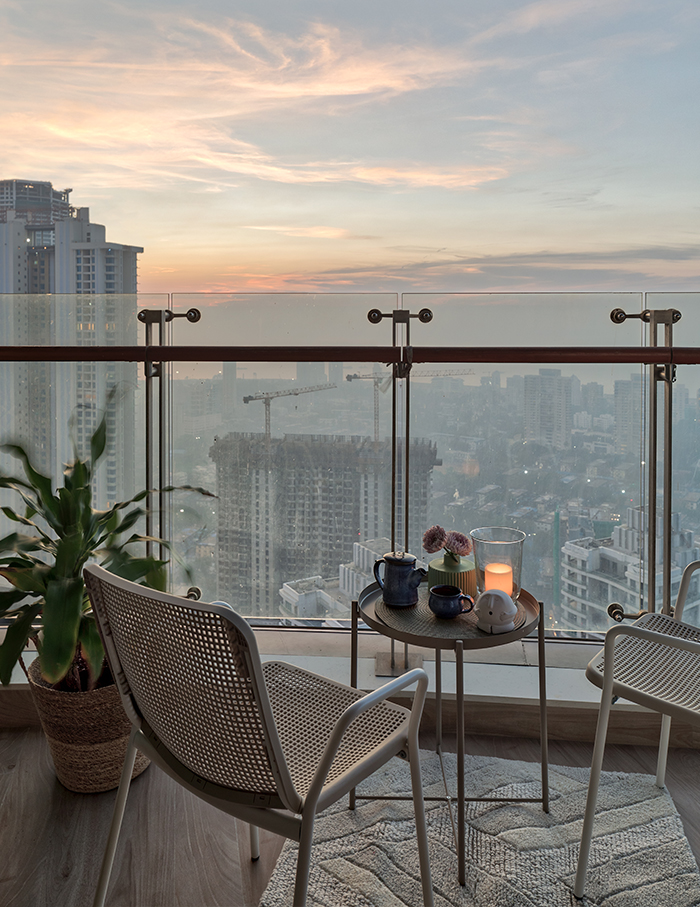 With a compact space, the parents room is organically divided into two parts, the first being the bed with bedside tables on both ends, and the second being a combination of a storage unit, a dresser, and a TV. Due to vastu restrictions, the mirror was unable to be placed in front of the bed and hence a pocket door with a full-height mirror sliding outwards was created.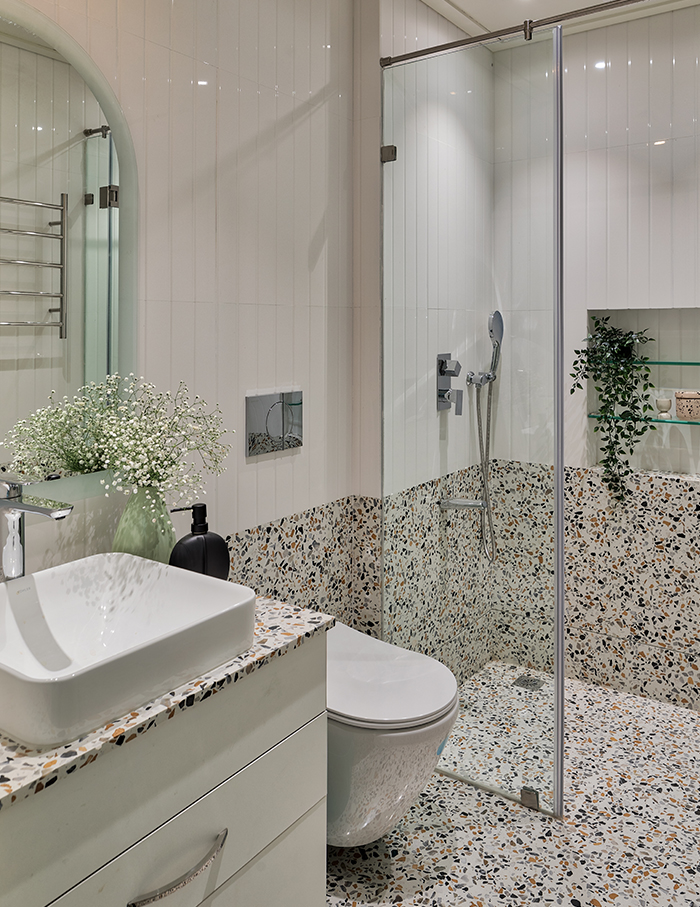 Last but not the least, the kids room. Minimalist design and clean lines define the space. With a retracting bed, there is ample play room for the children.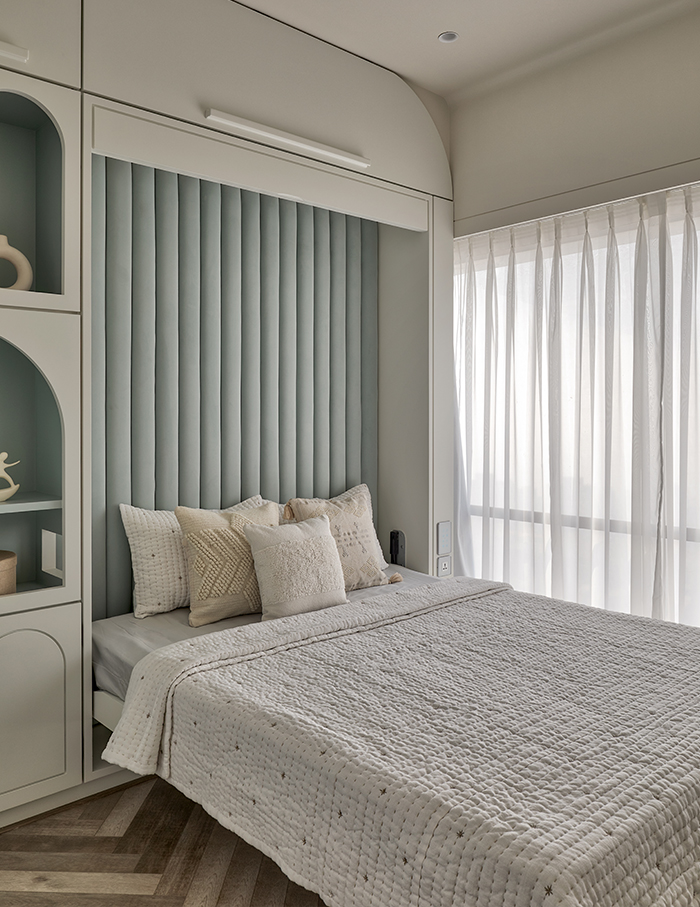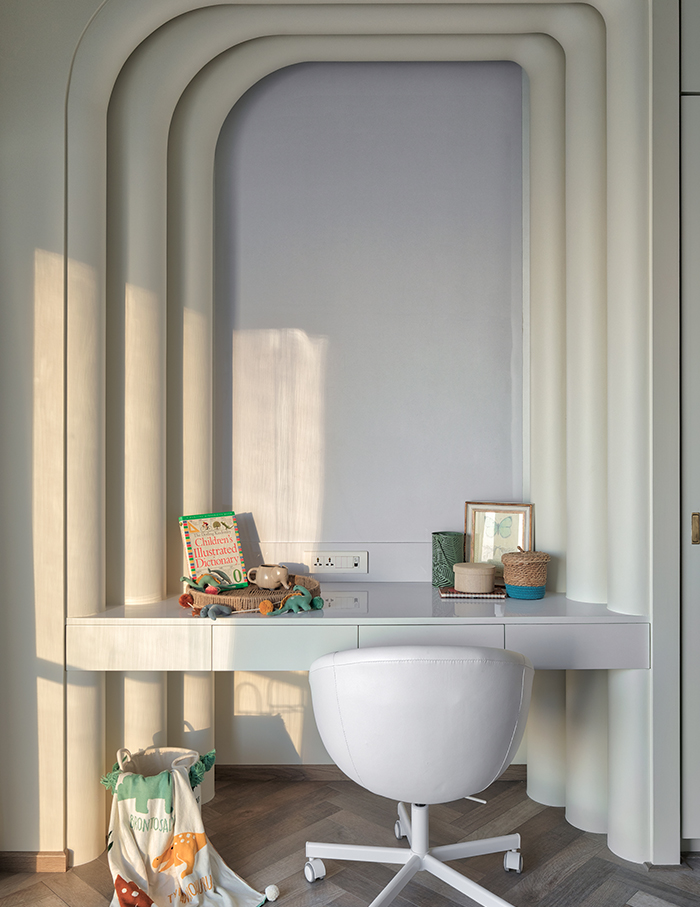 Ideas to bookmark
The living room furniture blends in with the shape of the house seamlessly. There is something so appealing about the sofa taking the same form as the curve of the living room. The stylish and utilitarian character of the furniture present throughout the home shows clever use of compact spaces.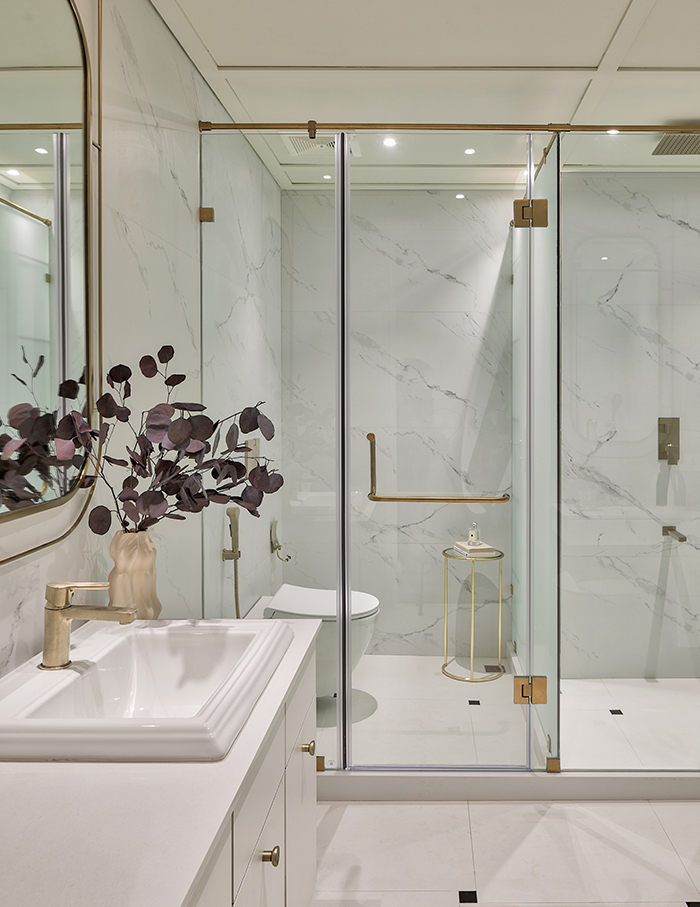 You may also like: Founder Shonan Purie Trehan's 8,000 sq ft weekend getaway in the lush Sahyadris is a modern villa with a touch of whimsy