Design
The Office—Elle Decor India's list of workspaces that will make you ditch your home office
JUN 28, 2022
| By Kashish Kaushal
Admit it or not, on some days (everyday), the last thing you want to do is go to work. But since those bills are not going to start paying themselves anytime soon, you put on your best #adulting face and head out for your daily hustle. Whether you're feeling grumpy because you had to change out of your pyjamas and put on real pants today, or because of a deadline, one thing that instantly lifts up your spirits (read: dead) is the interiors of your office. After all, if we're bound to spend one thirds of our lives working in offices, the space should entail a design language that inspires us to work. Along with that, it's equally important to cultivate an environment that promotes wellbeing through ergonomic furniture and dedicated spaces to unwind. Good office design combines both science and emotion—it is vital to balance both. Let's take a look at the offices who have managed to achieve that.
You may also like—A decluttered playground of work and creativity—Inside the Surat office of D'WELL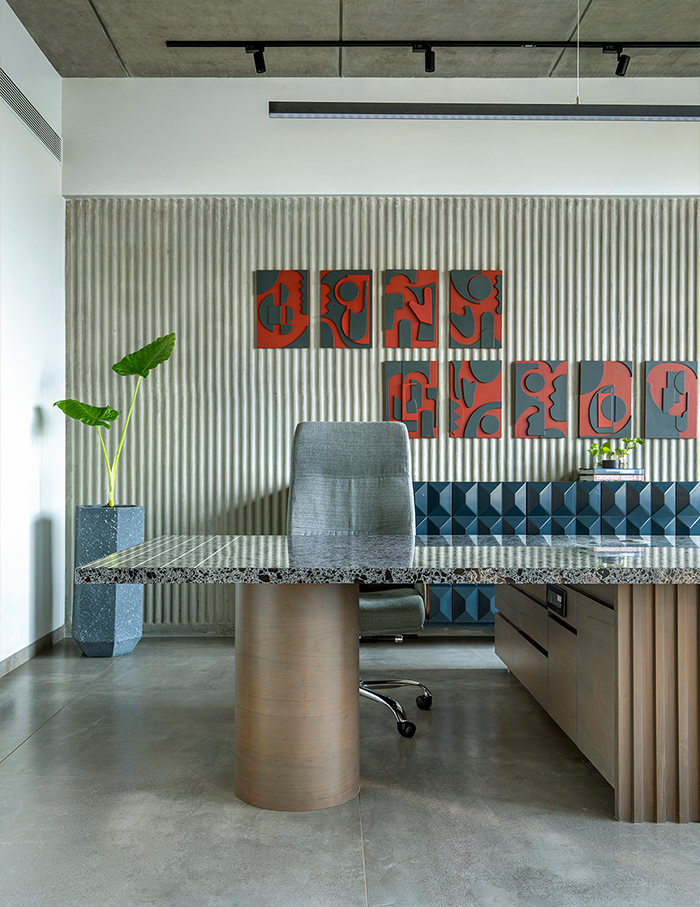 Belonging to a construction builder, the PP Office was envisioned in a modern theme with a minimal design approach by Yatin Kavaiya and Jiten Tosar, principal designers of Usine Studio. "Every space has its own unique character that redefines luxury and the overall outlook is knitted with functional designs highlighted by handpicked and custom made graphics and art pieces," shares Yatin. 
Overall, the office comes together as a combination of places with definite and distinctive material palettes, dotted with plants and greens that are contemporary and lavish. 
Media.Monks Creative Office—Studio Bipolar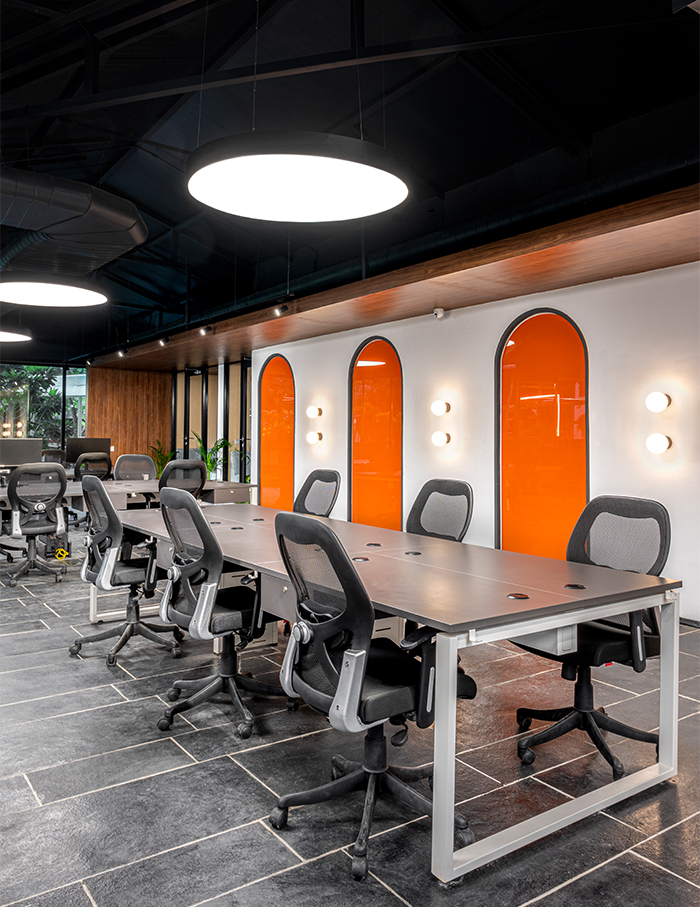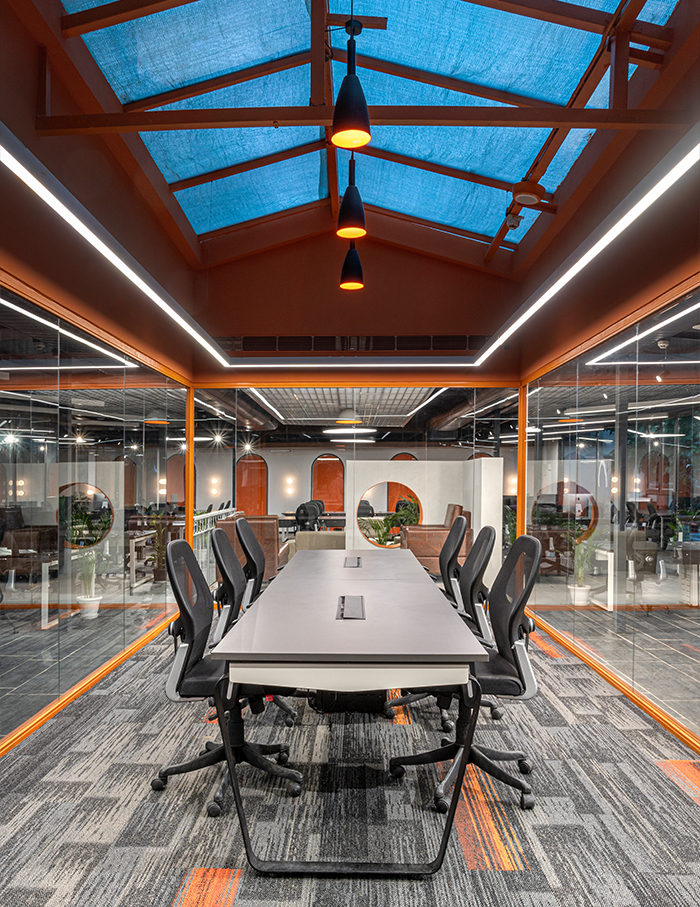 Designed by Studio Bipolar, the office is a reconceiving of the old workplace situated in the midst of lush vegetation, envisioned by the client as a space open to its surroundings, inviting abundant daylight into its workspaces. Principal architects Sanjana Mathur and Ujjwal Sagar have managed to achieve a modern minimalist look with the sharp use of hues, resulting in an invigorating work zone. In all its vastness of glazing and smooth flow of movement within, the complete space encourages employee efficacy and collaboration in a biophilic environment.
Sunidhi Chauhan's Office—Goiz Argi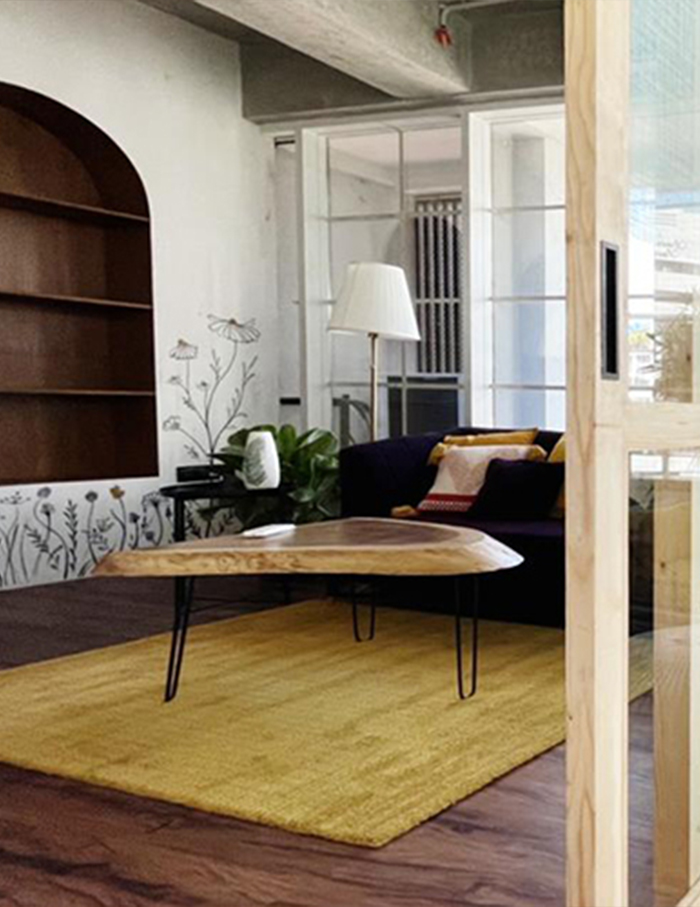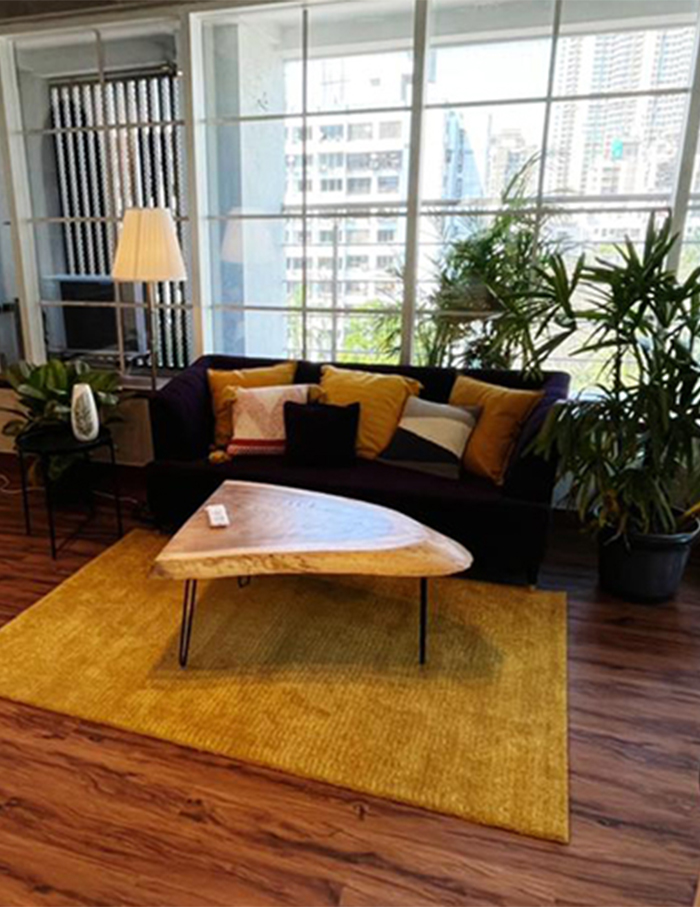 "It was interesting to create a framework that combined the idea of this space being a dance/rehearsal stage, a meeting space, and a cocoon for Sunidhi's riyaz," shares Rupin Suchak, interior designer and founder of Goiz Argi. The office was built in a way that inspires her as an artist and plays with ideas of repetition, rhythm, weightlessness, gravity, fluidity and so forth. Other notable details in the studio include its highly tactile finishes, which have been achieved by retaining and celebrating many of the original details of the space.
Smoke Lab Office – The Lab—Livin' Colors Design (StudioLCD)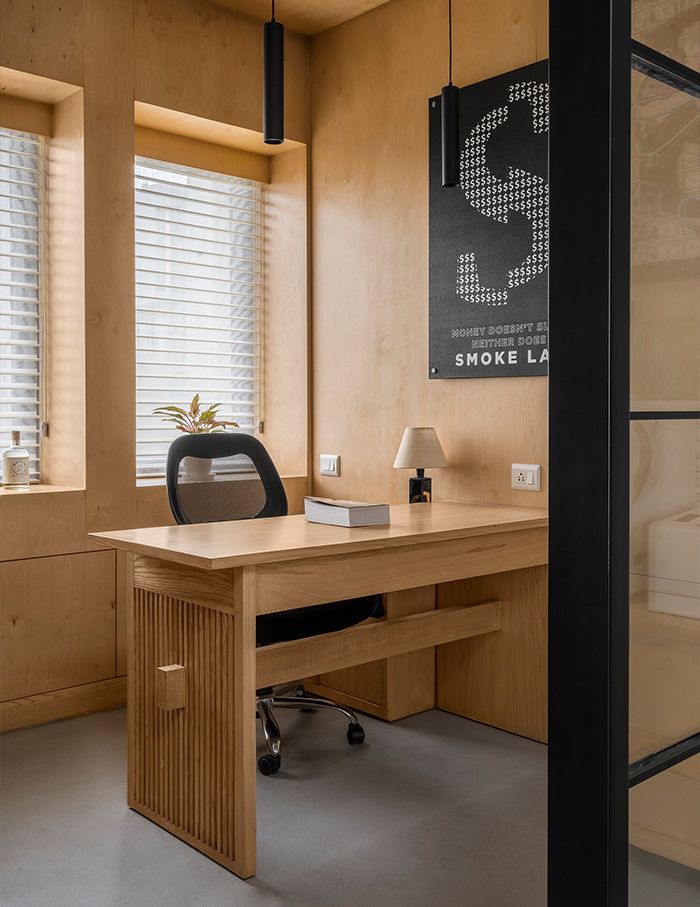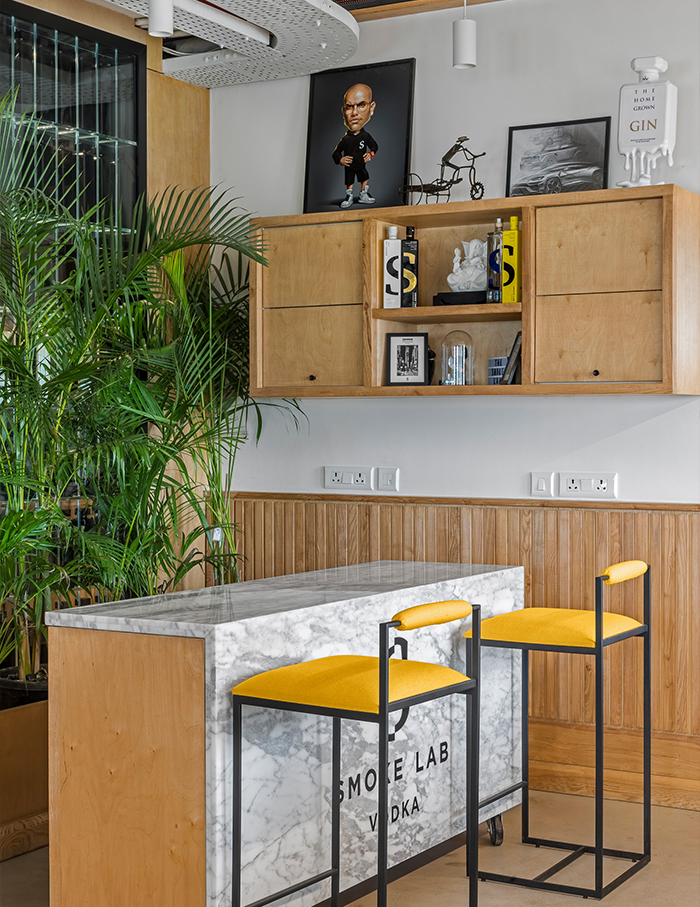 "Whenever we create or design studio space, we always try to draw inspiration from the brand itself. In the case of Smoke Lab, inspiration came easily when we saw the sleek Smoke vodka bottles! We picked up the black colour from the Aniseed flavoured vodka bottle and infused it into the waiting/reception area, while the confines of the studio space inside represent the classic white vodka bottle," shares Design Principle Amith Chhabra. What's remarkable about the office is that it has an installation that holds 229 bottles encased in glass shelves making the bottles look like they are floating on air! 
The Watt Kraft office—The Melange Studio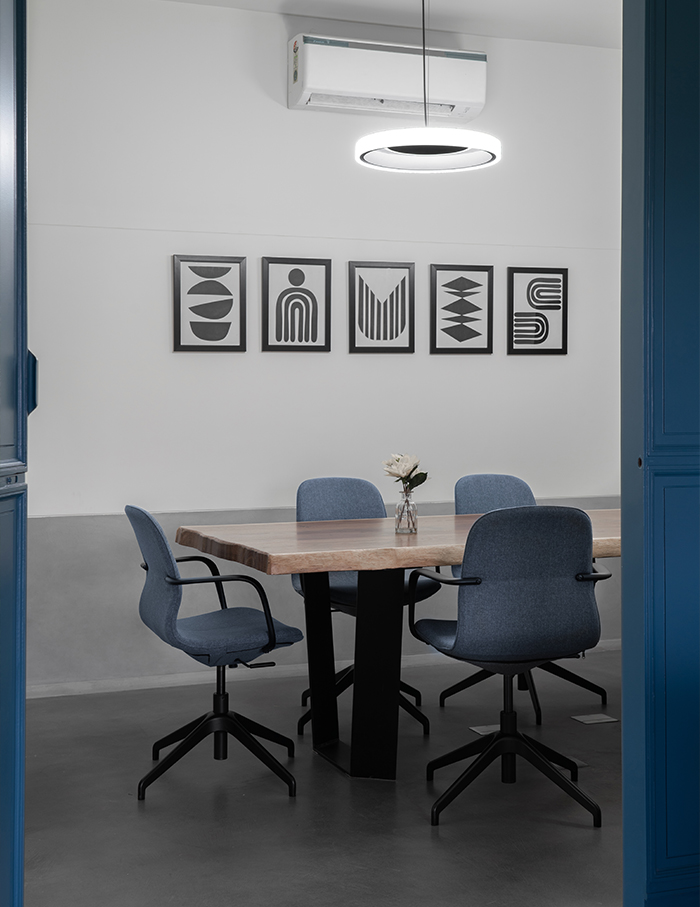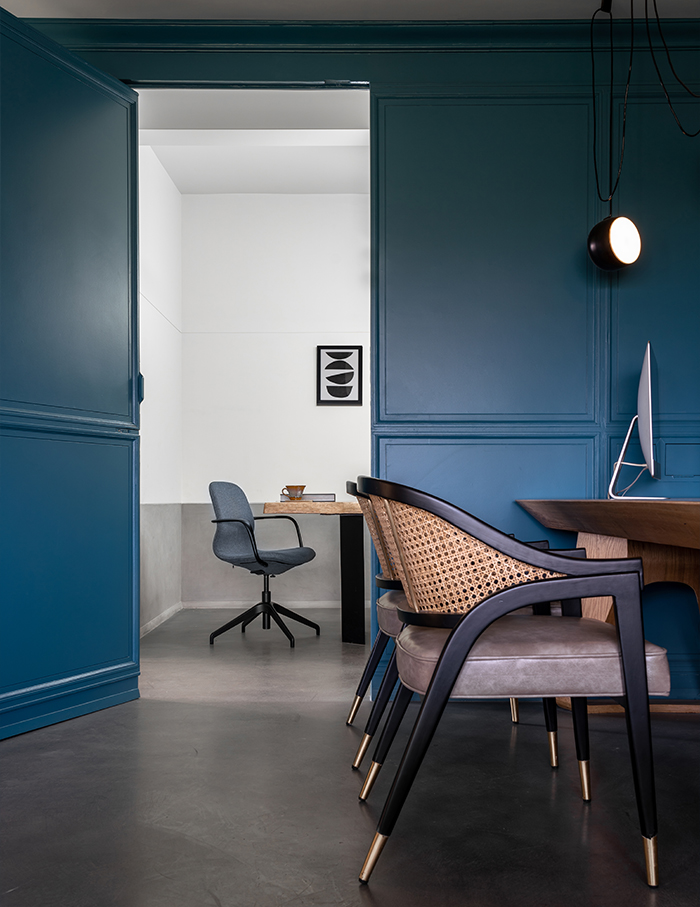 Located in Okhla, New Delhi, the Watt Kraft office is designed keeping in mind a flexible working lifestyle. The emphasis while designing was laid not only on the connectivity of spaces with each other but also on getting lots of natural light inside, which generally becomes very difficult. Directors and design principals Pranvi Jain, Anjali Aggarwal and Dhruv have concocted a predominantly white and minimal interiors, punched up and accented with a blue colour that plays against the neutrals. "One can plunge into nature amidst all the hustle and bustle of life. 'Less is more' aptly sums up this beautifully curated office," shares Pranvi. 
Wellbeing Nutrition—Pree D'fine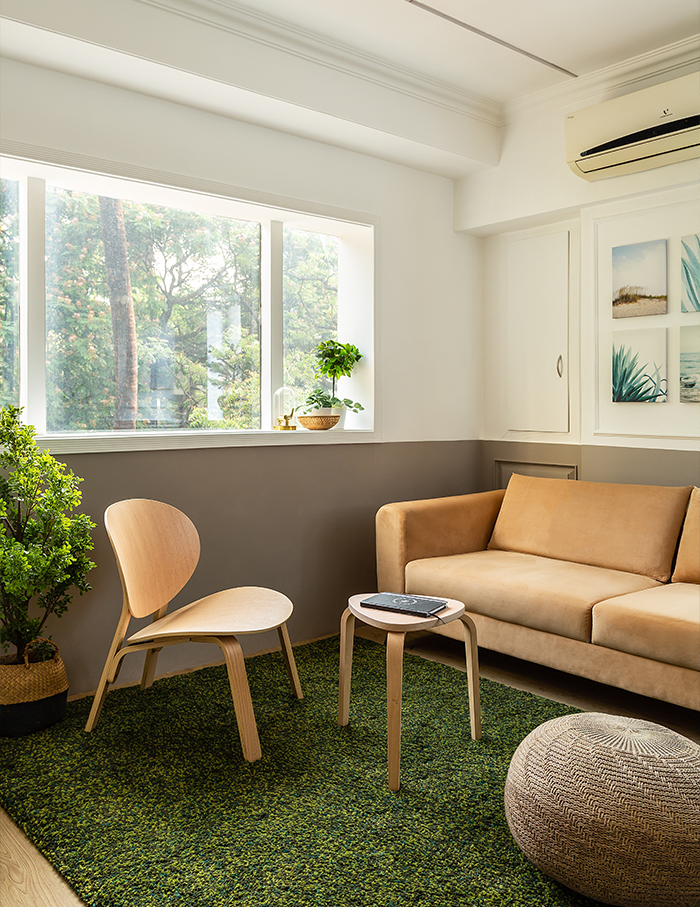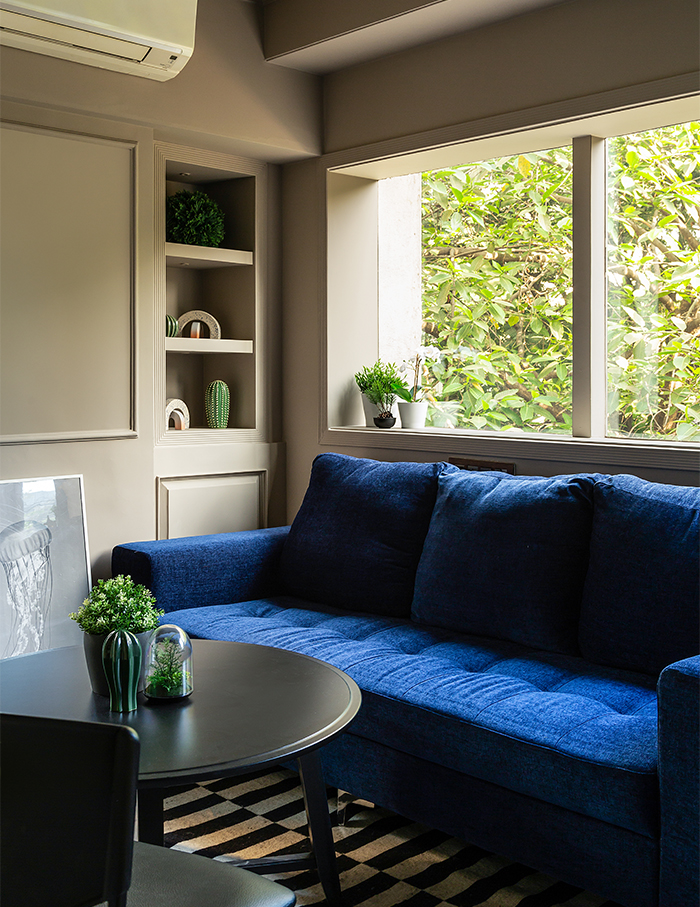 An office space that's vibrant and fresh, open and inviting, offering a work atmosphere that is inspirational, yet mindful of their growing employee list—this was the brief that Preetu Muley Pandey, founder and chief interior designer at Pree D'fine received from her client at Wellbeing Nutrition. "We decided to open up the walls to create a bigger, free-flowing work space. The perfect nooks for the meeting room and breakout room were identified, overlooking the lush green tree tops," shares Preetu. In keeping with the young vibe of the brand, the office is outfitted with stylish props like a black board to be used with a white marker. The staircase area has accents of vintage photography to encourage employees to use the stairs and keep fit.
Office in Juhu—Bricolage Bombay Design and Media LLP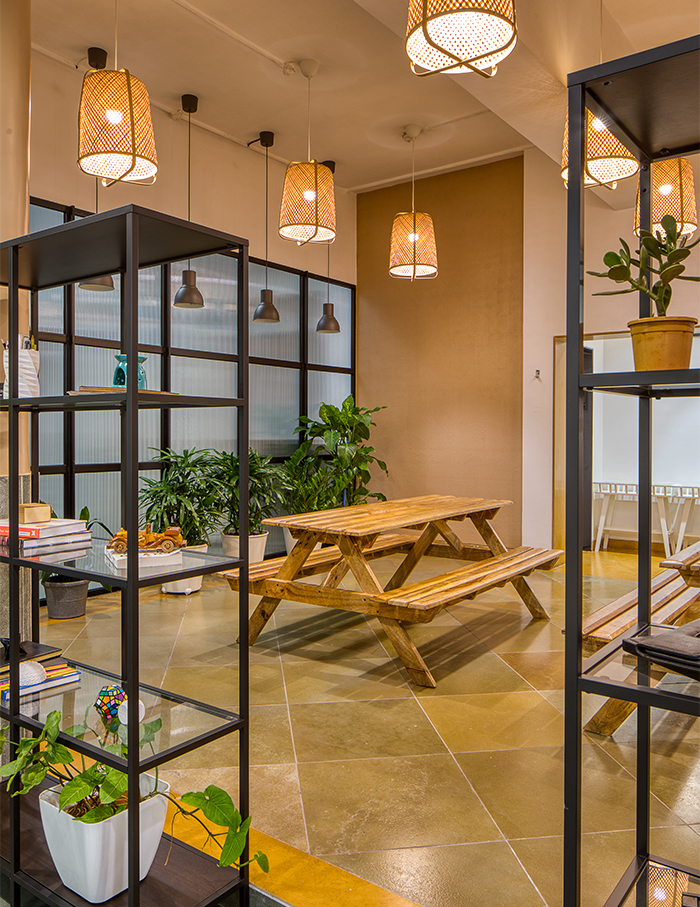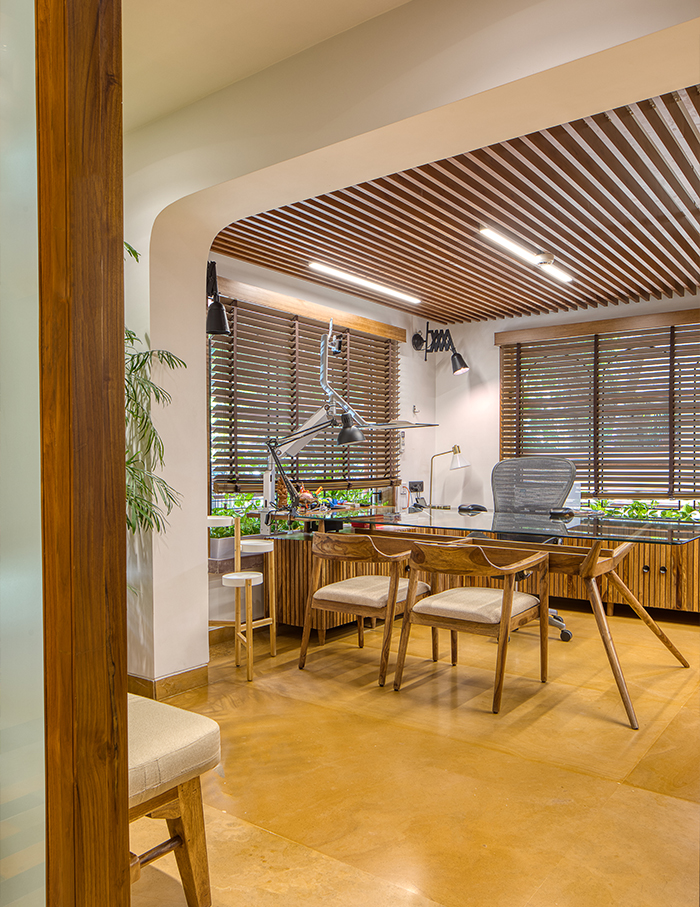 Giving a break from the feel of 'corporate' offices, a natural material palette comprising wood, stone and lime plaster engulfs this former Radhakrishna Foodland flagship retail store. Shut down for a decade, the property was repaired and restored keeping in mind a good working environment.  What's noteworthy about this office is that apart from good design, focus has been placed on ergonomic furniture through flexible seating options like the Kangaroo Table Chair set up or the Circular Wooden 3 seater table or the Standing Desk with a moving TV. "We designed a table for standing and working in the creative area. This table is nestled between two rounded columns and has a TV on wheels. We designed a long shelving system that can hold all kinds of objects from books, plants and decor objects. All the corners of the are converted to discussion spaces," elaborates founder Vinit Nikumbh. 
Office in Indore—Deepak+Kavita Design Studio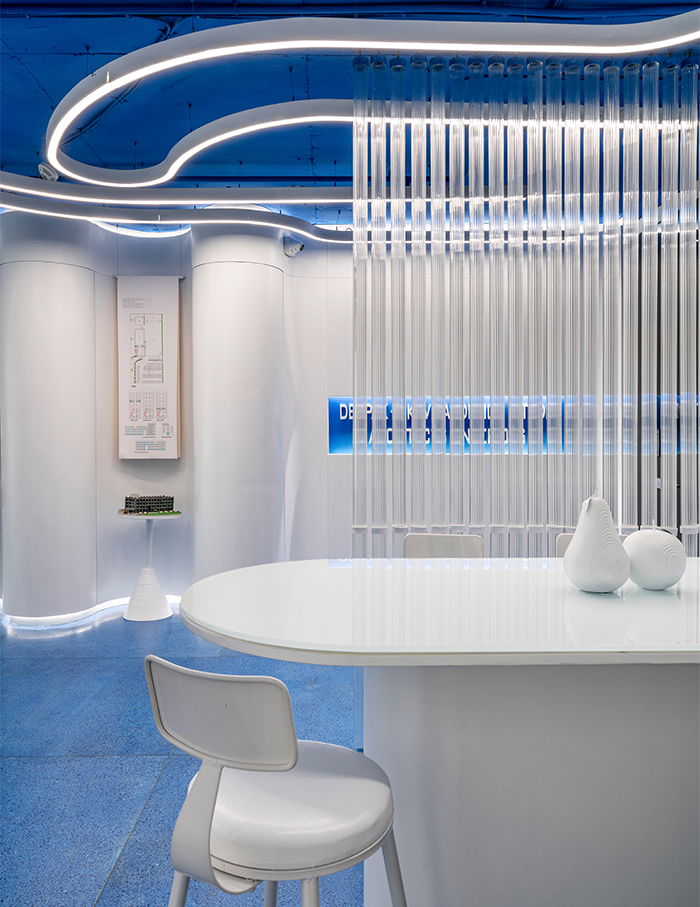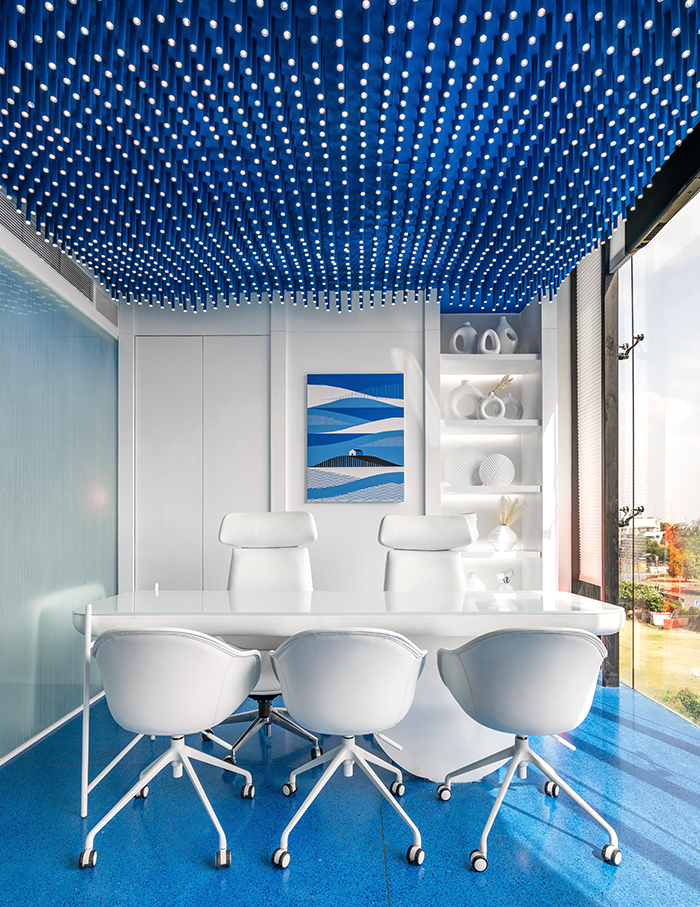 No Monday blues can ever strike the office of architects Deepak and Kavita Mukati. Deliberately crafted by putting a fresh spin on the Memphis design aesthetics, the architects' studio situated in Indore is an exemplification of monochrome minimalism. "Entire office floor features cast in-situ blue terrazzo flooring. The blue ceiling and floor anchors the surrounding white walls and furniture, pulling them into a cohesive composition. White walls and furniture gives the space a tranquil feel and creates an infinity effect," shares Kavita. This well-lit and redefined office with subtle tones amalgamates into a glorious minimalistic interior that fosters a positive atmosphere and improves working practices.
Direct by ShopKirana HQ—Atelier Earth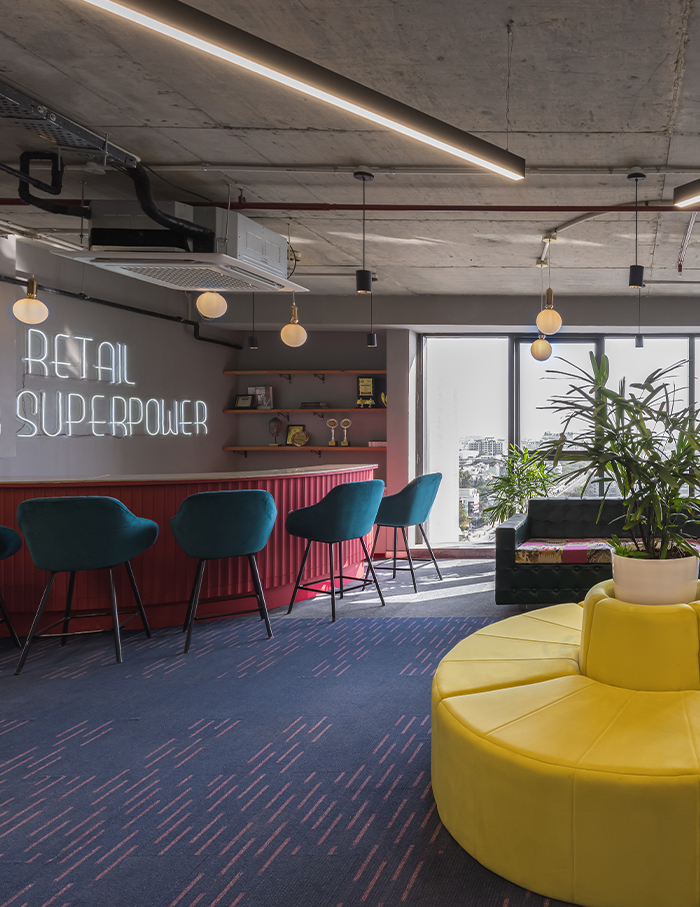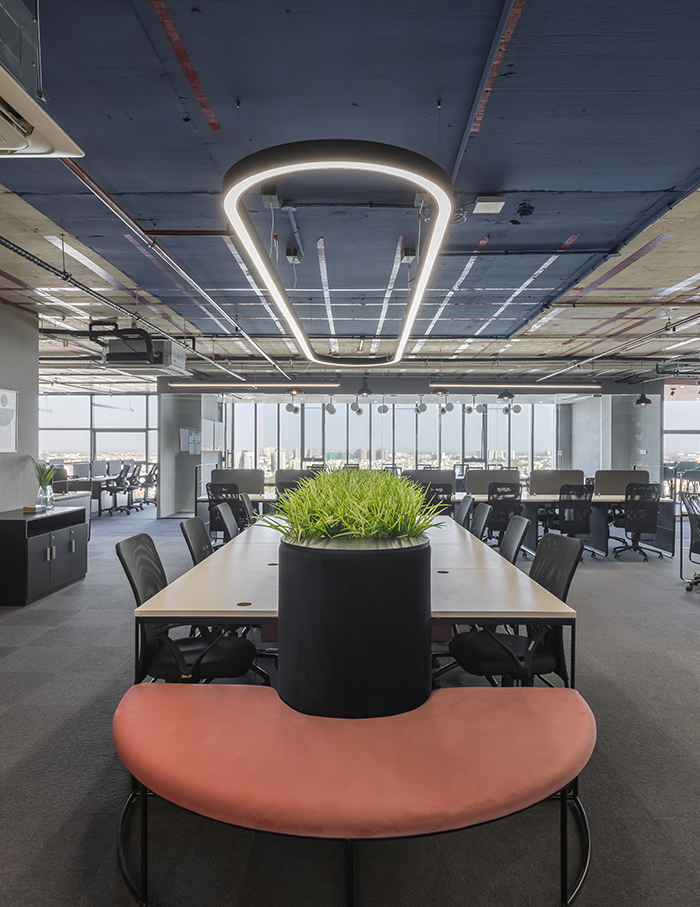 A workspace that is functional and screams start-up—the new headquarters of Direct by ShopKirana designed by co-founders of Atelier Earth Gourish Jaiswal and Shubha Suryavanshi breaks the monotony of corporate offices. The work-culture philosophy reflects best in the recreational area where a circular neon light acts as the central attraction of the space, with informal sofa seating below. "The heart of the office is inhabited by open workstations, which is guarded by a circulation passage leading to each corner of the office. This area is well-equipped to work and share ideas. From huge vibrant round sofas to industrial open shelving, from an engaging collaborating area to informal seating, this space has it all," reveals Gourish. 
Click here to check out another comprehensive list of offices that are unique, employee-friendly and enhance workflow!