Design
The Office—Elle Décor India's latest round up of offices is a mood board of eclectic charm, subtle nuances and positive energy all around.
FEB 21, 2023
| By Ishika Paruthi
We spend about one-third of our lives in the office. Having said that, the space we occupy in the majority of a day naturally shapes who we are and how we react. Therefore, it is necessary that we consider mental and physical well being while designing workspaces. Not only does an office need to have the ability to appeal to its inhabitants but also needs to create the right atmosphere!
Embodying a capacious design, each of these workspaces captures these sensibilities immaculately. Let's have a look with ELLE DECOR India's edit of trendy offices.
The Nichepharma Headquarters by Intrigue Designs Studio + Lab
The expansive 10,000 sq ft headquarters of pharmaceutical pioneers Nichepharma designed by Intrigue Designs Studio + Lab takes inspiration from its surroundings, the mountains of Dehradun. The dynamic workspace features an undulating ceiling, sweeping curvilinear walls and bespoke wooden furniture, as principal architects Devyani Gupta & Nehit Vij add a bit of zing to the monotony of mundane office life.
Along with the suspended rhythmic ceiling, the bespoke furniture flows in tandem with the organic interior design. Customised by The Vakr Studio, the ceiling and the accent furniture took 4 months to create from sketch to fabrication. The space in itself is minimalist – clutter free. The muted earthy colours further accentuate the quality of the space while the carefully chosen art piece pair well with the theme, adding colour to the overall design.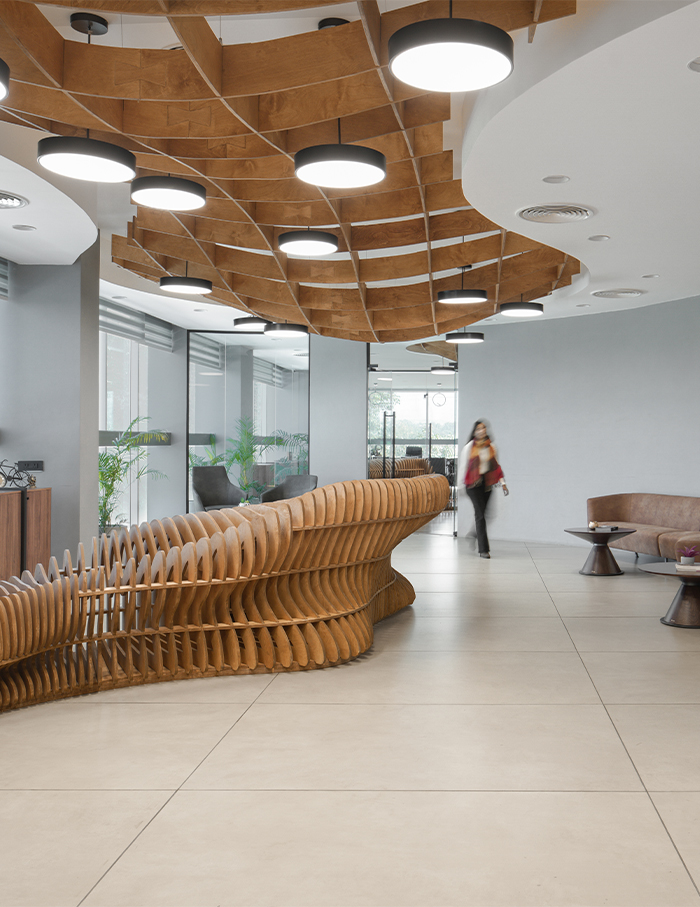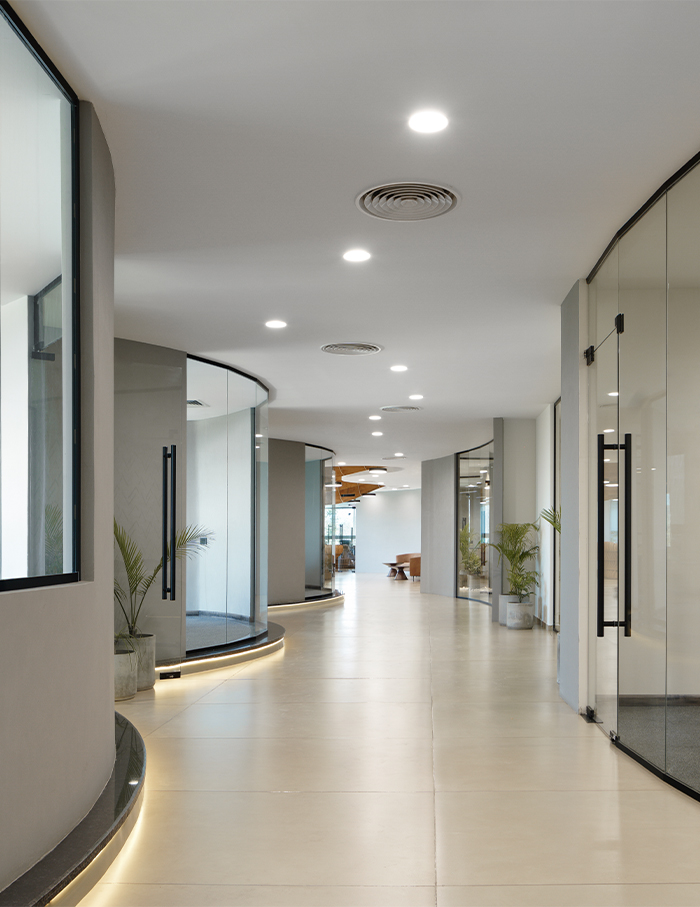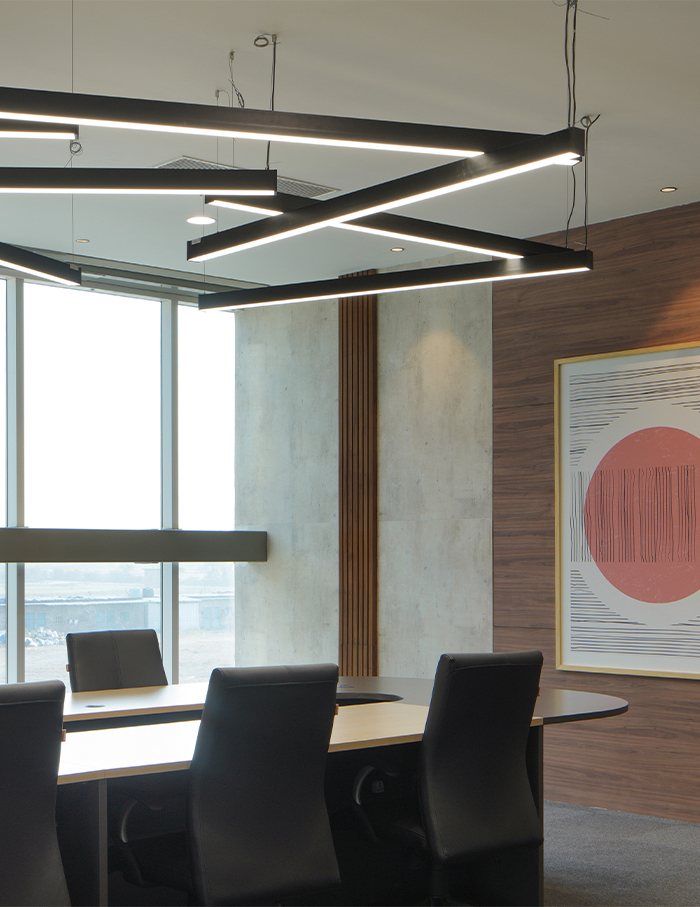 Tropic Extent—a fusion of art and nature by Kritnam Atelier
A fusion of art and nature, this tropical paradise is located in the heart of Surat. Conceptualised by Maher Desai, Principal Designer and Founder of Kritnam Atelier, this 4380 sq ft office space was completed in a record time of 45 days.
An amalgamation of art and science is what makes this office space different! A man-made mini jungle, this office space has very carefully conceptualised visuals to go with the spaciousness of the area. The space is made to stay connected to the roots with a raw and organic theme, and to achieve the look, exposed concrete, stucco paint, reusable PVC modular panel and fabric leather are used. A fluid art inspired 'diamond dispersion' is the designer's way of integrating science into the space.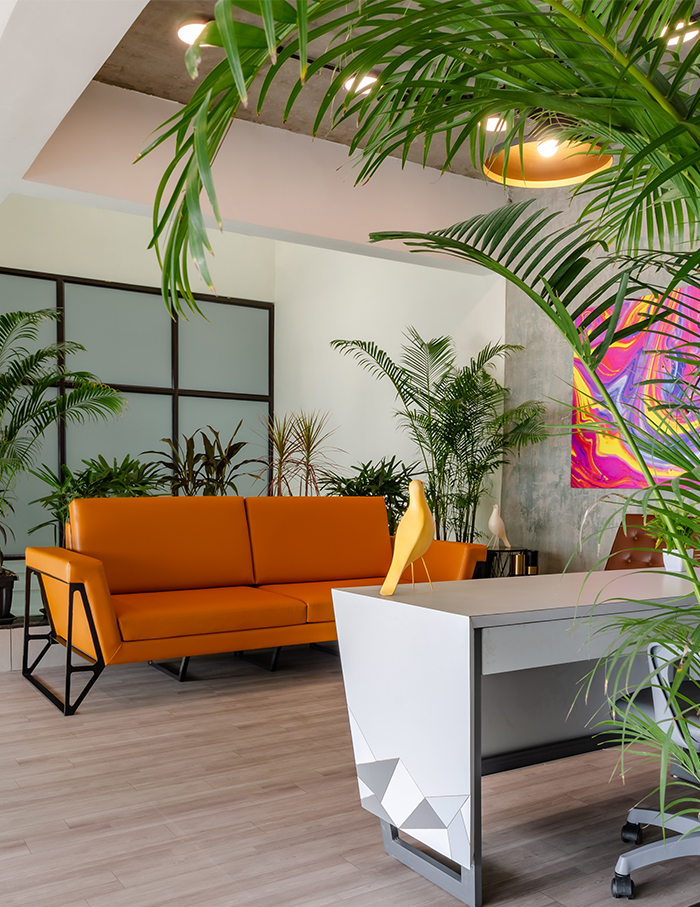 A modern co-working space's head office by Anarr Gunjaria
A 2000 sq ft space authored by Anarr Gunjaria, this co-working office space has been conceptualised for Yash Shah, Founder of Gujarat's finest service provider in the largest hub of cotton textiles.
Called 'The Address', this space is a play on varying zones which inspires people to come back to work post the pandemic. A beautiful yet functional space, this elevated workspace has a 1500 sq ft terrace which is the highlight! Filled with open workspaces and glass cubes on both sides, the office has a sense of transparency and openness while the reception gives a sense of warmth. Anarr hopes that this newly crafted space will foster new interactions and working relationships.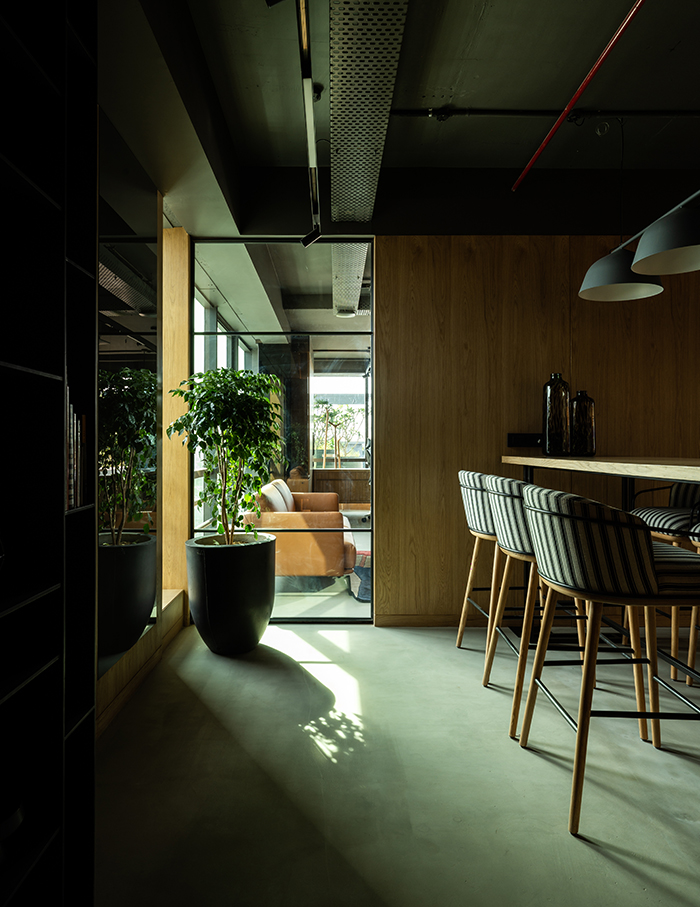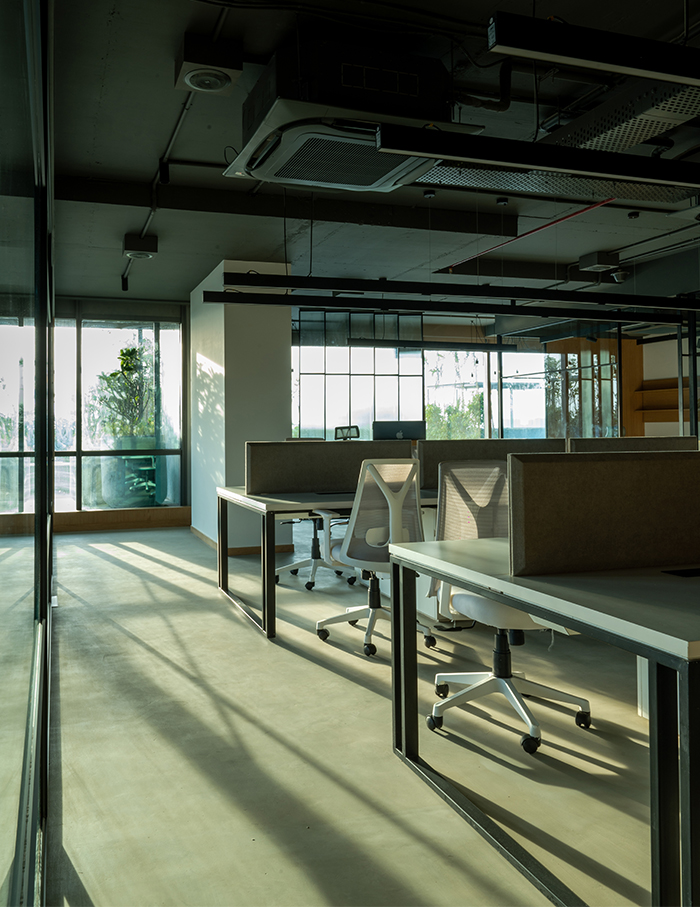 The British Base by B&A Design Studio
Amidst Mumbai, a city that never sleeps lies a sumptuous pharma office. The expansive, 1500 sq ft workspace gives you a taste of exclusivity, minimalism and artistry all around. Rhuta Baheti Gandhi of B&A Design Studio takes us back to Britain's sophisticated culture with the unique and intricate mouldings that extensively adorn the walls and ceiling of this workspace. 
Adorned with breath-taking furniture and vibrant colours, which is very evident in the flamboyant blue reception. The glass labyrinth leads you to an enlarged space, designed with a nifty choice of materials, curating a workspace that is stimulating for the employees and takes the space up a notch.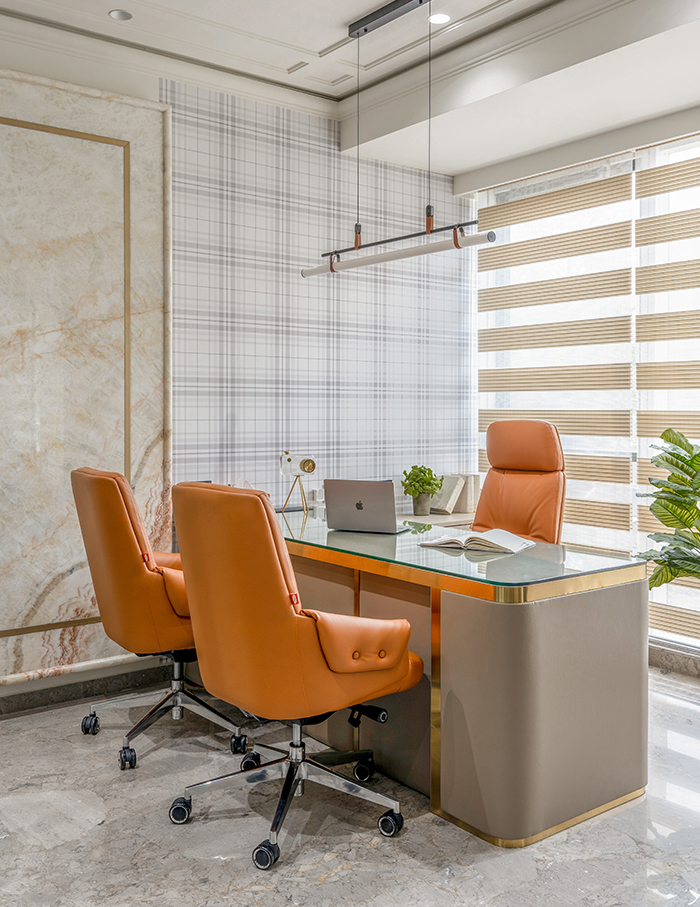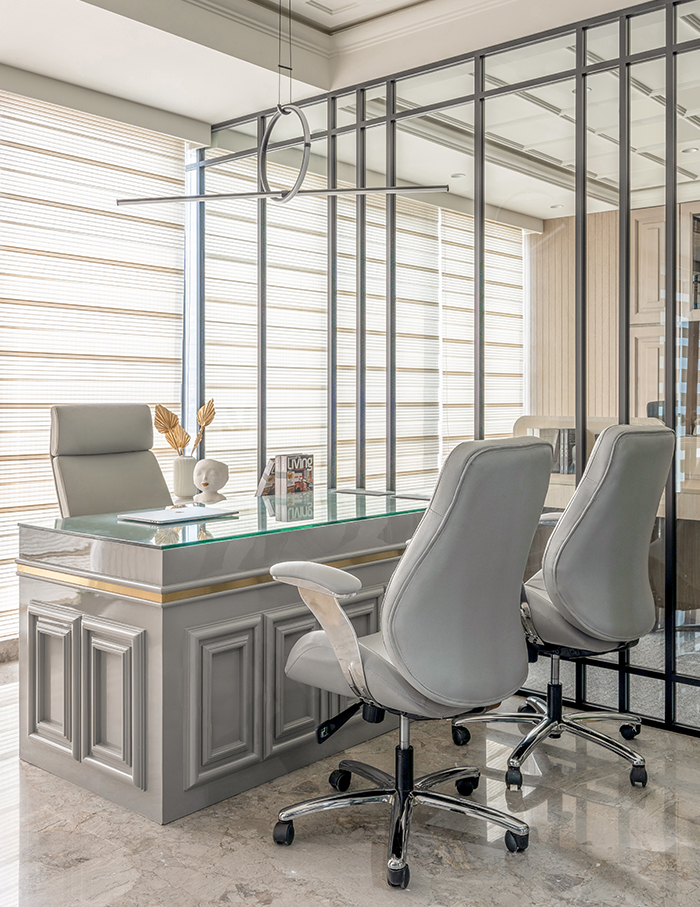 Aangan Architecture Studios curates an office for themselves
Conceptualised by architects Ayushi Chaturvedi and Megha Dumasya of Aangan Architecture Studios, this 600 sq ft, Indore based workspace captures both their creative processes in its essence. 
They aimed to curate an unparalleled experience for every visitor to take away a magical detail while leaving. Oversized windows overlooking the 'Aangan' below have been well incorporated to bring in a pop of colours through the greens and plenty of sunlight. With a soothing palette, the space has a positive energy to it—be it the sage coloured windows or the terracotta coloured door, every space combines to craft a beautiful and soothing ambience.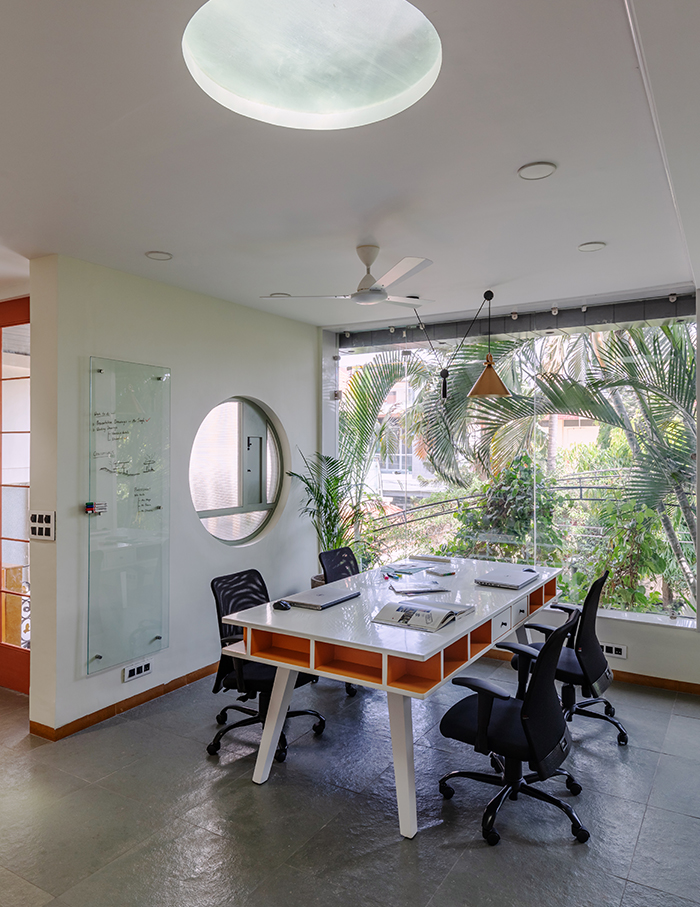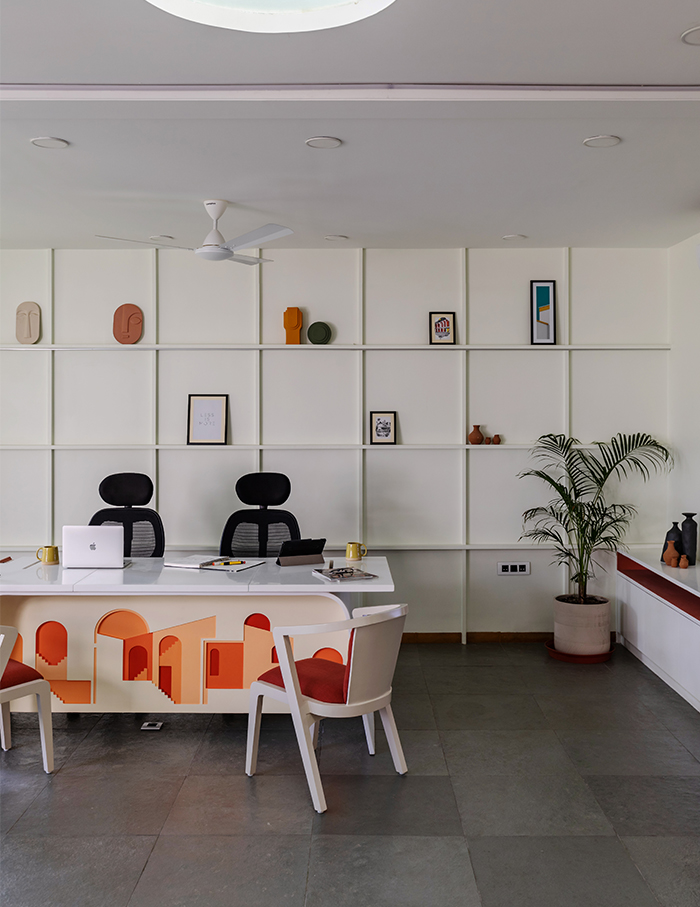 High-on-Sober by Design Ethics
Co-founders and principal architects of Design Ethics, Poulomi Dhar and Jatin Gupta craft a 4000 sq ft office space for a chemical dye making company, in the heart of New Delhi. The main goal of this project was to create an environment which would function as an extension of the home office. Keeping this in mind, a set of colour blocked areas were developed to build on the work dynamics, have collective meals, be a part of meaningful discussions and have a resting space.  
Created as a multi layer space with playful designs, forms and elements, this workspace also has a carefully crafted terrace with lush greens, making it perfect for occasional company meals.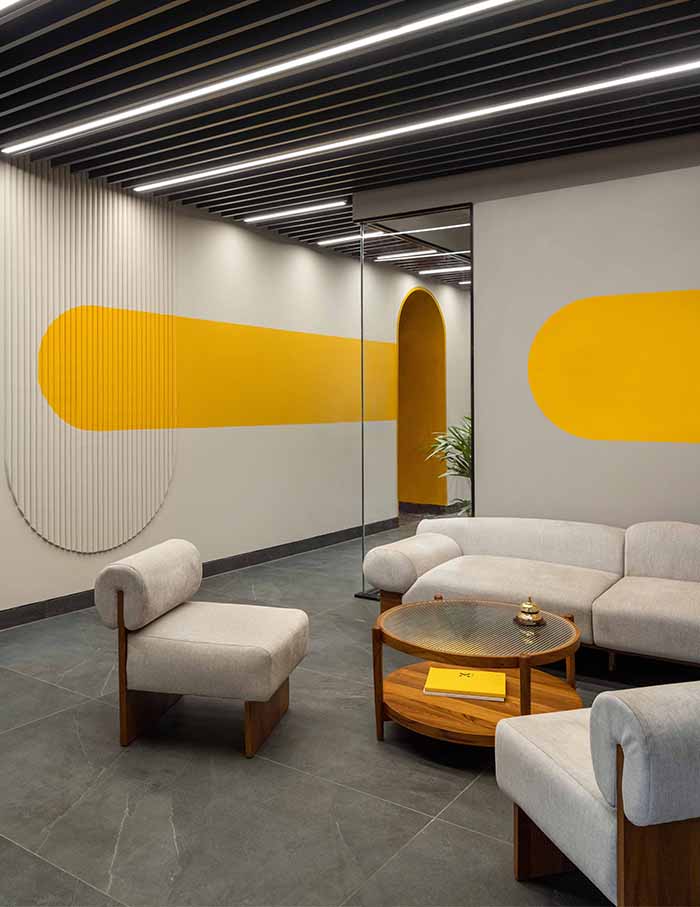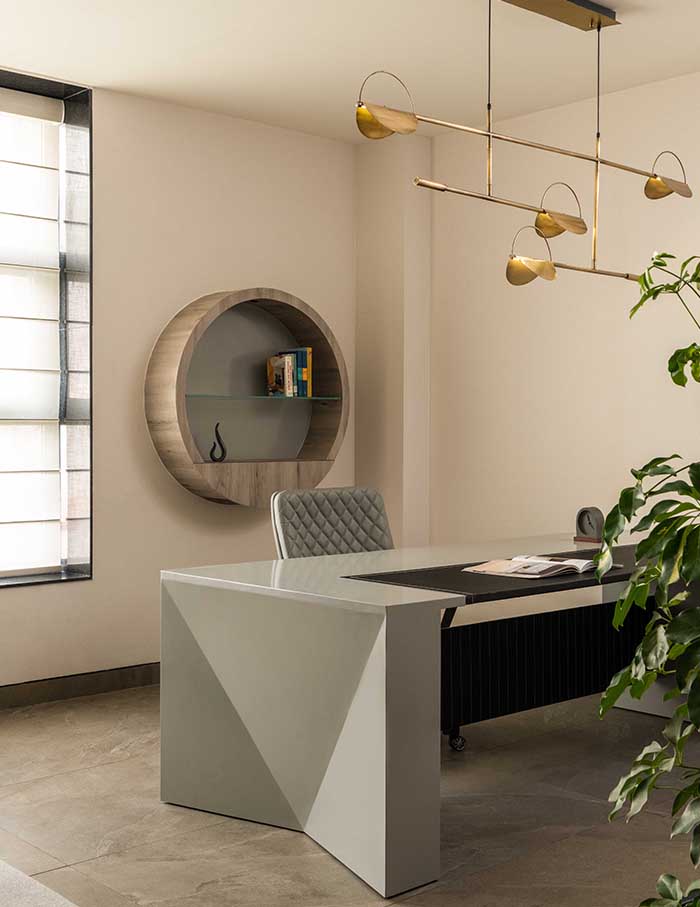 Office in the Groves by Dot Dimension
Sharman Mehta and Heet Saliya, lead architects of Dot Dimension, designed a workspace which breaks office stereotypes left, right and centre and connects the user with their surroundings. Completed in 2021, this 3100 sq ft office project called 'Office in the Groves' is a developer's office in the lush city of Surat.
Designed for the Avadh Group, this office space blurs the boundaries between the indoors and outdoors. The office space is a minimal transparent cuboid with a pitched roof amidst a grove of trees, shading the buildings and allowing for views from all sides! To complete the space and complement the overall theme, a set of abstract 'cityscape' art pieces have been added. The colour scheme here breaks down the monochromatic palette of materials and helps in improving the work efficiency of the users.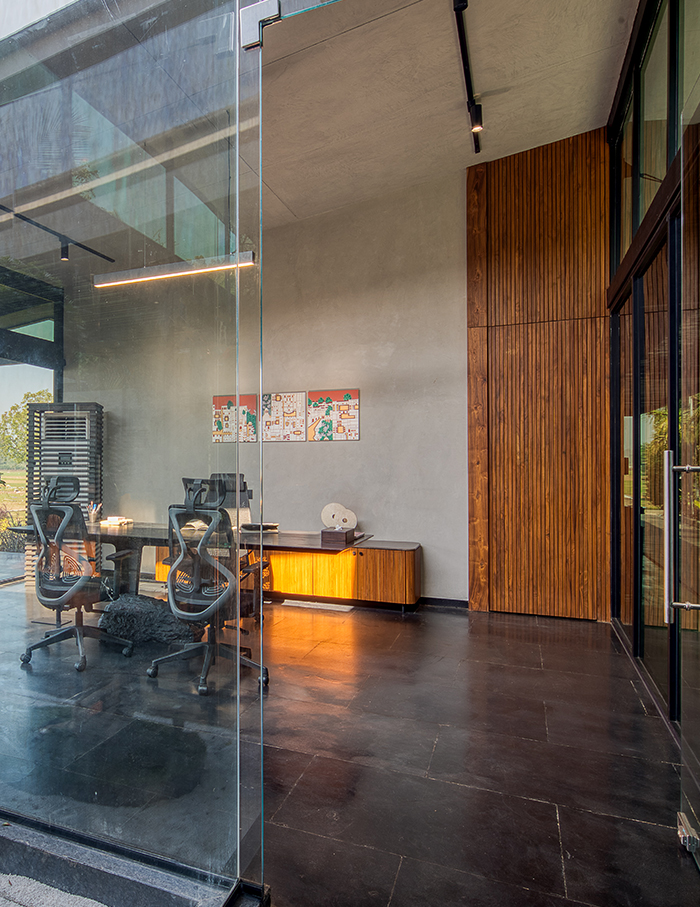 Orange & Grey by Design Dual
Conceptualised in the heart of our very own capital, New Delhi, Wamika Bansal and Arjun Sara from Design Dual designed an 1150 sq ft office space for three young lawyers' space – Orange & Grey. The clients had their own set of requirements which included a reception area, four workstations, a conference to fit nine people, a reading room, a small pantry and a unisex toilet. 
As one enters the office, a bold white marble table against a wooden backdrop instantly catches the eye at the reception. The cabins were all pushed to one of the linear walls leaving a decent amount of space for the rest of the additions. A cloudy grey ceiling was achieved with a shimmering putty texture finish. The workstations have been aligned in an 'L' position since they are near the conference room, pantry and toilet. This office space for three lawyers is an amalgam of chic, classic interiors with a bold essence!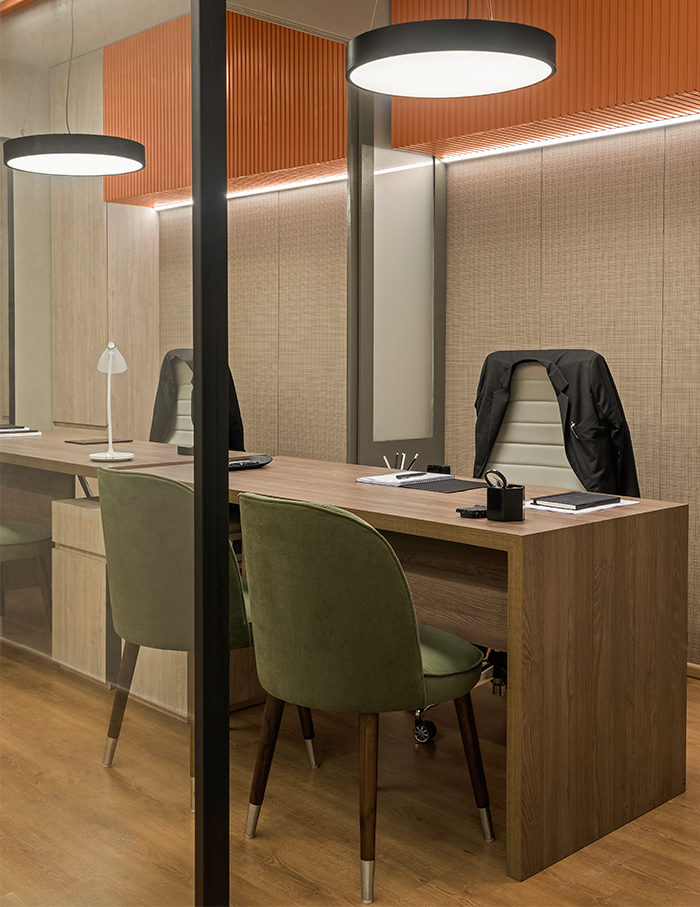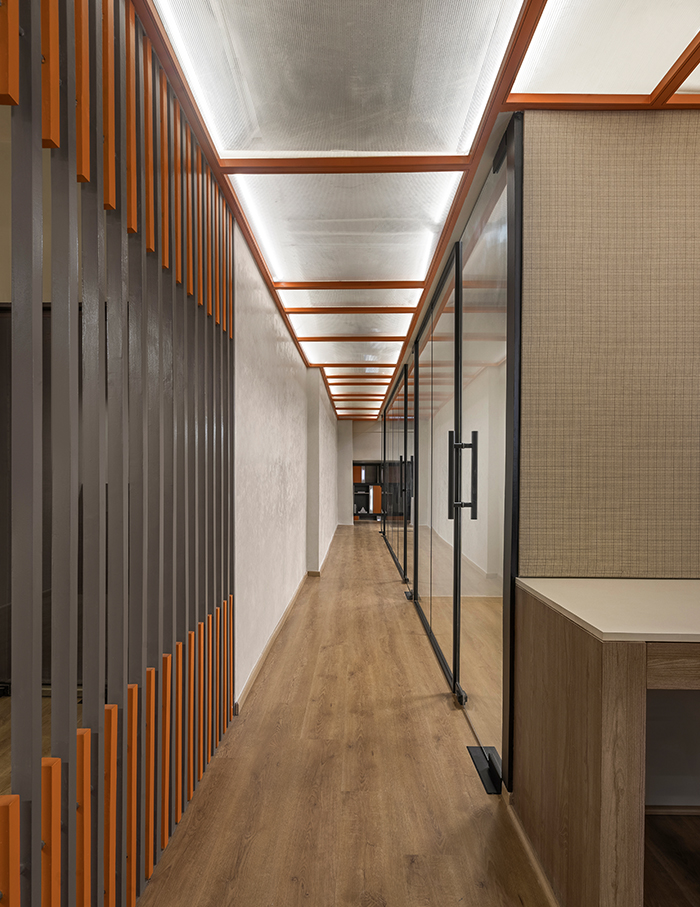 The Window for SK Music Works by Rad Co+ Lab
Completed in 2022, The Window is a 2700 sq ft music lounge and studio authored by Aashna Shah, Ruchir Jain and Manali Moghe of Rad Co+ Lab. Spanning three levels, this workspace is designed for music composer Siddharth Kasyap, a 40 something year-old full-time industrialist who has recently resumed composition and production. 
The studio cum lounge boasts an array of spaces at various scales to host people from within and outside the industry. Featuring a small recording studio on the upper level and a jam room in the basement, the workspace is cocooned amid some of the most established production houses in the country.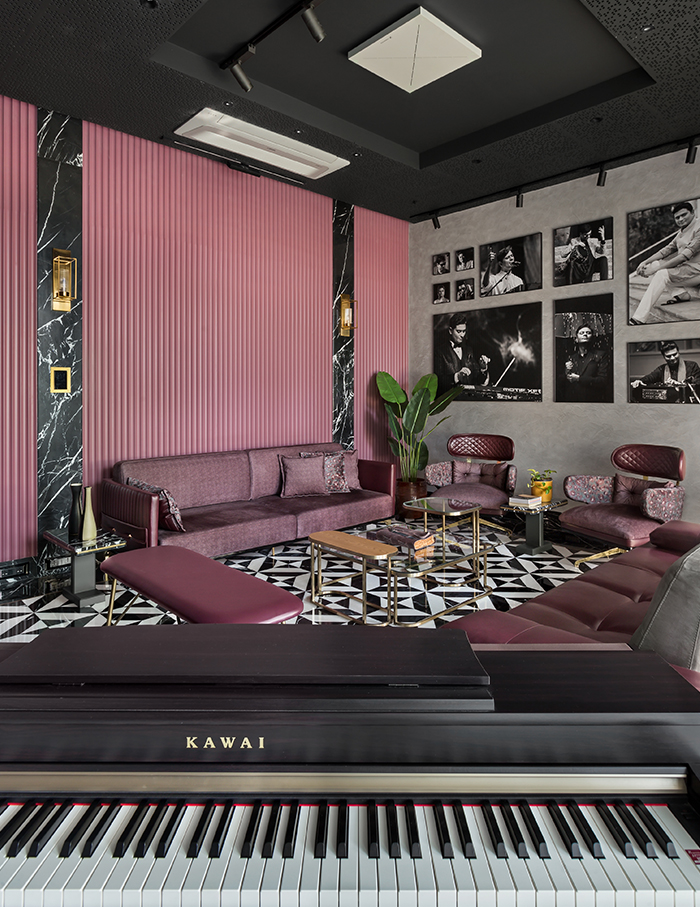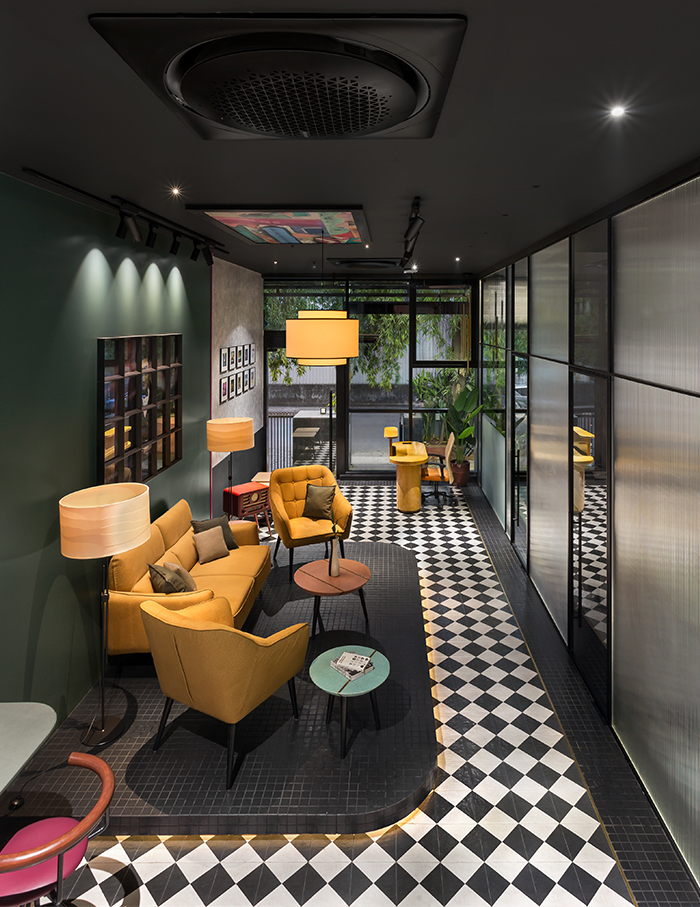 Iris by Envisage
Envisage, an interior and architecture firm specialising in the design and build projects was tasked with curating a 1000 sq ft office space in Gurugram. Formed by husband-wife duo Meena Murthy Kakkar and Vishal Kakkar, the office is conceptualised as an optimally functioning workspace, and looks out directly into the Gurugram skyline while absorbing the sunlight in abundance.
Made up of a muted palette, the office features neutral tones and terrazzo tiles which complement the pinewood rafter. Hints of colour have been incorporated with a generous amount of plants and an olive green locker wall. Furthermore, the soundproofing for the glass partitions is carefully constructed with airtight joinery which is a magnetic lacquered glass used in places doubling up as pin-up boards.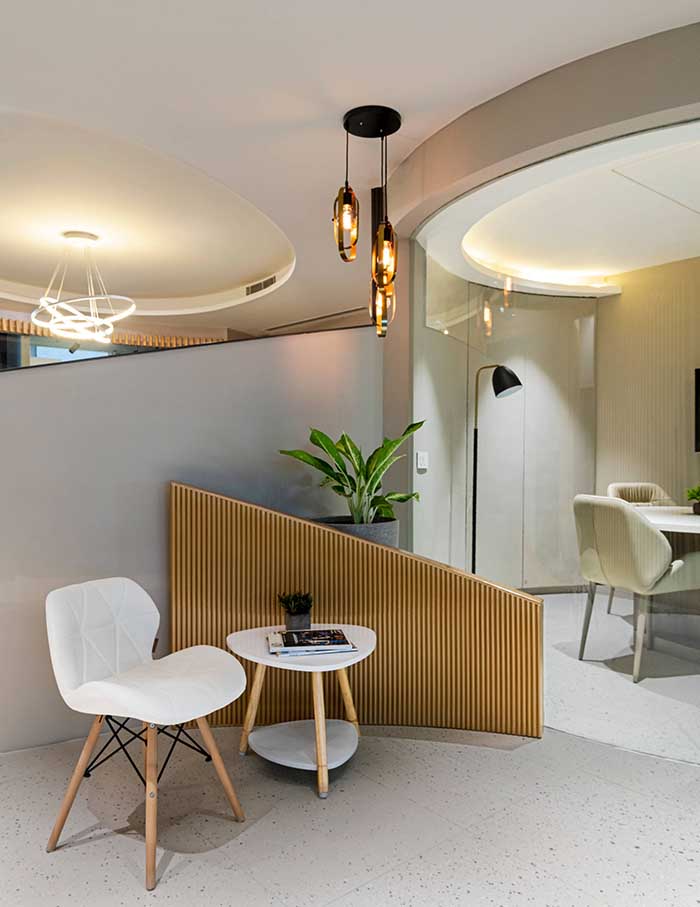 Explore more offices captured by Elle Décor India that will you want to stay in the office all the times