Homes
The Joy Alukkas Kochi residence by Meera Pyarelal of Temple Town is a novel perspective on finely nuanced design principles
NOV 17, 2022
| By Ankita Rathod
Demystifying a charming slice of India's colonial past. Illustrating impeccably nuanced design ideologies and aesthetics. Enriched in India's rich textile grandeur and reminiscent of Kerala's cultural history. "This home is an endearing gift from a father to his daughter," describes Meera Pyarelal, Founder and Interior Designer, Temple Town, referring to the 5,000 sq ft home owned by gold baron Joy Alukkas in the picturesque city of Kochi.
Boasting of nine thoughtfully designed spaces, from the entrance lobby leading to the foyer, which makes its way into the drawing room, dining area and kitchen, which is equipped with a breakfast station. A long corridor lined by the master bedroom, another winter-blue bedroom and a media room lead to the more private spaces of the apartment that it outlined with slivers of history, exuding a fascinating blend of design classics.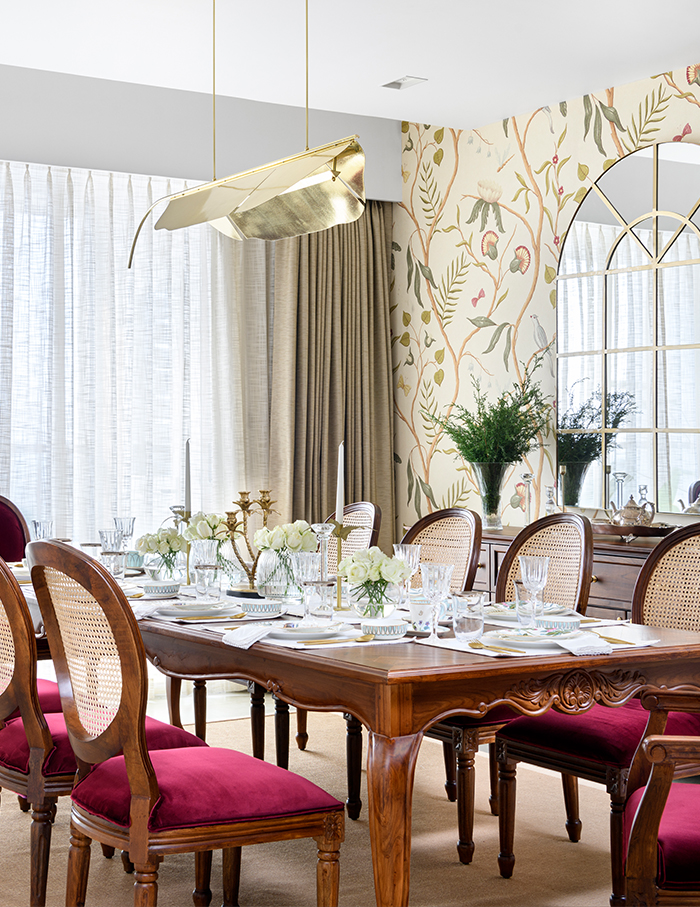 What began as a clairvoyant pandemic move, interestingly, evolved into a full fledged wedding present for the homeowner's 29-year-old daughter Elsa Joy, who is a well-travelled millennial, born and raised in Dubai. Meera was commissioned to complete the project within 90 days. "There could be no room for error!" she says. However, in response to today's shifting aesthetic, "It was fascinating to see a millennial journey back in time, value colonial furniture, and retain ancient traditions,"recalls Meera of her interactions with Joy. "Elsa was in love with the concept of merging reclaimed materials with antiques,"she adds. Keeping up with the thought—whether it is an ancient haveli door surrounded by regency chairs upholstered in ivory-gold fabric (reflective of Kerala's cultural heritage) or the layering though vintage textiles, the living area is accented with colours of royalty.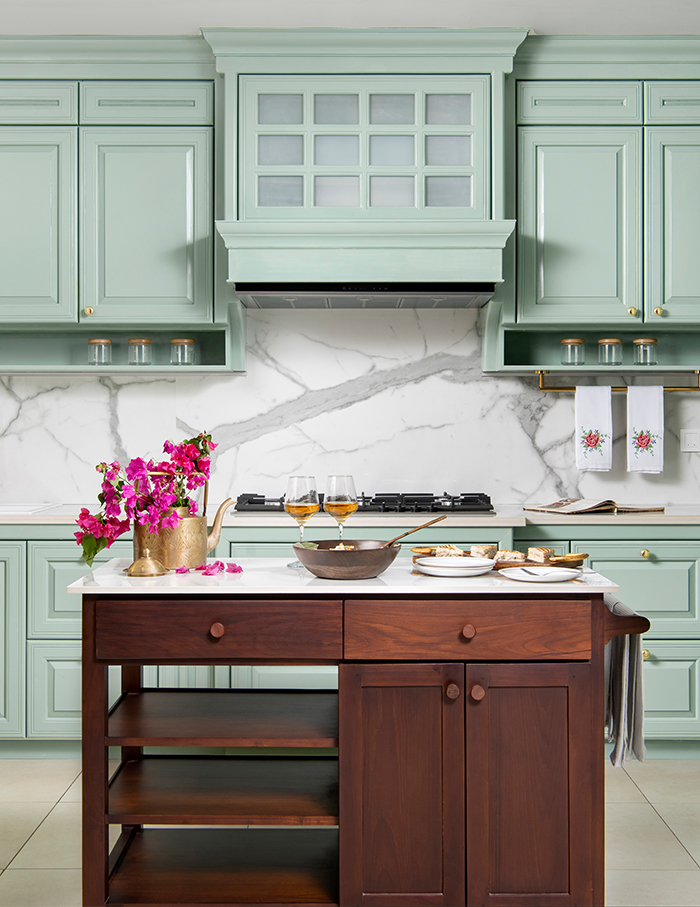 Enumerating to the warmth is a smattering of brass-stools serving as coffee-tables and coveted Louis XVI furniture. A commissioned charcoal-on-silk painting by renowned local artist Suneesh SS commands attention.
"Depicting the legacy of the Joy Alukkas Group, the artwork shows a lotus flower rising from the muck and blossoming despite unfavourable conditions, symbolising power and resilience," Meera explains metaphorically.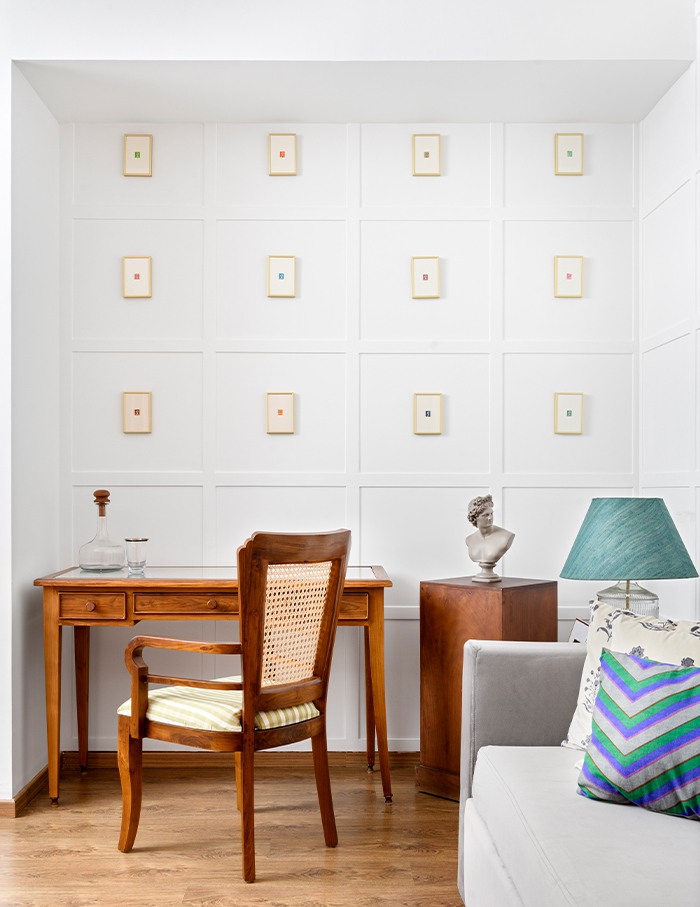 The media room's study, though, is her "favourite space," she says. With its leather-topped colonial desk against modern panelling and antique stamp collection, this room evokes nothing but nostalgia. "The sofa opens out into a bed, so it's great for a night in with a nice book or catching up on world events on television," says Meera. Evidently, the house may be steeped in history, but the modcons are in full check with state-of-the-art kitchen fittings, sensor lights and automated curtains.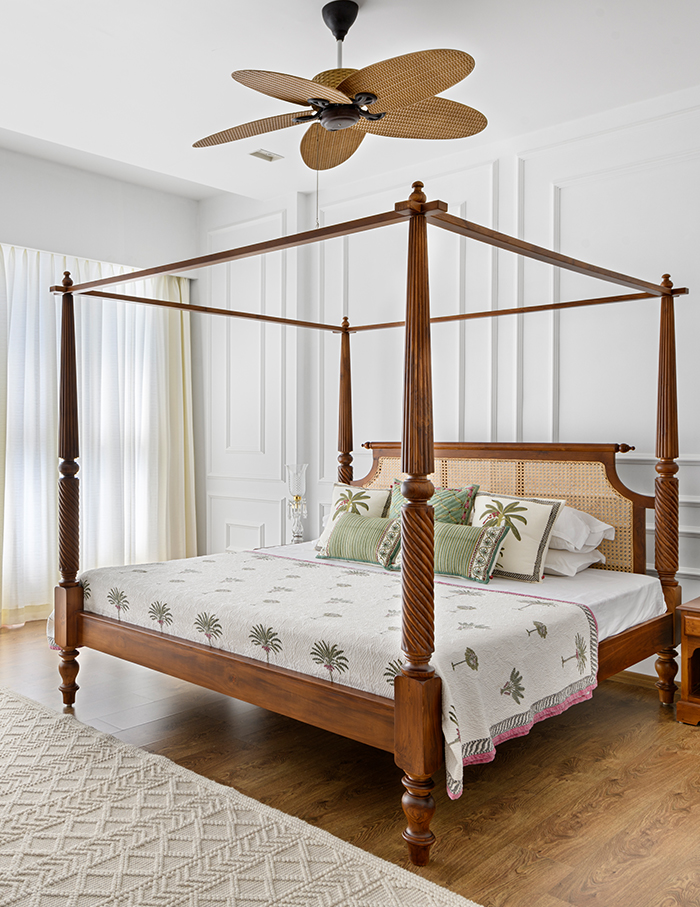 Besides a bedroom wall full of dry flowers, a collection of Eravipuram lace frames and black-and-white prints of the Vatican sourced from Italy, the home also boasts of coveted paintings dating back 100 years adding to the colonial splendour. Reflecting her love affair with heirloom-quality colonial pieces, Meera theoretically articulates, "The production process begins with the selection of materials, consisting of locally-obtained teak wood. Then our skilled carpenters and artisans use time-honoured methods to create one-of-a-kind raw wooden carvings." And while these pieces may appear archaic and heavy, "In reality they are effortlessly portable, with all the modern hardware and fittings suitable for contemporary living," mentions the veteran with over two decades of experience.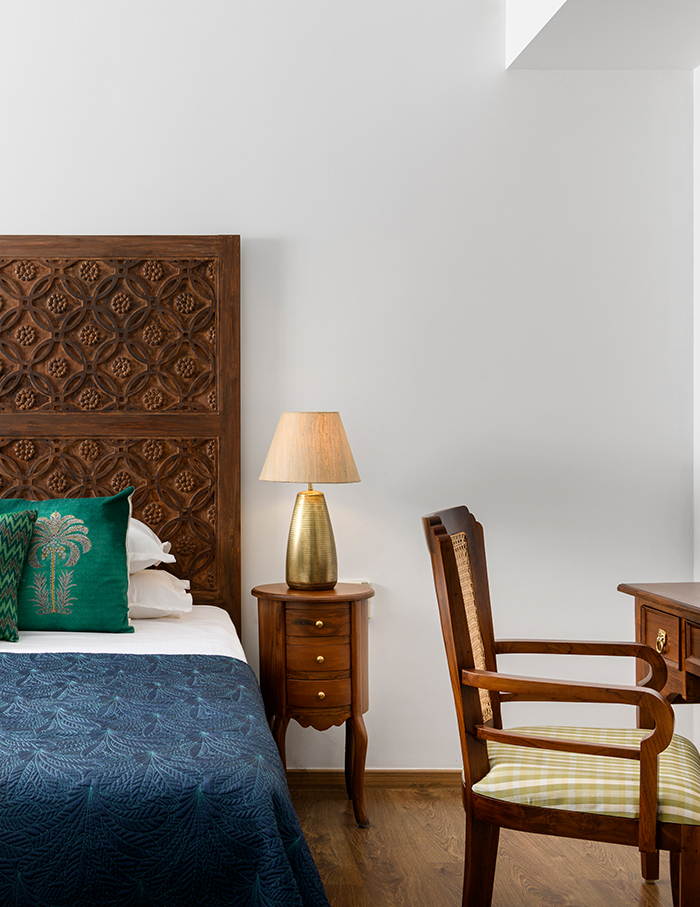 Synonymous with creating reimagined timeless classics for modern living, Temple Town has employed refined artisanal skills to painstakingly handcraft every piece in the home over months, in advance. "After World War II, the industrial revolution occurred and no more of these pieces were being produced. However, the Arts and Crafts movement paved by William Morris reintroduced botanicals and maximalist interiors," says Meera, who frequently visits the V&A Museum in London and is inspired by its curation of textiles, jewellery, chinoiseries among furniture and decor collectibles.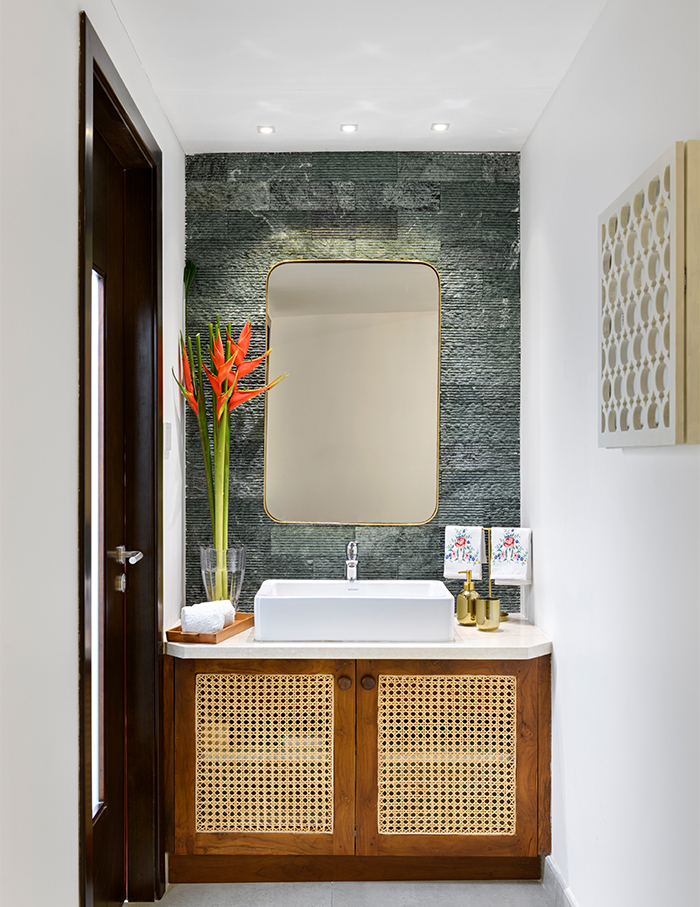 In a world that glorifies the new, it is a rare joy to walk into a home as profoundly connected with India's colonial past as Joy Alukkas Kochi residence. Setting the stage for a modern Indian home where colonial meets contemporary, Temple Town has skilfully conveyed the Indian narrative with nuanced influences from the world over, while vibrant accents and contemporary conveniences transform this home into a modern abode. The house also marks a generational shift, symbolising how antique and vintage furniture is becoming an essential part of the circular economy, led by mindful millennials. 
You may also like https://elledecor.in/article/this-bengaluru-home-by-treelight-design-is-a-story-waiting-to-unfold/ !