Homes
THE DREAM WEAVER— Architect Karan Desai talks about this South Mumbai home that was perhaps written in his destiny and realised at a time he least expected to
FEB 10, 2023
| By Aditi Sharma Maheshwari
I have often discussed the concept of a 'dream client' with designers who usually brush it off with a scoff or mirth. A dream client is as fickle as a dream project with almost no intentions of blossoming into reality; or so they had me believe. Till I met Karan Desai, an architect, who had a different story to tell; one he started reciting back in August 2021—the perfect tale full of wonders and whimsy. His recently completed 2,500 sq ft, three bedroom, duplex project in South Mumbai is not an ordinary one. And you'll soon know why.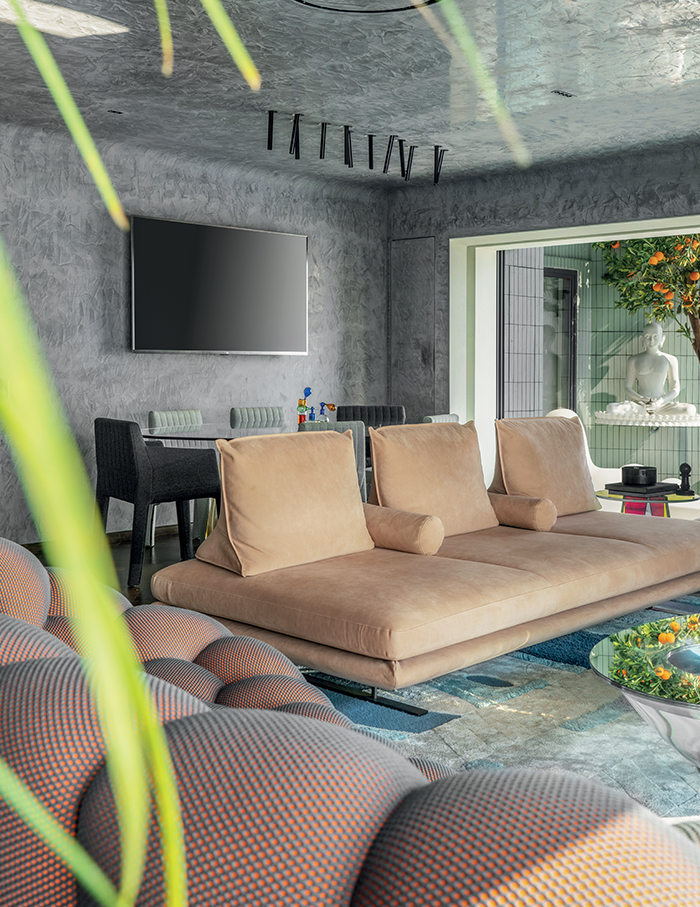 In our first conversation, Karan expressed, "I've known entrepreneur Jignesh Shah for years, as he and I have the same spiritual guru. Back in 2011, when I visited his home I was completely in awe—the large space, the idyllic neighbourhood, and the tasteful interiors induced inspiration. I prayed to Bapaji to receive a project of this stature at least once in my life. And then, eight years later, a surprising call from Jignesh inviting me to renovate the same home left me speechless!" shares Karan. While the first meeting was a bit of a downer because of an initial humble budget, a unique road trip with the family opened up Karan's mind, as Jignesh's wife, Sejal spoke about her husband's large-hearted, spontaneous nature, having once bought a Harley Davidson and a Jaguar XF on a whim.
Karan continues, "That changed my mind—I decided I'd take the risk of presenting the world's best decor brands to a man who clearly understands quality." He went back to the drawing board and proposed a distinctive home that would be a repository of 25 luxury brands including the likes of Molteni & Dada, Roche Bobois, Antonio Lupi, Flos and more. What followed the presentation was a long meal where Karan could barely eat. After a long pause, Jignesh said, "So, when do we start?"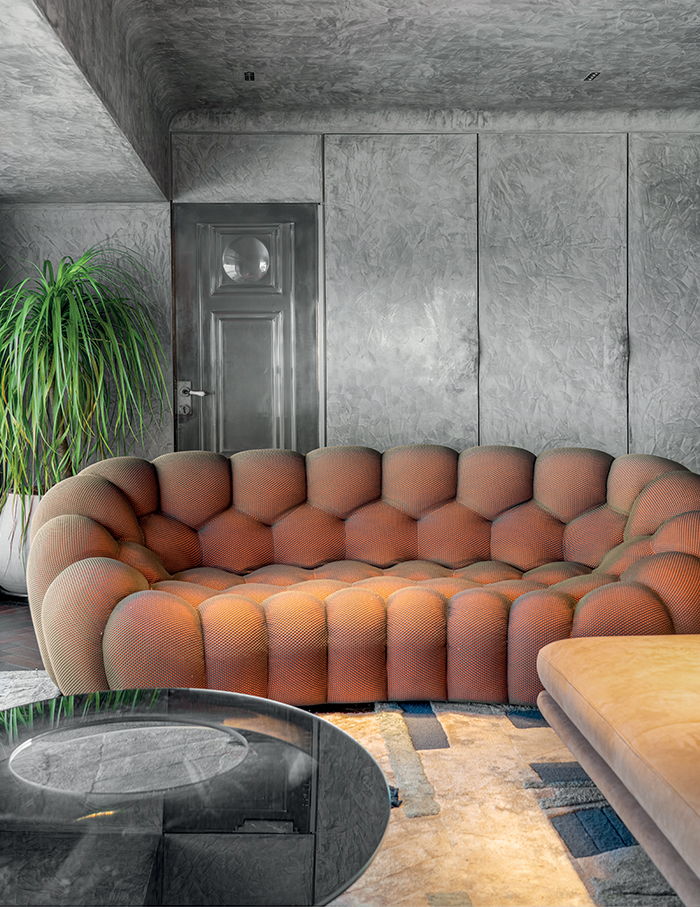 The one year of work that followed was the unravelling of a designer's deepest desires. Every corner emerged post long research dives, with a constant mirroring of enthusiasm from the homeowners. In fact, the elusive 'dream client' that designers usually believe doesn't exist came to life for Karan. "I've worked with several non-cooperative clients but the Shah's were a breath of fresh air. They created an atmosphere of trust from the get go, and from small edits, large budget changes to even design blunders, all were taken in their stride."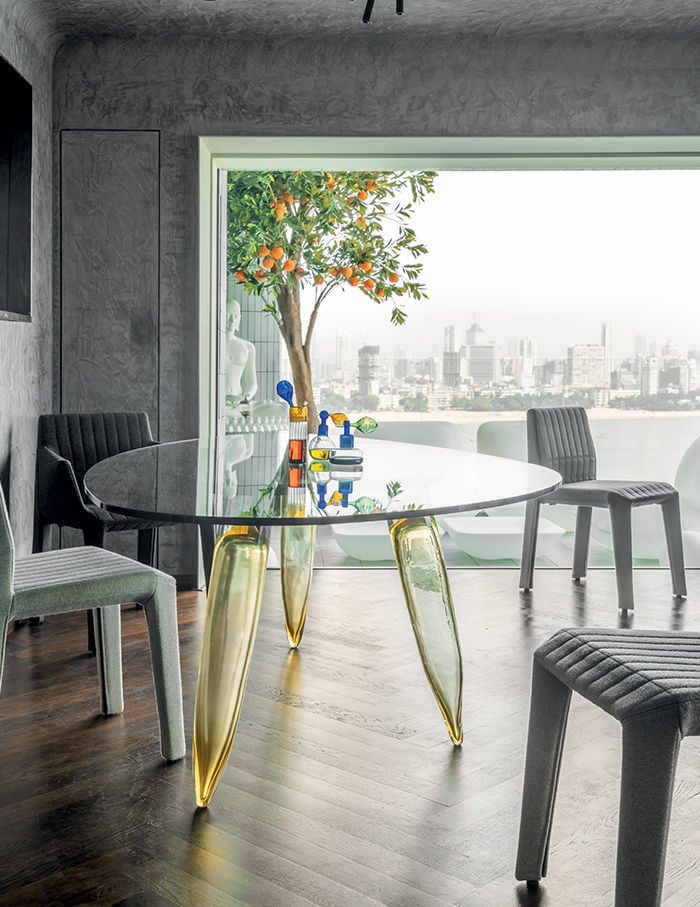 The overarching concept of unconventionality is writ large across the interiors. Take for instance, the entrance door in marble which has no handles or a keyhole, but an e-key finger lock where the user simply needs to slide his fingers across to open. Similarly, all windows act as the perfect frames capturing the stunning views outside. Karan claims this home is the first in India to use Sun Room, an Italian brand for automated windows.
"Interestingly, they make only 4 metre long windows, but Jignesh being an engineer, decided to speak with the company to convince them to create a 6 metre long one. Post discussions, a special unit was created just for him and shipped it to India," recalls Karan. All doors were customised with 40-50 mm thick resin, and the carpets hand-knotted in Banaras were envisioned as pieces of art—the most interesting one being the red carpet inspired by Raza's art, placed beside the B&B Italia Up chair in one of the bedrooms," he says.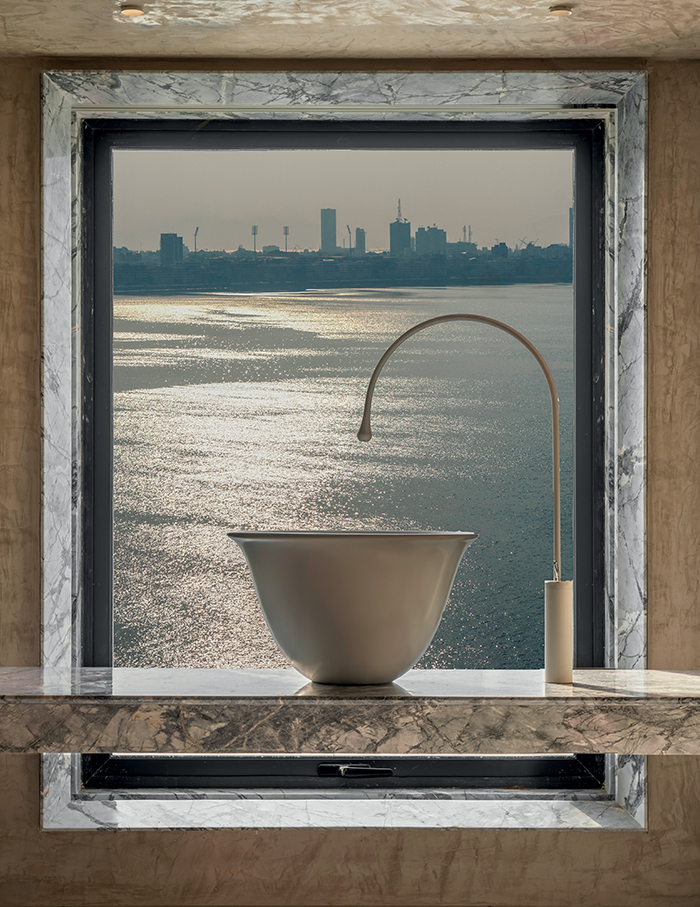 The master bedroom is craftsmanship central. Karan explains, "I wanted to use marble to make a bed, a chaise lounge, and two bedside tables. I spent hours explaining the mounds and depressions on the surfaces to the karigars who were only used to making basins!" The cantilevered staircase spirals around like an installation with a metal skin, colour coated in a copper hue. A little bit of play masquerades behind lavish pieces, the dining console at the entrance is inspired by artist Annie Morris' work—the balls made of clay encourage the dwellers to pinch and mould them as they wish. And, the terrace is entirely illuminated with backlit Vondom furniture, while the colours of the tiles bleed into the hues of the sea, making one feel they're afloat.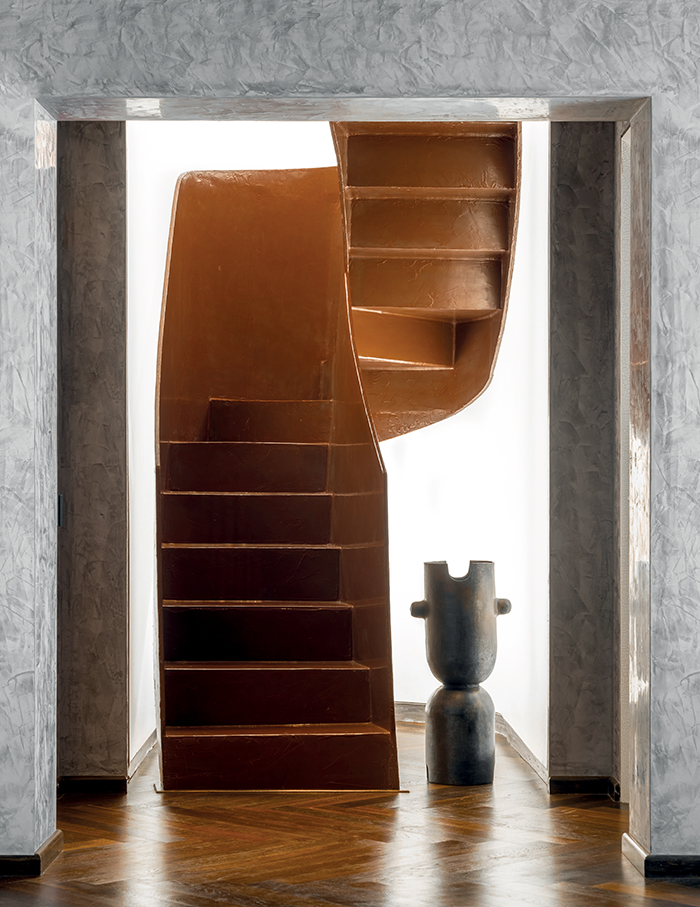 "So, how did the clients react when they moved into the renovated home?" I had to ask. To which Karan said, "Sejal told me, "I love the house but hate you for one thing. Before we would often travel out of Mumbai on short vacations but after you've given us this home, Jignesh doesn't want to leave it…ever." The perfect compliment for any designer!"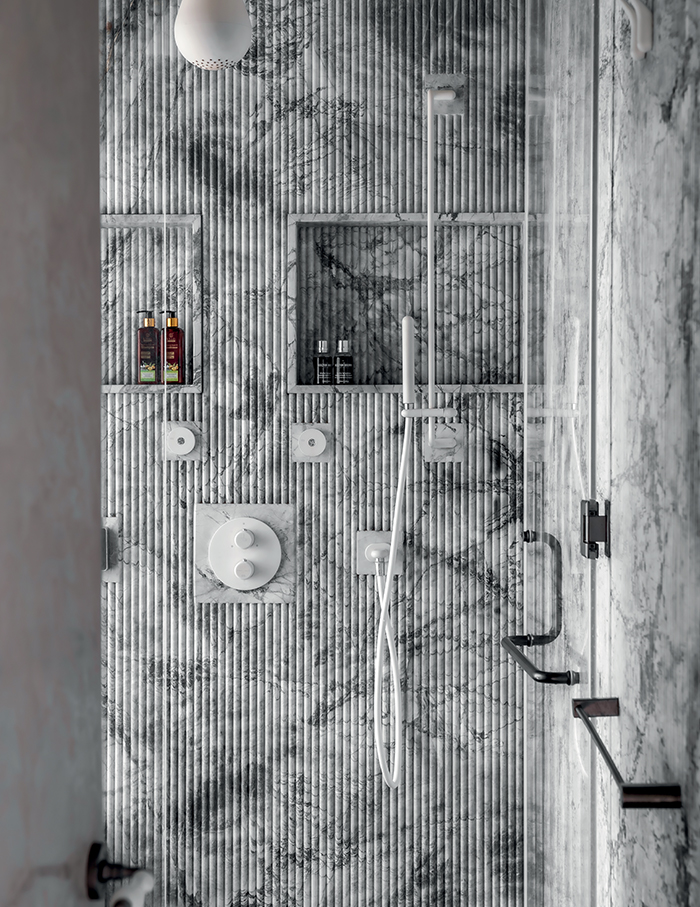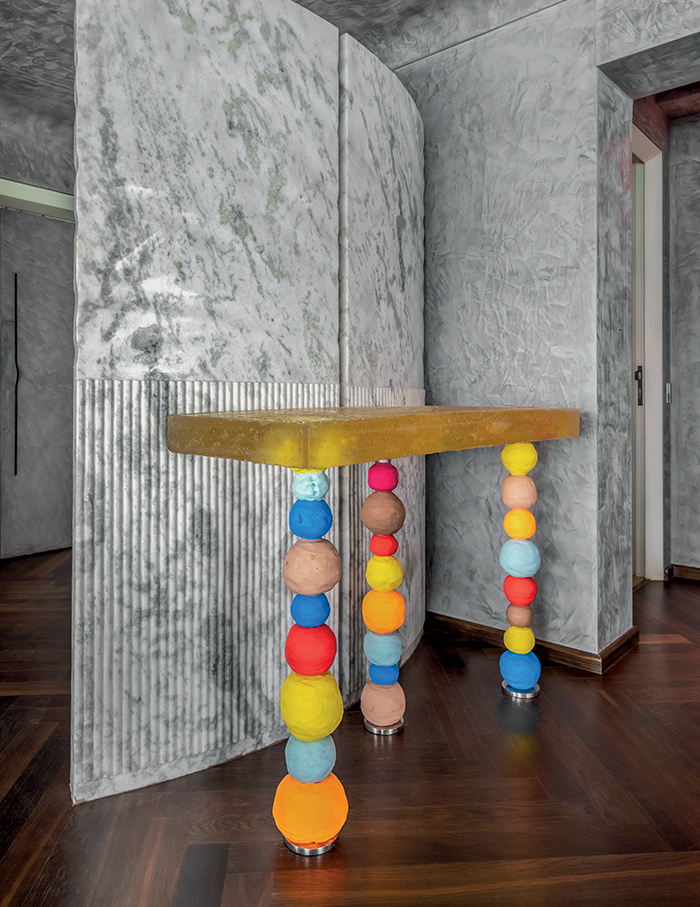 You may also like: Designer Tejal Mathur creates a cosy and elegant home with modern touches for two brothers in Kolkata