Homes
The Drawing Board and Keystone Architects craft a charming canvas of stillness in this Mumbai home
FEB 2, 2022
| By Shriya Goyal
In cities overwhelmed with individuals, minimalism is expressed as an appreciation of space. Mindful of the paucity of space in Mumbai, this homeowner from Surat fancies an open, uncluttered layout imagining it in his Mumbai home.
The 860 sq ft apartment located on the 46th floor of Lodha Park in South Mumbai ensues with a brief to craft visually large spaces that emanate calm in the hubbub of the city.
An output of a collaboration between partners Meera Rajendra and Akhila Kumar of The Drawing Board and Harshavardhan Punja of Keystone Architects, this residence characterises a home away from home, functional and sweet nonetheless.
Home sweet home! No matter the size, No matter the area. An avid biker and traveller, the owner wished for a place to pause, alleviate and socialise. A home to escape and a home to look forward to. 
Sleek lines and a subtle gaze behold the living and dining rooms on arrival. The muted colours of the living room with ample light visually magnify the space.
Smartly placed grey chaise from Hugsofa captures the panoramic view of the city for the user. One can never go wrong with classics. Extensive use of wood around the Mumbai home not only adds colour to the neutral home but also the familiarity of the material imparts a sense of comfort and belonging.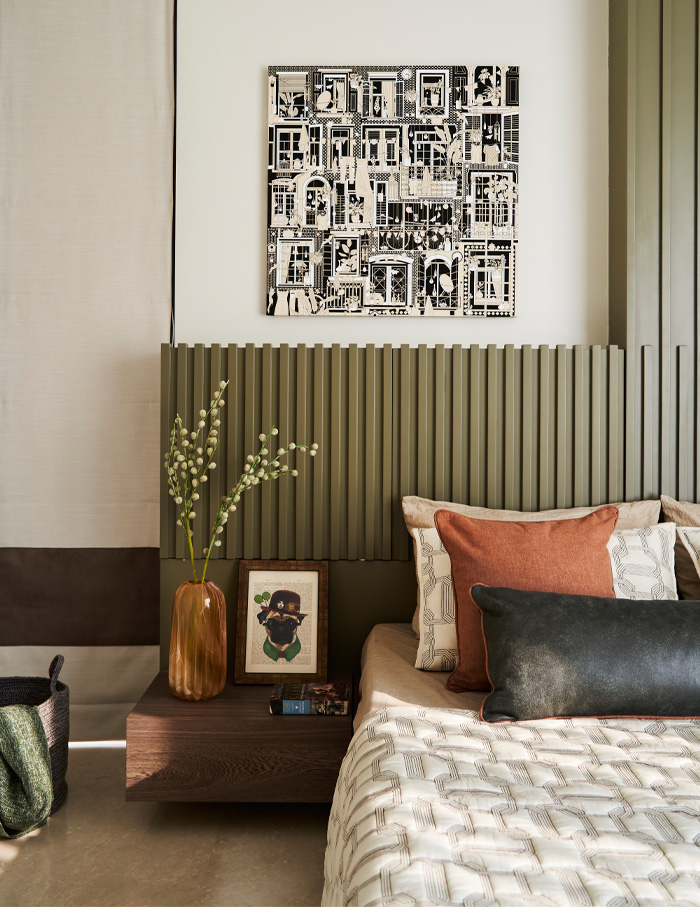 Additional storage and utility is always desirable. The clever use of geometry creates concealed storage units and builds clean spaces. Tucked away behind the main door, the cloak unit in various tints of green emanates as an artwork with bespoke handle detail. Pleating into the cabinet, the simplistic dining table conserves space.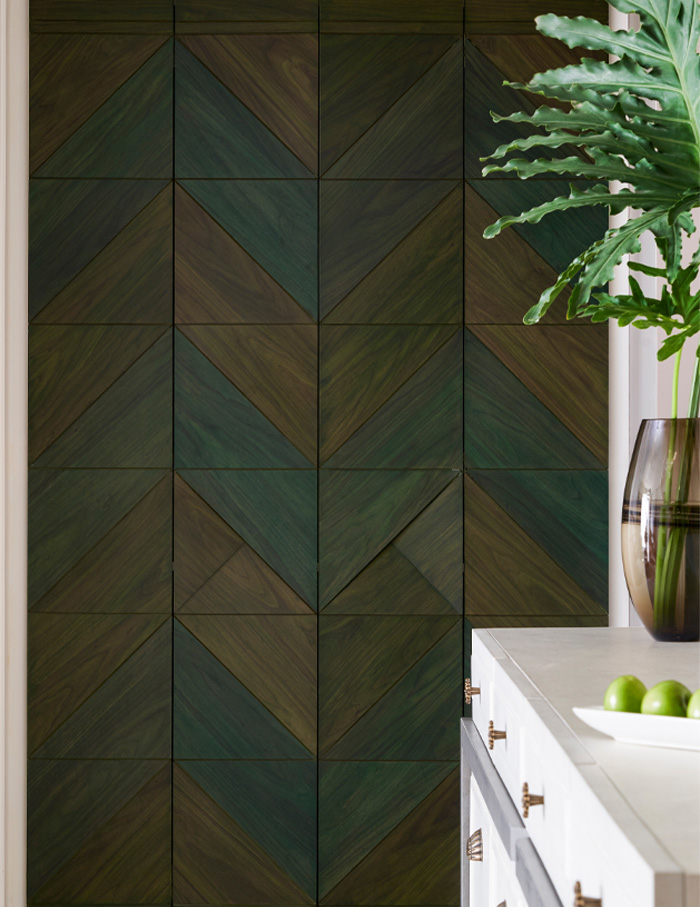 A narrow passage escorts the bedrooms, with the master bedroom trailing the guest bedroom to maintain privacy. Dash of green on a beige setting along with some appealing artwork gives the master bedroom a soft finish.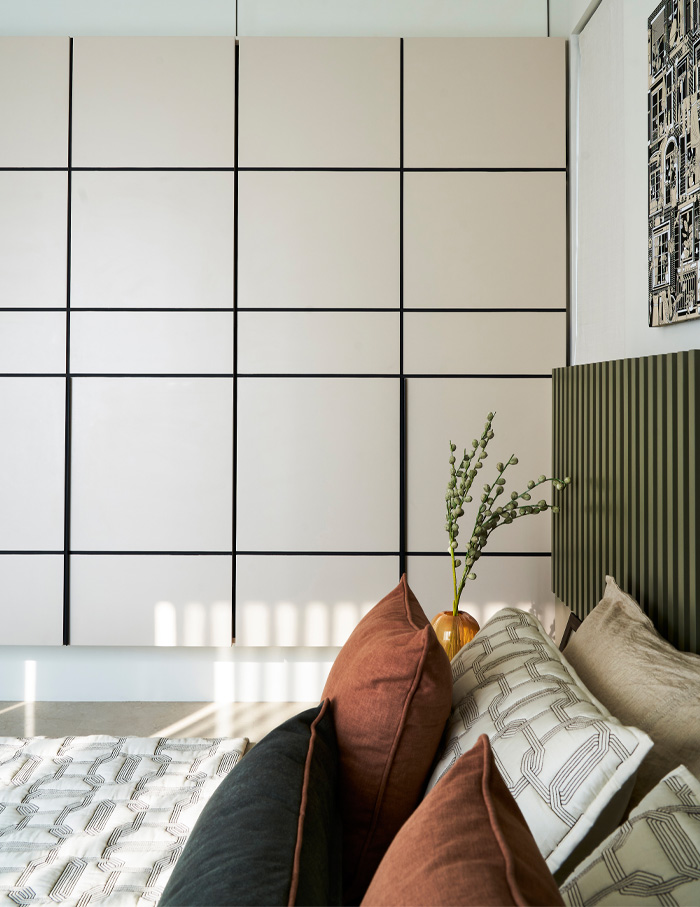 Marked by a pappy wallpaper and woodwork on a neutral backdrop, the guest bedroom acquires an intimate feel. The lack of balconies necessitate the seasoning of indoor plants around the house.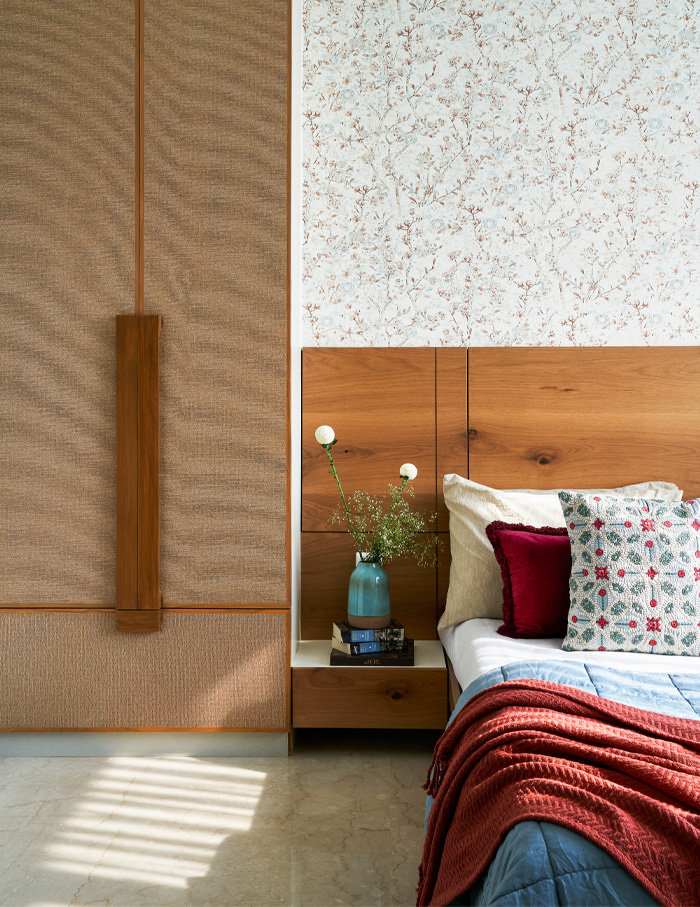 Tranquillity hides in small spaces. With neutral tones and smart spaces, this abode is fit to entertain an intimate group of people and exude a sense of serenity and repose. Carefully chosen and curated cushions, throws and artwork add to the decor vibe and uplift spaces.  
If this Mumbai home mesmerised you, then don't miss out on this Juhu home by Kavan Shah that brings vintage and colours together