Homes
The Cool House by Samira Rathod uses traditional materials and passive energies to devise a blockbuster home in Bharuch that delivers drama, intrigue and design narratives in equal measure
NOV 17, 2022
| By Shriti Das
Ever since the advent of the moving image, architecture has found multiple roles in cinema. From establishing aesthetics and time periods to critiquing society and illustrating metaphors, cinema manoeuvres architecture in myriad ways as means of visual storytelling. But what happens when the roles are reversed and the architect dons cinematic hats? Meet the Cool House—a home in Bharuch, Gujarat by Samira Rathod Design Atelier (SRDA) that is a spatial delight with all the makings of a thoughtfully crafted narrative.
"When creating spaces, I think like a script writer. Articulation is important," says Samira. With the Cool House, theatrics and intrigue follow suit, as the abode responds to the context of its land. Spread across 10,000 sq ft, housing a living area and dining, television lounge, gym, two kitchens, six car parks, a terrace with a plunge pool and jacuzzi, the precinct is a dry and arid region with extreme summers. "A comfortable home without air conditioning was the main brief," says Samira, lead architect at her eponymous practice.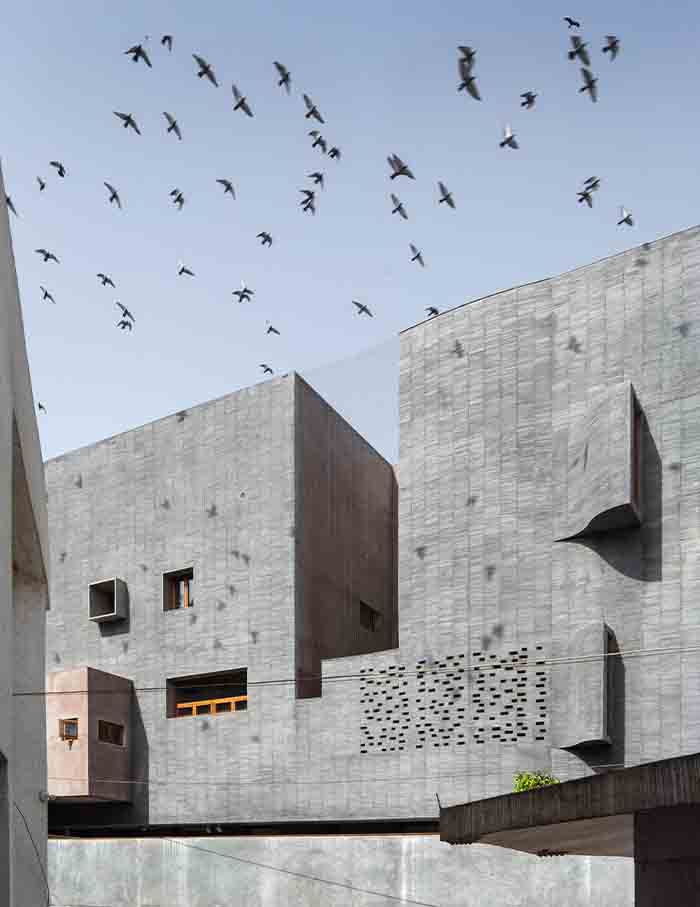 "From the outside the home looks like a box, and one assumes that it will be dark and badly lit. You walk into the ground floor which has nothing, just one staircase and as you're wondering what's going on, a burst of light greets you. There's mystery, intrigue and delight. You imagine that the whole house is white but a blue living room makes itself visible followed by a waterbody," she remarks.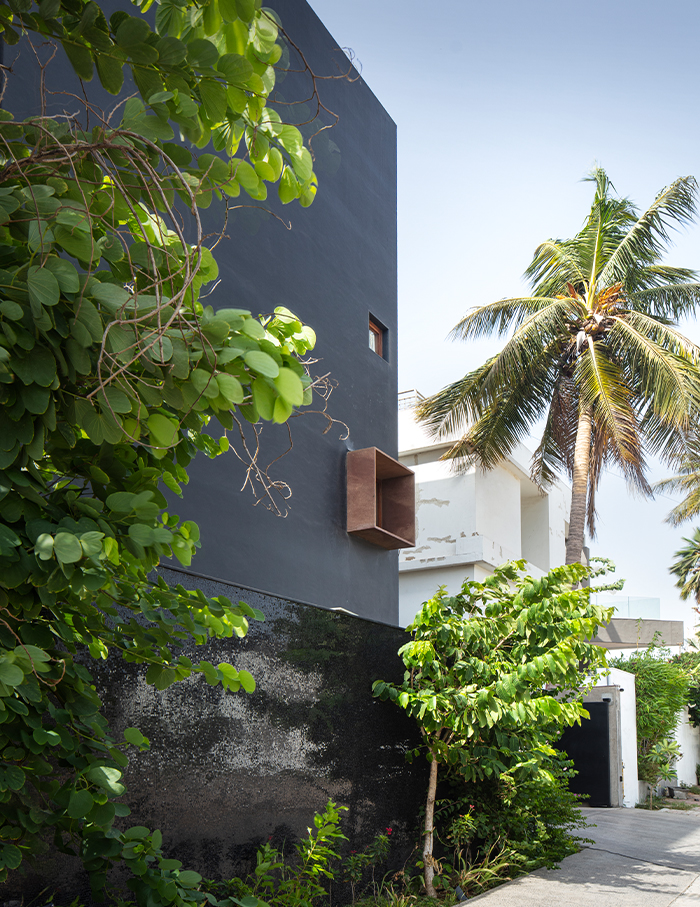 Situated on a tight row house fabric, they designed an inward looking house. "A typical response to an introverted space is a courtyard which captures light, breeze and ventilation," she continues. Providing utilities and services on the ground floor, the structure is lifted on stilts with three courtyards on the upper floor which are connected by a central corridor. This relationship between courtyards and the corridor determined further directions to design leading to a box.
A constant thread of thought that runs across most of Samira's works is the push and pull of masses, the play of light and shadow.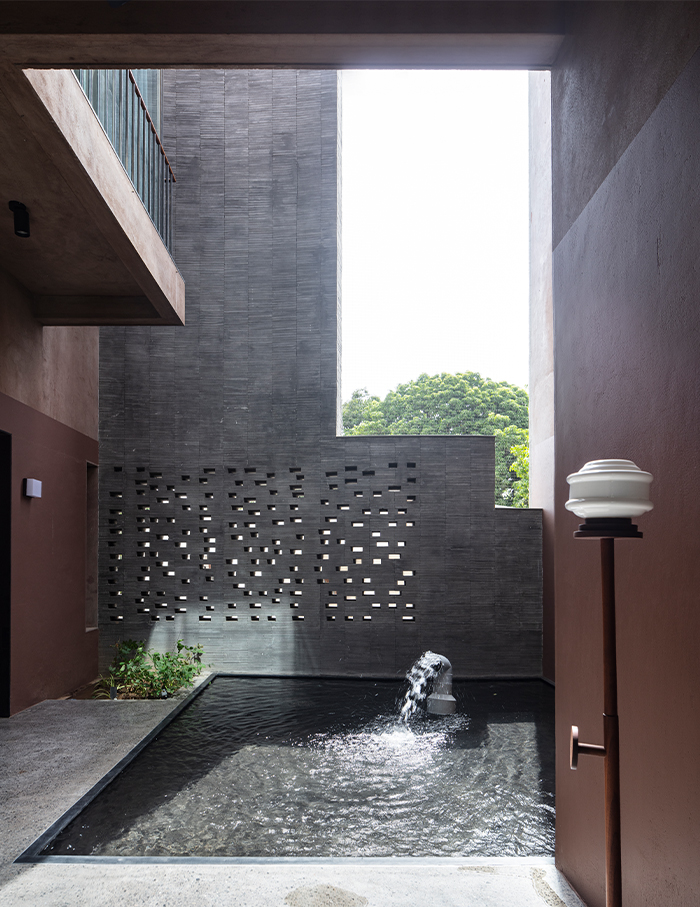 This is deliberate, the theatrics. I enjoy experimenting with the interstitial spaces like the verandah, corridors, bridges and courtyards. How people enter and explore the home. It is in these secondary spaces where drama unfolds. You are not inside your room and I am not bound by a function. On the contrary, when you are in the bedroom, you don't want sunlight from a skylight hitting you in the face, laughs Samira.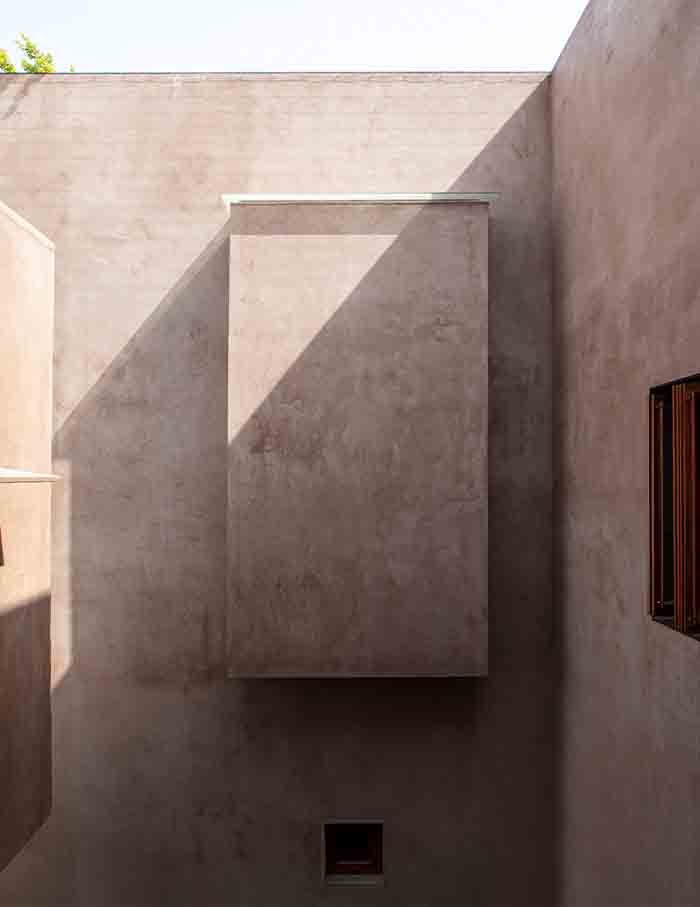 And just like a gripping movie, the home has its moments, twists and turns. You're anticipating an AC but a gush of wind will blow your dupatta away!" she exclaims. And in the Indian cinematic context, nothing is as quintessential as a stray scarf gone with the wind.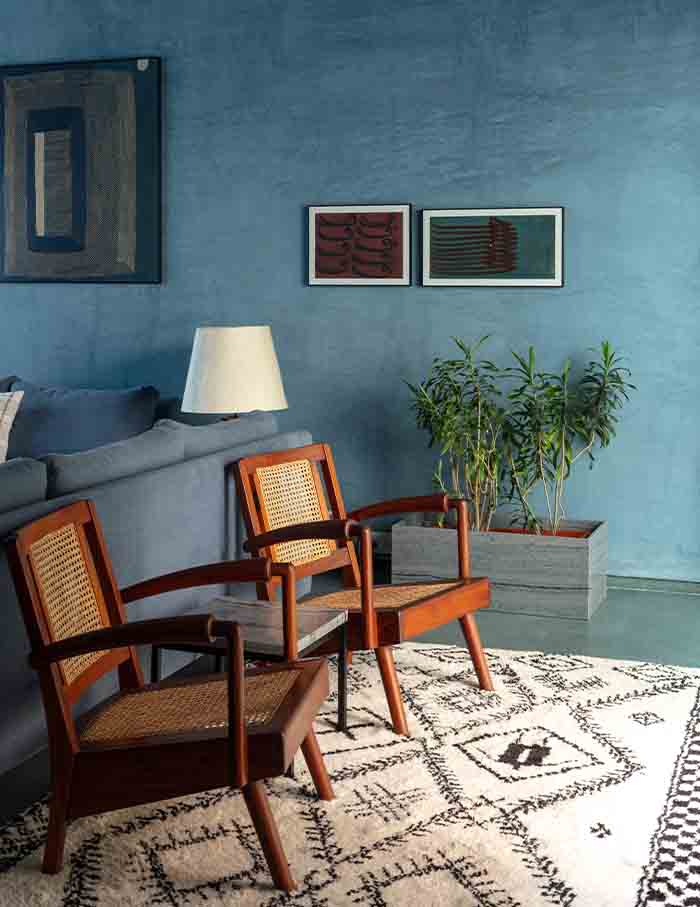 Most of these elements are not just visual or spatial characteristics but each is meticulously devised—to either create a comfortable micro climate within the home or as a part of the structural system. The courtyard on the southwest has a black waterbody. Breeze passes over the water, then through a jaali and cools the living and dining areas. At dusk, the waterbody reflects the dark skies, resplendent with stars.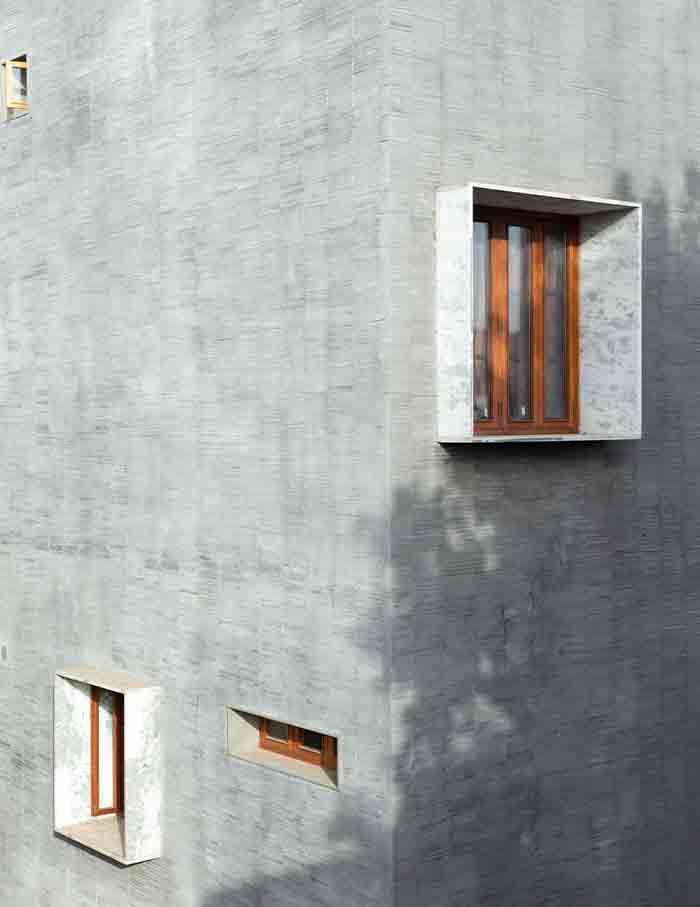 The southern courtyard has a flowering tree, Kordia, which is planted into a hollow column filled with earth, which leads the roots to the ground, allowing it to grow well. The column acts as a support system to the upper floor slab.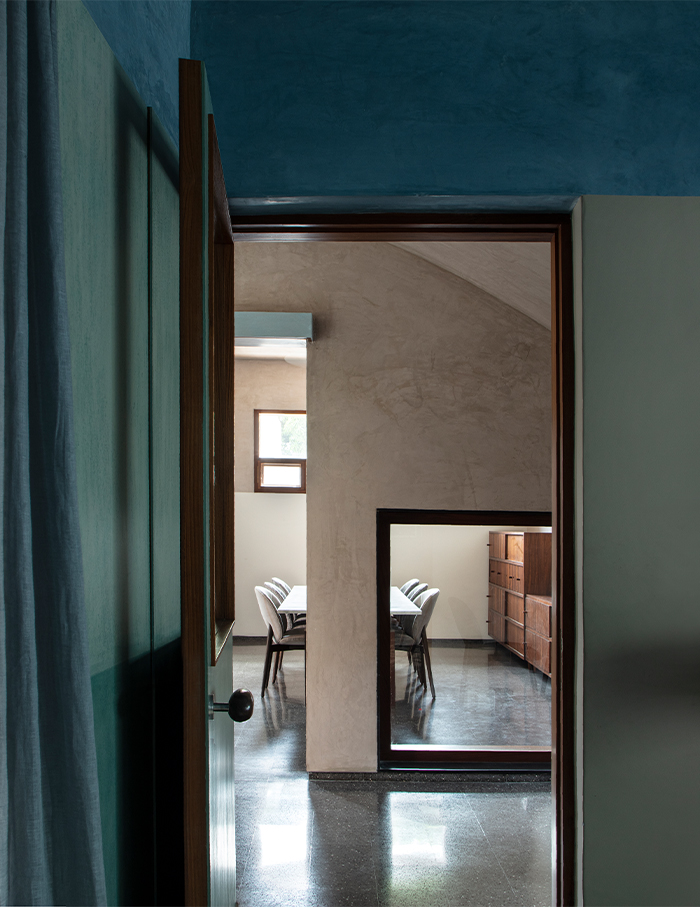 Beyond design and structural interventions, these courtyards generate a form which is a box that is split into two but woven together by slits, openings and windows. Through numerous models, the team at Samira's studio studied light simulation and wind direction. The form emerged as a seemingly simple facade but with complex details.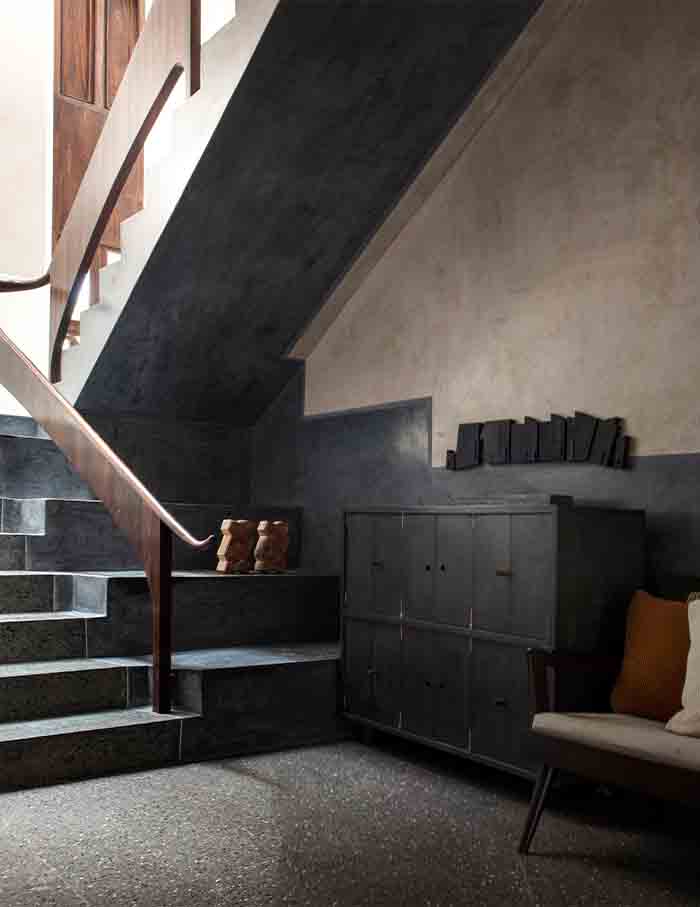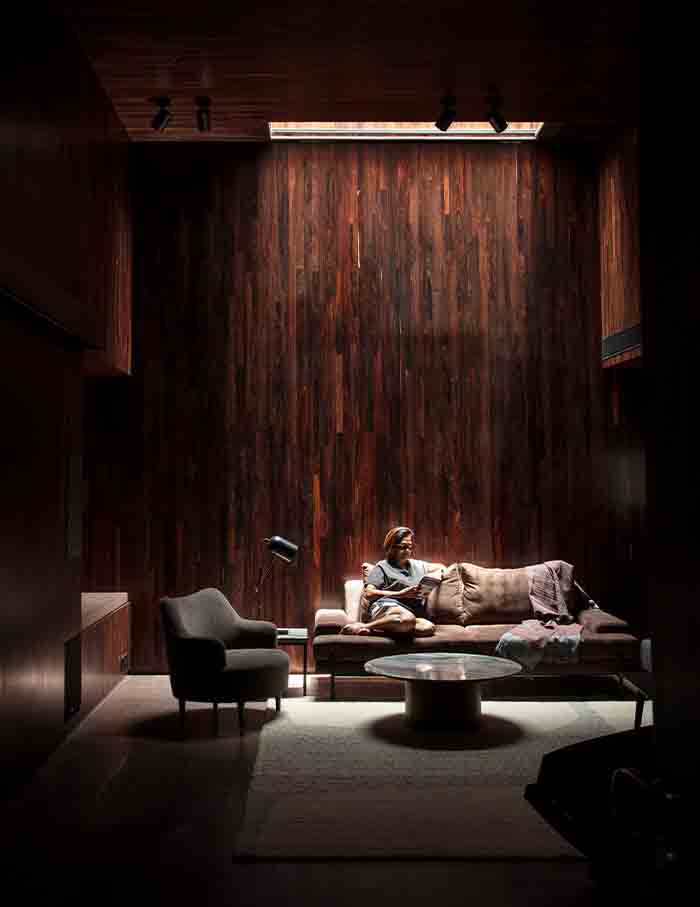 "We studied passive energies. It was imperative to create low pressure so that fresh wind enters and exits the buildings. And that's how we ended up using black paint," Samira further reveals. While the use of black seems counterproductive, Samira explains, "Since black heats up the environment, air rises upward creating a low pressure zone allowing wind to gush in.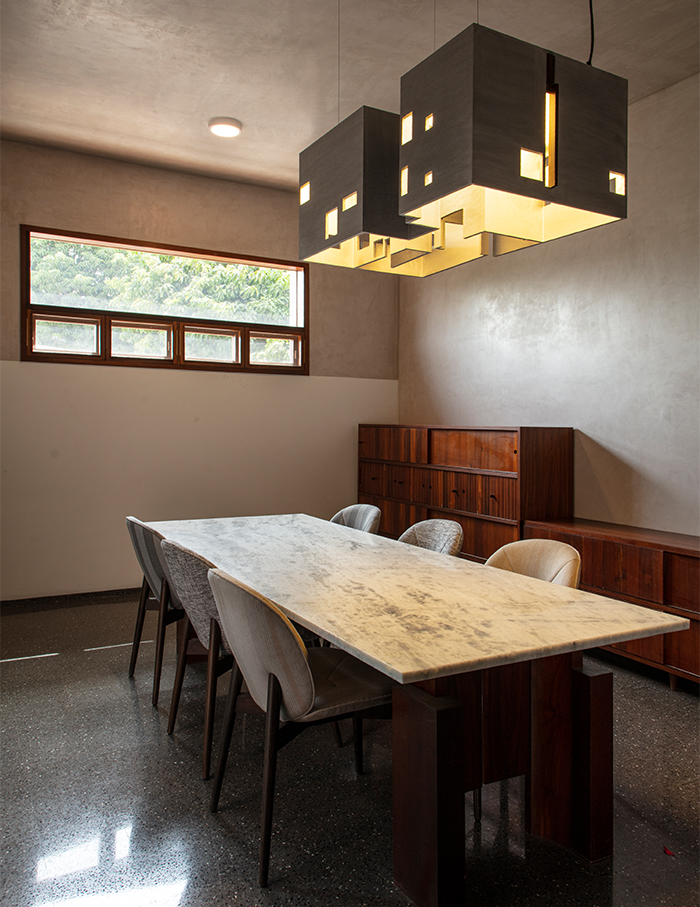 The windows are placed in the direction of the wind. Some are slanted to catch the south and west wind. Small openings keep direct glare at bay and enable a Venturi effect which brings in cool air."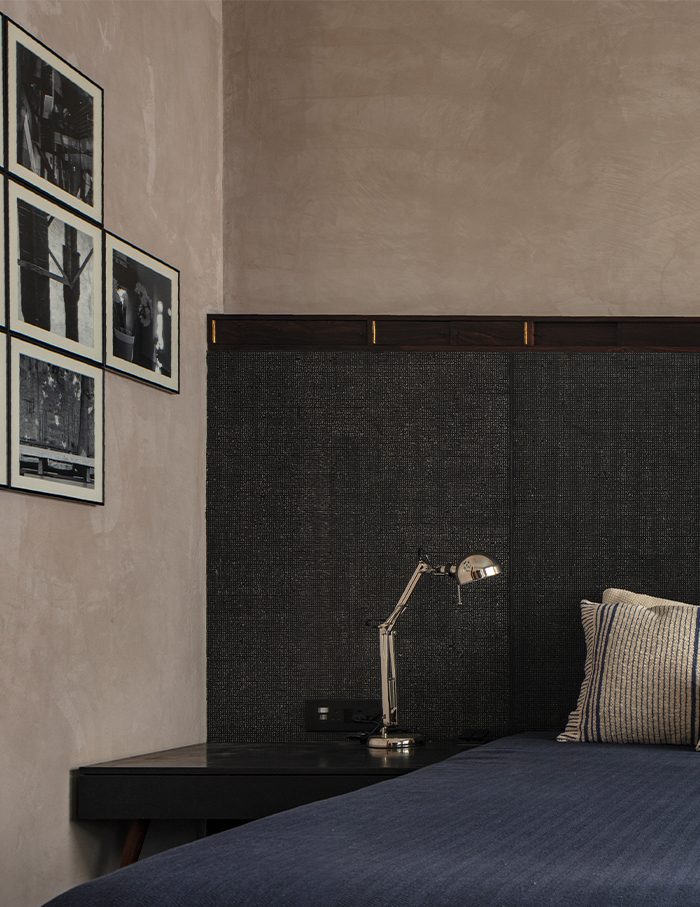 It is not only the use of black paint but also materials like lime plaster (chuno) in the interiors that keep the ambient temperature low.
Continuing the 'cool' quotient to the exteriors, the southern facade is rendered devoid of openings since it is prone to maximum heat. With astute attention to the architectural massing, it is only natural to wonder what went into creating the interiors and decor.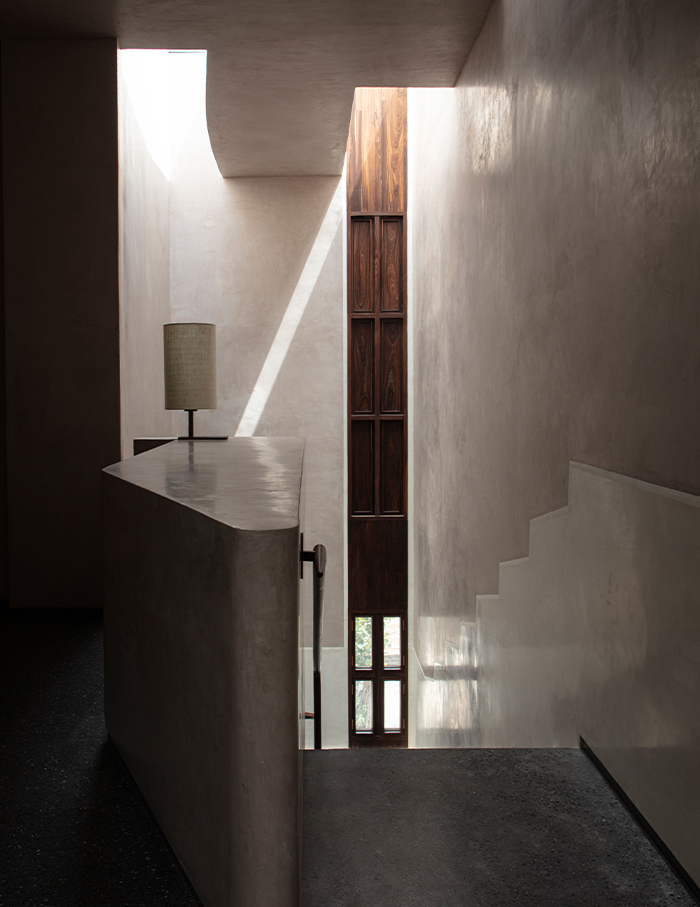 "There is no decor," Samira points out, "But there are details." "If you look at the staircase handrail, it resembles a dog or perhaps a deer who is twisting in a rather athletic fashion. The form came to me instinctively when I was sketching," shares Samira enthusiastically. The home is dotted with art, colours and interesting light fixtures, all with a story to tell.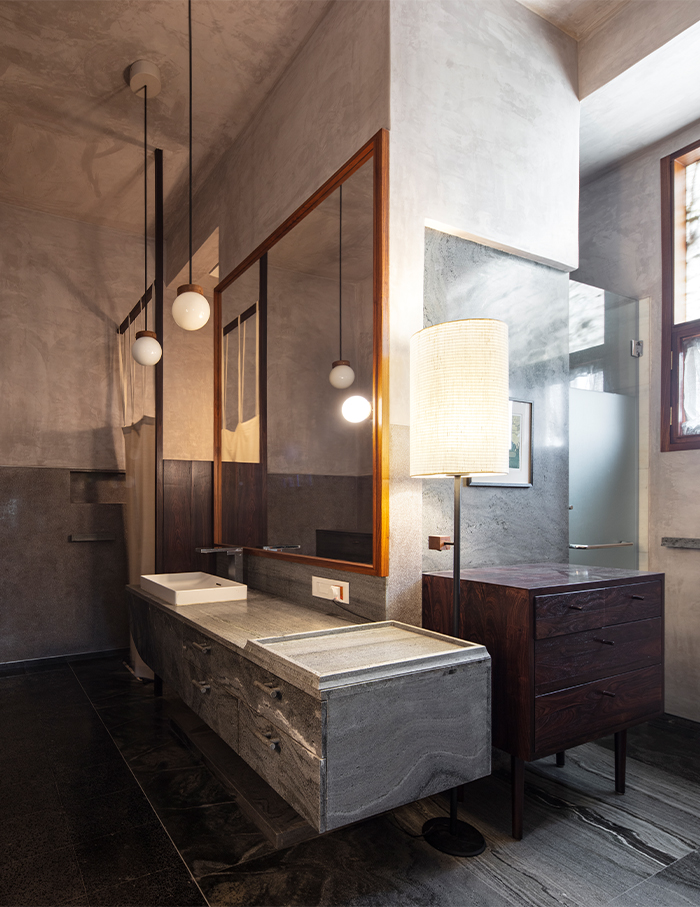 "A lot of the lights are designed by us, some doors were painted by me and the team. The art is sourced locally." But the story comes to a fulfilling closure with a hypothesis that this project is closest to everything that Samira holds close to her work. "I have not compromised on anything in this house. And the house has been a surprise for everyone," she concludes, fusing the entity that ties cinema and architecture together—crafting realities from fiction.
You may also like: Surat home by OpenIdeas Architects which is a 'hive' of sustainable and technological influences.