Homes
The BAD Studio's Boney Keriwala and Alak Parmar craft a minimalist, Florence-style apartment in Surat with a tropical tinge
JAN 28, 2021
| By Saloni Rege
Exuding a warm and animated essence, this Florence-styled residence by The BAD (Bureau for Architecture and Design) Studio unfolds like a free-verse poetry in consonance with the spaces and their functions.
The 4,000 sq ft residence in Surat is split into two levels to resonate with the ever-evolving lifestyles of the homeowners—a family of four including a working couple, their teenage son and parent.
For the practice's principal founders Boney Keriwala and Alak Parmar, it's crucial to design spaces that are an ideal fit for their clients. In this case, they created a home that "reflects modern yet minimalist interiors along with green pockets throughout the design for a subtle tropical vibe," they add.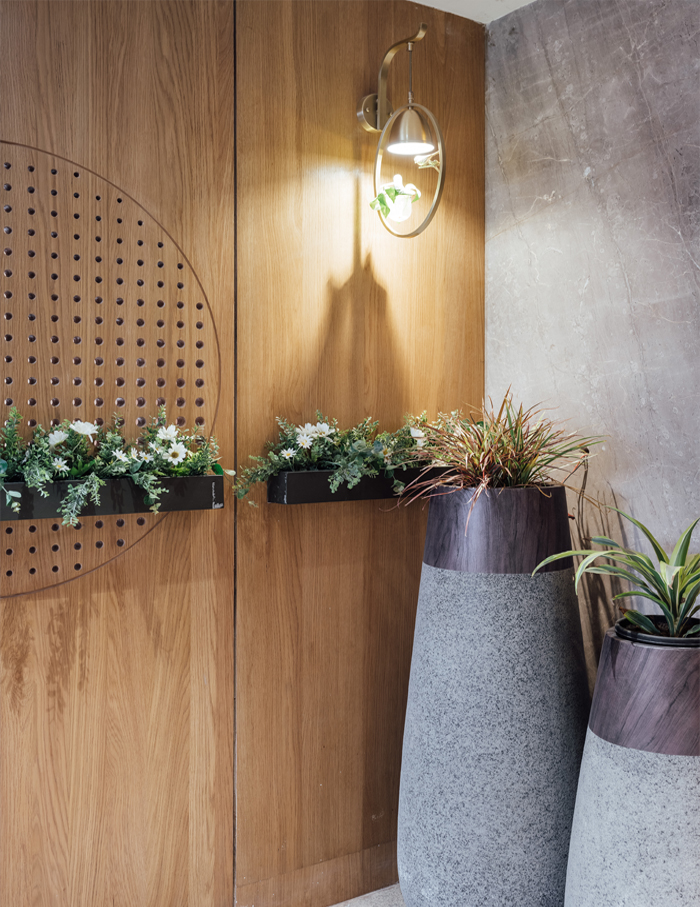 The apartment opens up to a seamless panoramic frame of living and dining space. It extends outwards to a capacious deck, where a rattan swing and plantations overlook the central landscaped garden and cityscape views. "We bifurcated sections of the house functionally. The socially active ones are placed in a linear fashion along the northern side to bring in daylight and ventilation," shares Keriwala.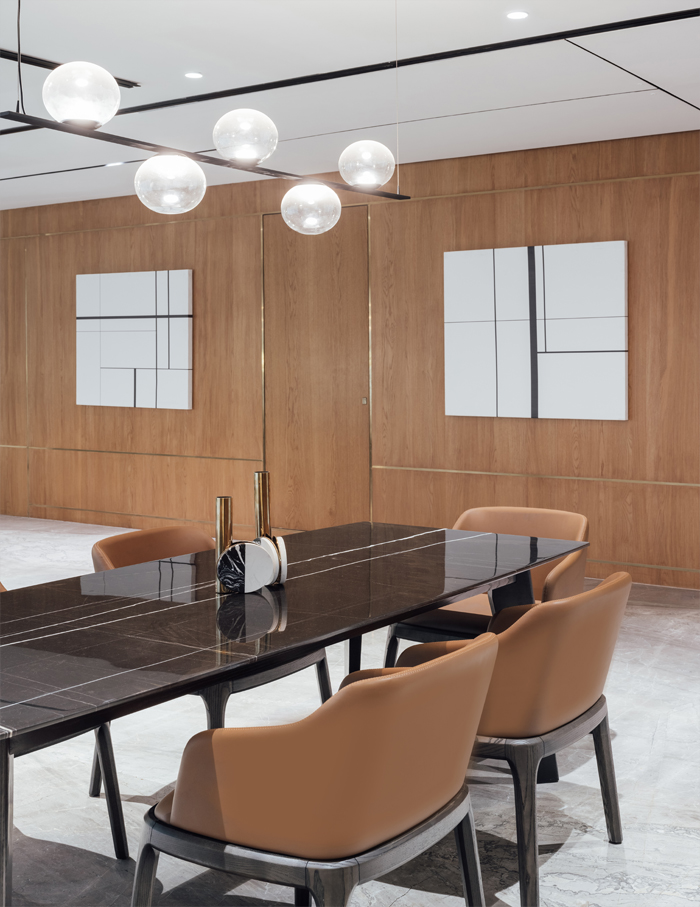 The living room is dotted with a minimalist neutral palette—an oak veneered wall, a grey leather sofa and sage green loungers are seen here. In the open kitchen, a raised breakfast counter looks out to the living and dining space to promote interaction, especially when the family is hosting.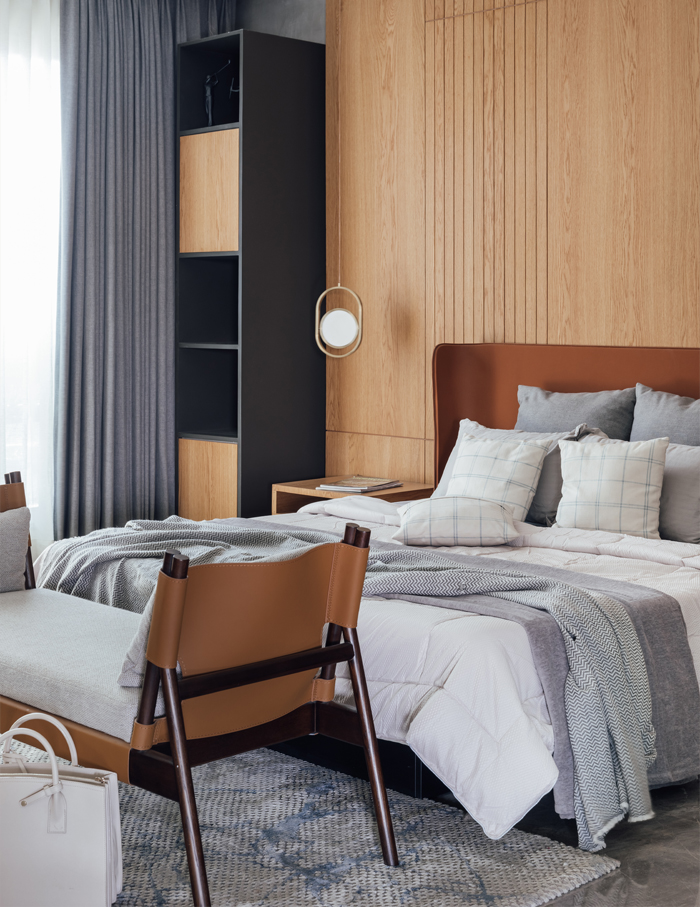 The master bedroom is weaved in complementing tones. Here, a tan brown leather bed offsets a prominent veneer backdrop and part stucco wall. Amplifying the aesthetic is an informal space housing a navy blue fabric chaise. Indeed, the parent's room also aligns with a subdued palette. Greys and white are topped with a beige leather bed and a mint green rocking chair for a fresh vibe.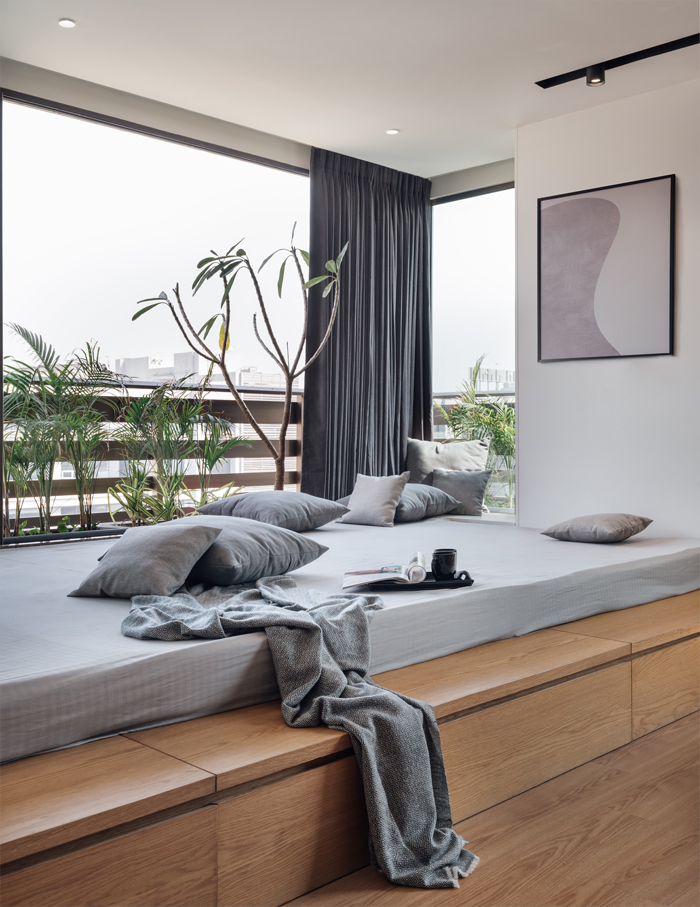 "Designing the son's room was most gratifying. The challenge was to ensure its many zones—for socialising, privacy and studying—were carefully designed and accessorised in synergy," adds Parmar. It is here that The BAD Studio moves away from the colour palette. This room is a dynamic space, which houses an island bed, a navy blue cocoon chair and a credenza.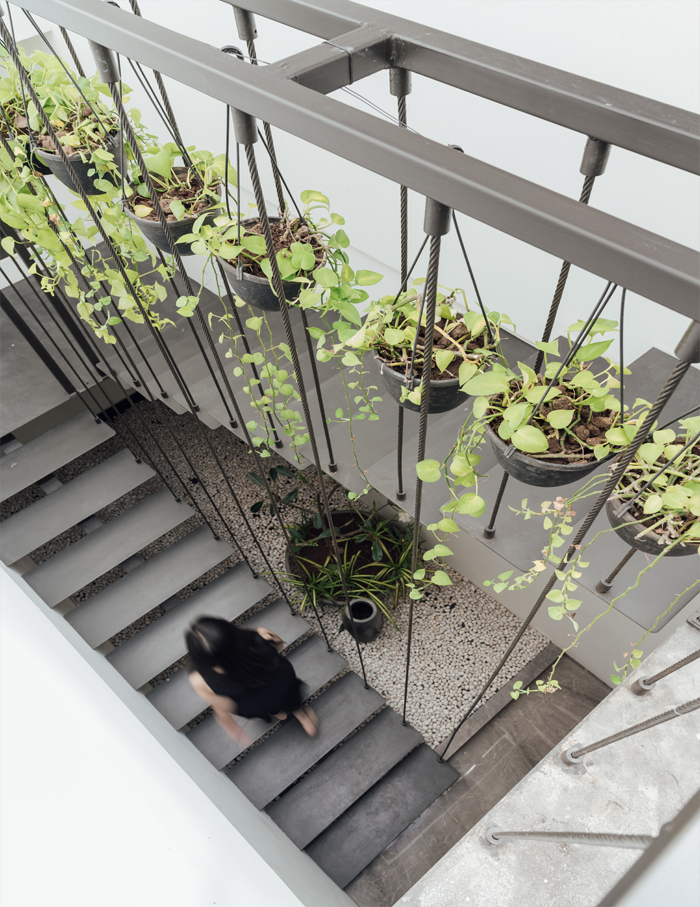 Keriwala and Parmar reveal that the residence required several structural changes: "The kitchen was shifted near the family lounge rather than its original spot, sandwiched between two bedrooms. Plus, we broke down a powder room to fit in a stairway that connects to the open patio on the upper level."
The patio, that the duo talk about, is a truly rejuvenating space. It is accessed via the new, sleek metal fabricated staircase, which is suspended using tensile cables and covered with a glass roof. Despite being such a small change, this compact zone cleverly adds to the tropical landscape of the home.