Design
Take some time out for self reflection with artist Nayanaa Kanodia as she tests the limits of our sentience
MAR 15, 2023
| By Siddharth Babani
The economist turned painter, known for her sense of individualism, Nayanaa Kanodia is a pioneer of the genre of L'Art Naif in India. Exhibiting her latest selection of artwork, later this month, at the famed Jehangir Art Gallery in Mumbai, her style is well known and characterised as having an air of whimsy with flat, bright, polished surfaces and an extraordinary plethora of intricately woven patterns and details.
"When the world which disturbs me and the world of which I have a deep understanding are amalgamated and absorbed, a new artistic dialect is created. My paintings intend to make you feel that you are watching a snapshot of life at maximum preposterousness, exuberant and bursting with energy," says Nayanaa. She goes on "Now, after the trauma, shock and melancholy of the pandemic, humankind must move on. Living through the humour, the joy and the sorrow, man has to make peace with his past, make peace with his 'tryst with destiny."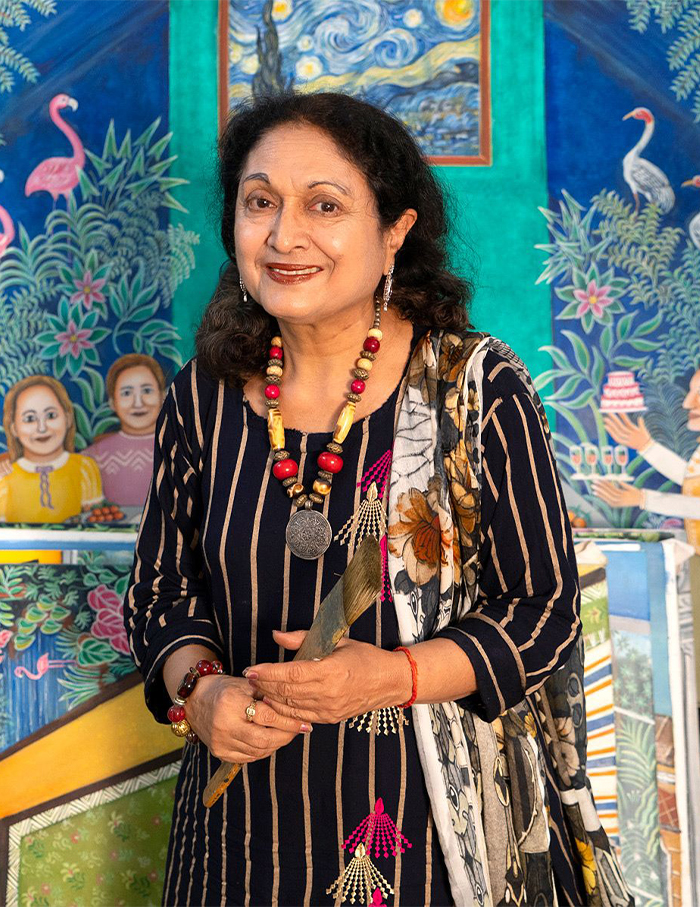 Through the brightly coloured images, the artist and her subjects are a reflection of the current state of Indian society. A manifestation of the unique situation where westernisation took place without replacing the basic traits that define our identity. The artwork provides a contemplative mirror into the mind of the observer within which the duality between reality and imagery gradually disappears.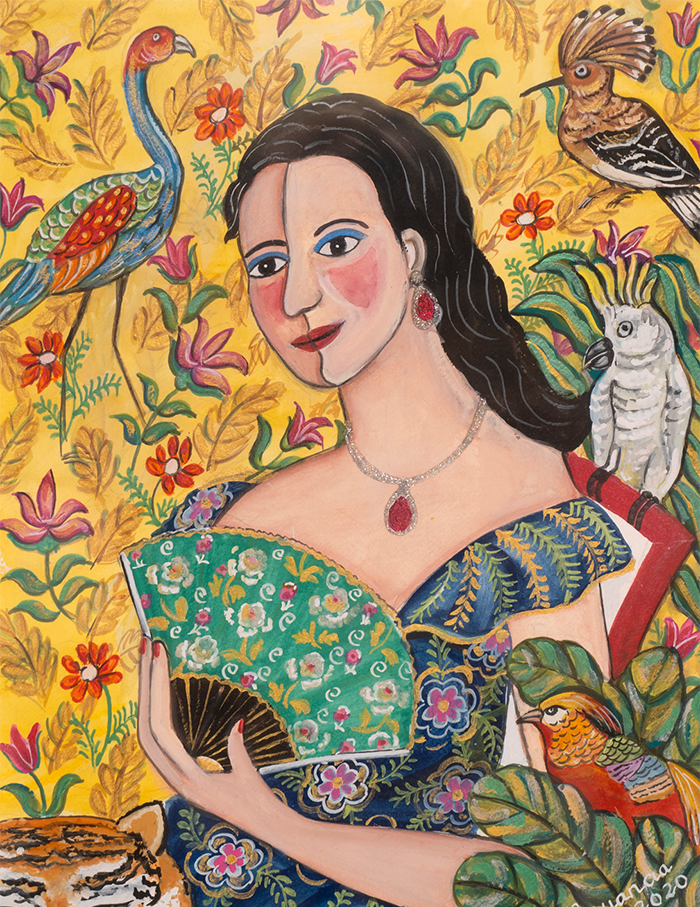 Another chief element of her work is to portray multiple narrations within a single frame. The intricate patterns and details is where Nayanaa presents a picture within a picture to indicate the experiential perplexity rooted in the multiplicity of reality. To construct fantastical versions of accessible scenes, both rural and urban utopias and to depict a moment where histories and relationships are made visible and time is at a standstill.
This material life is pedantic and inaccurate. The world in reality is so true, naked and ludicrous that today we would hardly be able to recognise it. One would only be able to grasp the complexity and nuance of her vision after they abandon the dogmatic notions of society to keenly observe the relationship between the components at play. The projected images serve as a veneer, for the infinite interpretations to these pieces of art.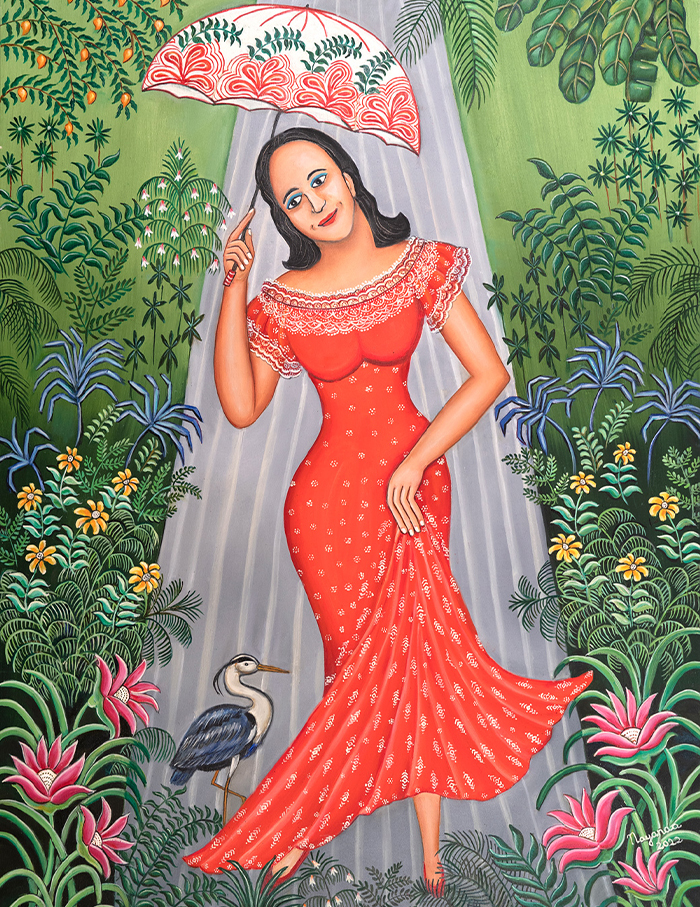 Although, majority of the paintings are set indoors, trees, foliage and birds are skill-fully integrated, the works evoke the light and sensation of wandering in an ornamental garden," explains Ms. Kanodia. The vast body of work shows a close bond between mankind and the untamed environment. A union that helps regain his lost innocence, enjoying the solace and serenity which can only be derived from the peace and quiet found in nature.
The exhibition will be held from the 21st to the 27th of March '23 in the Auditorium Hall of Jehangir Art Gallery, Mumbai. 
You may also like: Art that comes straight from the heart— NOT BLACK OR WHITE, a new exhibition at SoShiro Gallery London features artists from all over Africa and the UK