Homes
Take notes to revamp your home on a budget from this Pune home by Mind Manifestation
AUG 18, 2021
| By Ankita Rathod
Boasting of vernacular elements to unify traditional concepts with a balanced measure of modernity—this Pune apartment, home to a young art-loving couple, gives us major revamping goals!
"Our idea behind designing this 1,200 sq ft apartment was to maximise usable carpet space. So, we decided to demolish all possible internal walls to convert them into functional units to save space," shares Anand Deshmukh, principal architect from Mind Manifestation. 
Enriched further with an appropriate play of available natural light, use of local, historic materials and latest trends in technology. "This home is a representation of preferential use of local materials in tandem with the site geometry to achieve opulence, simplicity and elegance, which shall remain timeless for years to come," adds Deshmukh.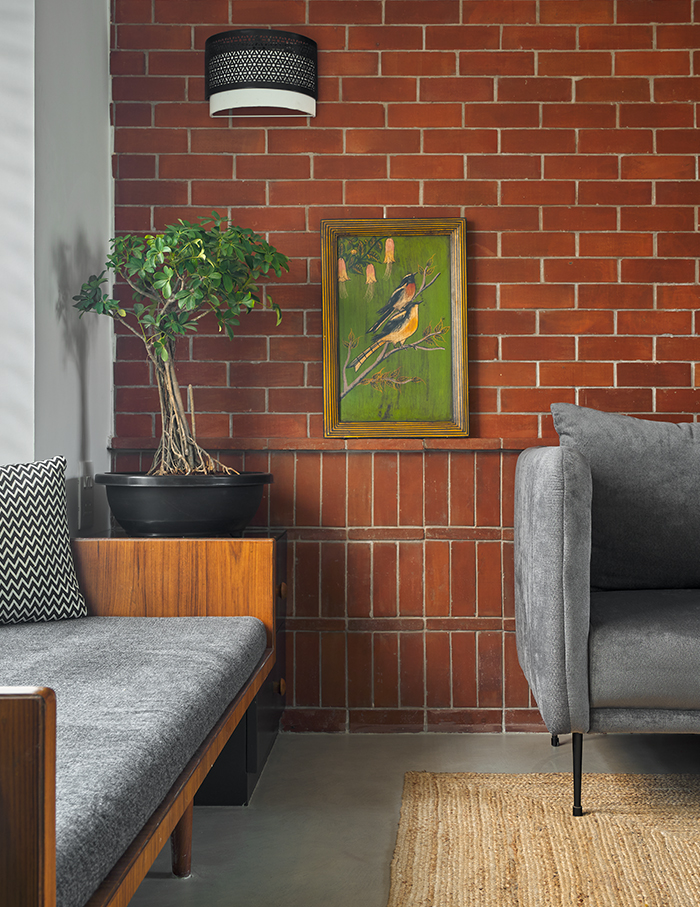 Natural brick cladding serves as a backdrop to the entrance lobby, the living area and the dining sit-out. The abstraction of classical wooden ceiling rafters in monochromatic tones add a note of refinement to the living space, setting up a charming traditional ambience. Concrete finished floors enable a sense of continuity between spaces in the apartment. Monochromatic furnishings in vibrant colourful envelopes of the living area neatly balance the melamine finished natural wood cabinetries.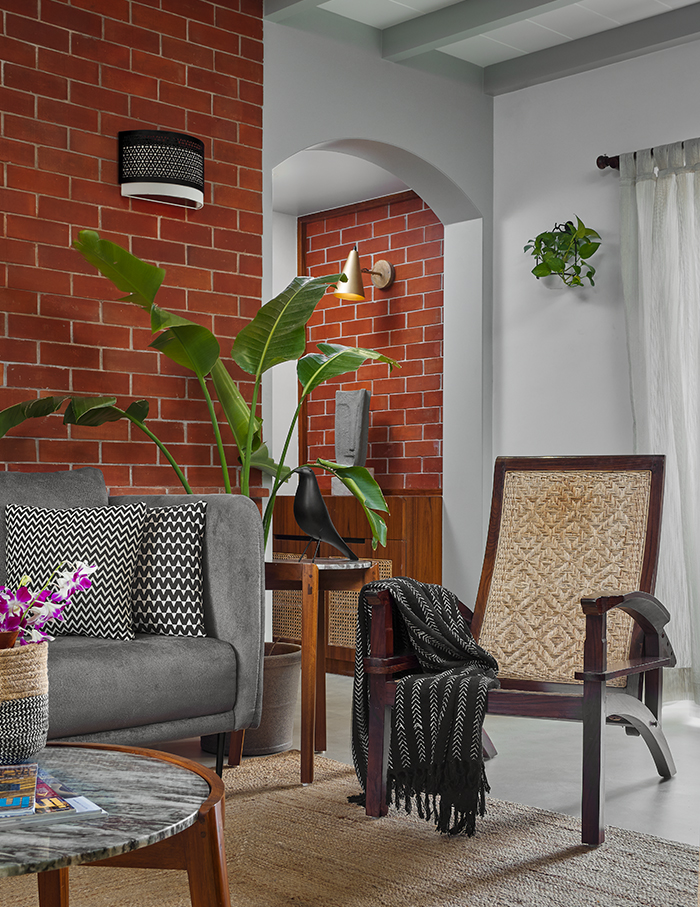 A fluted glass serving window to the kitchen provides superfluous functionality and adds to the visual connectivity, mainly enhancing the aesthetic appeal of the area. A miniature bonsai at the corner of the seating area, enlivens the frame.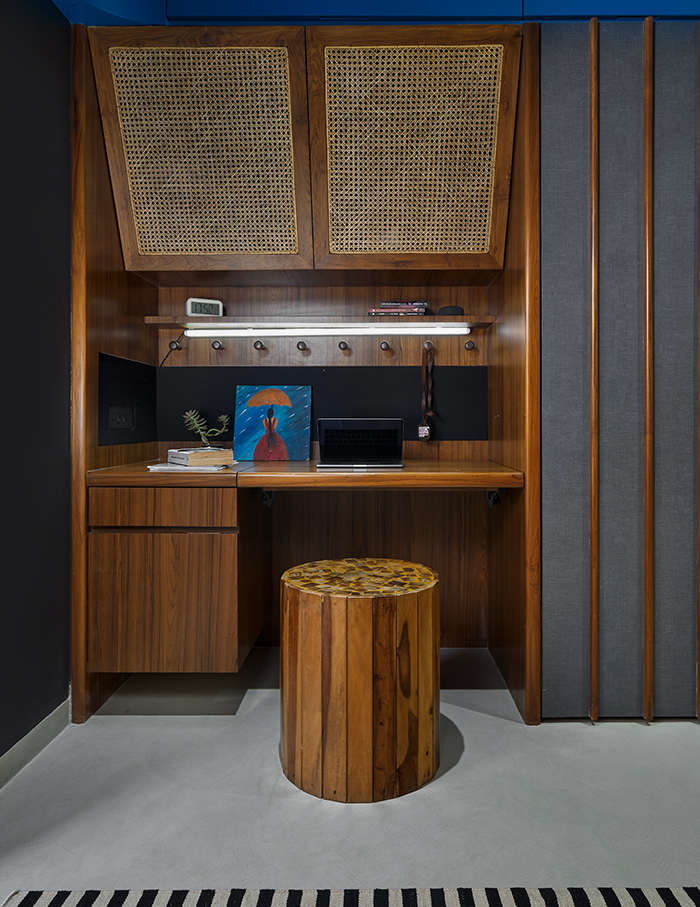 The demolished common wall between the kitchen and multipurpose hobby room gave way to a panelled TV unit cum shared storage which can be used from both sides. Maximising the usable space which acts as a hobby room, complete with a folding bed on the opposite wall.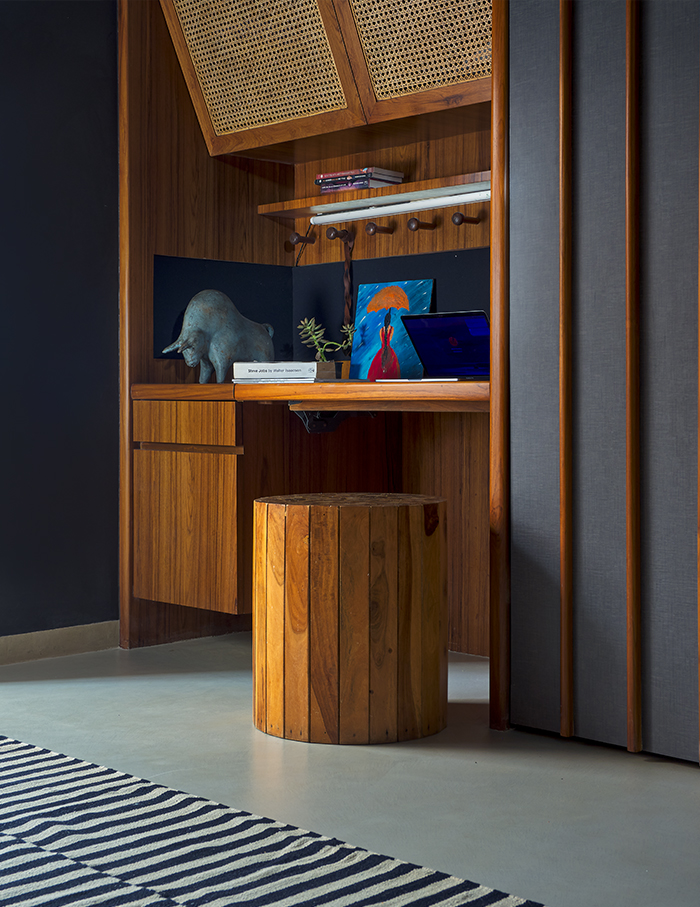 Adding a sense of calm to the multipurpose room is a wall engraved white Buddha on the terrace wall. An Alba tree is potted in front of the Buddha, inserting just the right amount of green in that section. Wooden framed, sliding fluted glass door panels act as a divider between the circulation space and the multipurpose room.
Pastel hued bands envelope the kids' room's multi use platform adding an elusive tint of colour to the space. The multi-use platform acts as a low height bed, a pop up table for board games and an extensive play area for the kids. The storage unit doors are covered with sliding sun shade screens that filter sunlight coming into the room and create an interesting play of shadows, creating a sense of drama in the space. A large blackboard on one side of the wall neatly complements the arrangement of the kid's room. 
The master bedroom is decked up in distressed whites with a dash of monochrome shades. A four post bed occupies the major portion of the space. A modern window seating provides a solitary corner for the occupant to read or peacefully sip a cup of coffee. Owing to its white undertones, the space breathes an air of freshness into it.
If you enjoyed a tour of this home by Mind Manifestation, check out another space designed by the architects—The Folk House…