Homes
#CoverStory Priyanka and Piyush Mehra of PS Design craft a capacious retirement retreat in Aamby Valley that is as warm and cosy as it is sensible and serene
MAR 3, 2021
| By Priyanka and Piyush Mehra
As the dense fog of the Sahyadris clears, a cobblestoned boulevard with verdant landscaping as well as the silhouette of this limestone villa begins to reveal itself. This 4,500 sq ft retreat is for an elderly couple residing in Dubai, whose love for their homeland brings them back. Priyanka and Piyush Mehra of PS Design recount the making of this home, in their own words.
Their brief was to have a place where they can retire in peace. Within the first few meetings, the idea of designing a 'minimal entropy' home came into place.
We worked on a spare palette, clean lines and chose the nest natural elements. To imbue a sense of tranquillity, the clarity of space, emphasis on light and simplicity of proportion was paramount. So, we derived the material concept by harping on the most elementary system: Binary.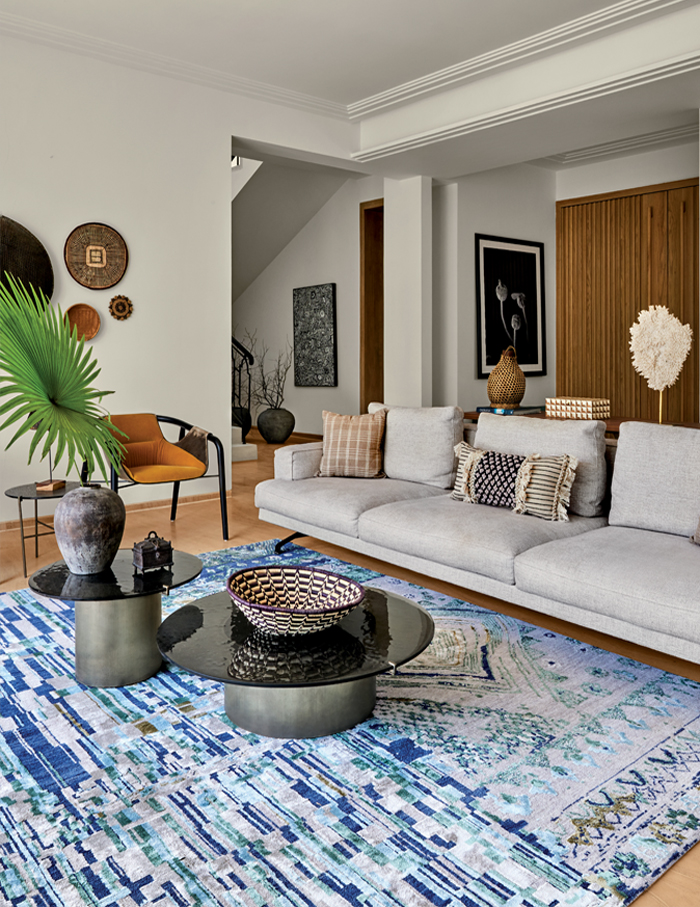 The abode, therefore, uses two base elements—limestone and ashwood. While the former makes up the exterior areas and the flooring within, the latter comes in the form of veneer or solid wood. Together, they create a bright and serene ambience. The limestone cladding is from Aakash Marbles and the walls in Space One Veneer and Asian Paints.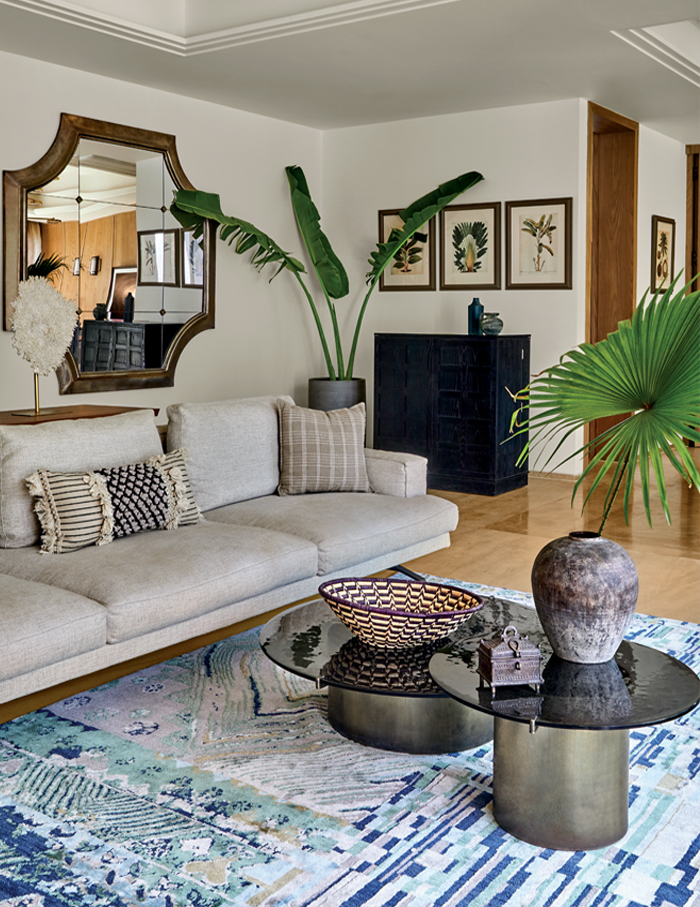 Doing so also helped reduce the villa's entropy as well as strengthening the interaction of the inside and outside by the material's continuity.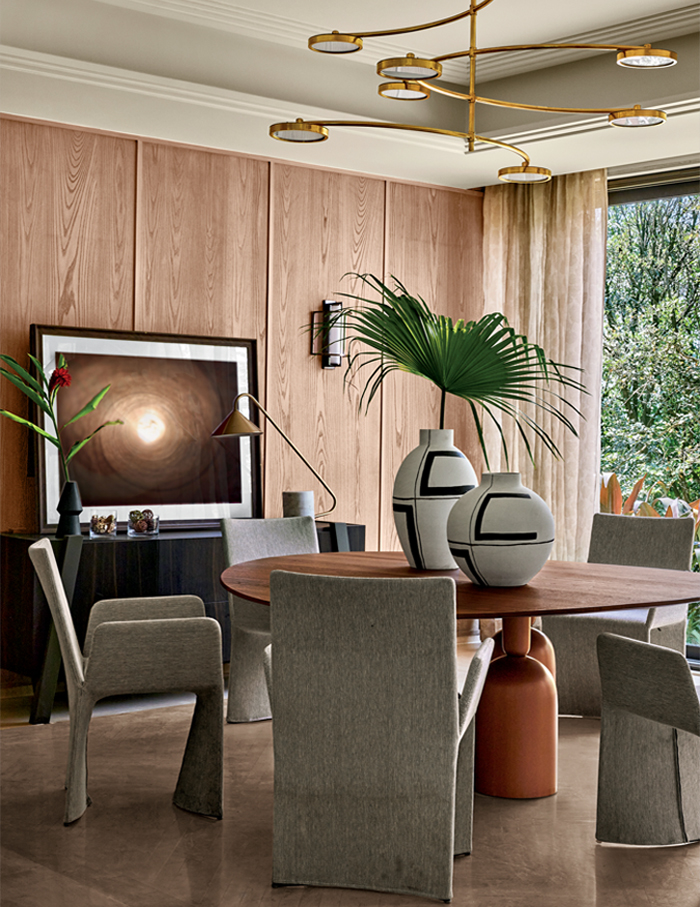 This two-storeyed residence opens up to a breathing foyer with a minimalist bench under an artwork. An open-plan living and dining space reveal itself, from where the homeowners can step out onto a deck and the side lawns a few steps away.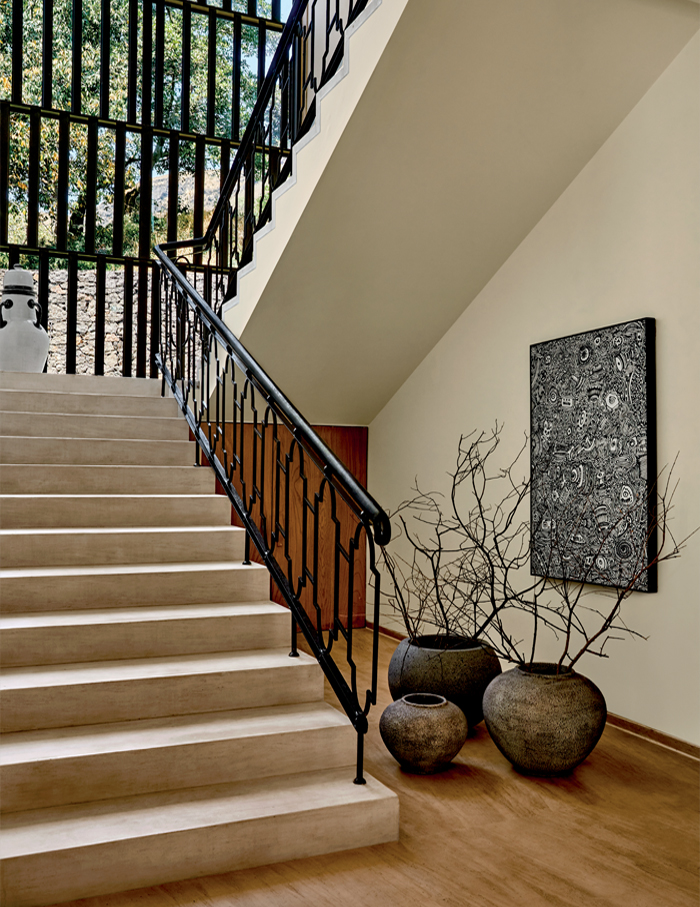 Sections such as the kitchen, a bedroom and other utility areas are also planned on this level.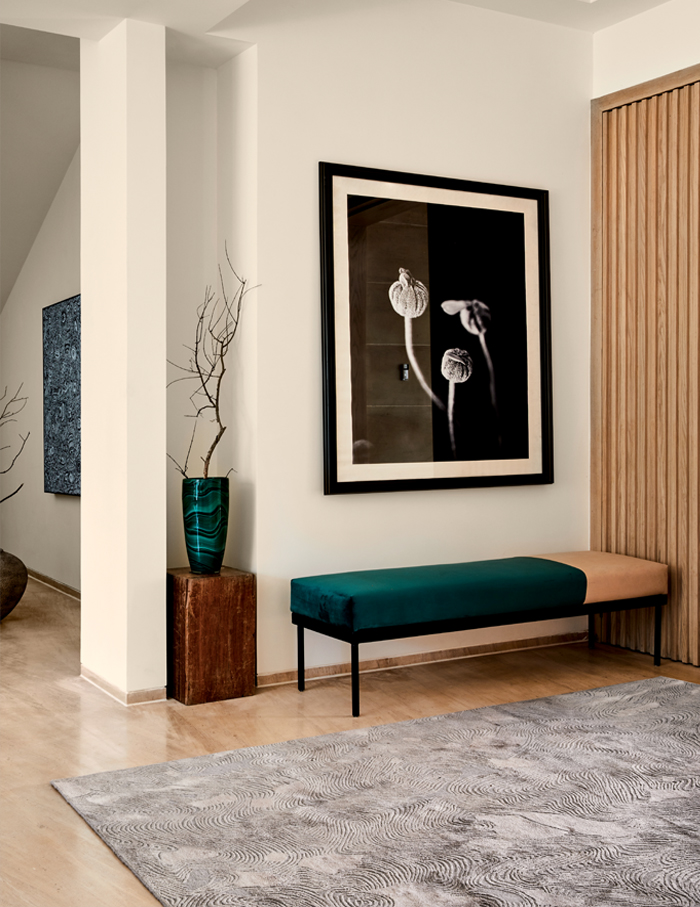 An open staircase fitted with a mammoth panoramic window with vertical fins (to ensure privacy) leads upstairs, where the family lounge opens out near the landing and leads to two other boudoirs.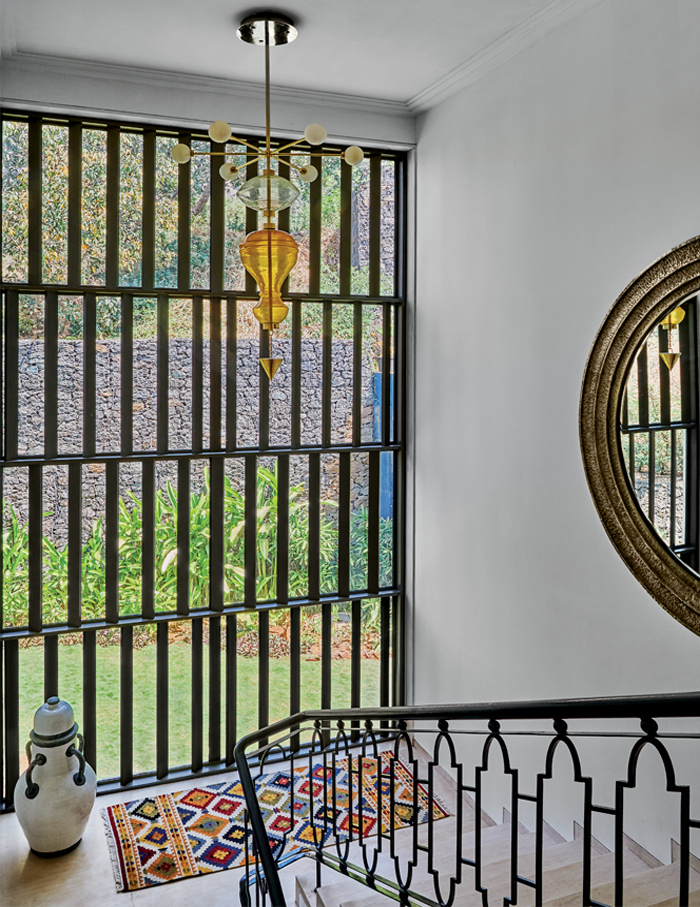 On the ground floor, large wall-to-wall windows bring in the greens and blur the distinction between inside and outside, allowing the occupants to enjoy being outdoors throughout the day. The angles of sunlight vary as the hours' pass and the season's change.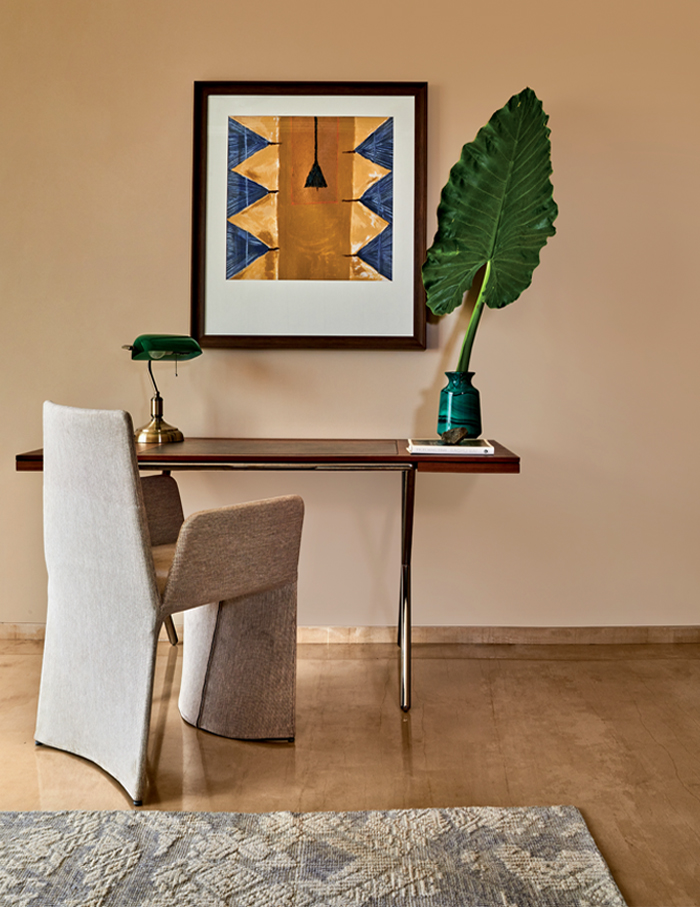 Light freely moves within the home, generating dappled shadows that interact with different areas and offer surprising and playful experiences. Quiet art deco details run across the residence in ceiling mouldings and railings.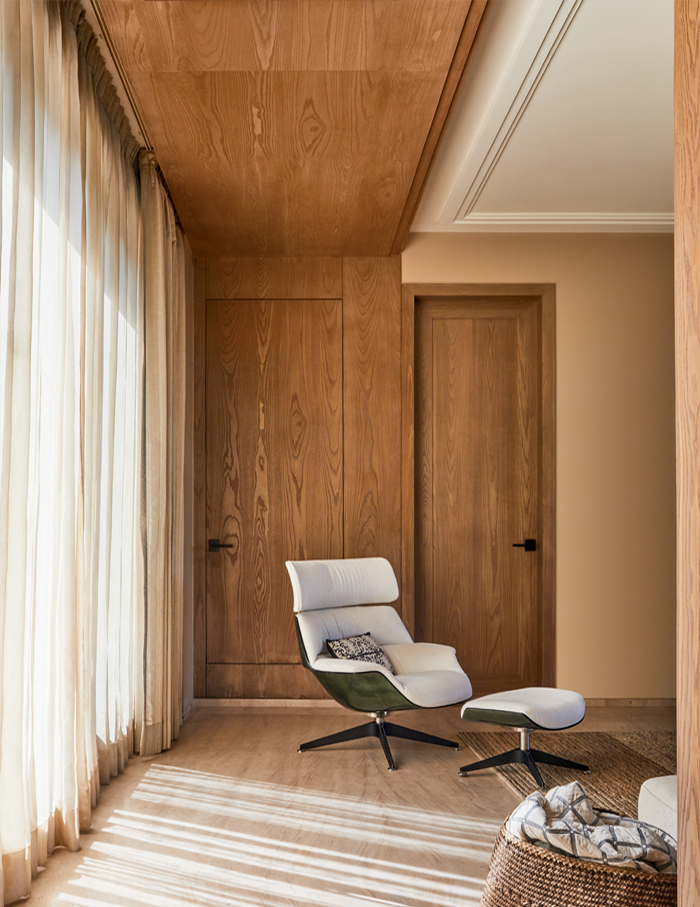 We've used a mixture of soft textiles and hard materials to create a textured, neutral palette with subtle accents of colour, reflecting the sky and surrounding greenery within the bedrooms. A simple example is the framed, monochromatic photograph that one sees right at the foyer.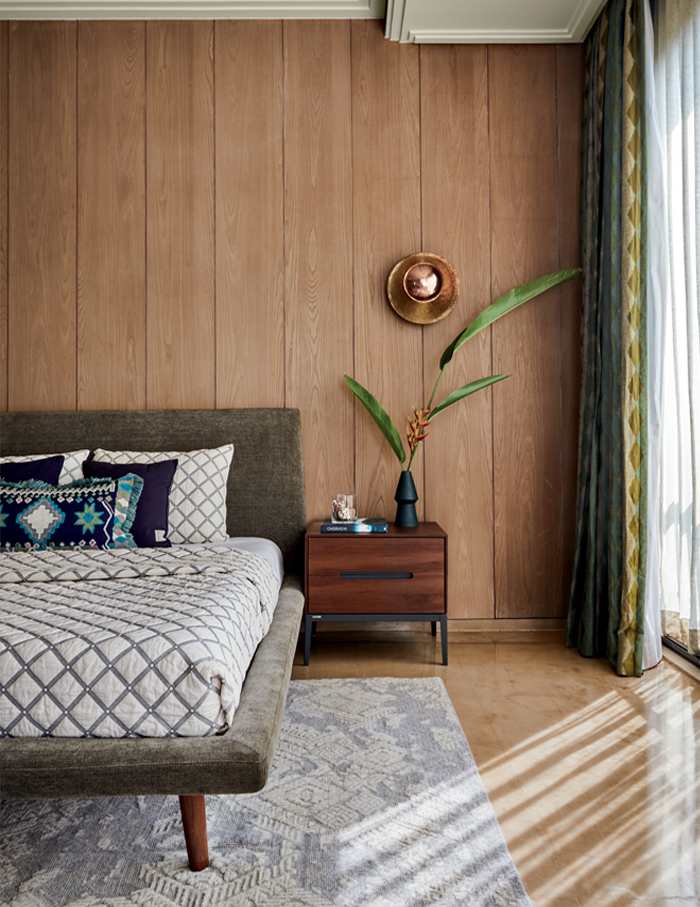 From that point by the entrance to the various sections of the home, warm light-toned ash veneer and limestone accents allow the artworks and accessories to be the hero of the space.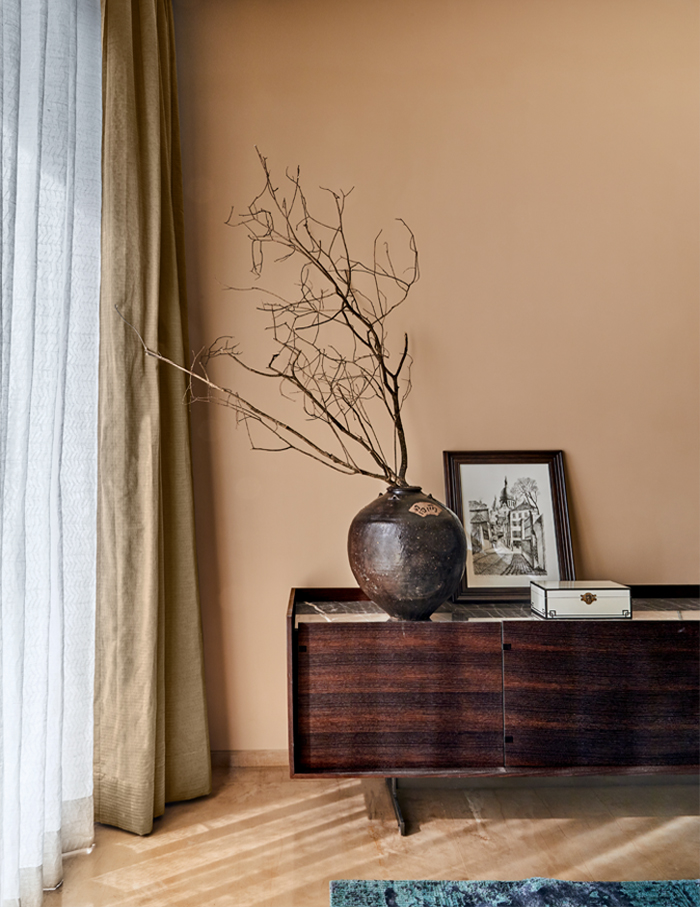 The ensuing cosy ambience and tactile honesty creates an atmosphere of a serene retreat, just what the homeowners desired.