Homes
Priyanka and Piyush Mehra of P S Design craft an earthy abode with Goan vibes to tie in the homeowner's linage
JAN 29, 2020
| By Vedika Nair
Homeowner Ranjeet Thakur's lineage was a crucial part of the brief given to Mumbai based P S Design. Originally from Goa, Thakur's roots led to a simple brief—he wished for a home that mirrored the same warmth and earthiness as his native land—which was realised with aplomb by Priyanka and Piyush Mehra, Principal Architects of the design practice.
Right from the living room, the home exudes a homely aura. Here lies a raw silk sofa, upholstered in an emerald hued fabric from Cottons and Satins, beside an art piece from Baro, while a chic fabric love seat sits by the window. The cement toned walls and vintage flooring create a rustic effect.
To bring in a Goan vibe, P S Design used earthy wood and rope stools that masquerade as wall hangings against the exposed cement wall. "To create a luxury-meets-earthy aesthetic, we've experimented with materials and textures, marrying elements like raw silk, distressed wood and painted finishes with vibrant fabrics, accessories and patterned flooring," says Piyush.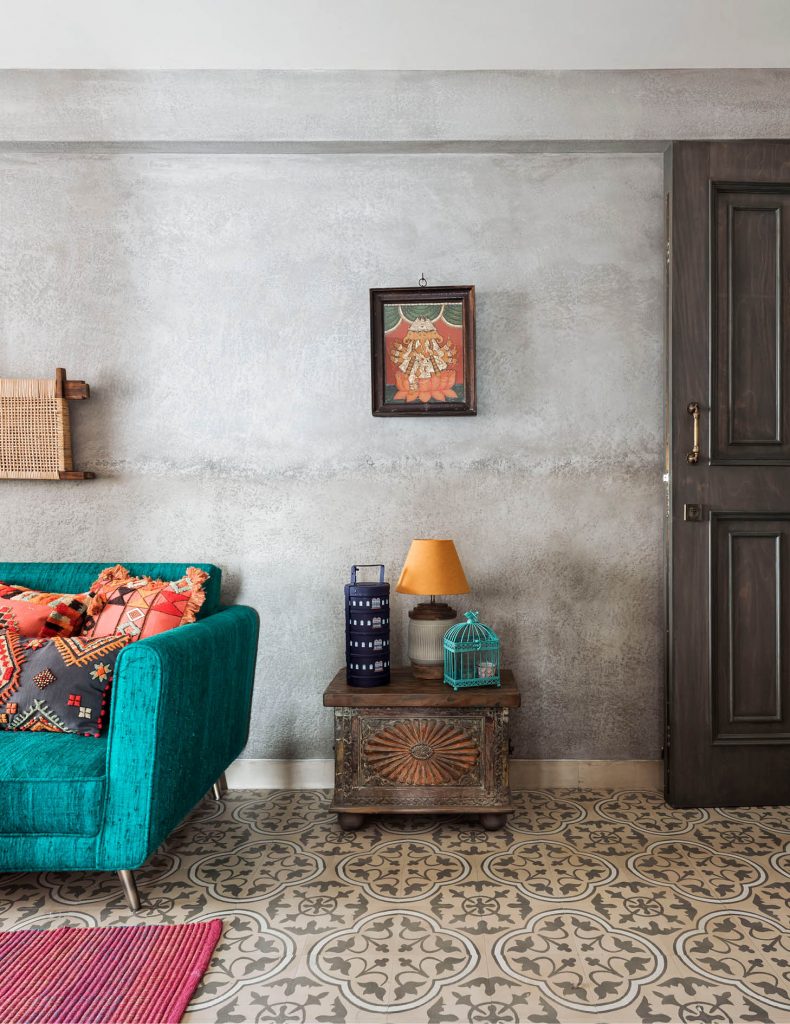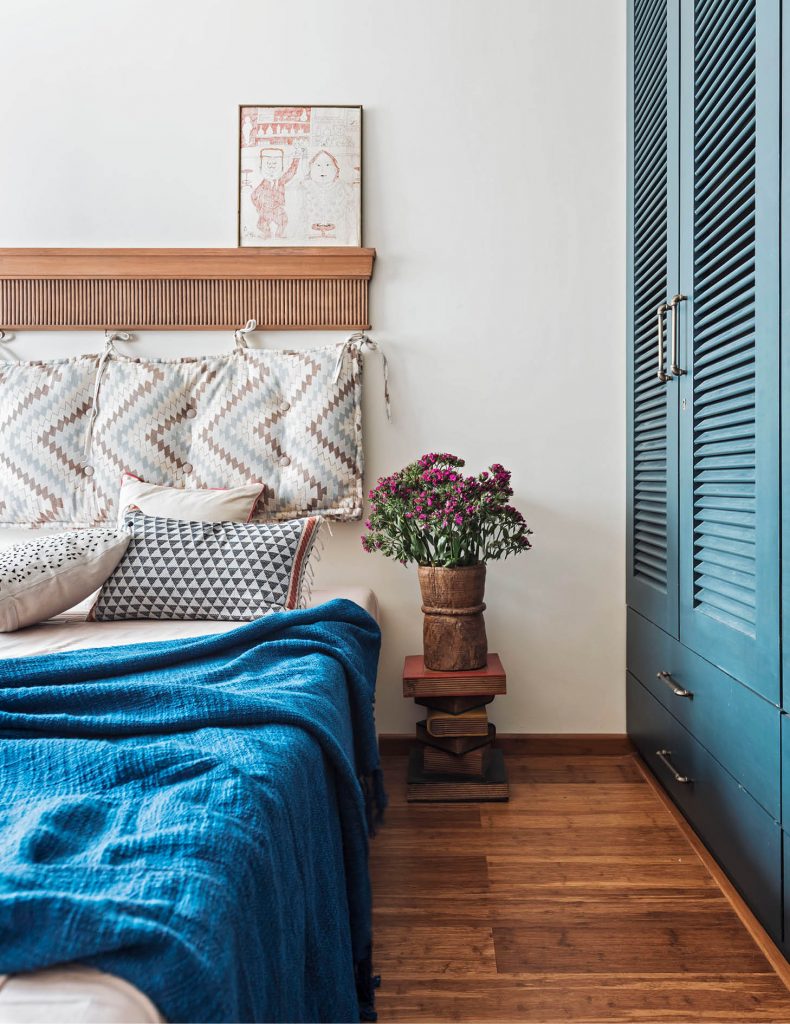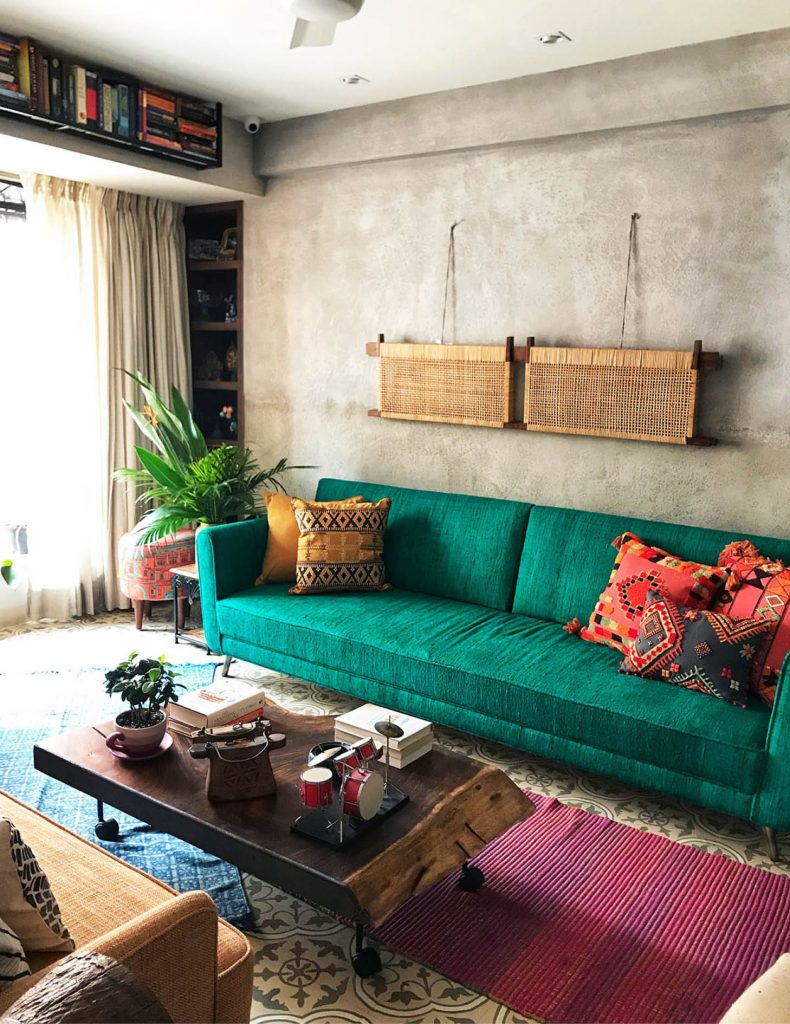 An American diner style booth and a wall of portraits and memorabilia are seen in the dining area. However, the highlight is the bar with a rare blue onyx top. Behind which is a custom wall in handmade and printed copper tiles. The cabinets are made using aged wood, making this space Thakur's favourite spot in the abode.
As we venture further, the master suite opens up and showcases an arresting, faux leather floor-to-ceiling headboard. Amber, rust, mahogany and brown tones play against an off-white backdrop, while a bright, rustic orange mirror above the side table adds a touch of elan to the private space.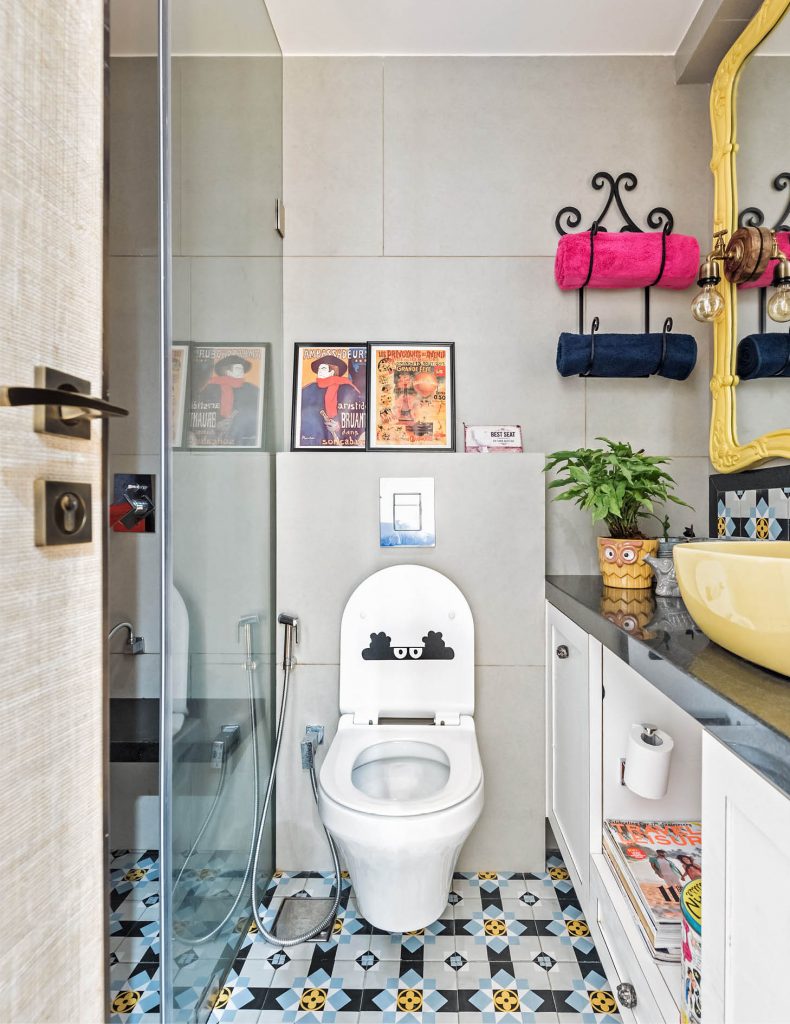 The master bathroom is done up in pastel shades, pairing a cheery yellow colour for the basin and mirror with blue tiles and accessories. A subtle mix of peppy hues balances the children's bedroom, with customised wallpaper, a study area and plenty of open space. Beyond this lies the guest bedroom that features an antique blue closet with louvred shutters and a custom made printed fabric headboard.
The guest bathroom features a monochromatic theme with white subway tiles and rustic accessories. "The home lies in the middle of the modern day, contemporary concrete jungle. And so, the space encompasses the owner in an earthy yet tranquil vibe and helps create an oasis outside one's frenetic, everyday life," concludes Priyanka.