Homes
Style meets comfort in this Mumbai home by Tanushree Lakhotia of Limehouse Design Studio
APR 13, 2021
| By Kavya Joshi
Amid the hustle and bustle of the maximum city, Tanushree Lakhotia, principal designer of Limehouse Design Studio, has put together a thoughtfully designed apartment that infuses luxury and functionality.
The 1,100 sq ft apartment—located on the 52nd floor of Lodha Park in Worli, Mumbai—is planned such that it focuses as much on aesthetics as it does on the need for utility, storage and function.
As a result, Lakhotia explored various layout choices, themes and ambience for this 'home with a view'.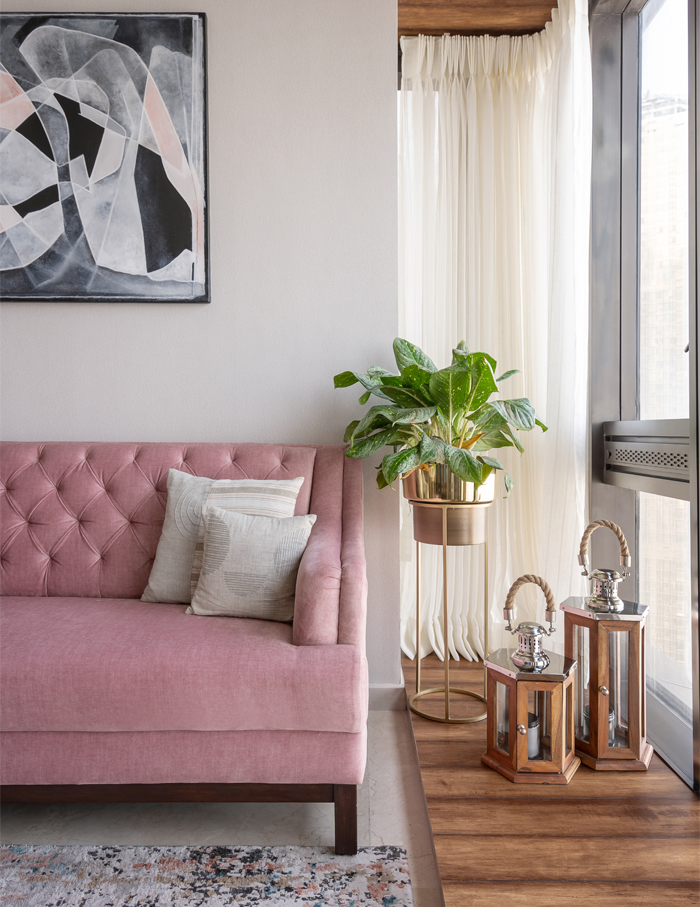 Set in subtle and elegant undertones, the chief colours of the home include grey and blush pink as well as neutral tones. The material palette encompasses elements that look and feel natural but, at the same time, divulge a luxurious and classy ambience. This led to an overall aesthetic that suits the personality of the owners, making it personal and special.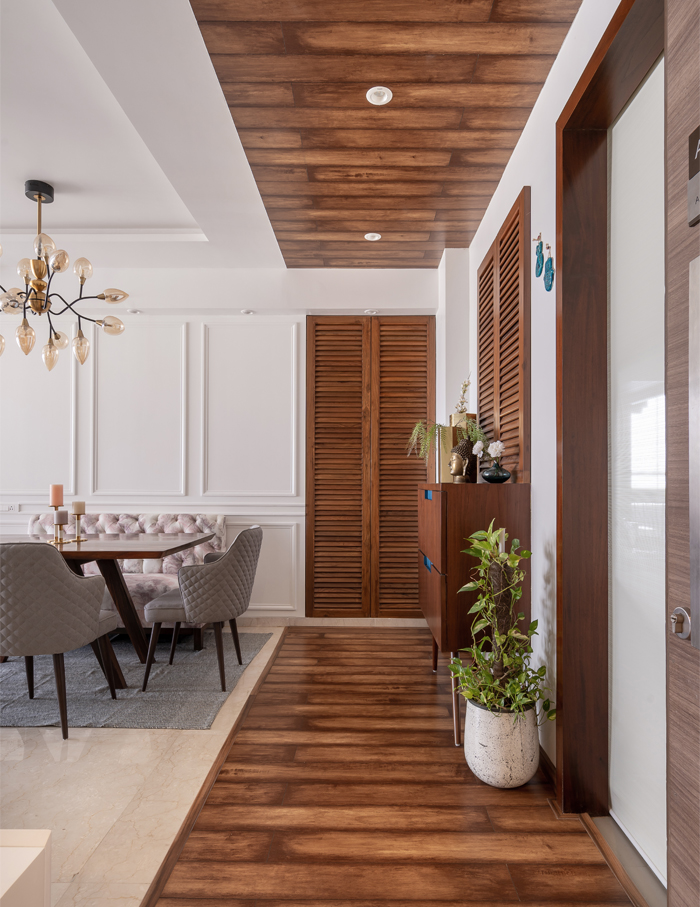 Making a bold, first impression is the synchronised wooden floor and ceiling that creates a strong visual impact in the living and dining area. The simply but tastefully done-up living area features furniture in pastel hues, dramatic lighting and elegant wall panelling.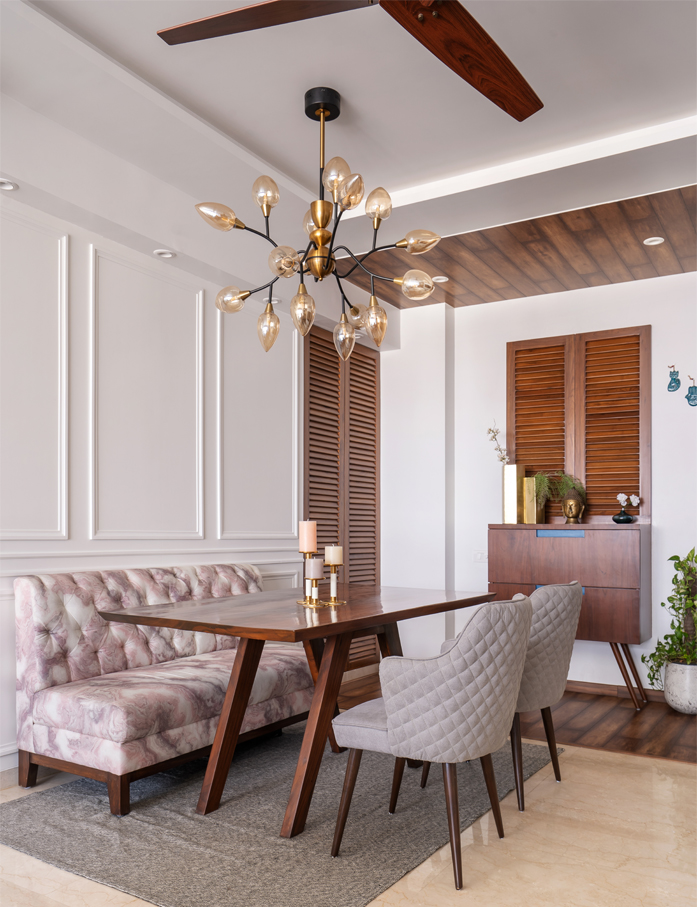 The dining and bar area effortlessly merge with the main living room. In this open-plan space, bespoke sofas are paired with a striking painting by Umesh Bhoi, a marble and brass coffee table, brass planters, end tables and soft furnishings from D'Decor.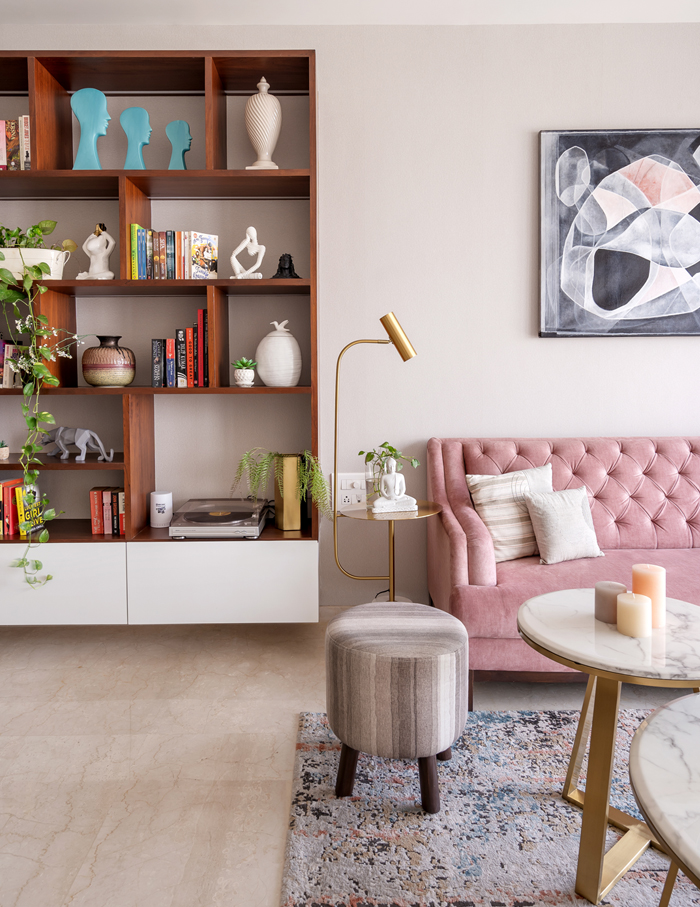 In the living room, a bespoke wall unit takes centre stage. It displays varied artefacts, tomes and decor pieces sourced from IKEA, Ingenious Homes, Pepperfry, Perenne Design, The Decor Remedy and Westside.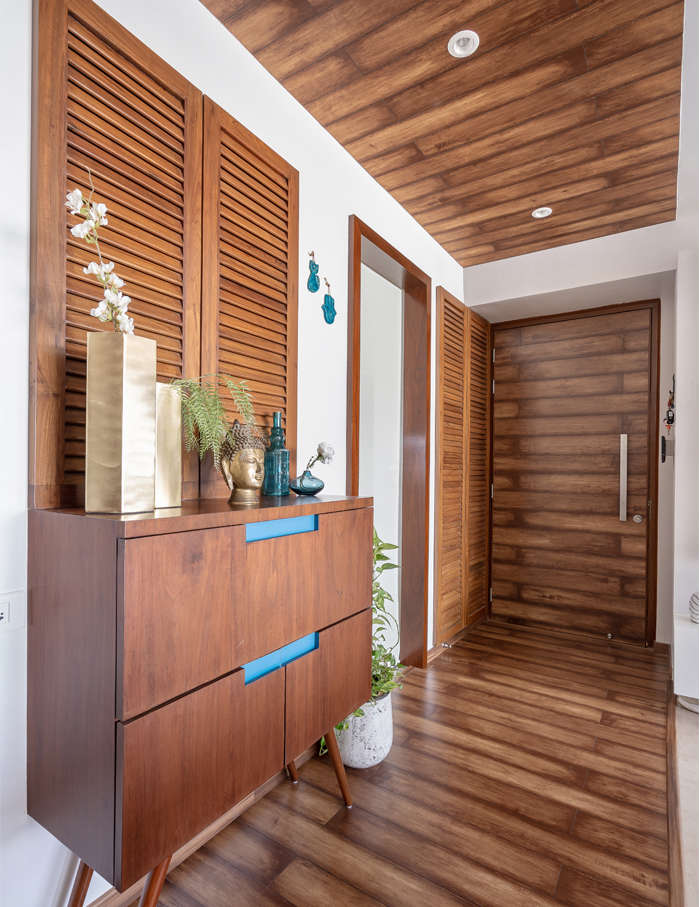 Walk-in storage spaces are carved right from the entrance passage to the main bedroom. Indeed, wooden louvred panels conceal these cupboards along the sides as well as above the headboard in the boudoir, providing substantial storage in an unusual style.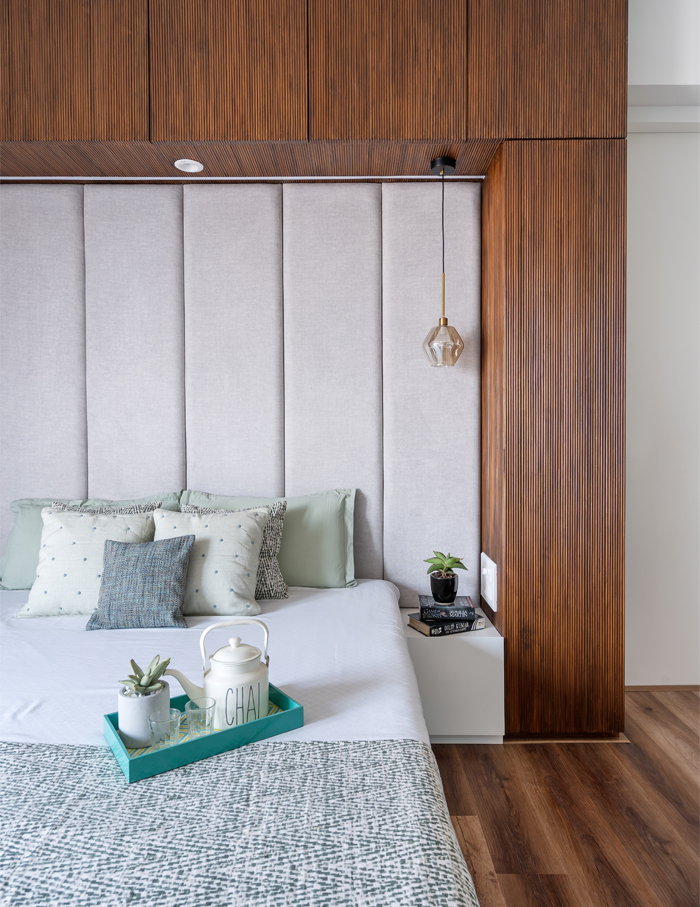 Taking advantage of its location on the 52nd floor, glass walls and French windows in the bedroom reveal spectacular views of the city skyline. A nook is created here using a mint green lounger and a classic end table to allow a corner of solitude for the homeowners.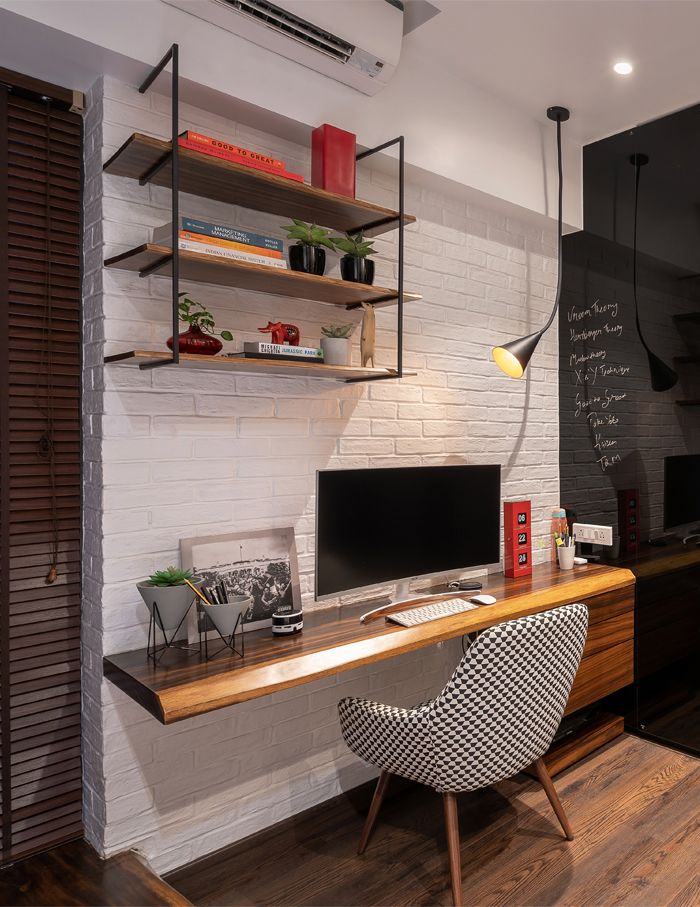 Unlike the rest of the home, the son's bedroom reflects an earthy and industrial vibe. Live edge planks hold the low bed and study, whereas black glass shutters add a bold and glamorous look. Brass lamps and black metal lamps by Artemis Lighting Studio are brought in to balance and bring uniformity to the design.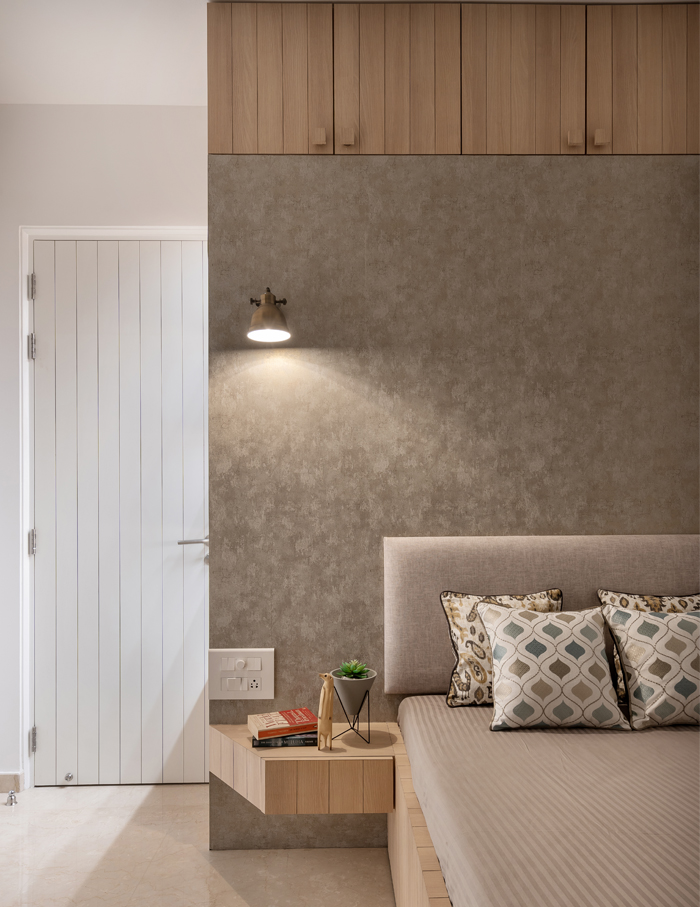 The parent's room is relatively traditional in comparison yet blends seamlessly with the classic and opulent common spaces. Here, the use of light wood, white, and pastel tones creates a serene atmosphere, while gold tones in the textured wallpaper and bedside lamps add a touch of opulence.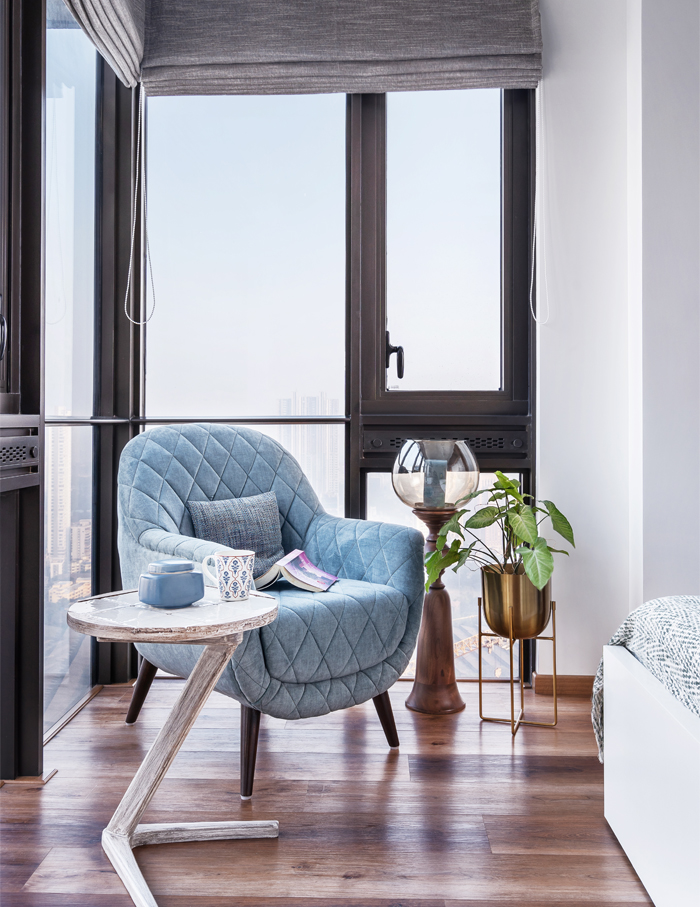 "Simple and clean design concept focus on form and function. We have yielded various design styles right from eclectic to contemporary, fusion to Scandinavian, modern to vintage—all conveying the message of simplicity through minimalistic, aesthetic, and functional interiors," concludes the designer.