Homes
Studio Vogelkop adds a touch of colonial French aesthetics, contemporary design and rustic interiors to this home in the Manchester of India
JUN 17, 2021
| By Vedika Nair
When we think of a home rooted in tradition and culture, nestled in the city of Ahmedabad, our minds linger to classic aesthetics that depict the style of its folklore. However, as we take a tour of Aatmaja (which traditionally means daughter), we can't help but love the fusion of modern design and rustic interiors.
Conceptualised by Paresh Patel and Avi Patel of Studio Vogelkop, this expansive abode is enveloped by nature's bounty, flowing water and fresh florals. Keeping these factors in mind, the designers made sure to celebrate the outdoors through recreational spaces.
Sprawling over 16,000 sq ft, Aatmaja is a marination of the inhabitants' love for french style colonial homes, rustic elements, contemporary aesthetics and a palette of blues, greys and whites.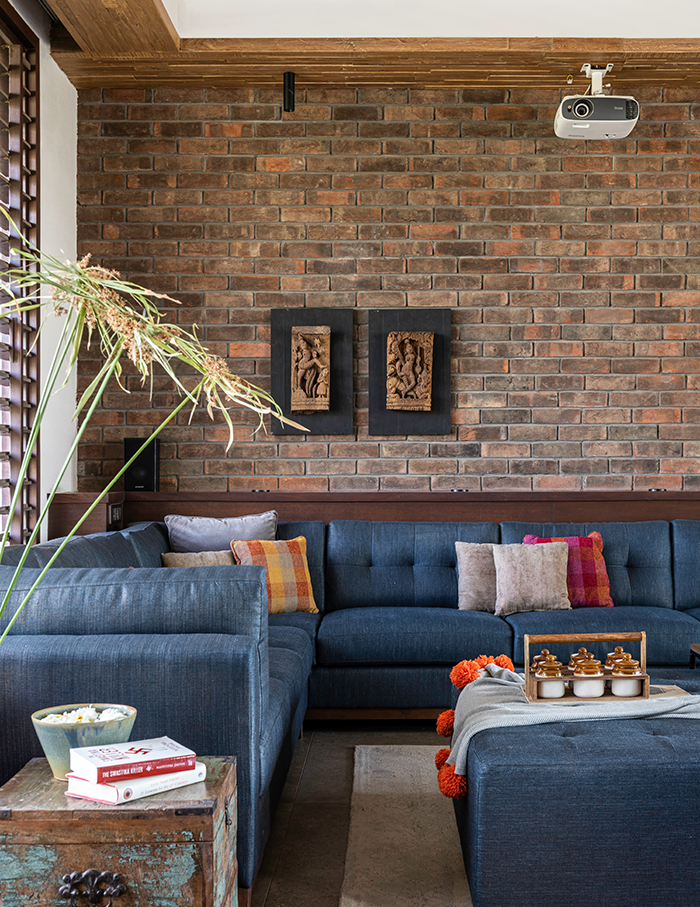 With a garden on the right and a visitor's parking on the left, a wicket gate canopied by verdure leads us to a cosy courtyard accented by a contoured landscape. Sleek steps take us to the first floor inside, dressed in bespoke concrete tiles and concrete lamps. 
A slit in the wall demarcates a frame to the lily pond, while further inside the steps take us to the box-shaped foyer. We're welcomed into the home through a vestibule that takes us to the living room on the right, featuring metal grids and wooden boxes, while the left wall is decorated with antique wooden wheels mounted on a chiselled white brick wall.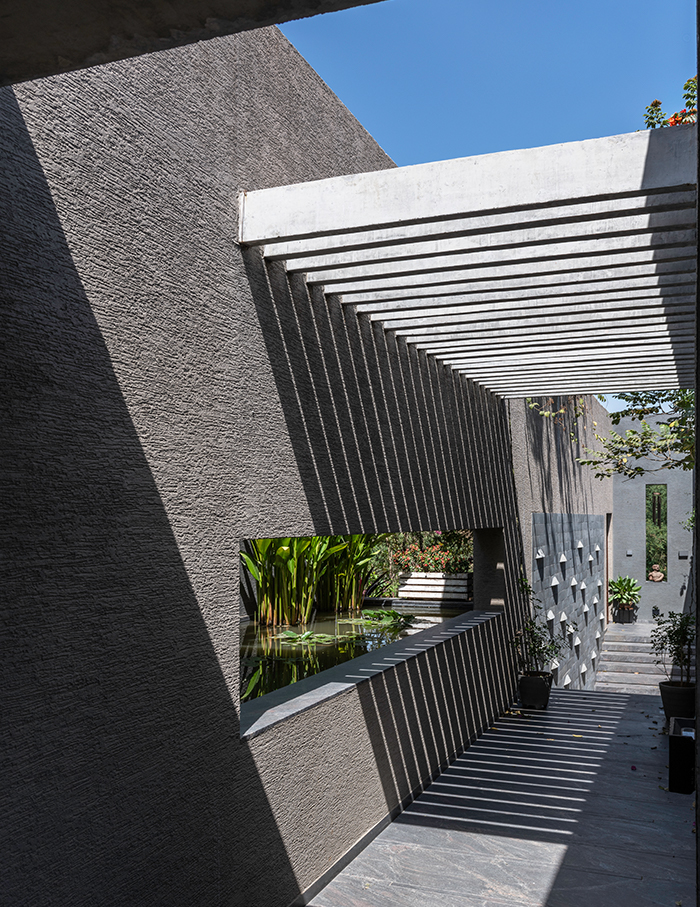 We can't help but be captivated by the antique sea-green console, along with a Kothi (pot) in the passage that leads us to the kitchen and dining room. Dressed in wooden tones and brick tiles and featuring a cosy breakfast nook, the kitchen is left rustic, while the bold blue dining space is accentuated by porcelain art and upholstered dining chairs.
As we explore further, a staircase takes us to the private zones comprising a main bedroom, the daughter's room, a study cum library and spa space.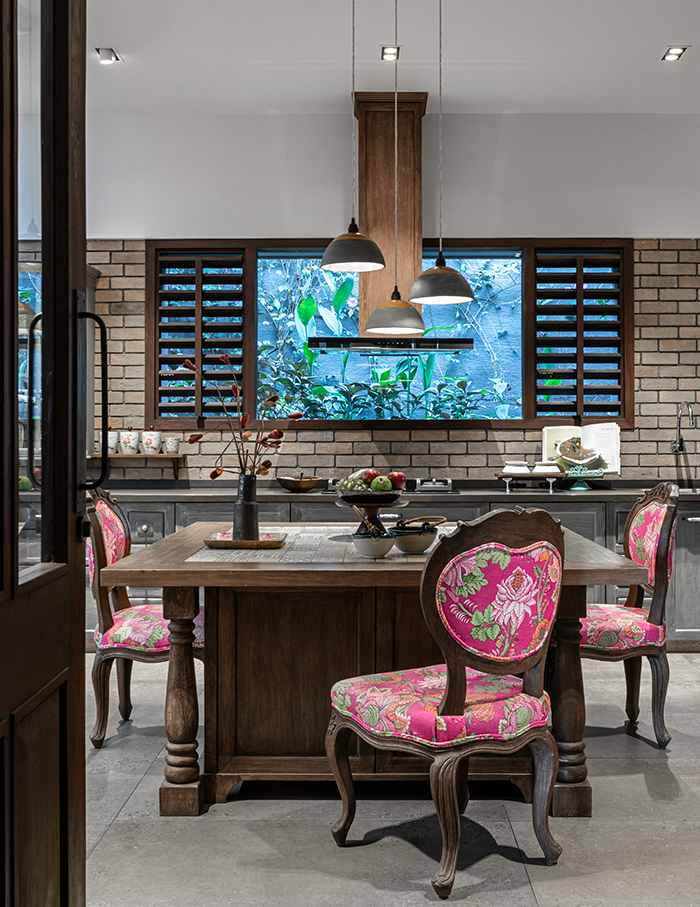 Adorned with a reclaimed wood bed, the main bedroom features an exposed brick wall in white. The dark wooden floor complements the light coloured armchair and rug and adds a sense of charm.
Seeking inspiration from industrial aesthetics, the daughter's room is a vision with a grey exposed brick wall and dark polished wood and metal. An armchair accentuates the room with a colonial yet modern character.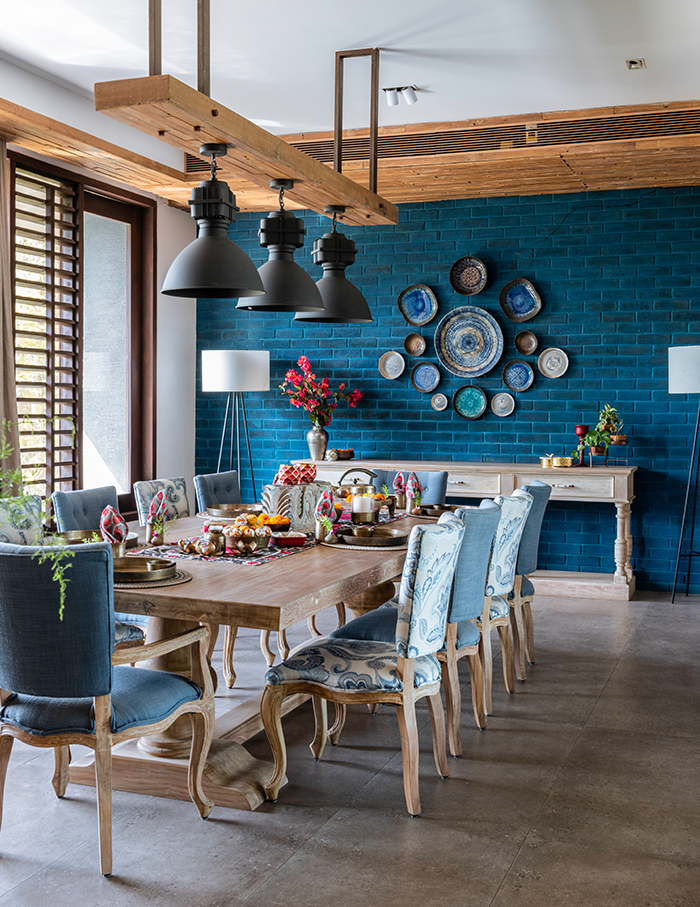 Going back down, the ground floor foyer houses two guest rooms, a studio and a gym. One can easily access the pool from here, which is a covered space with ample ventilation.
"We loved designing the pool area and it was the most challenging as well. We wanted a seamless look for the pool area ceiling and we did not want any columns or beams in that span. So, a series of inverted beams were incorporated to give a seamless exposed RCC ceiling. The whole area is supported by just four columns," shares Patel.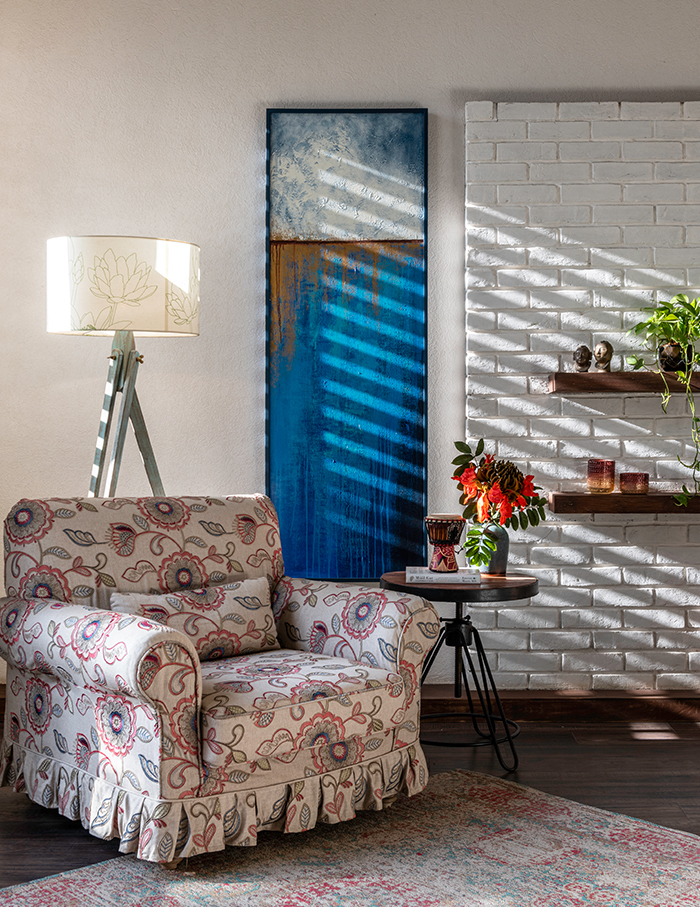 Among our favourite spaces of the home is the lounge/bar that is the perfect space for some downtime. Designed in contrast to the home's interiors, this space is characterised by bespoke light fittings in shades of blues, reds and yellows, reflecting on the furniture. A charcoal grey brick wall makes for a bold background and complements the room's vibrant hues.
North of the pool area, we walk towards a gazebo, supported by antique stone columns and metal pergolas and a walk back to the property allows us a peek at the cantilever deck and lily pond.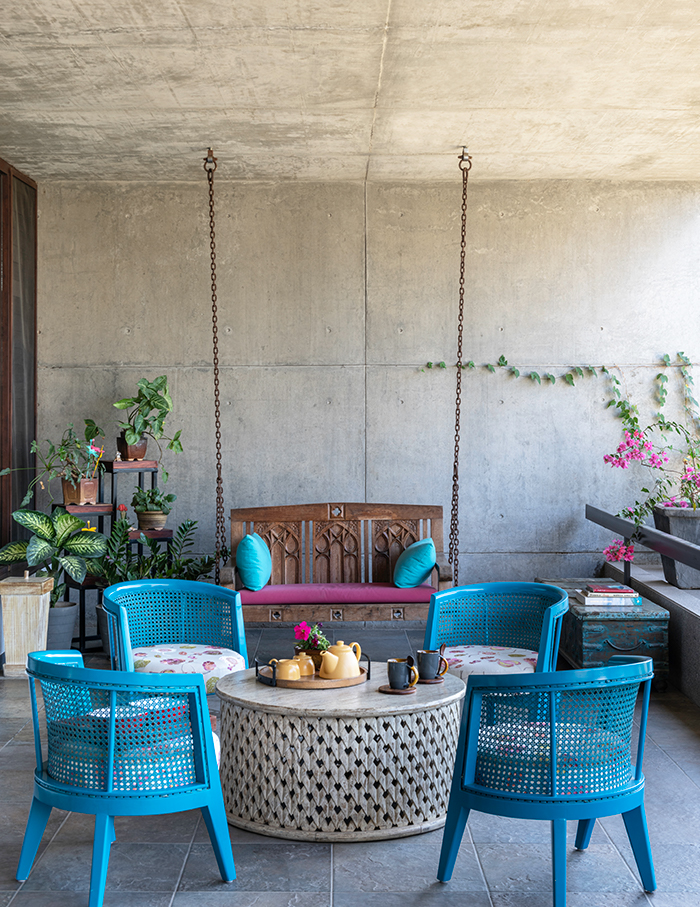 "Our design philosophy is quite simple, we believe that a house should be designed around the clients' needs and it should never make them feel bored of the interior spaces. So we make sure to build spaces that incorporate all the elements of design, making for a perfect home," concludes the designer.