Homes
Studio Bomb uses greys and reds to drown the sound of Bengaluru in this modern escape from conventional living
FEB 7, 2023
| By Siddharth Babani
Breaking away from tradition can provide an uncertain response, but here, in this Bengaluru home by Studio Bomb, it is a welcome change—a monochromatic endorsement of minimalist design! An admirer of minimalism would applaud the honesty of the materials and the functionality of its elements but this home does more than honour the famous words 'form follows function', it provides a surreal dispatch from the everyday to provide a cocoon of comfort and opulence. 
At 1600 sq ft, principal architect Shankar Kallutla and his design team, Archana Anil and Rohan Oommen, have managed to be consistent with their neutral hues, the restrained natural oak, nuanced tones of grey and the immaculate soft lighting that seamlessly bind the spaces together to achieve a harmonious blend of simplicity and elegance.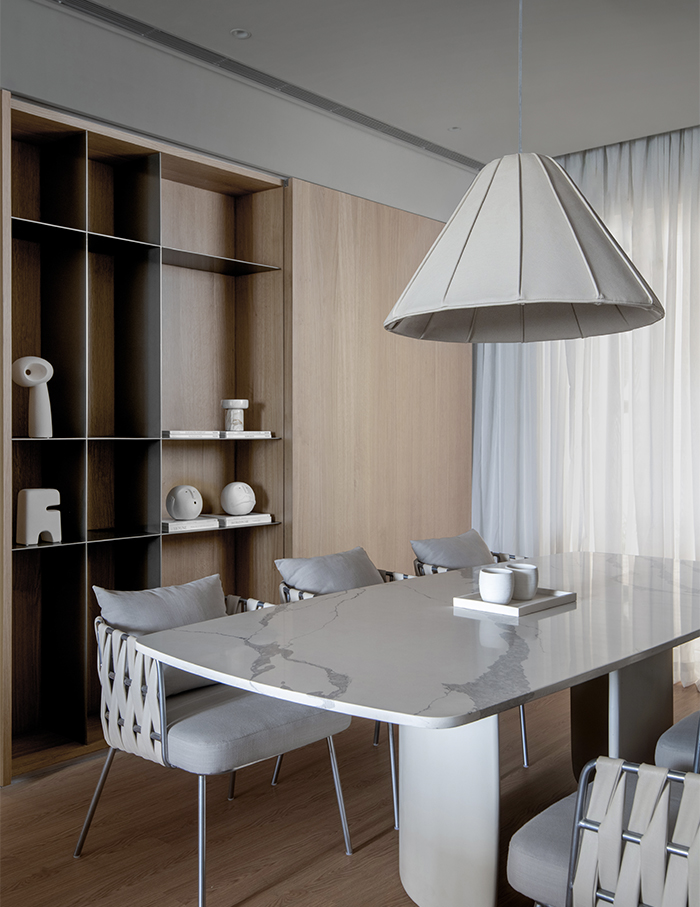 The curious brief
Designed for a young couple in an upscale neighbourhood, the home needed to be sincere and straightforward. With a minimal identity at its core, the approach was to create an ease of habitation by eliminating the superfluous and focusing on precision while crafting a warm and welcoming abode for modern living.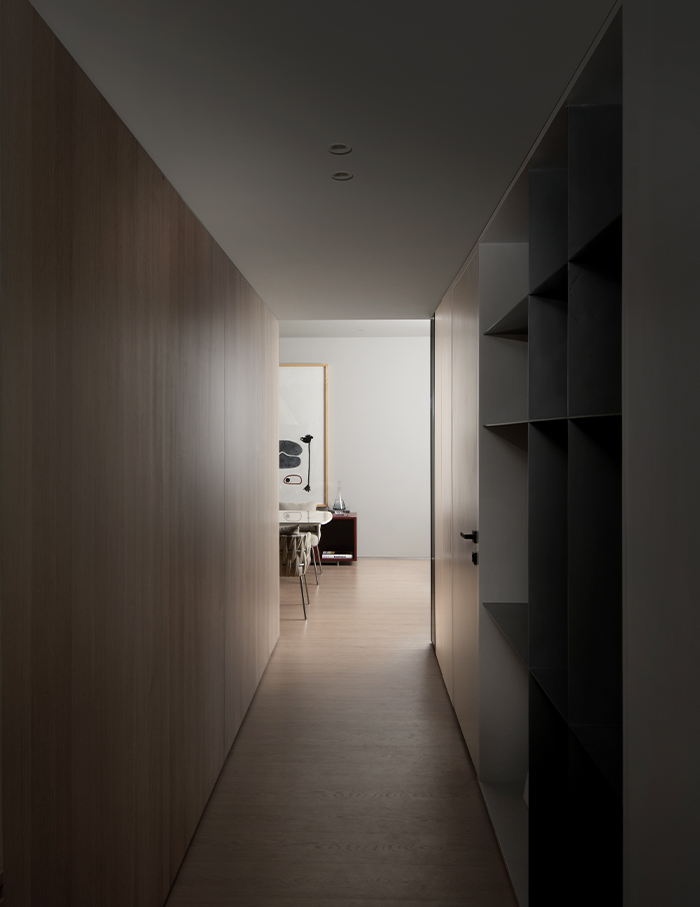 Tour every turn of this home
Stepping into Flat Blanc leaves you with no qualms about what to expect from the home. The theatrical corridor draped in oak and steel guides you to the public spaces, designed to entertain. 
The living room features an enclosure of dark tinted glass that conceals the television while hosting guests and makes a pretty convincing media room (snug) for those long weekends. A fog grey sofa, a pair of leather chairs and a centre table made of Napa hide consume the rest of the space with a grey textured rug tying it all together.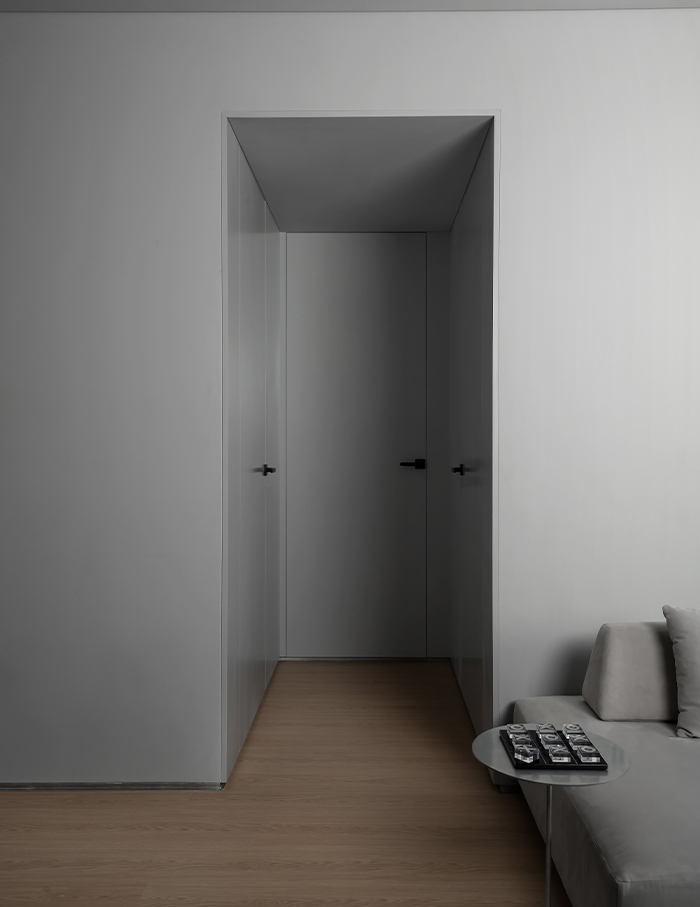 A prominence of oak and steel is felt to the left of the dining room while a substantial piece of art, a homage to the space by local artist Saranya Kallutla, hangs over a dark red console to the right. At the centre stands a custom dining table made from natural stone emphases the delicate balance between material and form.
The kitchen is concealed by a wooden sliding door at the far end of the dining room. Its cabinets are built in the similar shade of red from the console and the coffee table and the light grey floor tiles mimicking the relaxing colour palette in the living and dining room.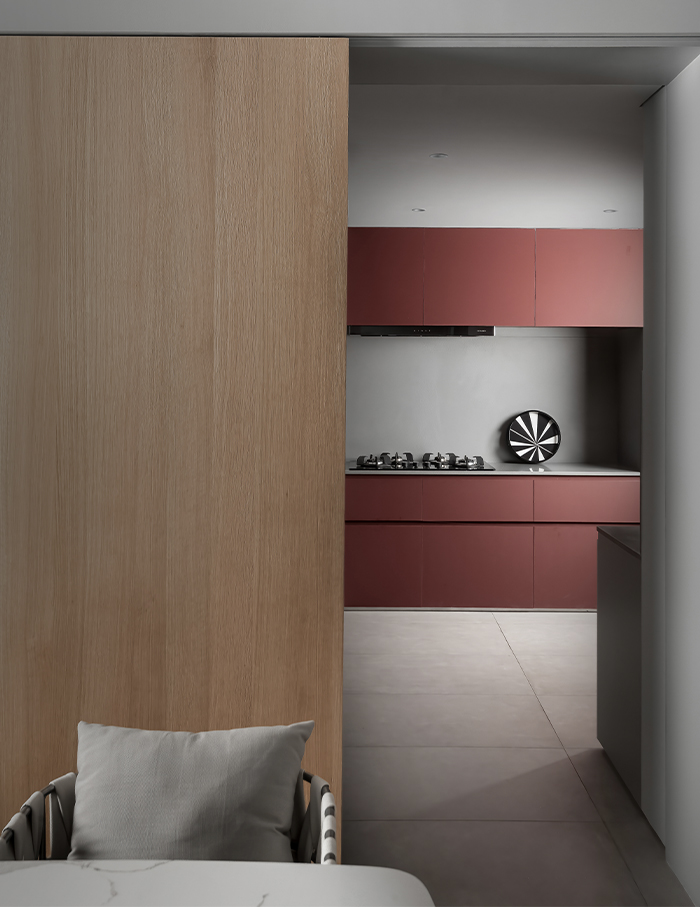 The bedrooms open at the end of the corridor through the social spaces maintaining a sense of privacy as outlined by the architect. Minimalism follows you into the bedroom with sparse furniture, natural wood, dark leather headboards, white textile and another grey rug.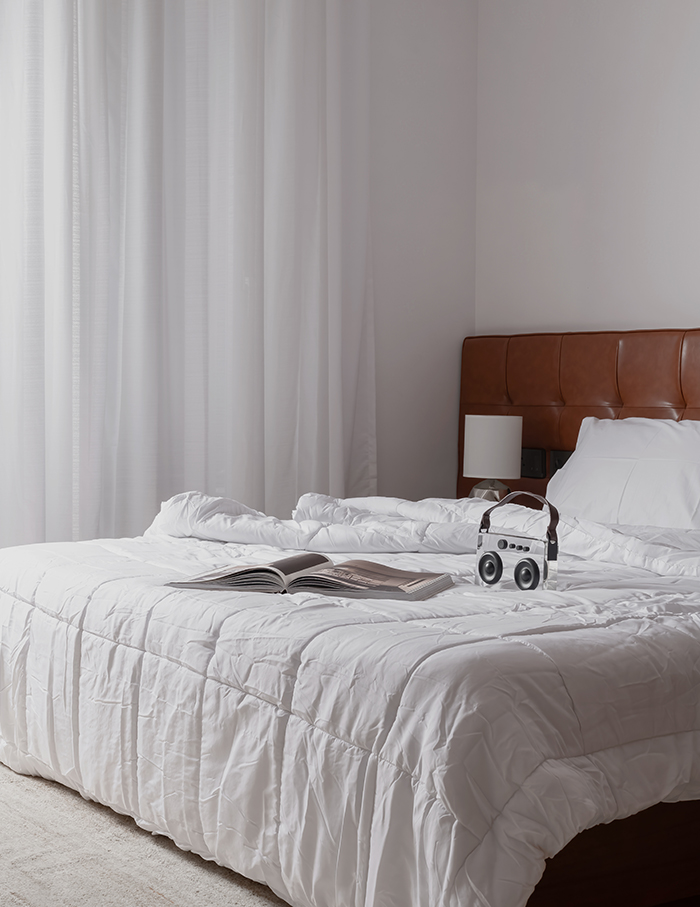 Ideas to Bookmark
Maybe it's time to declutter our lives? The open living plan with the voluminous floor to ceiling windows adds an expanse to the space, bringing the outside world into the home. The red accents interspersed with the greys and browns, add a pop of colour amidst the monotony of the greys and browns. 
You may also like: This Bengaluru home by We Design Studio appreciates open spaces like never before