Homes
Stroll down lazy summer daze and sandy desert through this Mumbai home by Studio Nishita Kamdar
DEC 22, 2022
| By Shriya Goyal
In a world  where most of the vacation itineraries end by the beachside or amid mountains, deserts are underrated. Bringing the serenity of fine sand particles and soothing sunshine, Studio Nishita Kamdar crafts this Mumbai home, with grain-like details
Founder of her namesake practice, Nishita Kamdar designs this 950 sq ft apartment in a high rise tower of Mumbai, comprising 3 bedrooms, living room, kitchen and a small balcony space, occupied by a mother and daughter. Aptly named 'Sand', this house vividly speaks of its inspirational roots—nature.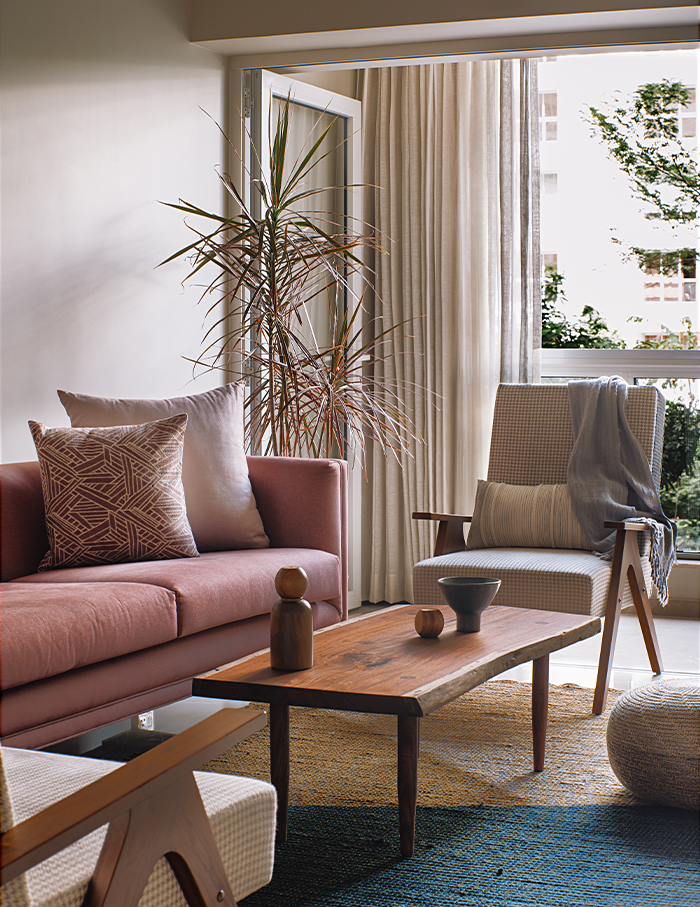 The curious brief
Nestled amid a lush patch of green mangroves, drawing visuals and aesthetics from nature was obvious, thus turning into the brief for this home.
"One of the beautiful things about art, architecture and design is their ability to reflect the things we see and experience around us. Our travels, thoughts, inspirations and encounters always find a way to wiggle into our designs in the most discreet way," elaborates Nishita.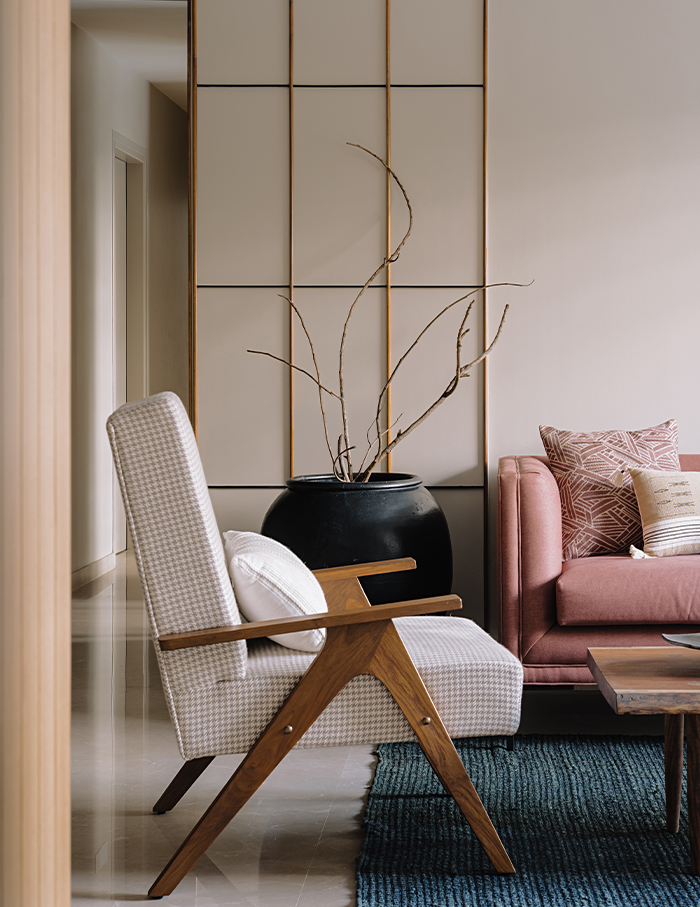 Tour every turn of this home
The house almost feels like a monotone canvas with similar colours blurring into each other. Upon entrance, wooden highlights along with soft textures and delicate pink mark the living room. With a mosaic-patterned dining table and cane accent chairs, the dining room features a floor to ceiling bookshelf with arched doors.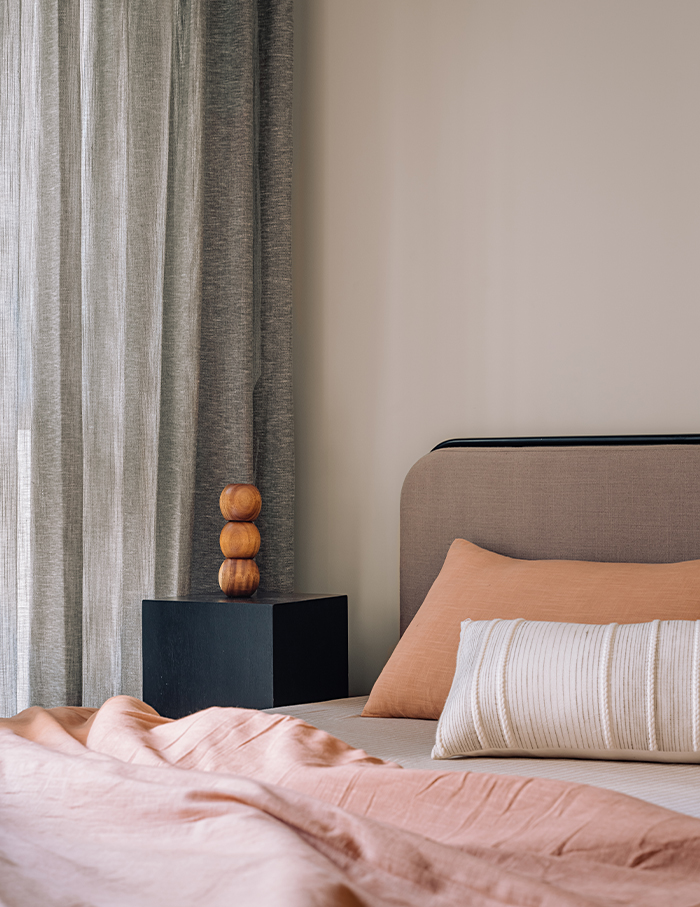 Inspired from the Japanese shoji screen pattern, the wall from the dining to passage is clad in thin tendril teakwood verticals and black metal horizontal battens. This discreetly hides several doors and storage spaces along that wall, giving an illusion of connectivity and adding length to the otherwise broken space
A section of this screen leads to the kitchen that is dressed in olive green and wood. Muted shades of white oakwood and pinewood merge with the sand-coloured walls to give a very soothing visual feast.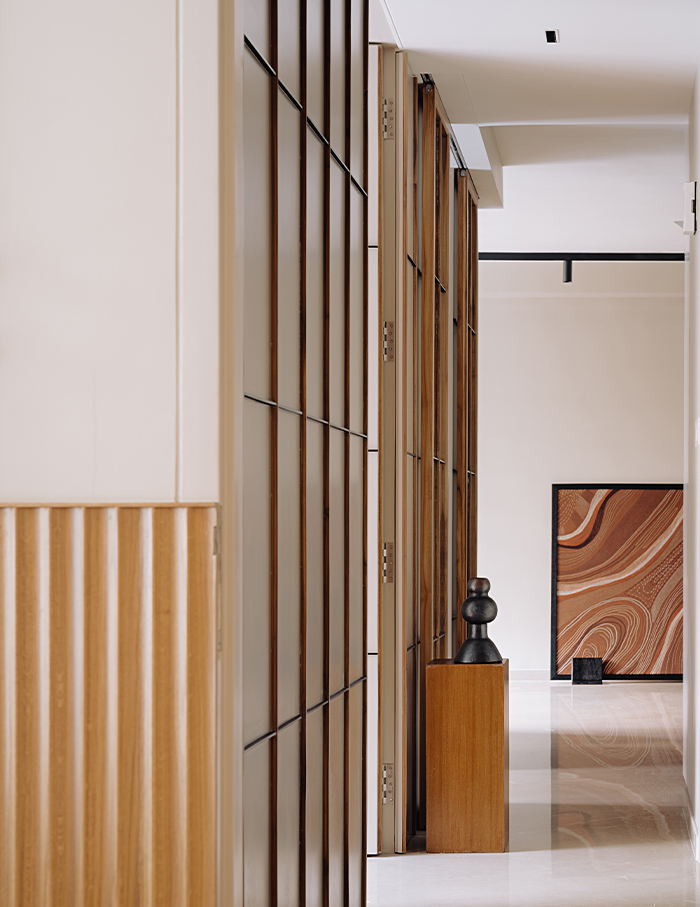 Thoughtful replanning of furniture and smart design elements bring together the bedrooms making them look soothingly cosy, comfortable and very elegant. The sand hues bounce off the yellow sunlight and almost make the entire space glow.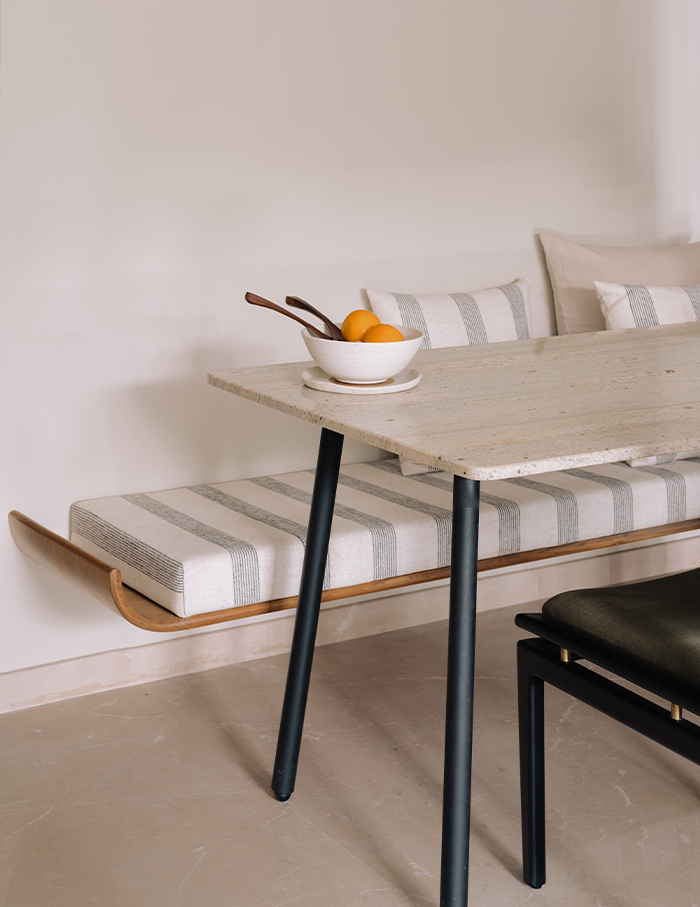 Overlooking lush landscape, the home renders an appeal of hugging the trees surrounding it. The warm sunlight filters through linen sheers and crafts a magical sandy desert. Smart clean detailing and restrained accent pieces make the home a lazy summer daze.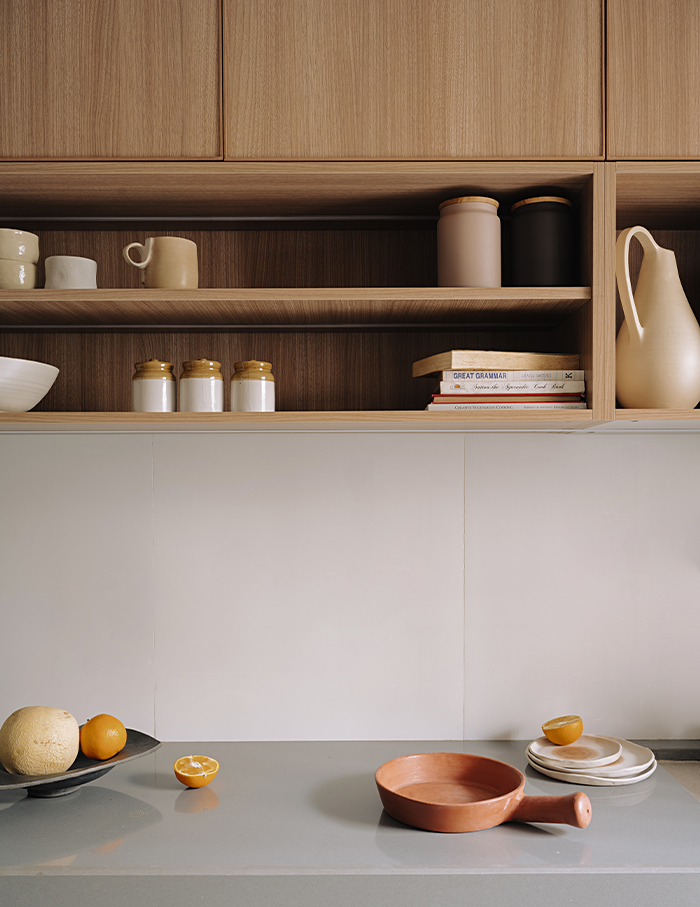 Ideas to bookmark—sandy colours and subtle materials
The desert often invokes a sense of vastness, infinity, ever-changing landscapes and uncertainty, making it the perfect recipe of intrigue. Nishita says, "We interpreted Sand as that force which brings about a visual serenity in the home as it does in a desert. The ever changing nature of the shifting of sand, like in the home, makes a space which could be ever changing and flexible as well." 
Blending in the skin tone, the soft beige tones of sand neutralise the home. It bestows a harmonious touch to create a tranquil ambience. Coupled with warm tones of oakwood, teakwood, sensuous linens and jute fabrics, these combinations make the space ideal for the perfect tropical Indian home.
You may also like: This resplendent Mumbai home designed by Tejal Mathur Design