Homes
This South Mumbai home by a&k Design Studio dares to imbue dark greys and playful arches
NOV 1, 2023
| By Maheshwari Vickyraj
Layers of greys, blacks, curves and arches amidst a calculated sea of spellbinding colours proved to be a wise choice for this home nestled in South Mumbai. Shaping up a design odyssey with a clean canvas, a bare shell transformed into its purest form, inviting the warmth of a cherished home while also harbouring playful surprises of design and decor.
Propelled by principal designers Aarti Somani and Kruti Sheth of a&k Design Studio, this 2,950 sq ft apartment nestled in South Mumbai is bold in character and radiates distinctive charm while remaining a cosy sanctuary.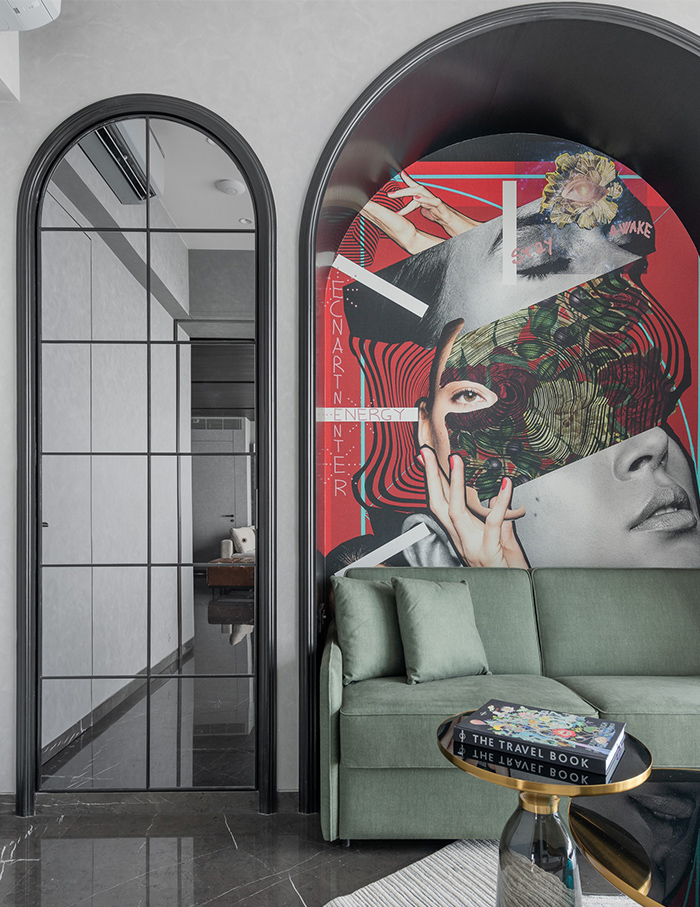 Grey and graceful!
Envisioning the space steeped in shades of grey and adorned with striking contrasts — "Our goal was distinct and ambitious, to craft a space that is a canvas for dark and daring colours but also a tapestry of bold prints that unfurls a vibrant and dynamic narrative throughout the space," articulates Aarti.
Choreographing a harmonious dance of discussions with the homeowners, they delved deep into their desires and captured the essence of their tastes while interweaving their own artistic signature.
"The clients entrusted us with the reins, encouraging audacious decisions and an appetite for experimentation. Their vision was clear: a residence that exuded the warmth of a beloved home while also playing host to elements of whimsy and delight," elucidates Kruti.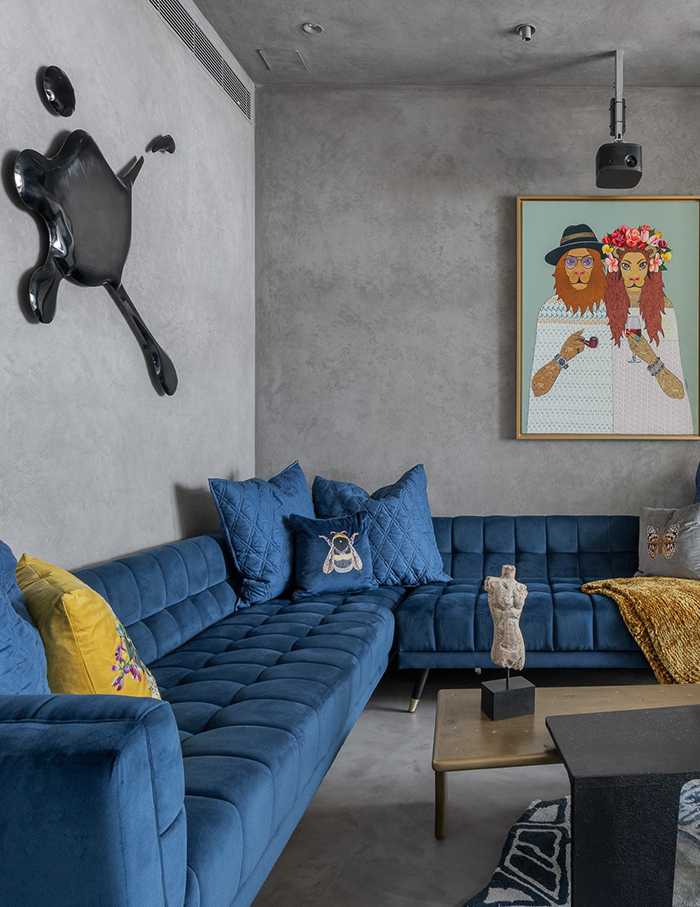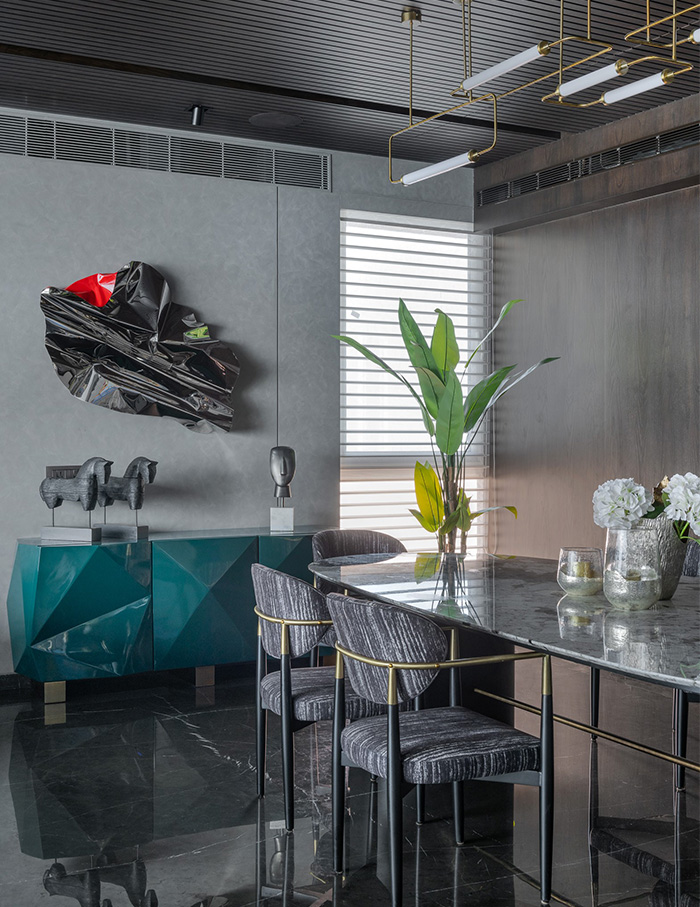 Tour the home…
As you enter the home, a magnificent and expansive lift lobby awaits, guiding you gracefully into a warm and welcoming entrance foyer.
 To the left, the living room unfurls, offering an unobstructed panoramic view of the Arabian Sea. This spacious living area seamlessly connects to the parents' bedroom on the right, the guest room on the left, a convenient powder room, a well-appointed kitchen, and a tranquil puja room.
 Navigating to the right of the entrance foyer, a family room beckons, leading the way into the master bedroom and the daughter's charming abode, each nestled on opposite sides. Every inch of this space has been meticulously planned to fulfil its unique purpose while maintaining an overarching sense of spaciousness.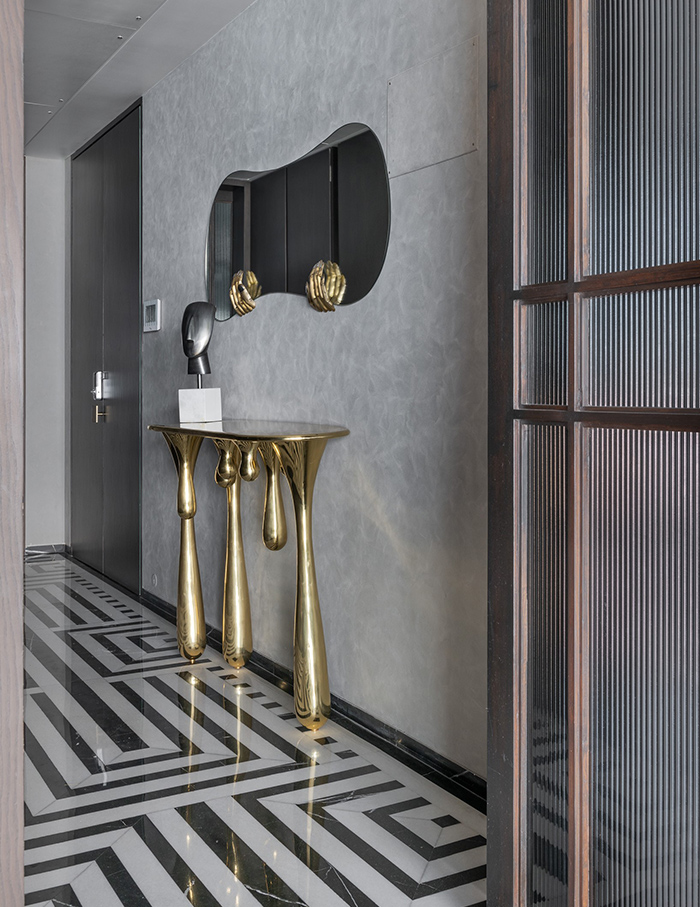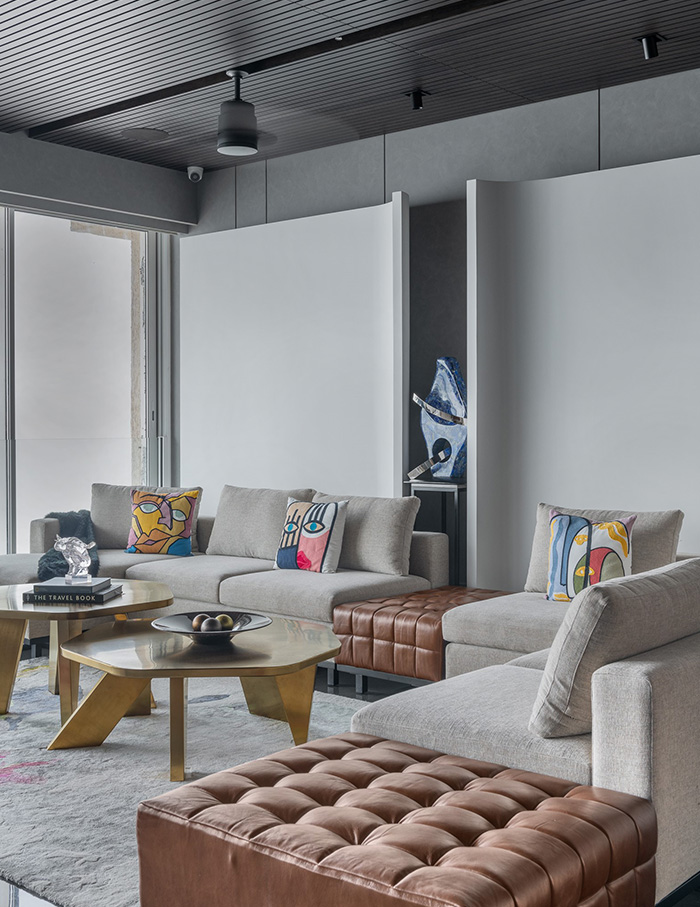 Harmonious crescendo of style and substance
The family's initial affinity towards the enchanting world of grey set the stage for a daring design journey. The courageous choice led down a path of dark enchantment, where the marble floor, almost ebony in its depth, bore elegant white streaks.
However, the pièce de résistance is a feature that dances on the edge of experiments — a dark wood ceiling that mirrors the dark floor.
While the challenge lay in preserving a sense of spaciousness ensconced in this darker palette, contrast elements were the allies, working their magic to amplify the colours and materials at play.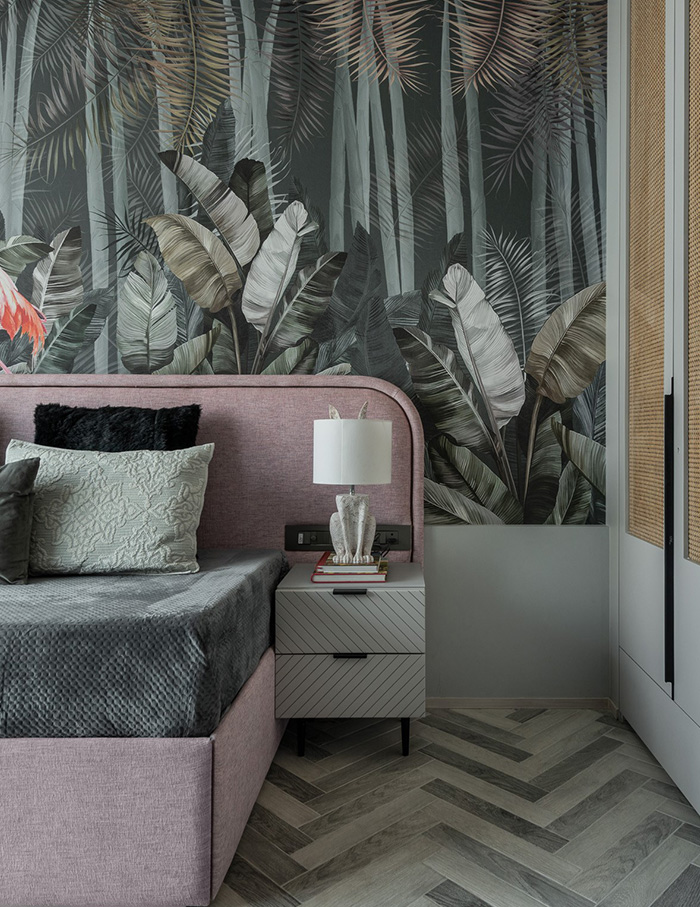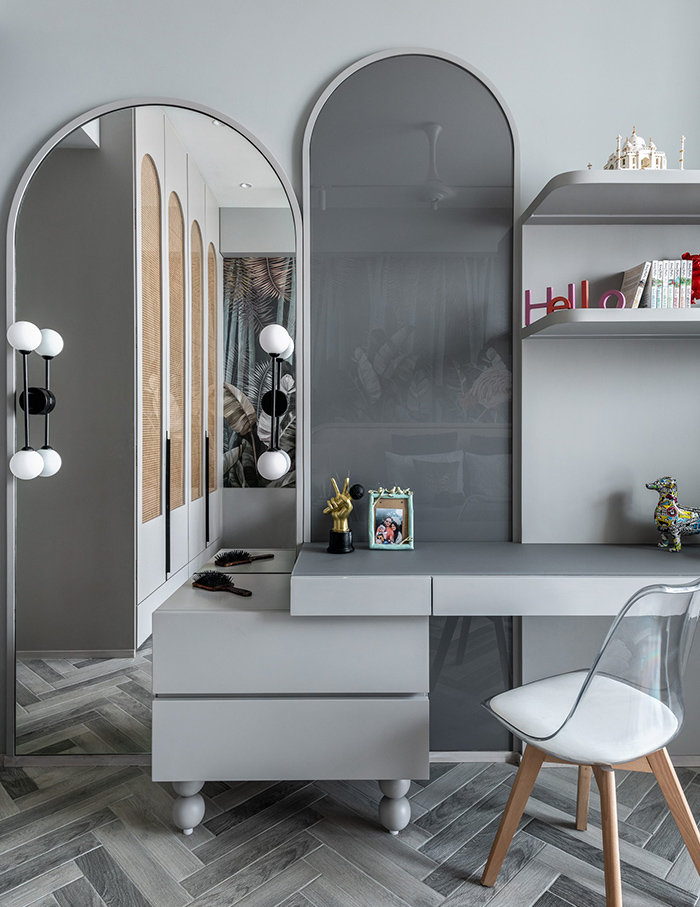 Artful balances
 In their quest to embrace contemporary trends while keeping up with their design ethos of clean lines and avoiding excessive extravagance of design elements, they created a timeless allure with an intangible quality of warmth and a sense of belonging that transformed this house into a cherished abode. A place where the sands of time may drift by, yet its essence remains eternally cherished.
 "We artfully balanced the elements, bestowing prominence upon the highlights that deserve to shine. Our mission is to preserve an open and expansive atmosphere, guarding against the encroachment of clutter in both design and furnishings," explains Aarti.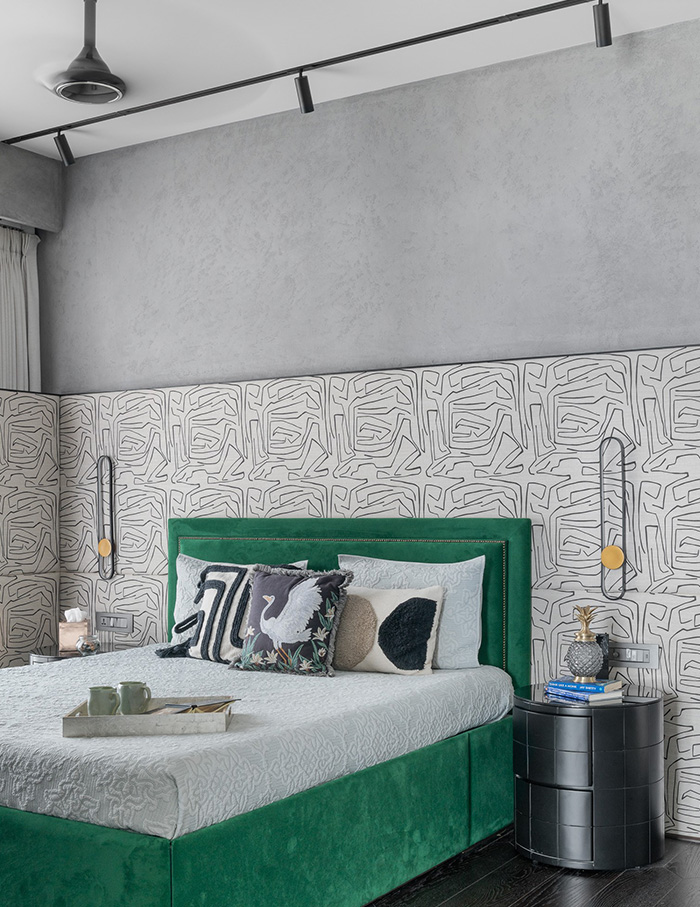 The living room emerged as the crown jewel of their design narrative, a space that is truly exceptional with its bold exploration into uncharted territory. Here, an expanse of 800 square feet showcases a dark wood-decked ceiling, a dramatic counterpart to the dark marble floor below, forging an unforgettable focal point that reverberates with breathtaking allure throughout the house.
Also read: A floating home bar by the sea? This Mumbai home drapes an artful finesse crafted by Ayesha Puri Kanoria of Sanjay Puri Architects