Homes
Small spaces, smarter ideas—The Prop House overcomes Mumbai's infamous space crunch in this chic home
FEB 25, 2022
| By Kashish Kaushal
Nobody knows the art of saving and utilising space to its maximum potential better than Mumbaikaars! Aptly naming this 900 sq ft home 'The Mighty Midget', founder and design head Rishika Sutwala, along with principal architect Siddharth Sharma of The Prop House have shrewdly accommodated the collective needs of six family members within three rooms. 
Located in Seawoods, Navi Mumbai, this house was designed in a way that not only makes use of all the space, but also optimises it. Case in point, the hidden study space in the cabinets furnished with ample lighting in the second bedroom is a boon for work-from-home scenarios. 
Talking about the design trend this home adheres to, Sutwala says, "The home stays true to monochromatic minimalism and multifunctional spaces. Simple geometric lines form the structure of the spaces giving rise to a hidden study in the storage, a dressing amalgamated with the bed etc. Although the current trend is voluptuous curves, mid tone browns and earthy textures, minimalism stays evergreen".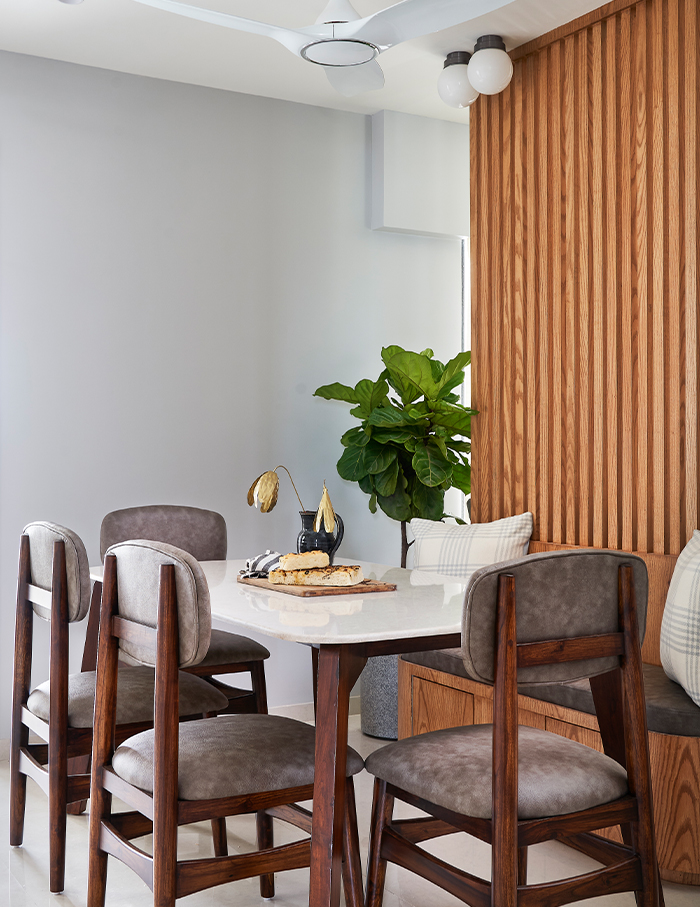 The Mighty Midget is high on a monochromatic modern contemporary theme where form and function take centre stage. Subtle traditional and transitional elements adapted to fit the umbrella of modern contemporary style punctuate the space at regular intervals.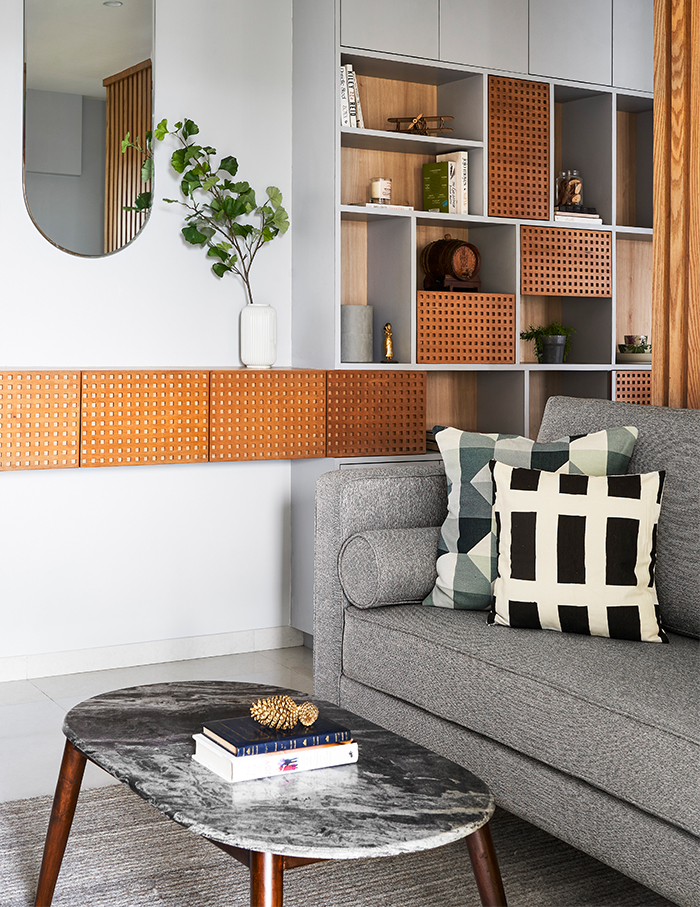 A longitudinal space engulfed by a sea of doors and passages marks the entrance of this house. Right at that instance, the focus shifts on a slatted partition in light oak wood that has three different functions—privacy shield to the bedrooms, a backdrop to the grey living sofa and a bench to the six-seater dining with storage. Talk about being multifaceted but can you beat this?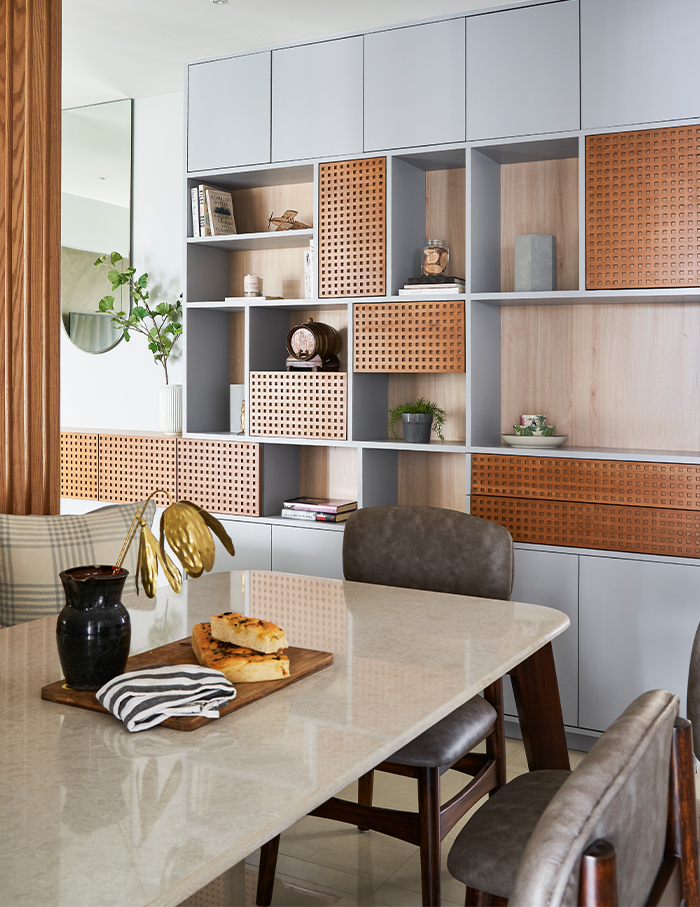 The entire living and dining space is a monochromatic ecosystem containing various textures of grey that happens to be the space the designers loved carving out. "I enjoyed designing the living and dining most because of its complexity of housing a myriad of functions in a tiny space. To carve an entrance, optimal space for TV viewing, a study, storage and a six seater dining in a 12 ft by 18 ft space surrounded by doors and passages without making it look heavy and bulky involved using textures, proportions and colours with restraint and tact," reveals Sutwala.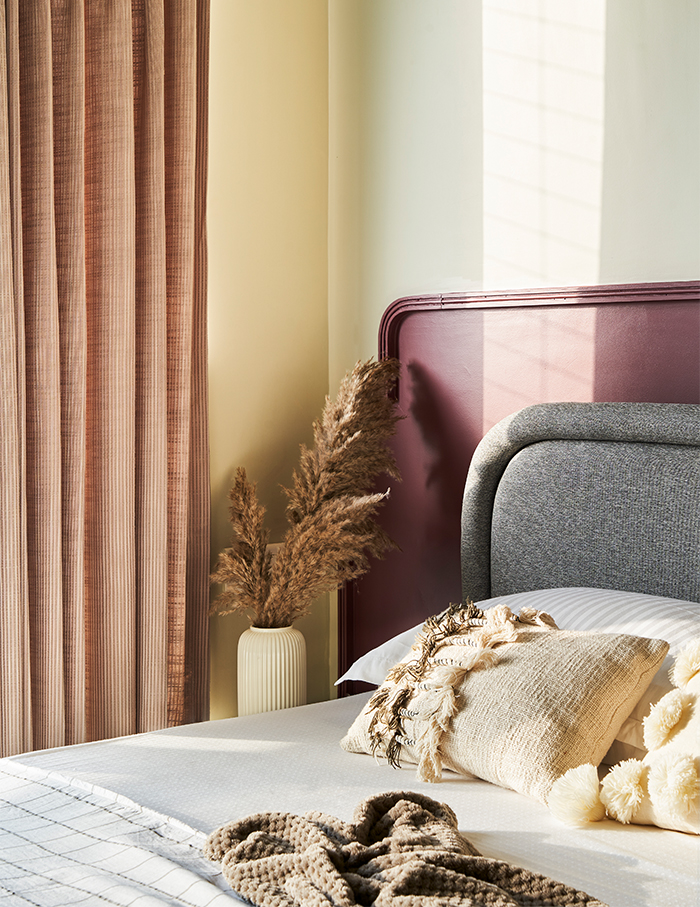 The lack of space inside the parent's bedroom was put to creative use as what was originally going to be a three-tier headboard was converted into a trompe l'oeil of sorts with one functional fabric headboard. Similarly, the main bedroom inhabited by a young couple and decorated with fresh coastal blue and green colours demanded (no prizes for guessing)—storage. The same was achieved through a sleek alcove above the bed.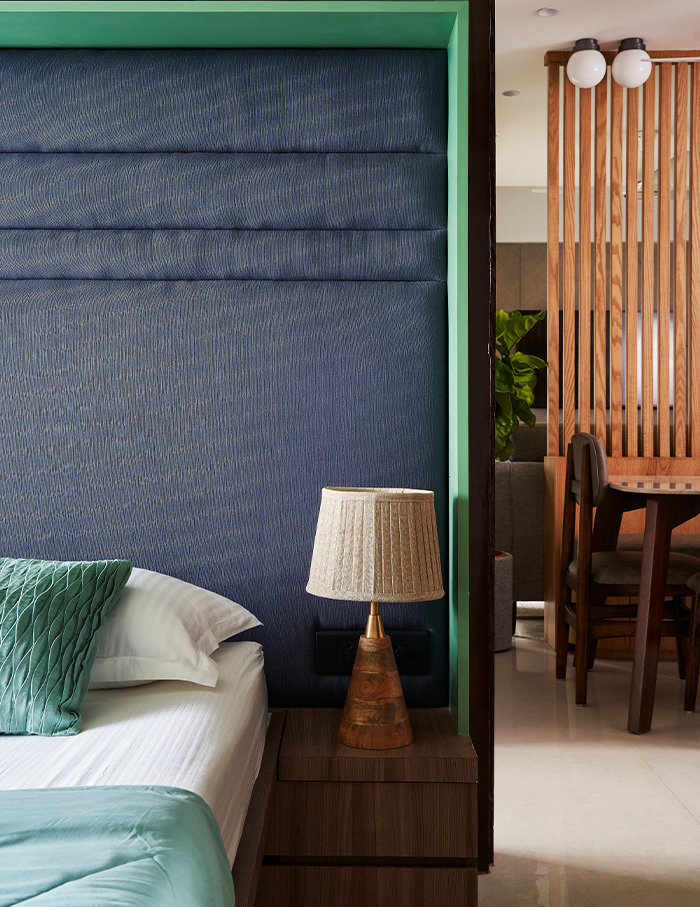 Continuing the saga, the second bedroom reflected its inhabitants' requirements in the form of structure, form and colours. It's interesting to see how a graph wallpaper, striped headboard and a map of shapes on the wardrobe can display the quality of balance and a perspective of the puzzle video game 'Tetris'.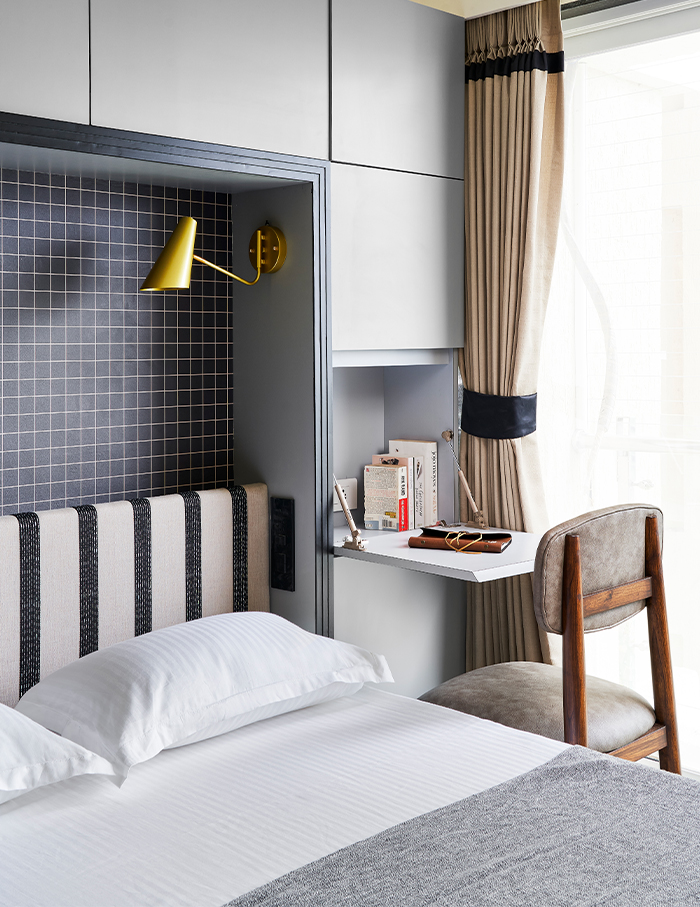 As challenging as it was for the designers to fit in the requirements of six people in a small space, what's notable about this house is its sustainability features. From the decorative elements made of reclaimed wood on wall mouldings and wardrobe borders to the artwork in the dining area crafted from leftover veneer, the mindfulness about not wasting material without compromising on design and function is commendable. The Mighty Midget shines on as an example for all you people wondering if size really matters!
If you managed to get some brilliant space-saving ideas from this home, check out this Bengaluru home by Studio Autumn!