Homes
Shernavaz Interiors reflects romantic roots in this modern minimal Bengaluru residence
APR 12, 2022
| By Rhea Sinha
Where practicality meets panache—this Bengaluru home by Principal designer Shernavaz Bharucha of Shernavaz Interiors is a snug state-of-the-art sanctum sectioned as an independent extension to a modern millennial couple's classic bungalow. 
Sprawling over a 3,300 sq ft space the sundered structure is sufficient with a separate entrance, kitchen, dining and living area. 
Sparked by a sightly play of natural light and shadows, the residence showcases recurring features of ample window-openings and strapping skylights within its blueprint. 
You may also like: A blue breeze engulfs this Bengaluru home by Swati Seraan of By The Riverside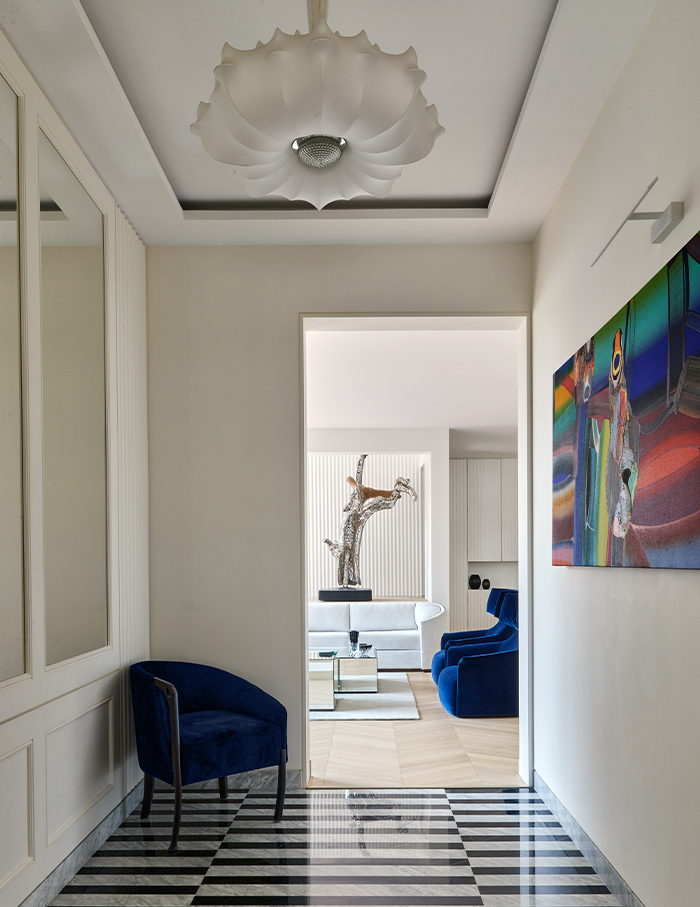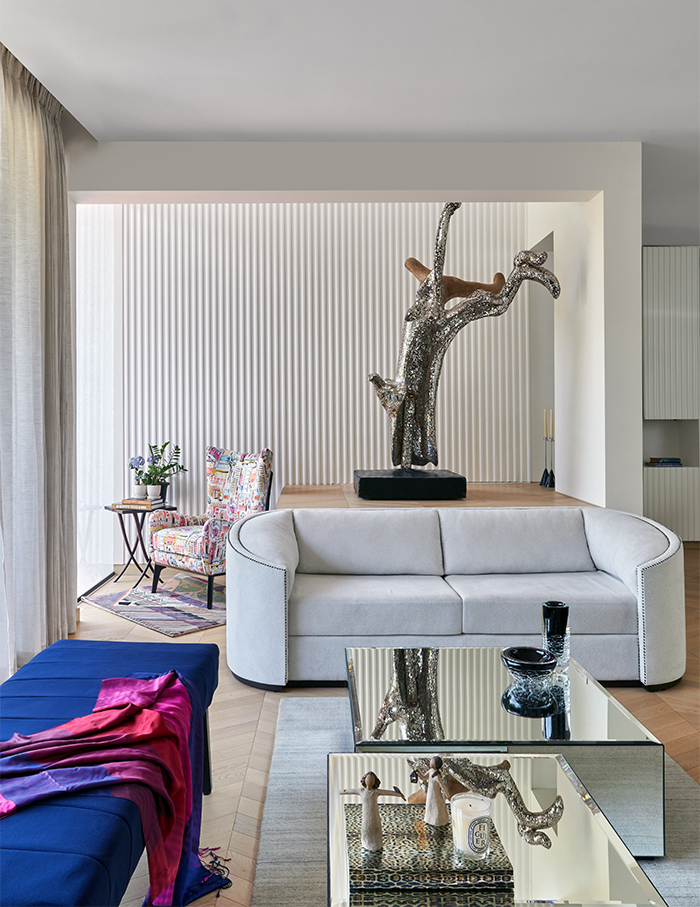 Flaunting facets of romantic roots in its form, the residence is an alluring amalgam of Parisian charm and contemporary New York city character. Tones of wood, marble, metal and glass make up a minimal mood board striking a fine balance between functional and artful design. 
Imbuing an inviting impression right from the entrance of the home is the foyer. Meticulously fitted mirrored wall panelling reflects the black and white marble inlay patterned flooring, expending the narrow space with a scopic illusion.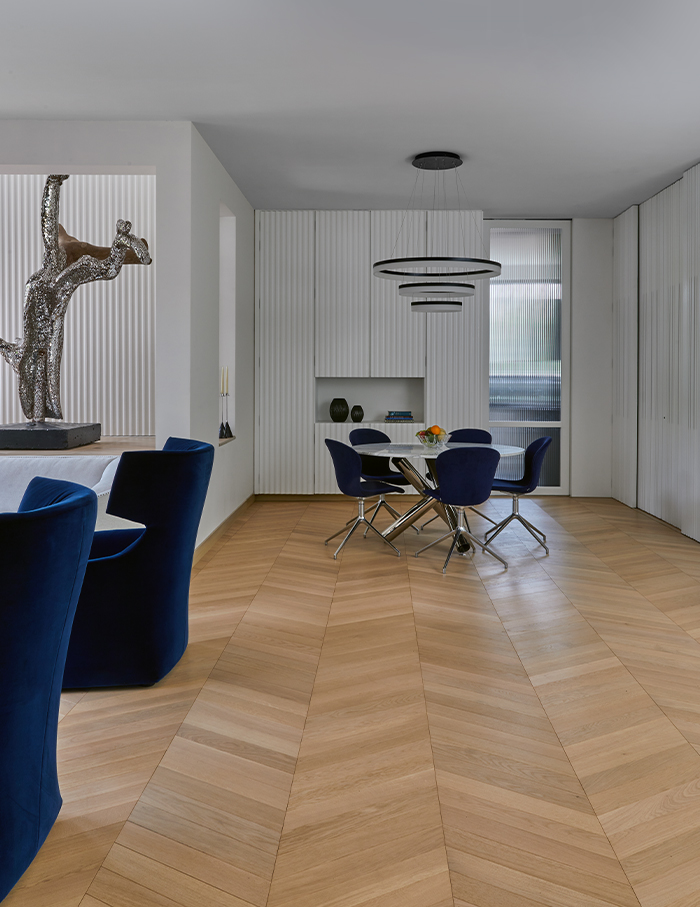 Adding a striking splash of colour and opulence into the space are vibrant artwork by the acclaimed artist Bose Krishnamachari, and a charismatic chandelier by Aura Illumination. 
Tracing an artful contrast throughout the homestead, an eclectic curation of furniture crafts a prismatic juxtaposition against the light-toned tenor of the dwelling.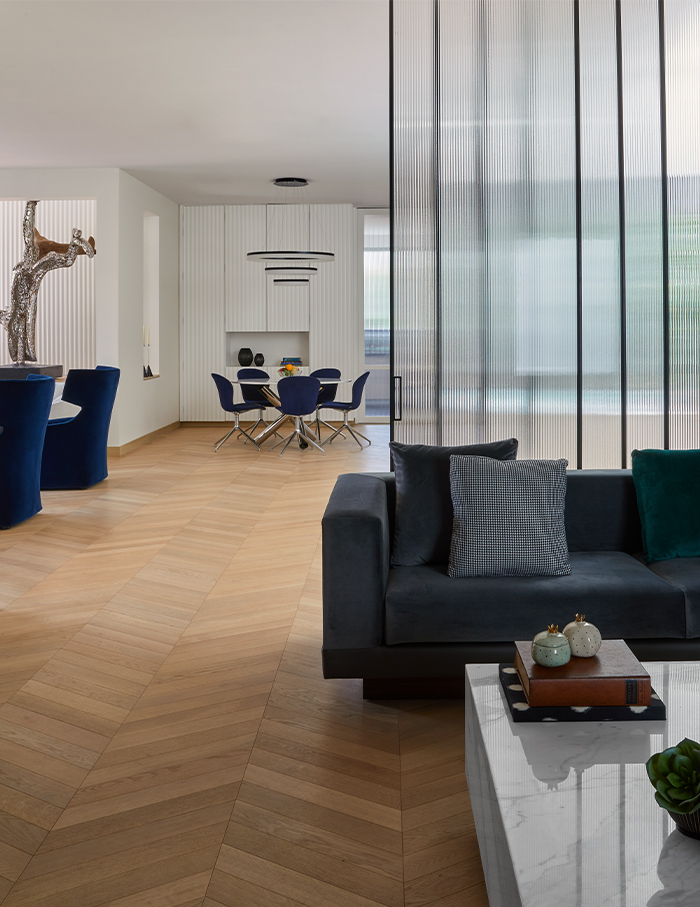 The focal point of the façade, a mosaic mirror sculpture by Yehil Cherein, influences a  compelling impact in the formal living area. Accent blue chairs from Poliform sitting atop warm white oak flooring stand out before the basal backdrop of the room. 
Completed in custom furnishings and a magnific marble sculpted bar by the firm's in-house furniture company of 25 years Goodlines, the multi-functional space is modelled to match the welcoming personalities of its hosts.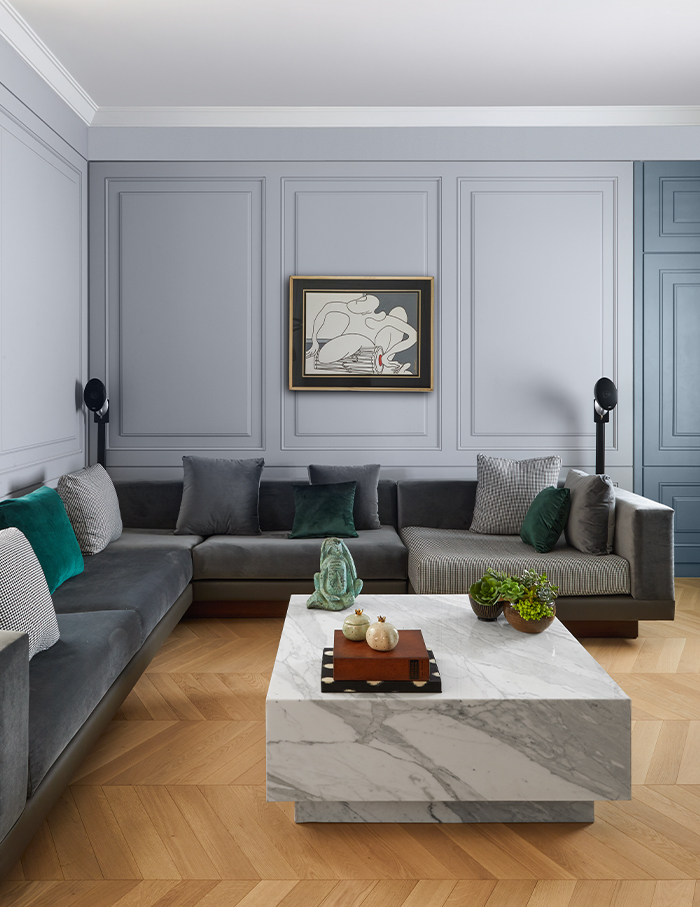 Consistent with the project's monochrome tints and textural palette is a custom-built marble top dining table by Goodlines. An annex arising out of the living room, the home maintains a uniform look and feel with grey wall panels and upholstery.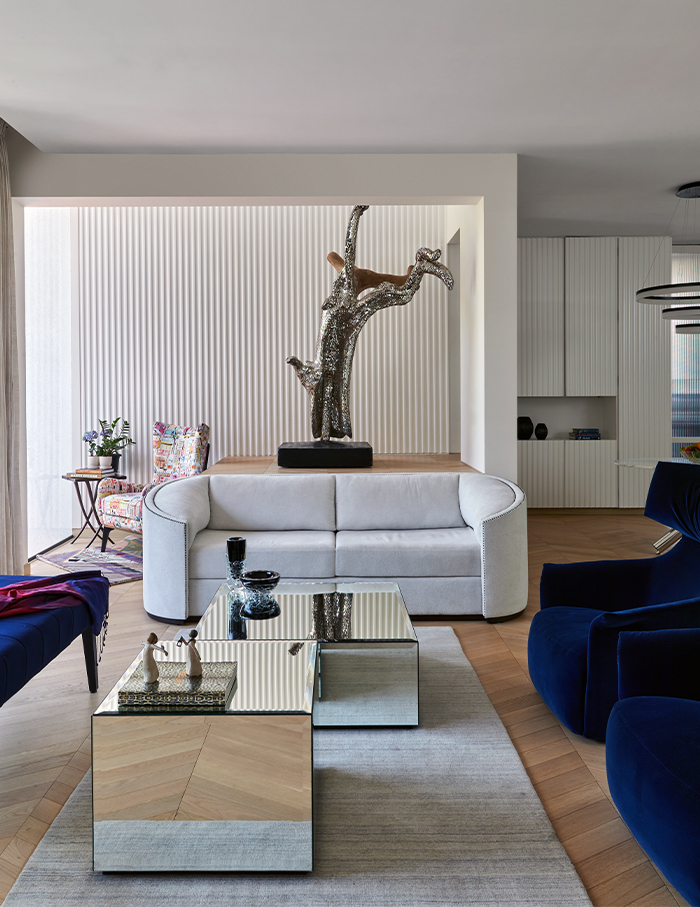 Adding an animated aura to the amicable ambiance are artworks from artists F.N Souza, Arpana Caur, and Bose Krishnamachari, accompanied with bright blue and green soft furnishings.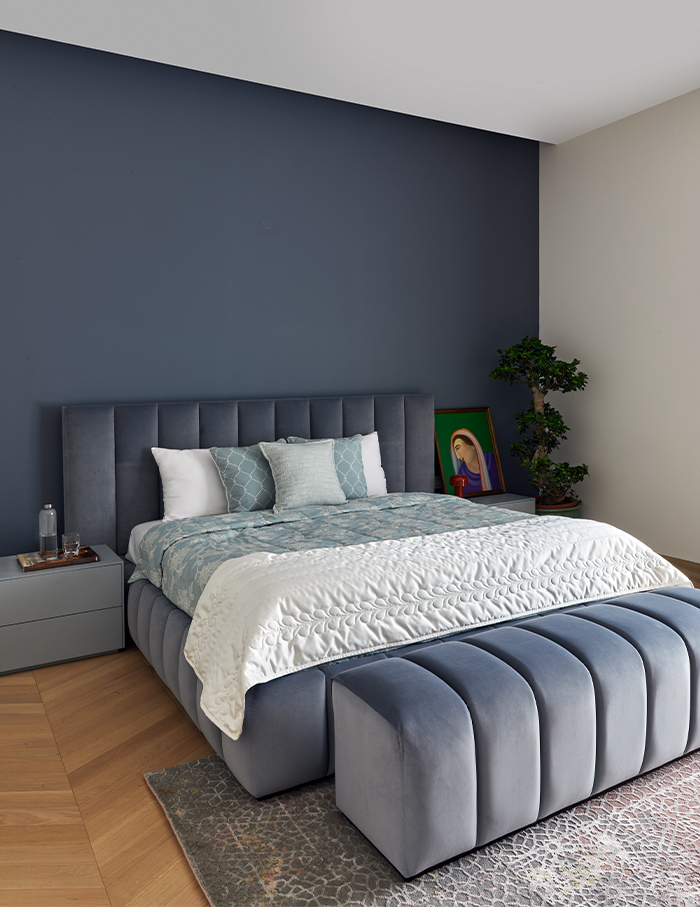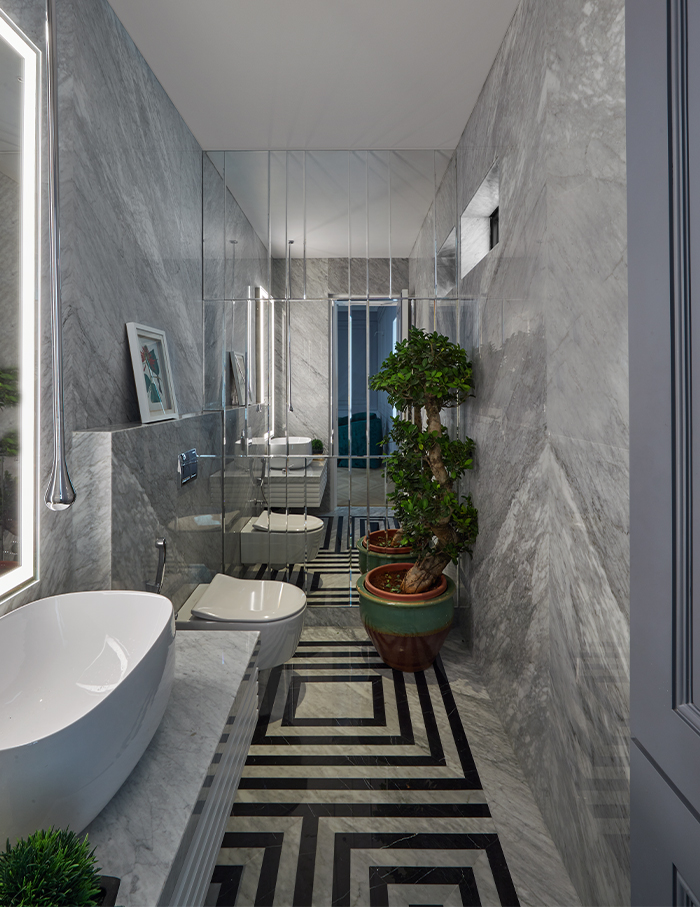 Manifesting a muted medley of grey and royal blue hues is the master suite composed with delicate accents, upholstered wall panel frames and custom-built furniture, the enclosure excites an intimate semblance. Front-lining a geometric inlay pattern of contrasting marble in its flooring, the powder bathroom evinces the effect of a doubled up space with mirrored wall panels. 
Unveiling an unprecedented design story, principal architect Shernavaz utilises a picturesque play of sunlight and umbra in the project to transform the tranquil space during different phases of the day. 
Loved this home by Shernavaz Interiors? You may also like: Native to Vinithra Amarnathan's design aesthetic, this south Bengaluru home exudes California chic