Homes
Sona Reddy's 'Sage' is a saga replete with tropical elements and an earthy palette
DEC 25, 2020
| By Vedika Nair
Inspired by a hue-spirited narrative is this 4,400 sq ft residence designed by Sona Reddy. The Hyderabad home embraces the indoor-outdoor sentiment and is bathed in modern tropical goodness and an earthy palette.
While the city of pearls is home to some of the most luxurious abodes, this one pays ode to the soothing hue of sage green. Designed for a young family who wanted a greener and homely abode, Reddy opted for a muted design vocabulary that fuses tastefully with pops of colour through plus elements and nuanced vignettes across the home.
Hints of traditional charm and a modern aesthetic are married to highlight the home's green and white theme, symbolising nature and warm light. A pocket of botanicals in the grey-blue hued lobby welcomes visitors inside, where the formal living room sits on the left side. A captivating sculpture of a mango tree with an antique chest is placed in the passageway.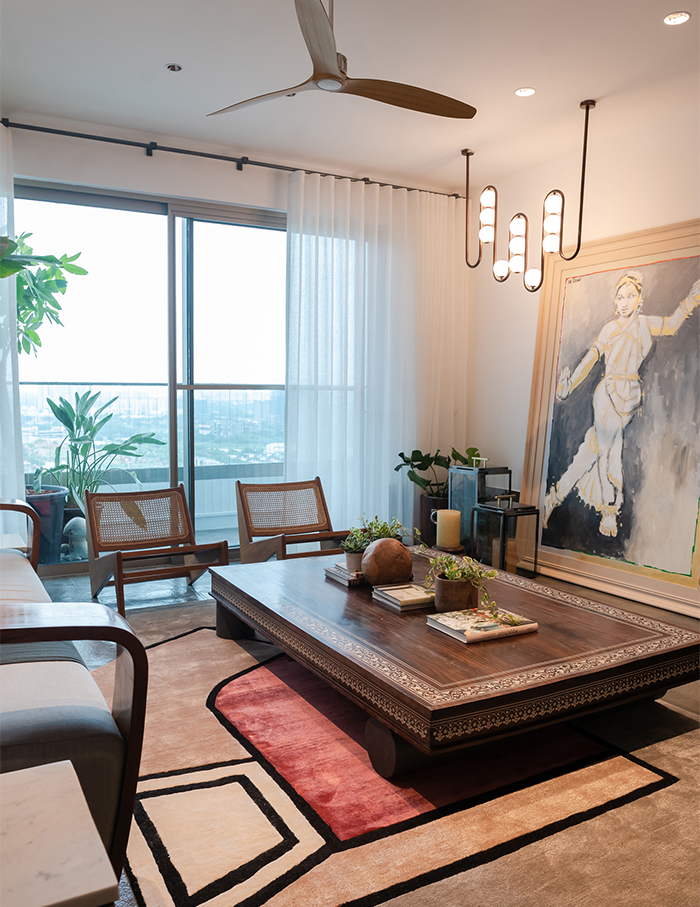 Every corner of the home is accented with a mix of modern and traditional Indian elements. On the right, the informal living and media room are divided by a breeze block partition that allows warm light to filter in.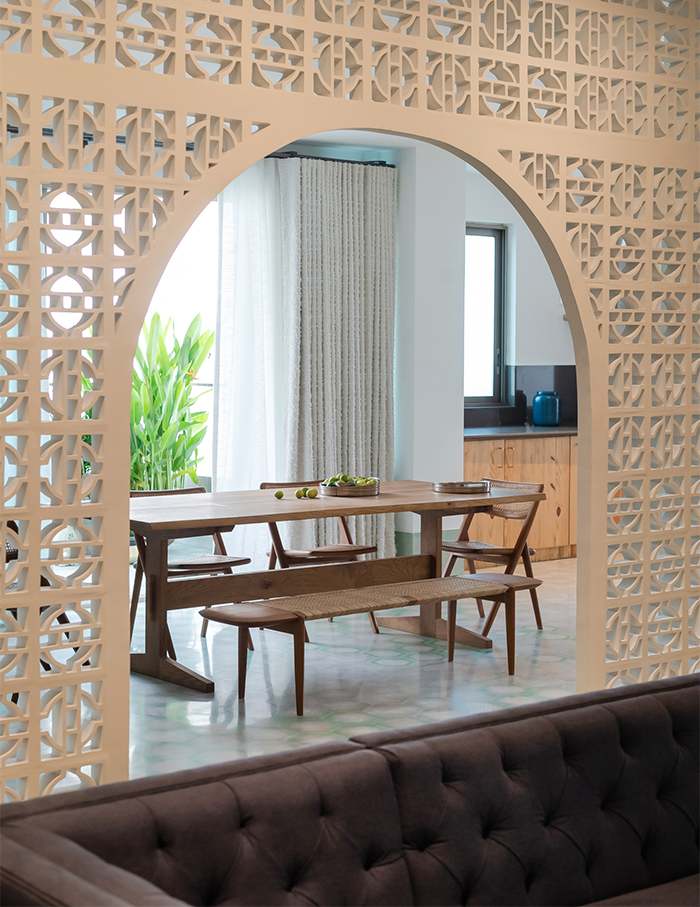 Further inside are the bedrooms that are differentiated by colours—a gradual change from tandur flooring to grey and green cement tiles from Bharat Floorings is seen. The master bedroom is a combination of blue and white, the kid's features a pop of yellow, while the common areas such as the living, dining and kitchen stick to the green palette.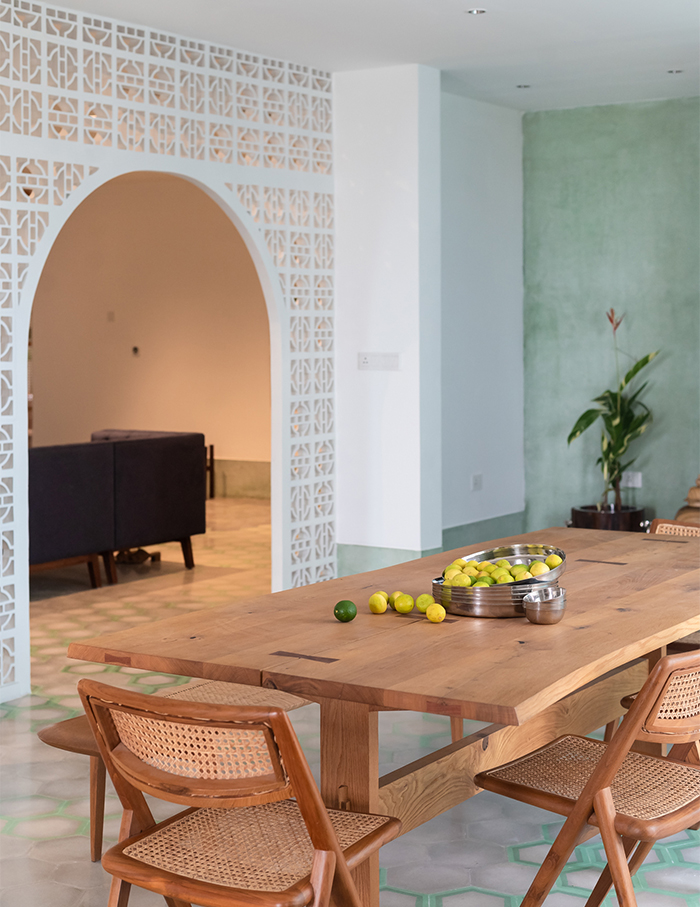 "The house if kept minimal with the help of uncommon materials such as the locally sourced tandur and cement flooring. Our aim was to go no further than 100 km to source these materials. When it came to the furniture, we reclaimed and reused part of the owner's existing collection," shares Reddy.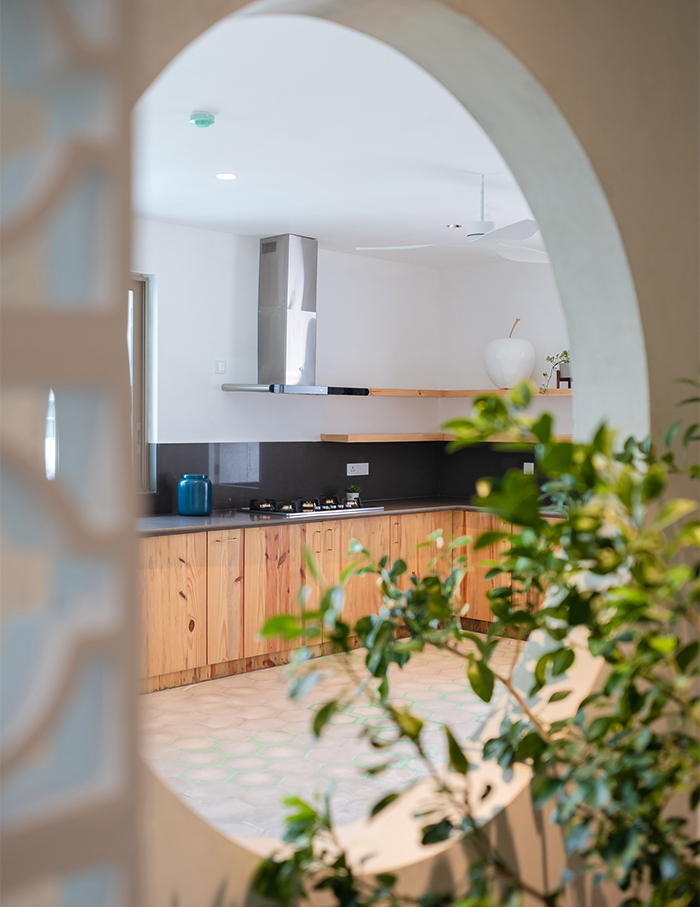 Greenery finds its way into the home through lush planters, luminous spaces and natural ventilation. Local materials, breeze blocks, non-toxic paint and minimal use of glass promote sustainable design throughout the home.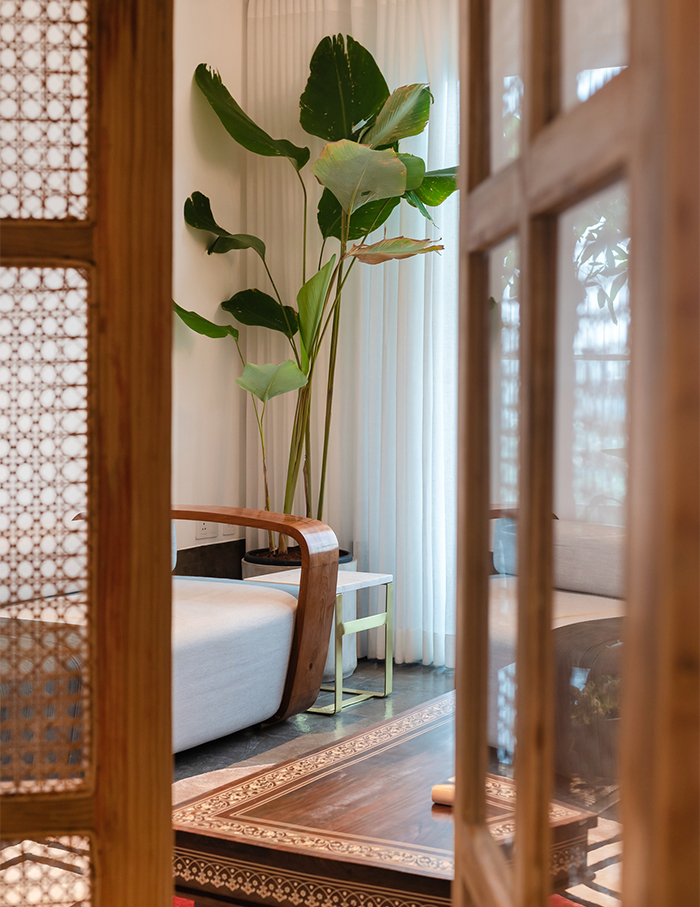 "Our design philosophy focuses on using locally available materials and various local artisans in our work. When you look at the space, you will realise from the materials and colour palette that this space encapsulates all the elements of our signature style," concludes Reddy.
Scroll to see more images from Sage by Sona Reddy…