Homes
This holiday home in Hyderabad by Sandesh Prabhu is an oasis of serenity
DEC 20, 2019
| By Sakshi Rai
They say that all good things take their own time to come through. And such was the case with Mumbai based interior designer Sandesh Prabhu's recently completed residential project. An outcome of a conversation that started six years ago, the gorgeous two storeyed farmhouse, on the outskirts of the City of Pearls, is a sight to behold. The 20,000 sq ft house, a welcome change to constricted city dwellings, stretches across nearly two and a half acres of land.
"It is quite an experience to work on such large scale projects as they instil a new freedom to your imagination and inhibitions alike," shares Prabhu, who conceptualised the space to be a stark contrast of a chic urban apartment, ideal for his clients to socialise and hold large gatherings. The architect by training and interior designer by passion says, "Unlike fashion, which we update more frequently, homes are envisioned for a longer haul," adding that it's why he considers his client's complete faith in him a blessing. Although the residence is not lived in at all times, Prabhu ensured it possessed the emotions and functionality of a typical household.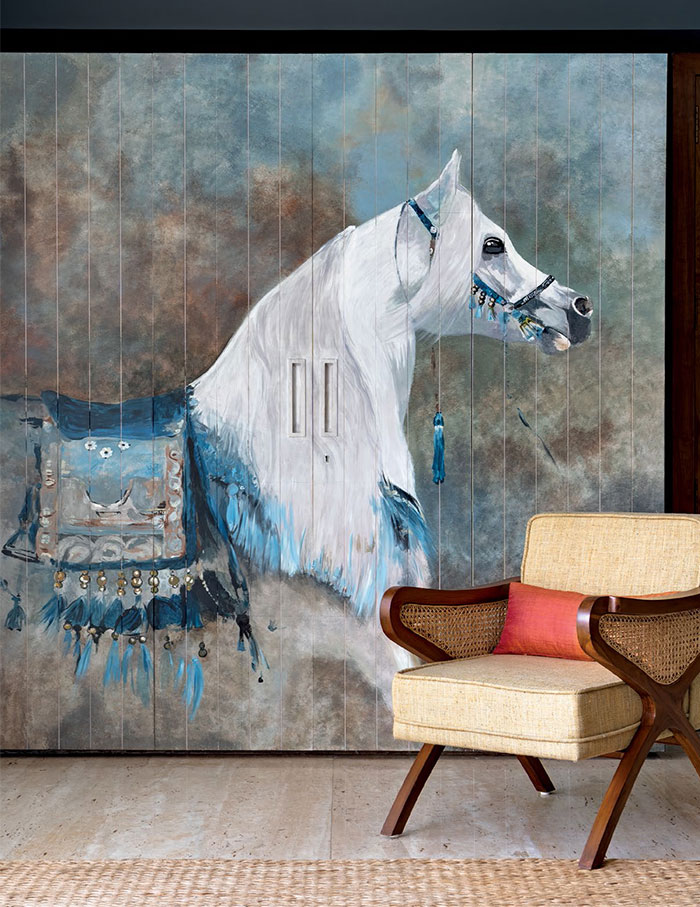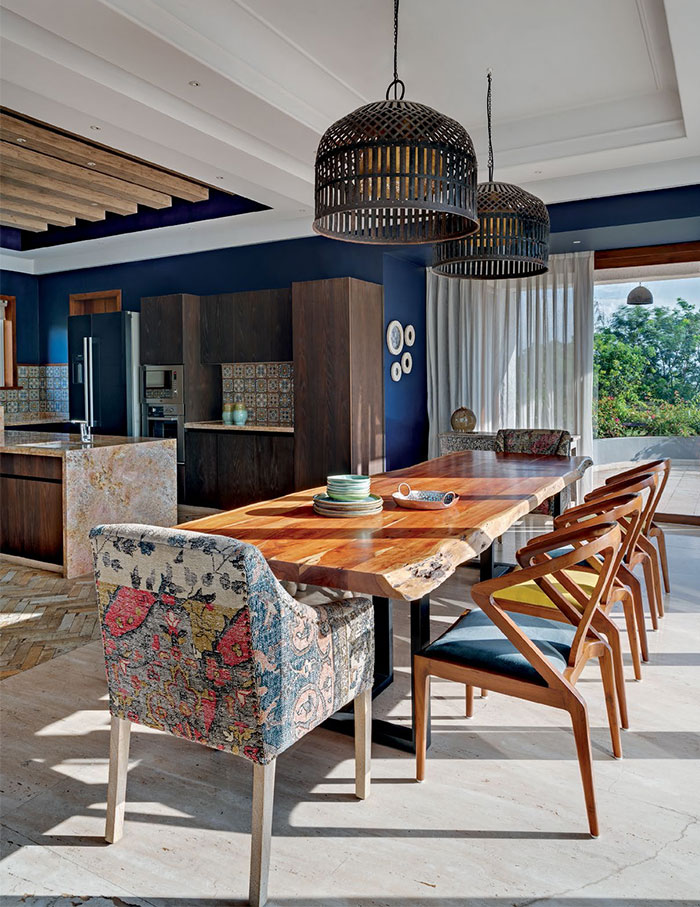 Sticking to a grey palette for the walls and dominantly using teakwood, he offset the neutral backdrop using vibrant furnishings. Floor to ceiling windows and open wooden doors allow uninterrupted vistas of the surrounding greens and nearby lake. Most of the furniture is customised by Prabhu, resulting in a mix of unconventional vintage and contemporary styles. The lavish living area on the upper floor houses an L-shaped, streamlined sofa and Victorian armchairs, while another section is intended for intimate or formal meetings. To the right of the living and dining areas lie the master and kids' bedrooms with an attached balcony that can be separated for privacy.
In contrast to the sombre hues adapted for the rest of the house, the bathrooms are majestic and bold, allowing for some indulgent personal space. Meanwhile, the lower level opens into a long passageway with a family den, guest rooms and several kitchens. Another spacious lounge with a bar concealed behind a spectacular full length artwork opens onto a patio. To accommodate the city's soaring summer temperatures, a majority of the outdoor furniture is crafted in cement. Outside, a swimming pool and amphitheatre provide entertainment, making this the perfect escape to unwind and rejuvenate at.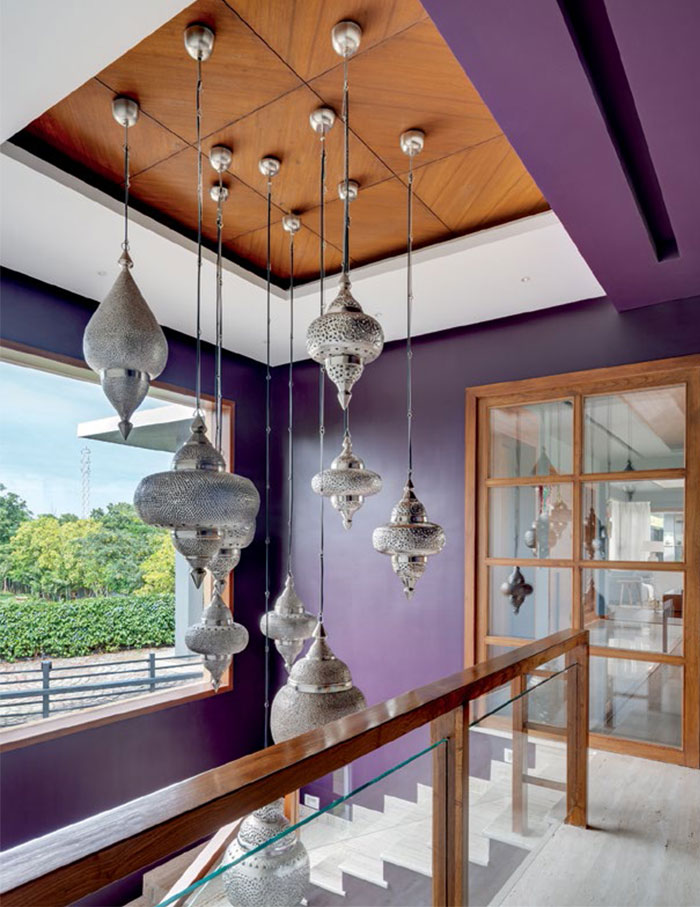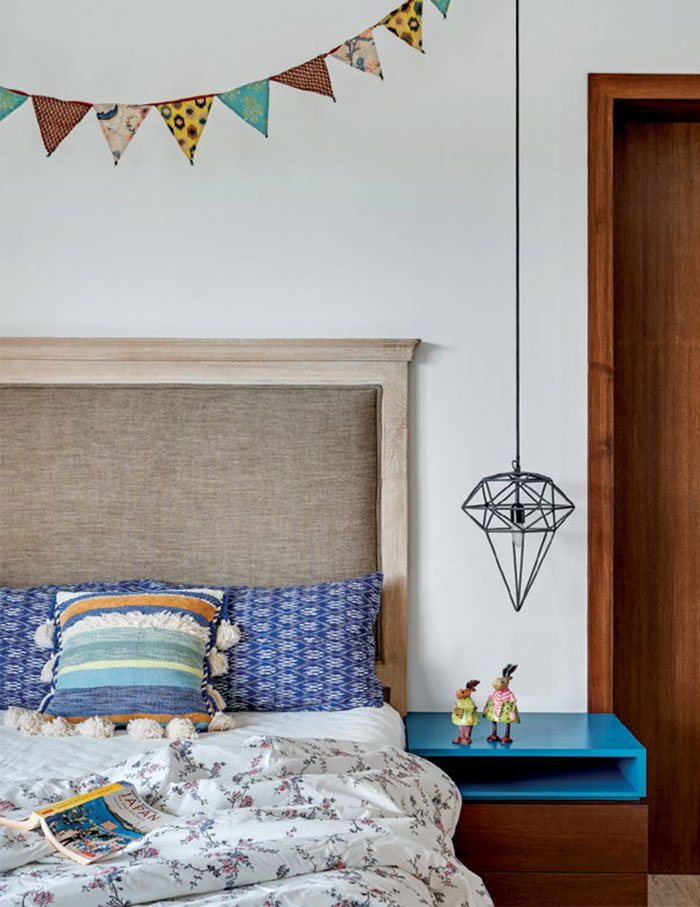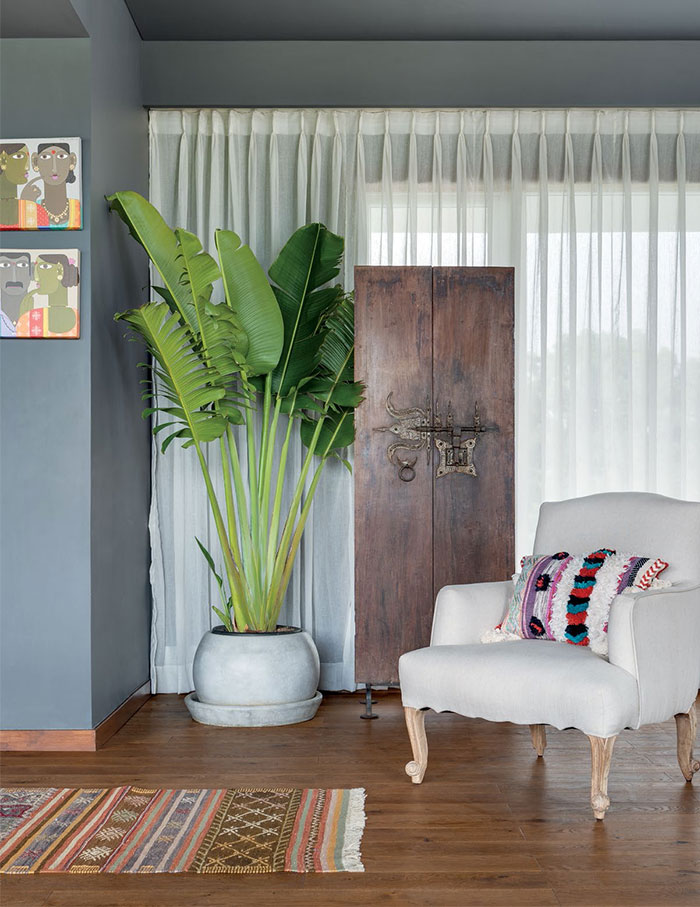 Another highlight is the encompassing, exotic flora, along the ramp that leads to the main entrance. This, Prabhu shares, is "his artistic vision coming alive through landscaped lawns", full of blooming bougainvilleas. He says, "Growing up in Goa and since my mother was exceptionally fond of plants, I had an early affiliation with them and I believe that no place is complete without their presence."