Homes
Archana and Rupesh Baid of And Design Co fashion this abode as a visual rendition of Oriental poetry with a homespun charm and a natural palette
JAN 13, 2021
| By Aneesha Bhadri
Punctuating the urban landscape of Tamil Nadu's capital is this 9,000 sq ft house that celebrates nature and indigenous arts. An earthy palette is juxtaposed with vibrant artworks and set against a classic backdrop of wood and marble. The result is a tranquil and contemporary space as conceptualised by Rupesh Baid of And Design Co.
"Opening the doors of this home is like opening a novella. Every wall, surface and corner has a story of its own. It comes together in a unique coalition to celebrate the personalities of my clients Rajesh and Chelna Bohra, while also providing a place where their three young sons can form an identity of their own as part of a young family.
"The home, therefore, offers minimalism to appeal to the youth, while craftsmanship and art are intended to appease the older generation," says the principal designer.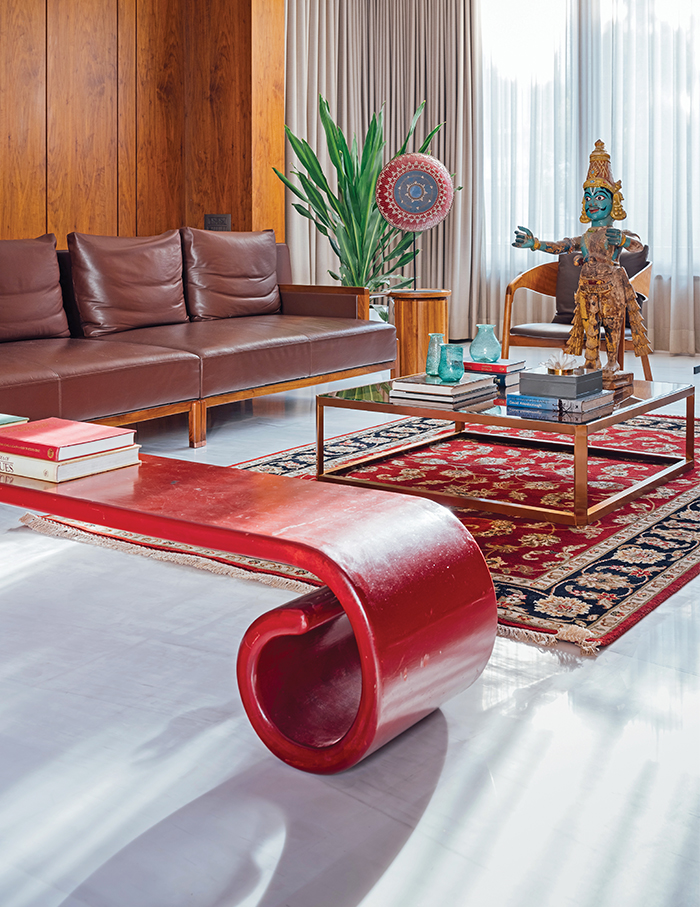 The ground level accommodates a study, shoe room, staff quarters and parking area. Meanwhile, the floor above houses sections such as the living, dining, powder and prayer rooms, kitchen and guest quarters.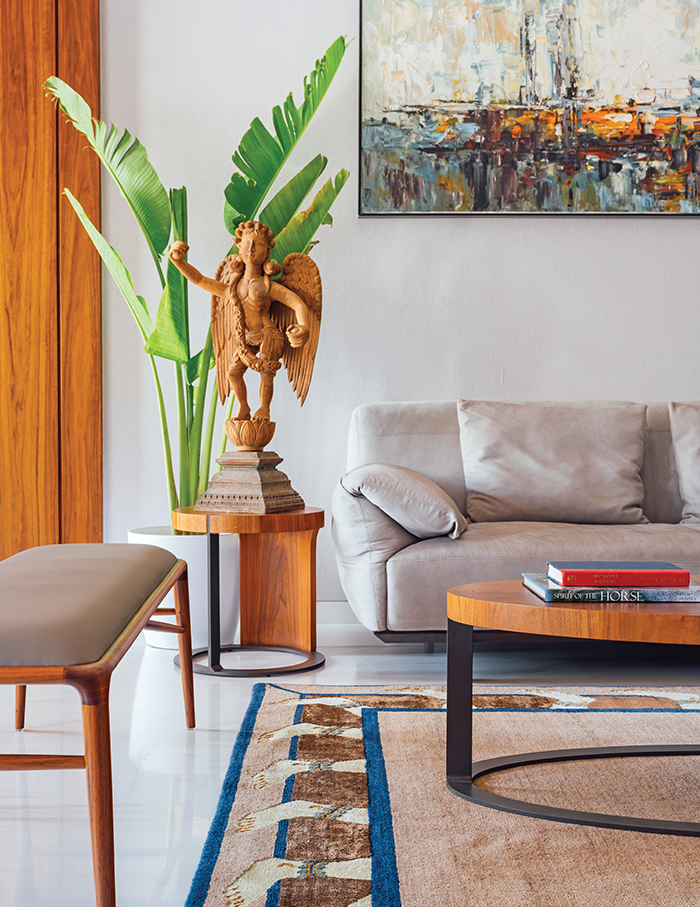 "The project allowed us to break away from a typical layout. The prayer room is one of our favourites. It is encased by four walls with a glass partition on the top and bottom. We curated and executed a traditional themed door with ornate Indian motifs and icons, handcrafted in beaten brass.
The family particularly liked this bold and metallic finish in an otherwise soft and wood layered residence. It was planned in keeping with the main design concept of a simplistic and intimate home with a touch of eastern charm," explains Baid.
The three-storeyed home unravels like an Oriental poem. Crafted wooden furniture and ceilings—along with a window framing a spot of greenery—transform the living room into a restful refuge in an urban jungle. A neutral palette and quieter details are maintained to allow every piece in the space to speak and shine.
The second floor comprises the master suite, a bedroom for each of the three children, a family room and a study. The topmost level consists of the utility section, yoga zone, an additional bedchamber and a terrace.
Its organic material palette is not the only connection the house has to the environment. Despite the presence of plentiful windows for cross-ventilation, sunshades have been installed to allow only indirect sunlight to come in, minimising heat gain. Meanwhile, the solar panels on the roof produce green energy for the day's consumption. With plenty of local indoor and outdoor plants as well as rainwater harvested for all non-drinking purposes, this city home proves to be environmentally friendly too.
A warm sense of comfort and familiarity pervades the house with its tone-on-tone layering of earthy shades. Interspersed with vibrant art pieces, paintings, panels and plants, the space is suffused with benevolent charm and contemporary design, welcoming visitors and making them feel at ease.
Our Dec-Jan issue is on stands now! Click here to subscribe