Homes
Rock House by tHE gRID Architects celebrates materiality and an uninterrupted connection with the outside
MAY 25, 2021
| By Kashish Kaushal
A small, intimate weekend home situated near Ahmedabad, Rock House glorifies the use of natural materials in its attempt to mingle with nature. Built by the dynamic husband-wife duo Snehal and Bhadri Suthar of tHE gRID Architects, the house establishes a strong relationship between the manmade and the natural – reducing carbon footprints.
Spread across a 4,777 sq ft area, about three-quarters of the plot has been left largely undisturbed while building this ecologically sensitive accommodation. The built-form is articulated as a modest single-storey two-bay structure whose one-foot-thick stone walls retain the material's original raw form both inside and outside. Rock House has been shaped and worked by local craftsmen and manpower, using native regional materials—especially Dhrangadhdra stone.
The dwelling is home to a couple who were desirous of a space that would reconcile privacy with transparency, and possess a strong connection to the outside. The key to this project was to build the home around nature instead of weaving nature into the home.
In many ways, this project is quite different from weekend homes that are placeless statement structures. "We used earthy, local materials, shaped and worked with regional artisans, to build this modest, unassuming private retreat", shares Suthar.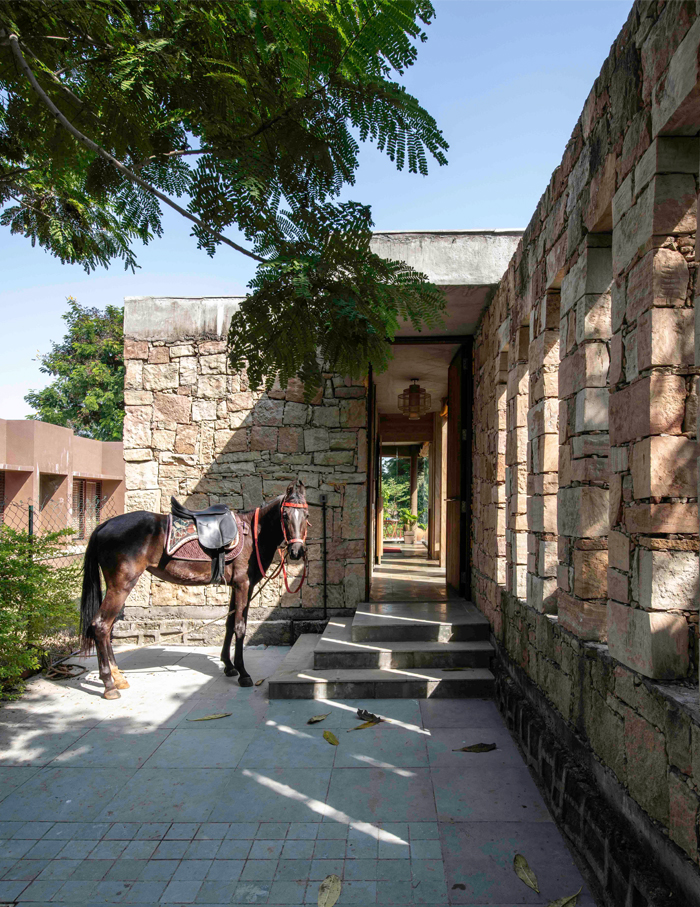 Surrounded by large local mature trees that act as natural sun-breakers, the site has shaded pathways around the home. Team gRID Architects consciously stayed away from fragmenting the overall landscape with compound walls as the home relies on natural boundaries created by vegetation for a notion of privacy. In addition to the organic envelope, the building features water bodies and is surrounded by local species of insect repellent plants — thus developing its own micro-ecosystem. 
The built-form is articulated as a modest single-storey H-shaped block that impinges upon the visual surroundings very, very gently.  The plinth is raised by two feet to provide a small vantage point. Aligned to the central philosophy of this project, one-foot-thick stone walls retain the material's original raw form both inside and outside and dispense with any sort of cosmetic layering. 
Floor-to-ceiling glazing strengthens the home's connection with nature, making its play of seasons, light, and shadows, an intimate part of the internal experience. The living spaces are column-free to allow an unobstructed view of the surroundings. Stone and glass facade act as a bridge that links Rock House to the green landscaping.
The interior tries to balance spaces for solitude and congregation; sound and silence. Comprising two staggered bays the layout features common spaces, and private zones like the bedroom — connected by a small passage. This orchestration allows the main spaces to remain open on at least two sides, capitalising on the surroundings. The interiors reflect the owner's affinity to nature, simplicity and meticulous attention to detail.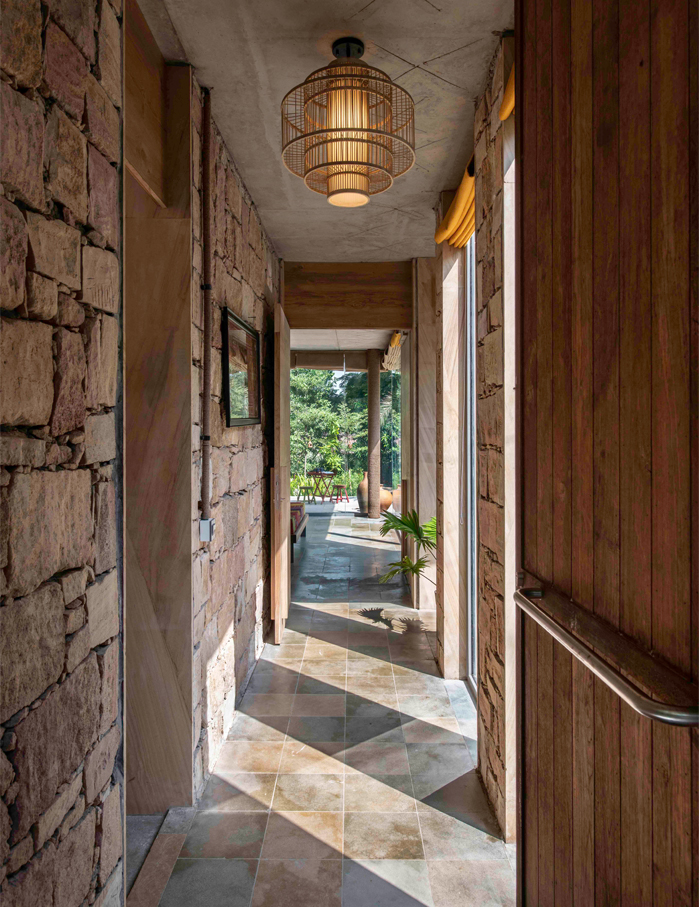 The entrance unfolds into a small passage that leads to the primary suite and, before that, branches off to the right to reach the living room. Flanked by small water bodies on both sides that segue into green pockets of the patio and an open-air garden, the living room is biophilia at its best. Visually and physically linked to the central courtyard which is larger than the built space, the primary suite and main living area underscore the philosophy of being one with nature.
On one side, the living room flows into a patio cocooned by plants, featuring sit-outs from where you can lose yourself in melodious birdsong. On the other side, it continues into a dining area and a pantry-like kitchen. This section is glazed on two sides, which conjures up the feeling of eating in a garden! One washroom has a skylight and an attached OTS supplemented with local species of plants for fresh air and light.
Throughout the expanse, a mosaic of Dhrangadhra stone walls, a grid of Kota stone and grave expanses of exposed concrete ceilings have been fitted with simple, need-based furniture and décor tied together by earthy colours and organic materials such as reclaimed jute. Revealing the most challenging part of designing this abode, Principal Designer Snehal Suthar points out, "The laying, foundation and the stone walls to achieve the size and to place them correctly was a challenge. Due to the self-weight of the stone, it was a challenge to place them after a certain height, but we managed to pull it off with precision". 
Fresh air, warm sunlight, the warble of birds, soft breeze, rustling trees… Nothing matches the collective or even individual effect of these on our sense of well-being. Humble and honest, warm and rustic, Rock House hopes to set that balance right for its owners!