Design
Restaurant Living Bakkali in Spain imagined by Masquespacio traces the design marvels of the Middle East
JAN 21, 2022
| By Subikshaa Stalin
A visual testament to Valencia's celebratory spirit, the all new Living Bakkali restaurant in Spain's coastal city breaks ground in a contemporary reinterpretation of Middle Eastern design details. 
A design project authored by Masquespacio, a Spanish design agency by Ana Milena Hernández Palacios and Christophe Penasse, the restaurant reveals itself through a layout of various sectioned spaces that recreate corners of Orient's diner lounges, hosting visitors to culinary delicacies unique to Living Bakkali.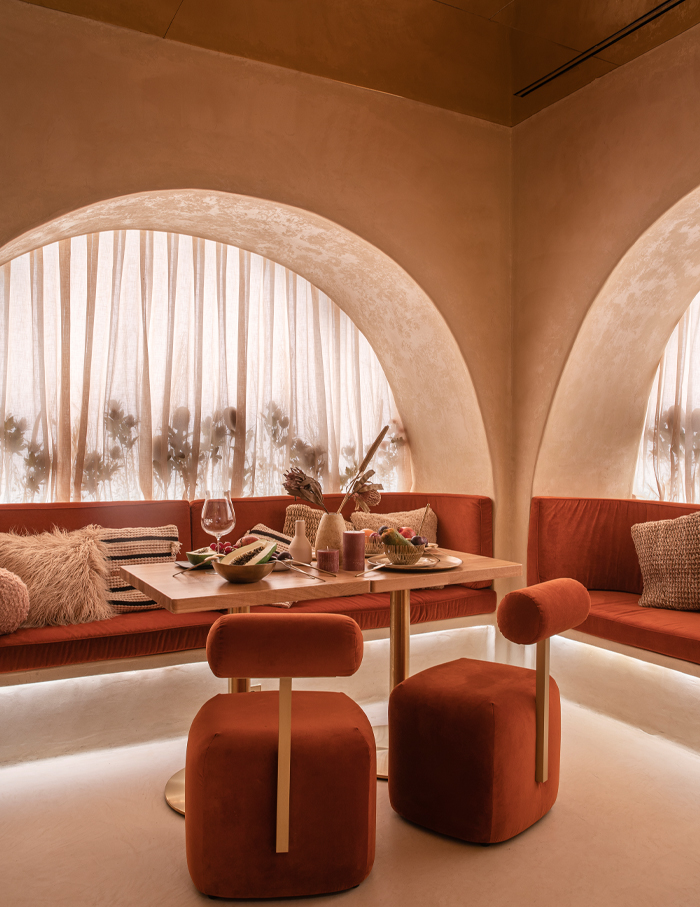 Detailing the design philosophy adopted for this project,  Ana and Christophe elaborate that the design at Living Bakkali gives a glimpse into the most profound part of the desert, connecting the patrons with an absorbing environment full of wonder and mystery.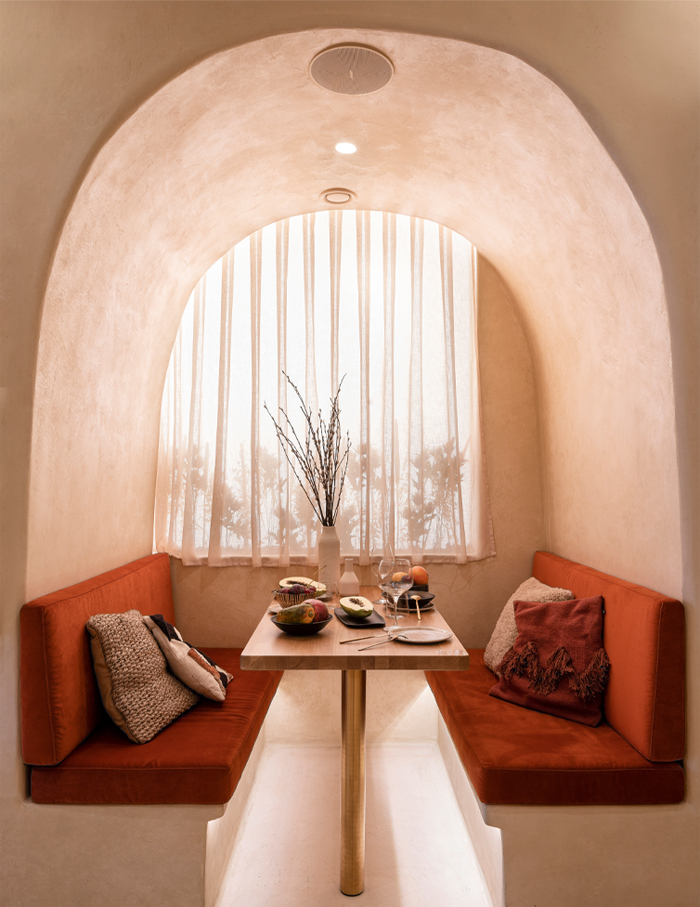 With an electric amber palette dominating the restaurant narrative, the design piques curiosity, encouraging visitors to interact with the space. Delightful arches, seamless curves, abstract windows and tasteful decor accentuate the dining experience while rendering the space with a subtle vintage appeal. Additionally, dry ferns, pampas and other plants are perfectly integrated here bringing alive a Mideast feel.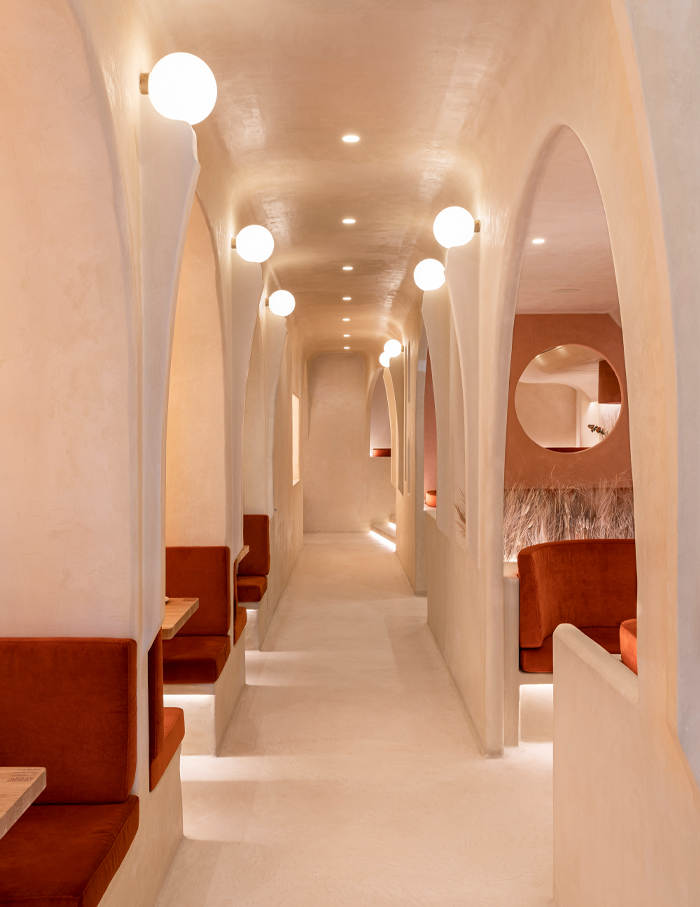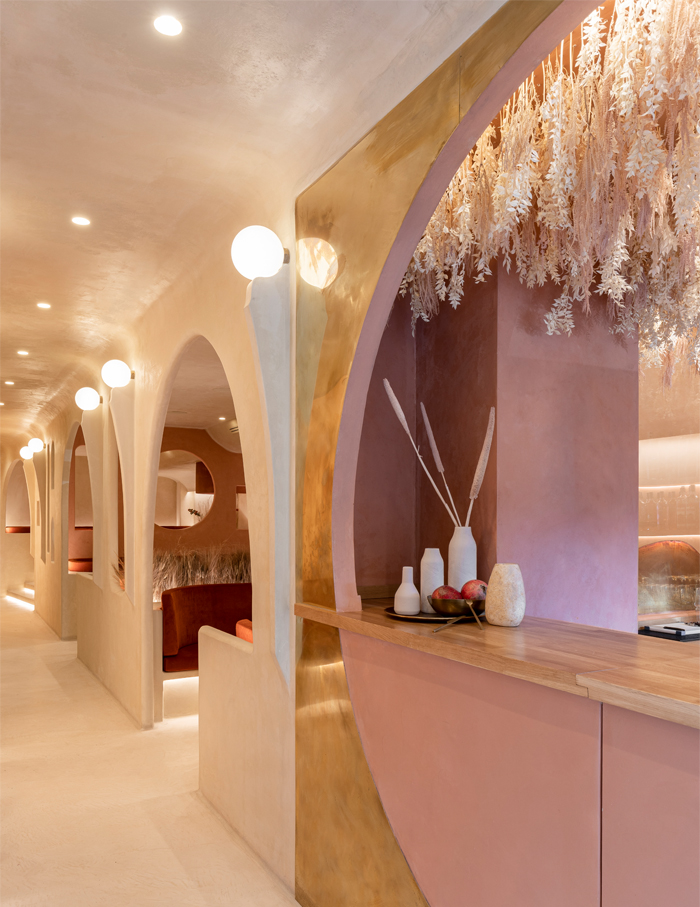 The central hall connecting the entrance to the kitchen leads guests through the space, exploring each area of the restaurant, from the more intimate 2-person seating zone to the couches for larger groups. A higher level space allows a generous, luxurious view of the restaurant.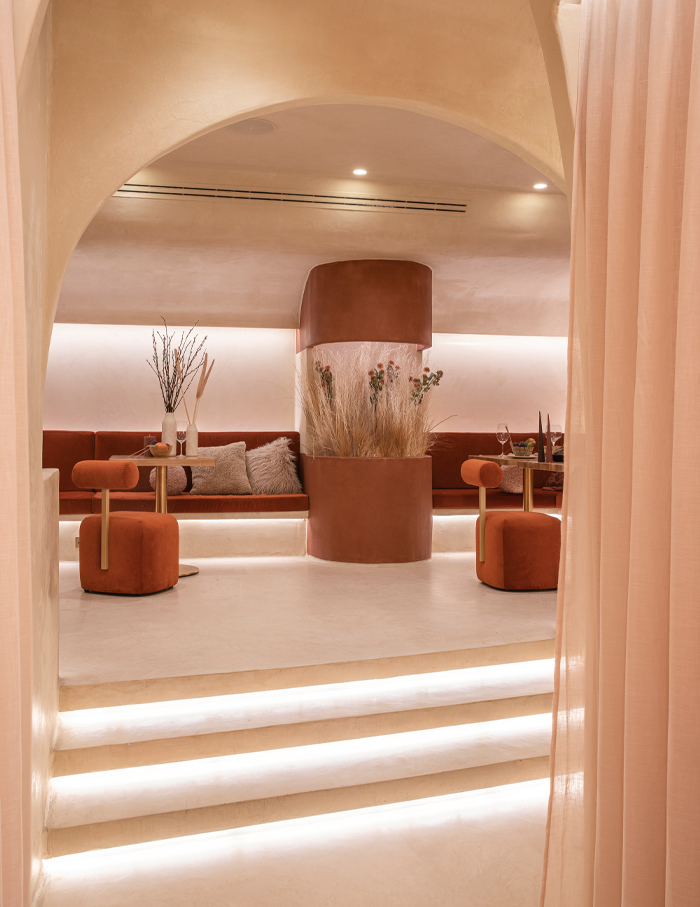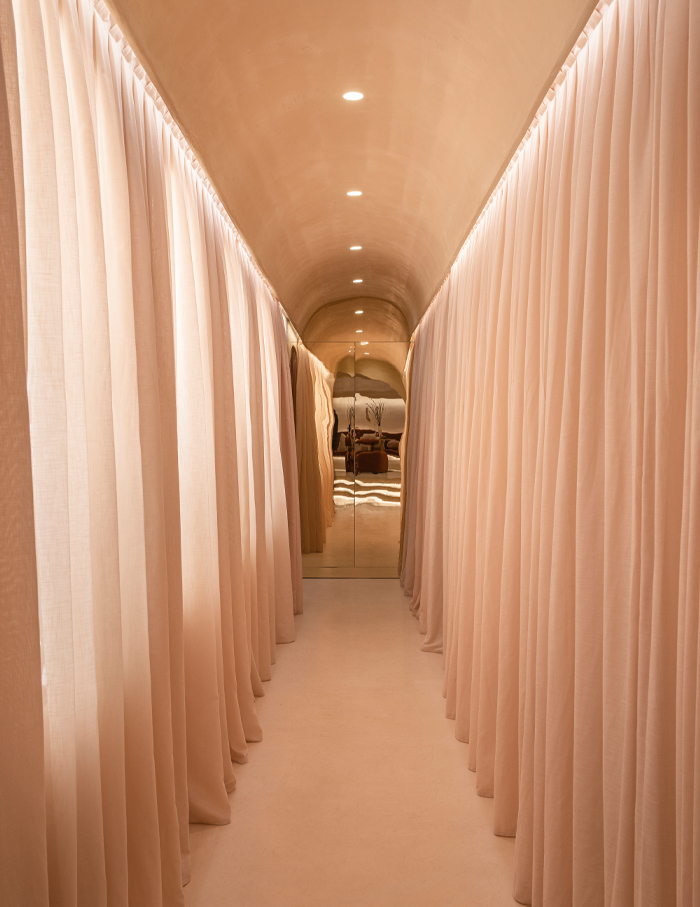 The initial spaces of the halls make one feel as though they're walking through the culturally rich streets of a different time, while the second part takes you through a corridor that incorporates private dining rooms and the restaurant's bathrooms. 
The designer duo informs on the usage of distinct forms and materials in Living Bakkali, recalling that at every nook, a contrasting composition of organic forms is achieved along with striking lighting effects. Using clay throughout the entire design, an adobe effect is splashed on walls, floors and ceilings, reiterating that the method is executed completely by hand.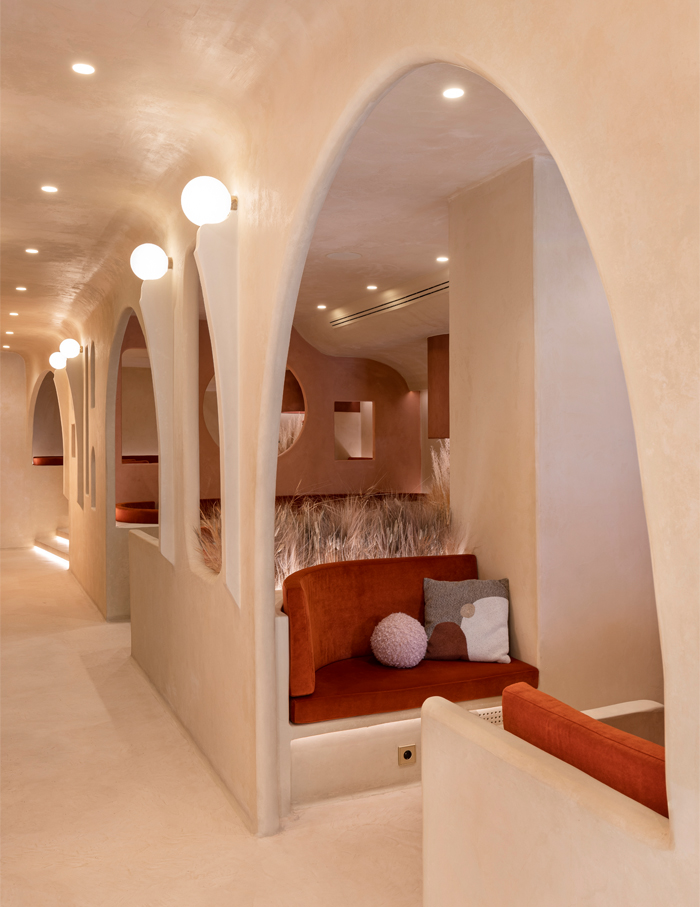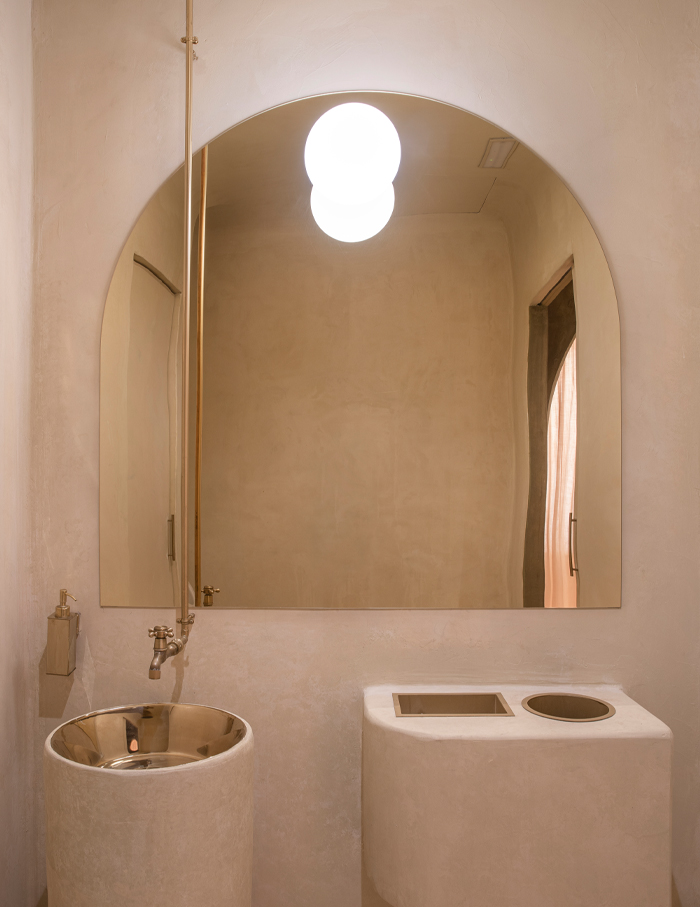 Like its name suggests, Living Bakkali is a place to enjoy multi-sensory experiences as earthy tones and sensitive lighting evoke the ever-present mystery of deserts.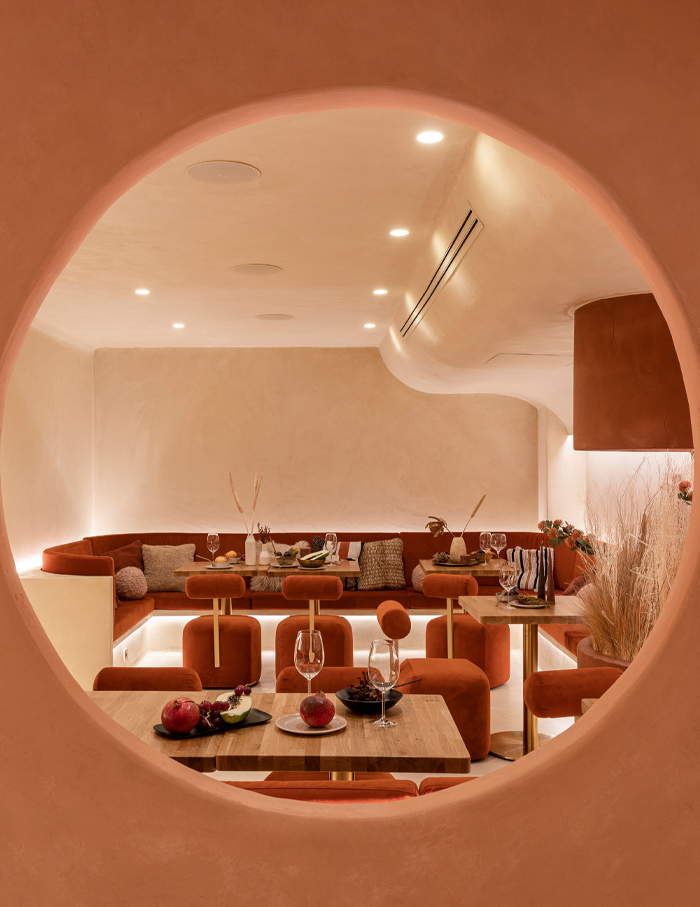 With multiple accolades to its name, including the prestigious title of Young Talent of The Year by Elle Deco International 2020, Masquespacio continues to work on several projects across Qatar, Spain, Italy, France and USA and more. 
Living Bakkali Address: Carrer de Xile, 9, 46021 València, Valencia, Spain
If you want more doses of everything design and food, do check out this stunning Greek restaurant OPAKipos in Mumbai that we just can't get enough of