Homes
Raw and rustic with a pop of colour—this 15 year old Chennai home revived by Studio Rêve evokes freshness and warmth
NOV 21, 2022
| By Shriya Goyal
The idea of something new appeals to each one of us once in a while—be it a trending wardrobe, latest gimmicks or our everyday shelter, hence home. Similar was the case with the owner's of this 15 year old home revived by Studio Rêve.
Designed by Hariti Aditya and Amita Joy, Co-Founder and Principal Designers at Studio Rêve, this 1700 sq ft home is located in R.A Puram, Chennai.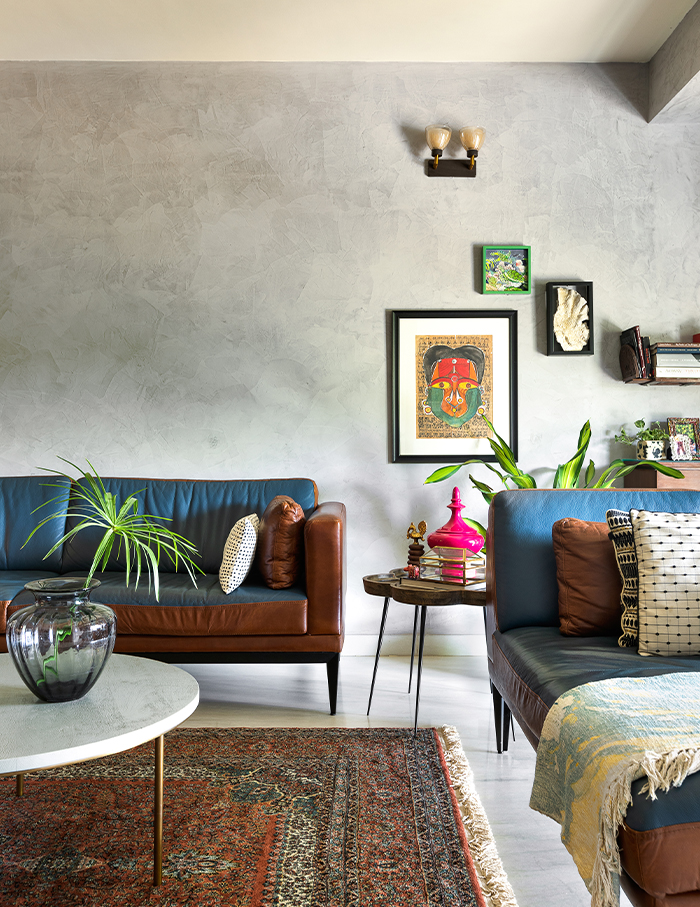 The curious brief
Adhering to the brief for a home that evokes warmth, freshness and a pop of colour, the homeowner's wished to retain their existing furniture as much as possible.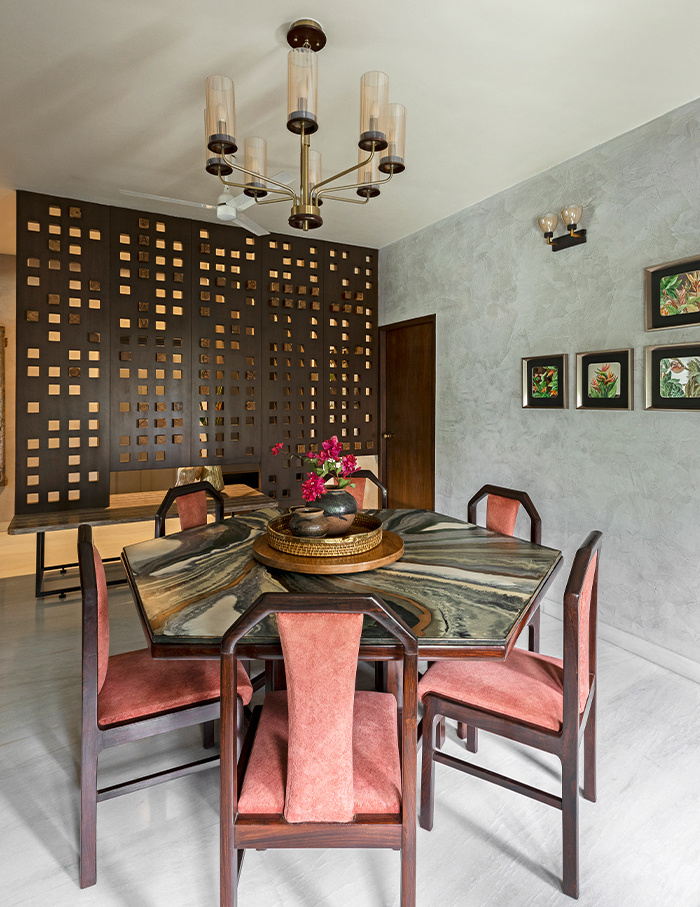 Hariti and Amita reminisce, "In terms of structural changes, we opened up the living and dining by removing a wall in between and made it one big space. We brought in the balcony to the living space and added a french window to allow light and ventilation into the space."
Tour every turn of this home
A wooden partition wall with cut-outs and quirky pop-ups draws the eye at the entrance and allows light into the space. The removable blocks house a knot and cross game with the family's name as a crossword. Window to the soul, an antique window refurbished as a mirror comes next.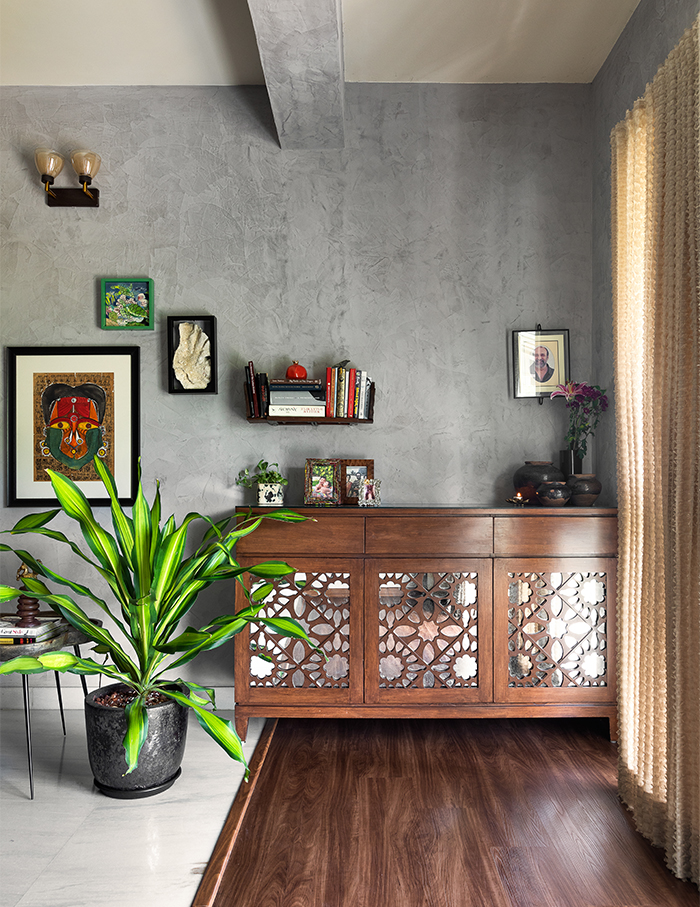 Turning into the living space, pops of different colours, textures and materials are displayed on a backdrop of muted grey. Eliminating the traditional pooja space, a Tulsi plant painting by Usha Devi slides open to a very sleek prayer space.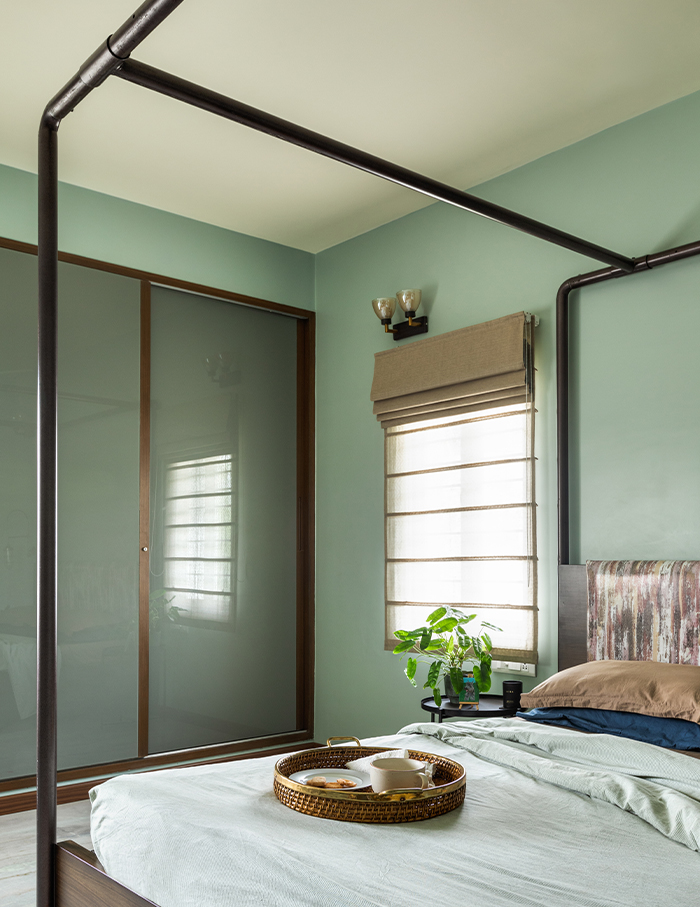 Elaborating on the same, Hariti and Amita say, "We incorporated cement walls throughout the house to keep the rustic feel going and added refurbished furniture pieces to elevate the luxury element for the space. Several spaces with a pop of colour add spice to the rawness of the interiors."
Situated behind the partition, the dining room houses the ancestral hexagonal table.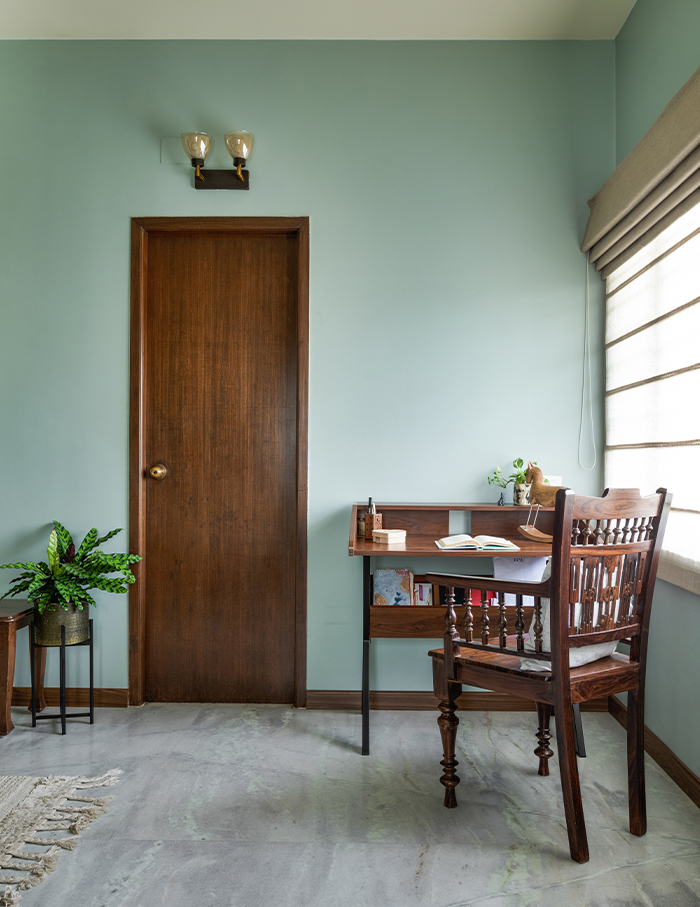 Guest room is the next stop. Adjacent to the living, this room is white has equal amounts of black and wooden accents. Accessible from the dining space are the kitchen, kids room and the master bedroom.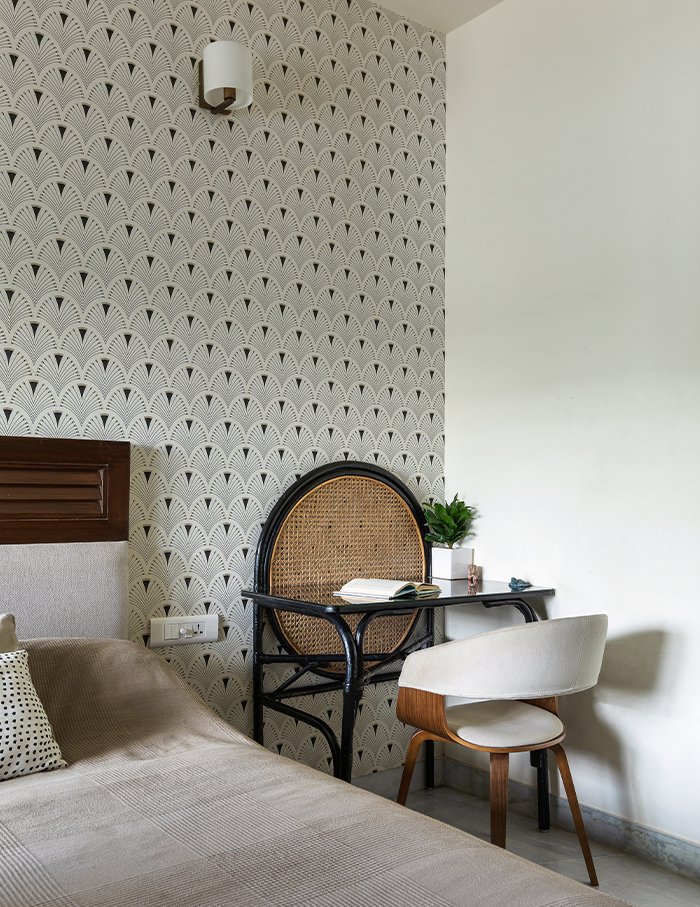 Washed in pale green, the master bedroom features a four poster bed and an ethnic study table setup next to the window. The wooden accents continue with the walk-in wardrobe and balcony doors. 
Nourishing the kids' sensitivities alongside bringing a mature outlook, their room is designed with single beds, quirky artworks and charming accessories. 
Ideas to bookmark
The colour palette includes all cool colours such blue, grey and moss green beautifully complimented by wood that adds warmth to the space. A pop pink in the living room furniture brings out the melange of colours.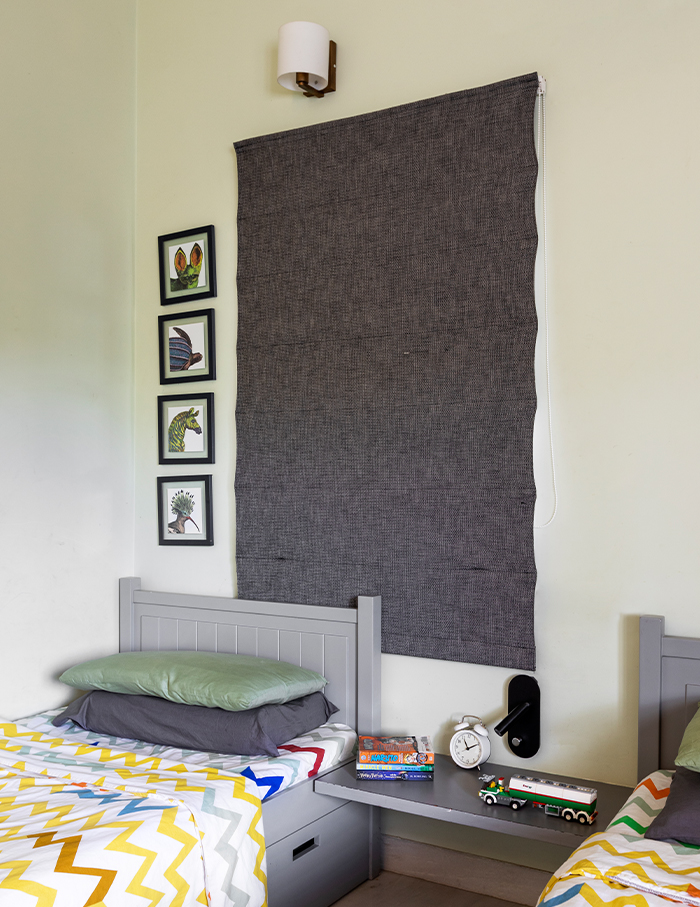 Most of the furniture has been refurbished. Single seaters and storage unit in the living room, dining table and chairs, guest room bed and side tables, kids beds and the master walk-in wardrobe doors which were made from the existing living room balcony doors.
Raw, rustic with a pop of colour is the theme balanced throughout the house.Hariti and Amita say, "Our design philosophy is subtle but functional and our USP has been to refurbish as much of the client's heirloom furniture as possible. We also like to keep the client's aesthetics in mind while we go about renovating a home of their taste and liking."
Scroll down to catch more glimpses of this home: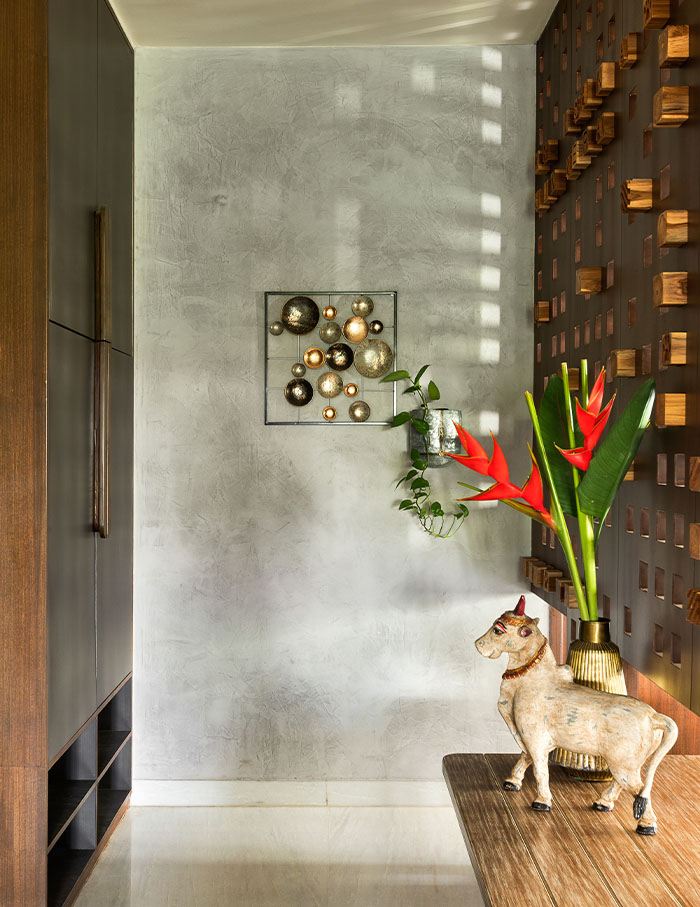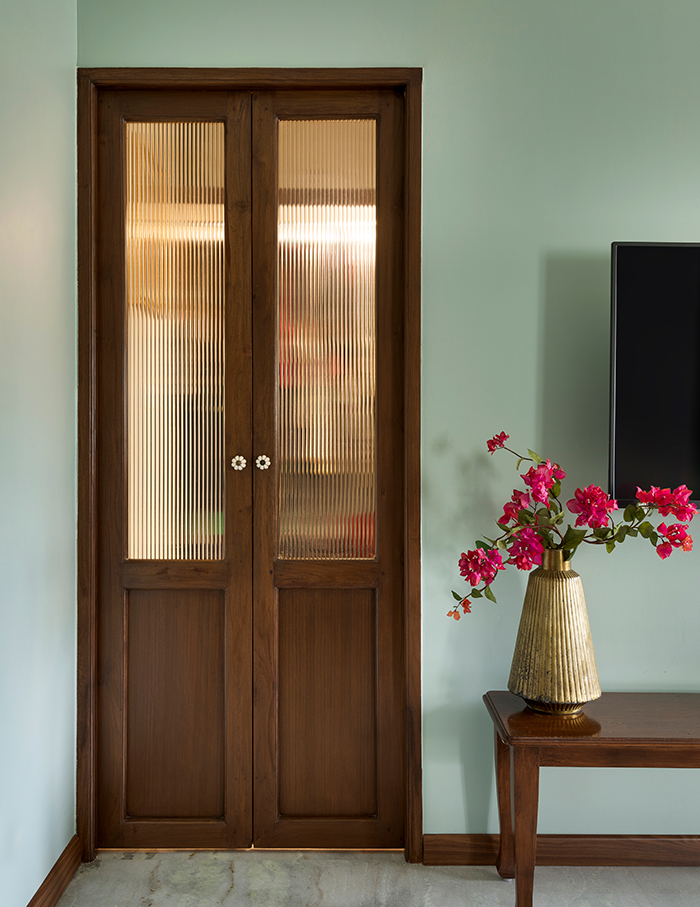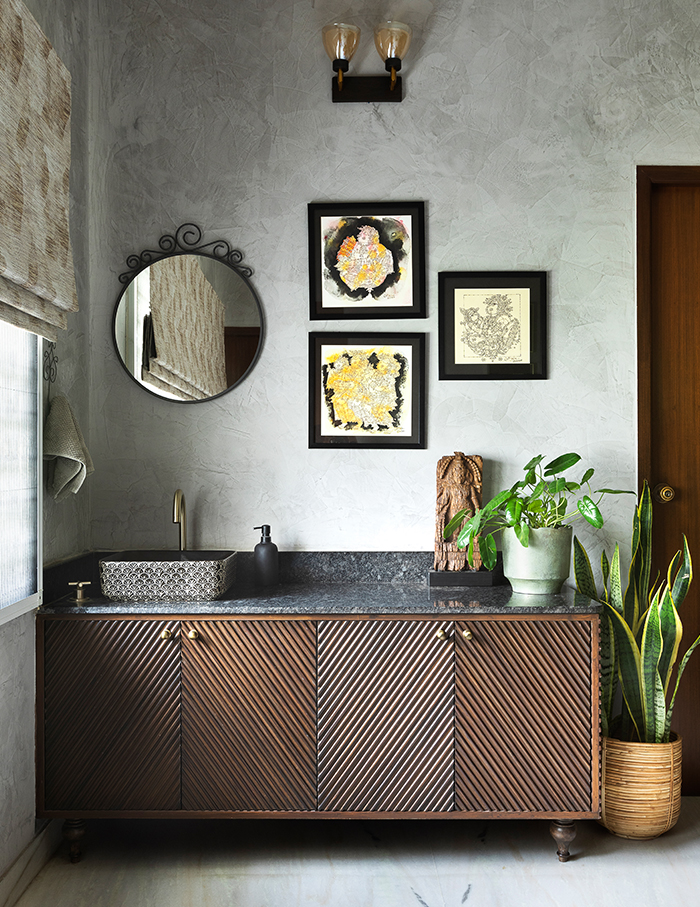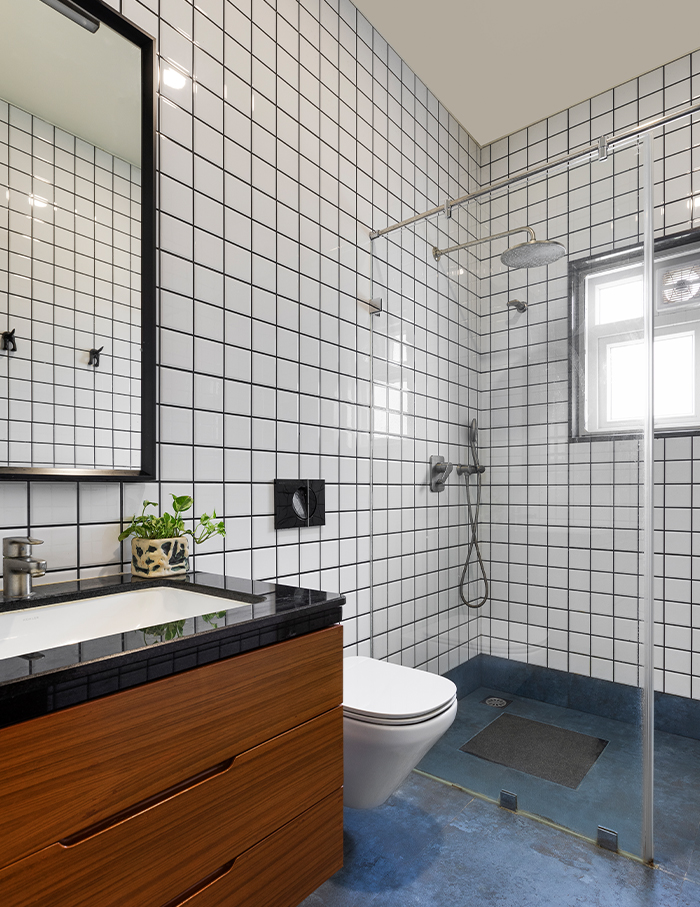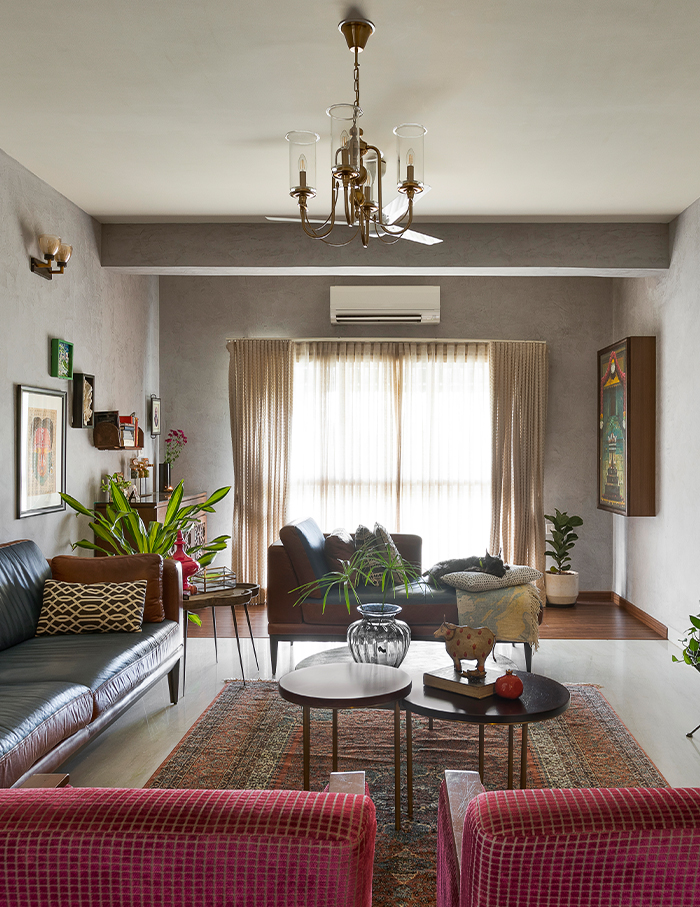 You may also like: Conventional and comfortable Chennai home by Sunita Yogesh Studio which blends functionality with allure