Homes
Conventional and comfortable—this Chennai home by Sunita Yogesh Studio blends functionality with allure
AUG 5, 2022
| By Shriya Goyal
When it comes to decor, a traditional style is comfortable and often predictable. Some may say conventional is outdated, but there's a reason the style is still popular—for its warmth, comfort and familiarity. Home to a family with similar beliefs, Sunita Yogesh Studio crafts an oasis of calm with functionality and an old-school appeal.
A 2800 sq ft 3 BHK apartment in a residential complex in Chennai, is home to an elderly couple and their two daughters. Designed by Sunita Yogesh, Founder of her namesake practice, this simple snug space is ideal to carry out individual and family activities comfortably. 
You may also like: Sunita Yogesh creates a realm of tranquility and solace in this Chennai home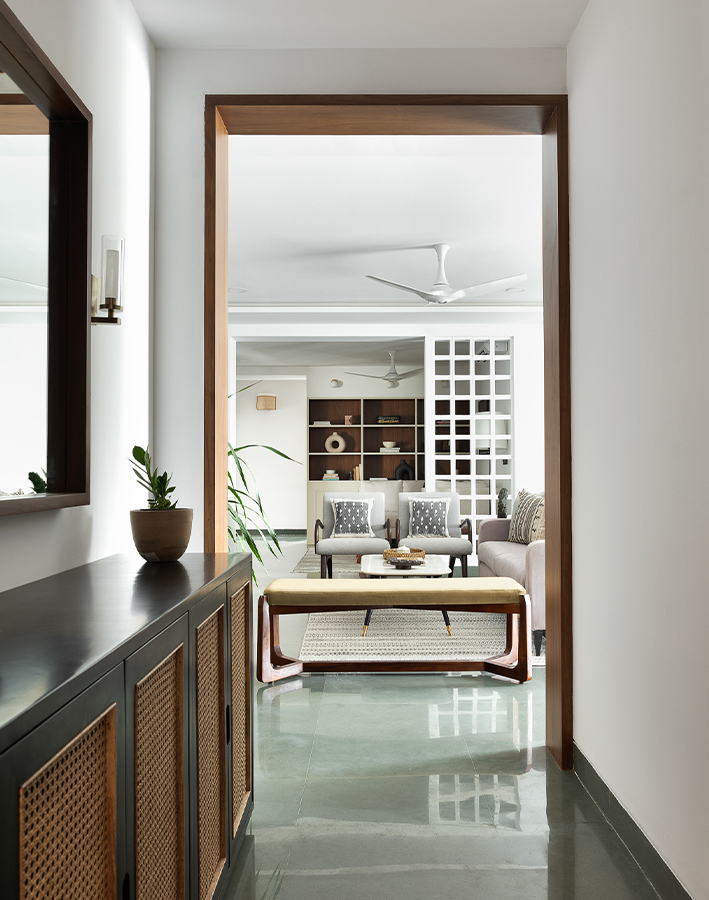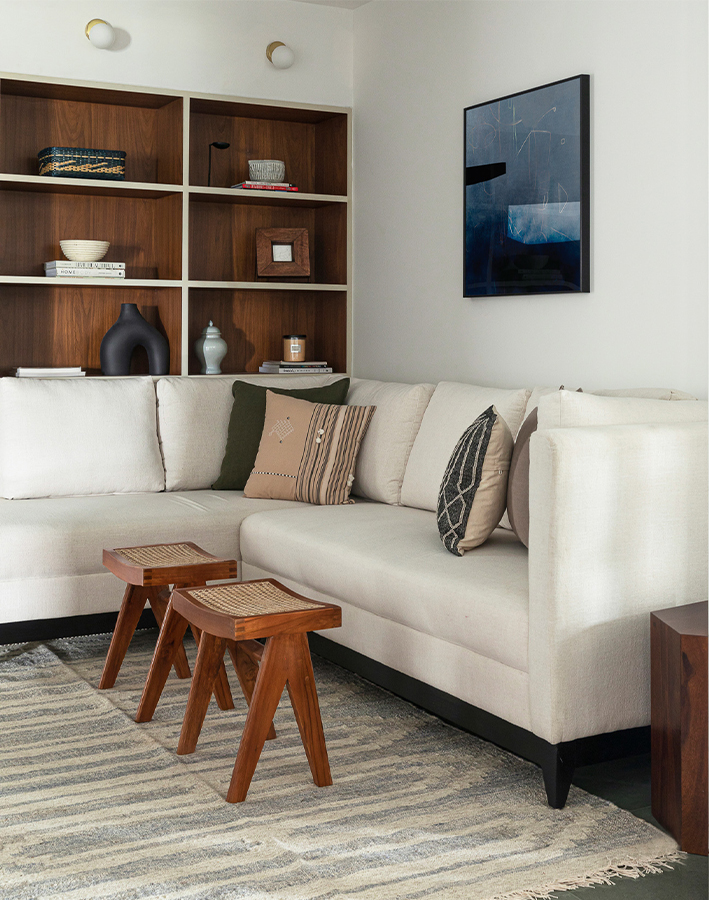 The curious brief
In this era of contemporary designs, understanding the conventional needs of the homeowner's took Sunita time. Combining the requirements of each member, the brief focused on a homely space where the owners could find a sense of serenity from the buzz and stress of city life.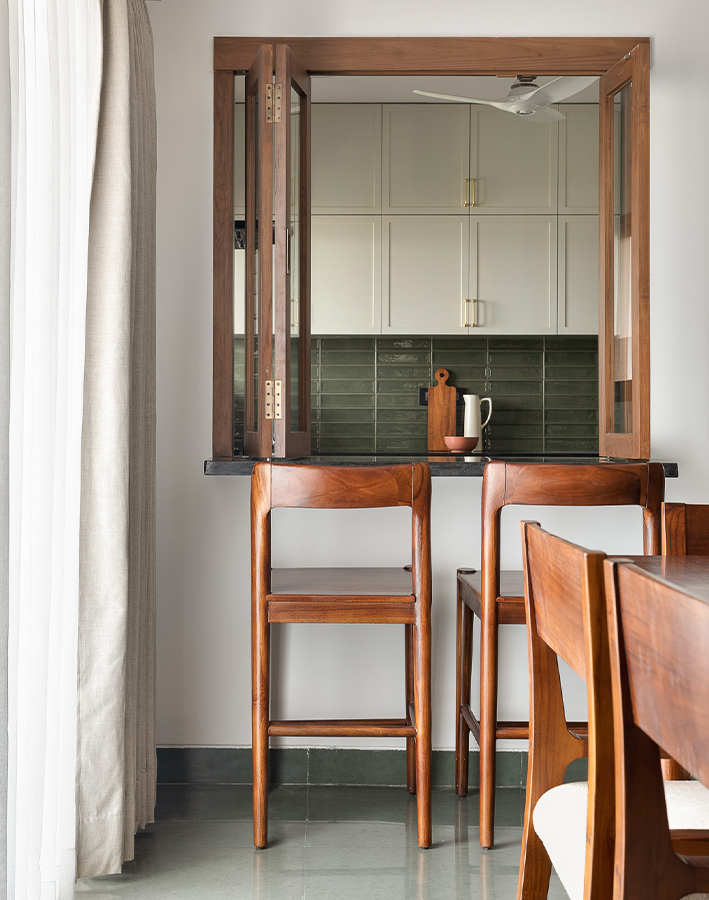 Tour every turn of the traditional home
Stepping foot through the narrow foyer, an open floor plan with living room, dining and family lounge greet inside the home. A coalition of white, grey and blush upholstery with wooden furniture pieces deck all three areas.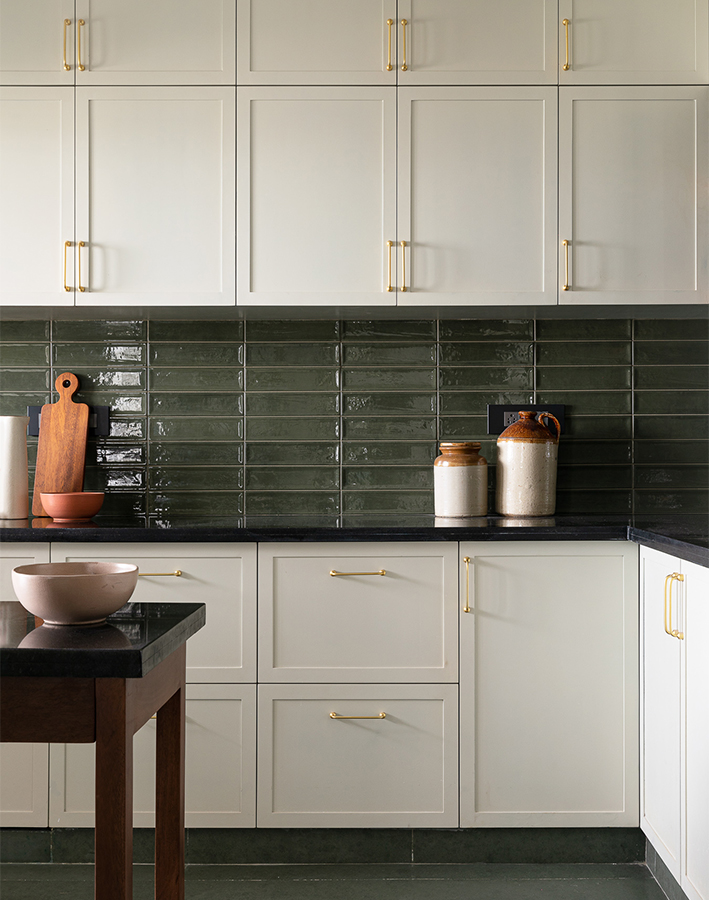 The family lounge leads to the main, first daughter's and guest bedrooms. A palette of beige and browns flow through the main bedroom, whereas grey hues invade the first daughter's bedroom. Solid wooden accents pervade the second daughter's bedroom and a subtle blue tone renders the guest bedroom.
Ideas to bookmark—simple colours and minimal materials 
With the overall tonality of mid-century modern influences, sleek and clean furniture pieces are scattered around the house. Furnishing a minimal material palette, green Kota stone for the flooring and white walls became the perfect canvas for teak wood furniture and cabinetry.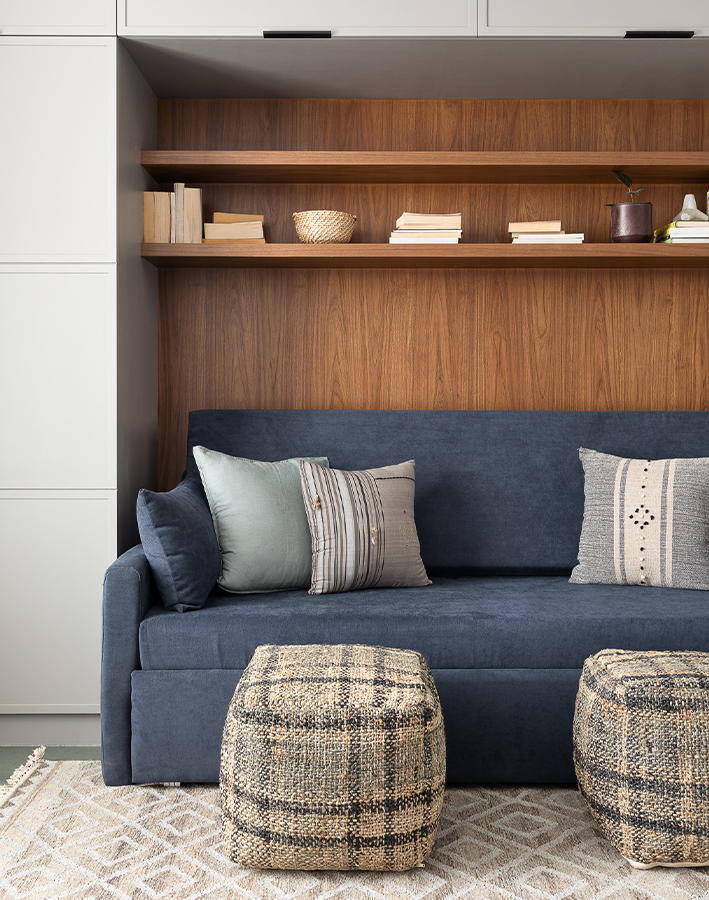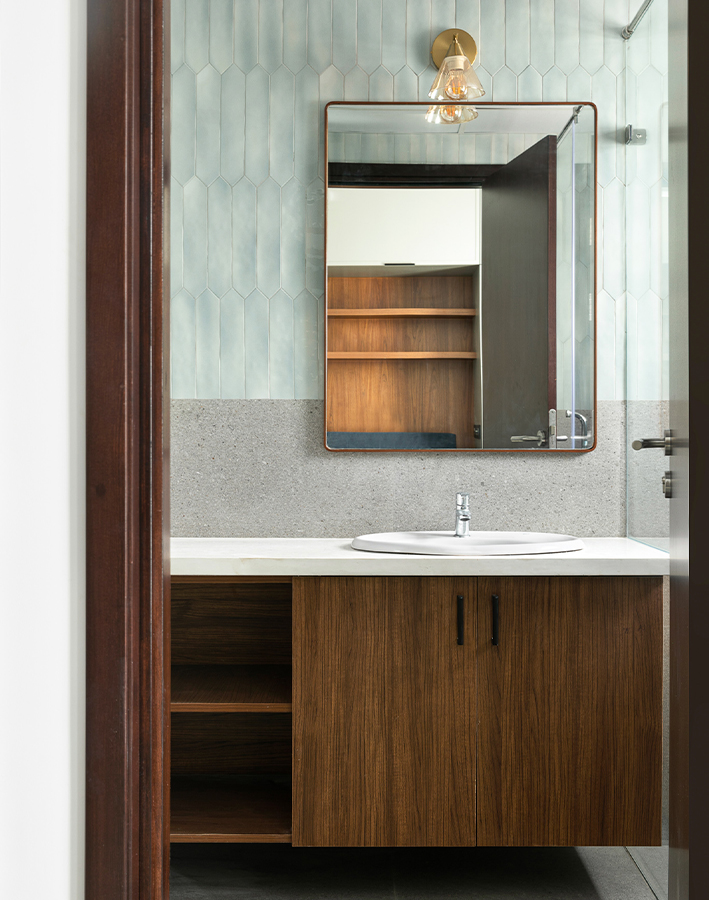 The simplistic apartment allows the inhabitants freedom of relaxed and comfortable living. Easy on the eye materials craft clutter-free, carefree and airy spaces where each object carries a purpose.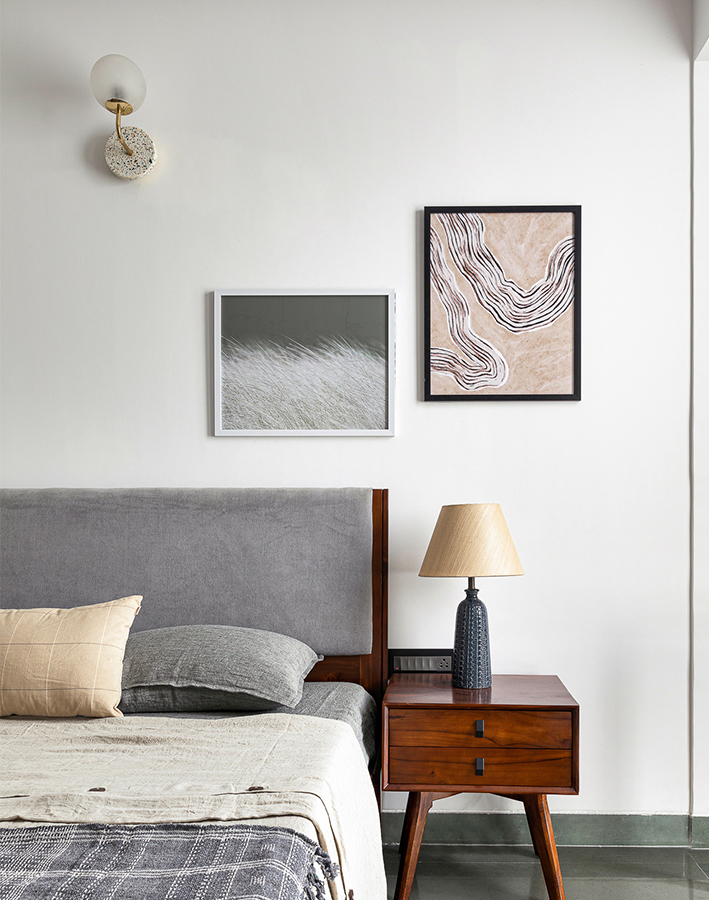 What Sunita fell in love with…
Discussing her pick of her best-liked and challenging spaces, Sunita says, "My favourite room has to be the second daughter's bedroom. It houses a platform bed with a wooden headboard and brass inserts, suspended glass pendant lights, a large desk with open shelves for storage and a quaint little reading corner along the window. The most challenging room was the family room. Maintaining the owners' privacy, a white geometric terracotta jali served as a partition screen and added an architectural element without blocking natural light. They also wanted the space to double up as a lounge, a reading corner, and ample storage for their books, so we custom-built the large bookshelf to cater to their needs and opted for a comfortable sectional sofa to complete its appeal."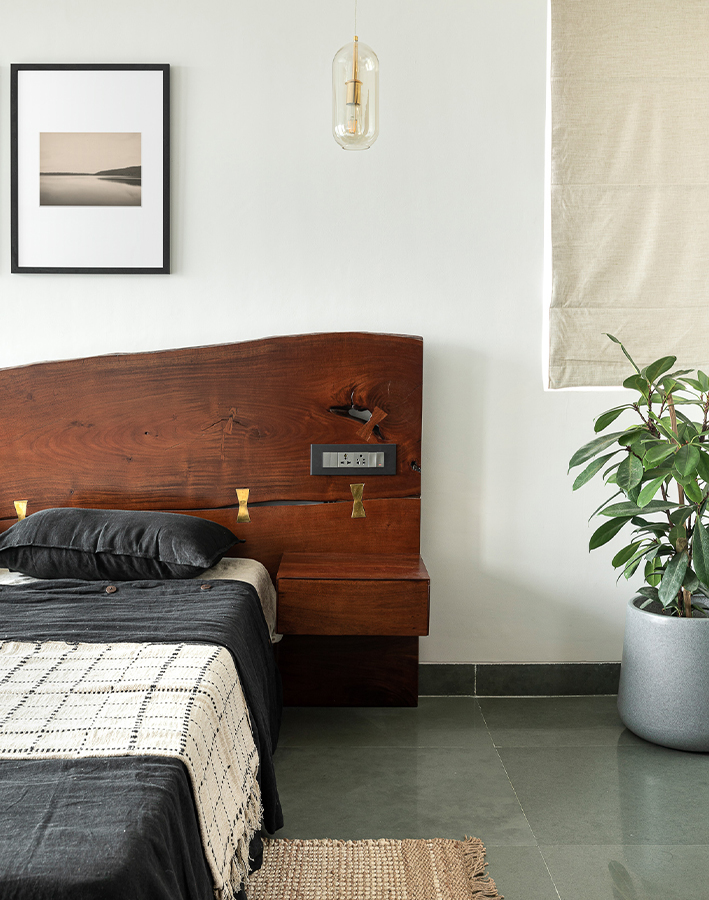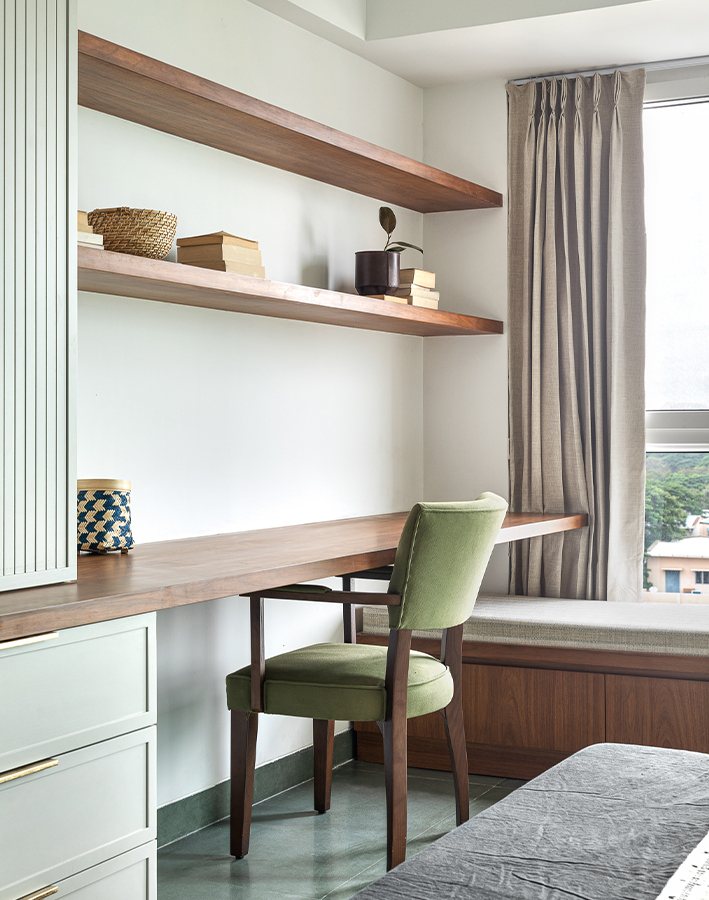 It is rightly stated, a home is a reflection of its inhabitants! This straightforward Jade home may not be a drama waiting to unfold, though its modest and amiable vibe brings into existence the intimacy and high spirits of the family.
Loved the vinatge vibe of this abode? Now check out the Pondicherry villa by Hohm Design Studio that is all about tropical modernism and native traditions