Design
A hole in the wall? RAD co + lab transforms this Mumbai workspace with a clever, personalised touch
OCT 5, 2023
| By Esha Shah
Ever imagined an office space that naturally becomes a space of creativity within the boundaries of home? Ever yearned for an expansion that balances the professionalism of an office with the comfort of your own abode? For those who yearn for spaces illuminated by the sun's touch, sprinkles of green foliage and an overall organic canvas, rather than artificial beams, this workspace wittily dubbed 'Hole in the Wall' in Mumbai imagined by RAD co + lab exceeds all expectations.
Crafted for a young developer who possesses an eye for aesthetics, this space extends just about 350 sq ft, blooming with endless possibilities, however. "He needed a space, simple yet chic, to align with his tastes. The space is an extension of his home, designed for ideation with a few visitors from time to time," explain Aashna Shah and Ruchir Jain, Co-founders of their research, architecture and design firm RAD co + lab.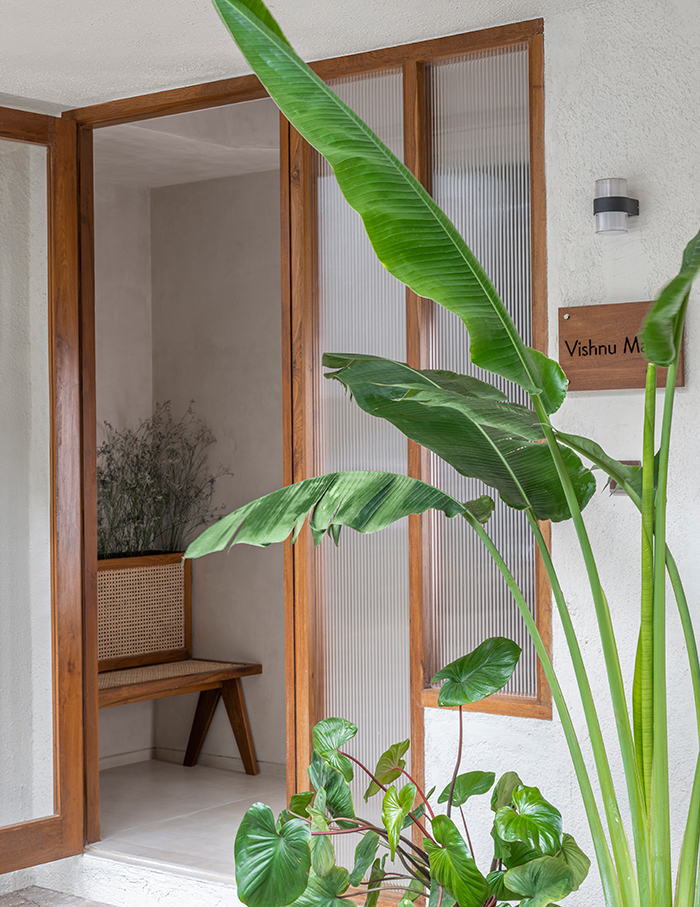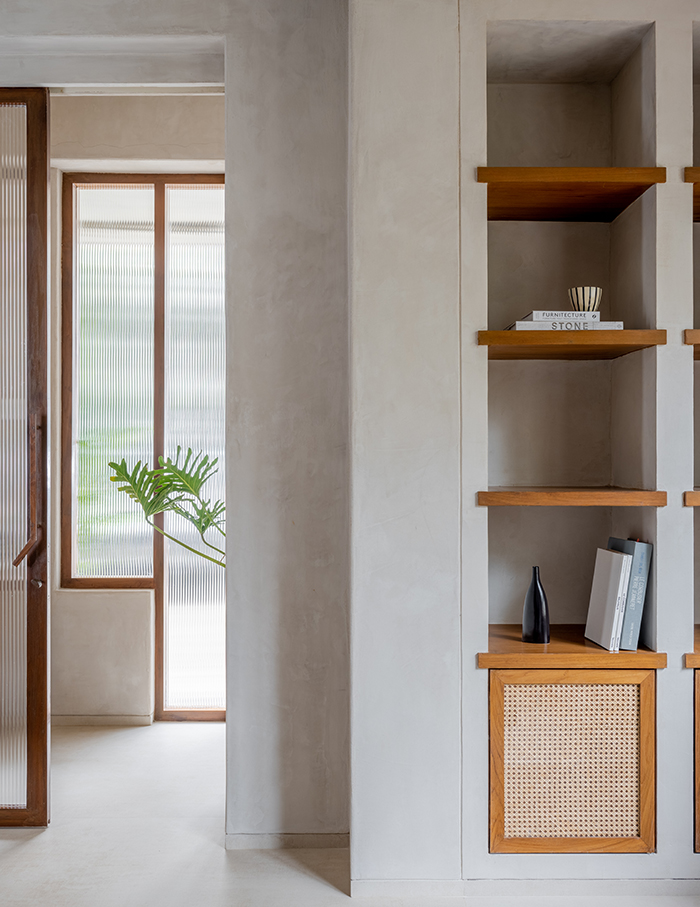 This 350 sq ft section comprises an entrance foyer surrounded by tall windows and workstation space, partitioned by a solid white wall. However, the primary challenge faced was the lack of natural light, due to the only presence of a small window. The solution involved adding larger wall openings on both sides to let in more natural light, completely changing the office's atmosphere.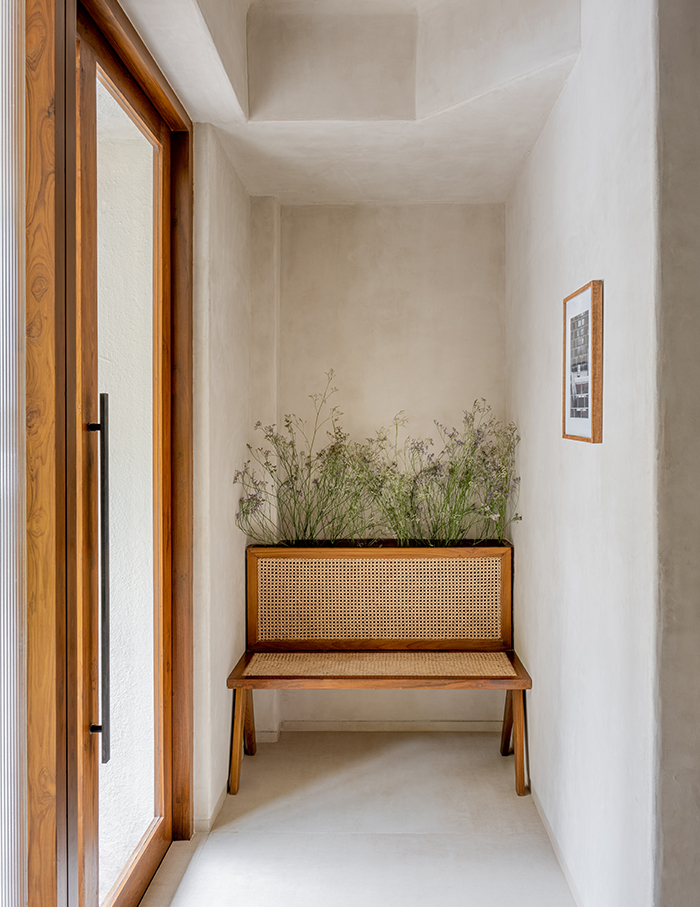 Illuminated from within 
Nestled in the heart of Bandra, on the ground floor, this home office is crafted with the perfect neutral-toned palette of repurposed teak wood and adorned with a glass door. The anticipation deepens as you approach the grand gateway to the main working area – a sliding glass door, ensconced within a frame of wood. The main work desk sits symmetrical facing the large French windows. 
Yet, it's not just the aesthetics that keep us intrigued. From the functional perspective, there are many clever storage units and printers discreetly tucked away in a corner which had been crafted using repurposed teak brown wood. "In our opinion, the project is closest to the Japandi style of design as it focuses on creating warmth in the space through a clean and minimalist design approach," Aashna and Ruchir add.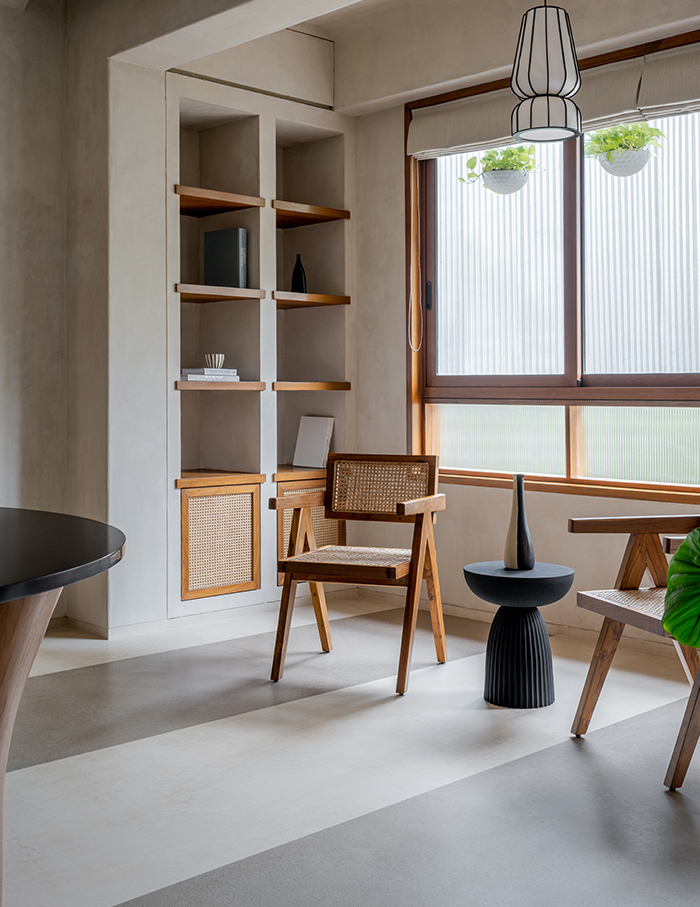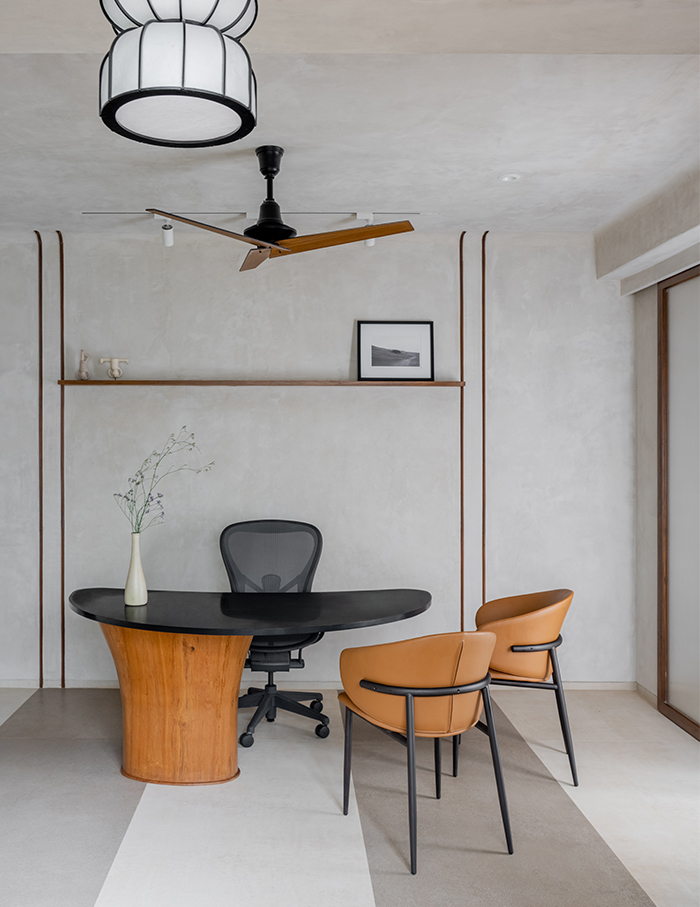 Demonstrating meticulous attention and profound teamwork, RAD co + lab faced a notable challenge in creating an off-centre, organic cantilever table that dynamically expands to support a tabletop. But challenges lead one to triumph, exemplified the best at this workspace! This feature was also beneficial, allowing in abundant natural light. 
RAD co + lab displayed their design passion by crafting personalised spaces from the home office entrance to its core, highlighting the importance of details in space customisation and achieving a harmonious balance between minimalism and layered design, diverting decisively from an overwhelming clutter.
You may also like: Strokes of sea and personalisation: Karan Desai reshapes a Mumbai home into an office and party pad