Design
Life imitates art: QTP's Threshold explores nostalgic pathways in Abir Karmakar's photorealistic paintings at Galerie Mirchandani + Steinruecke
OCT 25, 2023
| By Virender Singh
The corridors of memory are wormholes through the fabric of reality, unspooling the dimensions of time and space to teleport us into a spiritual alcove where we can hide from the mundane inertia of our present moments. But to make these portals work, there must be a déjà vu tremor, a photorealistic facsimile of events already happened to send us reeling into the whirlpool of our private recollections.
Abir Karmakar's latest trompe l'oeil exhibition Passage are six  floor-to-ceiling paintings of domestic interiors that look like they have been spliced from the homes of strangers and regenerated faithfully down to the last molecule in the liminal space of Mumbai-based Galerie Mirchandani + Steinruecke. To enhance the sensory immersion, the artist ingeniously carves pathways within each mural, facilitating unobstructed passage for successive generations to traverse through his installations.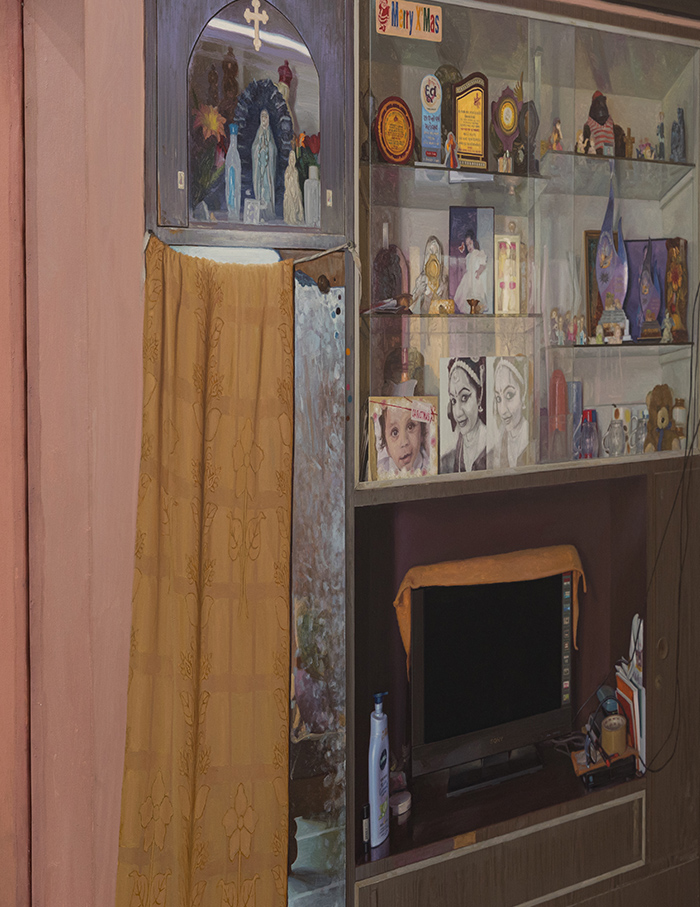 Site-specific, double-sided oil on canvas snapshots, Karmarkar's meticulously detailed cataloguing of everyday objects piqued the interest of InOrdinary — a collectible design studio launched by contemporary art curator Priyansha Jain in 2022. Their theatrical collaboration with QTP, an arts collective rooted in creating multidisciplinary spectacles, is manifested in four 'pieces' of dramatic storytelling that comprise the performance of Threshold.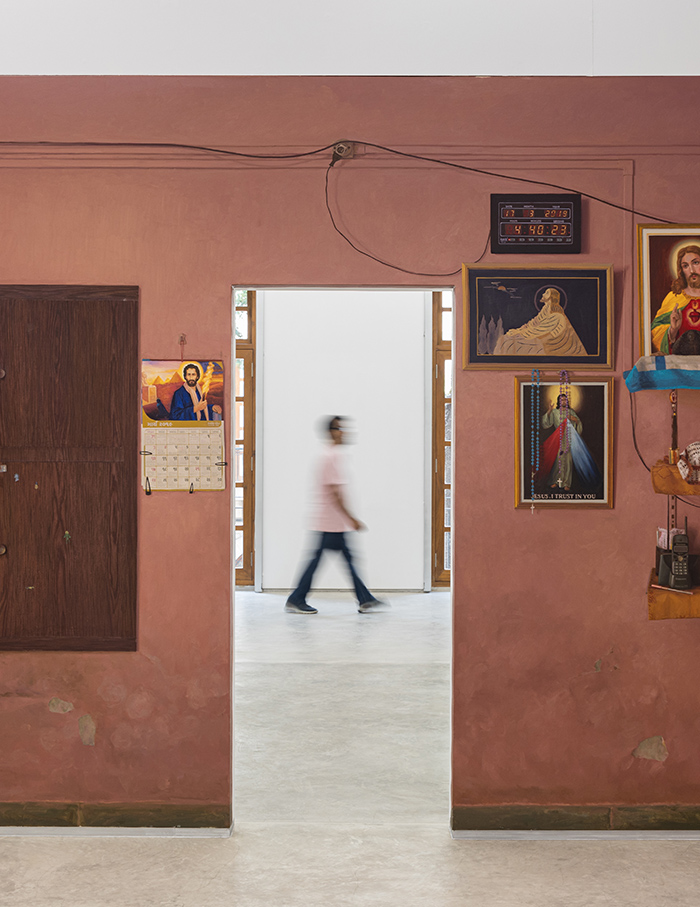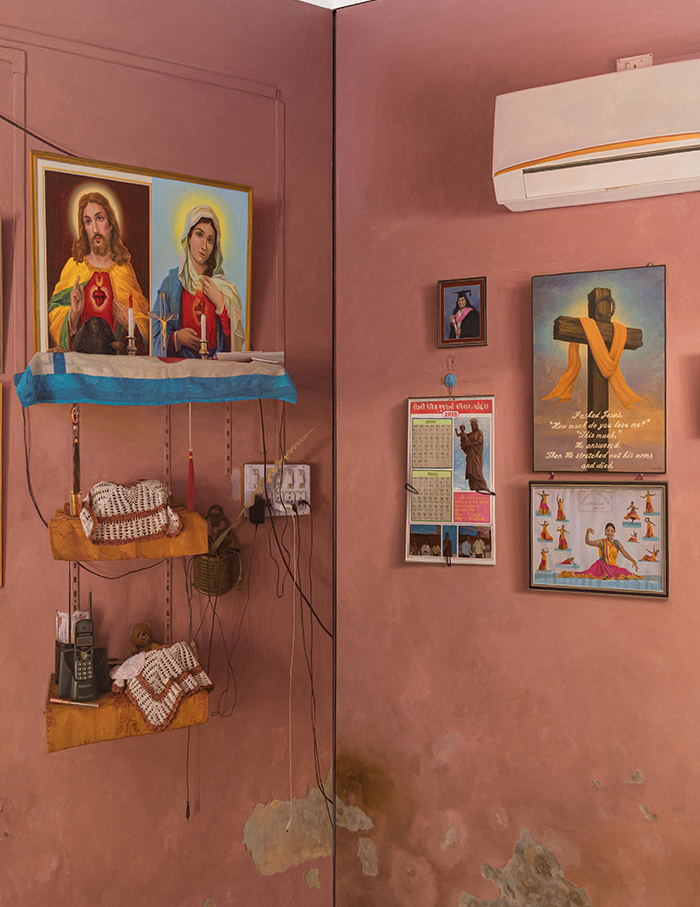 Through the interplay between art, space and human experience, this adaptation inhabits a mystical twilight zone where the actors interact with the hoarded ephemera that clog the tracts of our psychological healing. Jerry Pinto's Drawing Home, Tenzin Tsundue's Space bar – A Proposal, Mamang Dai's Once upon a Time in Pasighat and Tenzin Tsundue's Horizon composed by Suhaas Ahuja make up the first piece. The second piece, Footsteps, is a creation by Anushka Ghose while the third Maun Raat, Pavitra Raat is presented by Antara Pota. The fourth piece, Welcome is brought to life by Charvi Budhdeo.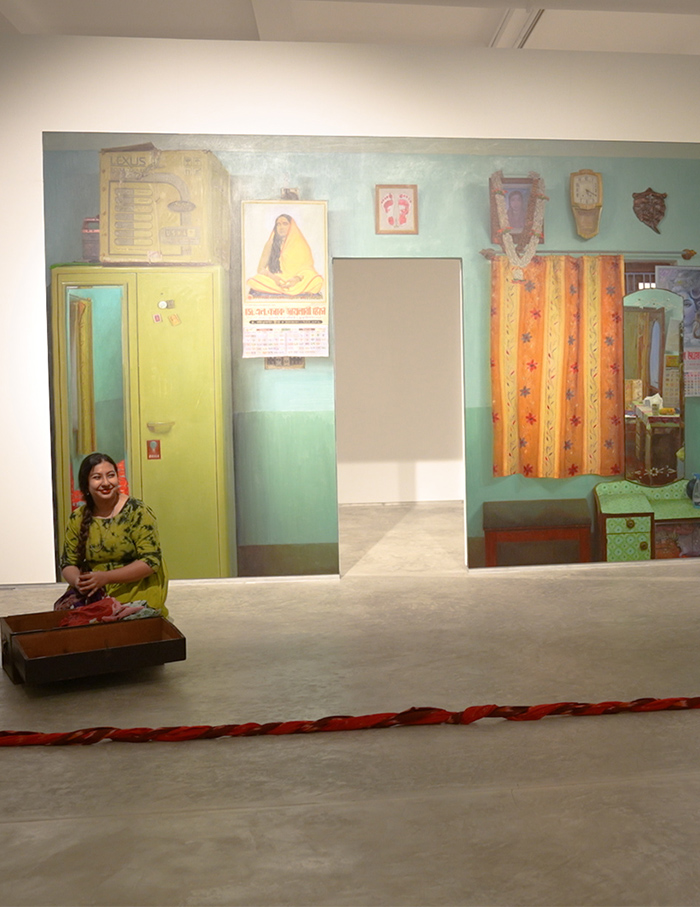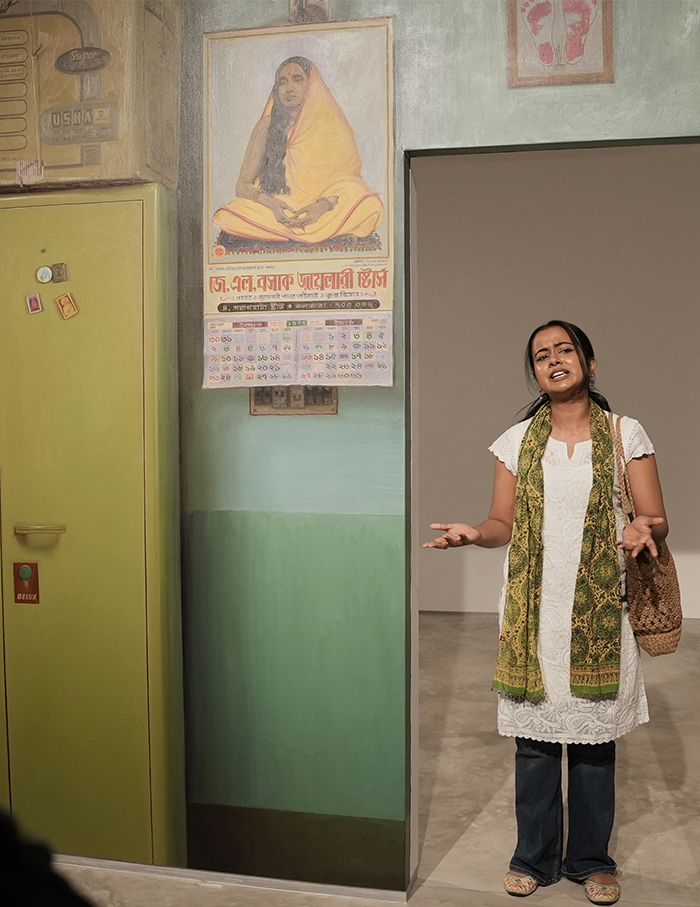 If Karmakar depicts how the stresses of middle-class existence in Baroda are embodied by the physical possessions of families, then the play directed by Q is a thoroughfare into the fluid dichotomy of home and identity. With a stage managed by Adnan, a script written by Anushka Ghose and music composed by Antara Pota, this performance breaks the fourth wall by holding space for the audience to move in with their own fragments of lived experiences. 
Featuring a talented ensemble cast including Robbin Singh, Dibanisha Banerjee, Charvi Bhudhdeo, Antara Pota, and Anushka Ghose; Threshold is the catalyst for the chain reaction of  digested history in Abir Karmakar's artistic experiment. A non-linear menagerie of vintage calendars, Christian iconography and other temporal idiosyncrasies of a modern post-colonial India, Karmakar's deft brushstrokes resuscitate even reflections on television screens and glass cabinets with the eerie simulacrum of eidetic reminiscence.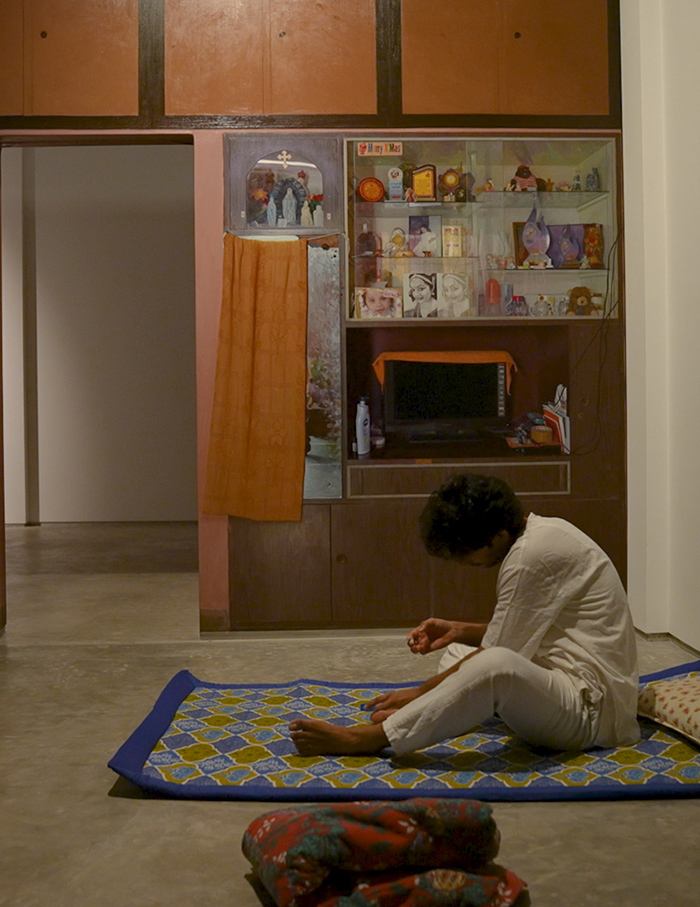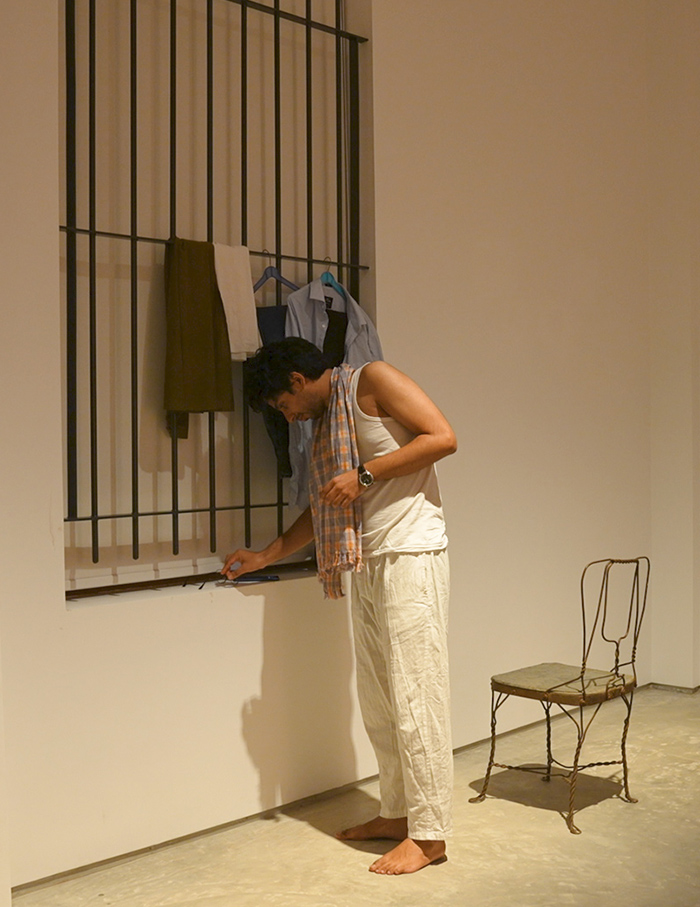 Galerie Mirchandani + Steinruecke, known for its commitment to showcasing emerging artists and contemporary painting, has relocated to a stunning space in Mumbai's heritage district of Ballard Estate and consolidated its position as a platform for some of the most exciting exhibitions in the city. Its rendition of Threshold on 23rd September 2023 was a unique opportunity to experience art in a dynamic and enveloping way, where the boundaries between different forms of expression dissolved, each square metre of Karmakar's work dedicated to the curios and tchotchkes that adorn our private almirahs of nostalgia.
You may also like: A visual tour to Frieze Art Fair London through the lens of Misho's Suhani Parekh