Homes
Pune home by Sparc Design is a dramatic rendition of minimal-met-matte
JUL 7, 2022
| By Sneha Gandhi
The moodboard for this home in Pune revolves around one word—drama! A necessity in the monotonous, mundane routine of metropolitan life, agreed, but how does one manifest dramatic tones in their home? 
According to Suhani Lal Sanghra, Principal Architect at Sparc Design and Rashmi Bhojak the answer is just as straightforward—mould it with matte.
You may also like: Painting a prismatic picture of art deco delight is this Pune home by The White Motif 
In line with the brief 
When owners and proud parents of a husky approached the architect for a makeover of their 1,600 sq ft home in Pune, the studio responded by conceiving a minimally modern apartment with matte finishes and statement furniture accents, aptly titled The Matte House.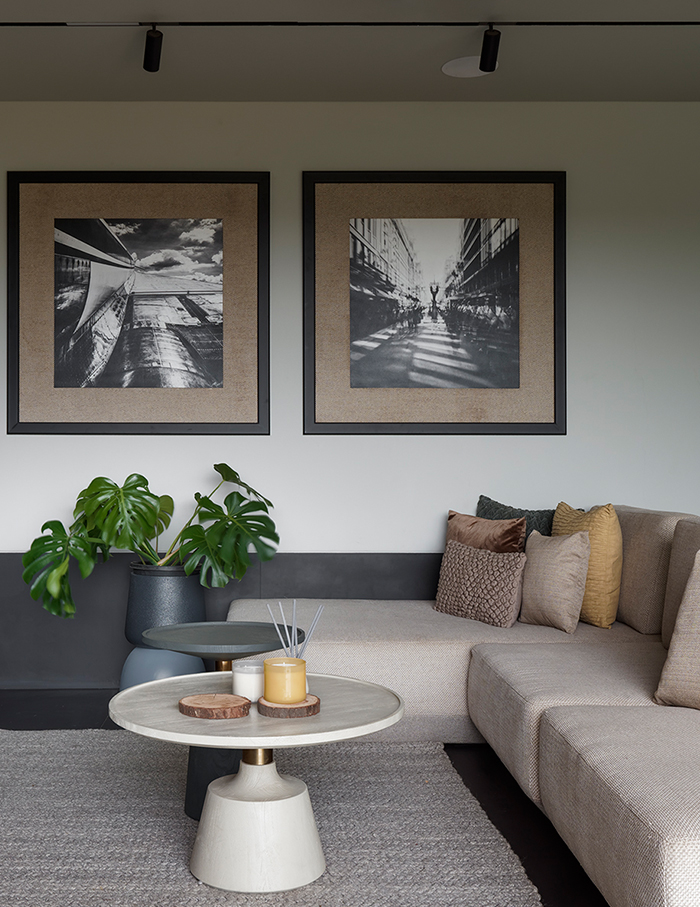 Tour every turn of the home…True to its theme, the home welcomes you with a striking olive green door paired with a snake plant in a concrete planter. The living room slowly unfolds in white, grey and black mattes. The unusually high skirting binds the flooring and walls in a seamless foundation. Poised against the polished surfaces is an ornamental world of wood and jute furniture enriched with green planters. 
Live edge finished wooden dining table and precast concrete slab console offset by stylish chairs create an aesthetic contrast in the dining area.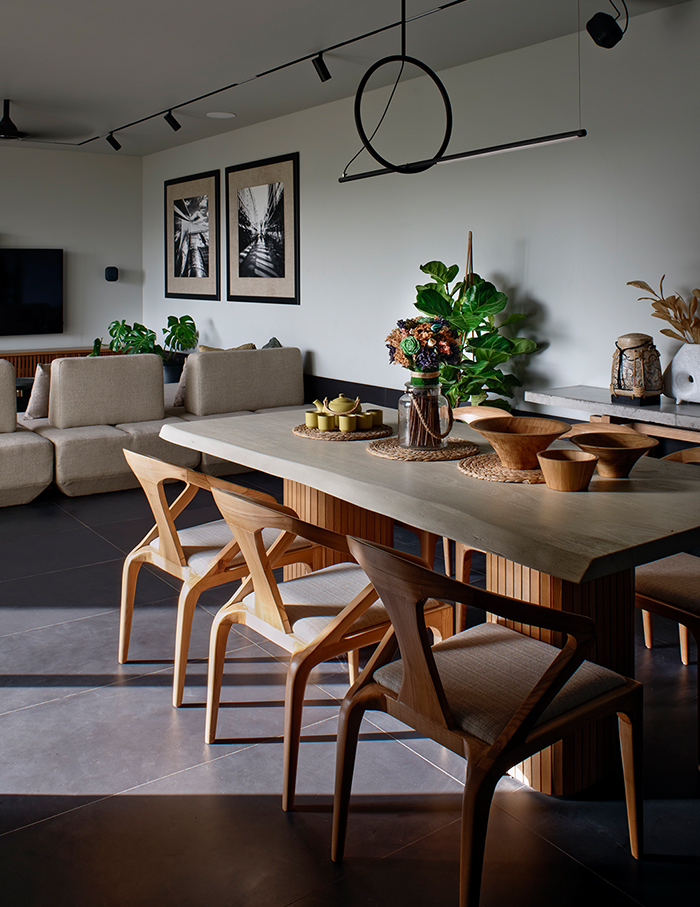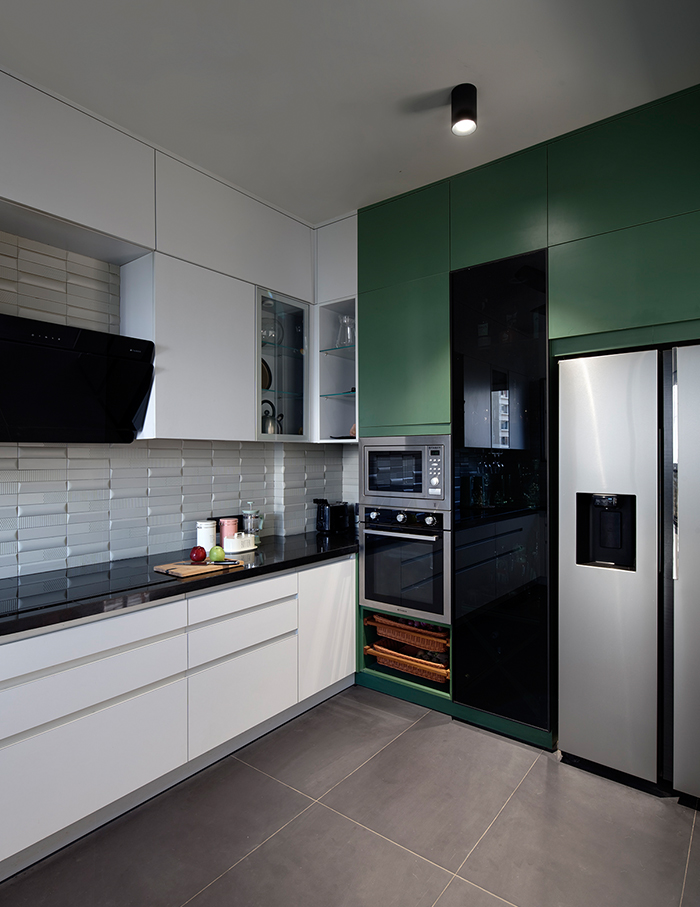 Flaunting a concrete countertop with earthy clay tile detailing, the bar area adjoining the living room captures the vivacious nature of the homemakers with the message 'My favourite drink is the next one.' A soothing array of alocasia and palm plants frame serene views of the sunset beyond. 
Wall-to-wall carpet flooring emphasises the elegant monochromatic theme of the primary bedroom. Bespoke bright bed back hand painted by a local artist splashes yellow tints in the same shades as the clay accessories across the room.
Repurposed in teal shades, the owner's old furniture finds home in the secondary room complemented by jute wardrobe facia. The secondary bathroom packs a surprise with its rustic terrazzo tiles. 
Sleek brass fittings and a statement wooden mirror add melodrama to the powder washroom, while the study room houses a soft salmon peach wall with a systematic storage grid.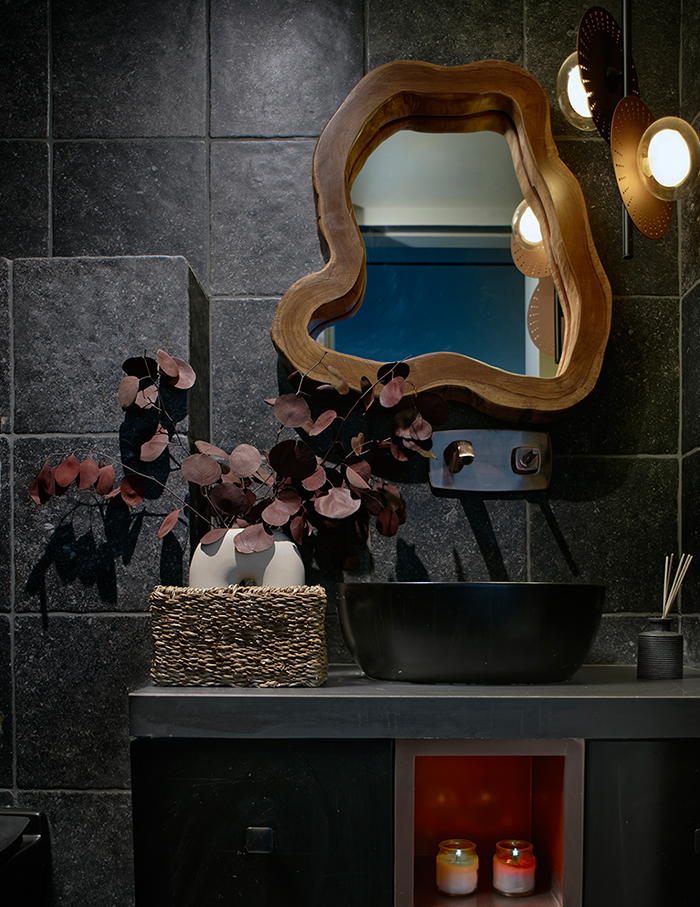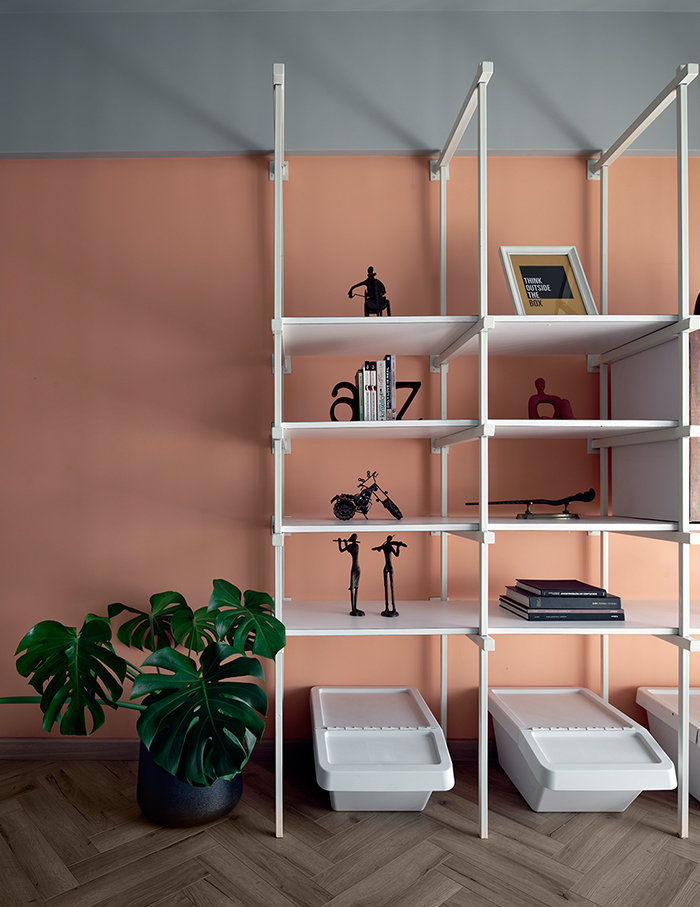 Ideas to bookmark – Minimal palette, dramatic accents
While all spaces of The Matte House manifest diverse moods, the home is coherent in its matte textures, wood furnishings and minimal accents. Clay tiles and jute highlights paired with the sculpted smooth wooden furniture finishings craft a compelling rustic palette. Bold colour additions in the form of abstract artworks and modern artefacts concoct a theatrical ambience.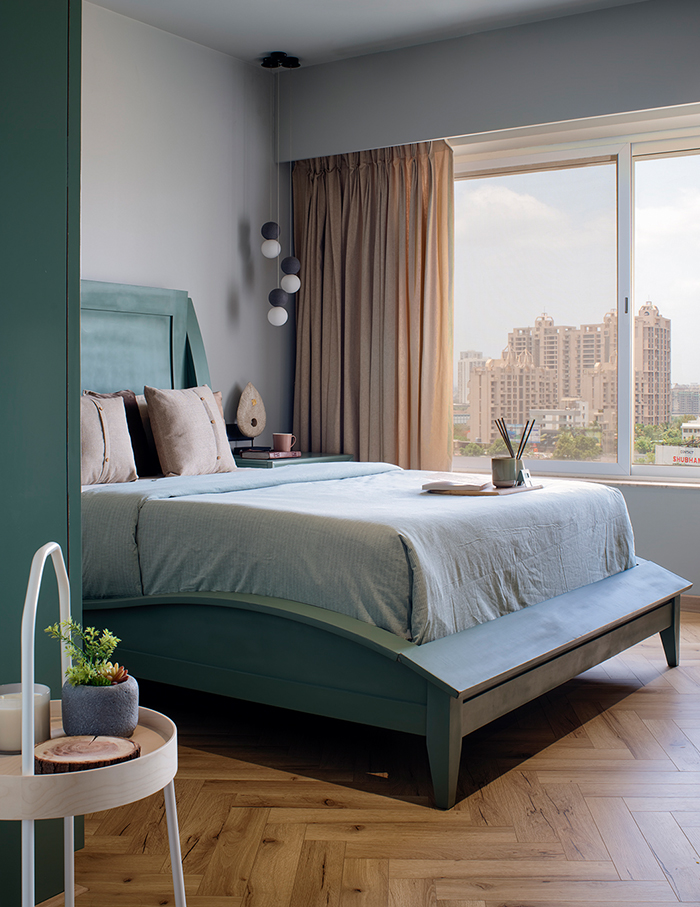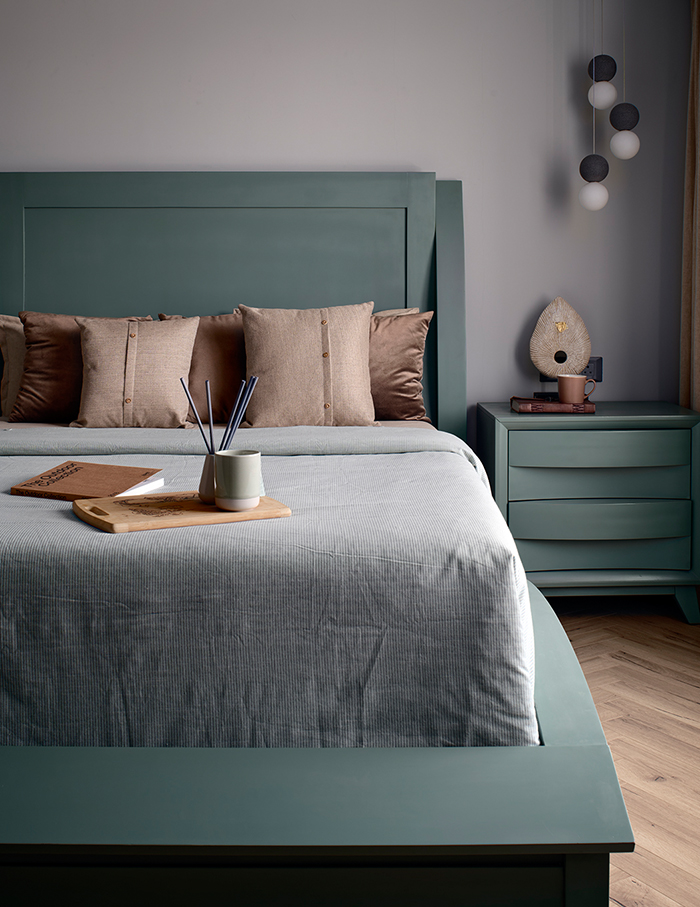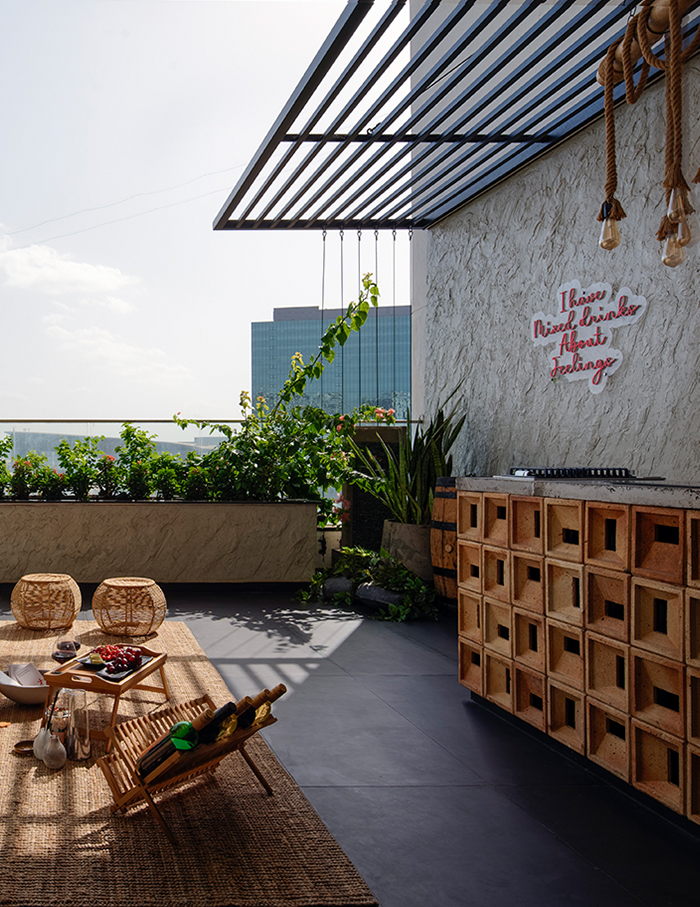 What Suhani fell in love with…
The challenge to fabricate the bespoke furniture, in tune with the theme of the home in the estimated budget, while incorporating energy-conscious choices was thrilling to say the least. The home employs insulated false ceilings and lights to reduce the heat load along with using floor-to-floor carpet to retain optimum room temperature longer.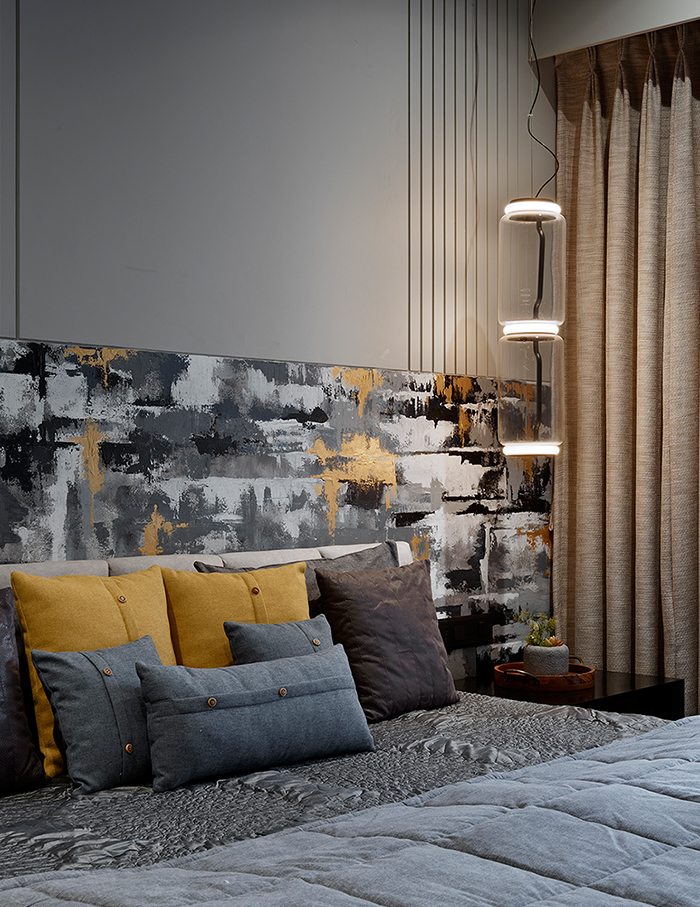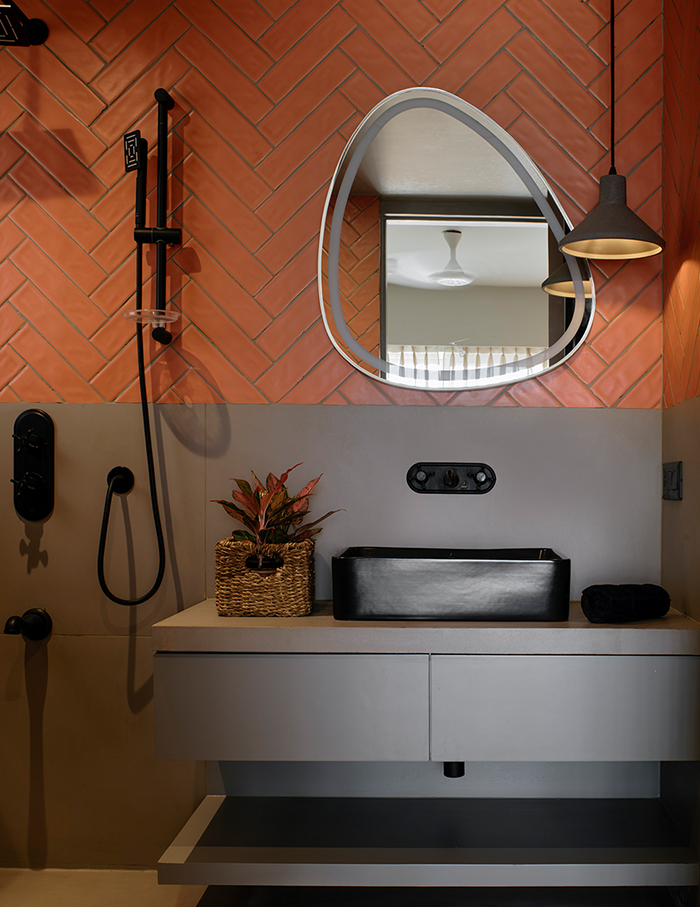 You may also like: City home with city views—This Pune home by Mind Manifestation Design flaunts curvy silhouettes