Homes
Punctuating an earthy flair, Anand House is an ode to rattan weaves and Vadodara's heritage of exposed bricks
JAN 24, 2021
| By Saloni Rege
Crafted with illuminating patterns, details and handmade pieces, Anand House is a minimal residence weaved together like a rich elegant tapestry. This 3,050 sq ft home designed by Kuryaāt Spaces and Arts celebrates Vadodara's heritage of exposed bricks.
The four-bedroom residence is tucked amid a choreographed cluster of bungalows, away from the urban edifice, and boasts user-friendly and hassle-free spaces.
"Our philosophy is to design spaces that are harmonious and elegant, ruled by the right proportions," share the practice's interior designers Jaba and Mitesh Champaneria.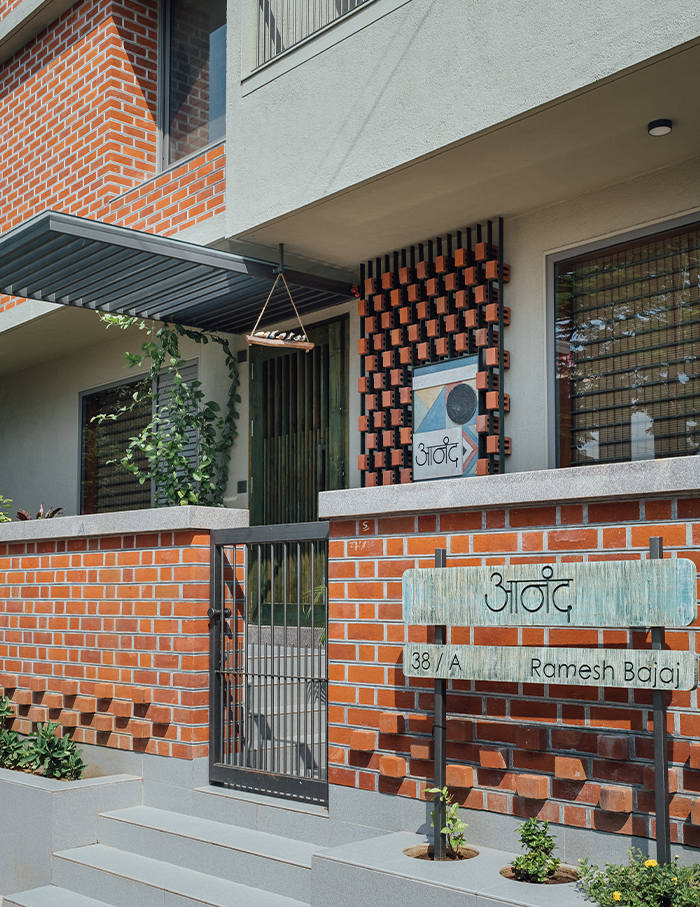 The entire structure is raised on a platform that houses a lush mini-garden and breakfast corner in the side yard accessed by a deck. As you enter, the foyer acts like a unique transition zone with its composition of rattan screens, terracotta jaali and wooden panelling.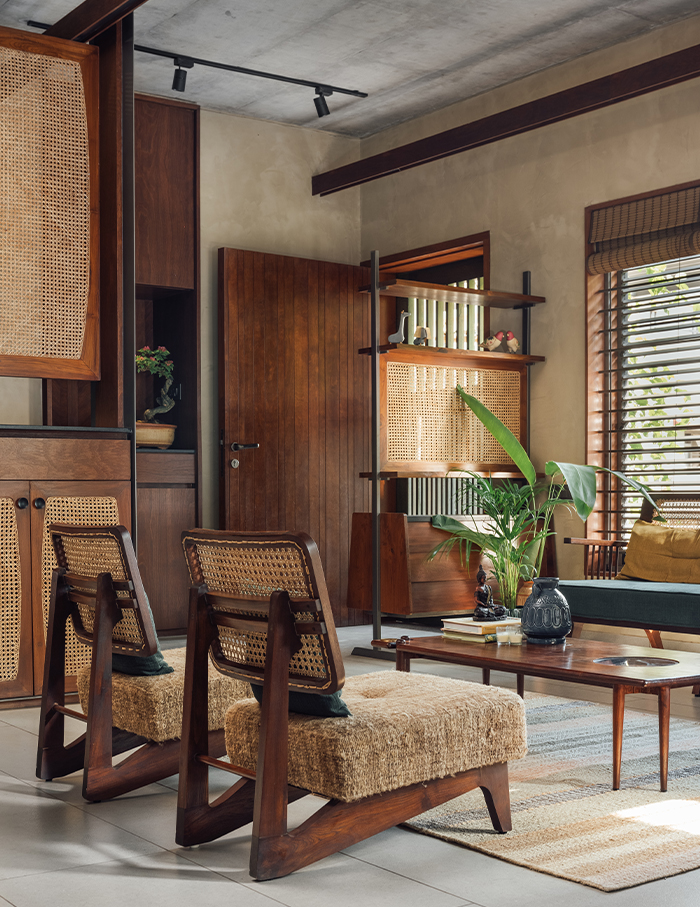 The foyer opens up to a spacious living room that breathes a raw earthy air into the house. With a soothing sepia colour palette coupled with shades of olive, this subtle space is a fusion of mid-century modern and rustic tones.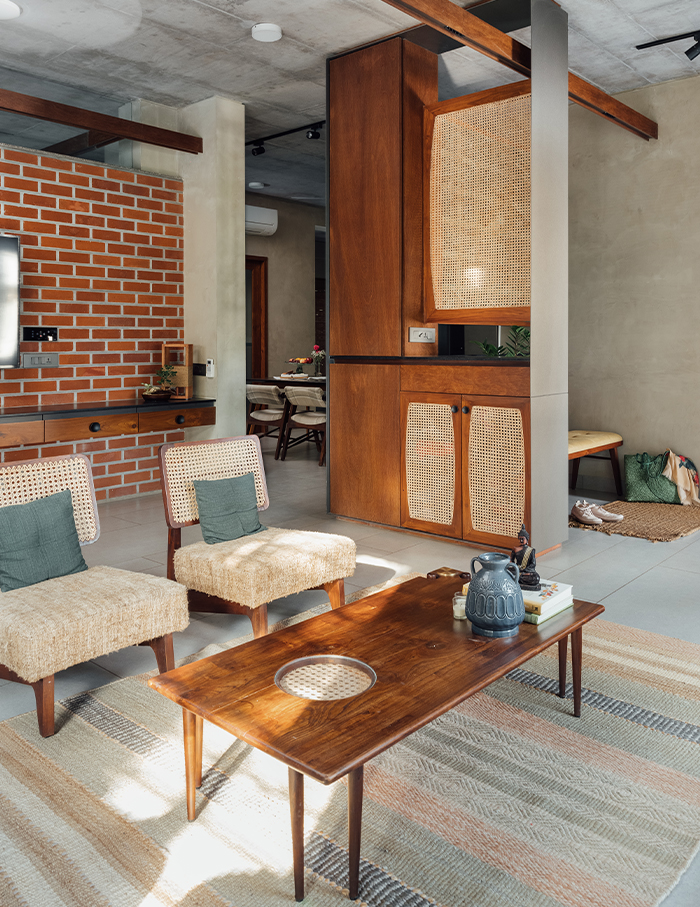 The residence has an affinity for wooden and handmade elements. As a result, visually light teak furniture pieces with tapered or squared legs, upholstered in shades of blue, ochre and brown, rest on grey vitrified tiles.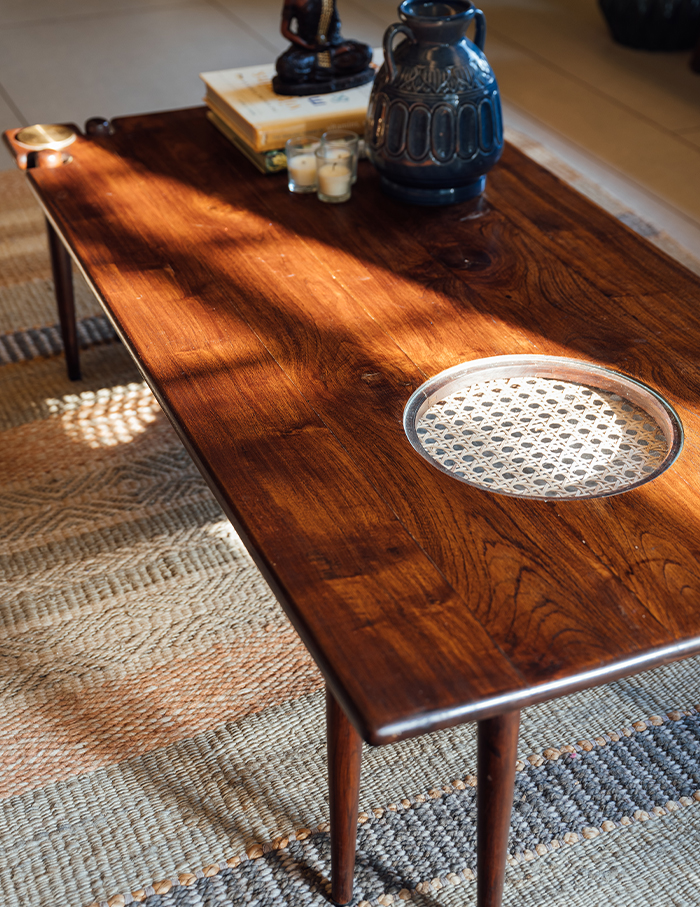 The homeowners love to host, so the dining area is placed centrally. It's given a relaxed vibe with pigmented stucco finished walls and soft-edged furniture that's customised by the practice.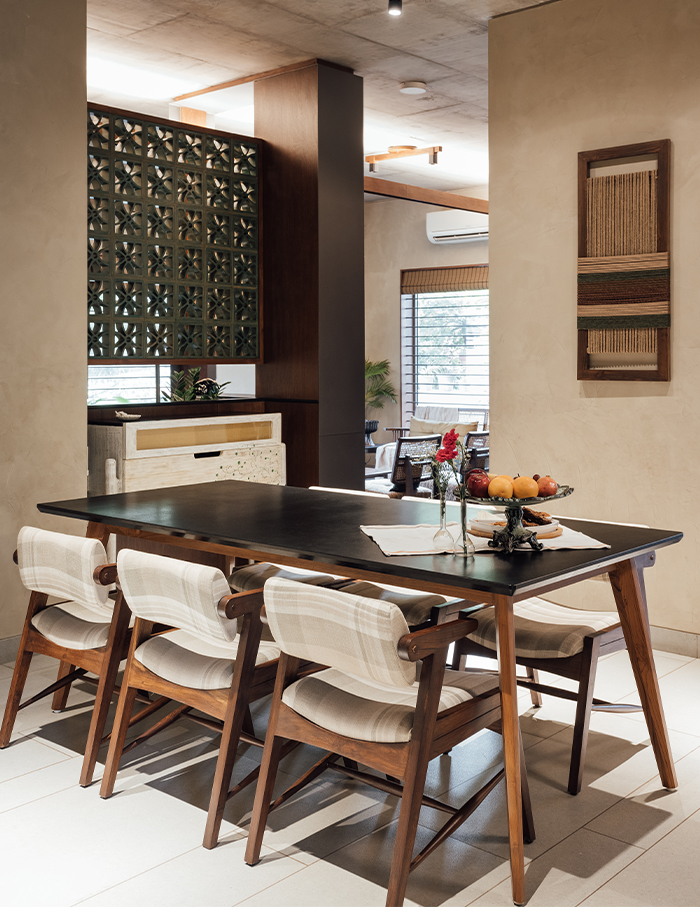 An exposed concrete ceiling runs across the ground floor. An interplay of light and shadow highlight handcrafted furniture pieces from The Thumb Impressions and Tectona Grandis take cover underneath.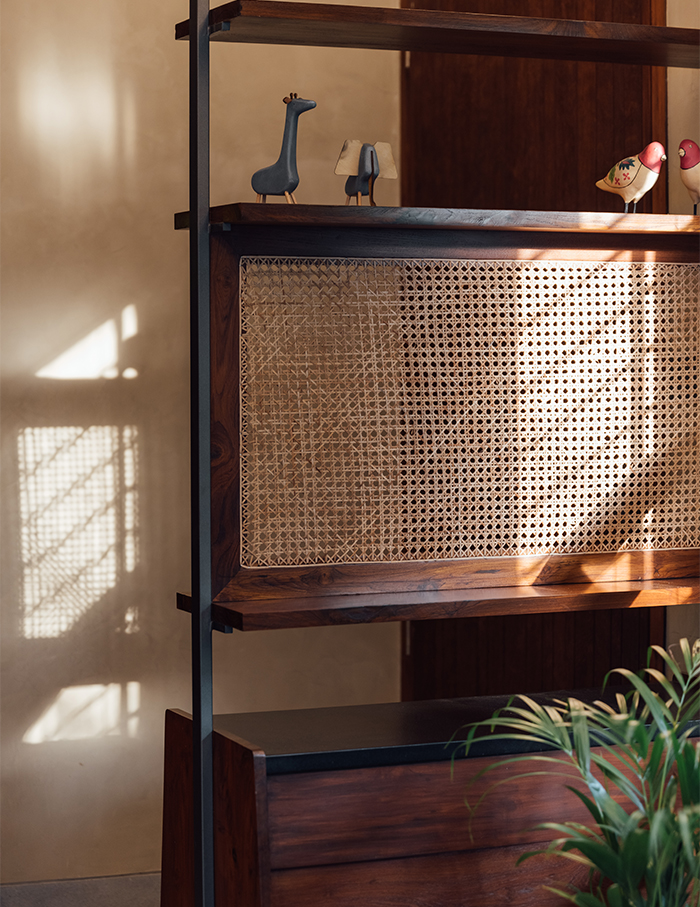 "We follow our heart and listen to what the space conveys. Our focus here was on being raw and using handmade elements. The traditional internal doors in glass and fabric inlay are definitely the most distinctive feature in this abode," add the Champanerias.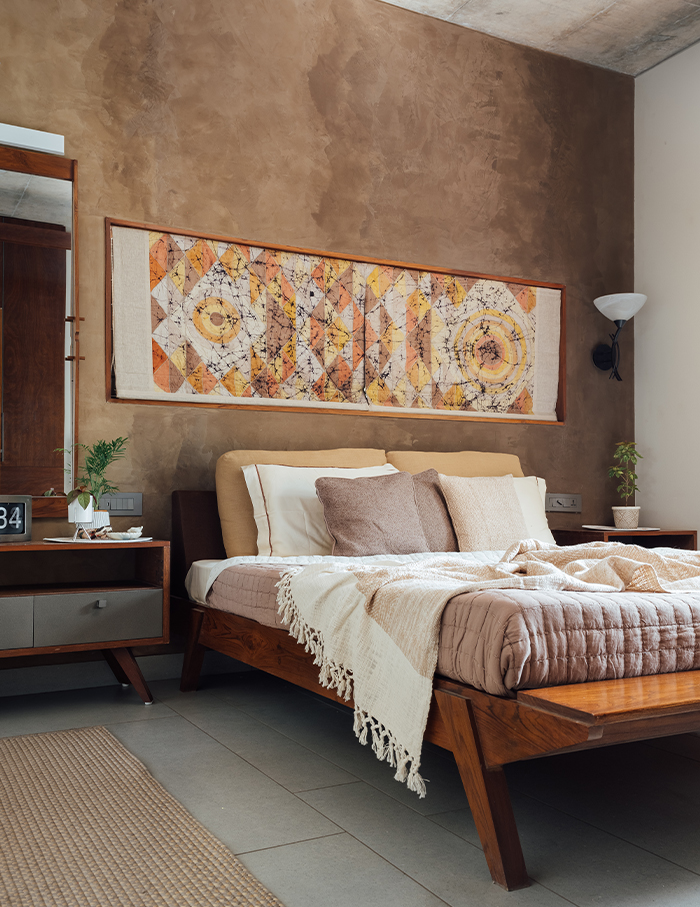 Additionally, the lower level also includes a prayer room and a bedroom for the family's eldest. The latter features a low teak bed and above it, a horizontal window is covered with a batik print fabric blind, designed by Jaba, which also serves as a wall-mounted artwork.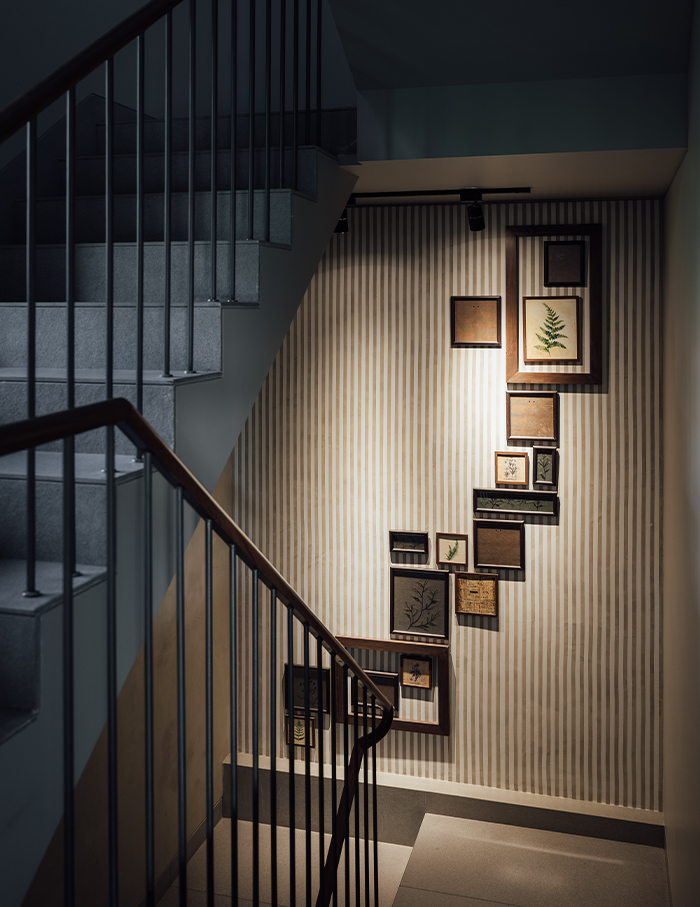 The upper floor is accessed via a stairway. Here, a white striped stucco painted wall, displaying a collection of framed leaves, flowers and artworks. On the landing, the corridor is an ode to the family's previous dwelling with old wooden louvres and original furniture legs repurposed as shelves and decor.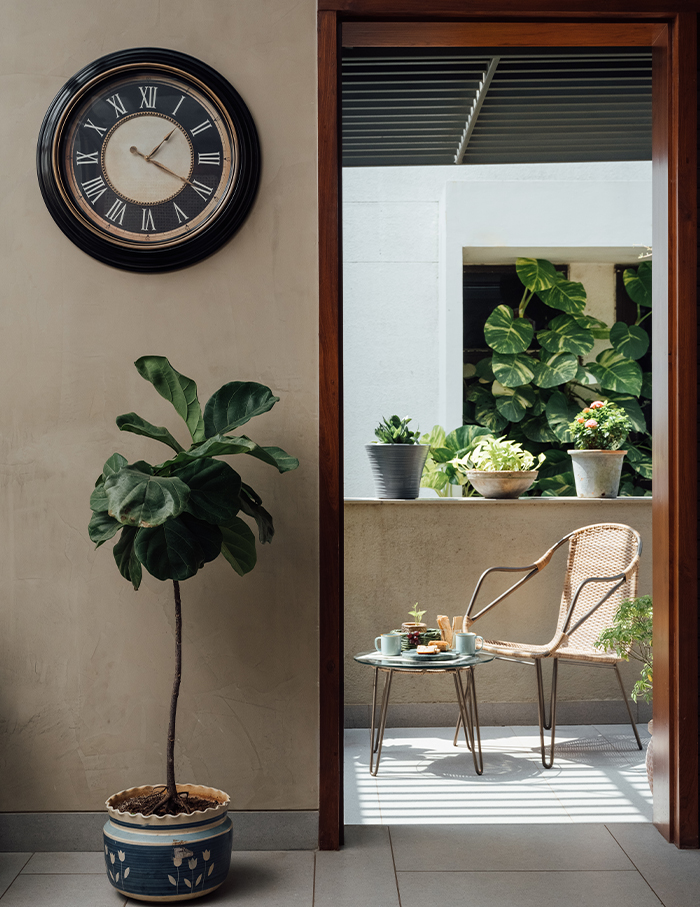 On this level are three bedrooms, all of which feature attached balconies. Working along the same lines of a raw soothing palette, these spaces experiment a little with their varied accents.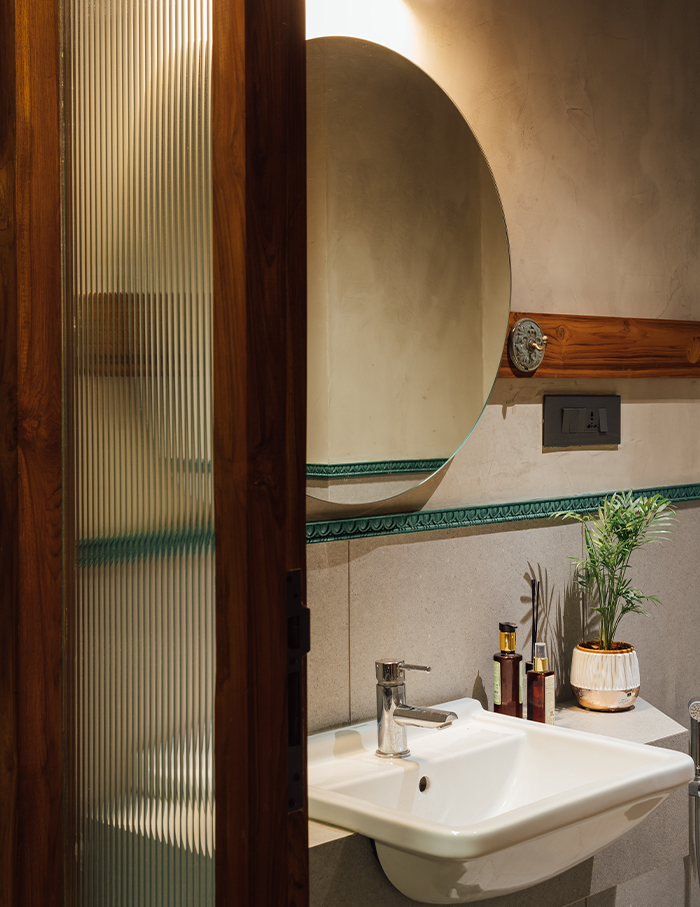 The daughter's bedroom is complete with soft pastels and a blush pink palette along with wooden and rattan furniture as well as striped chatai blinds, handwoven by khadi artisans.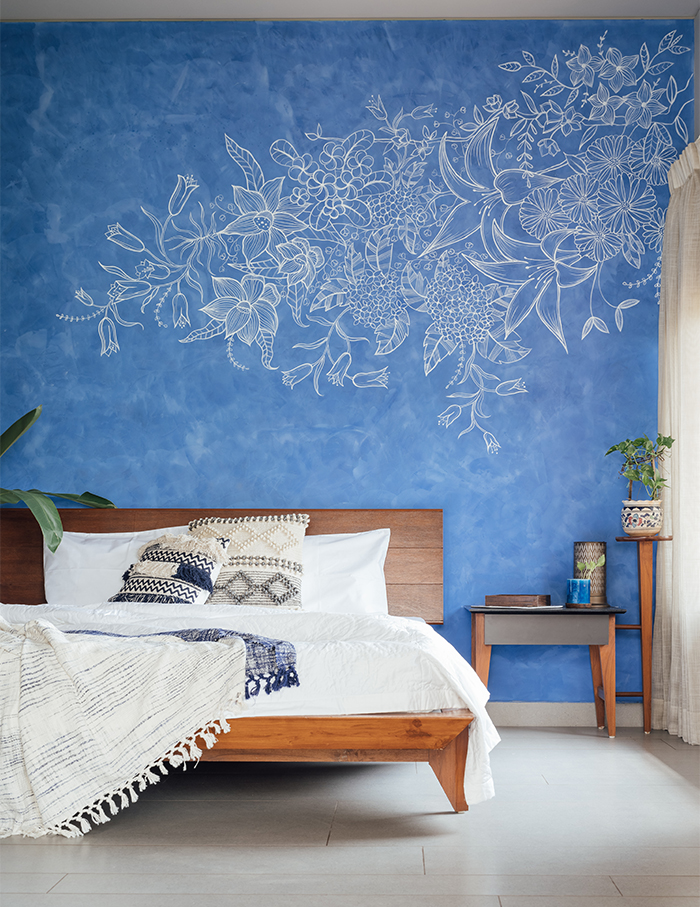 The master bedroom is vibrant, owing to the fresh indigo stucco wall finish and delicate white foliage by Rogan. Intricately knitted fabrics, elegant choice of materials and embellishments paired with a tinge of green planters resonates with serenity and calmness.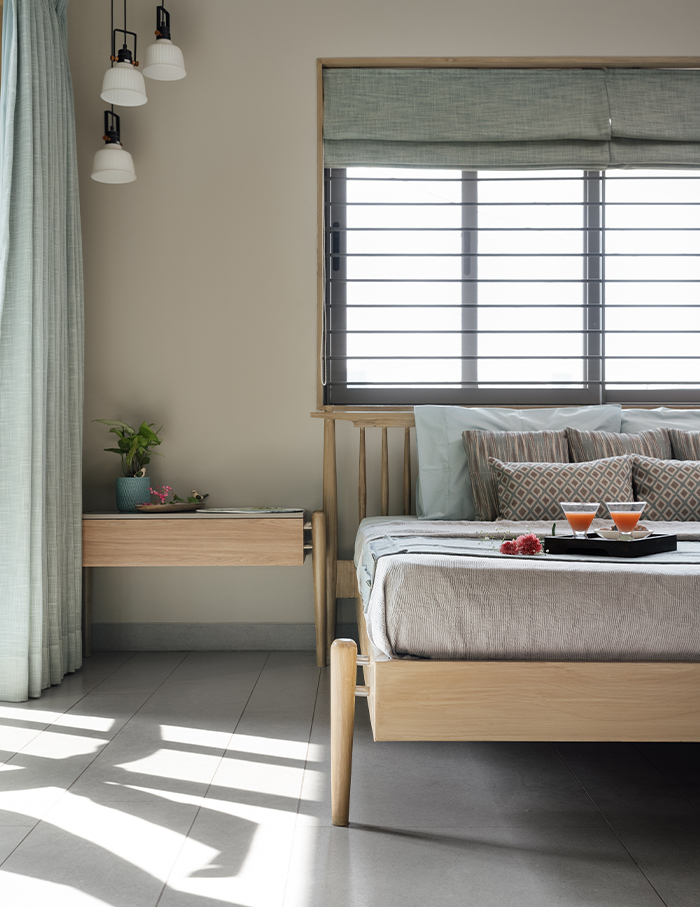 The third bedroom, designed for a visiting family member, features minimal furnishings. It digresses a little from the palette of the house and is, instead, dressed in neutral hues. The dresser, wardrobe and study desk are integrated into a continuous piece of furniture by interspersing functions.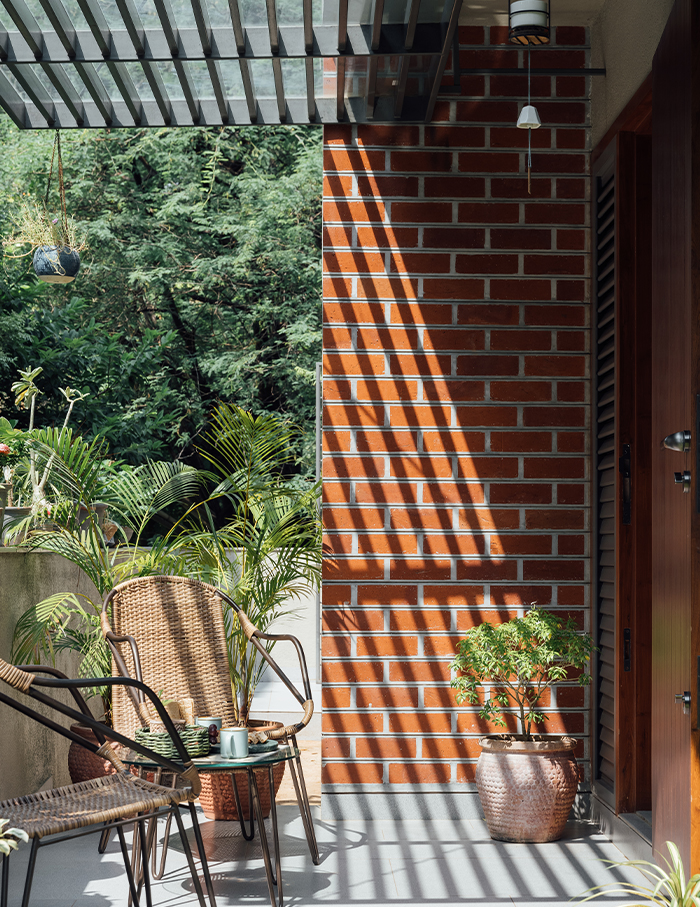 All in all, the modern typology of the residence is balanced by its vernacular counterpart in materials and interiors. The house's character is obvious right from the entrance, where a handmade name plate inspired by iconic artist SH Raza's work, is placed on a terracotta background.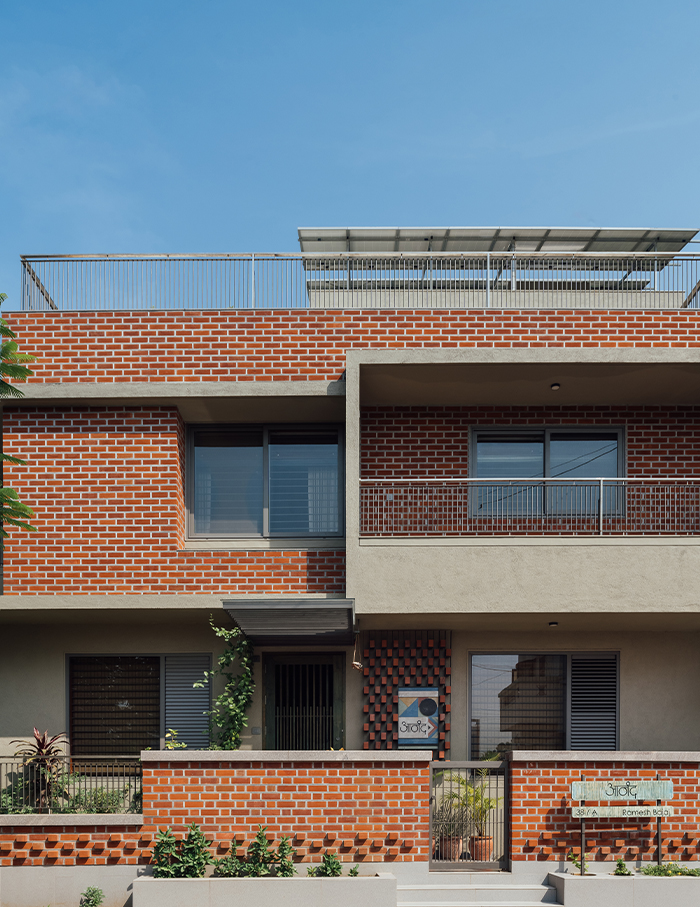 "The challenging part was the junction between the entrance foyer, living and dining areas," say the designers, adding, "They were initially planned with brick walls and columns but we replaced them with fixed customised furniture pieces and partition screens to bring in transparency and a visual connection." Not surprisingly, the residence in its entirety unfolds like a graceful woven fabric, handcrafted with love, warmth and emotion.