Homes
Punctuated with beachy aesthetics, this wooden outhouse by Drishty Vaswani & Sidharth Khanna of SAND is a visual treat!
MAY 18, 2021
| By Vedika Nair
As we stay cooped up in our homes, spending our days reminiscing, a tour of this cove in New Delhi makes us nostalgic! Fashioned by Drishty Vaswani and Sidharth Khanna of SAND, this wooden outhouse is peppered with sandy hues, muted materials and memories of the beach!
Housed within a two and a half storey bungalow in Vasant Vihar, the outhouse was incepted by extending the top floor and integrating the existing structure with a new one. Already comprising of a primary bedroom, bathroom and lounge, the designers gave the 800 sq ft outhouse an entry foyer, a living cum dining space, along with a kitchen and bathroom.
Home to a professional golfer and his family, the abode is conceptualised with a contemporary chic aesthetic infused with practicality and functionality.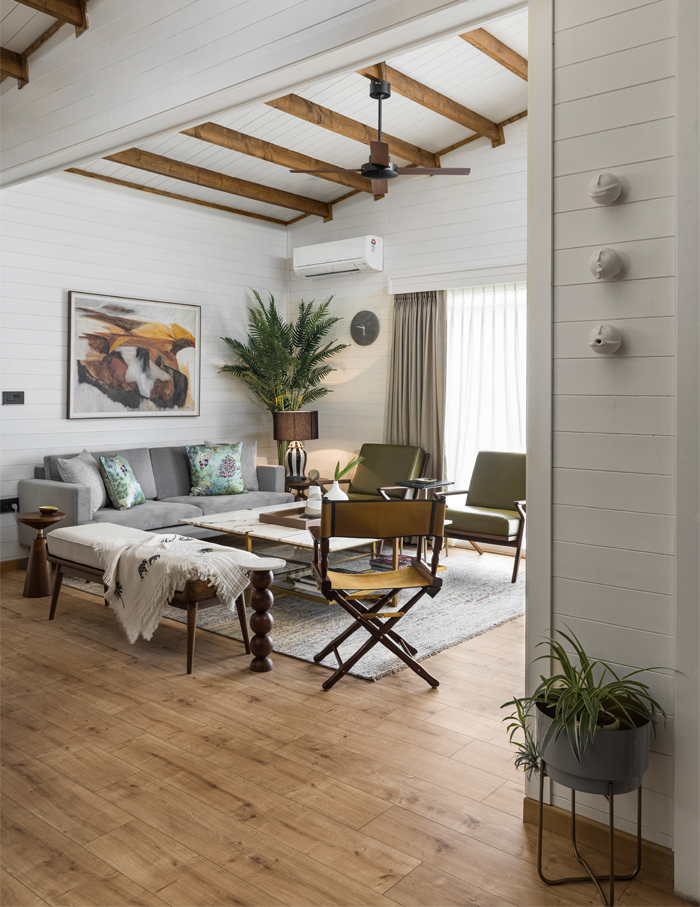 A dual-toned staircase leads us to the entrance where a botanical painting with planters on either side demarcates the shift of design between the lower levels and the outhouse. Further, a modern fluted glass French window panel has been used in place of the classic wooden windows.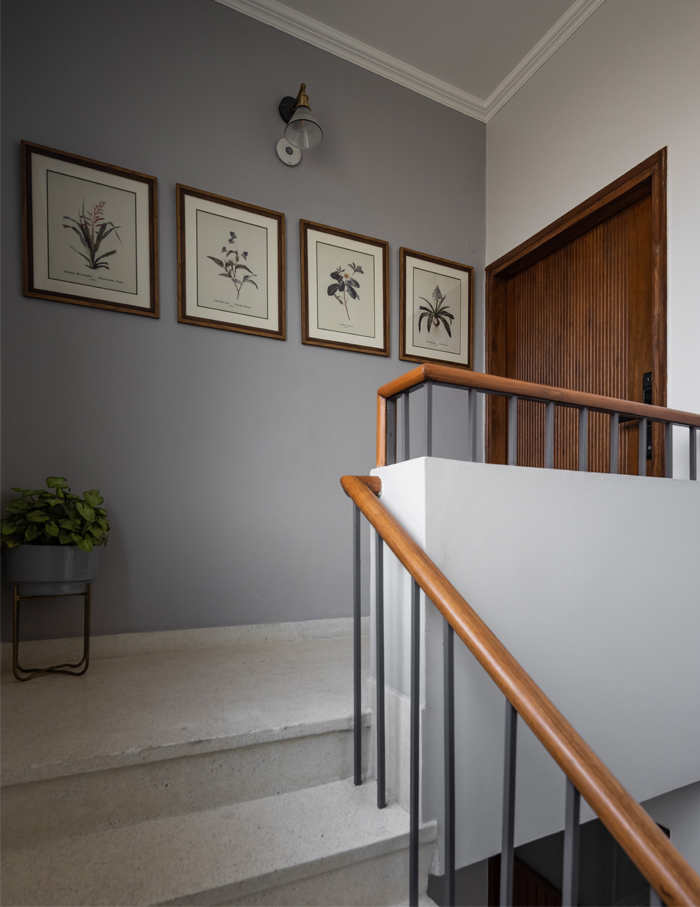 A set of botanical prints complement the space and are illuminated by a Lap & Dado pipe glass light. A bespoke mango wood fluted door leads us inside into a passage that offers a view of the outhouse.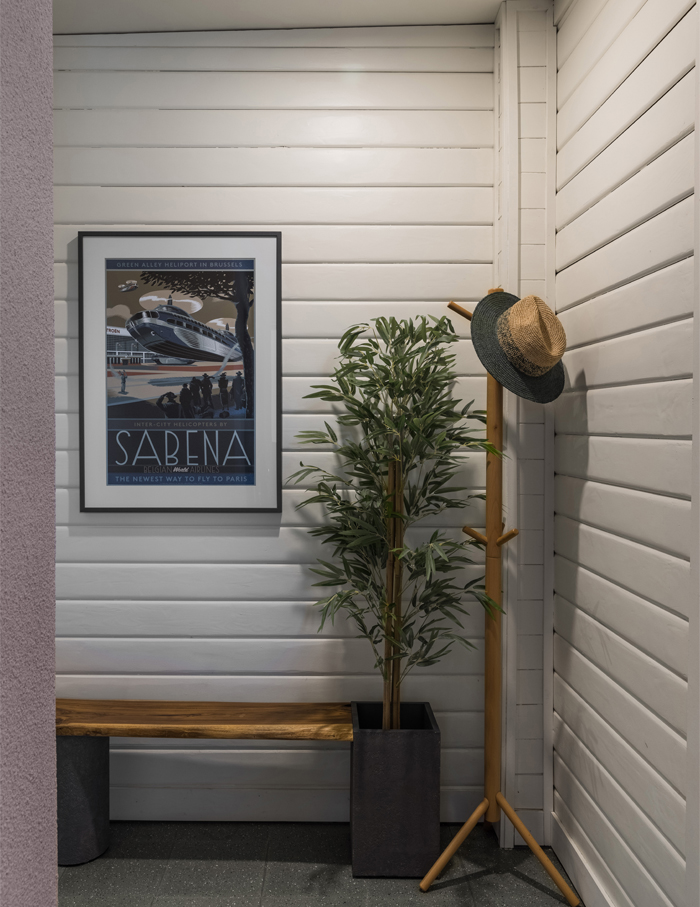 Hints of green terrazzo are seen in the home and balconies, along with a grainy pink textured paint by Asian Paints. The space is furnished with a bench from Objectry, modern art and essential items.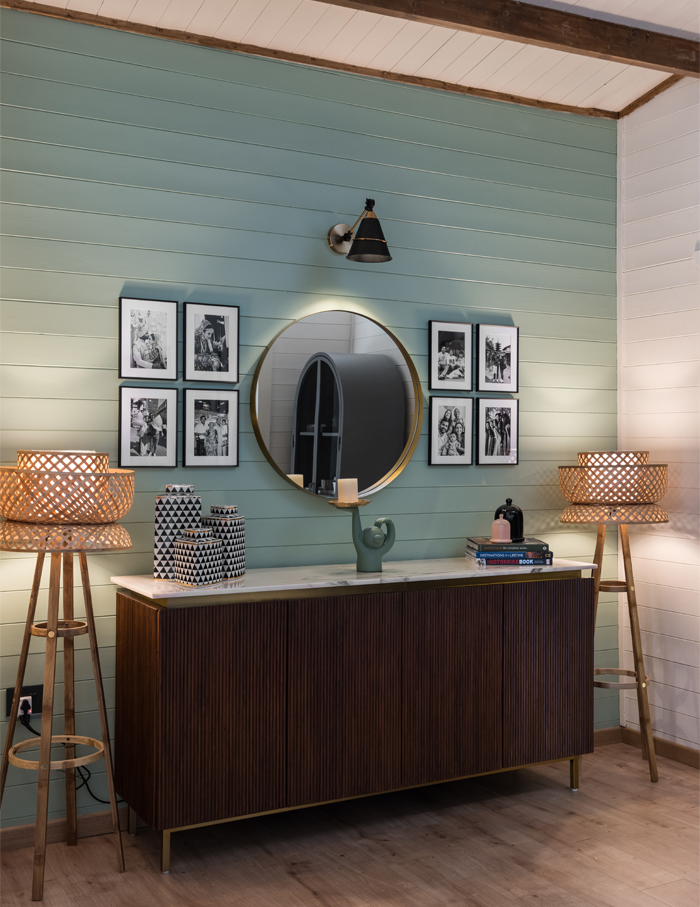 The entry foyer is decked with a wall cloaked in moss green, highlighted by a bespoke fluted teak and brass console as well as bamboo lotus luminaires by Studio Mianzi. The moss wall is further accentuated by a set of monochrome family portraits and a round brass mirror.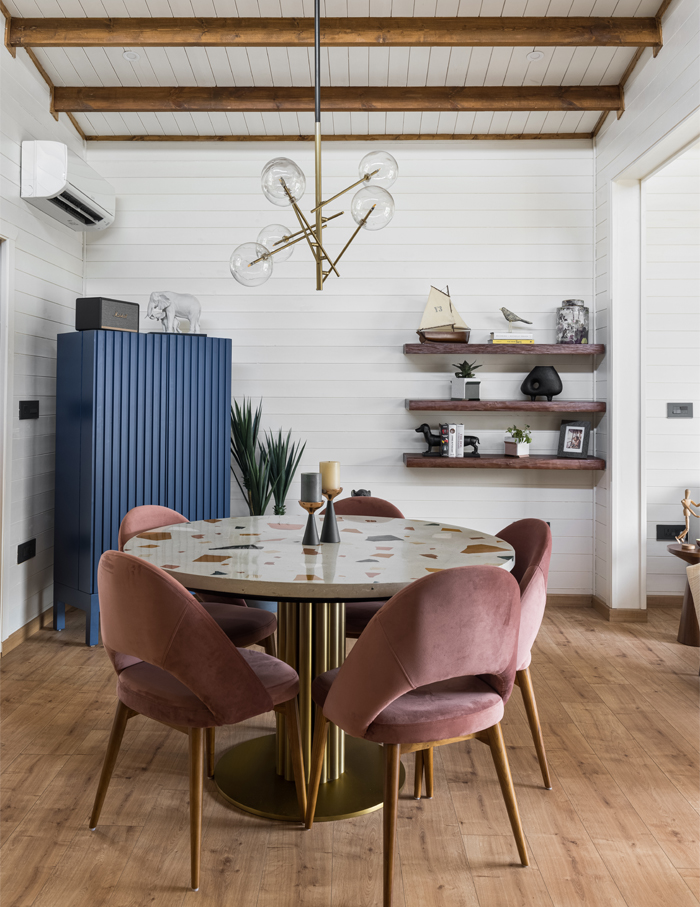 "The house breaks away from the conformity of matching colour schemes and materials. Overall we have infused a host of colours and textures across the space while balancing it to bring about a contemporary look," shares Vaswani.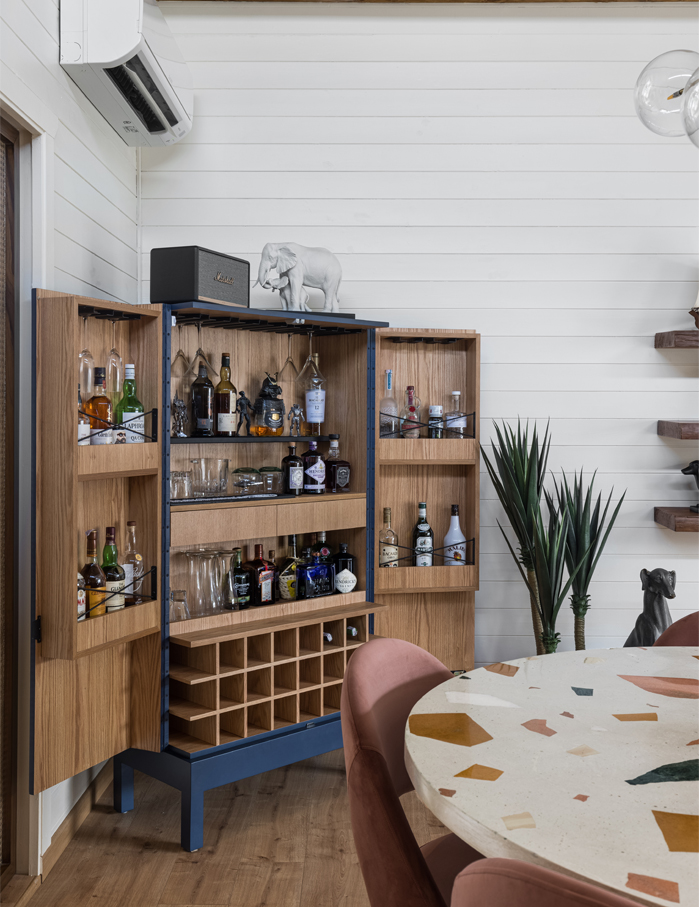 Meandering inside, we step into the dining space dressed in a sleek grey powder-coated mild steel and wooden crockery cabinet in an arch shape. Offsetting the cabinet is a colourful wine print along with teak and cane side panels marking the kitchen entry.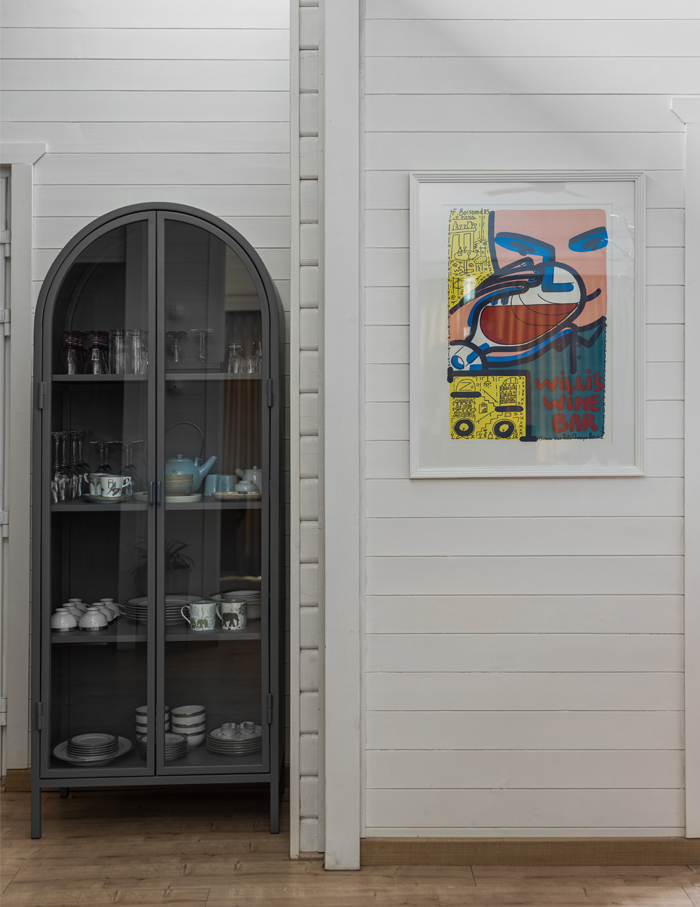 A custom made chipped round terrazzo dining table by Parman Designs is paired with Iqrup & Ritz chairs in upholstered rouge tint. A low light glass bubble chandelier from Aerglo Lighting balances the room's elements and a deep blue bar, custom coloured by SPIN sits in the corner.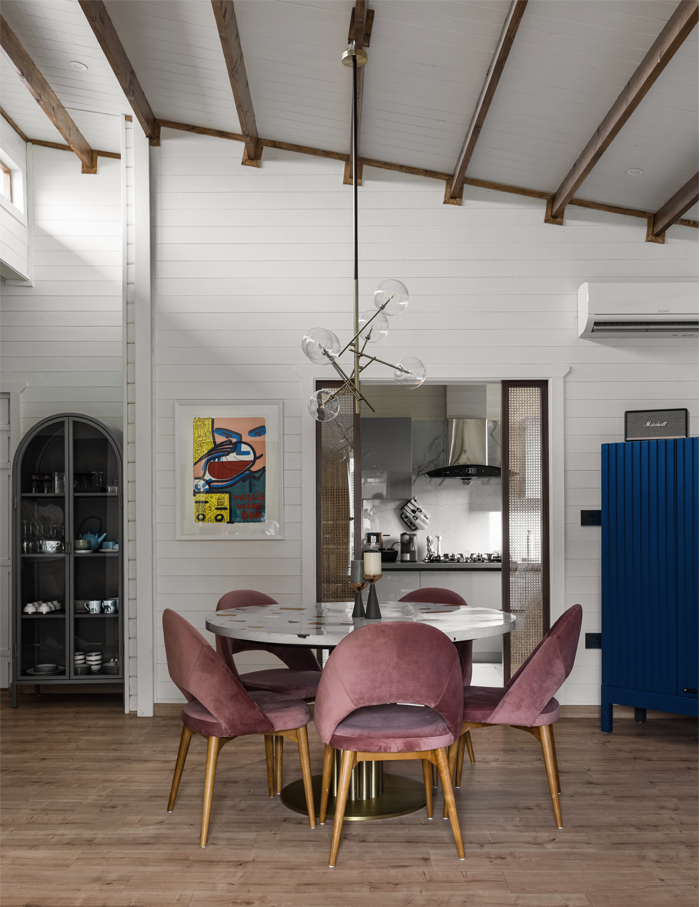 The living room features an array of collectables on a set of live edge wooden shelves along with a Scandinavian inspired grey sofa from Nivasa. Junin chairs in custom Italian olive leather from Lap & Dado, peg tables, a usable Michelangelo marble tree, a teak bench and a pop yellow camp chair by J&R Guram add character to the space. An abstract piece of art by Sujata Kar Saha binds the space together with a hand-knotted carpet by Kaati.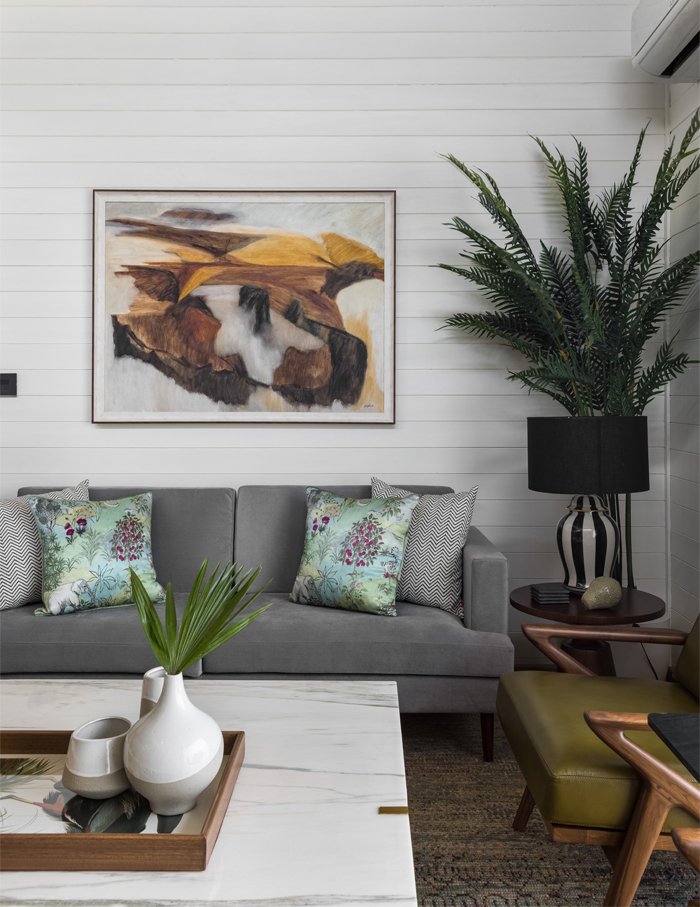 A set of three Claymen's clayheads greet us at the entrance of the cosy guest room that will have you wishing you were by the beach! We love this space infused with nostalgia and serenity, featuring a custom cane bed in vintage brown stain from Nivasa, paired with cement jute lights from Oorja, vintage ship prints and a leather ottoman trunk.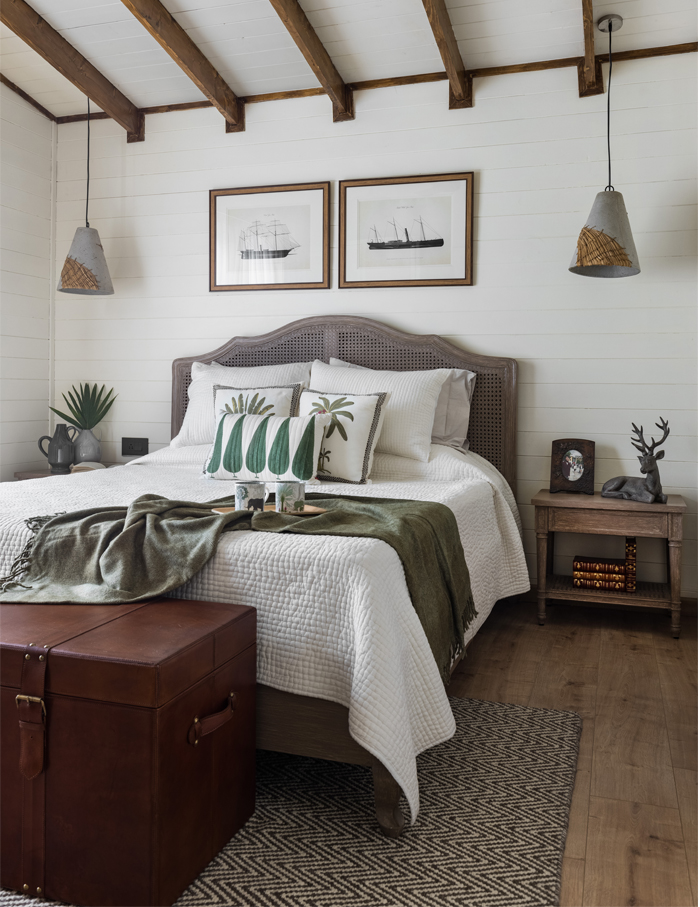 "Even though the palette for the bedroom has been kept neutral, we have layered the space with various textural materials such as rattan, wood, leather fabric and hints of jute and concrete to create depth and character," adds Khanna.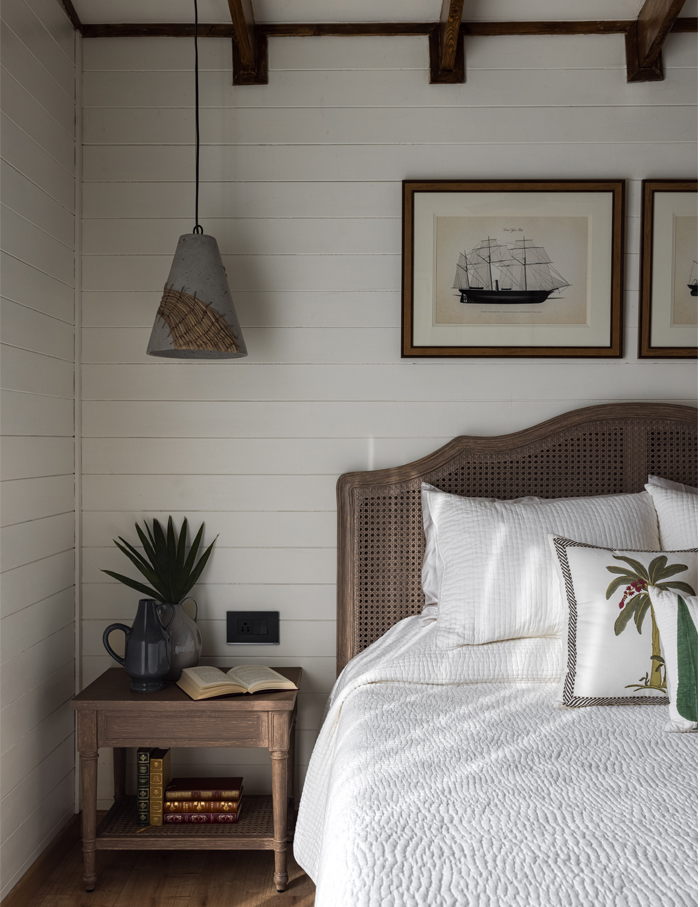 Binding the bed area is a chevron rug and an ivory Kantha bed cover from Sarita Handa along with classic botanical cushions from Good Earth. Soft light filters through the light sheers and one can enjoy their time reading on the J&R Guram desk chair, kept compact and sleek to suit the cosy space. Memorabilia on the walls are coupled with a Studio Mianzi bamboo basket on the desk. The cupboard comes with an exposed shoe rack and has been made in rattan with a vintage white stain to add a rustic vibe.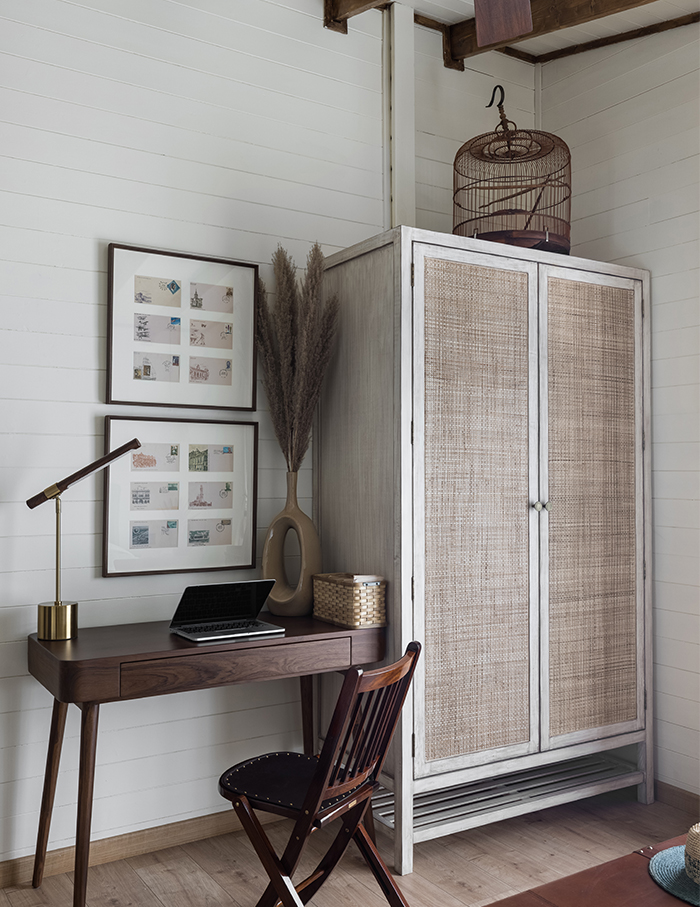 "Our company foundation and name—SAND, is based on our ability to mould into different styles as per the needs of the project and client. We aim to translate stories into spaces and create something that is visually appealing yet functional irrespective of the design direction and nature of the project," conclude the designers