Homes
Placid Penthouse by Studio Yamini is peppered with a minimal setting and a pristine charm
MAY 19, 2021
| By Saloni Rege
Minimalist, timeless and modern—best describe this Placid Penthouse, a stunning expanse weaved together by the creative duo Mehul Shah and Mitul Shah of Studio Yamini. We love how the abode renders a tranquil vibe and a serene charm, suggestive of its moniker.
Nestled in a prime area of Vadodara, this 2,300 sq ft residence is engulfed in a paradise of green belt. To make the most of this view and abundant daylight, the architects have oriented the house in an east-west direction.
"The client wanted a comforting and simplistic home to live in that's defined with clean lines and minimalism, but at the same time is far away from being banal," share the founders of Studio Yamini.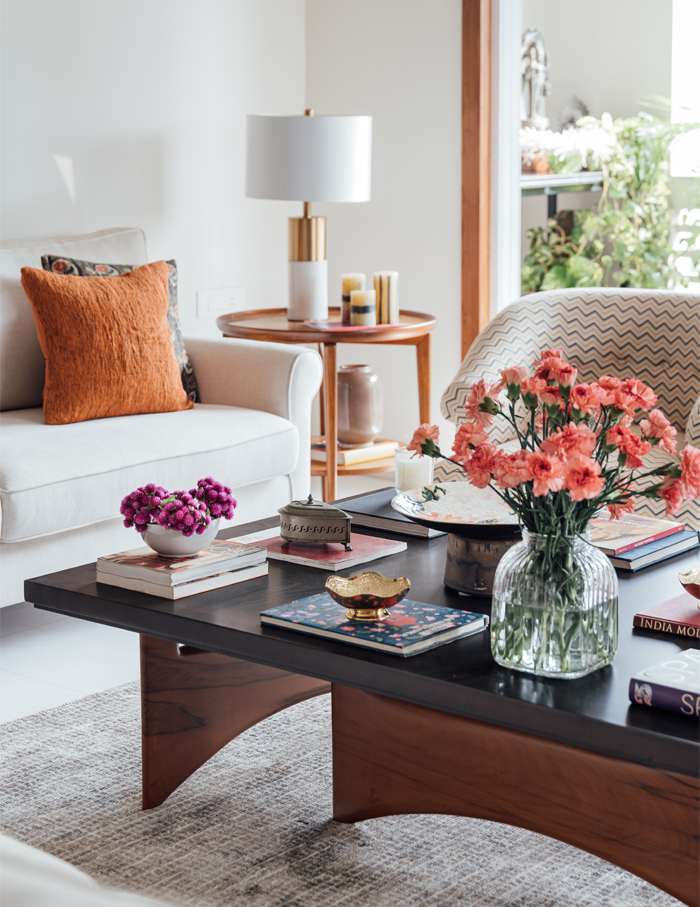 Dissecting the blueprint of the penthouse, the lower floor comprises a living area, kitchen, dining, guest room and an interesting terrace that serves as the perfect unwinding zone. While on the upper level, a master bedroom, daughter's room, family lounge and a cosy library cohesively settle in.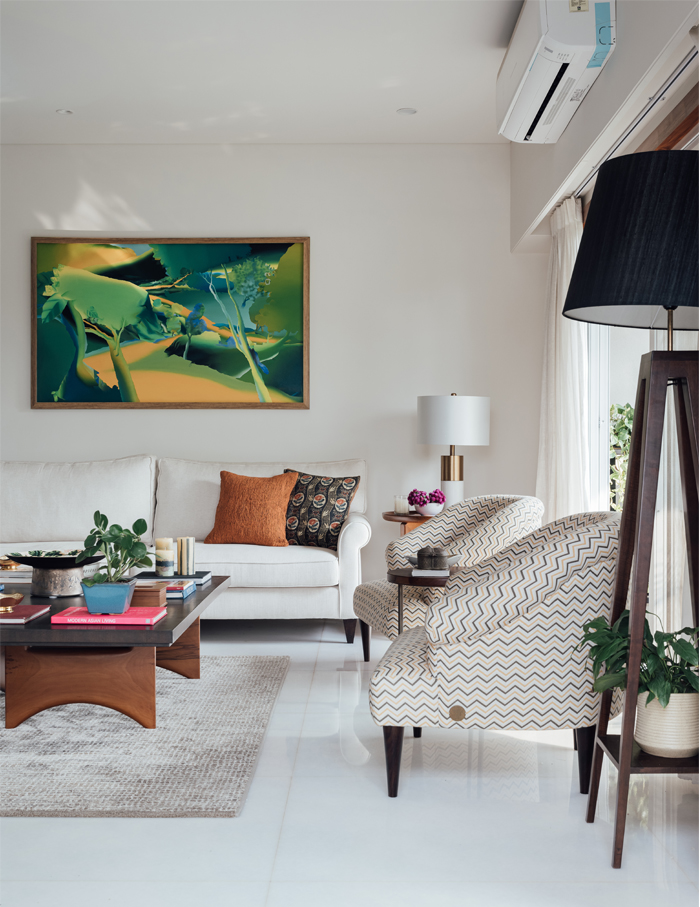 Striking a perfect balance, the living room houses a formal space and an extended informal zone, in addition to the terrace that is accessed from the drawing area. Enveloped by a muted palette, the area is highlighted with a splash of vibrant accents and greens. A light cream sofa is paired with arm chairs that flaunt the aztec print, all of which rest on the pristine Ambaji marble.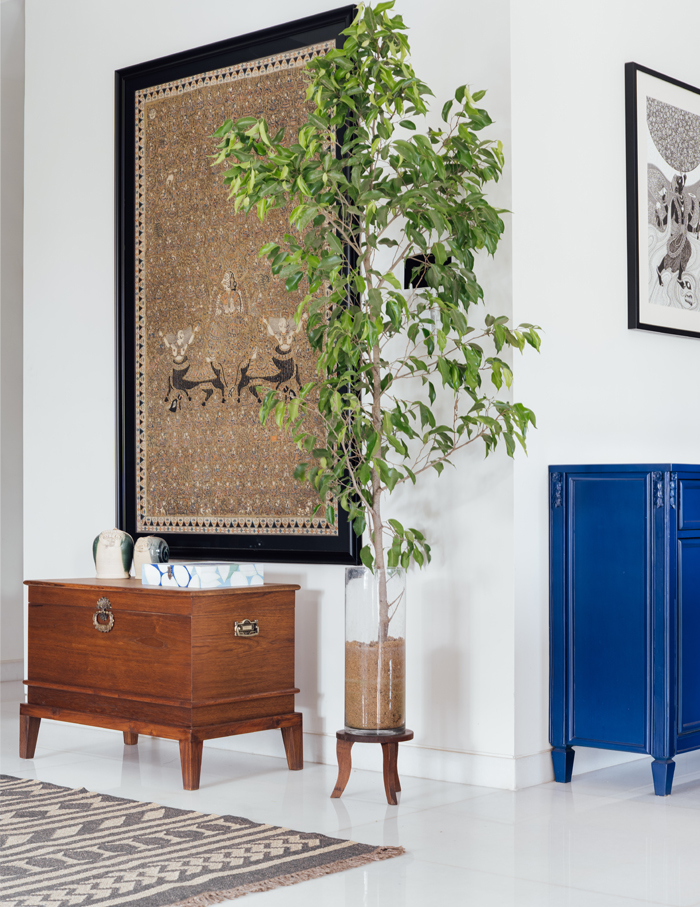 The most prominent attributes across this residence are the teak wood consoles embellished with decor pieces and wall artworks, crafted by the local artisans. The living room and its integrated surrounding areas use flexible and loose furniture that can be rearranged as per the homeowners.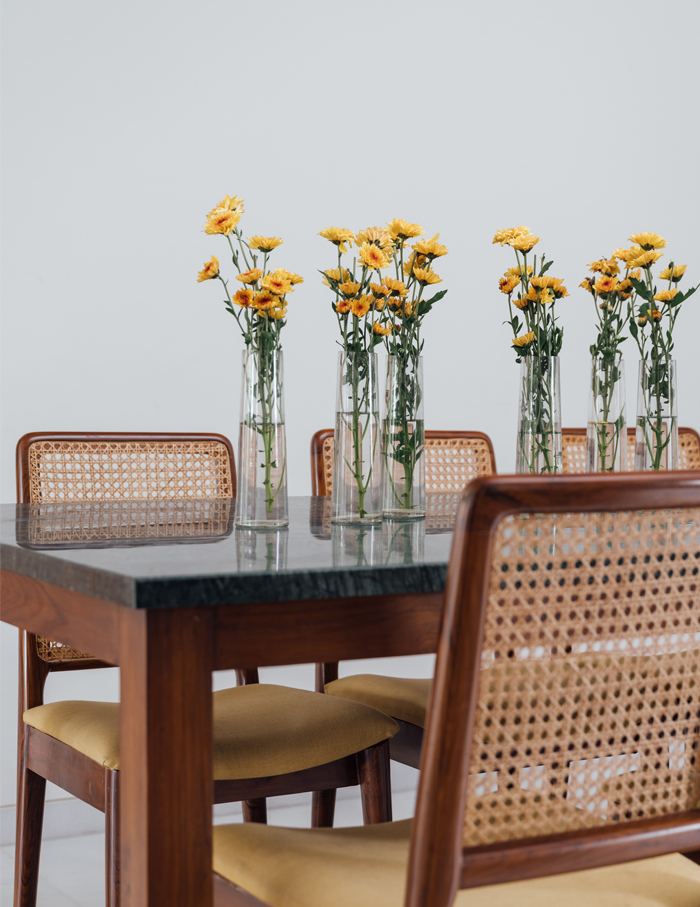 A dining ensemble features a teak wood table, finished in Baroda green marble top, which is paired with dining chairs that are dressed in ochre shade, upholstered seat and a wicker back. Wrapped in light ivory tones with teak wood cabinetry, the kitchen is enclosed by a sliding partition in wood and fluted glass.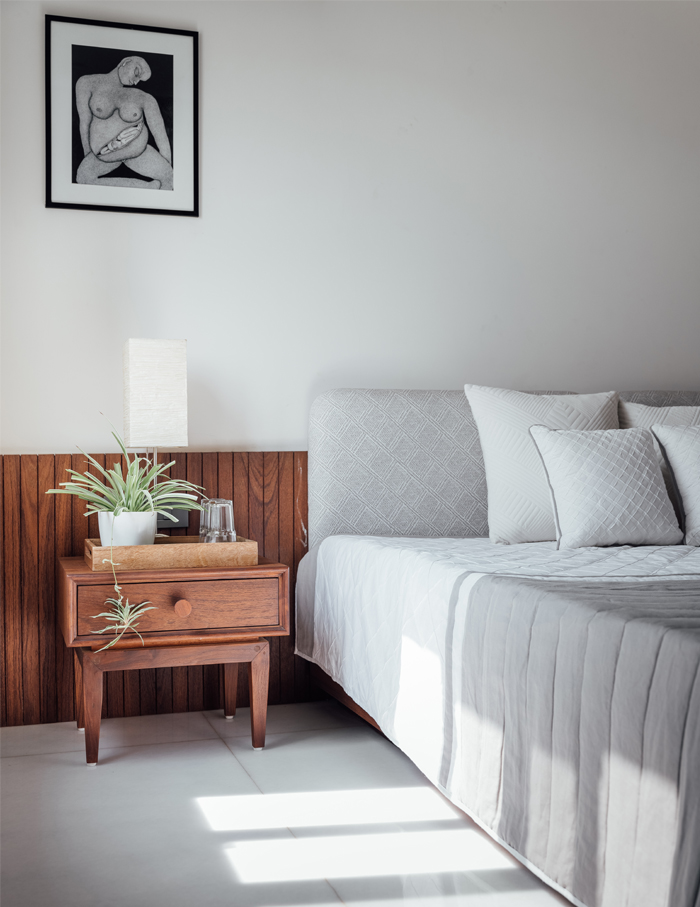 The guest bedroom renders a subtle essence of calmness with its off-white bedding and fabric headboard, complemented by the rustic timber side tables and back panelling. The wardrobes are finished in teak wood and veneer and a play of light and shade is observed on the continual Ambaji white flooring.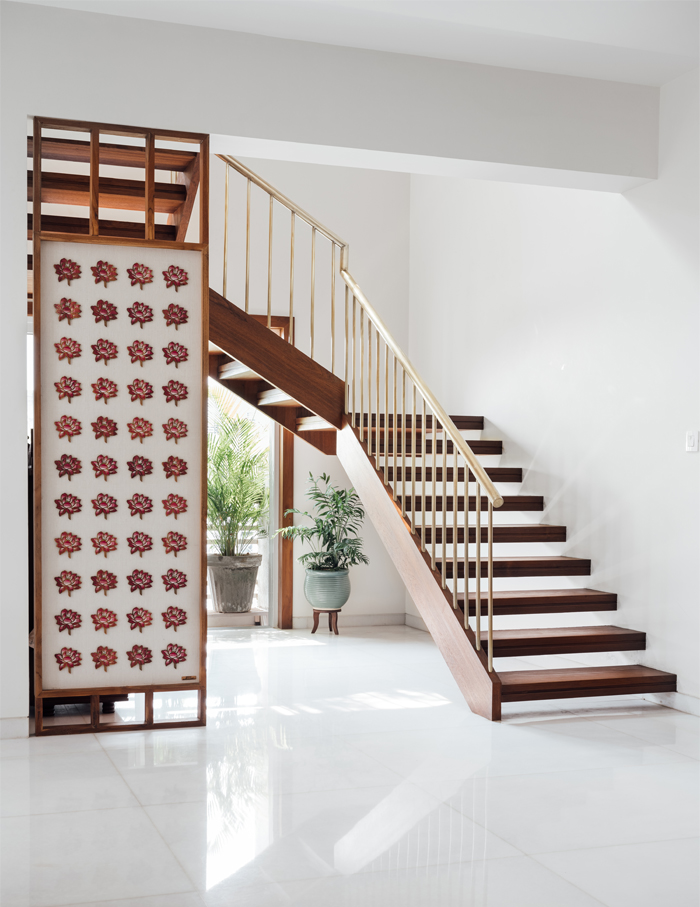 "We believe that our country has a lot of craft which can be interpreted to suit today's modern lifestyle. We try to revive these age-old craft techniques and in this house, the lotus screen is one such element. It is a free standing partition with Pichwai style motifs that are hand embroidered, individual wooden blocks. The screen adds an interesting character to the space," share the architects.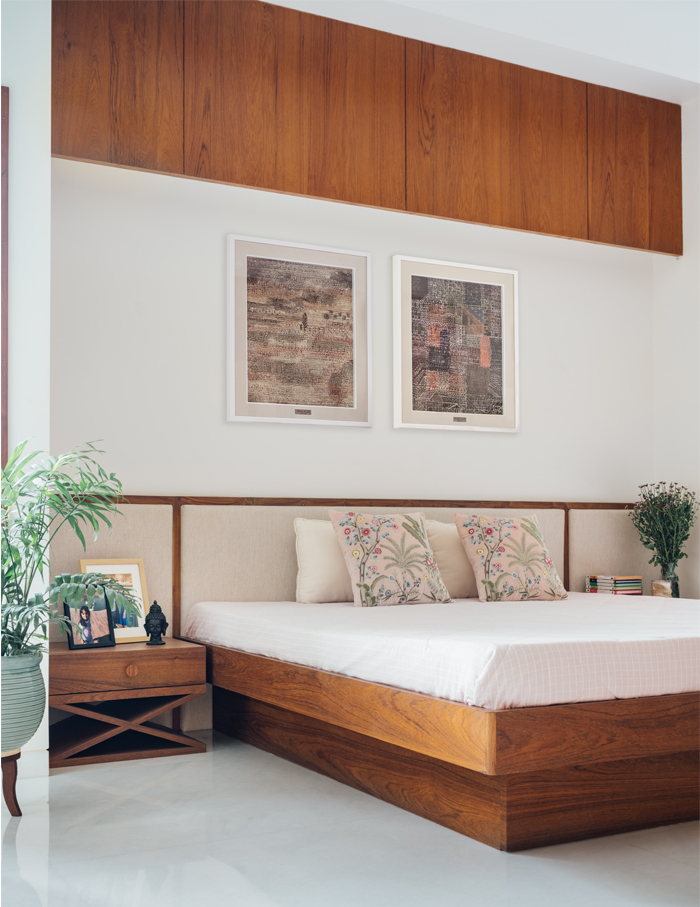 Traversing the upper level, the main bedroom uses—light colour tones, off-white painted walls, teak and veneer furniture, fabric headboard, spotless Ambaji white flooring and indoor plantations. The balcony further spills a shade of daylight into the room. On the other hand, the daughter's room houses a subdued palette, customised furniture and bespoke timber wardrobes, in filled chatai panels and finished with mono-coat polish.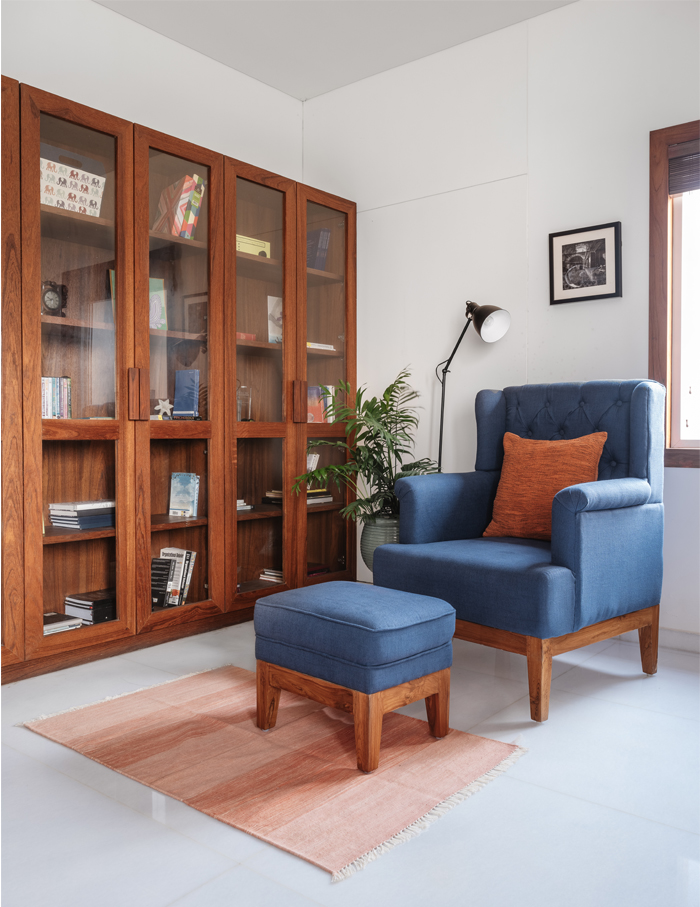 Realised as a casual space, the family room exudes a warm material palette, thanks to its teak wood flooring and light olive green sofas! Further enriching the penthouse with its spatial layers and textures, is the library lounge. It consists of a cantilevered desk that offsets a white brick patterned wall, soft furnishings and an armchair and ottoman, designed by the firm themselves.
"It was challenging yet fun to bring out an inter-connection of spaces and still retain their identity. The entire penthouse is designed with an environment that the client longs to come back to, every single day. A house which will reflect their personality and grow with them," conclude the Shahs.