Homes
Perched on the icy Swiss Alps, this chalet by Sabrina Monte-Carlo makes a warm and luxurious nest
DEC 21, 2020
| By Aneesha Bhadri
Pristine slopes blanketed in snow, studded with coniferous tress surround this chalet, forming a frosty cocoon under a dazzlingly blue sky.
The roomy wooden cabin provides a lusciously warm and stylish refuge against the swirling icy drifts of the Swiss Alps, almost like a well-appointed viewing gallery that offers dramatic views of the alpine locale.
"We wanted to create a cosy, warm atmosphere with a predominantly white colour theme to blend in with the slopes outside, with splashes of red to make the rooms vibrant," says Sabrina Monteleone-Oeino, founder of Sabrina Monte Carlo, who designed the lodging this year.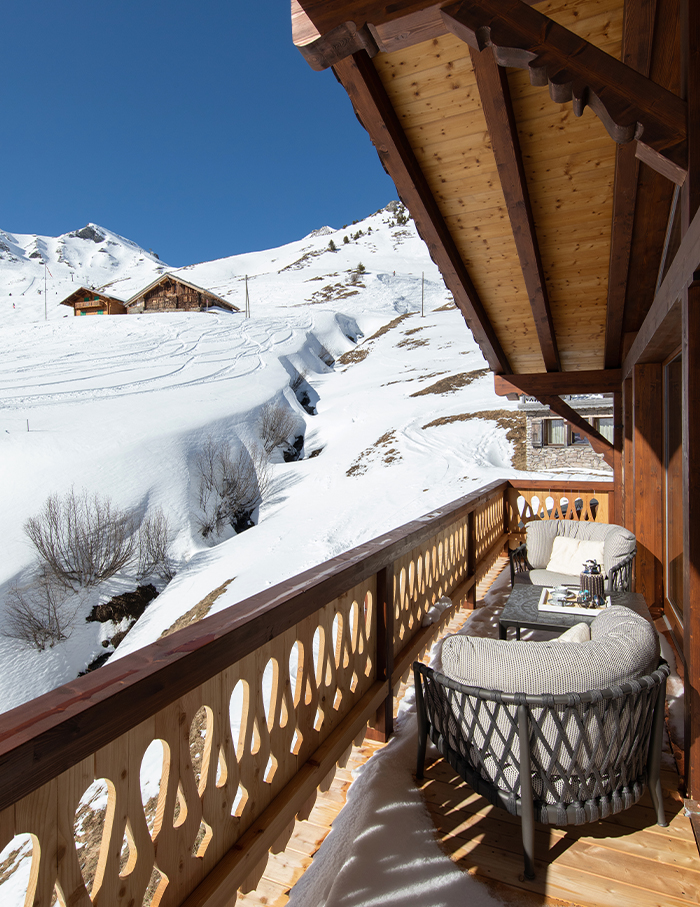 Surrounded by breathtaking vistas, the clients wanted the 4,306 sq ft chalet to be comfortable with a contemporary style, not distracting from the majestic landscape outside.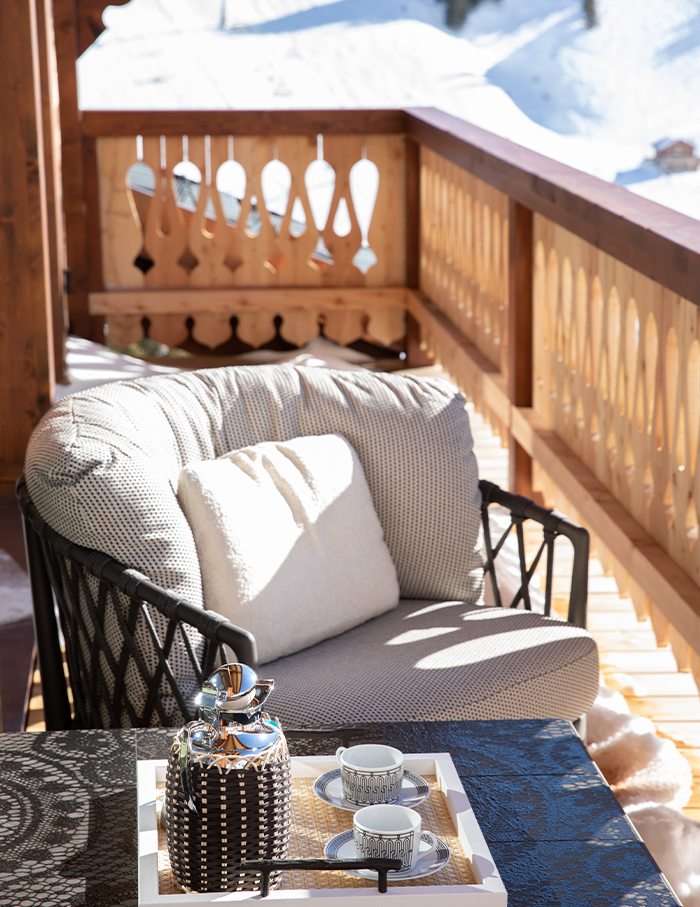 "The chalet enjoys a range of chic textures including cashmere, bouclé and Mongolian sheep, combined with contemporary materials such as calacatta marble, mirrors, bronze, wool, silk, velvet and crystal. The artwork was brought back by the owner's trips abroad. Lots of different fabrics and textures to lend warmth," says the Monégasque.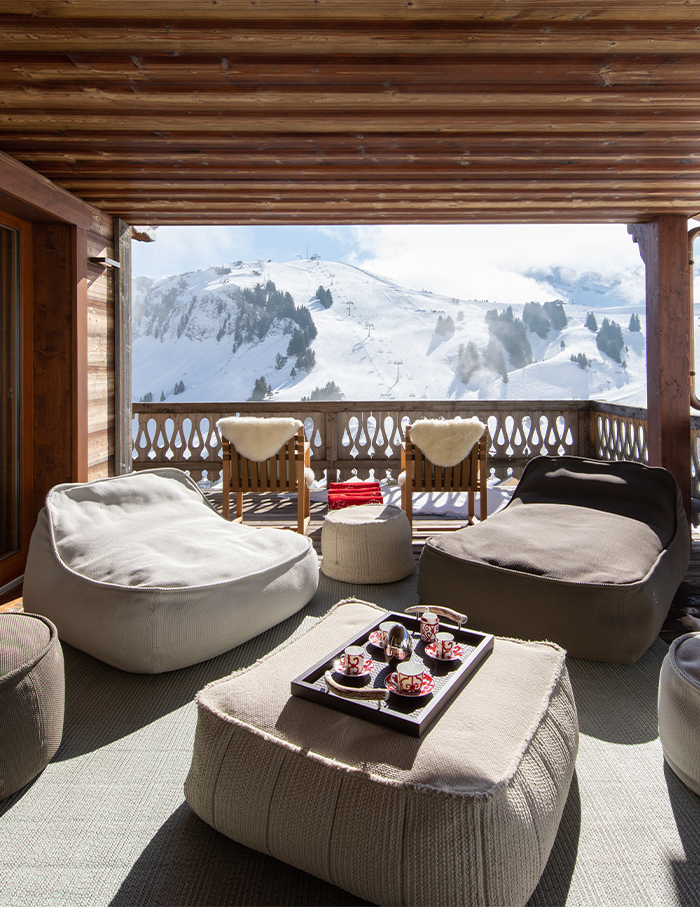 The ground floor has a ski room, two guest rooms and a sauna. One level up are the open kitchen, dining and media rooms adjoin a lovely winter garden. The private family quarters lie further above, all done up in different themes—a kind of white winter haven for the master, a rather eclectic twin bedroom and very Chanel guest bedroom.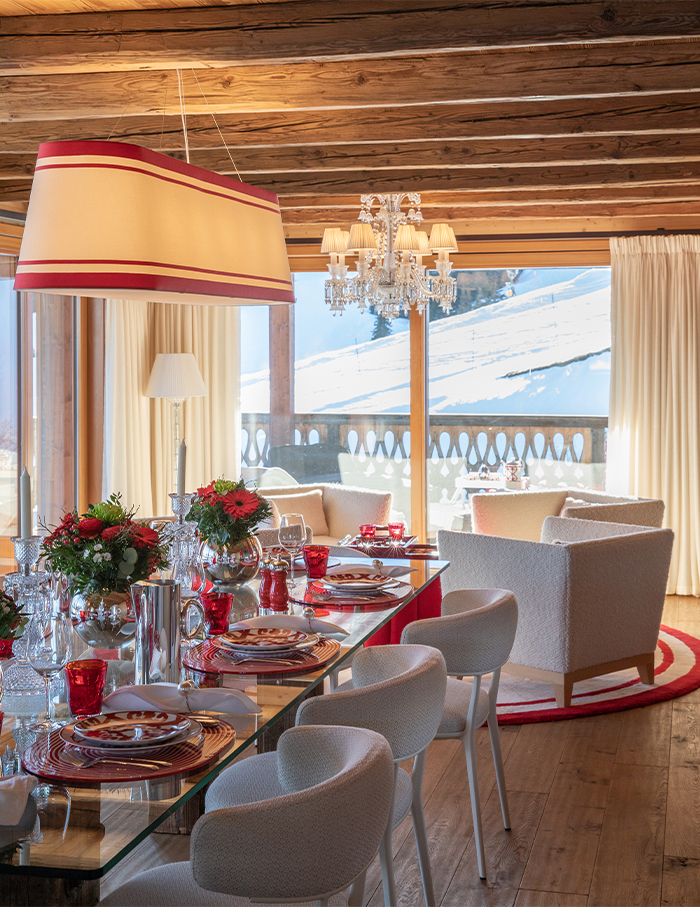 "My favourite spot would be the master bedroom, which is a cloud of white. We chose curtains with white winter trees to mimic the surrounding. With a fluffy carpet, faux furry armchairs, suede panels and textured wallpaper—all in different textures of white, it actually shows that white can be warm!" says Monteleone-Oeino.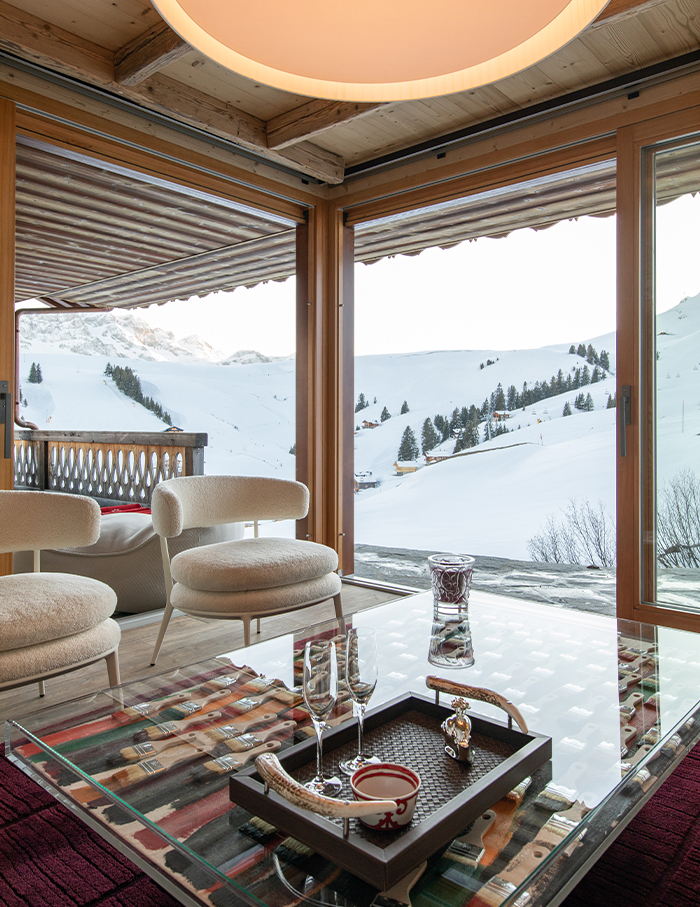 "We tried to craft a comfy yet sophisticated haven with beautiful furniture and lush, durable fabrics, so the family can keep it this way and just update it with special pieces or artwork.  However, we definitely touched upon the bouclé trend that we used to recover armchairs and used gorgeous prints like the iconic Skieurs from Pierre Frey, which forms a winter garden, perfect for apres-ski aperitifs and long breakfasts!" she enthuses.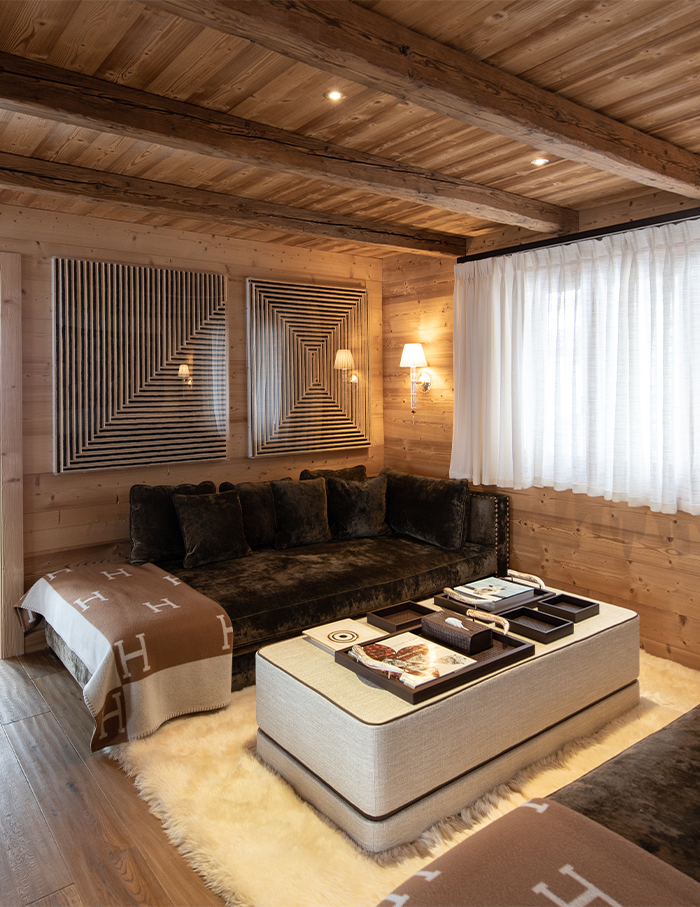 Each room has its own theme, depending on where it is located and for whom it is intended. The room close to the slopes on the entrance level has reindeer curtains and cushions, while the one on top, for the children's use, has playful Hermès feather fabrics and green velvet.
Contrast plays a vital role in the aesthetics of the chalet. "I love a neutral base of whites and ivories. We used some bronze and black touches for contrast. The chocolate hue in the media room is warm and chic, while for the bedrooms we used reds, greens, lilacs, etc. The small touch of red everywhere gives a sense of harmony to the chalet—the colour of Switzerland of course!!" says the designer.
Scroll below to see more images of this by Swiss chalet by Sabrina Monte-Carlo…