Homes
Perched on a hillside in Moira, Nikhil Padgaonkar's family home opens up to numerous alfresco spaces and uses only a rhythmic alignment of metallic tubes for privacy
JAN 5, 2023
| By Nikhil Padgaonkar
Situated in the village of Moira in northern Goa, Nikhil Padgaonkar designed his residence—House 430/3—in a way that it sits on one end of a hill and offers a panoramic view of the 380-year-old Church of Moira and the fields and river beyond.
It was built between 2015 and 2018, with the help of 3D applications such as SketchUp, since I have no architectural training or previous experience in construction.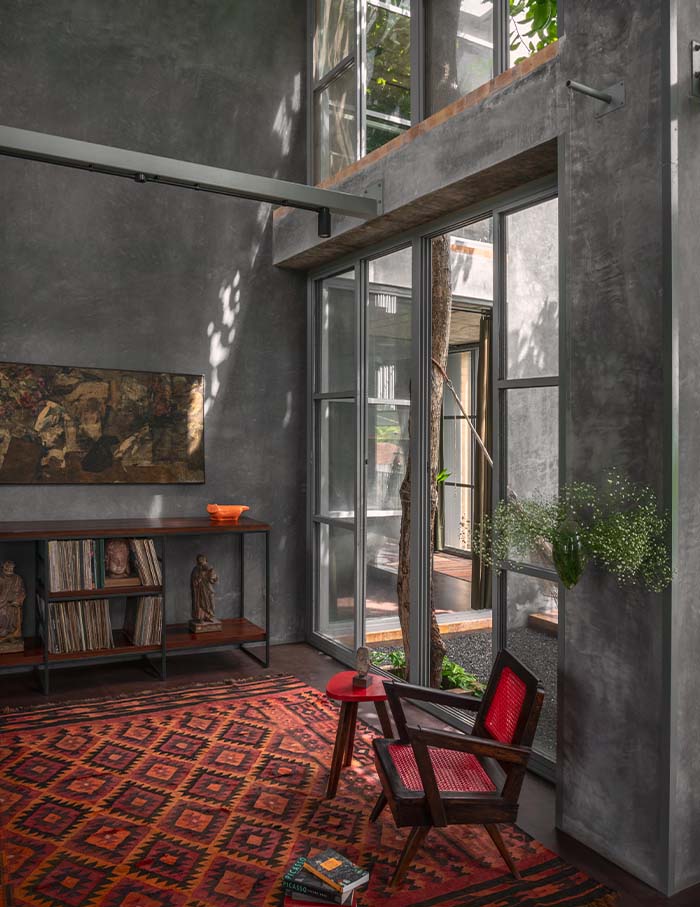 The sloping site forms three terraces at different heights. The main cuboid structure sits on the highest terrace, while the lap pool, home offices and garage are assigned to the middle terrace. By cantilevering the balconies two metres beyond the top terrace, the structure seems grounded in the hill yet hovering above the pool.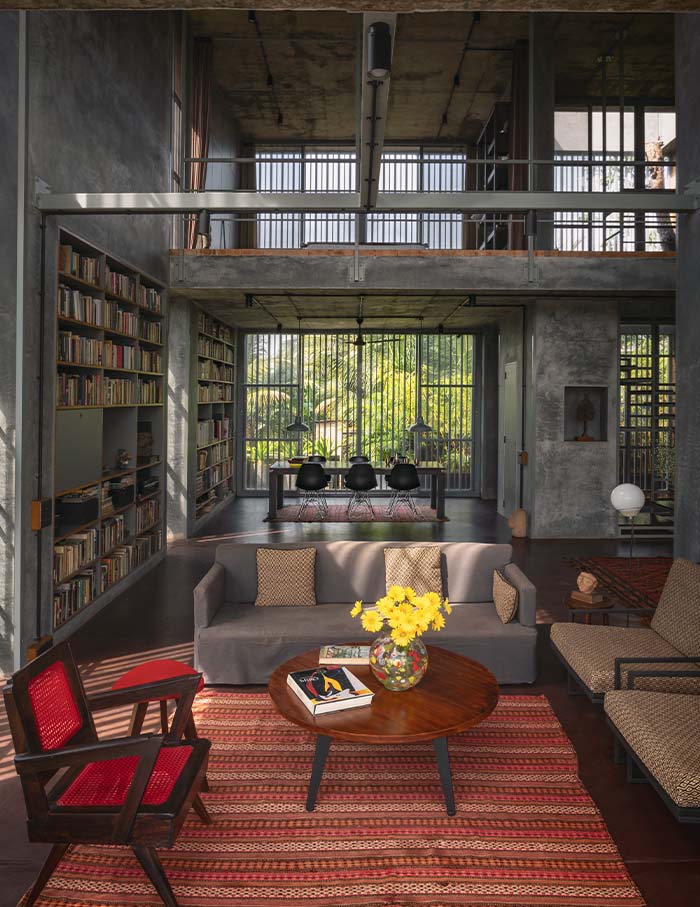 An independent studio is placed at the lowest level below the pool deck. At approximately 2,500 sq ft of built space across two storeys, the main house—with a guest bedroom, bathroom, kitchen and an open, double heighted living-cum-dining space—houses my wife, a Spanish jewellery designer and photography critic, my 10-year-old son and myself.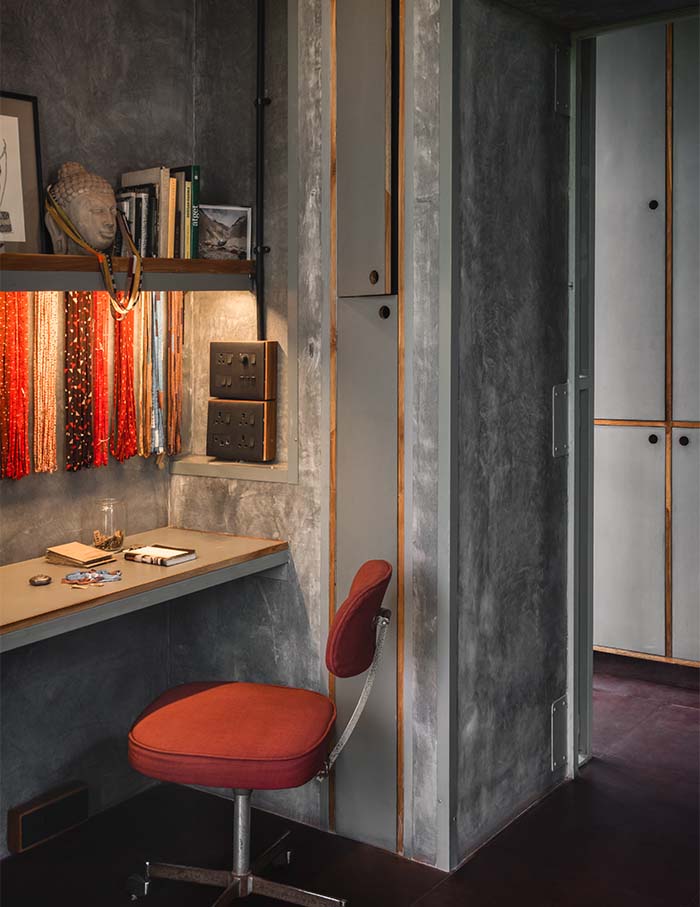 A curiosity in the layout is the master bedroom, which is akin to a mezzanine floor overlooking the living room.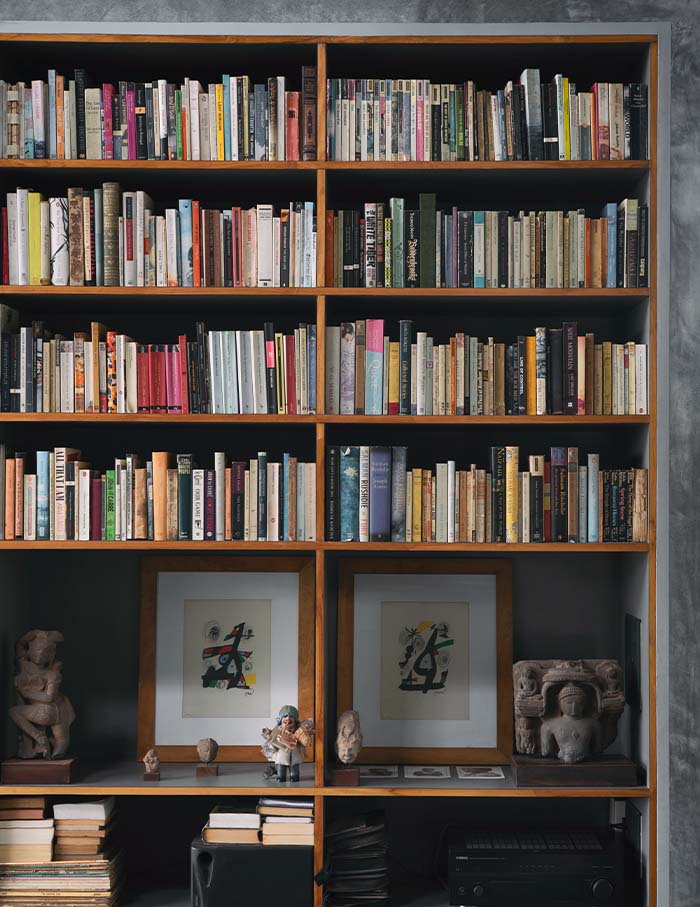 A large wooden bed, positioned right in the centre of the space, is entirely open and visible from all angles, relying only on curtains to shut out light and prying eyes.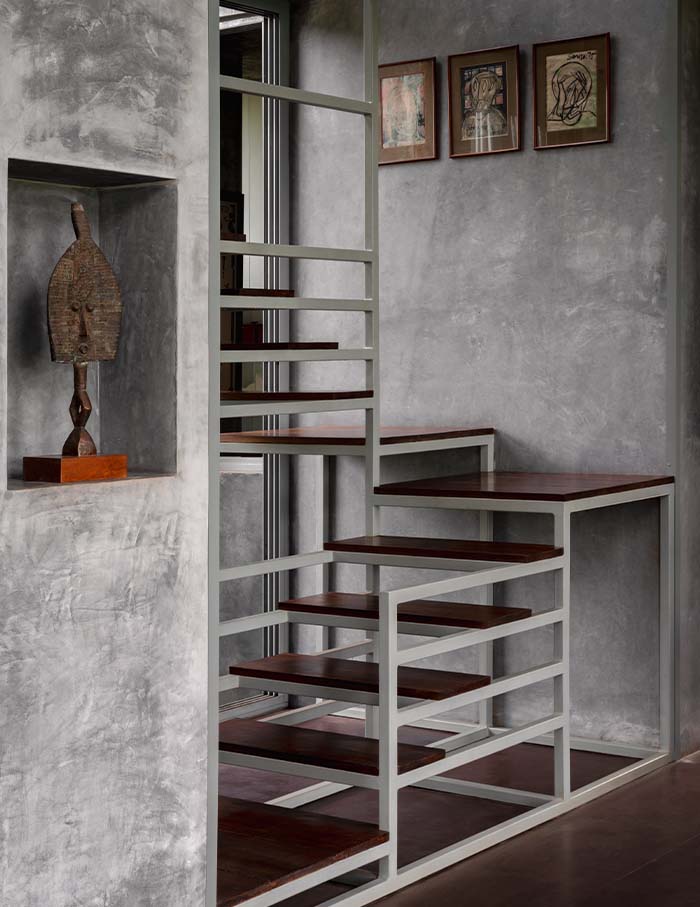 The master bedroom, a second bathroom, my son's room and a small office for my wife are also located on this level. I conceptualised the residence to ensure that it receives ample natural light and is well-ventilated to completely avoid using air conditioning, without compromising our seclusion.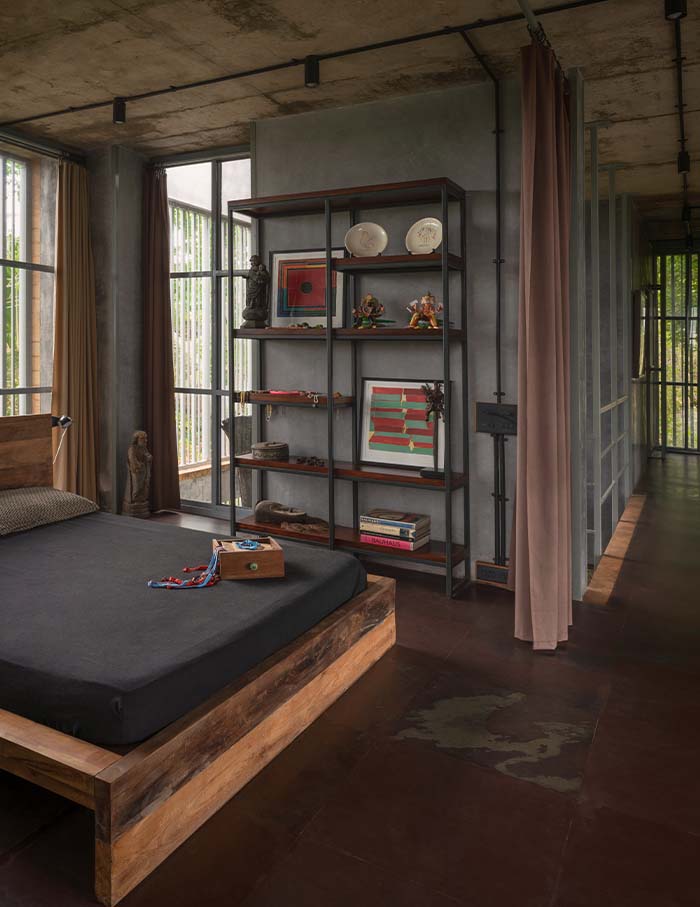 To achieve this, using a square layout, I formed two internal alfresco patios around preexisting trees to allow every room to open to the outdoors on at least two sides.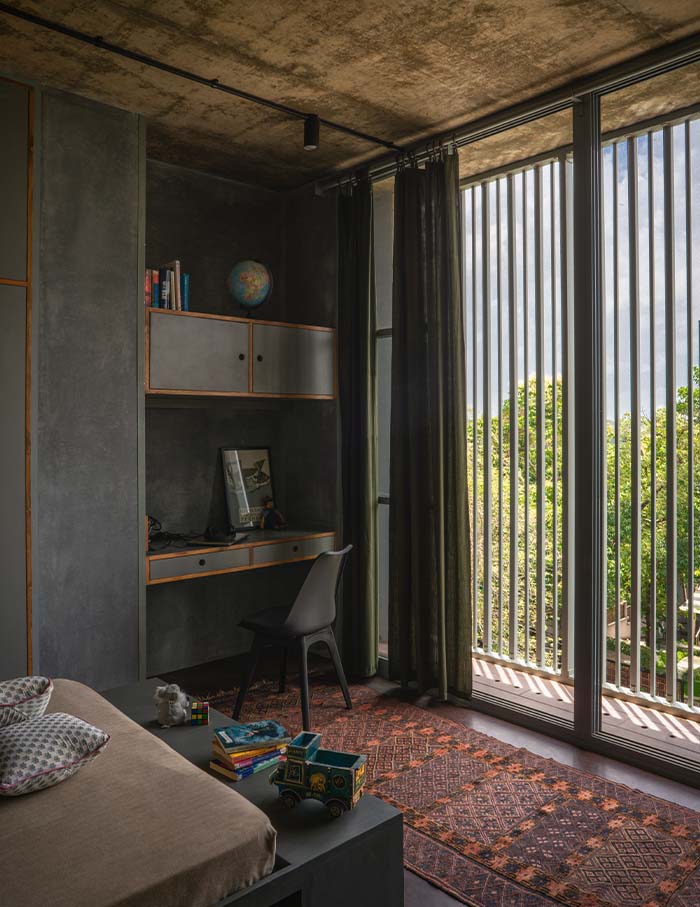 Double heighted volumes, openings in the ceiling to dissipate warm air, and floor-to ceiling metal screens on the North and South facades—comprising a rhythmic alignment of large and narrow GI tubes—keep the home cool, while preserving privacy.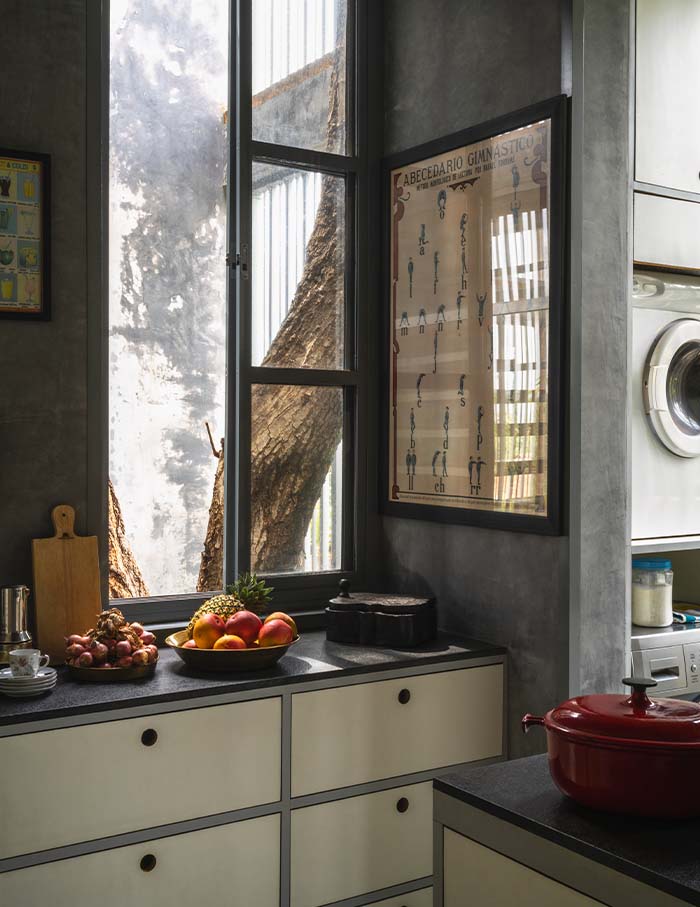 Only a handful of materials and a limited colour palette for finishing are used in the house. The ceilings are made using exposed board formed concrete, while a mix of black oxide powder with slaked lime (chuna) gives the walls a grey tinted texture.
A smooth dark brown limestone is used for the flooring. In the spirit of using only natural materials, all the curtains have been made with khadi cotton in olive green and maroon hues.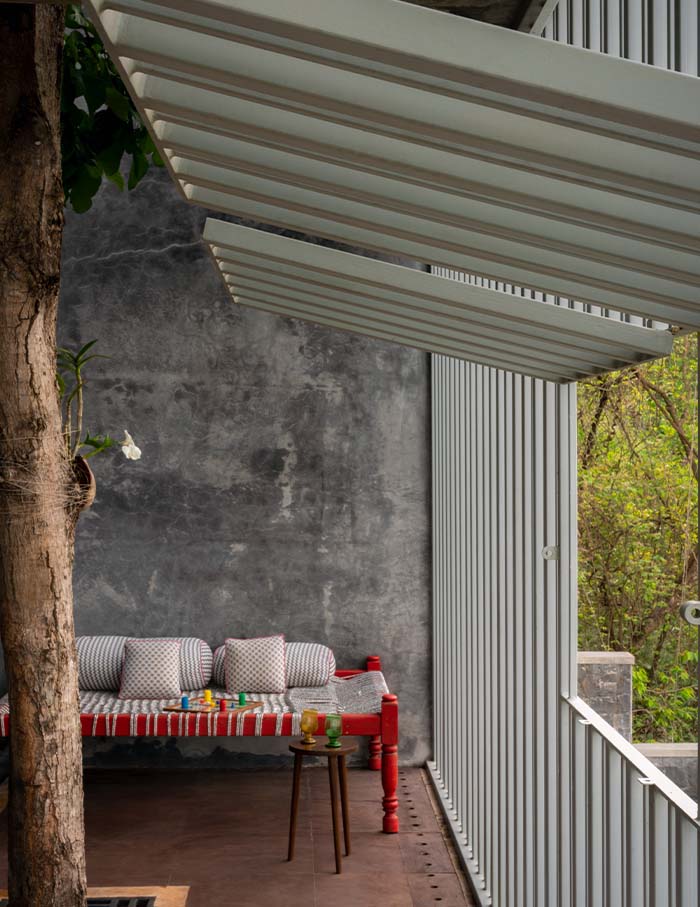 Even the cupboards, closets and shelves that are built into the walls have been finished with a dark grey laminate. This selection of sombre earthy colours across the house was deliberate. Given the intensity of natural light flooding in, it served to reduce glare and enhance visual comfort.
Large, finely pointed basalt stones from Bijapur in Karnataka are used on the outdoor walls to provide a recurring visual element, while adding a sense of weight to the abode.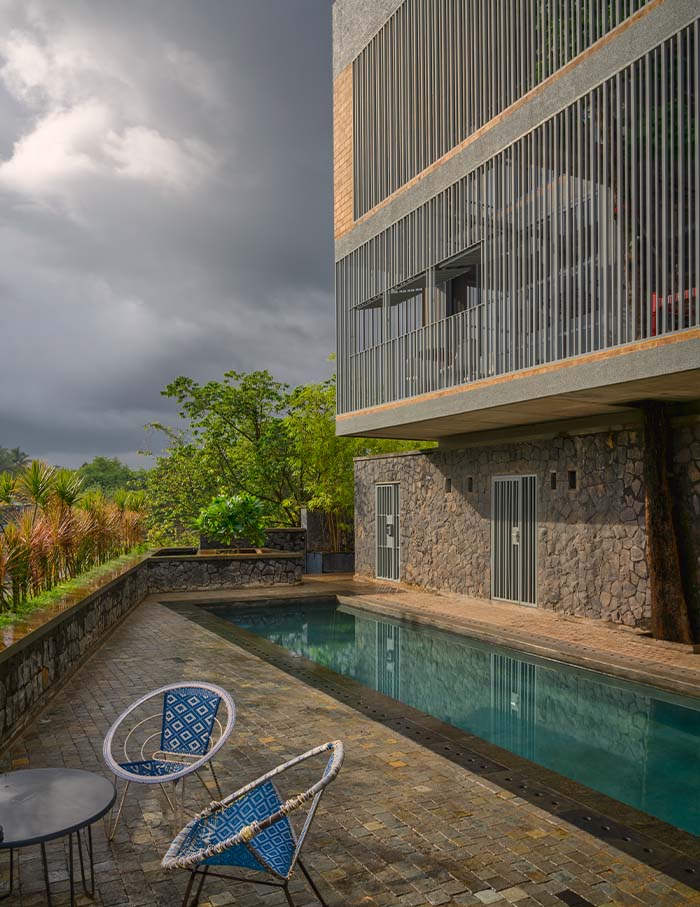 In order to limit the ingress of heat, the East and West facades are closed off with rust coloured kiln (refractory bricks from Rajasthan, which typically line ovens and industrial chimneys. Their unconventional use in a residential programme adds a dash of brilliant colour to the otherwise neutral furnishings.
By employing exposed black tubes for the electrical conduits as well as metallic fittings in doors, standalone cabinets and stairs, the home acquires a distinctly industrial look and feel, further enhanced by the rustic material palette.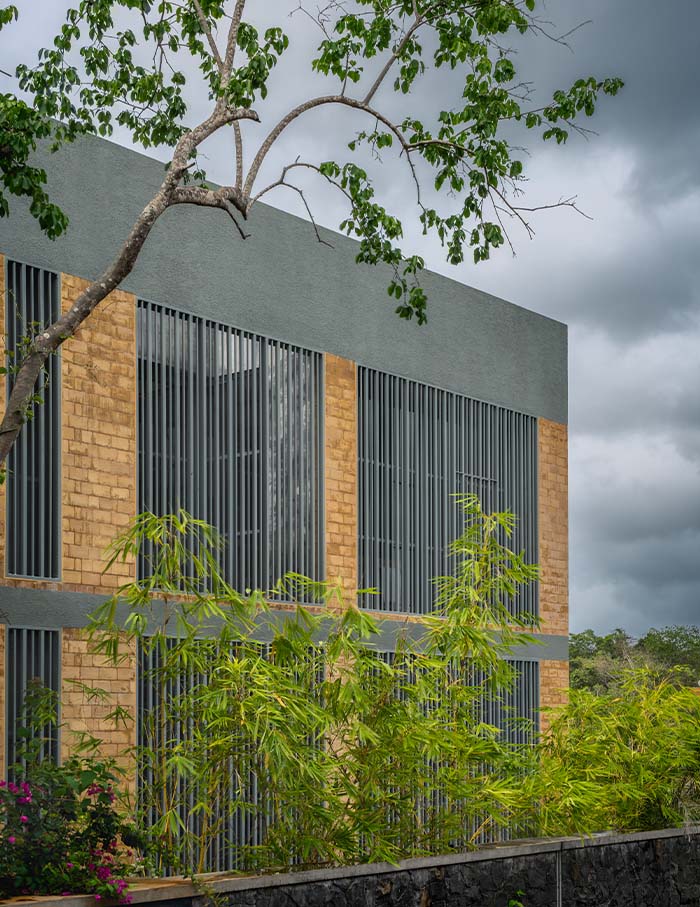 However, this is not intended merely for its aesthetic appeal but rather as a pragmatic response to a tropical climate and the ever present threat of termites and white ants ,exacerbated by the humidity.
I have had the furniture and fittings made ofsquare galvanized iron tubes and topped with polished teak wood, to display the large collection of books and prized artworks I inherited from my late father Dileep Padgaonkar—a former journalist of Goan ancestry, who was delighted to see mereturn to my roots. 
You may also like: Neoclassical-inspired farmhouse designed by UnBox Design in Delhi