Homes
P&T Design Studio moulds monochromes, minimalism and less clutter for this Mumbai home
MAY 24, 2022
| By Sneha Gandhi
Metropolitan cities like Mumbai are synonymous with micro flats and compact homes. The diminished dimensions of the flats, however, do not curtail the design obstacles they conjure. Architects and co-founders Pallavi Goel and Tejal Shah of P&T Design Studio confront this challenge to compose a compact modern home loaded with ample storage but minimum clutter.
"The lightness and the contemporary minimalistic nature of the space are what we want to achieve in compact homes", explains Pallavi. The 950 sq ft apartment in Versova West houses a living room, kitchen, dining area, a primary bedroom, powder bathroom and a lounge/guest bedroom.
The homeowner Ganesh Pareek's brief is relatively simple. The 25-year-old house is to be completely revamped. This includes civil changes like tearing down two bathrooms to create the primary bedroom and a powder bathroom. A sliding folding partition replaces another wall that is demolished to provide a larger layout.
You may also like: Minimally modern — This home in Canada by Andrea Rodman is a canvas painted in strokes of Japanese and Scandinavian design styles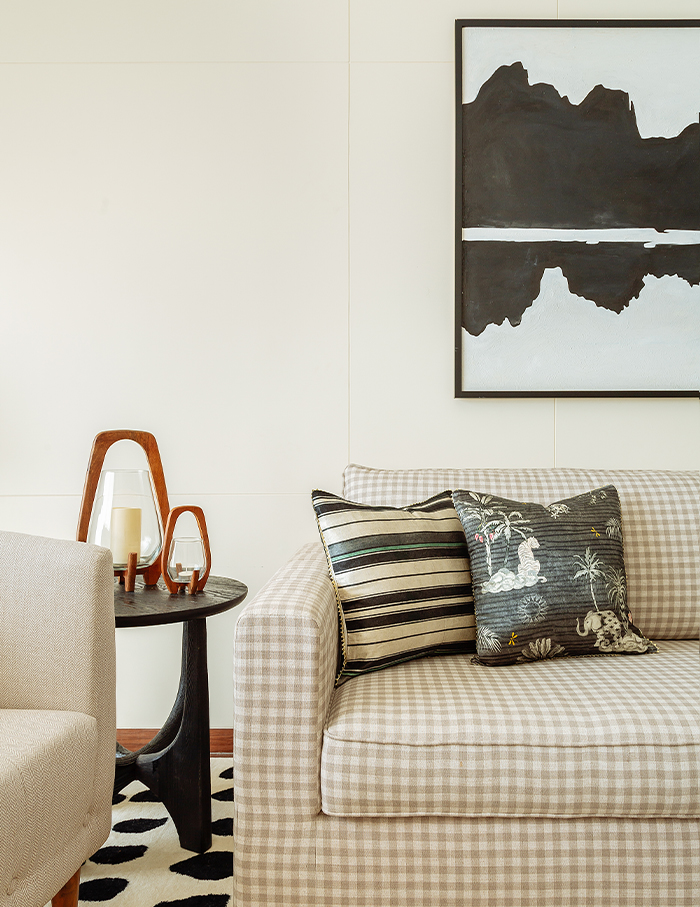 The theme of the home is Minimal with Monochrome. The ultimate aim is to keep the space as illuminated as possible, with bright sunlight coming in from all sides. The living, the primary bedroom and the guest bedroom are all sea-facing.
The main door opens up to the four-seater dining area. The kitchen is on the right, and the living room is on the left. The duo recalls the kitchen to be the most demanding area to design as they had to fit a fully functional kitchen in the tiny space.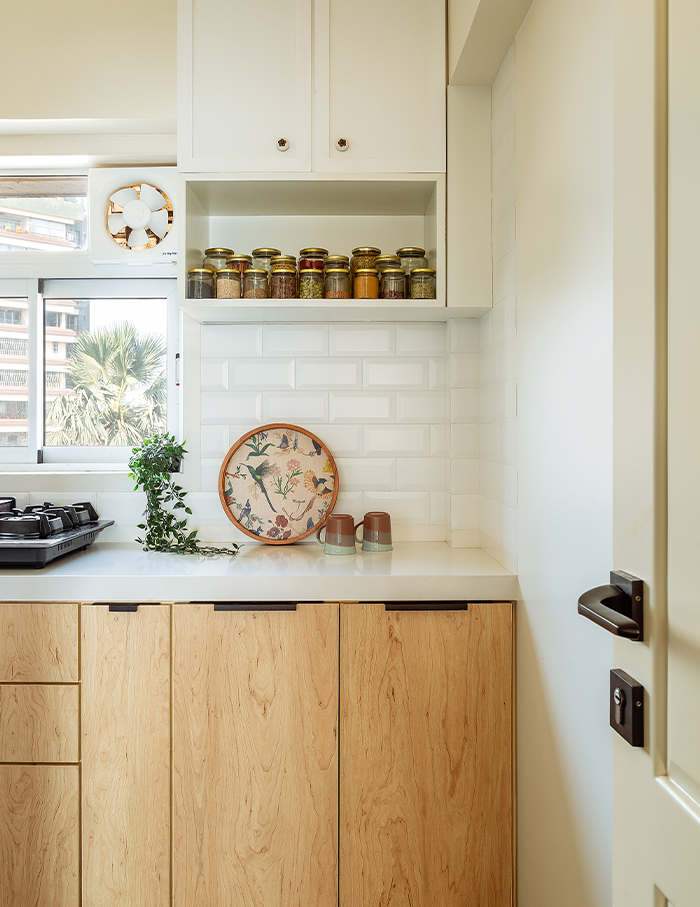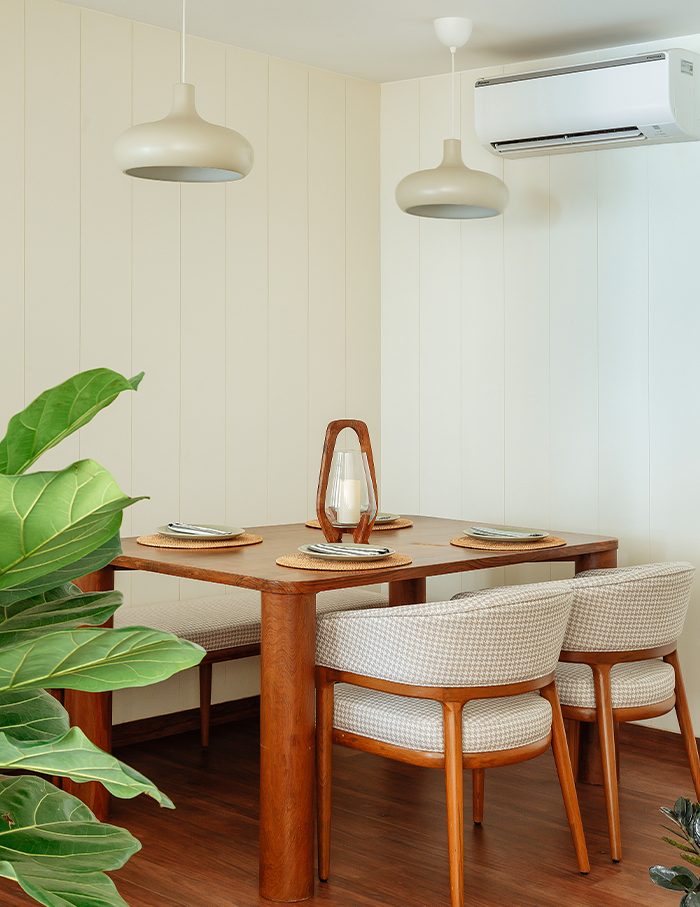 There is a powder bathroom behind the dining area. The lounge/guest bedroom is on the left of the dining area, right next to the living room. A passage from the dining area leads straight to the primary bedroom with an en suite bathroom and tiny balcony.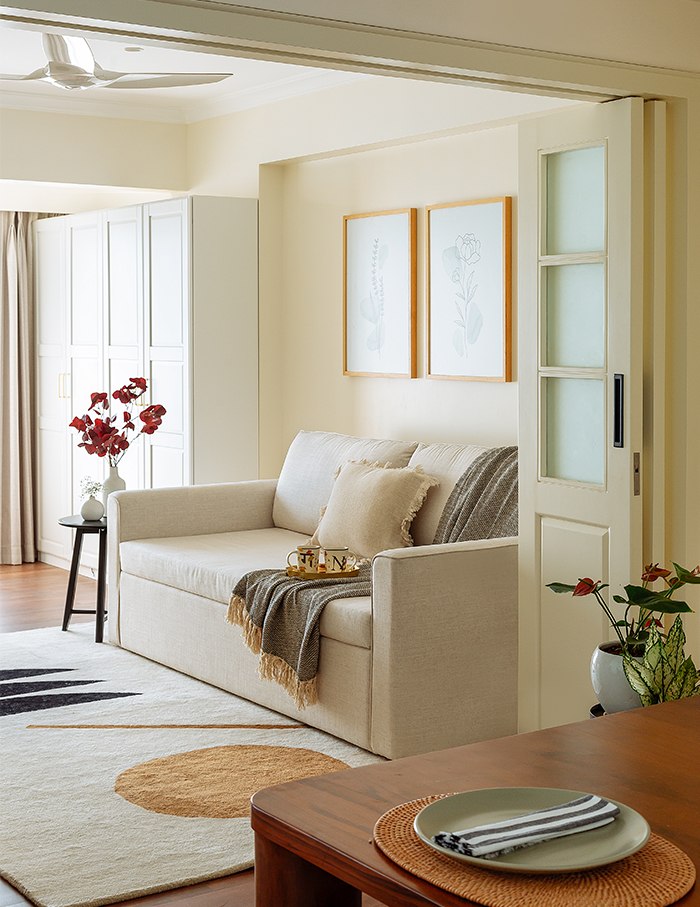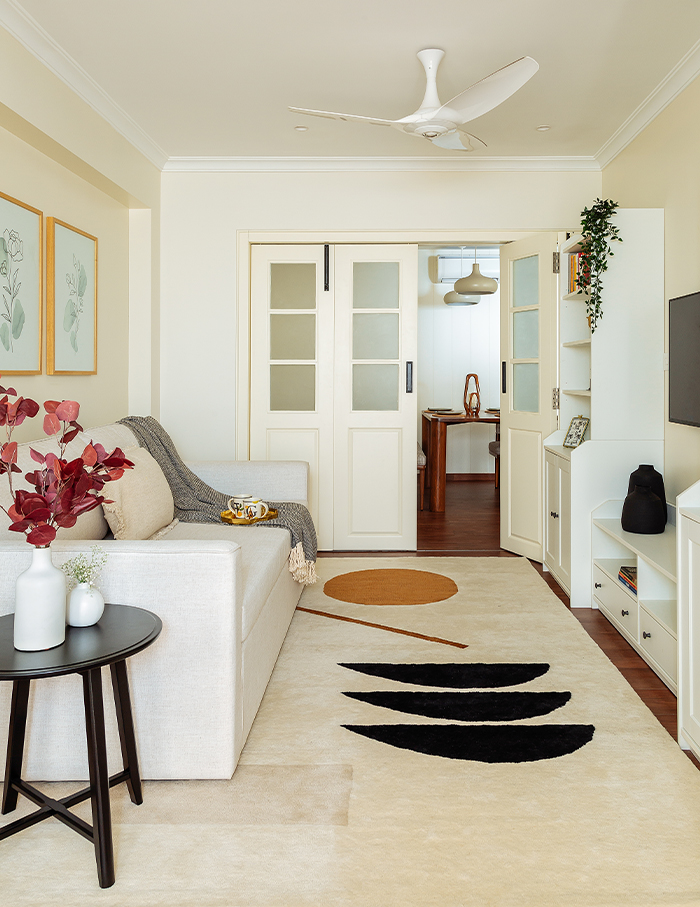 The material palette of the home includes wooden flooring, PU paint, laminate in the kitchen, tiles in the bathrooms, fluted glass in the wardrobes, and linens and cotton, amplified by the green planters and natural light throughout the home.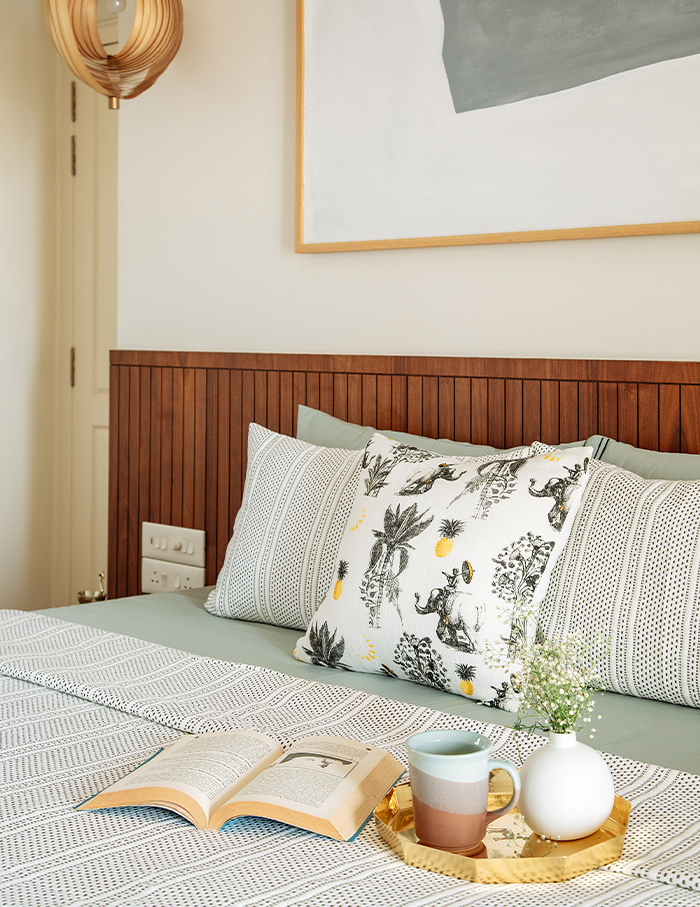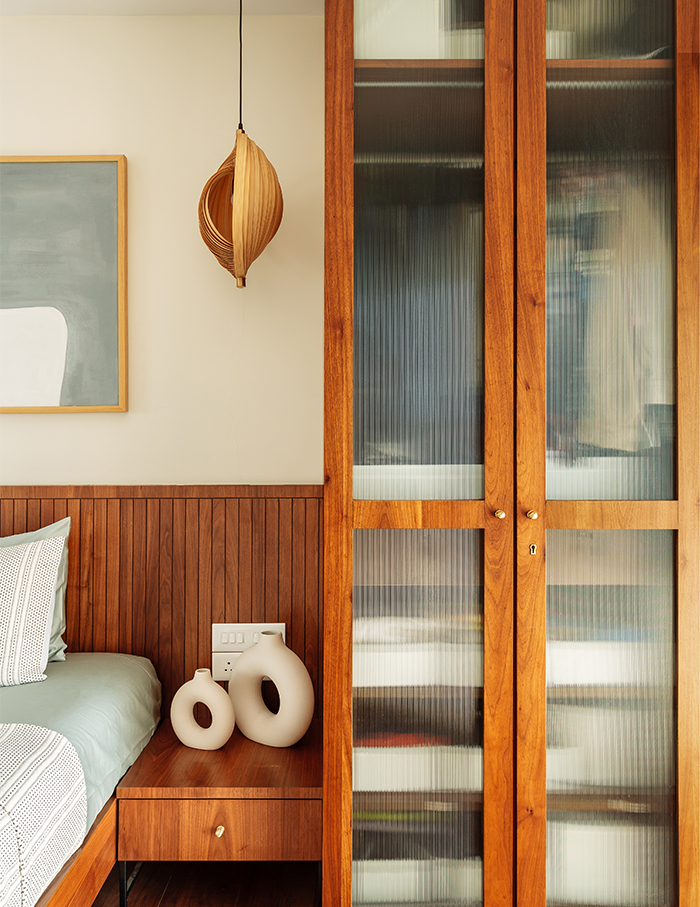 "Design is a marriage between different elements and thoughts. We believe in bringing out the space in a way, wherefrom an apartment it transforms into a home", clarifies Tejal. P&T Design Studio effortlessly speaks volumes with minimalism in this pleasantly monochrome home.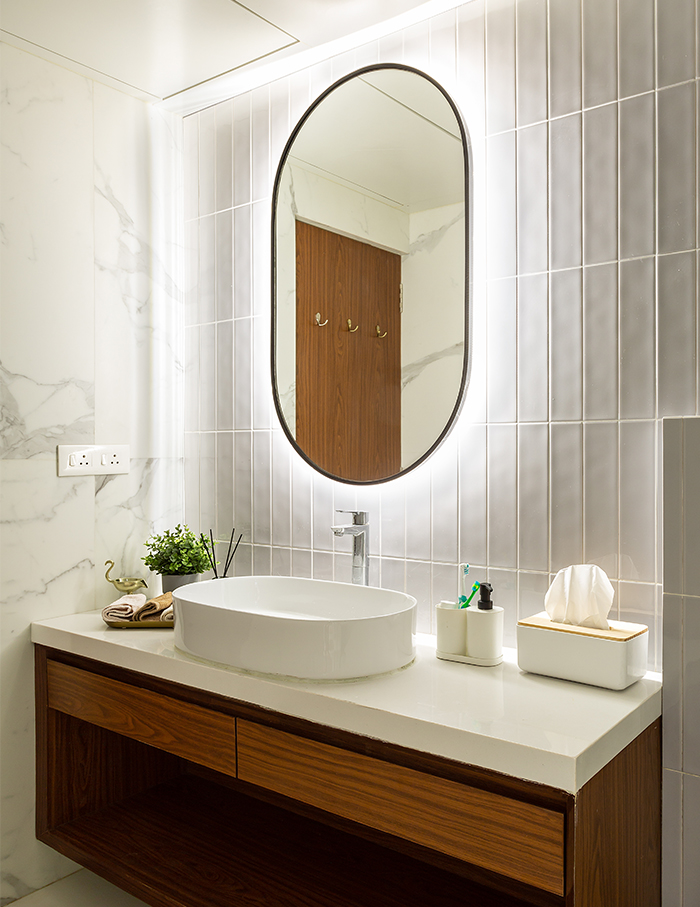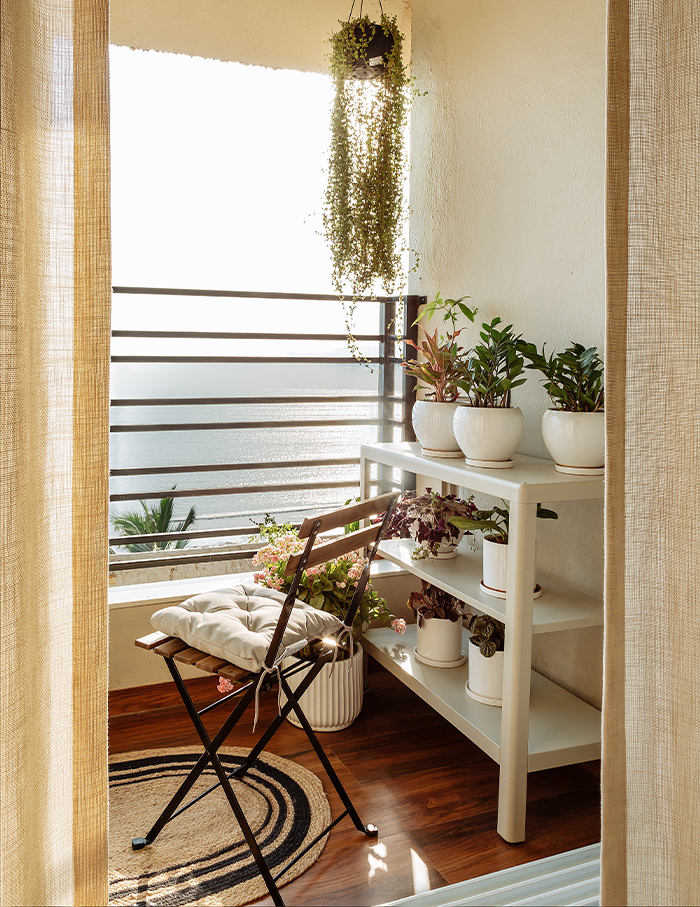 If you enjoy minimal home decor, check out this home: Holiday home goals — Mustafa Eisa & Associates trace this Goa villa with a contemporary lens of whites and a minimalistic palette