Homes
Oriental Living turns a Hyderabad home into a tapestry of antiquity and heritage
SEP 15, 2023
| By Esha Shah
Relocating from the cosmopolitan address of Singapore to the culturally prolific city of Hyderabad, often referred to as the 'city of pearls,' a couple's search for their private cove finally concluded at a 5,000 sq ft residence, nestled within the lush greenscapes of Banjara Hills.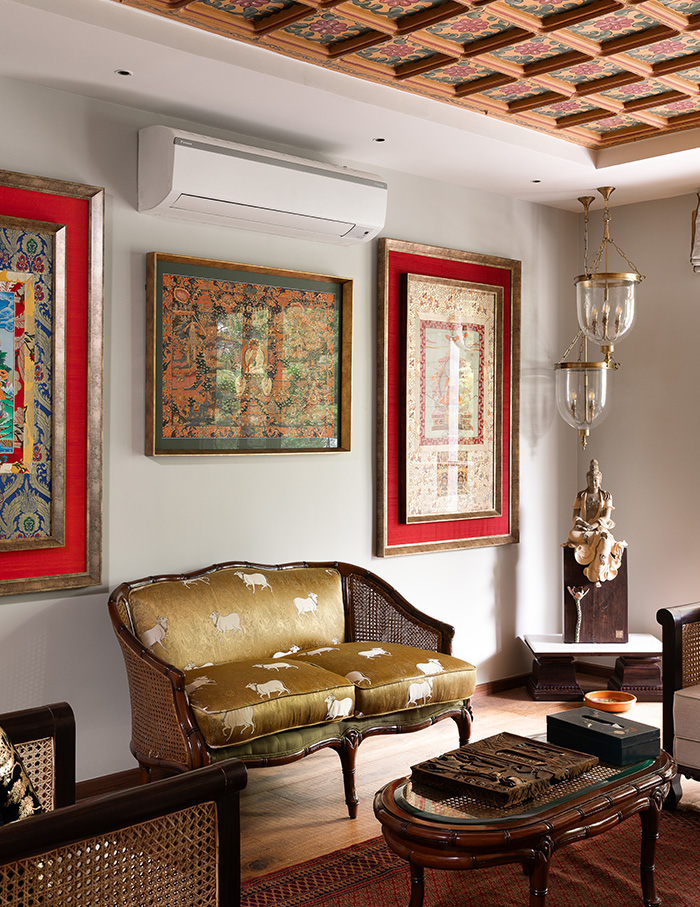 The dwelling stitched to perfection by Manisha Gandhi of Oriental Living emerges as a testament to the homeowner's refined tastes, with global design seamlessly interwoven with local heritage. "They are avid travellers. With their travels across the globe, they've collected a significant amount of heritage furniture and art. Together with these pieces, we could bring out a confluence between their tastes and aesthetics," reveals Manisha.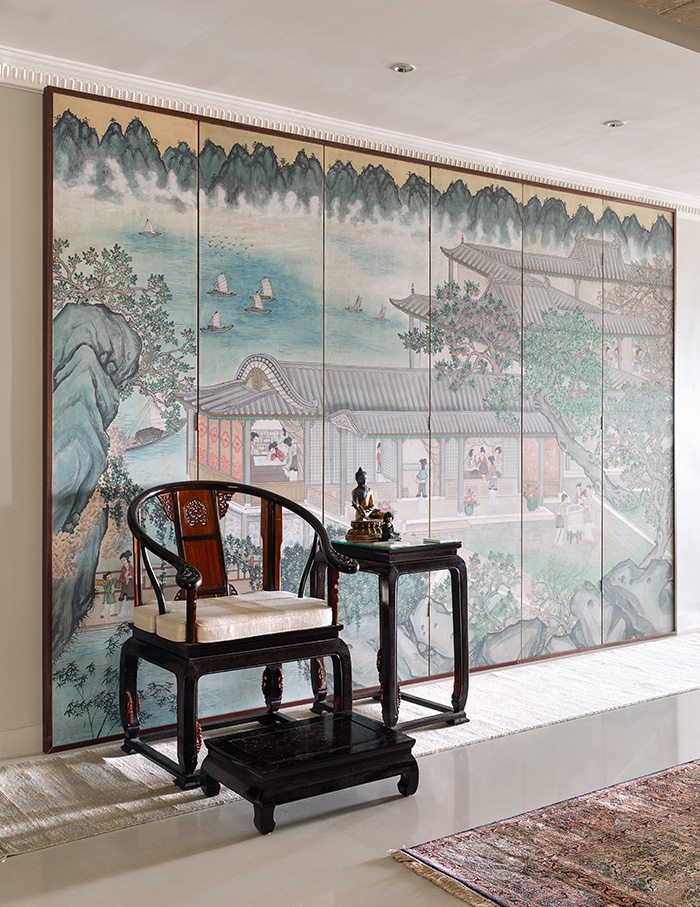 Manisha likes to describe this space as a soothing apartment with a flair of flamboyance and some dramatism. Each wall, akin to a fresh page, narrates a story of its own, celebrating the beauty of tradition and keen affinity for details.   
Native nuances   
Stepping through the aged entrance door, a relic sourced from Kerala, one sees a small corridor that guides to a formal living room, an informal lounge as well as a bar space. Progressing along the corridor, one finds their way to the kitchen and a dining room. With swaying crystal chandeliers and classic 'ming-style' chairs and furnishings, this house keeps up to its expectations.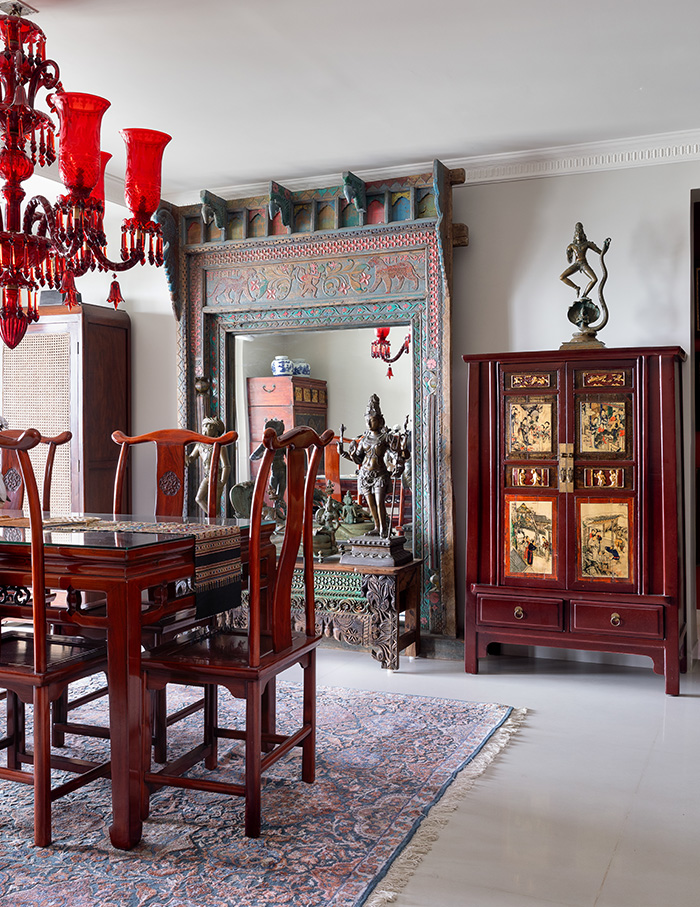 The dining area seamlessly extends to a capacious balcony, thoughtfully designed as a verdant oasis with an array of potted plants. As you proceed, the drawing room showcases an antique ceiling panel refurbished from an existing residence in Kerala.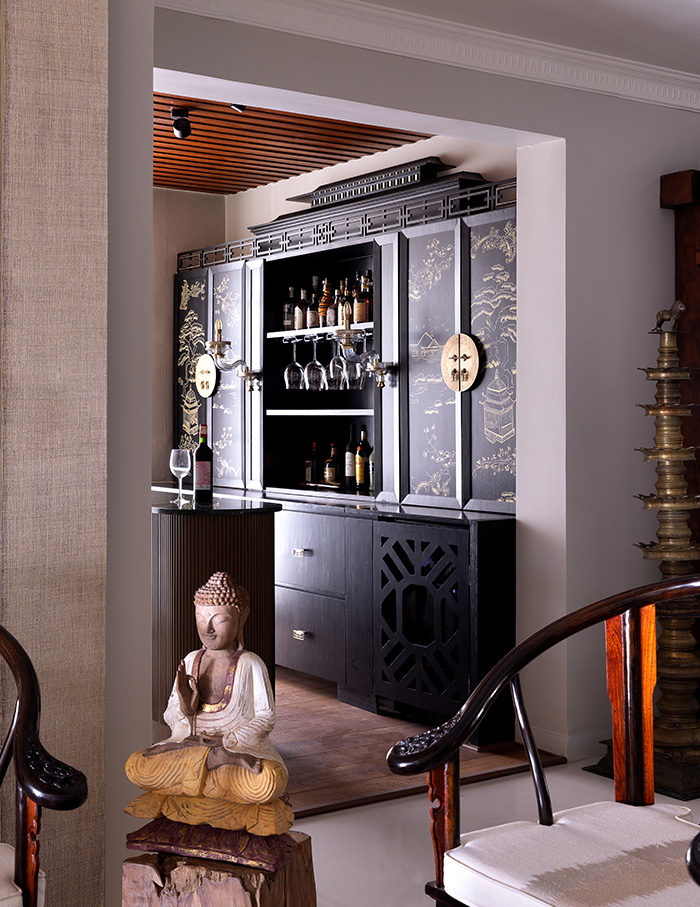 Tapestry of traditions 
Dark neutrals like black and maroon with a vibrant touch of green came together seamlessly to achieve the primary goal of infusing this opulent colour scheme with a sense of Asian tradition and essence within this classic dwelling. 
The lights on the ceiling and side walls along with the intricate textures on the wallpapers and furnishings brighten the entire ambience, creating a sensory experience and displaying the interplay of colours and lights.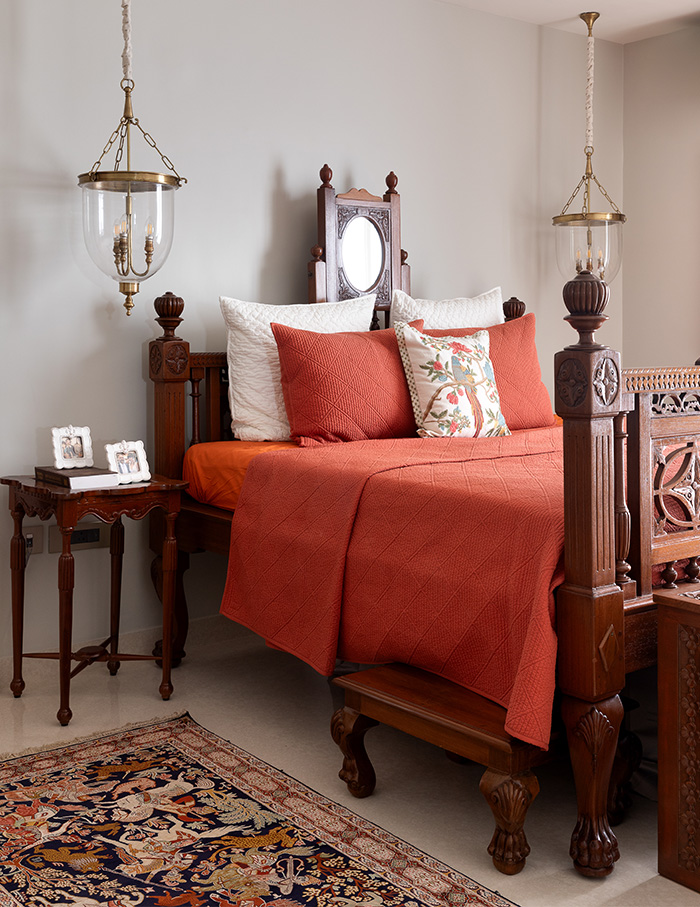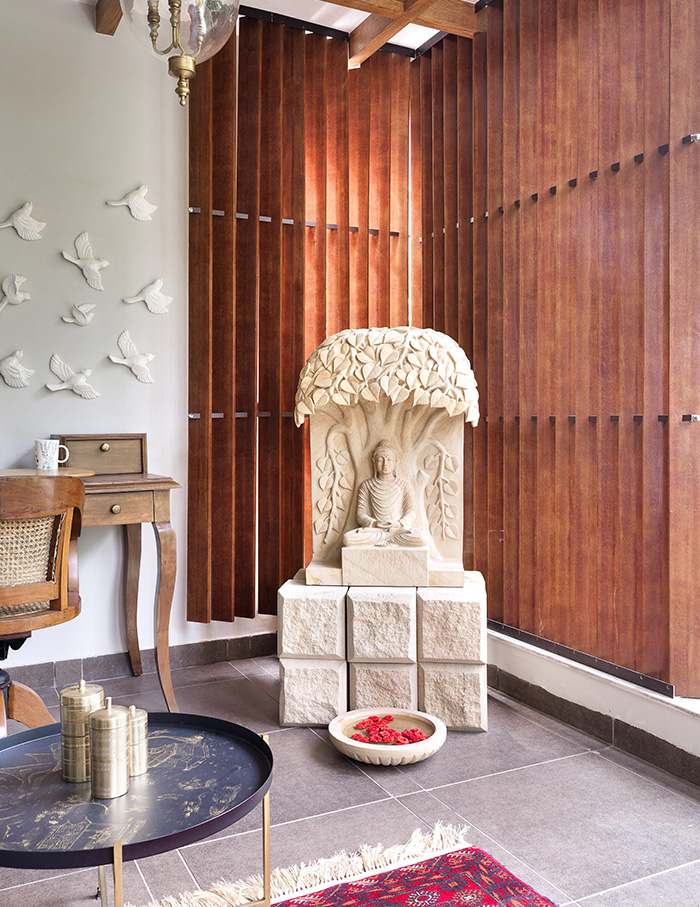 "The most challenging aspect of this space was to create harmony. The pieces of furniture, textures, and art  in the home are a mix of Asian and Indian. Blending these together, given that these are very different, was challenging," states Manisha. The residence not just brings out the couple's taste for design and everyday lifestyle, but also indicates the curator's arrangement of merging both their style and interests rather astutely.
Also read: A spark of art and traditionality meets minimalism in a Hyderabad home by Beyond Spaces Design Studio