Homes
A spark of art and traditionality meets minimalism in a Hyderabad home by Beyond Spaces Design Studio
AUG 21, 2023
| By Pratishtha Rana and Esha Shah
There's a certain intellectual incentive to art that is confined in a personal boundary as much as it trickles over to be interpreted by everyone outside of it. While for some, art is a way of expressing eclecticism, for some it is a gateway to balanced minimalism, countered perfectly with interjections of colours.
A home in Hyderabad, helmed by Mounika Kodali, Architect, Beyond Spaces Design Studio in a gated community of Jayabheri Temple Tree stands as a prime example of this simplistic but definitive thought.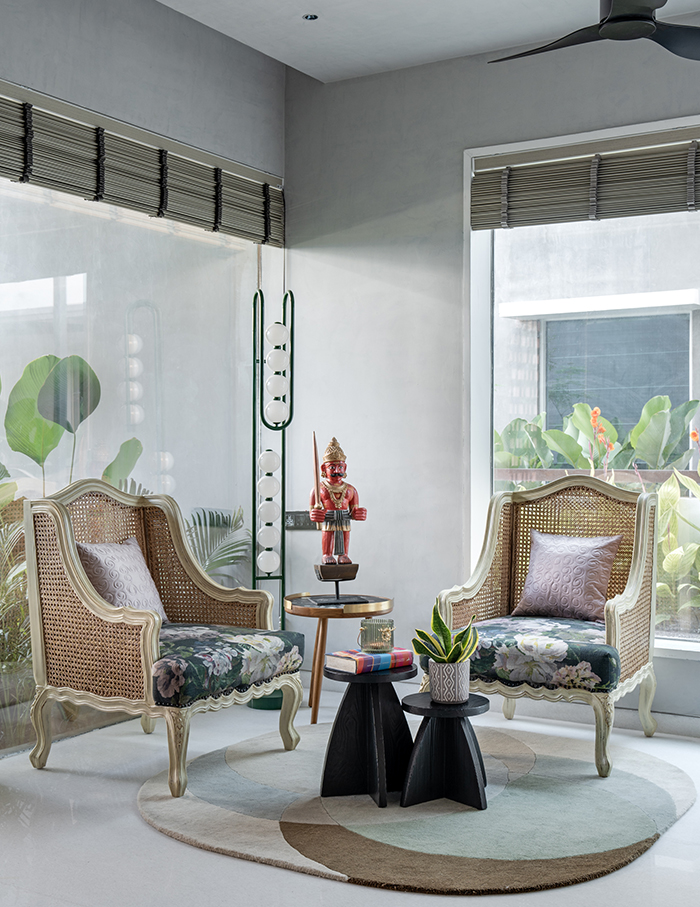 "The clients are design and art enthusiasts who desired a minimalist and contemporary home with striking decor pieces reflecting their Indian heritage," shares Mounika. Running spectacular parallels to the distinctive aesthetics of the home is also its layout that sprawls a beautiful 6,300 sq ft area. The villa stands as a medley of both traditional elements and the homeowner's ardour for art, which makes it the perfect blend for this family.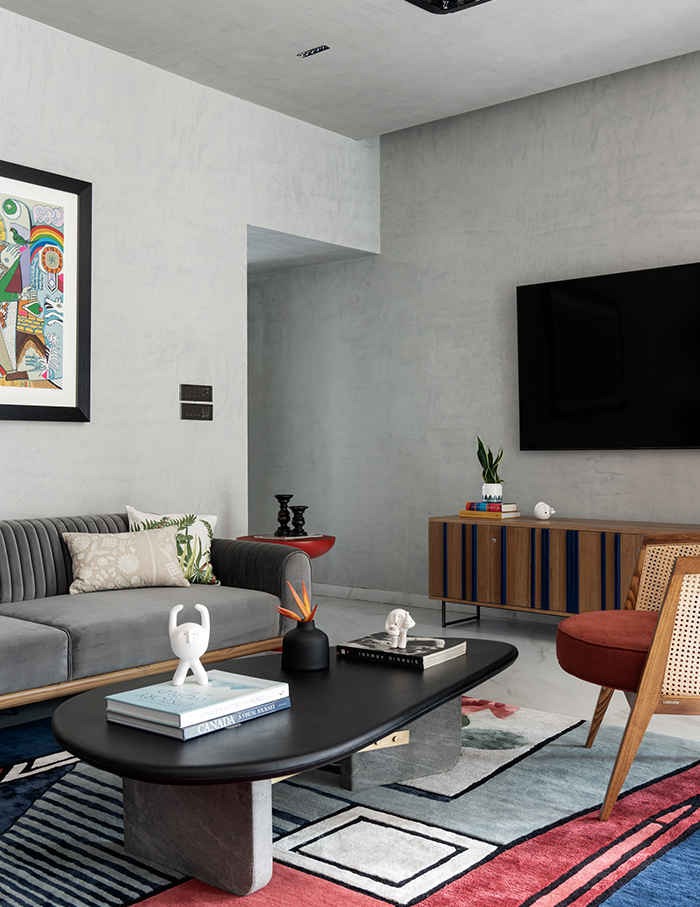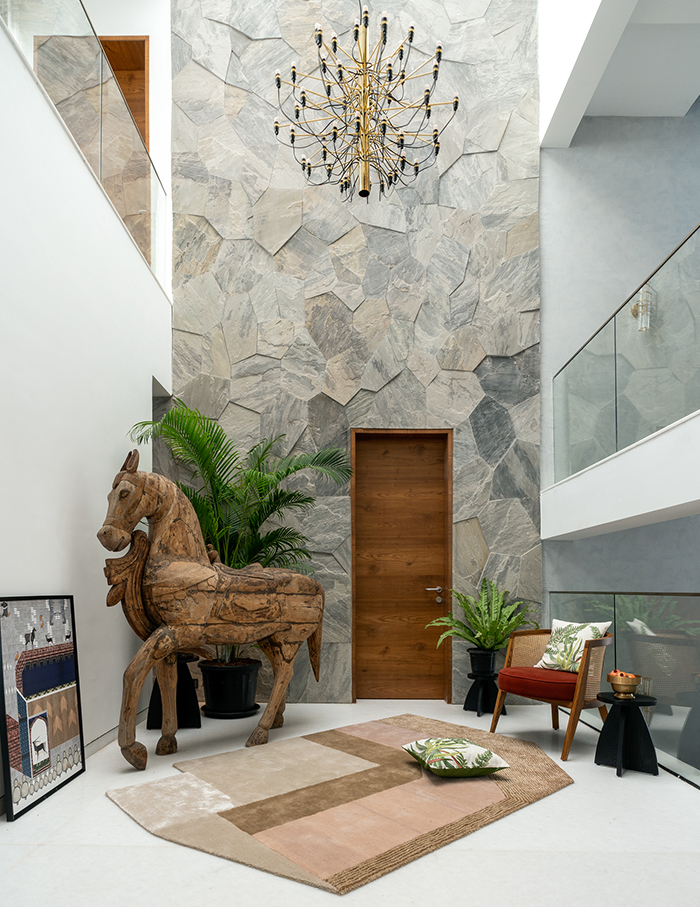 With decisions of art and creativity, spatiality was astutely made a triumphant character of the space, too, with the parking garage in the ground level being converted to a formal drawing room along with a striking bar area, which opens into an outdoor garden deck.
Embrace of art
Understated, subdued but enchanting — these are all words that aptly describe this abode, which was tailored keeping the preferences and needs of the homeowners in mind. "Eye-catching artworks are thoughtfully placed in the home that features clean lines, contemporary furnishings and abundant natural light," recalls Mounika. 
As you enter through the main door, you will spot a striking art piece of Hindu deity known for strength, love and intelligence, Lord Hanuman, which brings a powerful aura to the villa. Navigating further, one witnesses a spacious lobby graced by an artistic piece of a 'brass cactus' that is kept under the staircase of this two-storey house.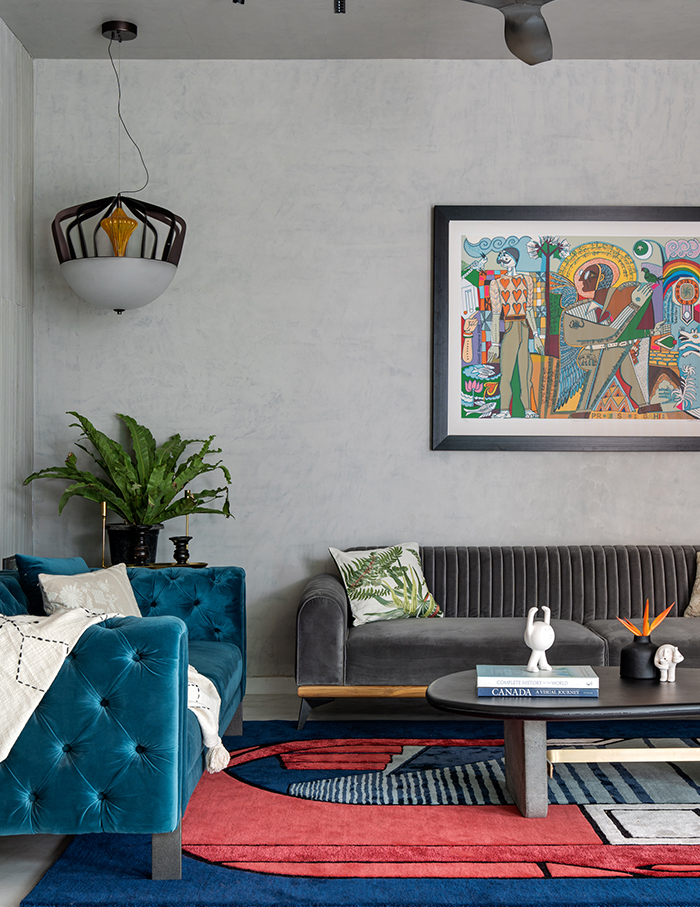 With a focus on the design elements of the house, there was a lot of discussion regarding the ideal art piece for each room; thus setting a cohesive tone that resonates throughout the rest of the abode.  
The entertainment area's walls are bathed wittily in a grey, paired with hints of blue sofas and a vibrant printed rug. This theme carries onto the bar and television units, accentuated by an enthralling metal art sculpture that justifyingly commands attention.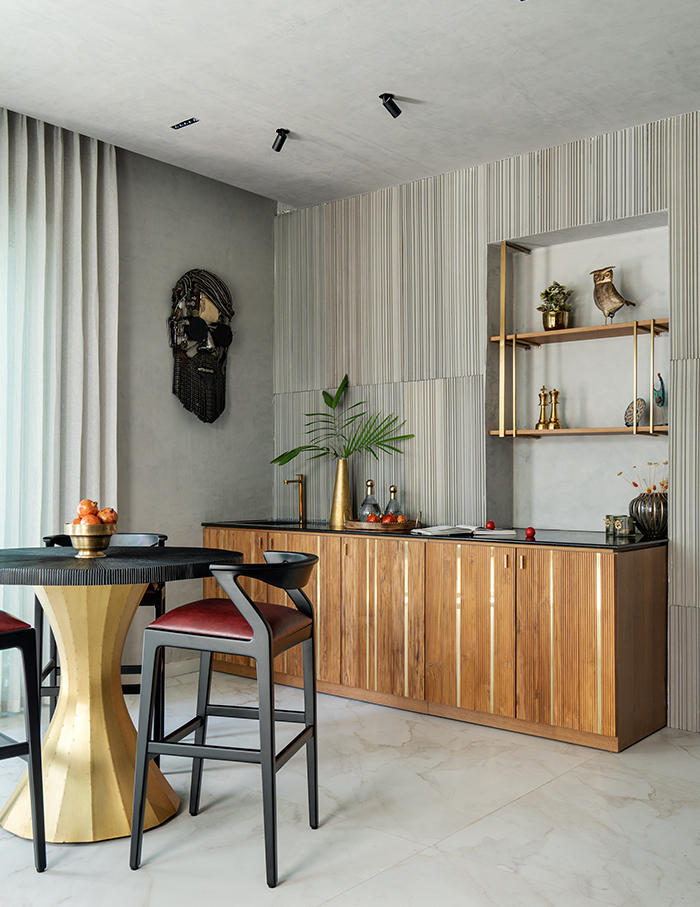 Ascending the staircase to the first floor, you encounter a living room comprising two formal seating areas exuding distinct energies and characters. Adorned with artworks and artefacts, this space is accompanied with a courtyard with a double-height corridor embellished with a wooden horse sculpture and an imposing chandelier. An adjacent guest bedroom complements this area. 
Moving upwards, the second floor unveils a four-poster primary bedroom, filled with a traditional motif printed wallpaper that harmoniously connects to the double-height space via a balcony. Additionally, the floor also envelops a kid's bedroom and a puja room decked with wooden slats. 
Minimal and mindful
The essence of a minimalistic design ethos is clearly evident through the neutral-toned palette imbuing white hues adorning both the floors and walls. The focus was put more towards the furniture and artwork to prevent any colour clashes, despite it being an artful abode.
To counterbalance the absence of colour on the walls and floors, artworks and sculptures introduced a plethora of dynamic prints, intricate patterns and opulent textures.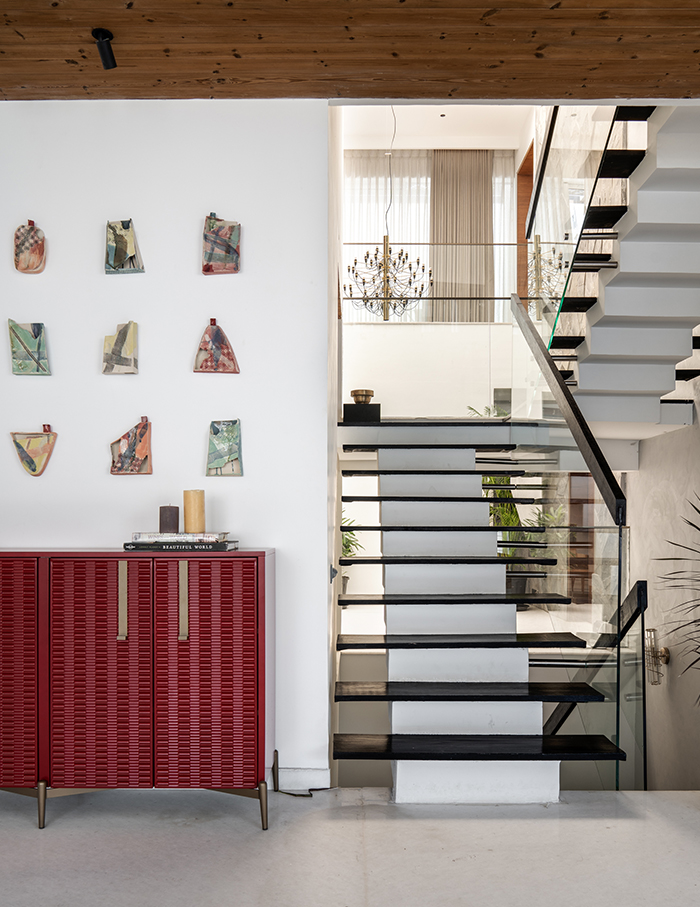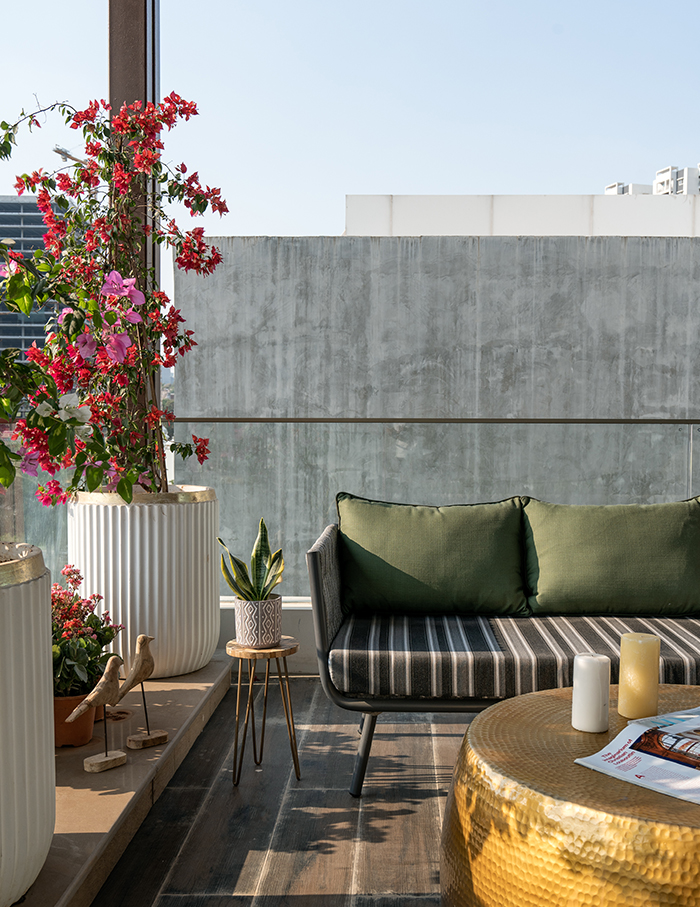 However, a challenge that this abode faced was "to give a purpose to the double height space instead of making it a mere passageway. We used stone cladding enhancing the volume of the space and bought in this antique wooden horse that makes a statement and some greens to create warmth and created a reading nook in the zone," Mounika sums up.
This villa is yet another illustration of crafting a home with an artistic approach at its core, and building the house around it, offering not just life of comfort but one imbued with vibrant energy as well.
Also read: Inside a fascinating weekend home by Aamir and Hameeda Sharma in Hyderabad