Homes
A weekend home by Aamir and Hameeda Sharma is witness to a delightful love affair between art and spatiality in a quiet gated community of Hyderabad
NOV 17, 2022
| By Pratishtha Rana
Art is longing. You never arrive, but you keep going in the hope that you will. Written by the German painter and sculptor Anselm Kiefer, I read and repeat this quote over ten times, before every word absorbs into my intellect.
The magic about the word 'longing' is wherever you see it, you'll most likely think of two things — home or your loved ones. Encompassing all three—art, an inviting home and a family, a stately weekend abode in Hyderabad by the uber-cool Aamir and Hameeda Sharma sketches a beautiful liaison between art and (the feeling of) home. Function takes a back seat and the homeowner's assemblage of Indian artworks becomes a pronounced protagonist here.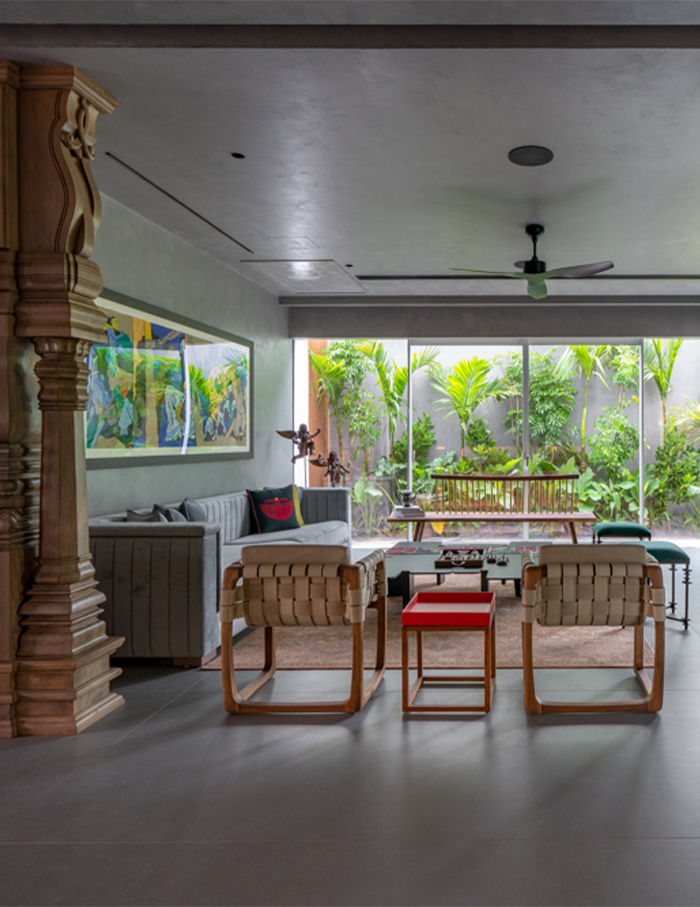 "Primary homes are more utilitarian. Your movement, spaces, storage takes priority. But here, it is about ambience and display. Less practical and more visual treat," aver Aamir and Hameeda.
The 10,000 sq ft home inside a gated community is sequestered as the second home for the family consisting of a couple and three daughters. Their brief was simple. The space had to be contemporary but in the most Indian way possible. Thereupon, commenced discussions and unfurling of intentions to create an experience out of a home.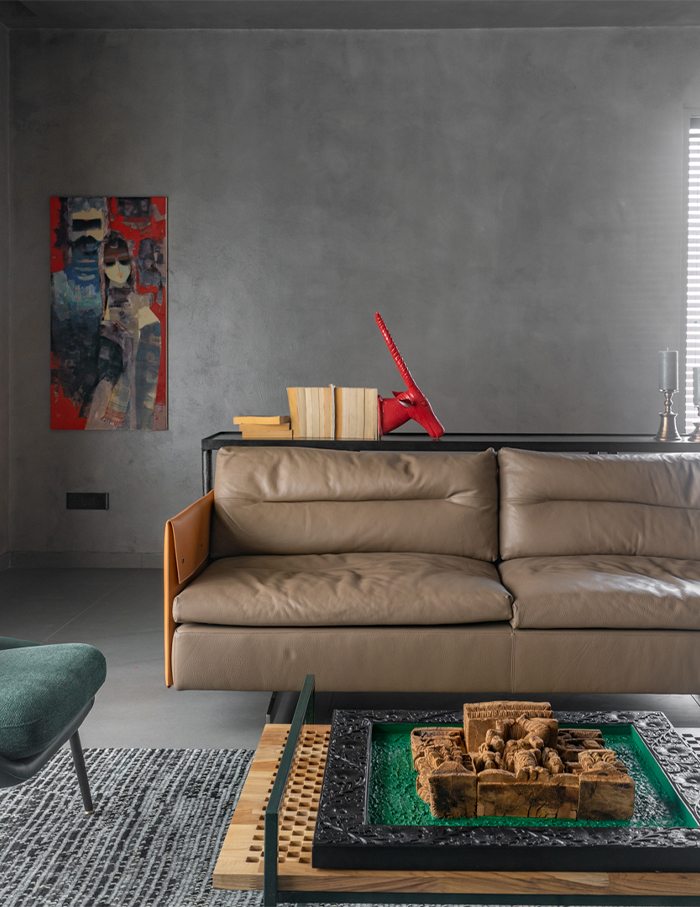 "The client is a friend who knows our sensibilities and love for art and that's how the first project with them started. We studied all the art and it was the guiding point, that then shaped the narrative," disclose Aamir and Hameeda.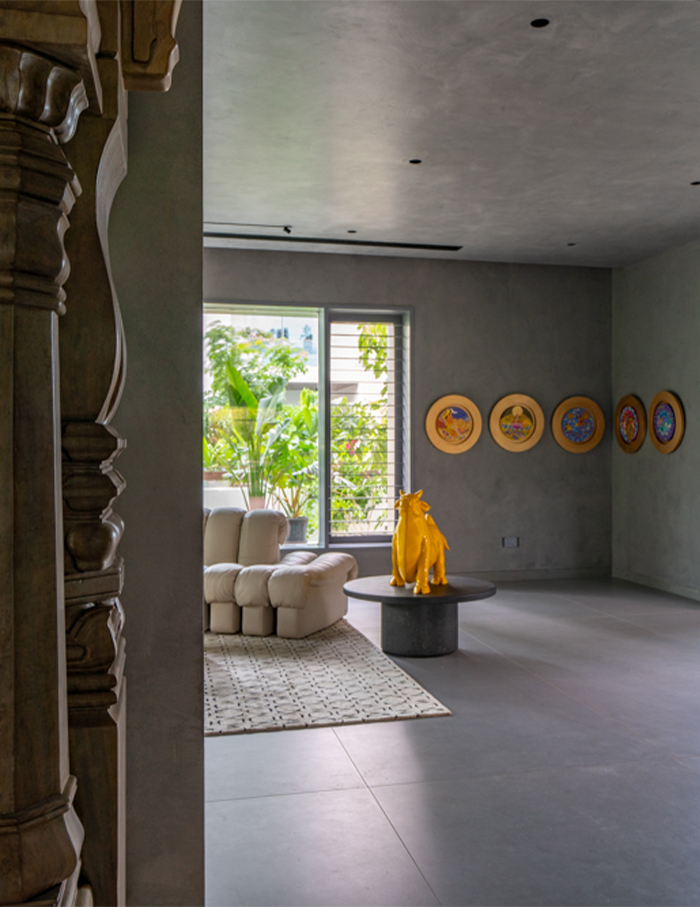 The home poses as a paradox, in ways that the outdoors and indoors flow into each other uninterrupted, thanks to the big windows and sliding doors framing up concrete greys inside and bounteous pockets of greens outside.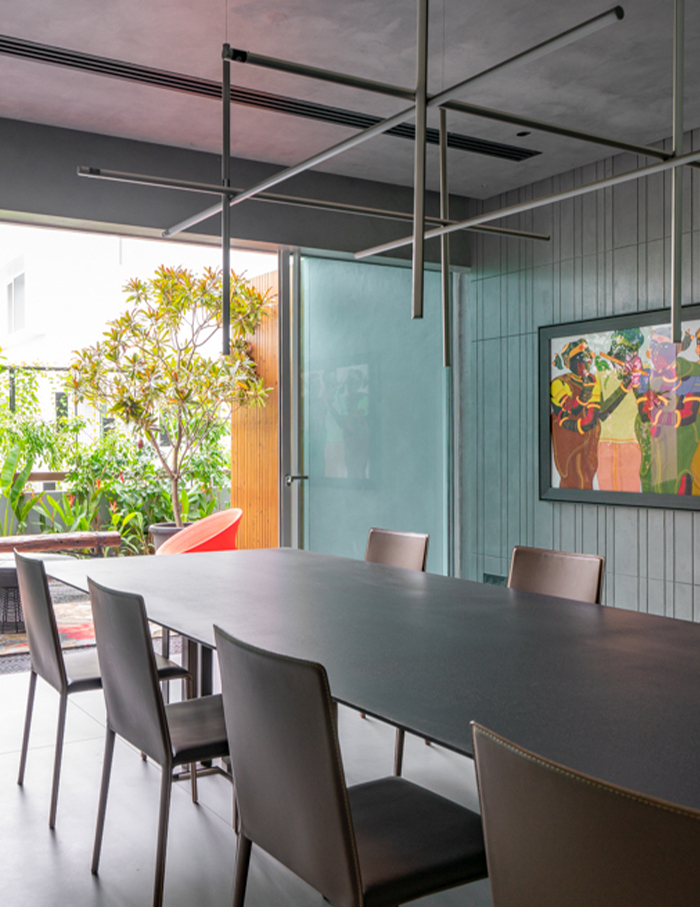 Sprawling on a specific layout, reconfiguring the space was not an option. What Aamir and Hameeda instead focussed on was elevating the interiors, customising furniture alongside some existing ones and slight architectural changes like cutting open a double-height bar area, altering walls and digging out courtyards to build visually focal points. Elaborating, they say, "We did the interiors from scratch. The client wanted light tones but we convinced them to use dark tones of concrete."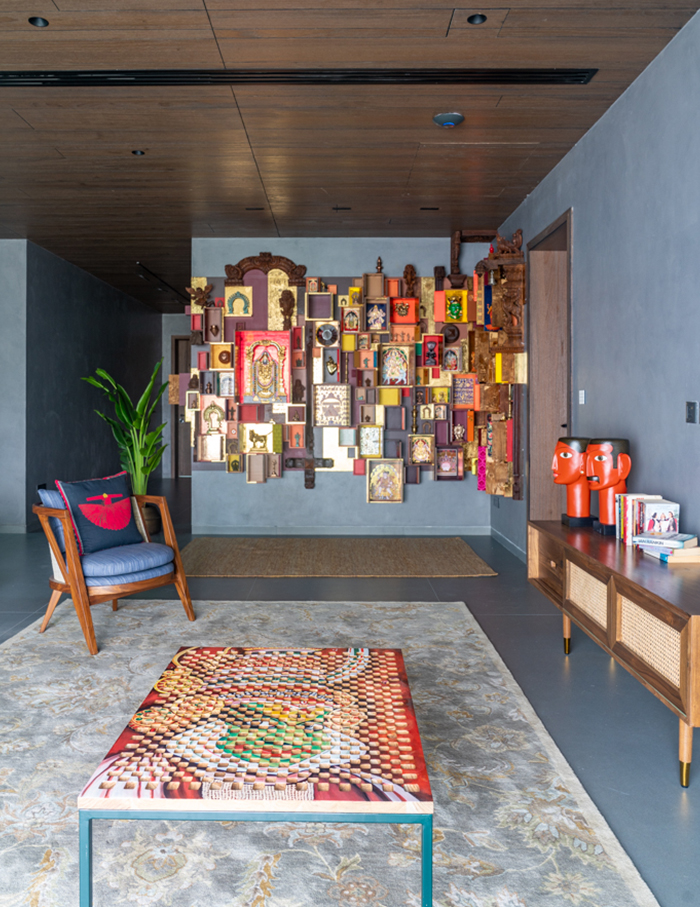 On the first floor, an elaborate puja room designed by Chennai-based artist M Rama Suresh keeps the cultural traces running through the house.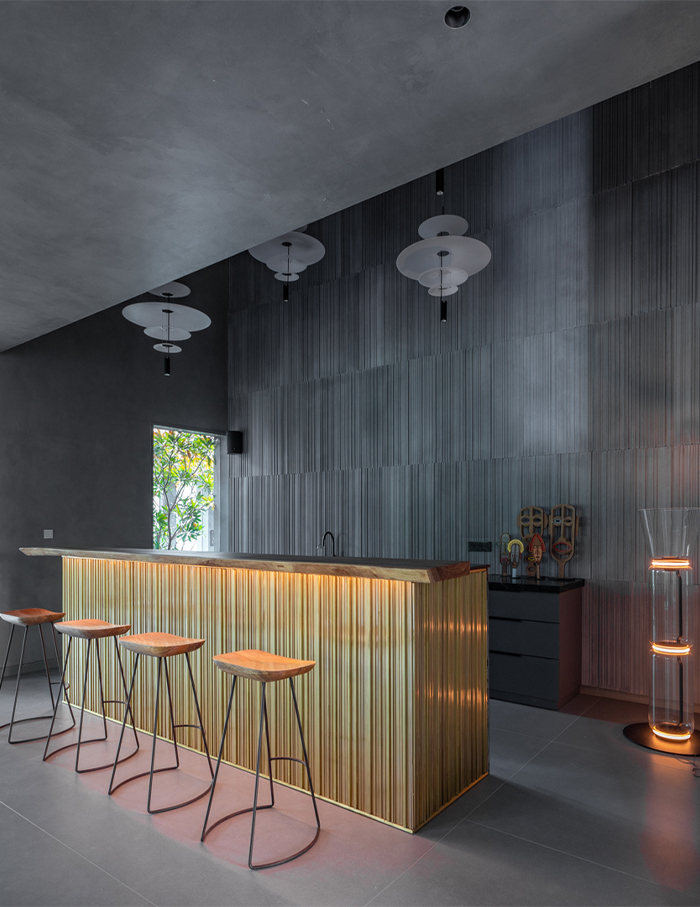 The dining area swathed in grey, brown and black, squarely looks out to a lush outdoor porch, too, completed with outdoor furniture. A glamorous spin to 'traditional', the bar, Aamir's favourite, is customised in brass with a double height wall layered in nuance panelling.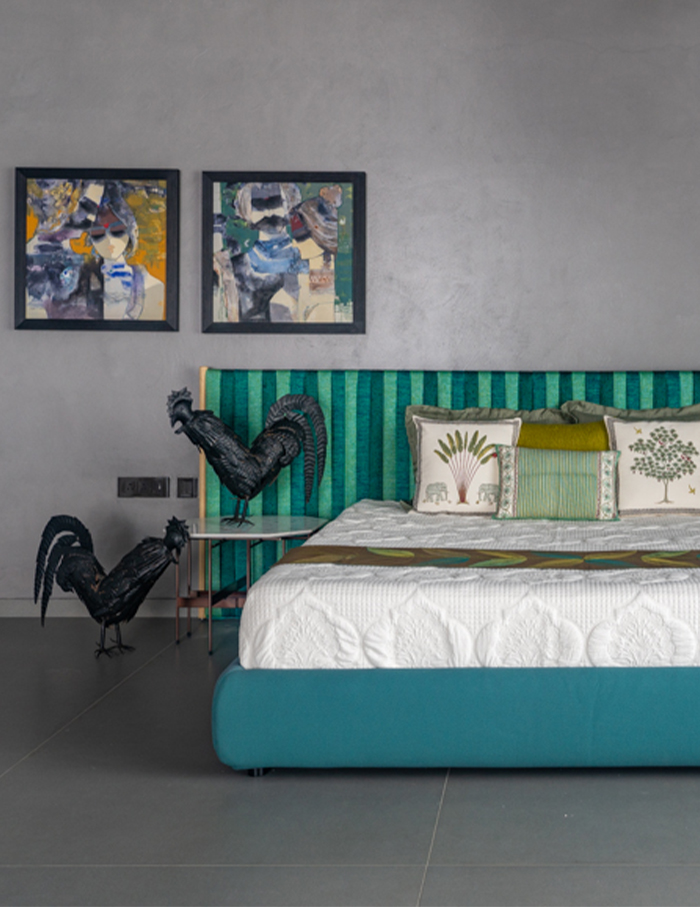 Vaulting two floors and spaced across four bedrooms, the house opens up with courtyards full of temple trees, leading to a foyer and a narrow passage. It finally reveals two courtyards that gaze at the grand living room, also Hameeda's choicest area embellished with majestic, old-worldly pillars from Chennai, accompanied with a vivid artwork by M F Husain on the centre wall and a yellow bull by artist Shrikant Kadam. Repeating visual mentions of local artists is not just it, "Lots of local products are used to retain authenticity and bring a perfect blend between modern and traditional." This friendly tussle between art, antiques, concrete hues and pops of colour sizzles up a totally different portrayal of a secluded, contemporary, whimsically warm but traditional at heart home.
You may also like: A Bengaluru home by Creative Geometry frames up a monochrome story indoors with lakeside views galore