Design
Office? Theatre? Gallery? This office space in Mumbai designed by Shiraz Jamali Architects has it all
JAN 20, 2023
| By Tamanna Doctor
The Aladdin's magic carpet is parked right in the middle of this office! An incubator for new ideas and concepts, this office space by Shiraz Jamali Architects not only functions as a private office but also as a place for exhibiting art forms ranging from paintings and photographs to jam sessions.
The 900 sq ft office designed by Shiraz Jamali, Mammen Paul and Mohit Darji of Shiraz Jamali Architects and styled by Saket Saurabh is located in Dadar West, Mumbai and houses panoramic views of the city.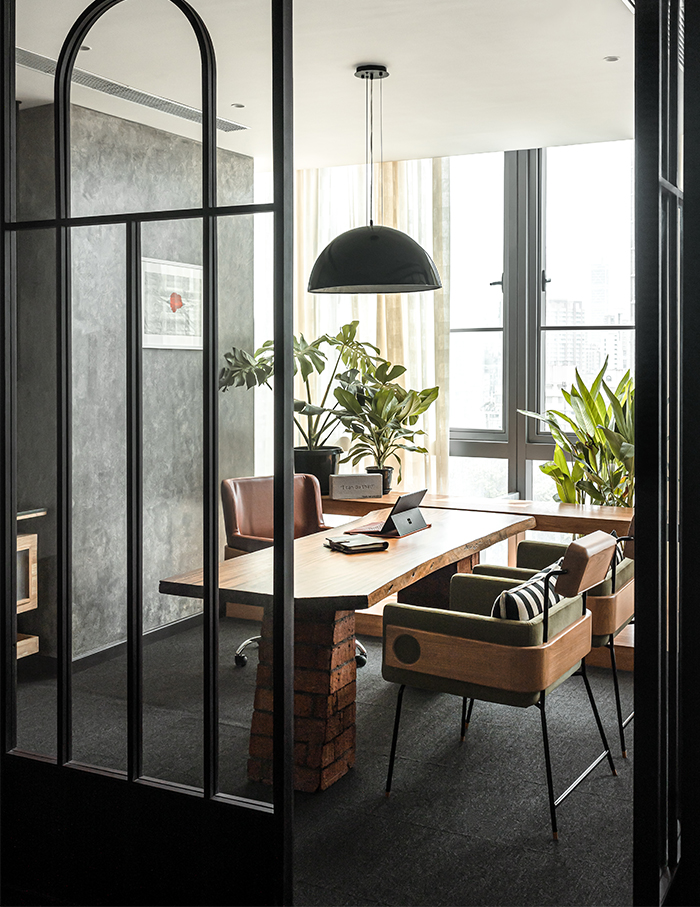 The curious brief
With the space being utilised not only as an office but also to explore passions, the designer understood that it needed an out-of-the-box approach and implemented exactly that. With pastels and earthy tones contrasting the blacks and greys, the office seems playful yet professional. 
"Being a space that's built to express one's artistic creativity, every piece of furniture and decor was designed and curated to harness this expression," says Shiraz.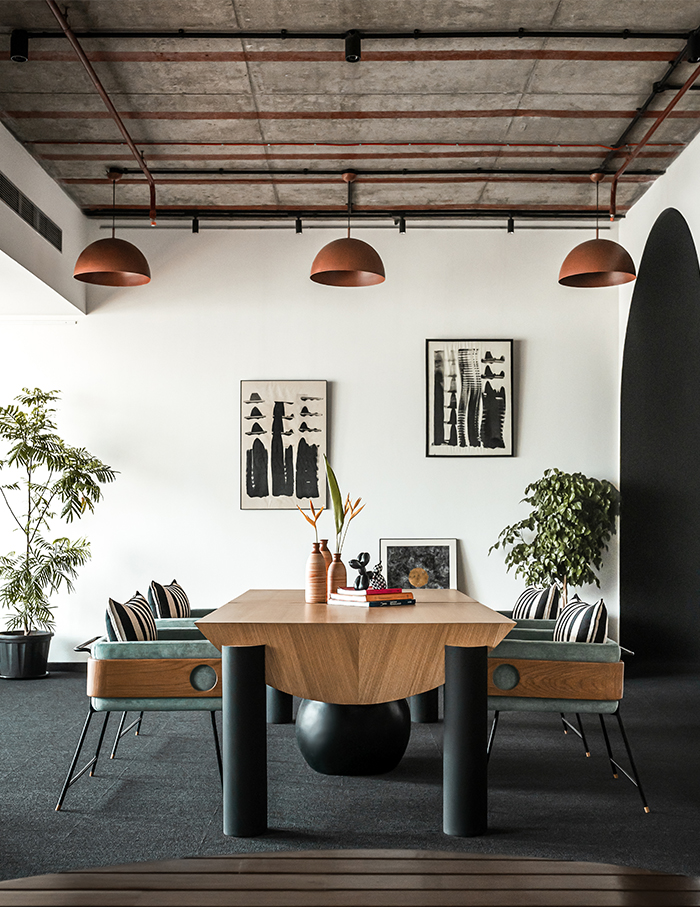 Tour every turn of the office 
Due to the office being received as a bare shell, transitional spaces needed to be created to define separate areas. 
Entering through a blackened arch, the space is divided into three areas—an open lounge, a multifunctional area that houses a stage for performances and a private cabin.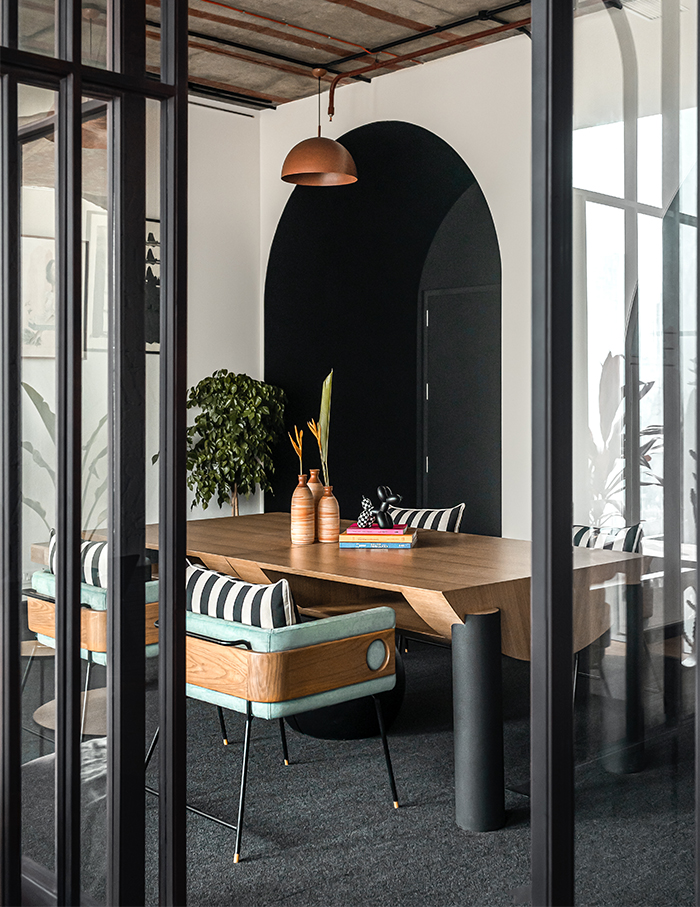 One enters into the open lounge which houses a work space where one can sit and work. The workstations can be moved during performances. Moving ahead, a plush pink couch can be seen in front of a swing. Due to the need for great acoustics, carpeting the floor was preferred. This posed to be a problem as no space is complete without a stylish rug. The designer came up with an avant-garde solution of suspending the rug from the ceiling to keep the carpeting and the rug both in one space.
To the left is an open space with a stage that turns into a dining table which rises from the stage floor. A large white bare bricked wall is present to display pieces of art. An open dry pantry caters to the needs of its inhabitants. 
The private cabin is doused in warm shades and wooden accents and it can be used for professional meetings.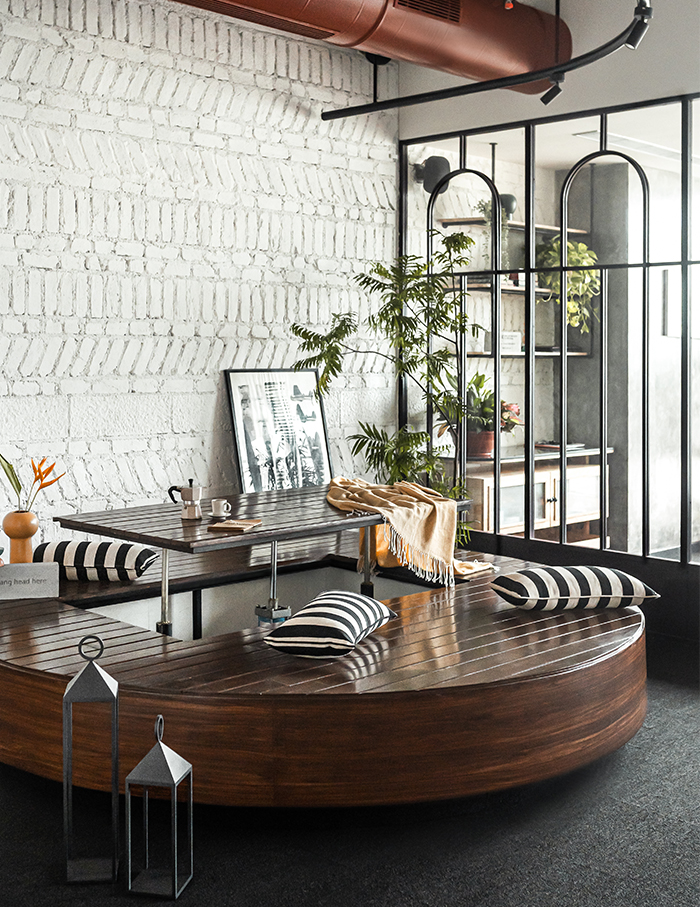 Ideas to bookmark
The use of space in this office is impeccable. The way the stage can transform into a table and the rug being suspended from the roof are just a few examples of extremely intelligent use of the area and how it makes it more appealing and enchanting.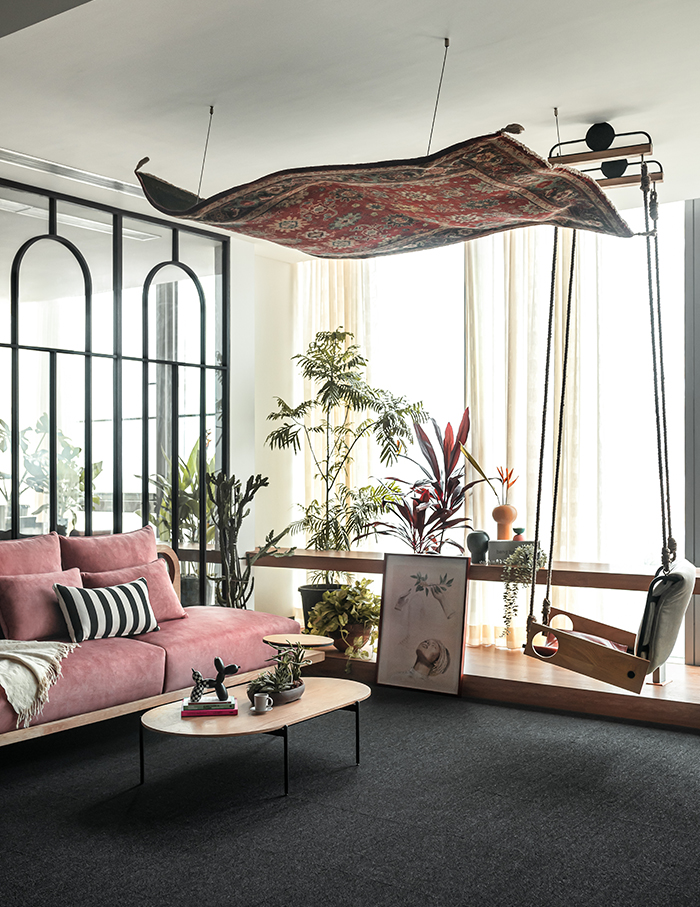 You may also like: A couple creates an earthy and contemporary retreat with designer Shivani Dogra in the Meghalayan hills