Homes
Nupur Shah and Saahil Parikh of We Design Studio's latest residential project is a seamless emblem of tranquillity
DEC 27, 2020
| By Raashi Dev
Nupur Shah and Saahil Parikh of We Design Studio (WDS) have intricately crafted this 2,100 sq ft apartment for a family of four to be ascetic with clean lines and a soothing colour palette. The three-bedroom residence in Worli, Mumbai, is an oasis of calm. Simplicity is key and the end result is a cosy space where the family spends quality time together. 
The most arresting feature on entering is the welcoming foyer that leads to the central living and dining space, where a large balcony unveils a picturesque view of the Bandra-Worli sea link.
Kitchen and staff quarters lie to the left of the foyer, while a long passage on the right connects to the bedrooms. Every single room comes with a spacious sea-facing balcony to allow a seamless connection to the outside.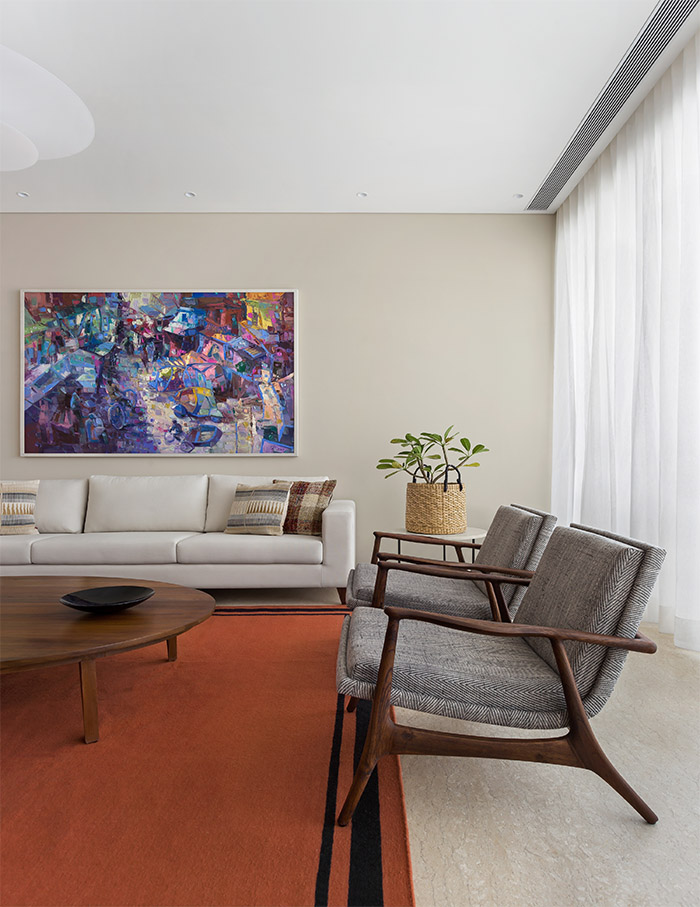 Light beige marble floors and repositories finished in warm white make up the perfect backdrop for a light and airy home. Fluted glass is ingeniously used as an infill in the doors to maximise the spread of natural light. Bespoke furniture modules are built using old Burma teak wood, finished in natural linseed oil polish, and a magnificent white quartz stone is employed for the kitchen counter and dining table.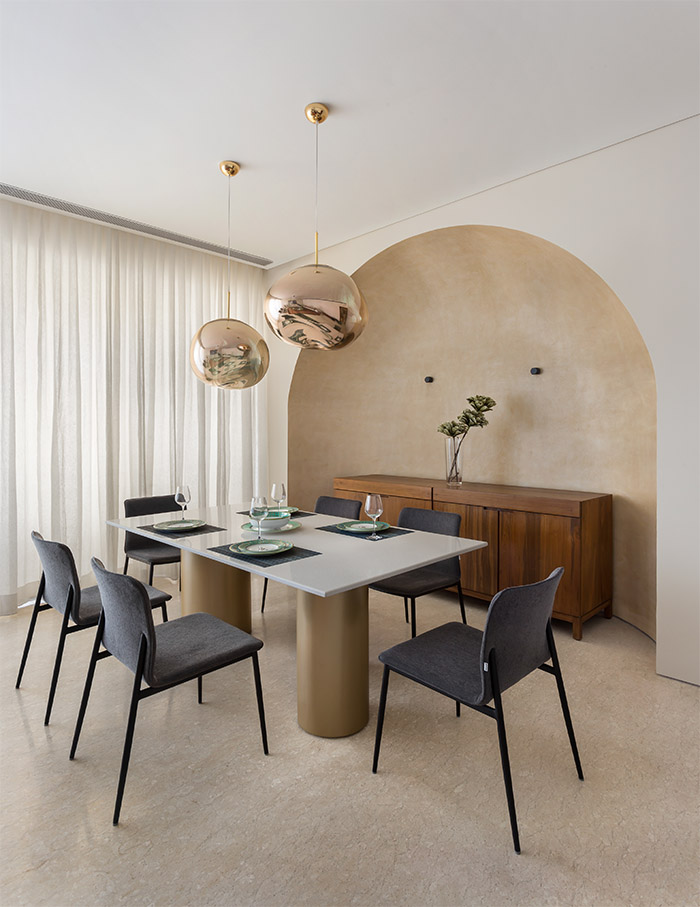 A curved wall behind the dining table is tactically placed to break away from the monotony of linear walls, and exudes the ambience of a Goan villa. An inviting, outdoor bar is set in the living room balcony, where the family can unwind with a glass of wine while enjoying a stellar view.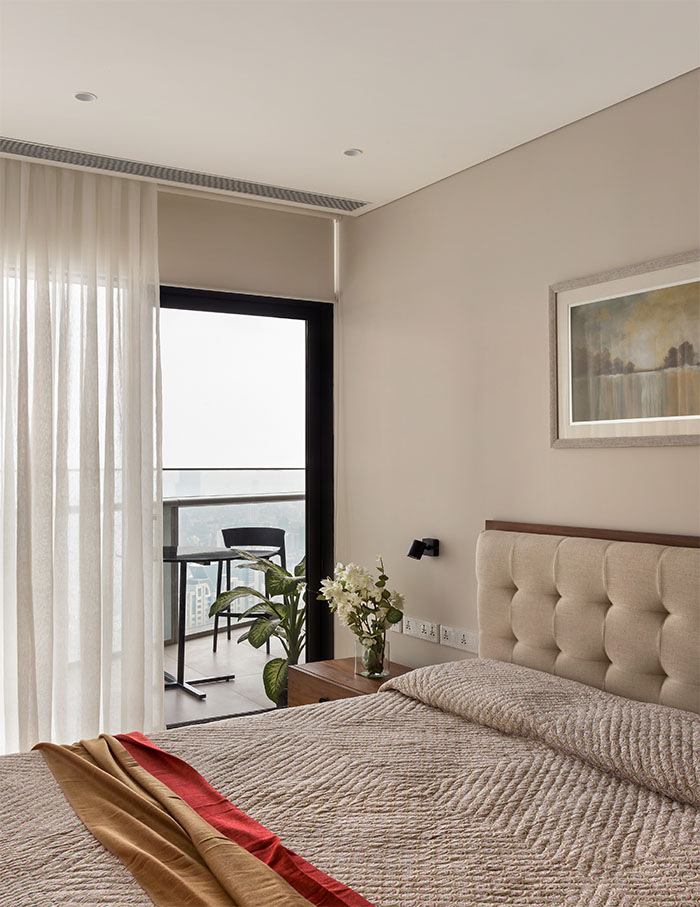 Muted, warm earthy tones are gingerly chosen to accentuate the design language and soft splashes of colours highlight particular elements and spaces. These deceptively elusive details bring out the lucidity of a domestic milieu, seamlessly encapsulating the inherent sensuality of austerity and simplicity. 
Shah and Parikh add, "We have an abiding interest in austerity and simplicity, and believe that there lies an inherent sensuality in building with restraint, order and control. So, we strive to achieve an organic product. One that is befitting its purpose and environment as well as is defined by the rightness of what is and the richness with which this is experienced."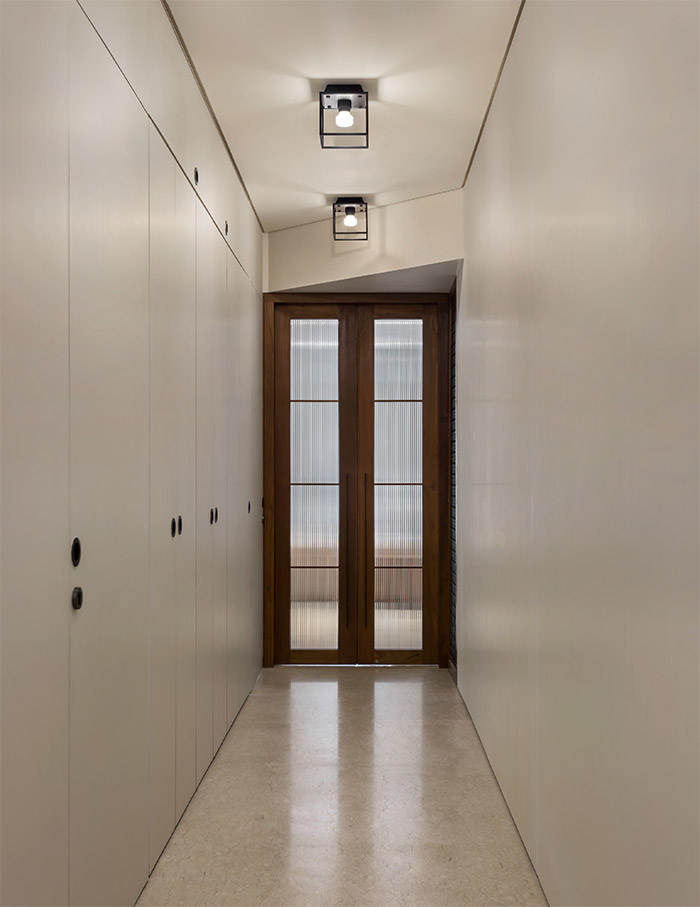 "For us, this is a conscious act of building without decorating. It involves using bare essentials to create a simple and uncluttered space. This way of thinking manifests in a certain simplicity that sets the home apart," the duo conclude.