Homes
A pristine palette dominates the Saat Rasta residence by We Design Studio
JUL 10, 2020
| By Vedika Nair
Elegance and timelessness are the keystones of the Saat Rasta Residence, crafted by Nupur Shah and Saahil Parikh of Mumbai based We Design Studio. This 2,100 sq ft home in the maximum city comprises two bedrooms, a guest suite and a study, and imbibes the design sensibilities of both the creative duo as well as those of the homeowners.
Right from the entrance, a light and airy palette of colours and materials is apparent. A long wide corridor with a cosy seating area is cloaked in white shades. It leads to the central living and dining zone, which have balconies on either ends. On one side of this corridor lies the study and kitchen, while the other end houses a powder room.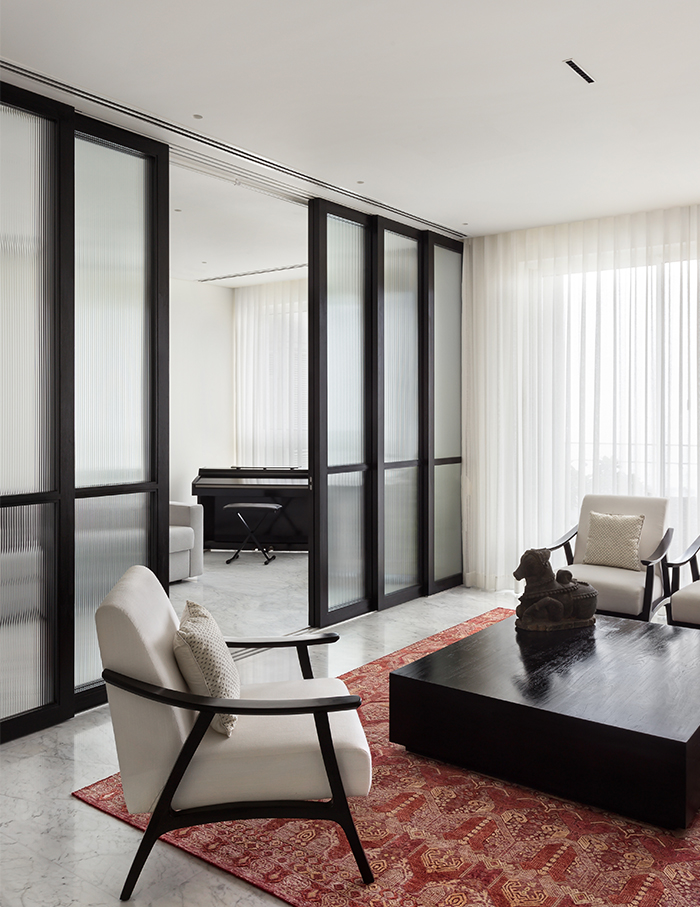 A seamless link is created between the study, kitchen and corridor with the help of glass doors. "This small study is our favourite space. It accommodates a floor-to-ceiling bookcase, an extremely cushy easy chair and footstool. The dry smell of old books and the intimate scale makes this space cosy, warm and inviting. What's not to love!" exclaims Shah.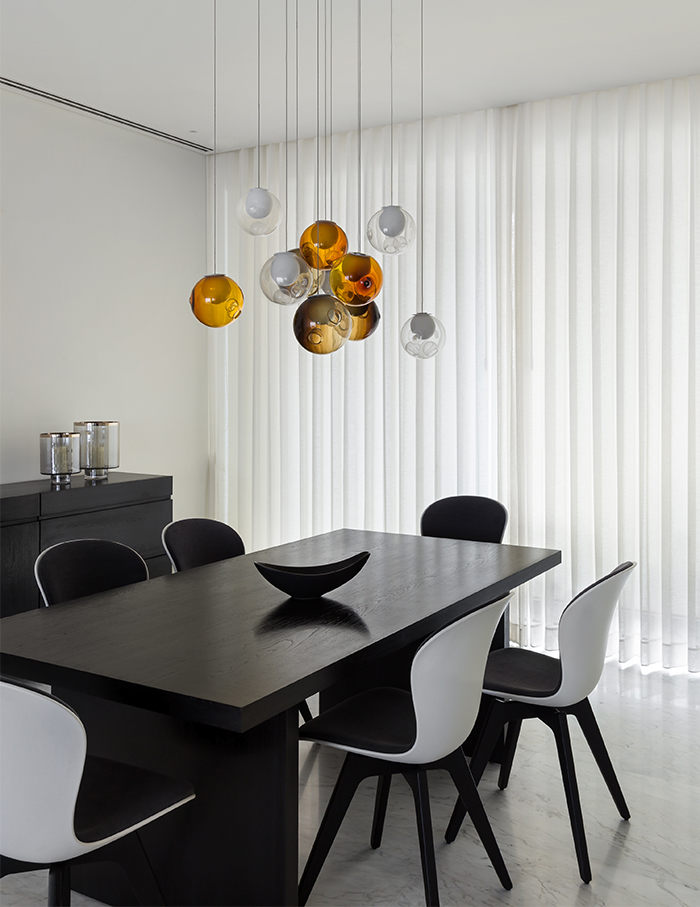 The soft, pristine palette continues throughout the home right up to the guest room, which is separated from the main living area using sliding glass doors. The simple addition of this movable partition turns the space into a multipurpose zone that doubles in size when the doors are opened.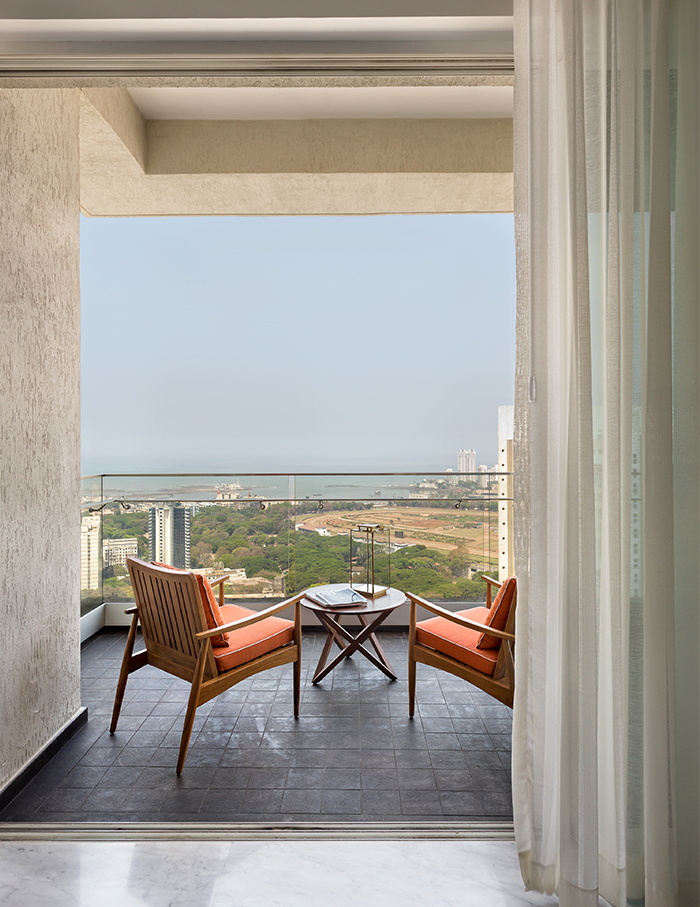 The shell finishes of the home are done up in tones of black, white and grey—hues that promise a timeless aura and fuse perfectly with the homeowner's many art and accessories.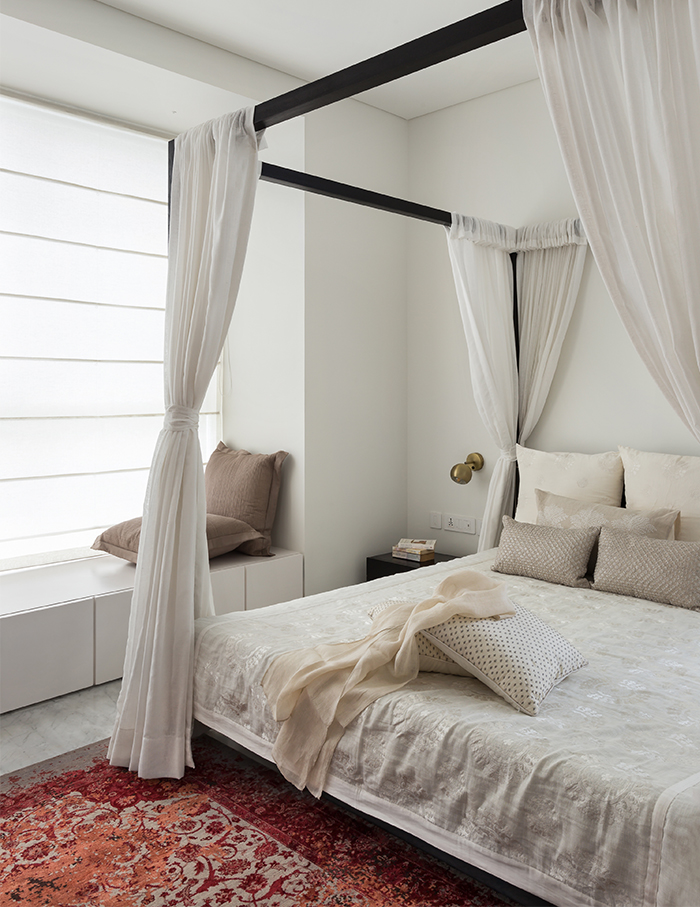 "We've broken away from the central theme by introducing a copper wall on one side of the long entrance corridor. It leads to the powder room on the other end, which is clad with plywood and copper sheets to make it visually striking. In fact, one of the walls is finished in gold-leafed tiles from FCML to serve as a highlight wall and add warmth to the compact space," explains Paarikh.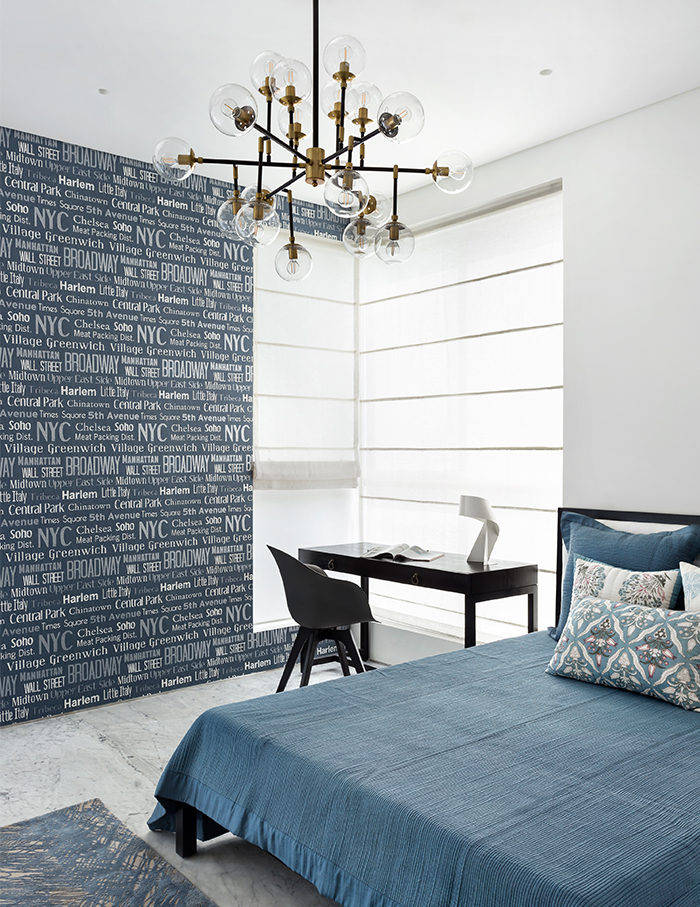 Shah and Parikh have ensured that both bedrooms are bathed in subtle shades, feature ensuite facilities and walk-in wardrobes. Made with austerity and simplicity, the Saat Rasta residence is a home that one would probably never tire of living in!
Scroll to see more images from this Mumbai home…