Homes
Stepping out of the minimalist architecture style, Nikita Rohra adds contemporary extravagance to this home
JAN 18, 2022
| By Kashish Kaushal
Coalescing clean lines, modern sensibilities and sophisticated detailing, Adonia is a four BHK home crafted to devise a luxurious yet casual atmosphere. The sheer expanse of this 3,000 sq ft Mumbai home is impressive, and Nikita Rohra, principal designer and founder of The Stripe House, has further enhanced the scale by incorporating the principles of modern living into this luxurious dwelling.
Adonia is extra special for Rohra as this is her parent's abode. Talking about the immersive experience, she shares, "I started this project in December 2019 and due to the pandemic, we had to shut everything midway. It was quite challenging and a lot of pressure to be your own client while being the designer but indeed a great learning experience. Understanding the needs and taste of the members we came down for a very contemporary and luxurious look of the home."
Located in Mumbai Hiranandani Garden Powai, the entire house is done up with decorative veneers and colour PU. Since veneer already has its own colour and grains, the colour palette was kept neutral, balancing it with shades of brown, grey and beige. The interior styling for this project has been done by Janvi Javeri from Walls and Things.
Out of the many sections of this home, the living room takes centrestage with a grand passage leading up to it. Forcing you to stop and reflect, the passage fused with arcades covers both sides of the walls with veneer panelling and exudes depth. A half-round ceiling with gold leafing in between the arcades attracts attention.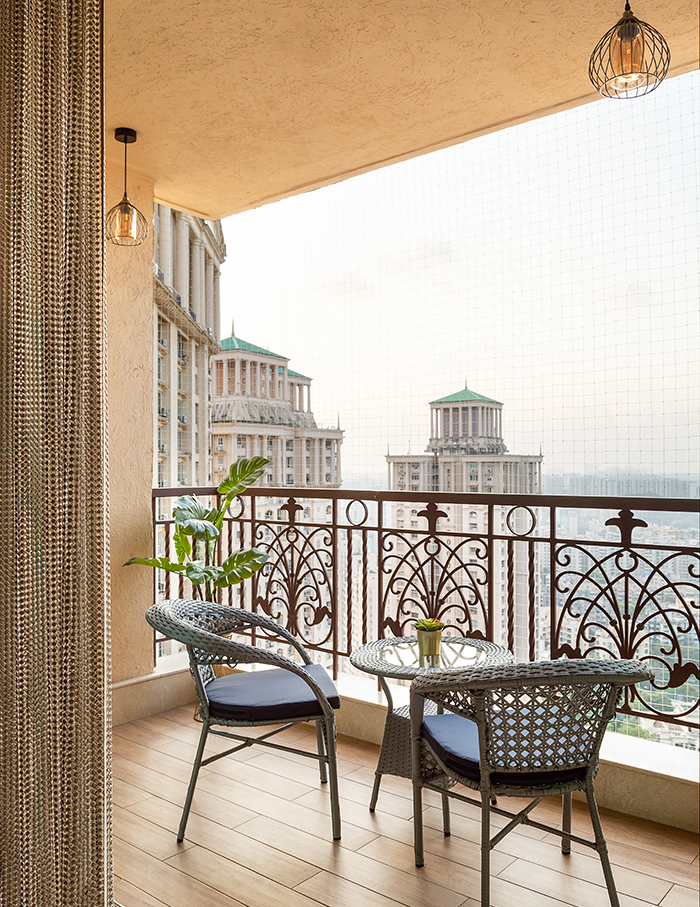 Inspired by beautiful art galleries and museums across the world, Rohra has given a spectacular depth to the room with big arcades and huge ceiling height. "My team member suggested that I open up the ceiling where the height was low as there are big beams in between. We gave arches in the ceiling with gold leafing, added wall brackets and open shelving with stunning art pieces and a customised Buddha artwork," Rohra further explained.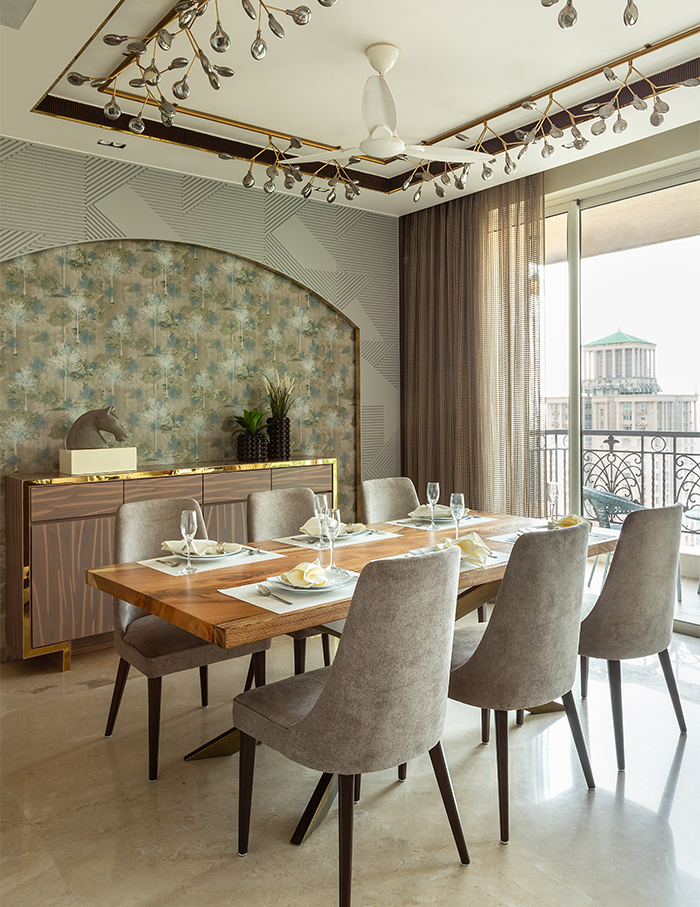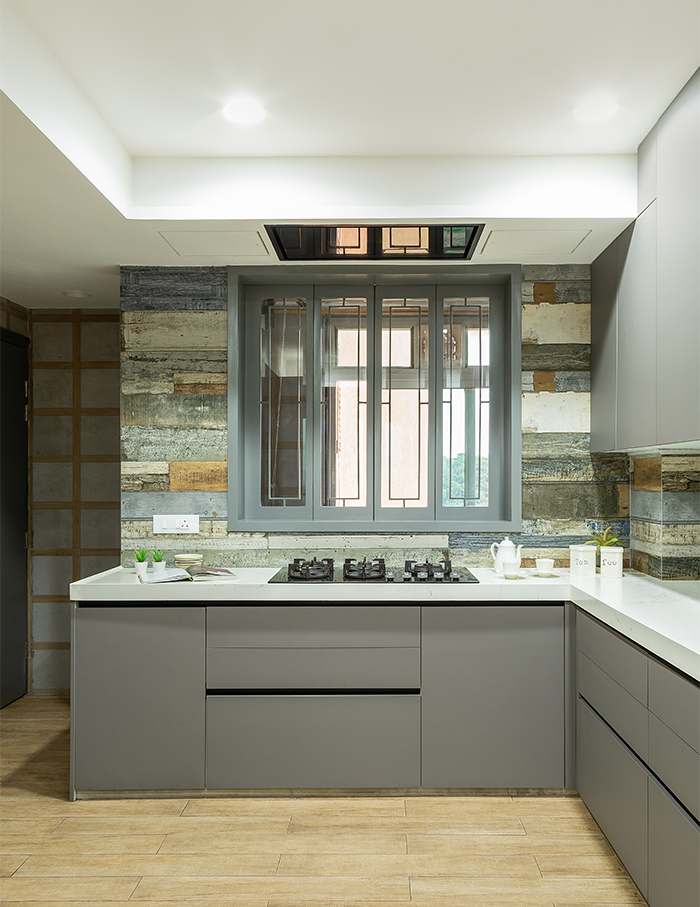 The dining area, right next to the living area, takes forward a similar theme. Breaking the pattern, yet blending it, matching wallpaper has been used in this space. The four bedrooms of Adonia are big on details—plush upholstery and leather finish, veneer panels in dark hues and dazzling gold embellishments, coupled with a stunning curation of art.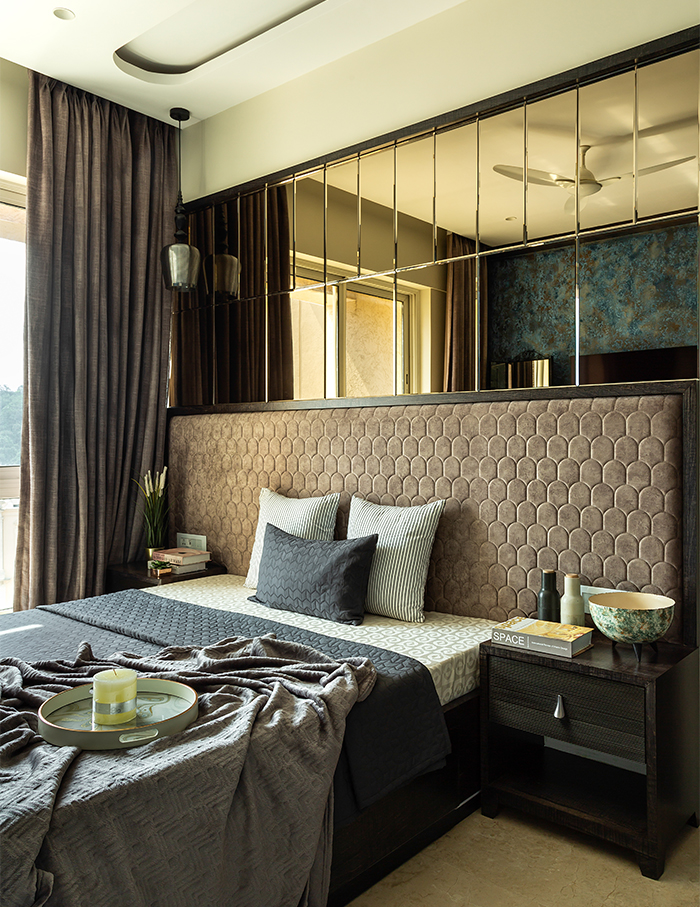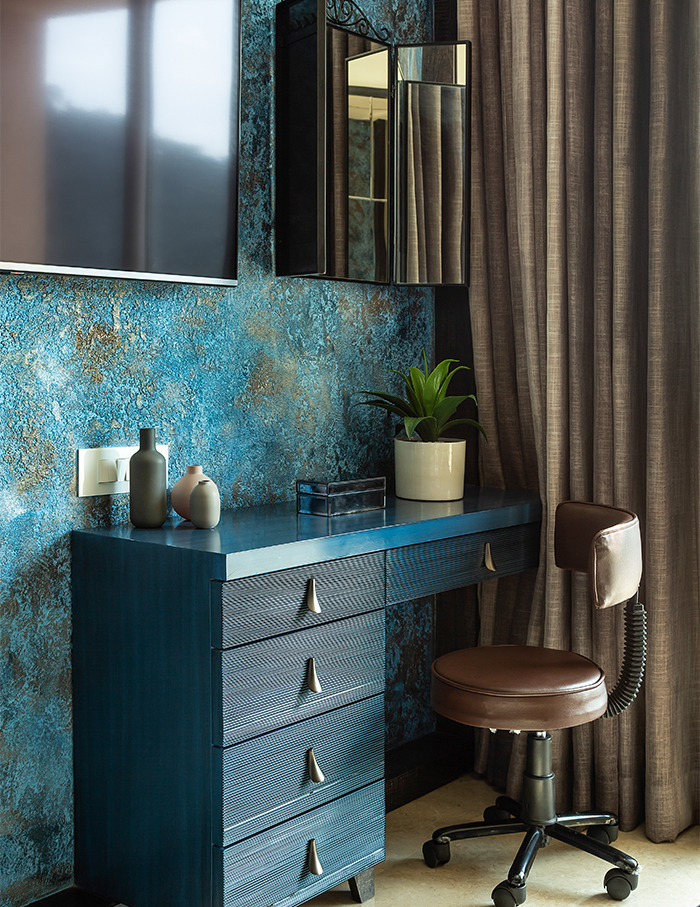 Overlapping rectangle borders with veneer make for the parent's bedroom ceiling while the highlight of Rohra's bedroom is the high texture fabric wallpaper she used on the sliding wardrobe shutter. A neon sign in the brother's bedroom adds an element of chic in the otherwise minimal decor. For the sister's bedroom, pastel shades of lavender find prominence and are a treat to the eyes!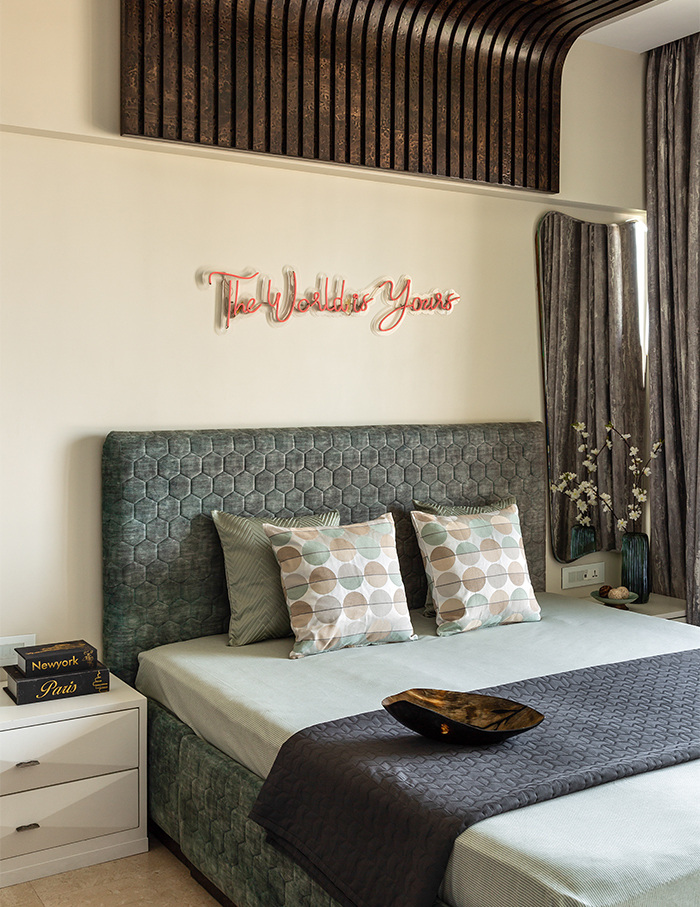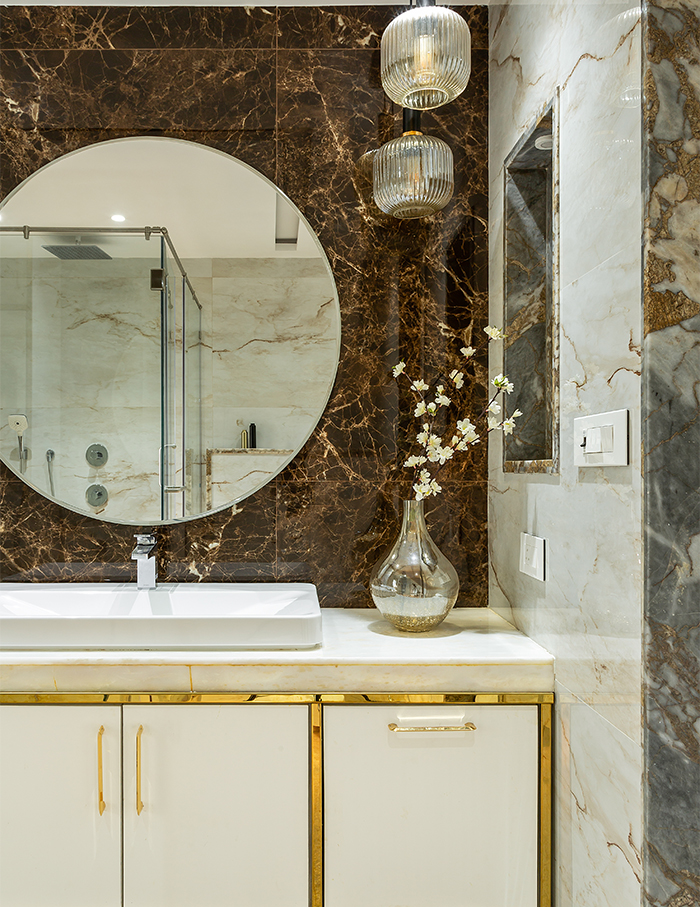 What ties Adonia together is an array of recurrent elements that reign it all in, and standardise it to suit a contemporary, luxurious aesthetic. "We try our best to understand the personality of our clients' preferences and cater them accordingly with all our love for the latest design and trends," concludes Rohra. 
If you liked this Mumbai home, make sure you check out this Ahmedabad home by Veeram Shah of Design Ni Dukaan!