Homes
Nikita Mahajan of The ChalkWhite Home creates a timeless 'home with a view' with classic textures and modern tones
APR 19, 2021
| By Saloni Rege
Nikita Mahajan of The ChalkWhite Home fashions a timeless, four-bedroom condo in Gurugram's lavish DLF Crest. She's christened it "the house with a view" as it opens up to picturesque views of the Aravalli forest belt.
Realised as an individualistic space for the homeowners, the 3,000 sq ft abode exudes understated luxe with a touch of classical elements. It is lightly influenced by a plush Manhattan apartment that looks over to the Central Park.
"We've conceptualised, styled and executed the entire project as an innately contemporary home with a subtle sense of luxury. Since we usually work with light spaces and clean palettes with hints of colour pops, we were glad to continue our signature style here as the clients were in alignment with our ideologies," shares the principal designer of The ChalkWhite Home.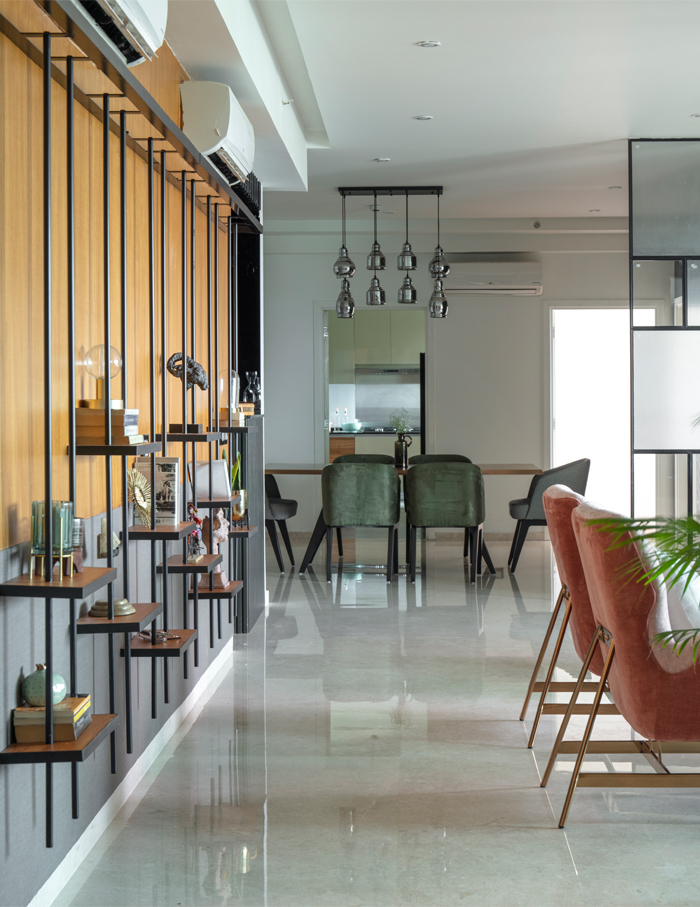 A sense of linearity and demarcation envelopes us on entering. Since the homeowners extensively use the living room, it has been crafted as the nucleus with other areas visually revolving around it. The first thing one sees is a series of floating shelves against a feature wall that's part wood panelled and part grey toned.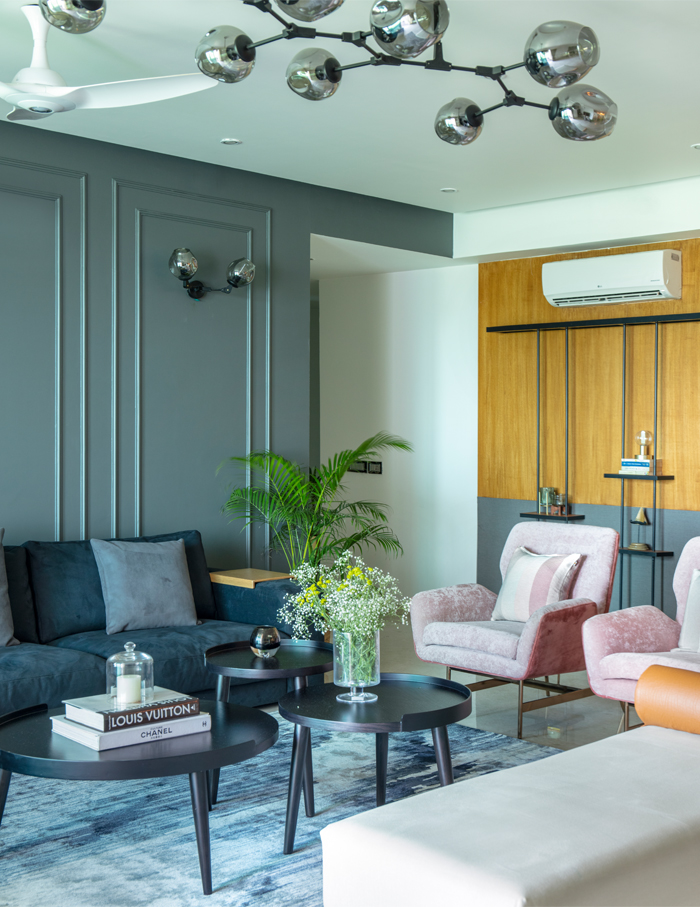 A layout that encourages conversations is seen in the living room. Here, a dark grey sectional from MKM Luxe Suisse offsets a wall adorned with plaster-of-Paris mouldings, creating a grey-on-grey colour block element. On the other wall, the customised floating shelves act as an ideal backdrop to display souvenirs from the homeowners' travels.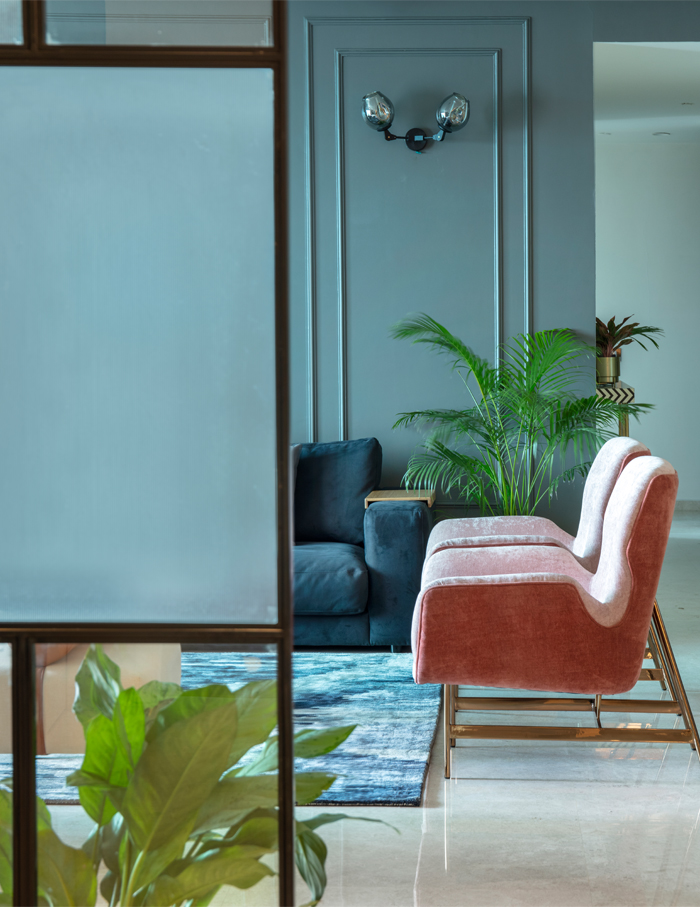 The entire house is dressed in blues and greys, paired with splashes of pink, green and monochrome. The distinctive yet complementing salmon-coloured armchairs from Bent Chair render a soft, romantic charm to the living space. Adding a sense of warmth are oak veneers that are finished in walnut polish, planters, poly-blend cotton and suede furnishings as well as the wall panelling.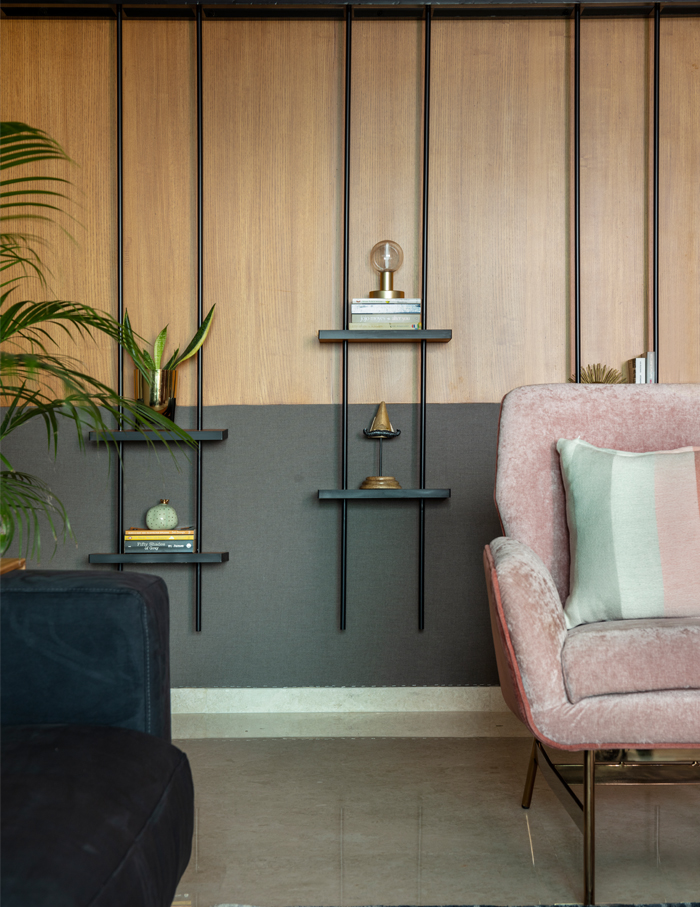 The dining glass partition has been carefully designed with uneven divisions in fluted and transparent textures to segregate it from the living area, while still being visually connected. Here, the dining ensemble includes a table with dark oak veneer top (matte finished), four olive green suede chairs and two in houndstooth patterned fabric.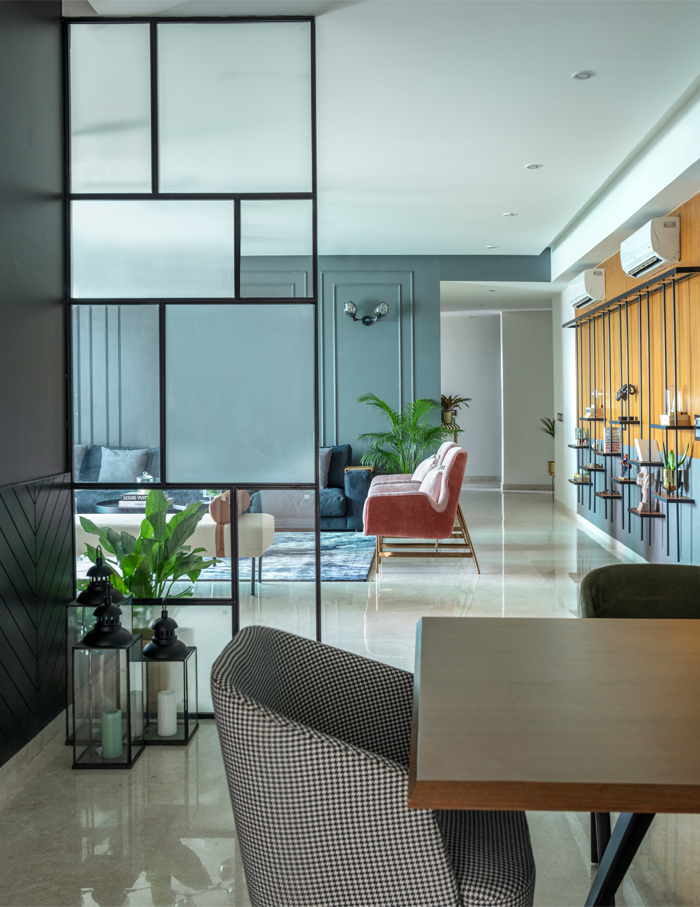 "Other than the living room, the dining area occupies a special place in my heart. We loved adorning the two facing walls—one in linear black mouldings with houndstooth wallpaper and the other in a charcoal grey shade with chevron patterned MDF at the bottom. It adds a rich aesthetic, combining the classic moulds with a modern twist of black tone," reveals Mahajan.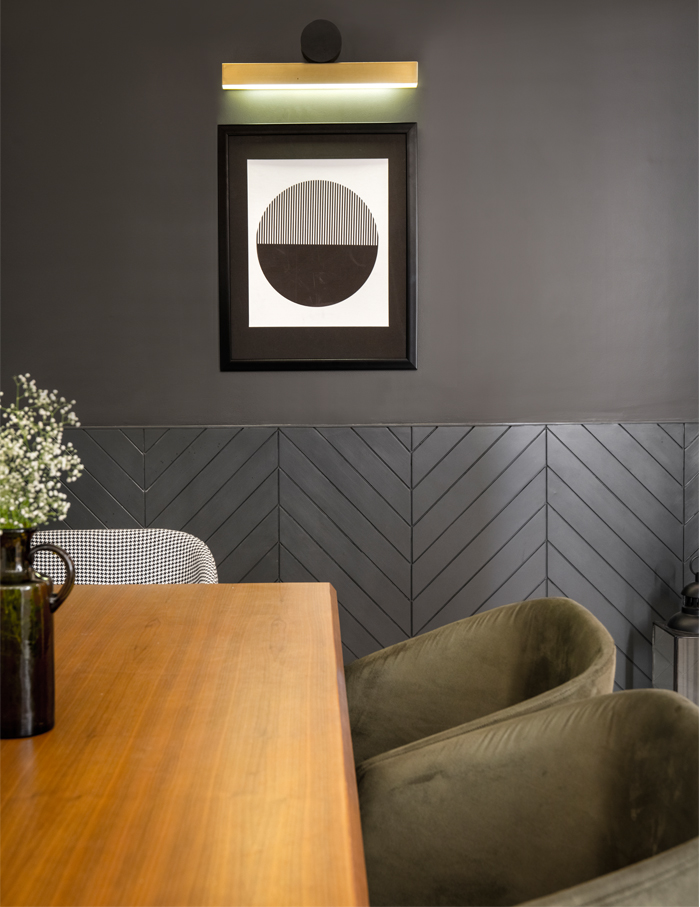 Cocooned in a nook is the grooved MDF bar. It's complete with a granite countertop, mini fridge, display racks, track lights suspended from MS bars as well as a grey mirror that doubles the perceived space.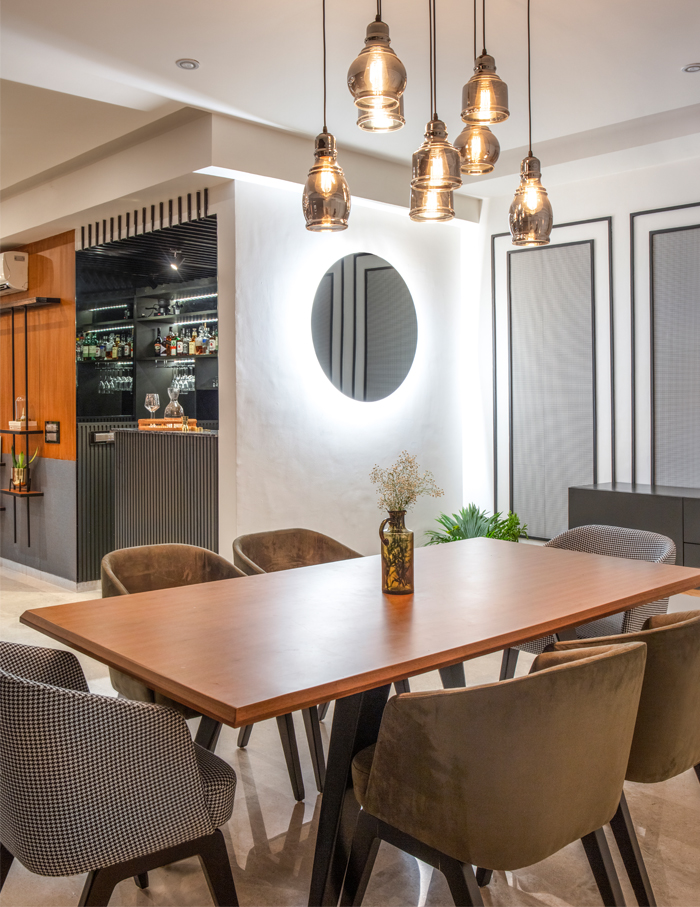 Our next stop is the master bedroom. Here, a smoky grey fabric back panel with black aluminium inlays, MDF grooves and dark grey glass panels are paired with contrasting white walls.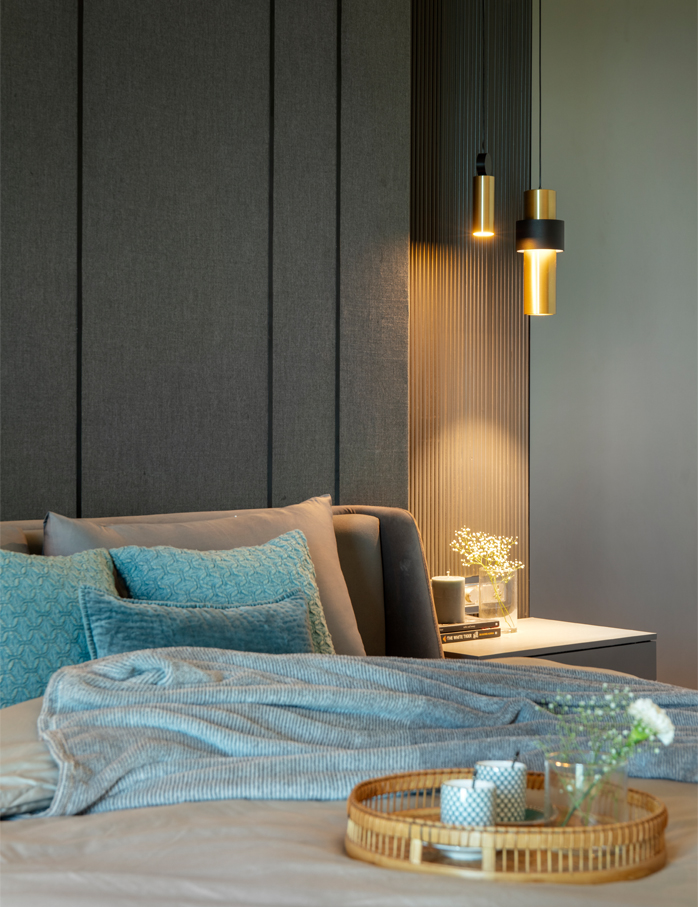 For one of the two guest rooms, warm oak veneer panels are combined with thin glass panes and black inlay strips. Cosy and breezy, it is ideal for relaxation with its cushy Godrej Script bed and soothing timber floor.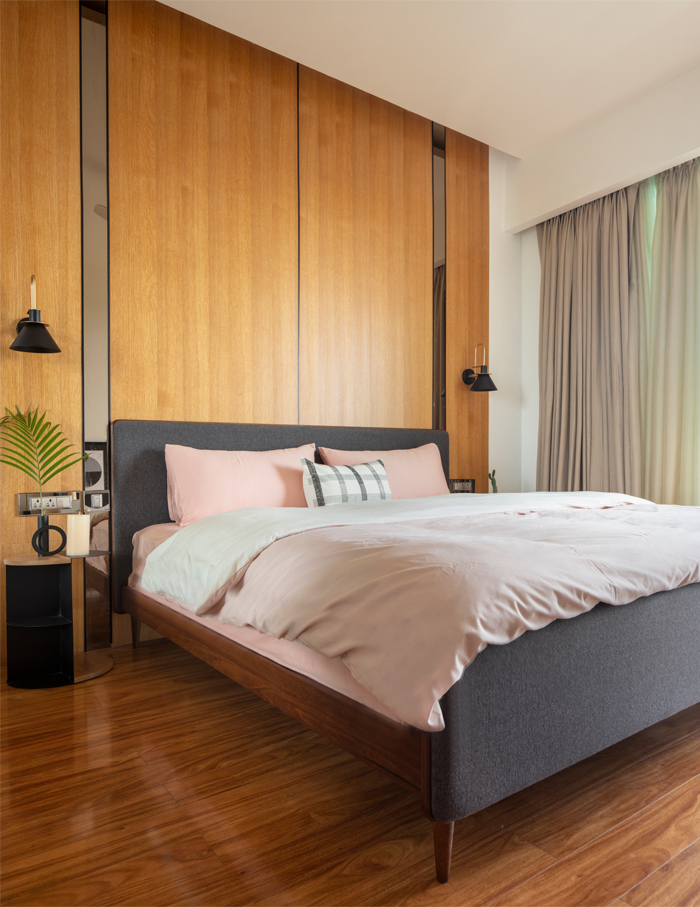 The other guest room also features a Godrej Script ensemble of fabric bed and sleek side tables against a mildly textured grey NGC Nafees wallpaper and unique wall lights.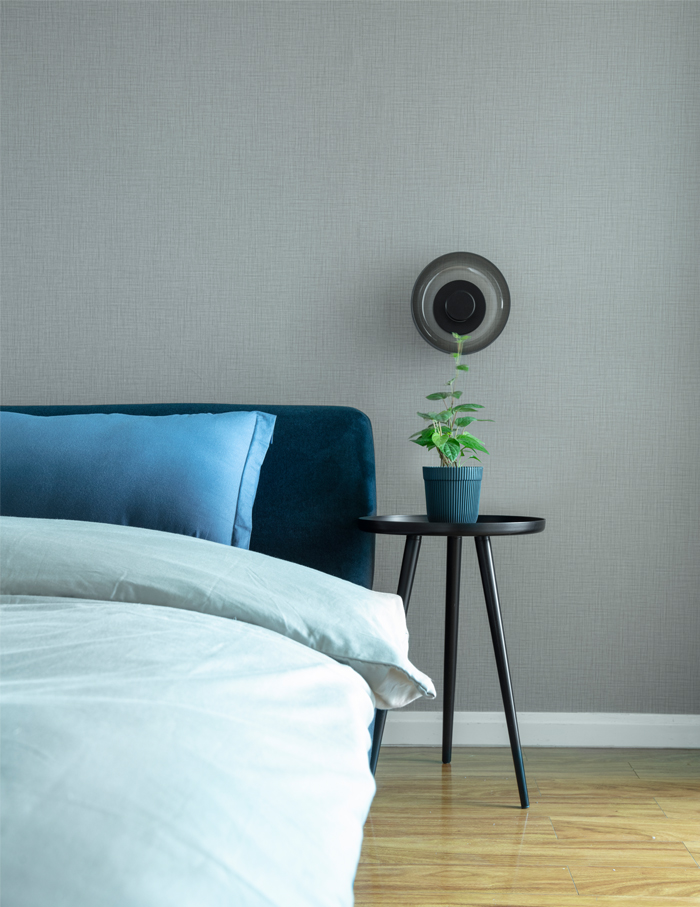 Another fascinating space is the study. It is designed as a work office for the fashion designer wife. Since she wanted it to be reminiscent of textiles, Mahajan has placed a prominent blue-print induced Nilaya ikat wall covering. Balancing the blues is a wooden false-ceiling and subtle furniture. A blue ledge is also added to double up as a prayer space.
"The house is a culmination of experimental ideas that wrap the spaces in textures, materials and tones. The condo is our design narrative personified with its carefully selected decor pieces adding life to the design," concludes the designer.
Scroll below to see more images of this Delhi home by Nikita Mahajan of The ChalkWhite Home…