Homes
New York-based designer Dan Scotti crafts an all-season retreat with a neutral palette and a refined approach to luxury and ease
MAR 31, 2021
| By Sanjukta Ghosh
Tucked away in a quaint neighbourhood of East Hampton is a country home fashioned by New York-based designer Dan Scotti. We love that the estate embraces contemporary luxury while reflecting the historical aesthetic of the locale's Shingle-style homes.
This expansive, 18,000 sq ft property is designed by Scotti to be an idyllic destination during weekends and summers for the homeowners. And the result is a breezy holiday home that makes the most of the sunny outdoors, while maintaining a modern yet cosy ambience indoors.
"We wanted the home to be light and airy enough to feel like a summer retreat during the warmer months. But not so beach-y that it wouldn't feel comfortable during the year-end Thanksgiving and Christmas holidays," says Scotti.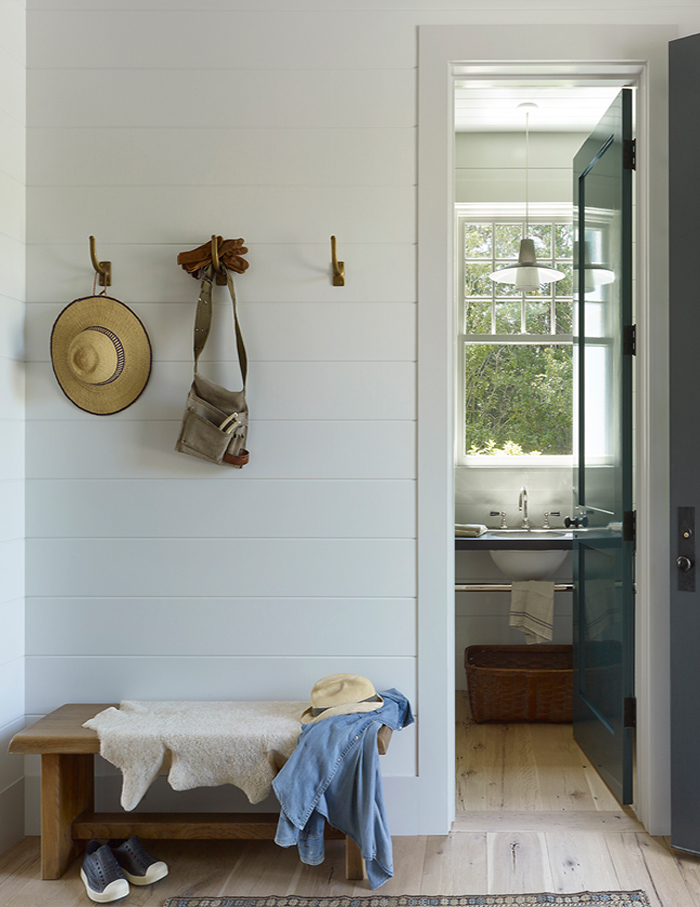 Known for his fresh approach to designing country estate homes and city apartments, Scotti took great care in arriving at the versatile colour scheme. He turned to the muted blues and greys of weathered teak furniture, bluestone terraces and aged cedar shingles for inspiration.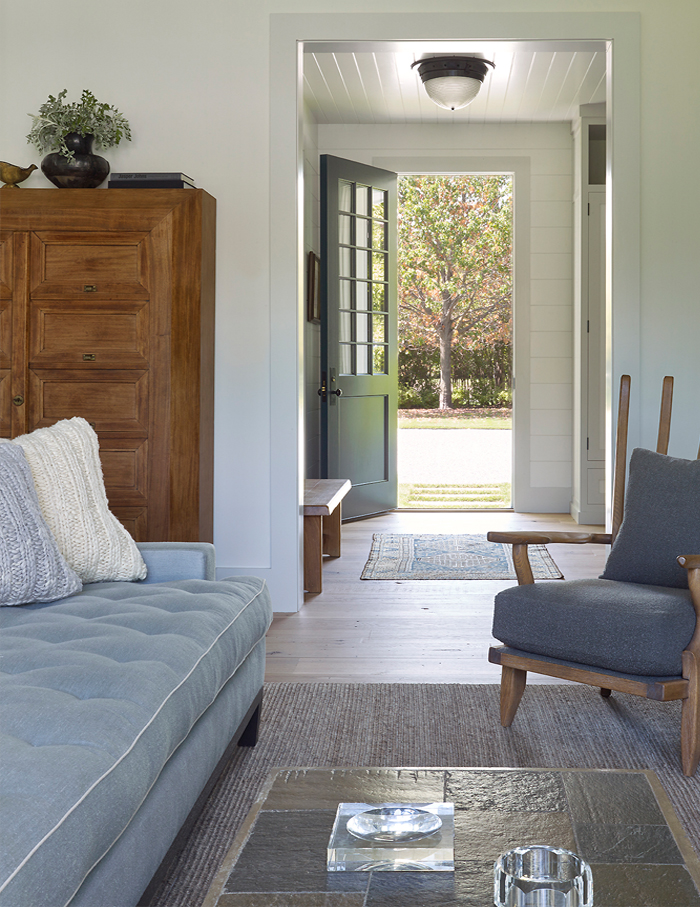 The living room, like Scotti describes, lend a sense of airiness and transparency as see-through spaces offer glimpses of the outdoor pool and expansive garden. A spacious central hall with cosy nooks provides access to other parts of the residence.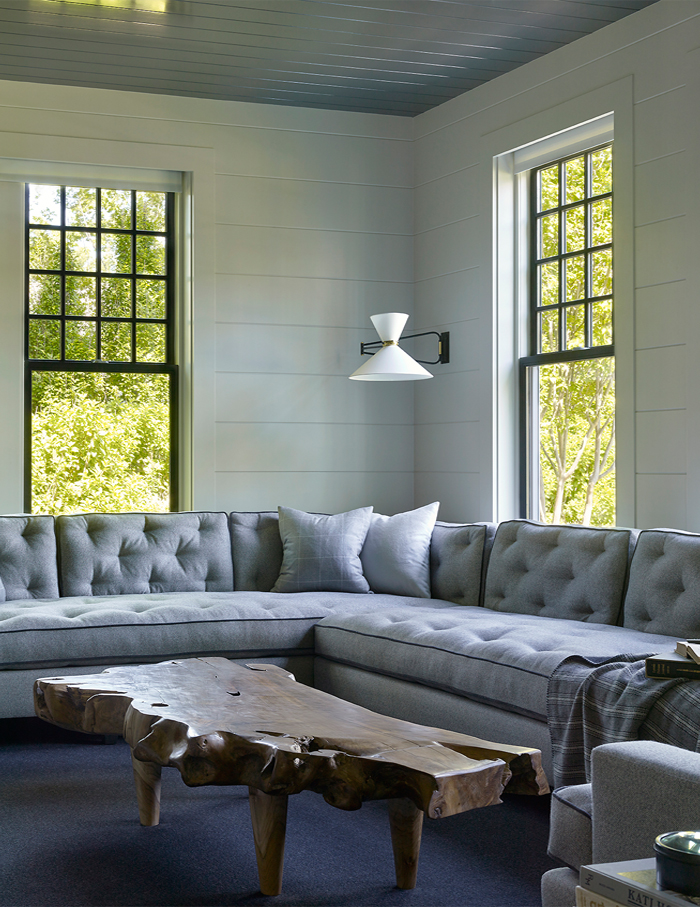 "It was important to create a number of comfortable 'chill' spaces throughout the home, where visitors can simply flop down and read a good book," divulges the design maestro.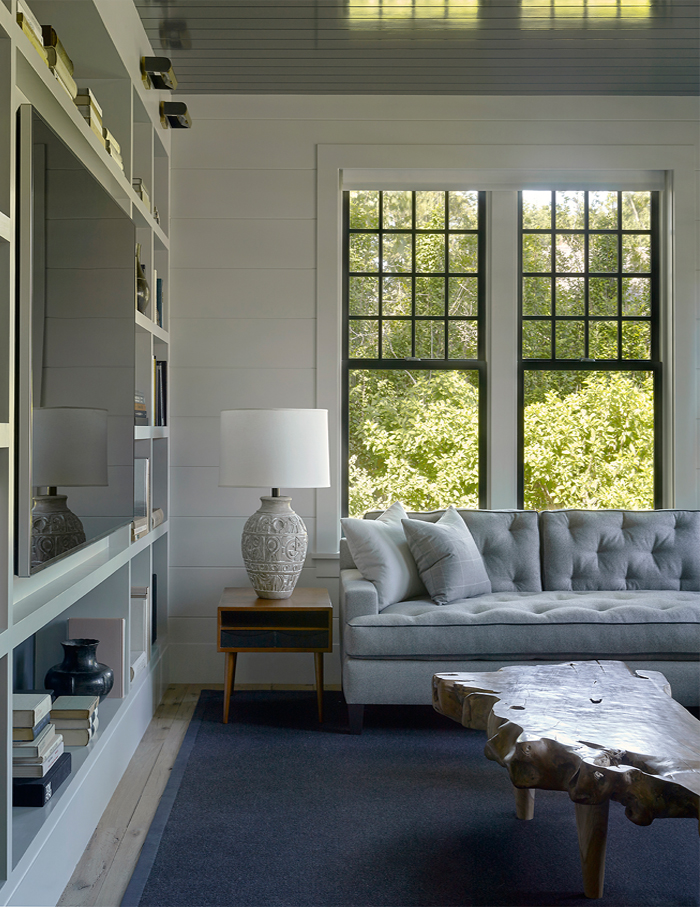 The cashmere sectional sofa in the media room is the perfect spot to curl up and tackle a Netflix marathon. Here, a super-saturated dark grey ceiling is planned to create a cocoon-like atmosphere.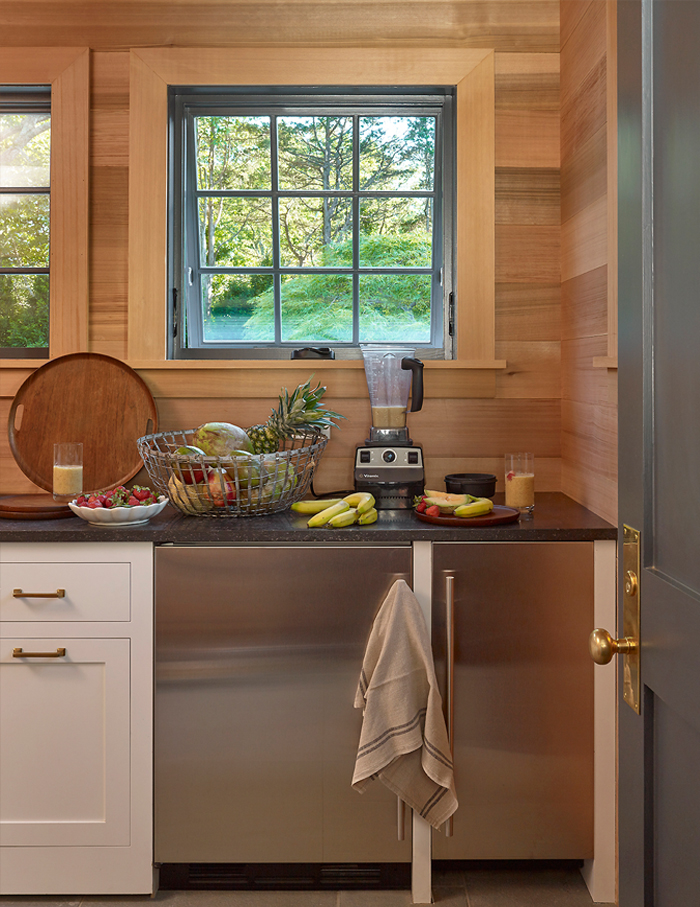 The open-galley kitchen is functional and modern, with white shaker-style cabinets add visual volume. Meanwhile, high transom windows flood this culinary space with abundant daylight.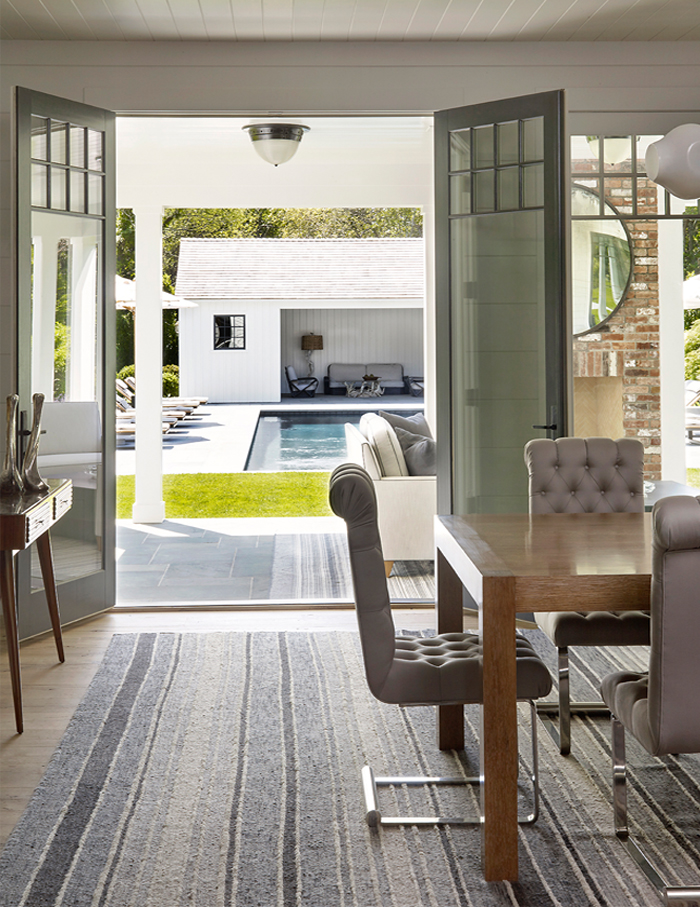 "It always puzzles me why someone would design a home with soaring ceilings and grand staircases in the front foyer, only to have lower ceilings in the kitchen," says Scotti, adding, "For this home, we allocated a great deal of square footage to the kitchen. We elevated the ceilings to 15 feet to incorporate several transom windows on three sides, allowing light to filter in throughout the day."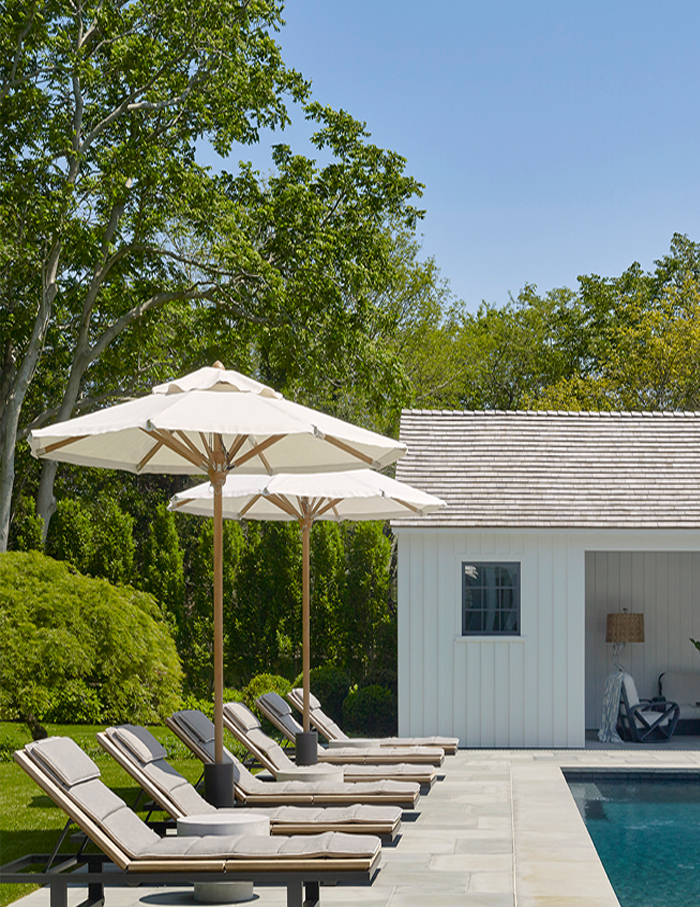 But the kitchen's biggest plus point—its large size—also became a challenge. The zone is divided with two seating areas, each with its own super-deep sofa and a pair of generously scaled French 1950s lounge chairs. Just doing so gives the space a rather intimate and cosy vibe. Meanwhile, matte brass finish and gauzy white linen on the wooden furnishings impart a sense of refined rusticity.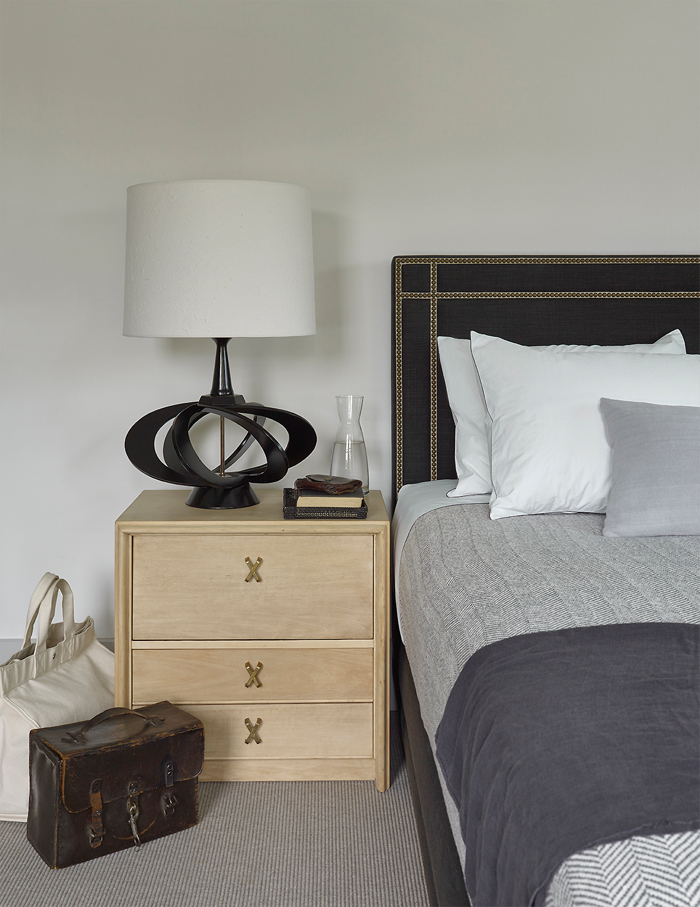 An outdoor sitting area continues the muted colour scheme with a pair of track arm sofas, a custom concrete cocktail table designed by Scotti, and a couple of vintage rattan armchairs with upholstered Perennials fabrics. We also spot a salvaged train traffic mirror from JED Antiques hanging above the fireplace.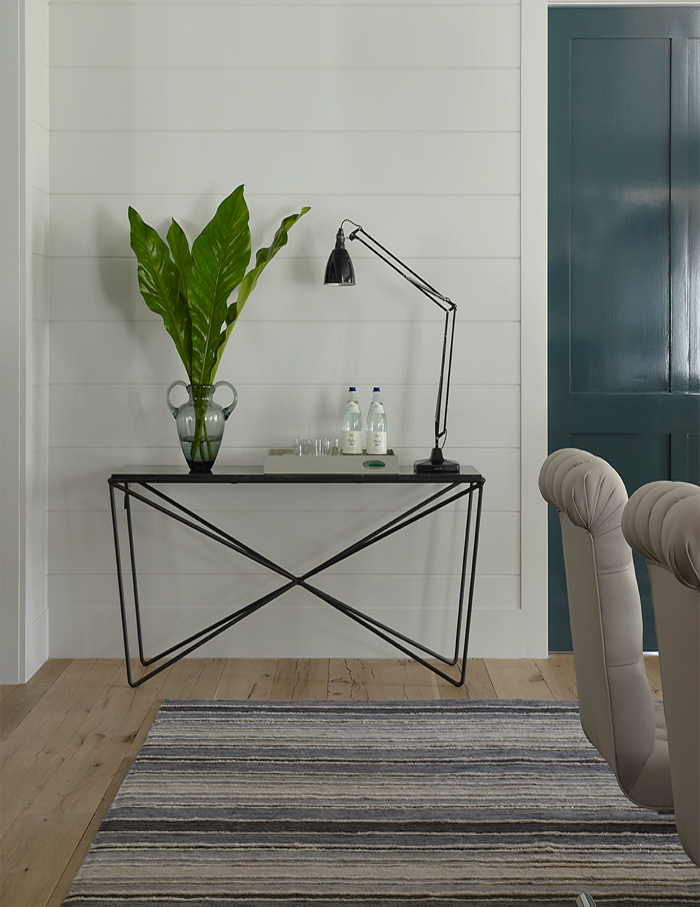 "While I wanted the interiors to feel clean and modern, I also tried to incorporate vintage elements that—in my mind—would have 'survived' the fictitious restoration. I installed distressed, reclaimed oak flooring…and then left it uncovered during the final stages of construction, so that it would get even more beat up as the house was being finished," concludes Scotti.