Homes
This New Delhi residence by GroupDCA manifests minimalist interventions with a tasteful twist
APR 15, 2022
| By Rhea Sinha
Etching an intricate sketch of impactful and intimate design is 'Barkat' by principal architect Amit Aurora of GroupDCA.
Sited in New Delhi's prevailing prime neighbourhood, the 3,415 sq ft Vasant Vihar abode accommodates an acute sense of solitude and exclusivity, occupying a private floor.
Manifesting minimalist interventions with an opulent twist, this sublime home maintains a 'less is more' mantra as modelled in its design sensibilities.  
You may also like: Two good to be true—Modern lines meet contemporary curves in this New Delhi home crafted by SAND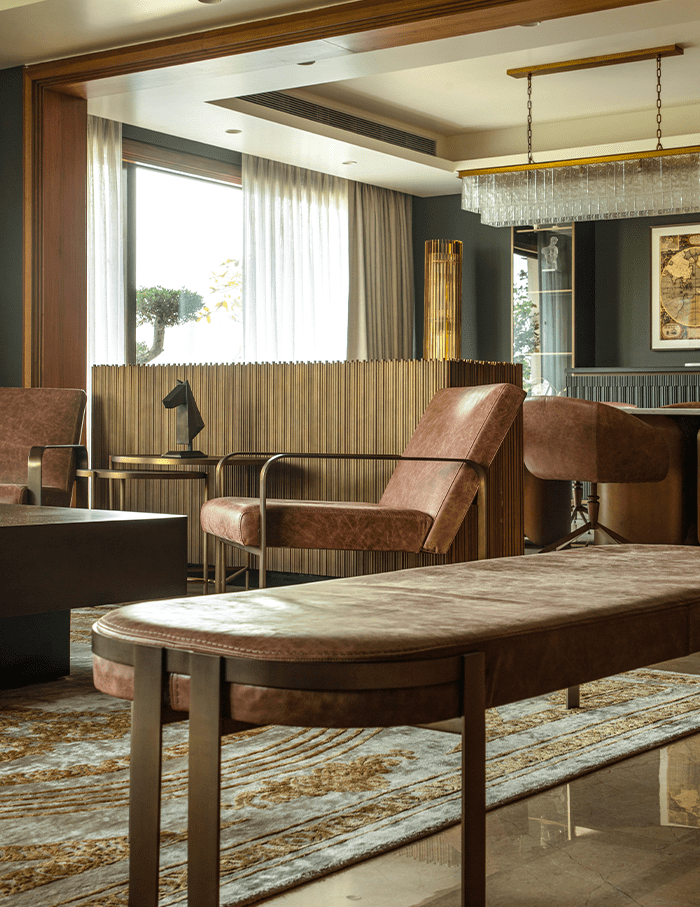 The intimate property making up the third floor of a private residential building may be approached via its dedicated stairwell or the elevator. Enveloped by an abundance of flora in the ambience, the construction exudes a timeless essence throughout.
Towards the left wing, the heart of the home, the formal living area is decked in an umber interplay of brown tones and plush accents of calming blues and ochres. Unveiling refreshing views of lush verdure, perimetric balconies adorned in an assortment of manicured planters establish a biophilic inclination within the home's environs.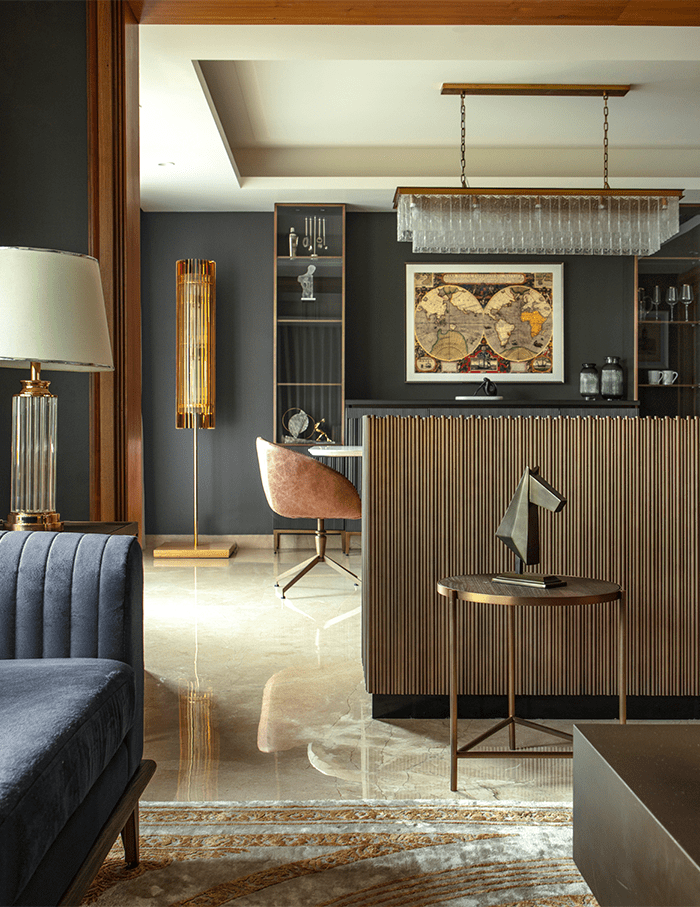 Encased in elements of brass, the central bar console sections the living and dining spaces. Prominent in its employment in wall panelling treatments, bespoke furnishings, and other focal additions, wood plays a predominant role in the room's material mood board. 
Ahead, paying homage to timeless tracery is the dining table exhibiting a refined design expression. Tracing a ritzy picture with a palette of indulgent tints and textures, the dinette features finishes in tones of deep charcoal, tan brown and glass.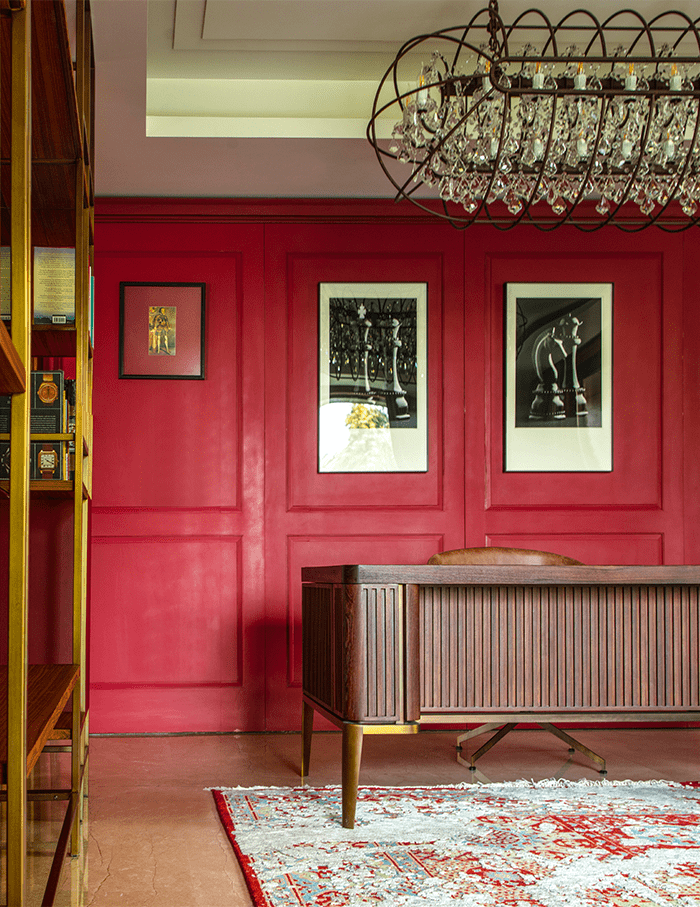 The magnificent marble-top dining table with enfolded brass legs persists an upscale presence. Handpicked premium leather surfaces swathing the seats complete the luxe look of the space.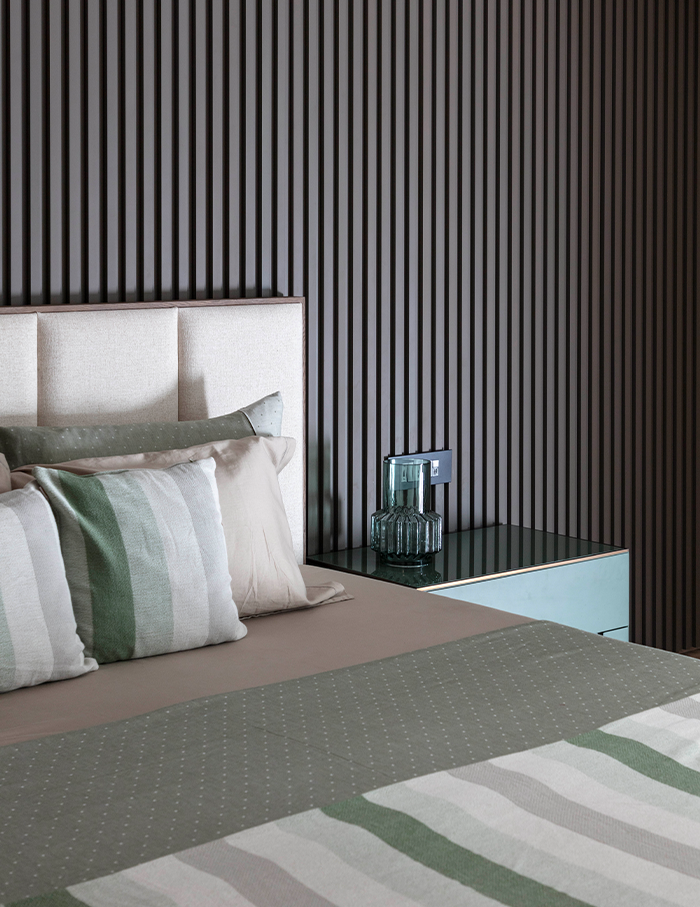 A home office cum study, this haven expresses an artistic austere designed to unwind and reflect. Dabbling in a flamboyant design display, wainscoted scarlet walls and emerald views of trees furbish the room. 
Unfurling an unequalled amalgam of artisanship and engineering, the custom leather-lined table top desk steals the show in the study.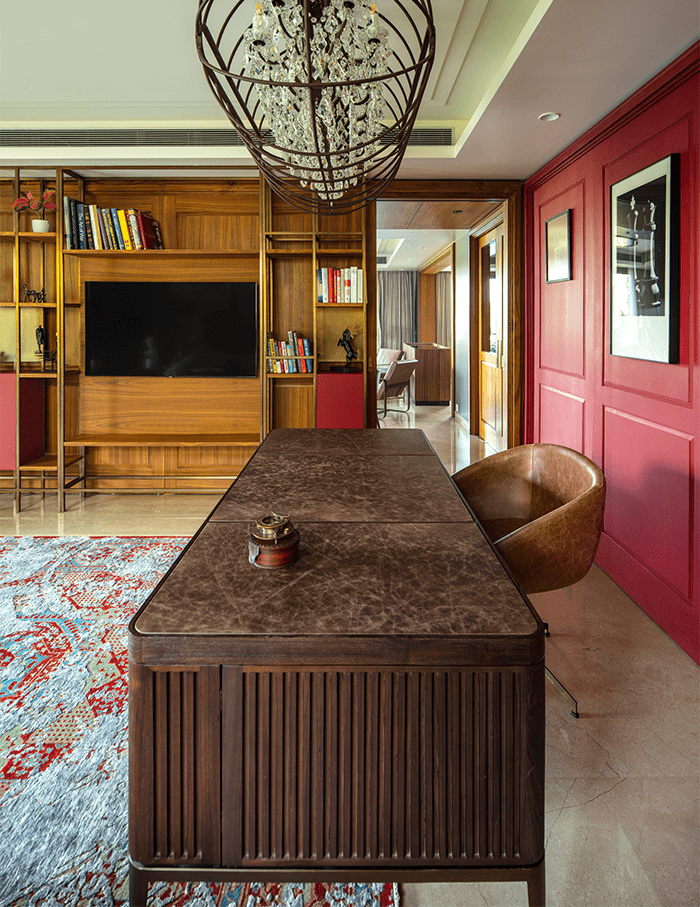 Striking a harmonious balance between the private and communal segments, set in the right-wing of the residence, all bedrooms sport a subtle scheme of colours and finishes. Each room letting a singular shade serve as the space's protagonist is layered in a homogenous pattern of furnishings and decor accessories. 
"At Barkat, the concept of living in synchrony with nature and minimalist grandeur has been recalibrated by GroupDCA. It narrates a way of being, weaving a notion of retreating to the lap of luxury while remaining rooted to the soul of the home with a perceptible charm." shares Aurora. 
You may also like: A farmhouse turned vacation home in Delhi by Sanjyt Syngh sets the stage for drama, colour and art